This rich and creamy Red Velvet Hot Chocolate has all the flavors of the classic cake, including a marshmallow whipped cream topping that tastes like frosting!

Hey there Valentines, I have a fun new treat for all of us to enjoy! Red Velvet Hot Chocolate!
My girls LOVE any kind of hot chocolate, it makes them feel so fancy to drink it out of their little mugs.
With the cold weather lately, they have asked for hot chocolate almost every day after school.
I thought it might be time to whip up a Valentine's Day version and let me tell you, it's delicious!
I also gave an option below on how to spike it to make it a fun adult drink too. ;-)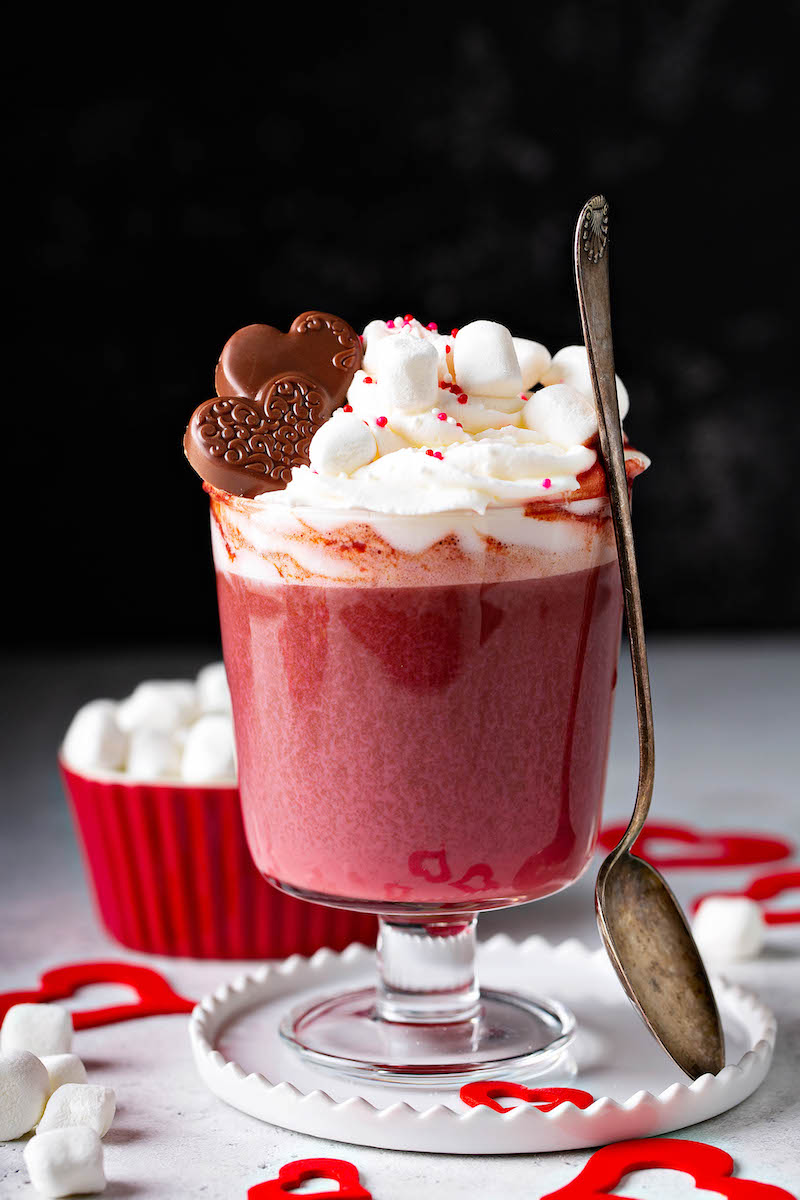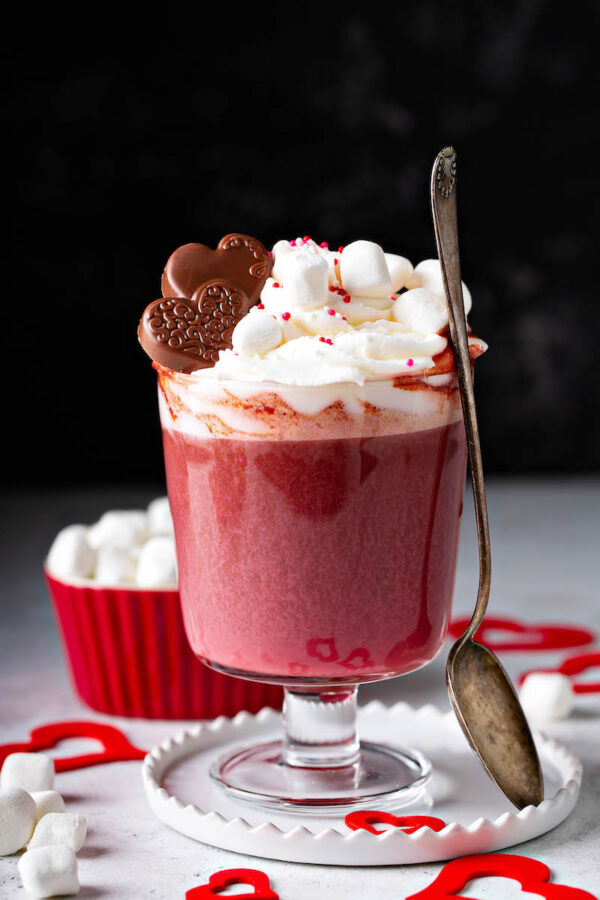 Red Velvet Hot Chocolate Ingredients
I use a mixture of whole milk and half and half to give it the perfect creamy consistency.
For flavor, we add white chocolate chips, semi-sweet chocolate chips and vanilla extract.
TIP: To boost the red velvet flavor and give it a hint of cake batter, you can add a couple tablespoons of red velvet cake mix!
Just add it when you add the chocolate chips and whisk until it's well combined.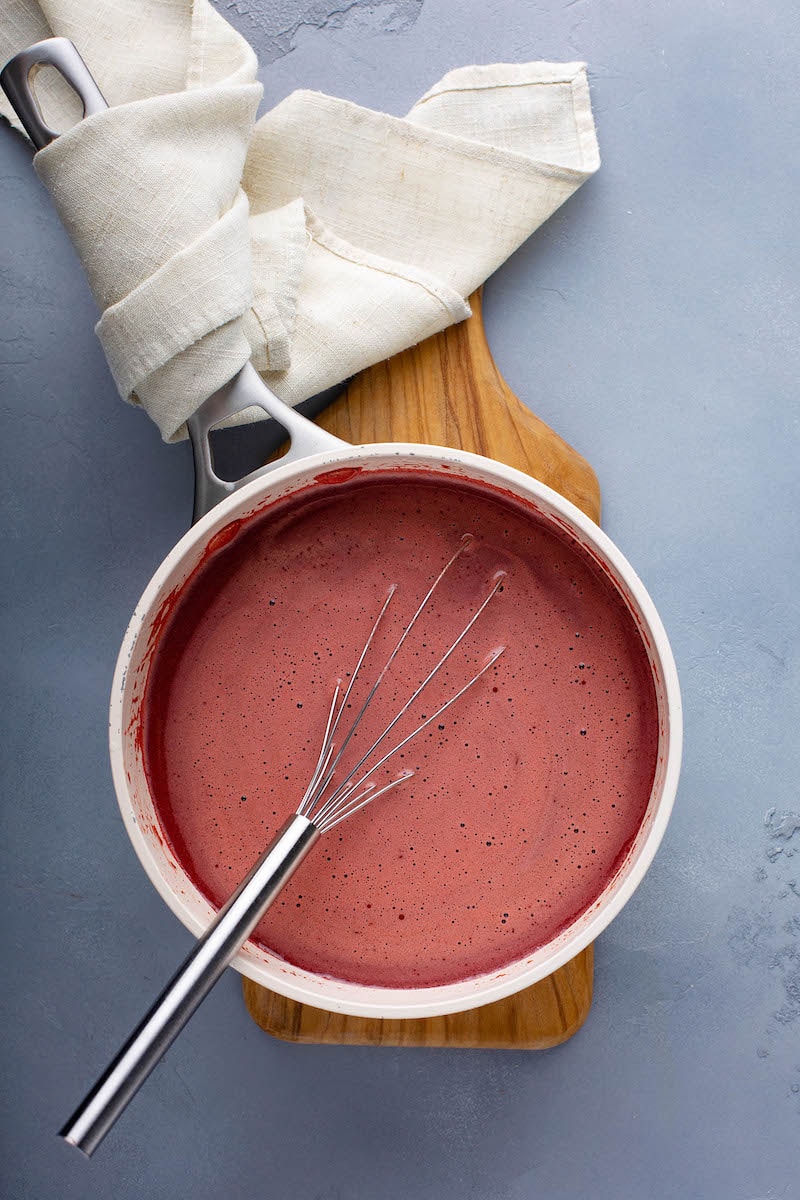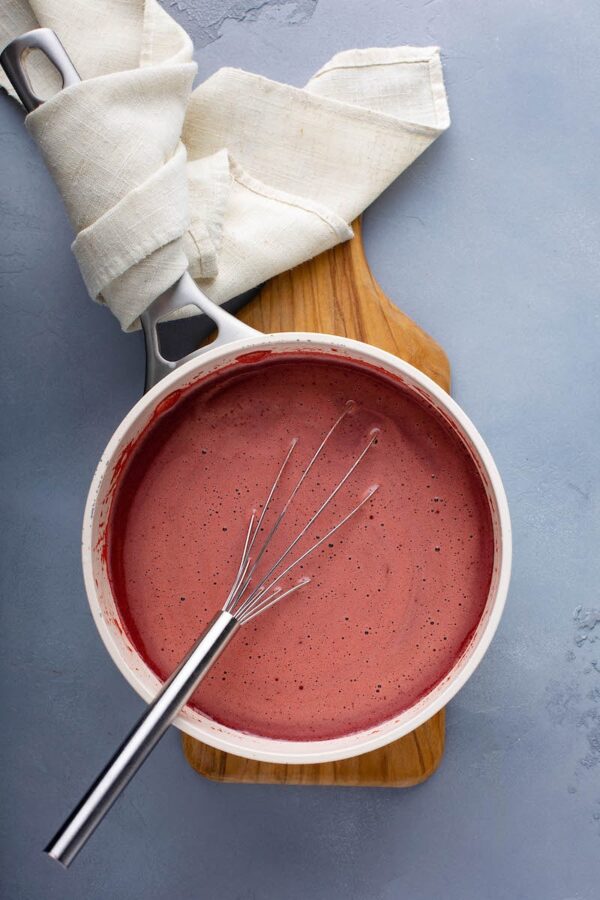 You add all the ingredients to a sauce pan and whisk away until it's nice and creamy and smooth.
The red food coloring is completely optional, but important if you care about the traditional Red Velvet coloring.
Then we whip up a gorgeous Marshmallow Whipped Cream to swirl around on top.
It's the perfect pairing and has SUCH good flavor form the marshmallow fluff we beat into the whipped cream.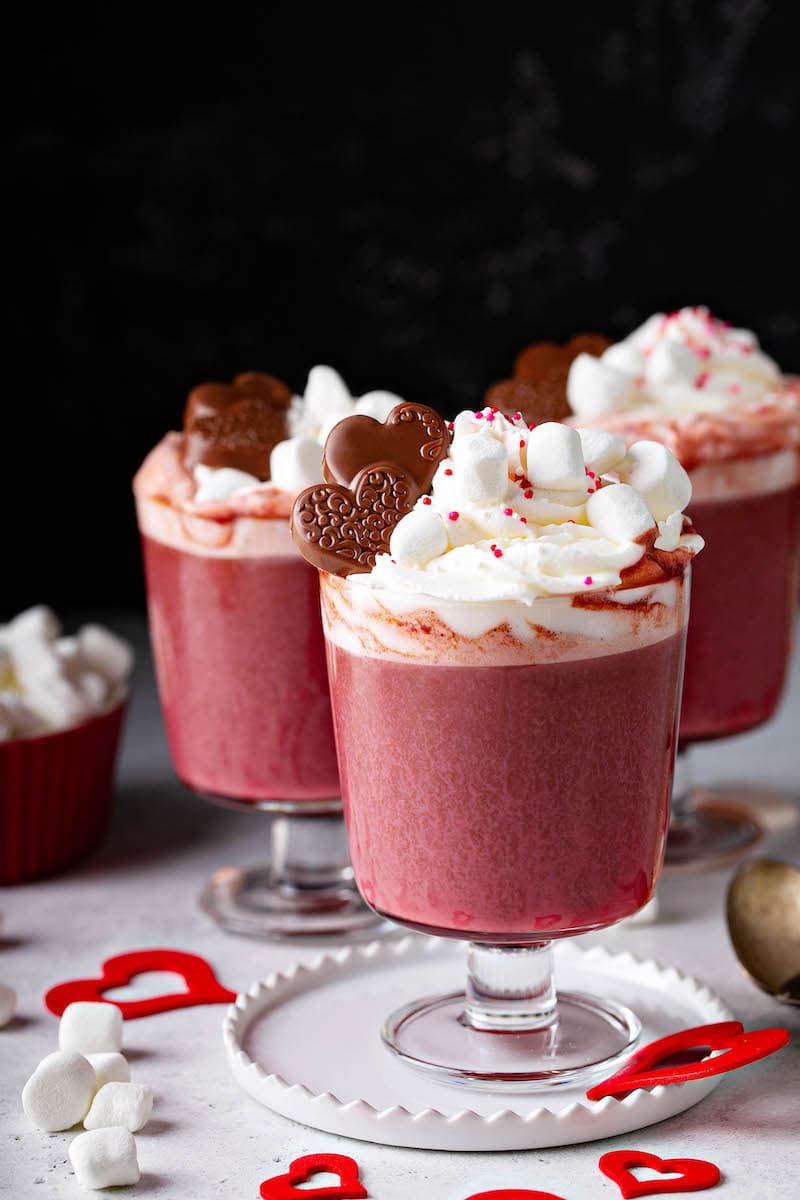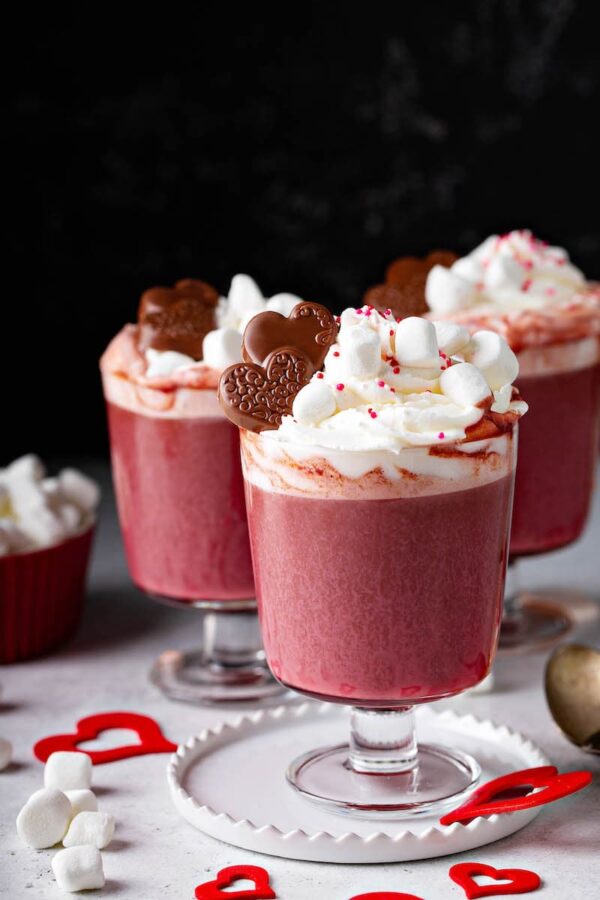 Spiked Red Velvet Hot Chocolate
If you would like to dress up your hot chocolate into a fun chocolate for the adults, I have a great suggestion. ;-) 
Cake Batter Vodka. It adds to the overall flavor of the red velvet, but also gives it a nice kick. 
You can add just a splash, to taste, to your individual cup or the whole batch if you aren't sharing with the kids.
If you don't have cake batter vodka on hand, a friend said vanilla vodka (or whipped cream vodka) works great as well!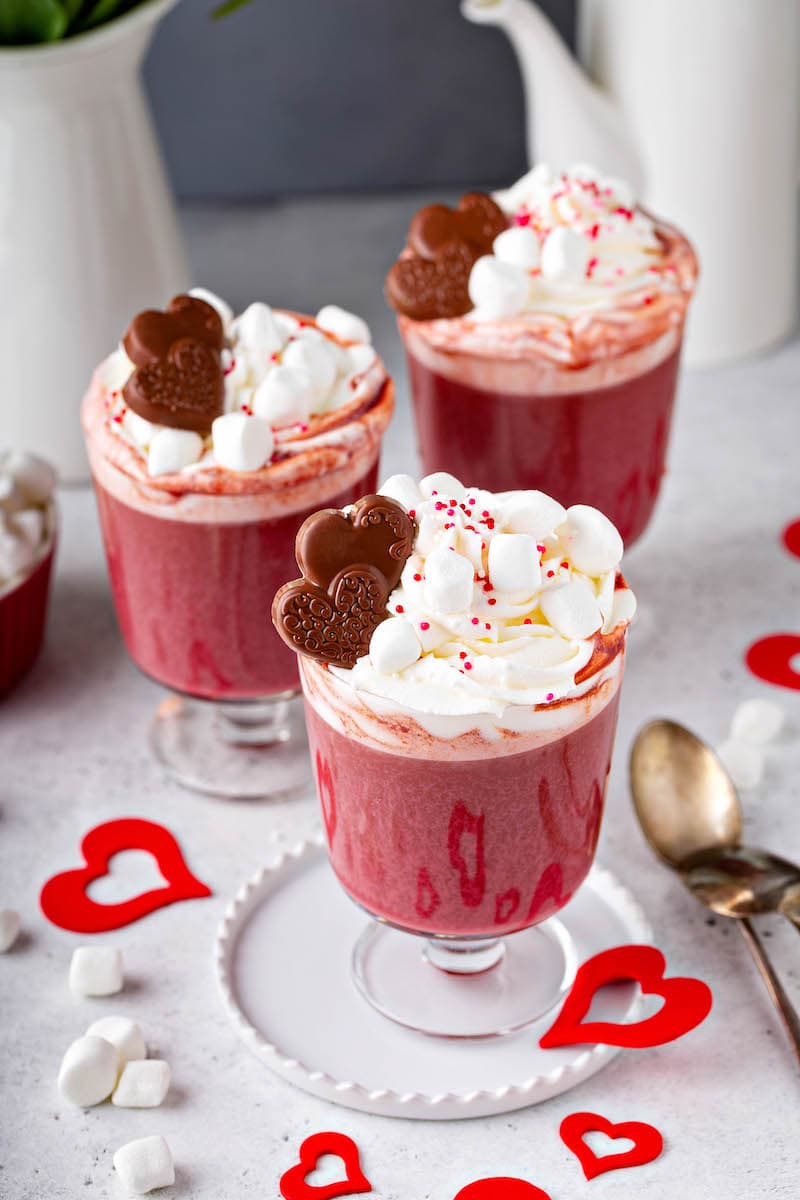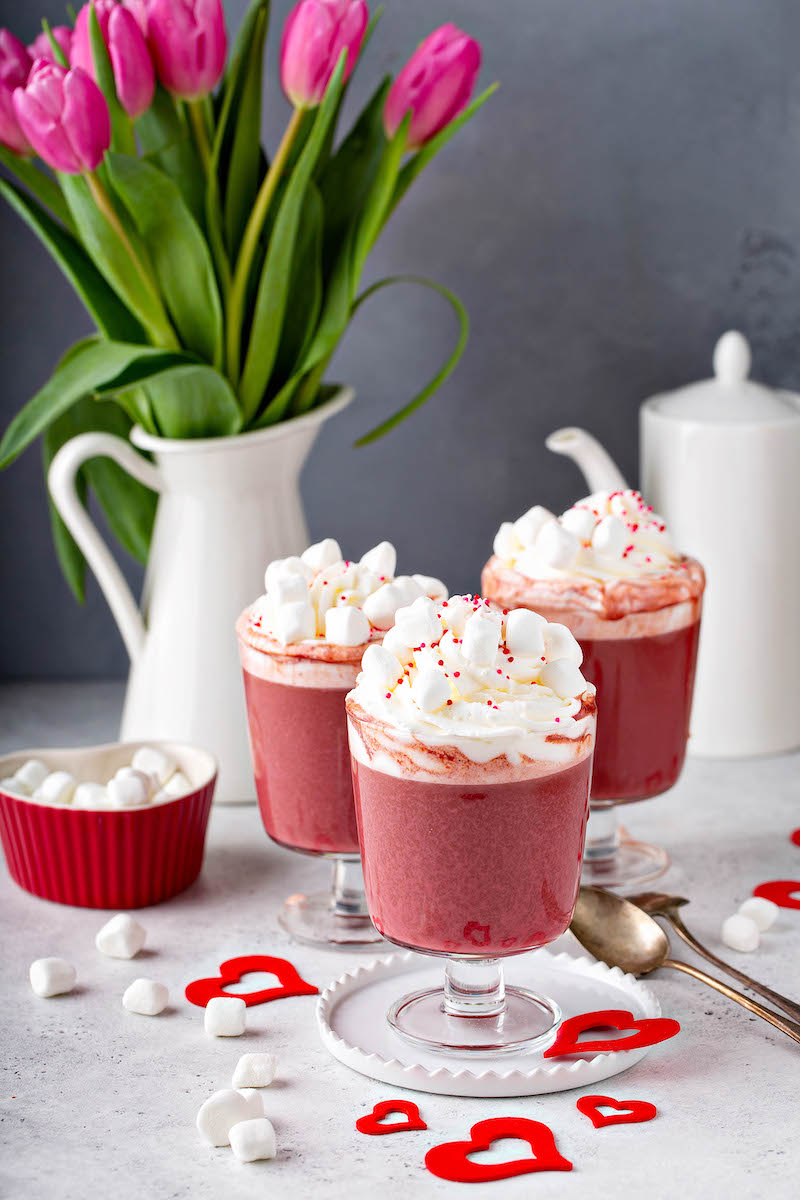 You can make this Red Velvet Hot Chocolate ahead of time and then refrigerate until ready to serve.
Some settling is natural, you will need to reheat it and whisk it till it's nice and creamy again.
Alternatively, if you are serving a crowd, you can keep it warm in a crockpot and set it to warm!
If you are looking for more Valentine's Day treats, I have a ton for you to check out: Valentine's Day
Head on over to Dixie Crystals for the recipe I developed for them.
RECIPE: Red Velvet Hot Chocolate with Marshmallow Whipped Cream
This post may contain affiliate links. Read my disclosure policy.