These moist and fluffy Red Velvet Cupcakes are everything you are looking for with a perfectly sweet cocoa flavor and tangy cream cheese frosting on top!
Looking for more red velvet recipes? Try my Red Velvet Dream Cake or this Red Velvet Mug Cake!
Classic Red Velvet Cupcakes
These moist and buttery red velvet cupcakes really check all the boxes. Big cocoa flavor? Check. Tangy cream cheese frosting? Check. Pretty cupcake decorations? Check!
If you're wondering how to make red velvet cupcakes, this easy recipe is the place to start. I've made it so many times and every time I try a new recipe, I regret it. This is my favorite Red Velvet Cupcakes recipe, by far. And I have been taste testing and recipe sampling for 12 years now!

What is Red Velvet?
Red Velvet is a dessert from the Victorian era. The term "velvet" meant that the cake was soft with a smooth crumb. The difference between red velvet and chocolate cake is that regular chocolate cake uses a lot of chocolate, while red velvet cake uses a smaller amount of cocoa powder with a tangy acid, like buttermilk.
A mild red color in the cake comes from a chemical reaction between acidic vinegar and buttermilk, which brings out the anthocyanin in cocoa. That natural coloring is then intensified with red food coloring. Back in the day, before food coloring was available, bakers used boiled beetroot juices to add extra oomph to the crimson hue that's a hallmark of red velvet.
Traditionally red velvet is served as a cake, but of course you can also make red velvet cupcakes like we're doing here. What is a cupcake if not a mini cake?
I also have a recipe for red velvet cookies and a red velvet hot chocolate recipe you might want to check out!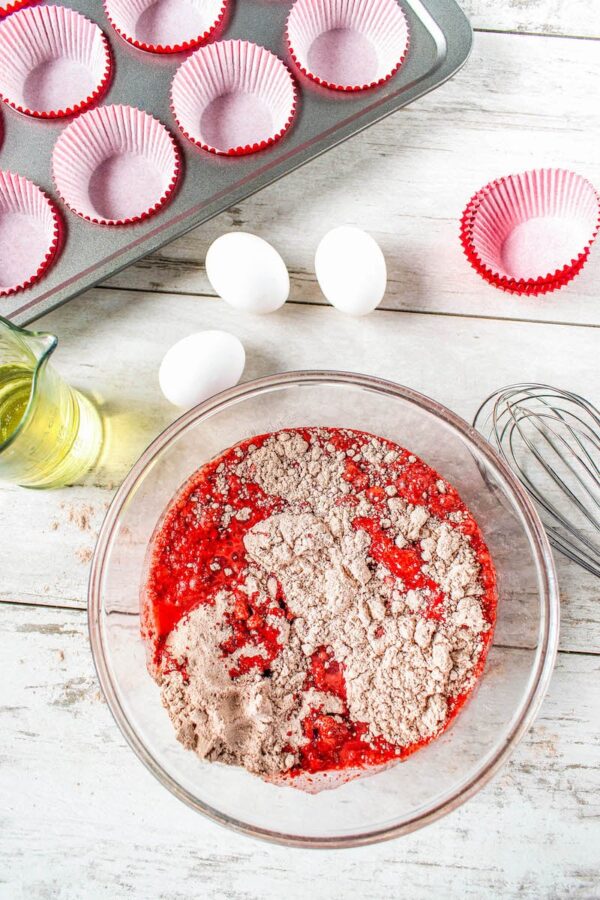 Recipe Ingredients
So what is red velvet made of? To make this classic cake you'll need:
cake flour
sugar
baking soda
cocoa powder
salt
eggs
vegetable oil
buttermilk
red food coloring
vanilla extract
white distilled vinegar
Cake Flour Substitute
Cake flour is very important for this recipe. If you don't have cake flour on hand, you can make your own.
How to make my own cake flour?
2 1/4 cups

all-purpose flour

4 tablespoon

s cornstarch
Sift together both ingredients. This makes 2 1/2 cups cake flour, the amount needed for this recipe!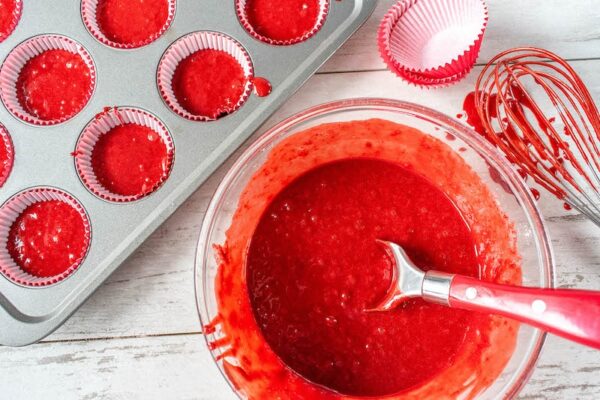 How to Make Red Velvet Cupcakes in 3 easy steps.
MIX BATTER: Sift together your dry ingredients. Whisk together the wet ingredients. Then combine the dry and wet ingredients until smooth.
BAKE CUPCAKES: Divide the batter into cupcake liners and bake the cupcakes for about 16 minutes.
COOL AND FROST: Cool cupcakes until room temperature and generously frost with cream cheese frosting.
How to decorate?
For these cupcakes, I used a large closed star tip for frosting the cupcakes with cream cheese frosting. Then, I crumbled up one un-frosted cupcake into crumbs and sprinkled them on top of the frosting. Lastly, I added a few heart sprinkles.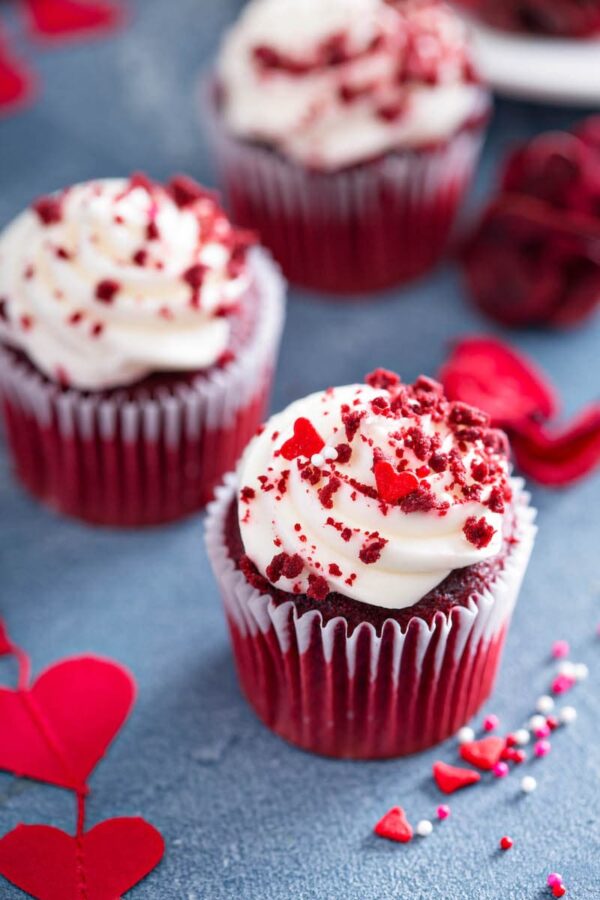 Tips for the Best Red Velvet Cupcakes
There are a few tricks to making the best red velvet cupcakes. They're all super simple, but make a world of difference. Here are my tips for the best red velvet cupcakes:
Use cake flour. Cake flour is the key to make these cupcakes so light and fluffy. If you use all-purpose flour, you won't get the cloud-like, soft cupcakes.
Don't substitute the buttermilk. Buttermilk not only enhances the flavor of these cupcakes, but also is a big proponent for the cupcakes final texture and extra moist crumb.
Chill before frosting. Make sure your cupcakes are at room temperature before adding the frosting. This way your frosting won't melt!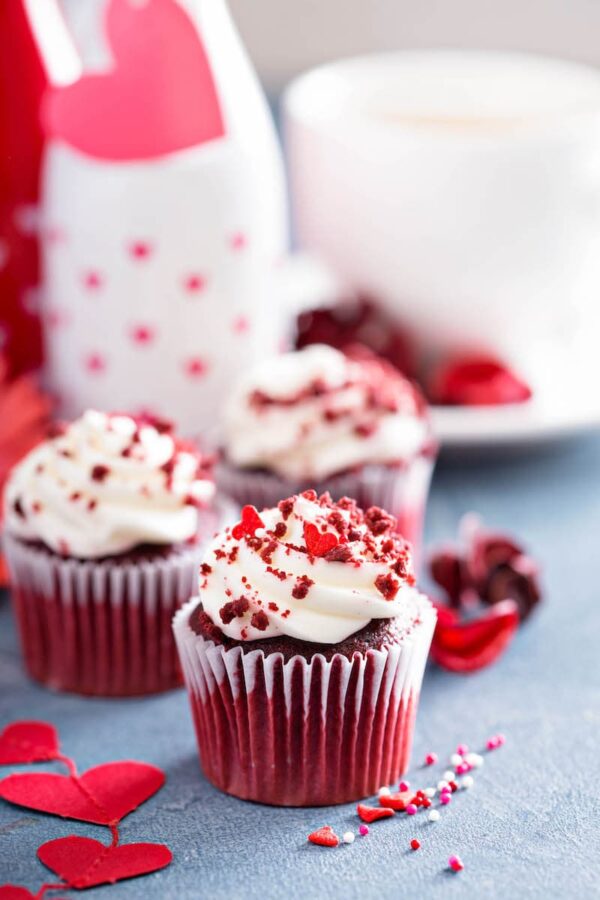 Yield: 24 Cupcakes
Red Velvet Cupcakes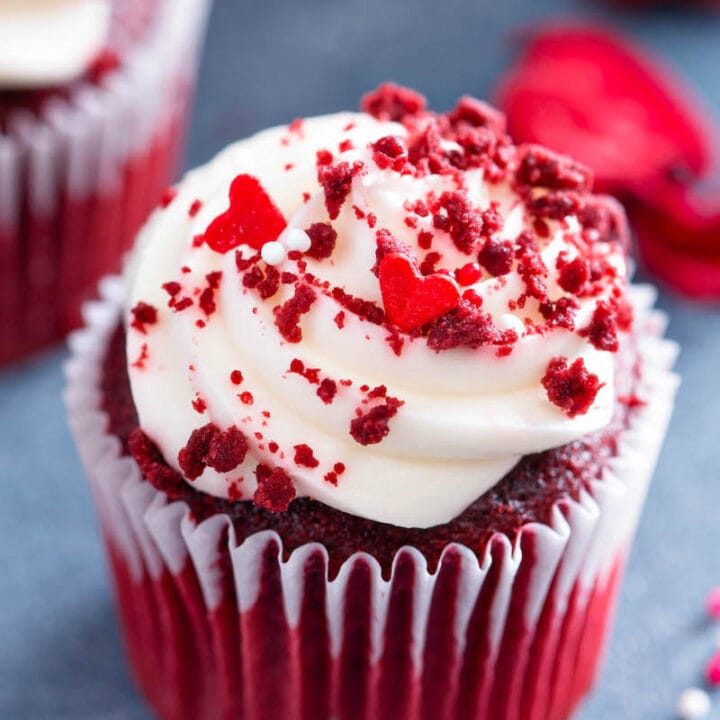 These moist and fluffy Red Velvet Cupcakes are everything you are looking for with a perfectly sweet cocoa flavor and tangy cream cheese frosting on top!
Additional Time
30 minutes
Total Time
1 hour
6 minutes
Ingredients
Cupcakes:
2½ cups cake flour
1½ cups granulated sugar
1 teaspoon baking soda
1 tablespoon cocoa powder
1 teaspoon salt
2 large eggs
1 1/2 cups vegetable oil
1 cup buttermilk
2 tablespoons (1 oz.) red food coloring
1 teaspoon vanilla extract
1 teaspoon white distilled vinegar
Cream Cheese Frosting:
8 ounces cream cheese, softened
8 ounces butter, softened
1 teaspoon vanilla extract
2 cups powdered sugar
Instructions
Preheat oven to 350°F. Line muffin tins with cupcake liners, set aside.
Sift together flour, sugar, baking soda, cocoa powder, and salt into a medium bowl, set aside.
Beat eggs, oil, buttermilk, food coloring, vanilla, and vinegar in a large bowl with an electric mixer until well combined.
Add dry ingredients and beat until smooth, about 2 minutes. Divide batter evenly among lined cups, filling each cup three-quarters full.
Bake until a toothpick inserted in centers comes out clean, about 16 to 18 minutes. Transfer tins to wire racks to cool 10 minutes; turn out cupcakes onto racks and let cool completely.
Cream Cheese Frosting: In a large bowl with a hand mixer, beat cream cheese, butter, and vanilla together until combined. Add powdered sugar and beat until frosting is light and fluffy, about 5 to 7 minutes. Frost cupcakes using your favorite tip and chill for 2 hours to set frosting.
Nutrition Information:
Yield:
24 cupcakes
Serving Size:
1 cupcake
Amount Per Serving:
Calories:

369
Total Fat:

25g
Saturated Fat:

8g
Trans Fat:

1g
Unsaturated Fat:

16g
Cholesterol:

46mg
Sodium:

257mg
Carbohydrates:

34g
Fiber:

0g
Sugar:

22g
Protein:

3g
This post may contain affiliate links. Read my disclosure policy.