Red Velvet Cupcakes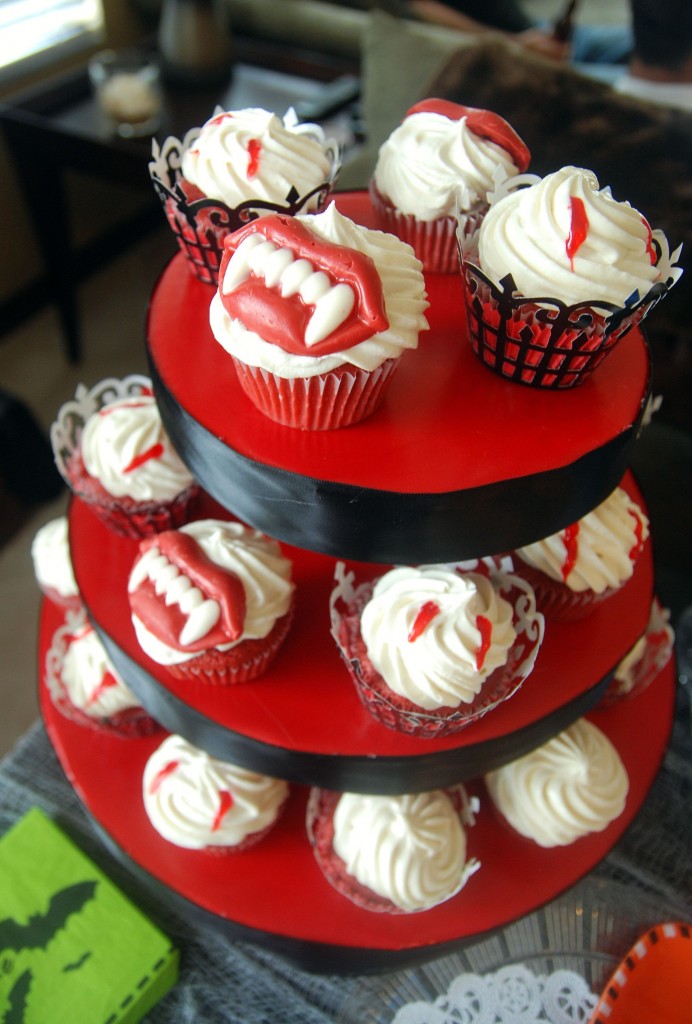 Oh man! True Blood! I am such a huge fan! This season I finally had some other friends who were hooked, as well, so when the season finale rolled around it was time for a party! We had so much fun decorating and making everything for the party…but of course as you can guess my favorite were the cupcakes! Mainly because they had those awesome red lips and fangs…which I used in just about every picture that night.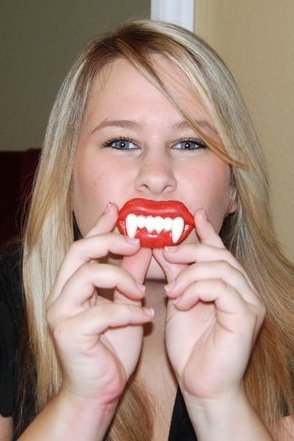 And in case you are wondering, if I was on the show I would be a vampire (because I'm sorry, but everything else is not half as cool) and I would be dating Eric and Alcide…because I could never choose between that amount of hotness. And I would be best friends with Lafayette…"Hookah"! I won't go into detail with the season finale because I do not want to ruin it for anyone…but I will say I am very pleased with how it ended since I am over Bill!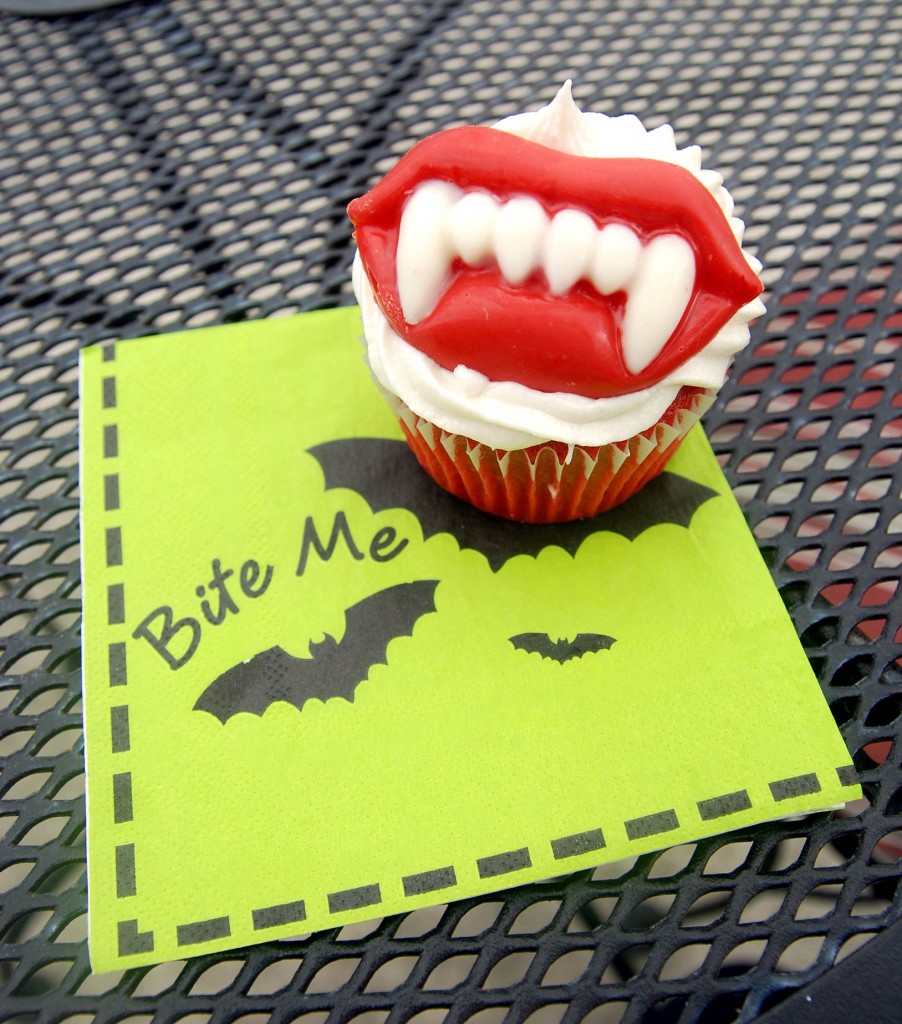 As for the cupcakes, they are Red Velvet with a delicious Cream Cheese Frosting. And the Candy Lips are a mold from Wilton that I found at Michael's. And the bite marks were done with a gel decorating tube. These cupcakes are my favorite Red Velvet recipe ever. The flavor was by far the best! I found the recipe on The Way The Cookie Crumbles, so glad she did such a great comparison!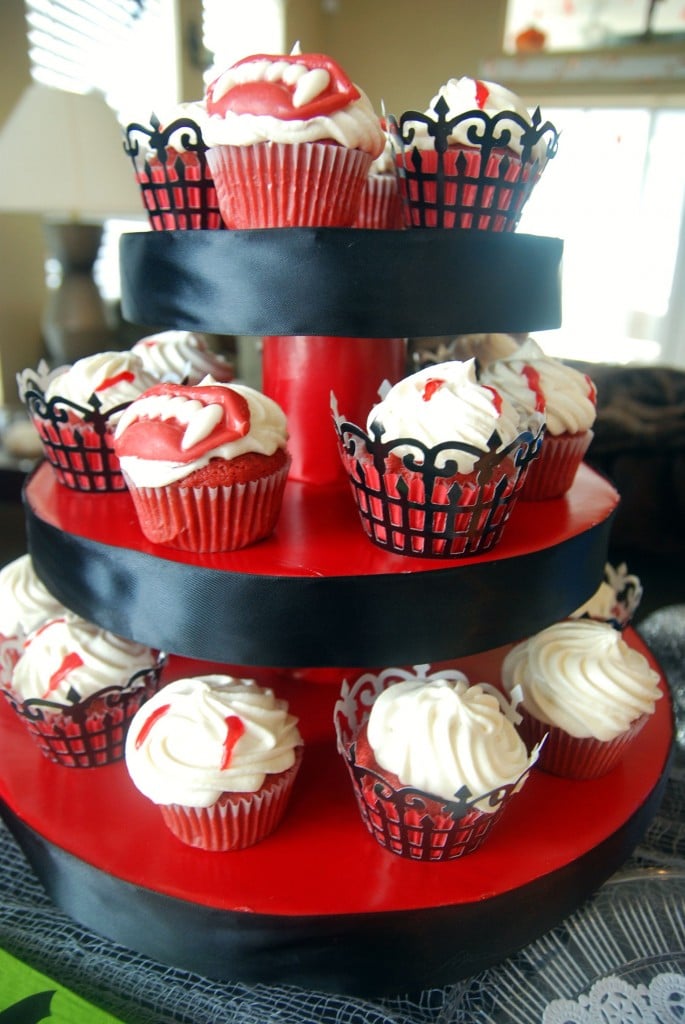 Red Velvet Cupcakes with Cream Cheese Frosting
Ingredients:
For the cake:
2½ cups cake flour
1½ cups sugar
1 teaspoon baking soda
1 tablespoon cocoa powder
1 teaspoon salt
2 eggs
1½ cups vegetable oil
1 cup buttermilk
2 tablespoons (1 oz.) red food coloring
1 teaspoon vanilla extract
1 teaspoon white distilled vinegar
For the frosting:
8 ounces cream cheese, softened
8 ounces butter, softened
1 teaspoon vanilla extract
2 cups confectioners' sugar
Directions:
For the cake:
Preheat oven to 350°.
Sift together flour, sugar, baking soda, cocoa, and salt into a medium bowl. Beat eggs, oil, buttermilk, food coloring, vanilla, and vinegar in a large bowl with an electric mixer until well combined. Add dry ingredients and beat until smooth, about 2 minutes.
Divide batter evenly among lined cups, filling each three-quarters full. Bake until a cake tester inserted in centers comes out clean, about 17 minutes. Transfer tins to wire racks to cool 10 minutes; turn out cupcakes onto racks and let cool completely. Frost as desired.
For the frosting:

Beat cream cheese, butter, and vanilla together in a large bowl with an electric mixer until combined. Add sugar and beat until frosting is light and fluffy, 5-7 minutes. Frost cupcakes using your favorite tip and chill for 2 hours to set frosting.