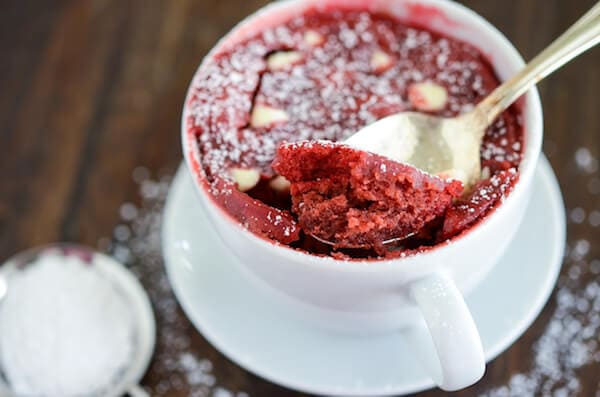 Remember when we all went crazy over that Chocolate Peanut Butter Mug Cake? It may have taken me over a year, but I finally came up with a new flavor! RED VELVE MUG CAKE.
Some people (cough cough — my mom) don't love red velvet. I think those people are absolutely crazy. Slightly chocolately cake, with a little tang to it, and in a bright fun color? I'm in, every single time.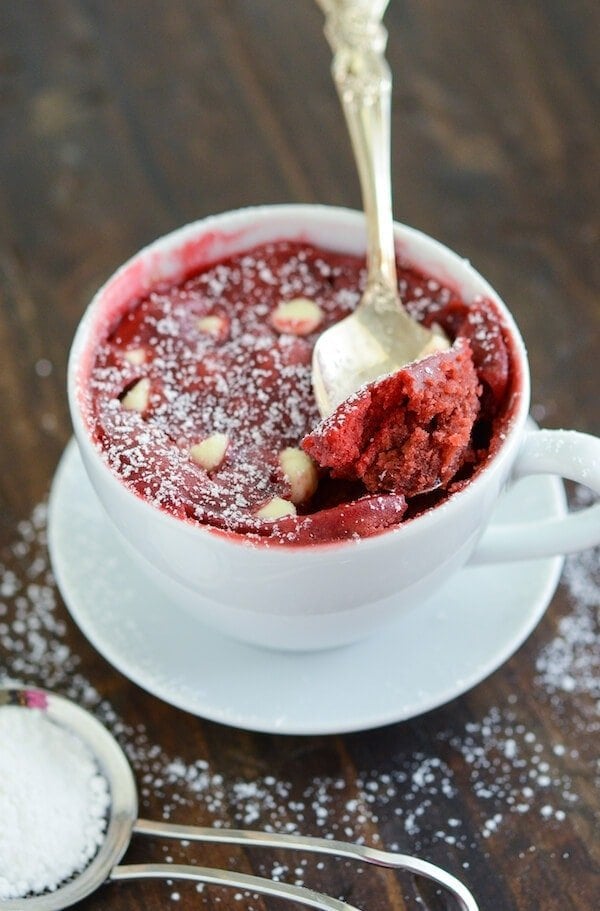 Just like the version before, this mug cake takes just minutes to make in the microwave. It is just as moist as the cake before and of course still uses zero egg (spongy mug cake is the worst).
Oh and in the directions I say to mix the dry ingredients separately (a mini whisk makes this much easier) and then add them, because that is what you SHOULD do. But I just dump all the dry ingredients into the milk mixture at once and stir the batter a ton. It still works just fine. ;-)
Yield: 1 mug cake
Red Velvet Mug Cake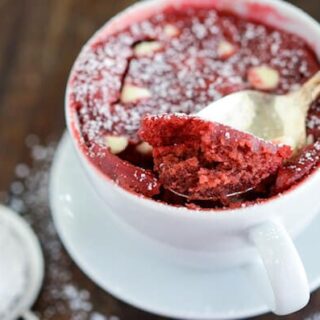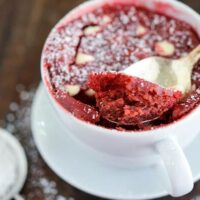 Red Velvet Mug Cake is one of the easiest chocolate cake recipes you'll ever make - you only need the ingredients and your microwave!
Ingredients
3 tablespoons milk
1/2 teaspoon white vinegar
4 tablespoons all purpose flour
2 tablespoons granulated sugar
1 teaspoon cocoa powder
1/4 teaspoon baking powder
pinch of salt
1 1/2 tablespoons vegetable oil
5 drops red food coloring, optional
powdered sugar for dusting on top, optional
Instructions
In a large mug, whisk (with a small whisk or large fork) together the milk and vinegar. Set aside.
In a small bowl, whisk together dry ingredients (flour, sugar, cocoa powder, baking powder and salt). Add to the milk mixture and add the vegetable oil and red food coloring. Whisk until smooth.
Cook in the microwave on high for 1 minute and 10 seconds. This recipe will rise and then deflate slightly since it's being cooked in the microwave. Dust with powdered sugar and serve immediately!
Notes
Add Ins: I like to add white chocolate chips to mine. You could also add milk/dark chocolate chips depending on your mood! And for all you cream cheese addicts, add a tablespoon of cream cheese to the center of the batter.
Nutrition Information:
Yield:
1
Serving Size:
1
Amount Per Serving:
Calories:

889
Total Fat:

22g
Saturated Fat:

2g
Trans Fat:

1g
Unsaturated Fat:

18g
Cholesterol:

4mg
Sodium:

281mg
Carbohydrates:

172g
Fiber:

1g
Sugar:

143g
Protein:

5g
Good to the very last bite.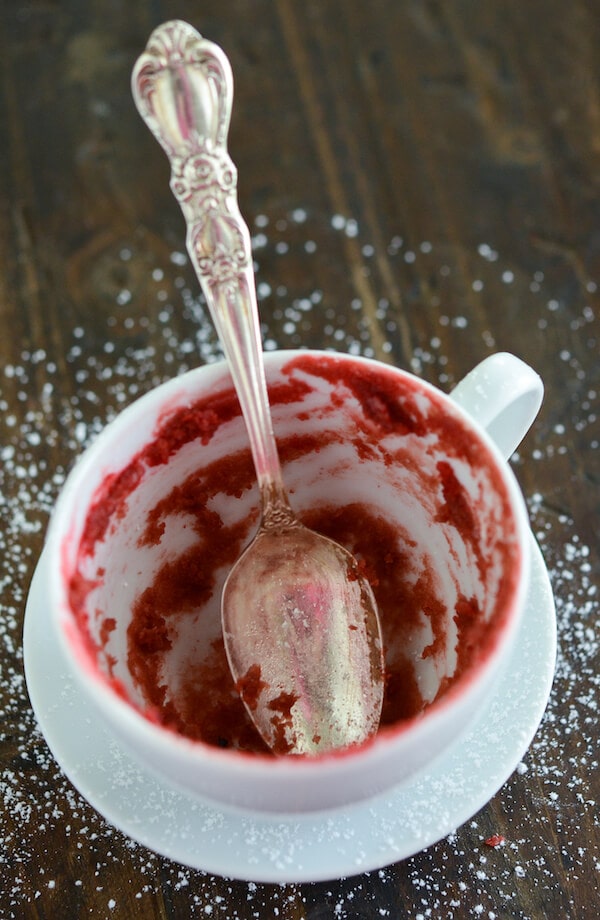 This post may contain affiliate links. Read my disclosure policy.