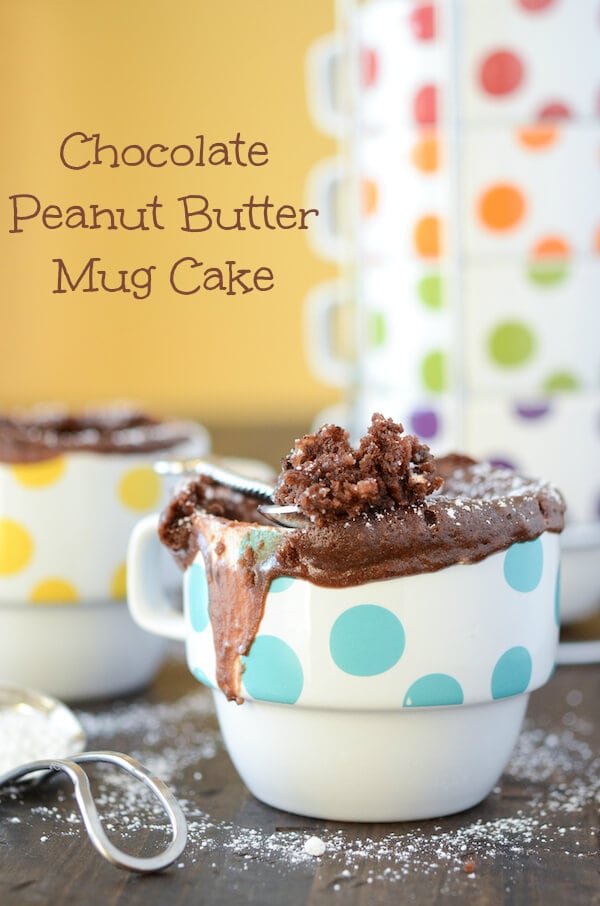 Hey!! Wait, don't click away! I swear, unlike all those other mug cakes you have made — this Chocolate Peanut Butter Mug Cake is actually really tasty! It took me a long time to figure out how to get rid of the bad spongy texture of most mug cakes. I loved the flavor – but hated the texture of all the mug cakes I had tried before.
So when my girlfriend Erin posted a recipe for (Banana Nutella Microwave Brownie) that she made up with a leftover half of a banana, I kind of rolled my eyes. I thought, ya right…I have fallen for the mug cake one too many times. But her recipe was so different than any of the others I had tried, I decided to give the mug cake one last chance. And, BAM! It was exactly what I had been looking for!
I started trying to think of what made her recipe so different from all the others…and then it hit me, NO EGG. Sure the banana part is different too, but a banana can be replaced with things like oil and peanut butter. But the egg?! The egg is what had made all the other recipes so spongy! You can make a whole cake with just one egg…so why would we include a whole egg in a tiny mug cake for one??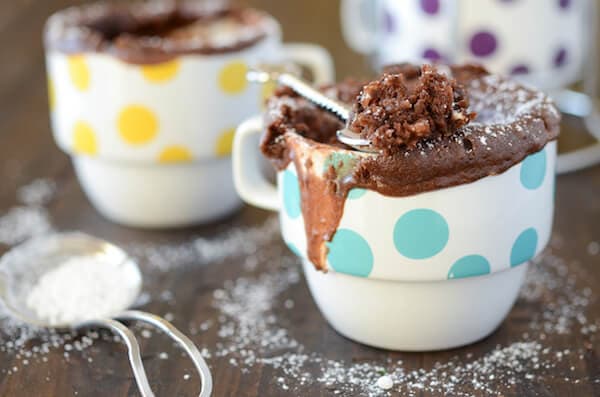 Once I realized the egg was what was holding me back, the options were endless. I have made more mug cakes in the past few weeks then I care to admit. Two other super delicious mug cakes I have made are this Red Velvet Mug Cake and this super easy The Best Pumpkin Mug Cake!
This Chocolate Peanut Butter Mug Cake is not too peanut butter-y, but just enough. It's full of chocolate flavor and has a great texture. When microwaving, it does rise really high and fall. It's strange and looks awful, but it tastes absolutely perfect — I promise!
P.S. A mini whisk does make mug cakes easier to make. I tend to make a mess with a fork. ;-)
Update: Lots of questions about where these mugs came from! Aren't they adorable?? I found them on Amazon. They actually don't sell this print anymore, but I found these similar ones!
Yield: 1 mug cake
Chocolate Peanut Butter Mug Cake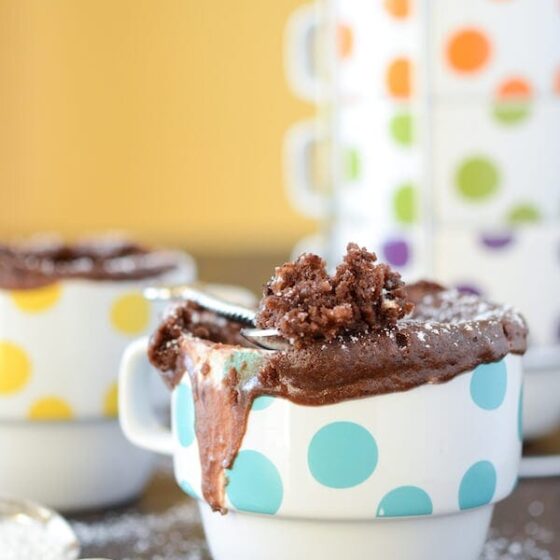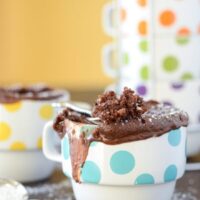 This Chocolate Peanut Butter Mug Cake tastes just like a slice of chocolate cake, but it takes so much less work to make. Just whisk the ingredients together, pop it in the microwave, and enjoy that rich chocolate goodness!
Ingredients
3 tablespoons flour
2 tablespoons sugar
1 1/2 tablespoons cocoa powder
1/4 teaspoon baking powder
pinch of salt
3 tablespoons milk
1 1/2 tablespoons vegetable oil
1 tablespoon peanut butter
Instructions
In a large mug, whisk (with a small whisk or large fork) together the dry ingredients (flour, sugar, cocoa powder, baking powder and salt). Add the milk, vegetable oil and peanut butter. Whisk until smooth.
Cook in the microwave on high for 1 minute and 10 seconds. This recipe will rise a lot and then deflate. I know it's strange, but trust me it's delicious! Serve immediately!
Notes
Sometimes I like to stir in mini marshmallows or some chopped walnuts to add a little something different! Add both and it's like a Rocky Road Mug Cake!
Nutrition Information:
Yield:
1
Serving Size:
1
Amount Per Serving:
Calories:

512
Total Fat:

30g
Saturated Fat:

4g
Trans Fat:

1g
Unsaturated Fat:

23g
Cholesterol:

4mg
Sodium:

355mg
Carbohydrates:

54g
Fiber:

3g
Sugar:

26g
Protein:

9g
Categories
This post does include an affiliate link. Thank you for supporting the blog!
This post may contain affiliate links. Read my disclosure policy.