These Peanut Butter Blossoms are a Christmas tradition! Sweet peanut butter cookies rolled in sparkling sugar, with a milk chocolate kiss in the center!
Love peanut butter cookies? Then check out my traditional chewy peanut butter cookies, peanut butter cookie cups, and peanut butter cup cookies!
It doesn't matter what you call them, Peanut Butter Blossoms, Peanut Butter Kiss Cookies or even just "you know dear, my favorite peanut butter Christmas cookies!" like my husband's great Aunt…we all know these classic Christmas cookies!
These peanut butter blossom cookies have stood the test of time and are now considered a classic. In my house, they are a mandatory Christmas cookie that has to be made every year.
Peanut Butter Blossoms are a deliciously dense peanut butter cookie, adorned with sparkling granulated sugar and a delicious little Hershey kiss in the center.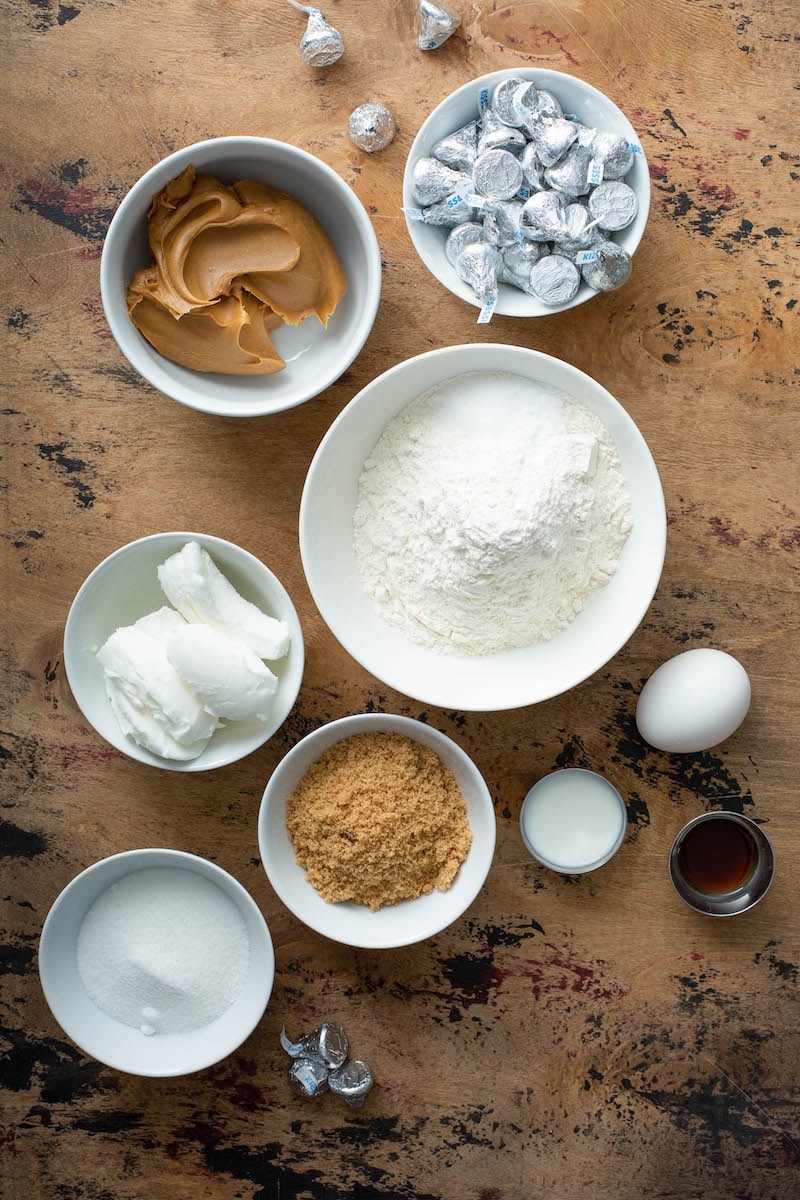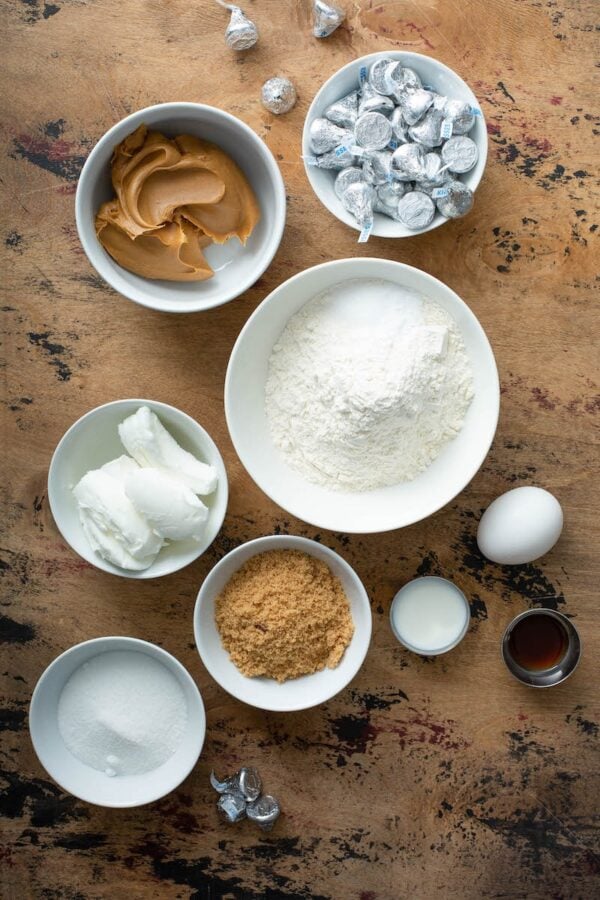 The Best Peanut Butter Blossoms Are Made with Shortening
I feel like I may start a fight here, but I am going to go ahead and say it anyways.
Peanut Butter Kiss Cookies are best when made with shortening versus butter. Please don't shoot the messenger!!
I have tested this recipe both ways, with butter and with butter flavored shortening (like the classic recipe calls for) and they are just better when made with shortening.
If you use shortening, the cookies will be just a little softer and almost…chewier. It's hard to describe the difference, but you can taste it in the final texture.
If you don't believe me, I recommend making this recipe with shortening and with butter and then doing a blind taste test! It's actually pretty fun and then you will know which way you prefer best.
No matter which one you pick — butter or shortening — your peanut butter blossom cookies will be delicious. Just if you choose shortening, they will be just a tad better. ;-)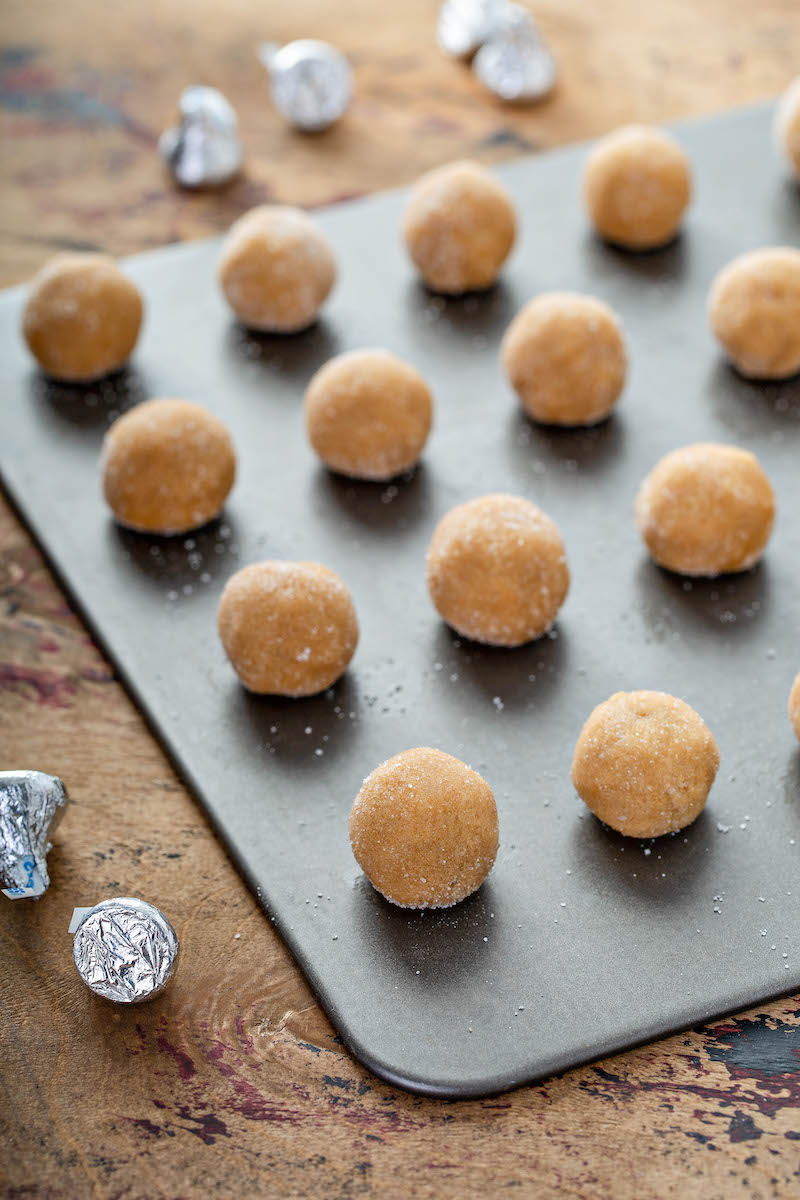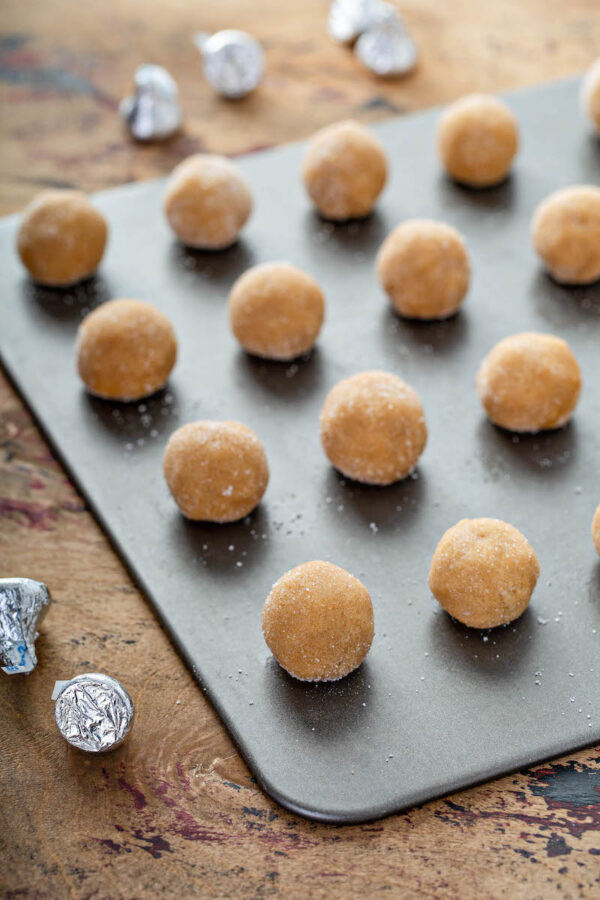 How to Make Peanut Butter Blossoms
The cookie recipe itself is very easy to make with a quick and easy peanut butter cookie dough that we roll into balls and then into granulated sugar.
Place on an uncreased baking sheet — or on a baking sheet lined with parchment paper for easy clean up — and bake for about 8 minutes. It's better to under-bake the Peanut Butter Blossom cookies than to over-bake them.
Then fresh out of the oven, press an unwrapped chocolate kiss into the center of each cookie and let the cookies cool and the chocolate re-harden. Adding the chocolate kisses is my girl's favorite part to help with every year!
This is honestly the hardest part and I always eat a few warm cookies with melt-y chocolate. It's my favorite part every year — stealing a few warm ones!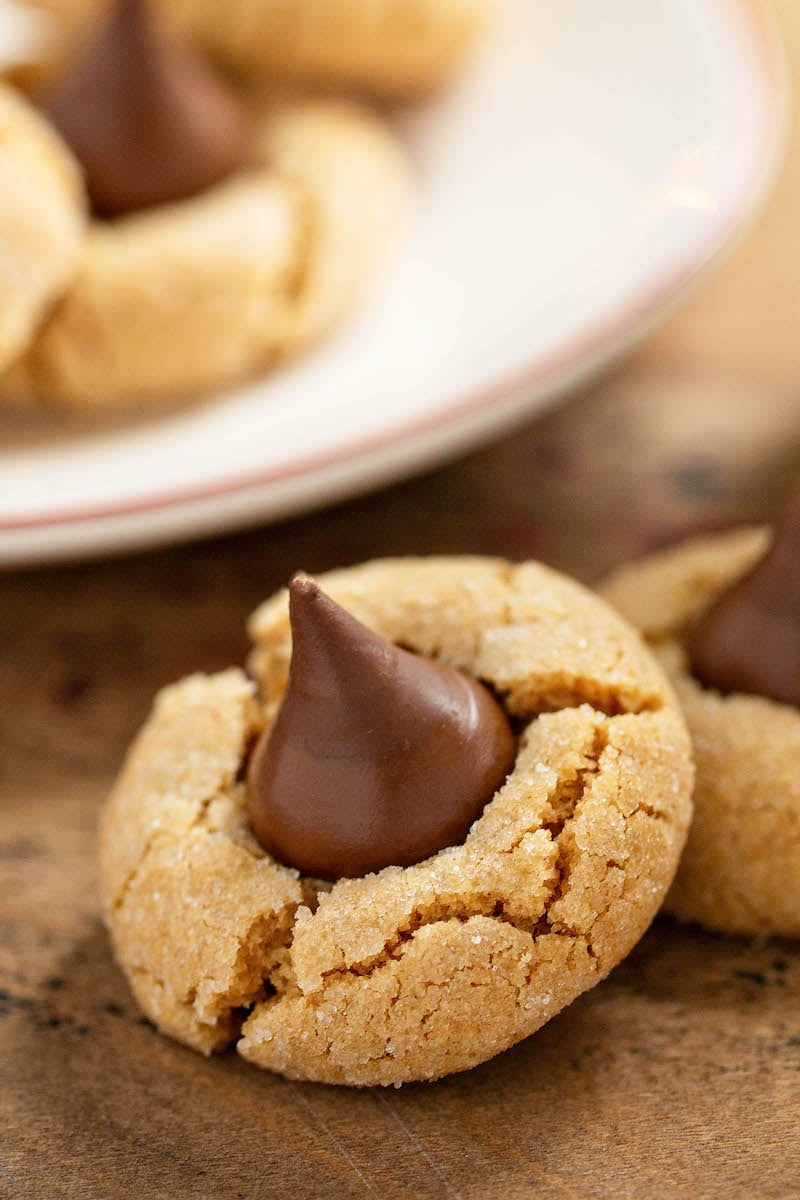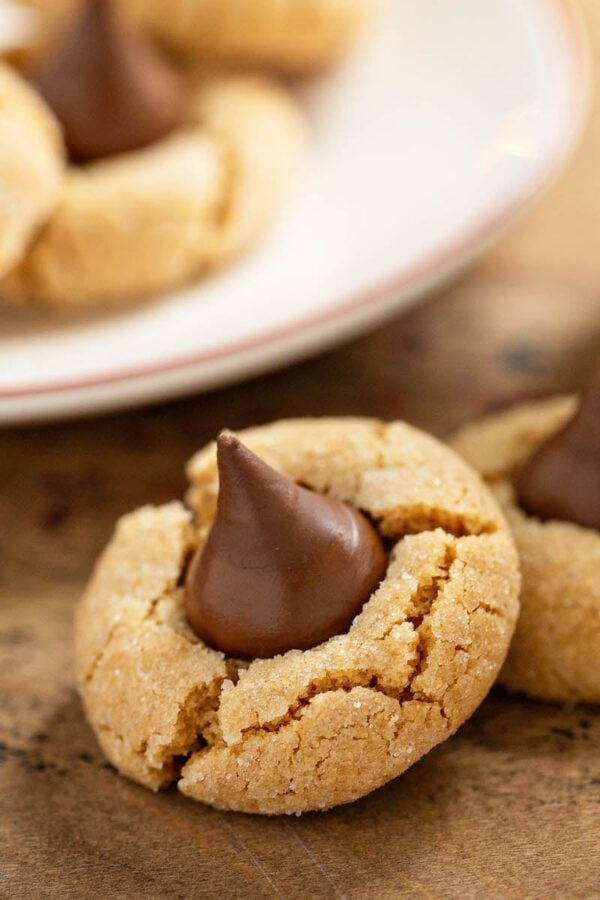 How to Dress Up Peanut Butter Blossoms
I'm going to be honest with you, these cookies are absolutely spectacular in their classic form and need nothing changed about them.
However, I understand that sometimes we all need something new and fresh, so I have a few fun suggestions you can try to dress up a Peanut Butter Blossom Cookie.
Switch the kiss in the center for a different flavored kiss – I recommend a dark chocolate kiss instead.
Roll your Peanut Butter Blossoms in different colored sprinkles or sanding sugar. Like red and green sprinkles for Christmas.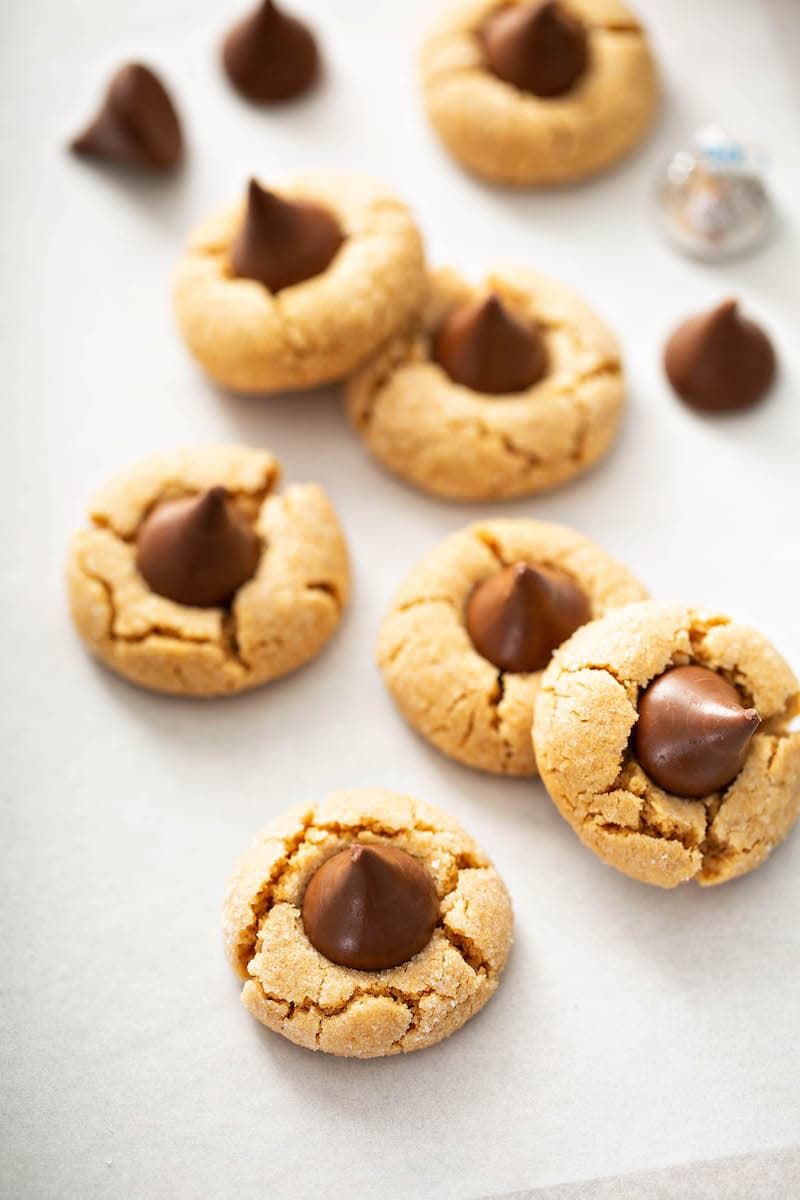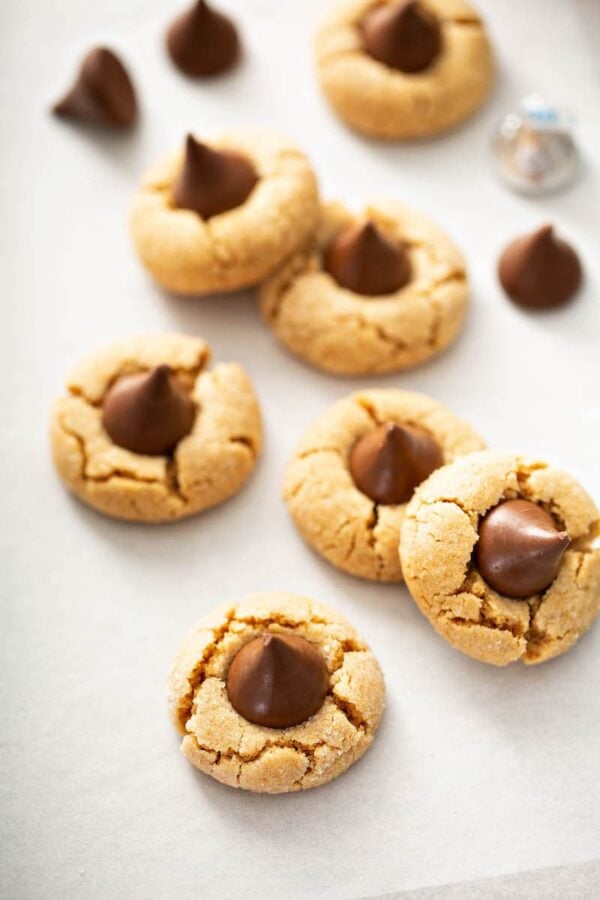 How to Store Peanut Butter Blossoms
You can store your peanut butter blossoms in an airtight container on the counter for up to a week…if they last that long!
They are also a great cookie to ship to friends/family. They hold up wonderfully and stay looking and tasting great through the shipping process.
Sadly they do not freeze well. The chocolate kiss usually pops off and they do not thaw tasting the same as they did fresh.
However, you can make the peanut butter cookie dough ahead of time and store it in freezer and then bake a fresh batch, as desired!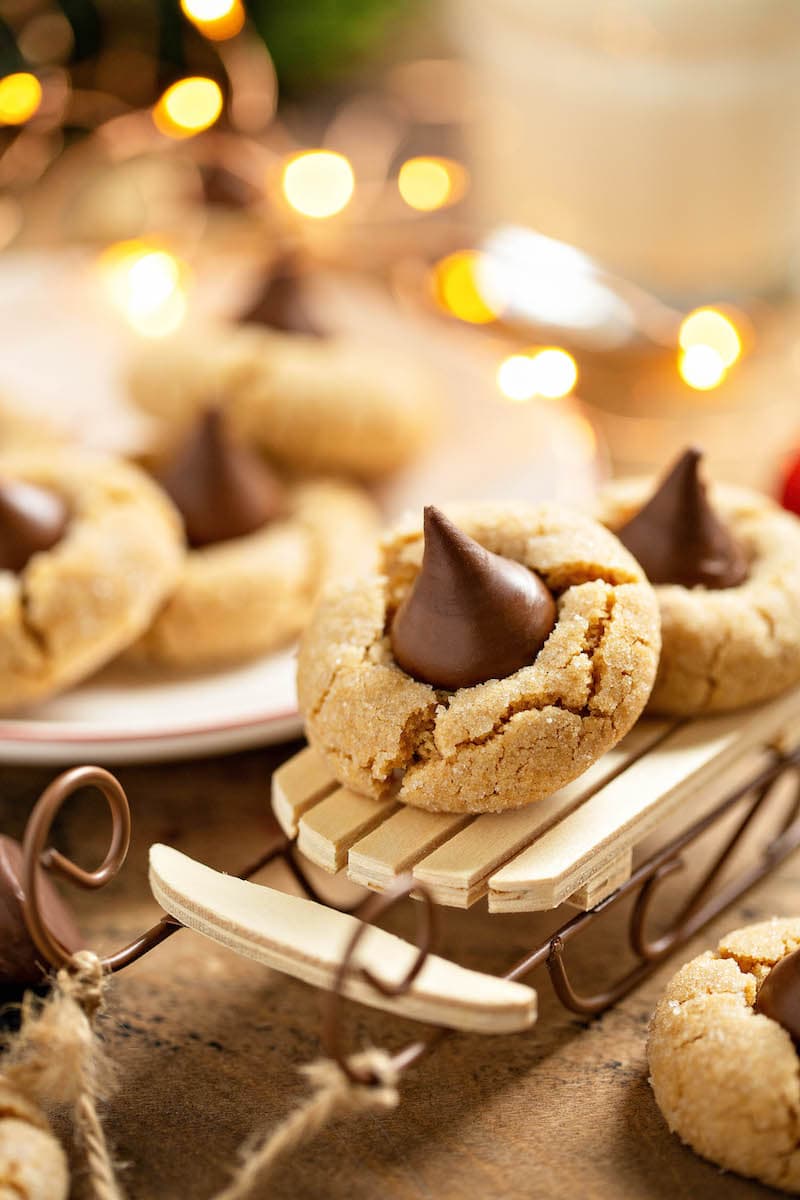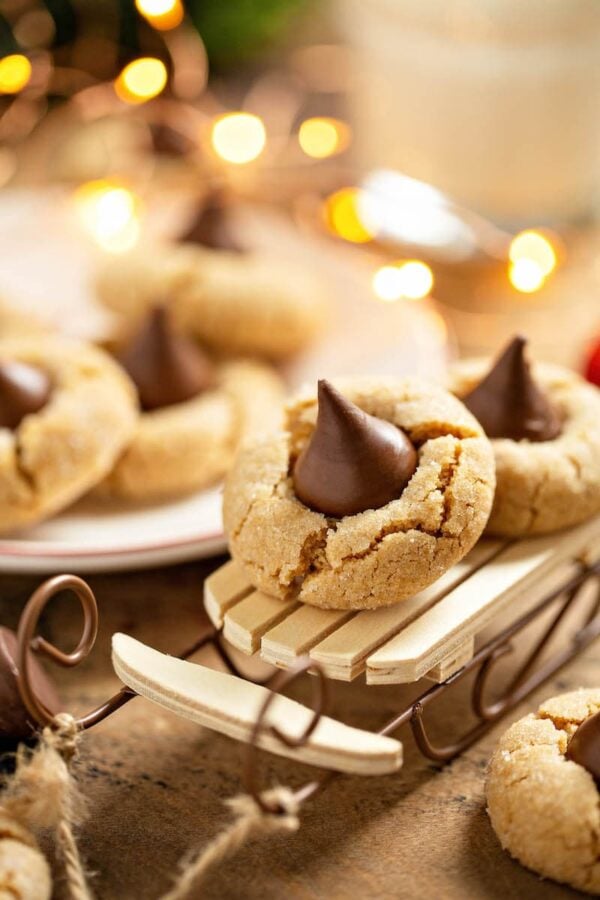 No matter what you do this Christmas, you should bake a batch of these classic Peanut Butter Blossoms.
They are not only my favorite, but just about everyone's favorite Christmas cookie recipe. I make a triple batch every year and it's the first cookie gone every year with our friends/family.
There is something about the nostalgia with these Peanut Butter Kiss Cookies that keeps everyone coming back for more each year. Well, to be fair, it's also because they are insanely delicious!
Please leave a review or comment below letting me know how this recipe turns out for you!
Peanut Butter Blossoms Recipe
These Peanut Butter Blossoms are a Christmas tradition! Sweet peanut butter cookies rolled in sparkling sugar, with a milk chocolate kiss in the center!
Ingredients
½

cup

butter flavored shortening

,

or unsalted butter, softened

¾

cup

Creamy Peanut Butter

¼

cup

granulated sugar

½

cup

packed brown sugar

1

large egg

2

tablespoons

whole milk

1

teaspoon

vanilla extract

1 ½

cups

all-purpose flour

1

teaspoon

baking soda

½

teaspoon

salt

granulated sugar

,

for rolling

48

Milk Chocolate Kisses

,

unwrapped
Instructions
Heat oven to 375°F. Line a baking sheet with parchment paper (or leave the cooke sheet ungreased).

In a medium sized bowl, whisk together flour, baking soda and salt. Set aside.

In a large bowl, beat shortening and peanut butter together until well combined. Add 1/4 cup granulated sugar and brown sugar, beating until fluffy.

Add egg, milk and vanilla; beating until well combined. Gradually add flour mixture and beat until a dough forms and everything is well combined.

Using a small cookie scoop and your hands, shape dough into 1-inch balls. (If you do not have a small cookie scoop, this is a little more than 1 tablespon worth of dough for each ball.)

Roll dough ball in granulated sugar and place on prepared cookie sheet.

Bake 8 to 10 minutes or ever so lightly browned on the edges and then remove from oven. You do not want to over bake these cookeis, it will dry them out.

Immediately press a chocolate kiss into center of each cookie. Allow cookeis to cool for 5 minutes and then transfer cookies to a cooling rack to cool completely.

Store in an airtight container, at room temperauter for up to 7 days.
Nutrition
Serving:
1
,
Calories:
93
kcal
,
Carbohydrates:
10
g
,
Protein:
2
g
,
Fat:
6
g
,
Saturated Fat:
3
g
,
Polyunsaturated Fat:
2
g
,
Cholesterol:
10
mg
,
Sodium:
89
mg
,
Sugar:
6
g
SaveSave
This post may contain affiliate links. Read my disclosure policy.