Reese's Pieces Peanut Butter Cookies
Confession: I love peanut butter cookies more than chocolate chip cookies. I wonder if that somehow bans me from being in the cool food blogger group.
Jorge is gone this week and I have been eating some strange things for meals. When he's gone, I never feel like making actual full meals for myself. I end up eating a lot of random things together instead. Tuesday I had roasted broccoli and a couple hours later a cucumber salad. And last night, I had garlic hummus for dinner. With those new "popped" wheat thins — which if you haven't tried yet, you need to asap. I love them so much more than regular hard wheat thins.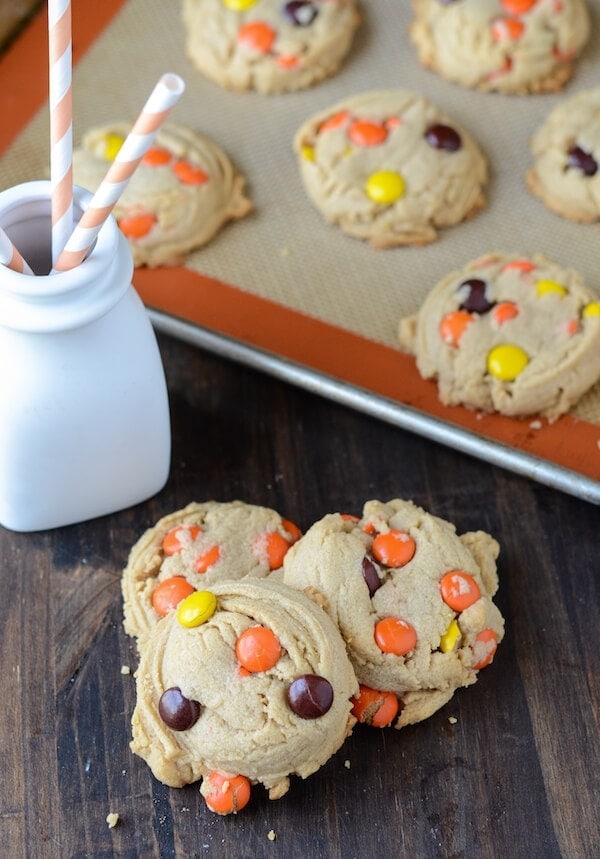 Ehh, I'm getting a little off topic there. The point is, Jorge is out of town and I haven't been eating regular meals. Instead, I just snack all.the.time. So I decided I was going to make my favorite garlic brown sugar chicken for dinner. I did and it was great, but it left me with only 1 stick of butter. And, of course, a craving struck for cookies.
Thankfully, my favorite peanut butter cookie recipe only needs 1 stick of butter. It was like I was destined to have these cookies! This is favorite base for all kinds of delicious combinations. This time I stuffed it full of Reese's Pieces, but I have also added: plain chocolate chips, mini marshmallows, mini Reese's cups and sometimes I make them plain with just a sprinkle of sea salt on top.
No matter what you add to them — this recipe always make crumbly, tender peanut butter cookies. They are always perfect, every time. 🙂
Reese's Pieces Peanut Butter Cookies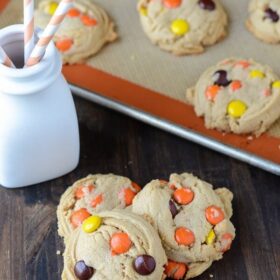 Ingredients:
1 3/4 cups all-purpose flour
3/4 teaspoon baking soda
1/2 teaspoon salt
1/2 cup (1 stick) unsalted butter, softened
3/4 cup peanut butter
1/2 cup white sugar
1/2 cup packed brown sugar
1 egg
1 teaspoon vanilla extract
1 cup (about 8 oz) Reese's Pieces
Directions:
Preheat oven to 350°F. Line two baking sheets with parchment paper.
Combine the flour, baking soda and salt in a medium bowl. Set aside.
In the bowl of a stand mixer, beat the butter, peanut butter and sugars, until light and fluffy. Add in the egg and vanilla.
Gradually add in the flour mixture on low speed. Stir until dough forms. Then stir in Reese's Pieces by hand.
Using a cookie dough scoop or your hands, form balls of dough with 1 heaping tablespoon of dough. Gently flatten cookie dough (to form a disk shape) and place on prepared baking sheets.
Bake for 9 minutes and remove from oven. Let cool for 5 minutes before transferring cookies to a wire rack to cool completely.
Note: Cookies will not spread much at all and will look like they are not done baking. But I promise they are! Once they finish cooling, the cookie and chocolate will become firm and you will have a magically soft and crumbly cookie!