If you're looking for the BEST Chewy Peanut Butter Cookies, with super soft chewy centers and tons of peanut butter flavor, this easy recipe is for you!
I don't call things "The Best" all that often, but when I do…I mean it. And these cookies truly are The Best Chewy Peanut Butter Cookies, ever.
I have had a love affair with Peanut Butter Cookies for a very, very long time. And I have shared tons of different peanut butter cookie recipes over the years.
For just a sampling, here are a few other epic peanut butter cookie recipes you should check out:
In spite of all those epic cookie recipes, I didn't have one for a classic chewy peanut butter cookie recipe. One that is thin, with crispy edges and super soft chewy centers.
So I went to work and I am so very excited to share these amazing Peanut Butter Cookies!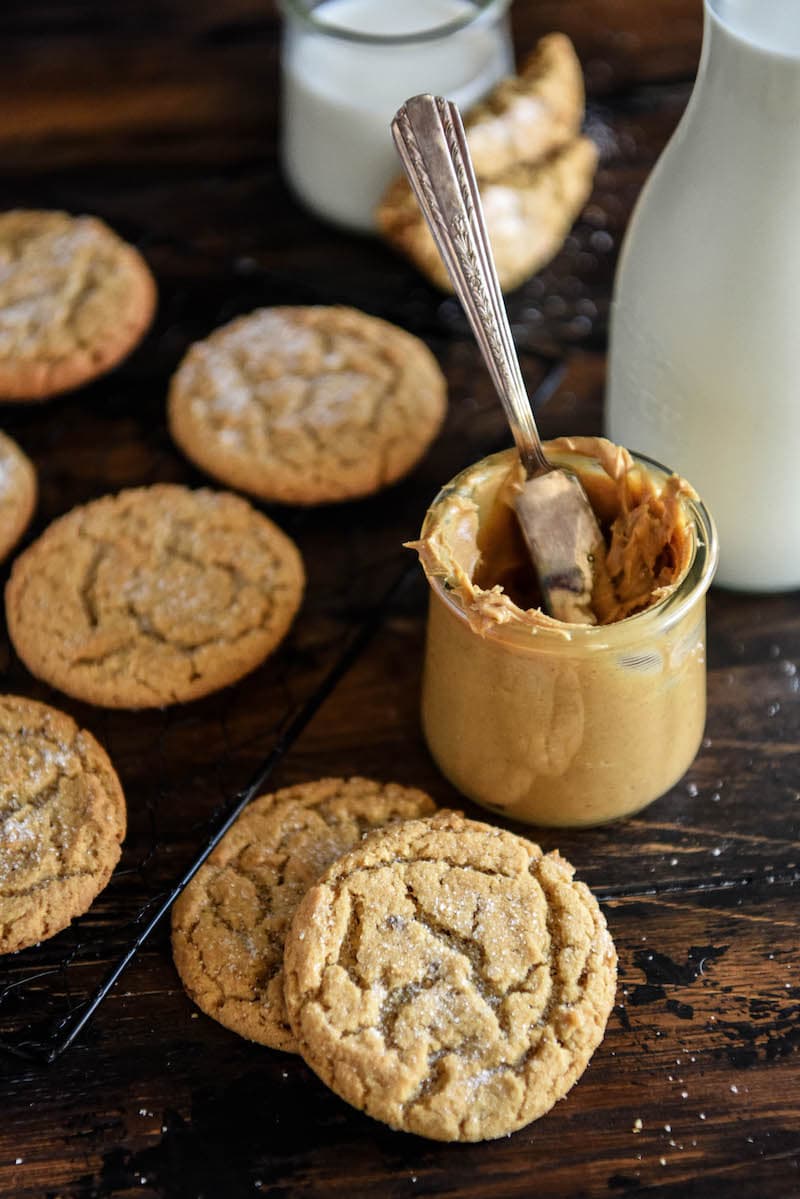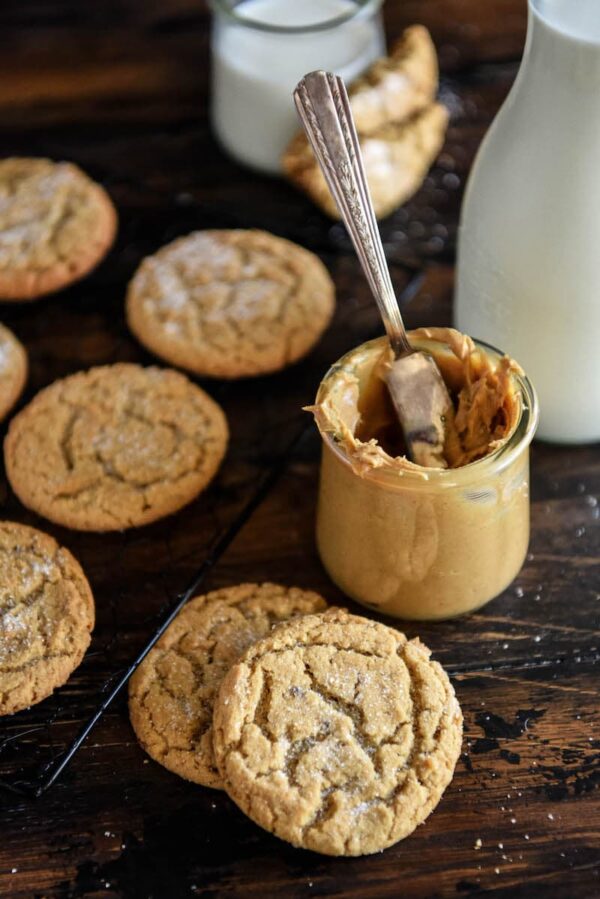 You don't need any special ingredients and this recipe takes less than 30 minutes from to make start to finish.
I like to use creamy peanut butter in these Peanut Butter Cookies, but you can absolutely use crunchy peanut butter instead, if you like a little peanut crunch added to your cookies.
This recipe has been tested and perfected with regular store bought peanut butter. If you use a natural peanut butter (that separates with the oil) it will change how the cookies turn out.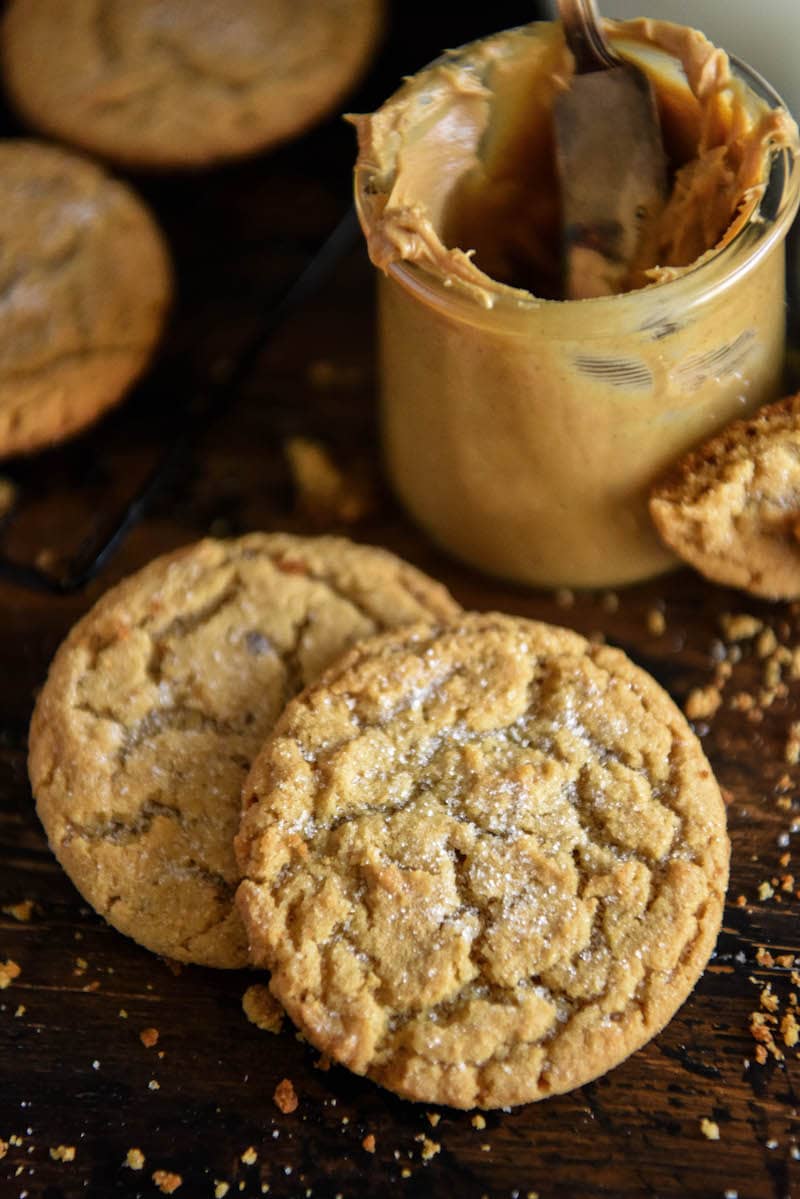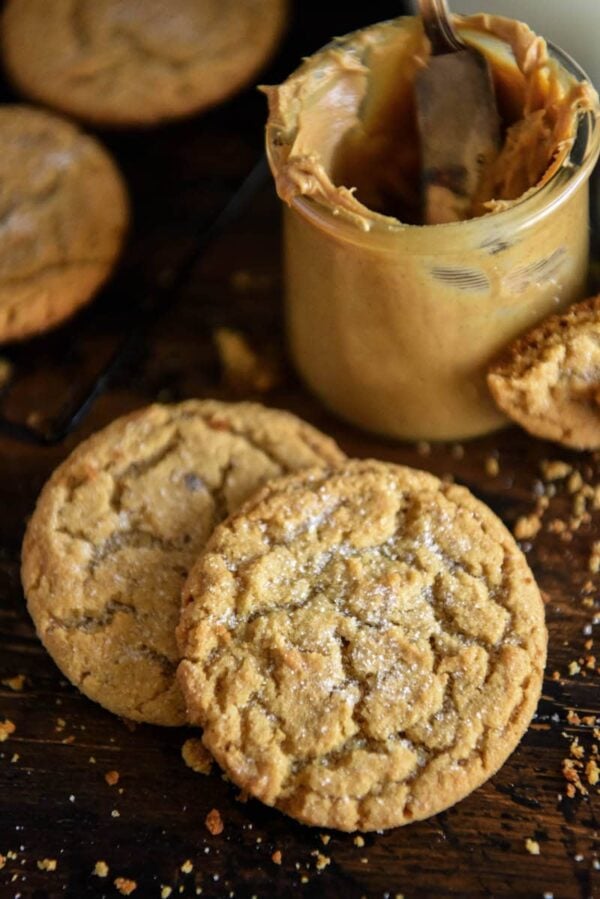 These Peanut Butter Cookies are easy and quick to prepare with no fancy preparation needed.
We combine the dry ingredients and beat together the wet ingredients, and then beat to combine the two until smooth. To add a little depth and keep our peanut butter cookies soft and chewy, I recommend using a ratio of 75% brown sugar and 25% granulated sugar.
Scoop them with a large sized cookie scoop and place them on a cookie sheet with parchment paper or a silicone baking mat.
And the biggest tip I can give you for perfect peanut butter cookies?? DO NOT OVER BAKE THEM!
Bake these cookies for 10 to 12 minutes — just until edges are slightly browned — and remove from oven.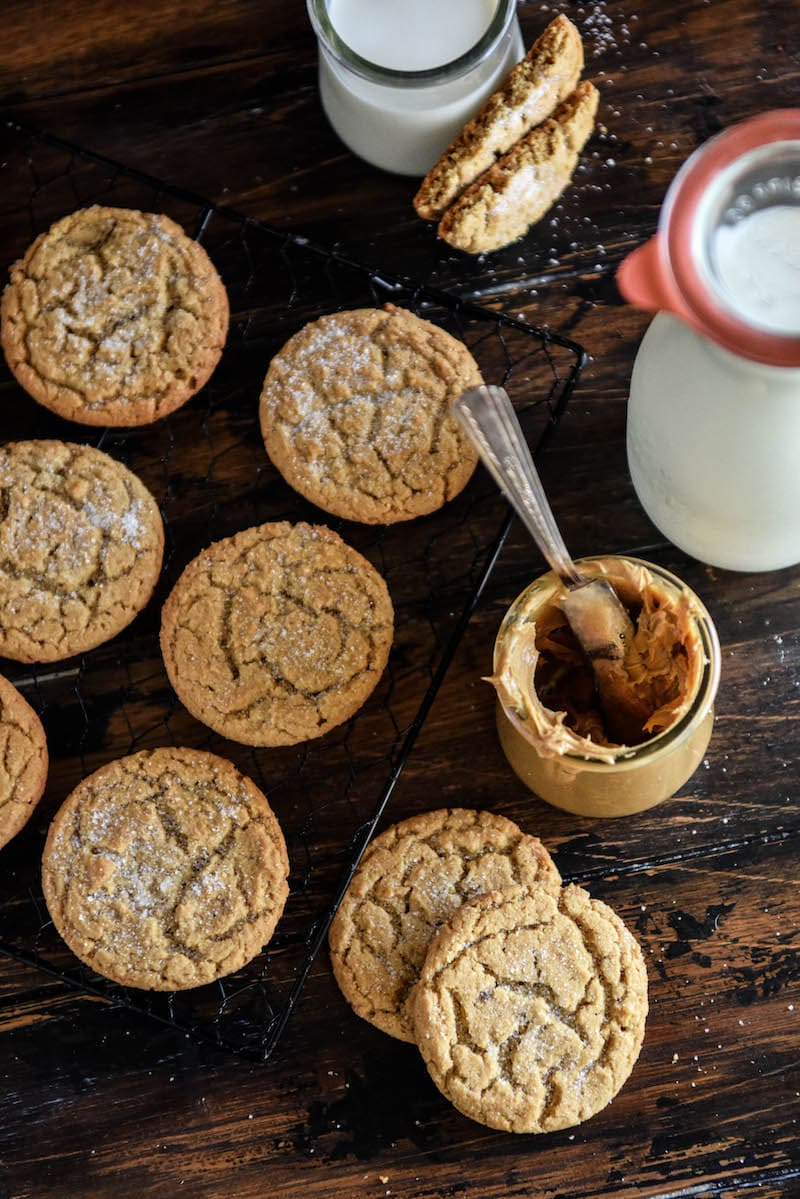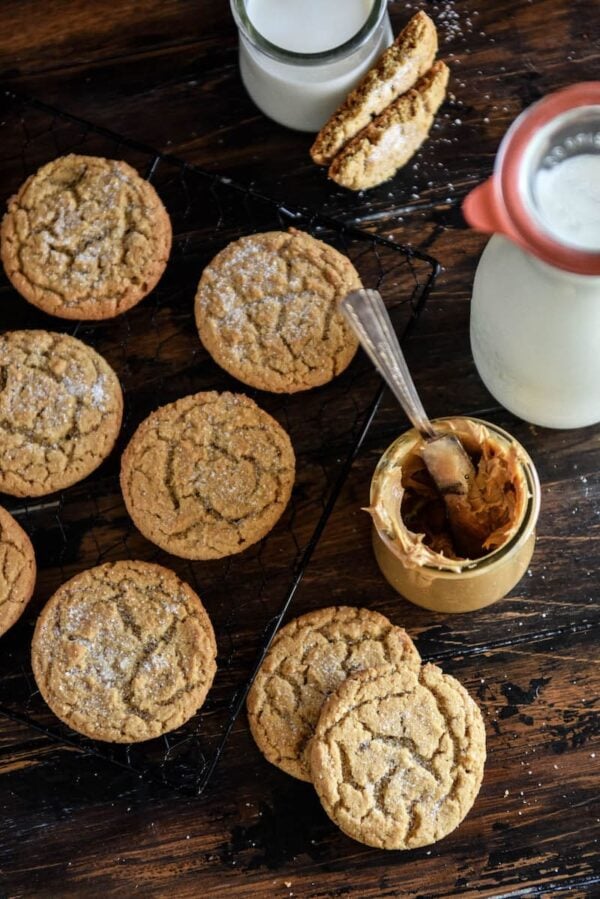 This peanut butter cookie recipe is an excellent make ahead cookie — perfect for a Christmas Cookie Exchange!
Once the cookies are fully cooled, you can store them in an airtight container, on the counter, for up to a week.
They are best in the first few days, but stay delicious if you use the old school bread trick to keep baked goods fresh.
To keep these peanut butter cookies soft, add a slice of bread to the airtight container. Replace the slice of bread every couple of days, as needed.
The cookies will use the moisture from the bread and the bread will become very stale, but the cookies will stay soft!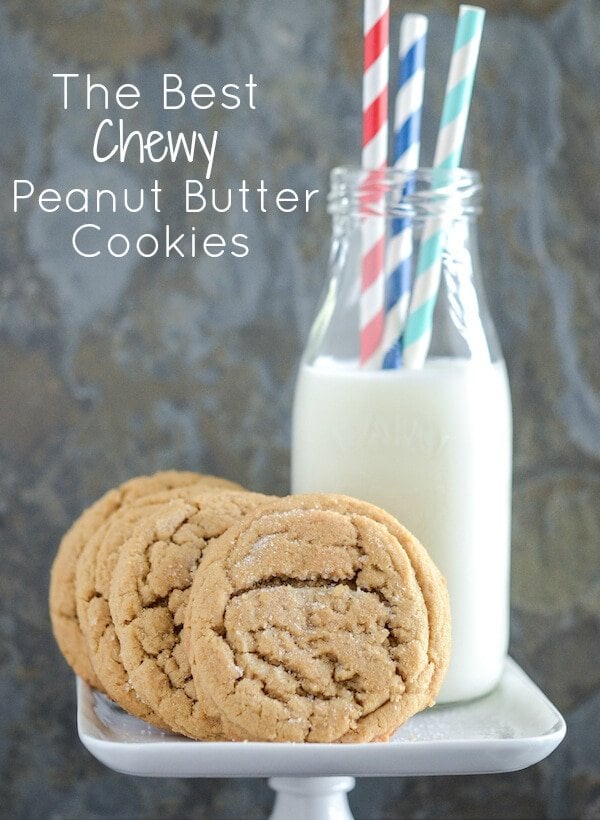 Since my daughters have been born, this has become their FAVORITE cookie I make, and that is really saying something!
Just look at all those raving comments below, I promise you have to try this Peanut Butter Cookie recipe.
Follow the ingredient directions below, don't over bake them, and I promise you will wind up with the BEST Peanut Butter Cookies!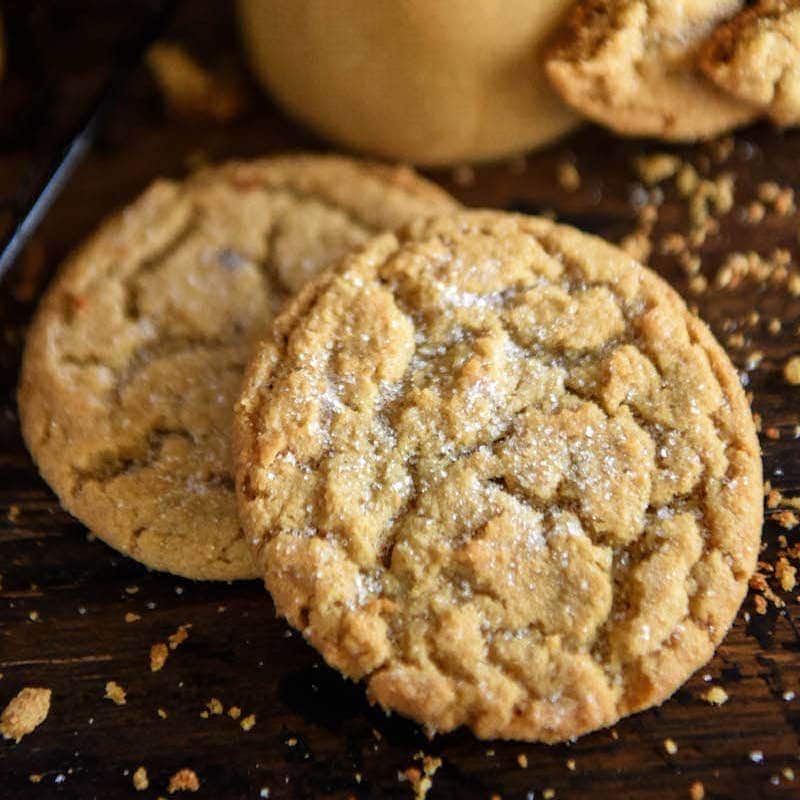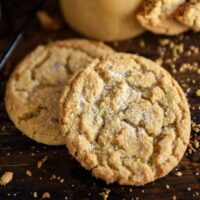 If you're looking for the BEST Chewy Peanut Butter Cookies, with super soft chewy centers and tons of peanut butter flavor, this easy cookie recipe is the one for you!
Ingredients
1 1/4 cup all-purpose flour
1 teaspoon baking soda
1/2 teaspoon salt
1/2 cup creamy peanut butter
1/2 cup (1 stick) unsalted butter, softened
3/4 cup packed brown sugar
1/4 cup granulated sugar
1 large egg
1 teaspoon vanilla extract
sugar for sprinkling, optional
Instructions
Preheat oven to 350°F. Line two baking sheets with parchment paper.
Combine the flour, baking soda and salt in a medium bowl. Set aside.
In the bowl of a stand mixer, beat the peanut butter, butter and both sugars, until light and fluffy. Add in the egg and vanilla.
Gradually add in the flour mixture on low speed. Stir until dough forms.
Using a large cookie scoop (about 1 heaping tablespoon of dough), drop rounded balls of dough onto prepared cookie sheet. Leaving space for spreading. (For a sparkle look, I like to sprinkle the tops of the dough with extra granulated sugar — but it's totally optional.)
Bake for 10 to 12 minutes, or until edges are slightly browned, and remove from oven. Let cool for 5 minutes on cookie sheets before transferring cookies to a wire rack to cool completely.
Store in an airtight container for up to 5 days…but they won't last that long.
Nutrition Information:
Yield:
20
Serving Size:
1
Amount Per Serving:
Calories:

110
Total Fat:

4g
Saturated Fat:

1g
Trans Fat:

0g
Unsaturated Fat:

2g
Cholesterol:

10mg
Sodium:

154mg
Carbohydrates:

17g
Fiber:

1g
Sugar:

10g
Protein:

3g
Categories
This post was updated on 01/29/2018 to include new photos and a video. The original recipe is still the same!
This post may contain affiliate links. Read my disclosure policy.