'Twas the night before the Cookie Swap and all through the kitchen;
I was cooking and baking and moanin' and bitchin'.
I've been here for hours, I can't stop to rest.
This rooms a disaster, just look at this mess!
Tomorrow I've got three dozen cookies to send.
Will the hunt for the perfect cookie ever end?
My feet are both blistered, I've got cramps in my legs.
The cats just knocked over a bowl full of eggs.
There's a knock at the door and the telephone is ringing;
frosting drips on the counter and the timer is dinging.
A dozen cookies in the oven, this batch is almost done;
my cookbook is soiled with butter and crumbs.
I've had all I can stand, I cant take anymore;
Then in walks my husband, spilling rum on the floor.
He weaves and he wobbles, his balance unsteady;
then grins as he chuckles, "The eggnog is ready!"
He looks all around and with total regret,
says, "Whats taking so long…aren't the cookies done yet??"
As quick as a flash I reach for a knife;
"Don't push me right now, I'll go full on Desperate Housewife!"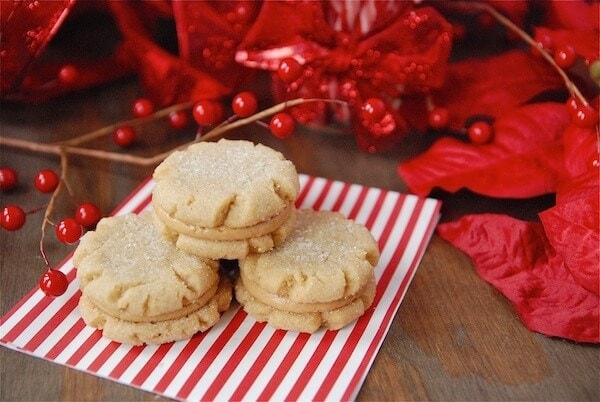 He flees from the room in terror and disdain
and screams, "MY GOD WOMAN, YOU'RE GOING INSANE!!"
Now what was I doing, and what is that smell?
Oh, shit! It's the cookies!! They're burned all to hell!!
I hate to admit when I make a mistake,
but I put them on BROIL instead of on BAKE.
What else can go wrong?? Will I ever get ahead??
Can I send store bought cookies to my matches instead?
After a good cry, back to the trusty mixer I went;
I mixed, and I scooped, and I baked with intent.
I placed the cookies in the oven, and waited in fear,
And I'll be damned, but 12 perfect cookies finally appeared!
I wrapped them in packages and tied them with red bows;
and on the side of each box I wrote, deliver these pronto!
As I drove away from the post office, fingers still crusted in dried dough,
I thought to myself, Merry Christmas to all, now pass me a Cosmo!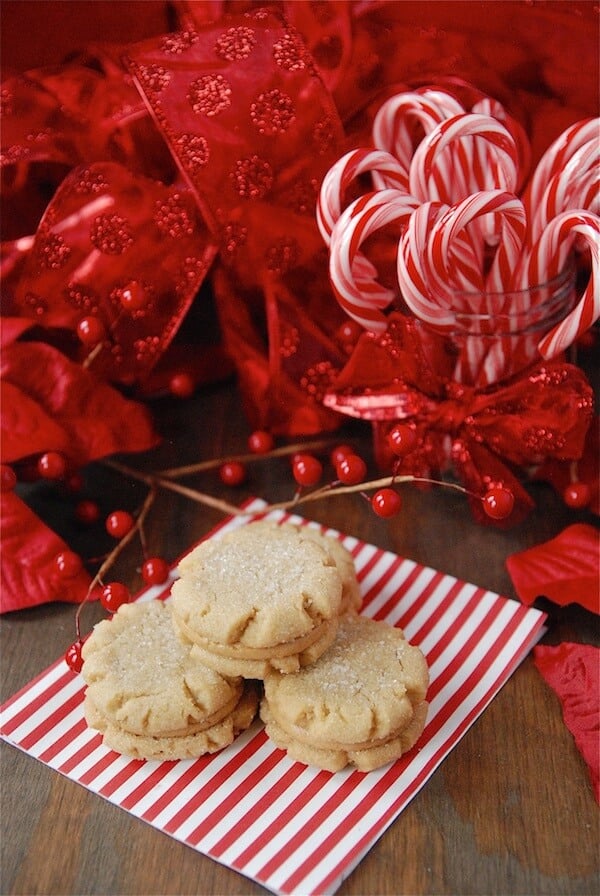 Now that you know how much of a dork I am, for sitting here trying to make that rhyme all night, let's talk cookies. Peanut Butter Sandwich Cookies to be exact. When my girlfriends Lindsay of Love & Olive Oil and Julie of The Little Kitchen told me they were planning The Great Food Blogger Cookie Swap, I told them to count me in! I had planned to make a new version of the now famous Fruity Pebble Macarons for whoever I got as my matches…but then it turned out, all 3 of them live in California!! I was just too nervous that those delicate Macarons would not make the long journey, from Florida to California, in one piece. So I started the long process of recipe testing.
I baked multiple flavors of cookies. Flash froze them for 30 minutes. Placed them in an airtight container. And then let them sit in my pantry for 3 days. On day 3, I tried them all again to see which cookie had held up the best. I was not surprised to find that these Peanut Butter Sandwich Cookies were almost exactly the same as they were on day one. When working on this cookie recipe, I specifically made it with shortening to create a softer cookie. I also made sure the filling had no milk or cream, so it would be safe for shipping (butter does not have to be refrigerated). And lastly, I had hoped that the filling would help to keep the cookies moist over many days of sitting…and thankfully it did! So I baked up a big batch and mailed them off to my 3 matches: The Cooking Vent, Patricia's Patticakes, and Damn Delicious.
I want to take a second and thank Lindsay and Julie for putting together such an amazing Food Blogger Cookie Swap! This was the very first time anyone has done anything like this.
They were in charge of getting everyone's information, assigning matches, and helping to ensure everything ran smoothly. Which was a lot to take on, when over 600 food bloggers signed up! But these two wonderful ladies took it in stride and made the swap completely seamless for the rest of us.
Yield:
3
1/2 Dozen Small Cookies
These Peanut Butter Sandwich Cookies are the perfect recipe for when you want to mail treats to family around the holidays! So easy to make, these cookies stay soft and fresh for days.
Ingredients
3

cups

all-purpose flour

2

teaspoons

baking soda

½

teaspoon

salt

1

cup

shortening

,

butter flavored

1

cup

peanut butter

1

cup

granulated sugar

,

plus additional sugar for rolling

1

cup

packed light brown sugar

3

eggs

1

tablespoon

vanilla extract
Filling
1 ½

cups

creamy peanut butter

½

cup (1 stick)

unsalted butter

,

room temperature

1

cup

powdered sugar

1

tablespoon

vanilla extract

1

teaspoon

salt
Instructions
Cookies: Preheat oven to 375 degrees and line baking sheets with parchment paper or a silpat.

In a medium bowl, whisk together flour, baking soda, and salt. Set aside.

In bowl of stand mixer, beat together shortening and peanut butter. Add granulated sugar and brown sugar, cream together until light and fluffy, about 2 minutes. Add in eggs and vanilla extract, beating till combined. Add flour mixture to peanut butter mixture and stir until combined, scraping down the bowl as needed. The dough will be a soft dough.

Place a few heaping tablespoons of granulated sugar in a shallow bowl or saucer. Then roll 1 tablespoon worth of dough into balls, toss in sugar, and place on prepared baking sheet. Using the bottom of a flat glass, or the palm of your hand, evenly press on the dough balls to flatten till about 1/2 inch thick. Leave about 1 inch between each cookie for spreading.

Bake for 8 minutes, rotating half way through, or until the cookies have slightly spread and risen a little. They will not brown or change much color because of the peanut butter. Let cookies rest on baking sheet for 3-4 minutes, then transfer to a wire rack to cool completely...then fill!
Peanut Butter Filling:
Place all the ingredients in the bowl of your stand mixer. Beat to combine, about 2 minutes.

Scrape filling into piping bag with a plain circle tip, or in a ziplock baggie with the top cut off. Pipe filling into the center of every other cookie, and then sandwich together.

Store in an airtight container for up to 5-6 days.
Nutrition
Serving:
3
,
Calories:
230
kcal
,
Carbohydrates:
24
g
,
Protein:
5
g
,
Fat:
13
g
,
Saturated Fat:
4
g
,
Polyunsaturated Fat:
8
g
,
Cholesterol:
17
mg
,
Sodium:
217
mg
,
Fiber:
1
g
,
Sugar:
15
g
SaveSave
This post may contain affiliate links. Read my disclosure policy.