Chocolate Peanut Butter Cake
This Chocolate Peanut Butter Cake is an extra moist, rich, three layer chocolate cake with creamy peanut butter frosting and a sweet chocolate glaze on top! Prepare to fall in love!
Looking for more chocolate and peanut butter desserts? Here are my most popular recipes: Chocolate Peanut Butter Sheet Cake, Peanut Butter Blossoms, and Peanut Butter Cup Cookies.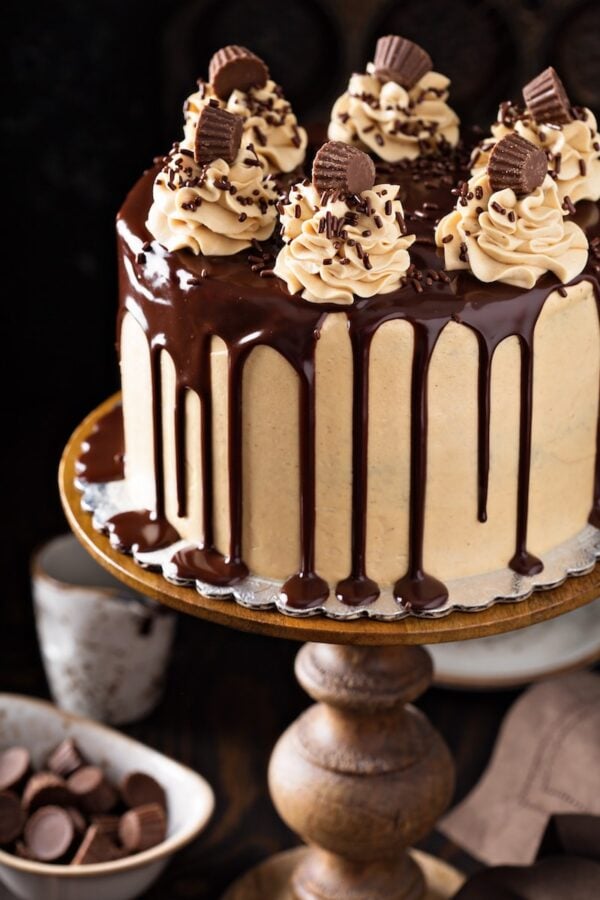 Chocolate Peanut Butter Cake
Chocolate and Peanut Butter — a combination after my own heart. If you are craving an extra rich chocolate cake with a thick peanut butter frosting and a layer of chocolate ganache, this cake is for you. This is one of the moistest cakes I have ever made. Every layer is sheer perfection.
I have made this Chocolate Peanut Butter Cake for countless birthdays – I will always contend that it is THE perfect birthday cake. It is one of Jorge's favorites so it makes it perfect for Father's Day as well. Heck, you don't even need a special occasion. This cake will disappear on a random Tuesday just as fast. I promise.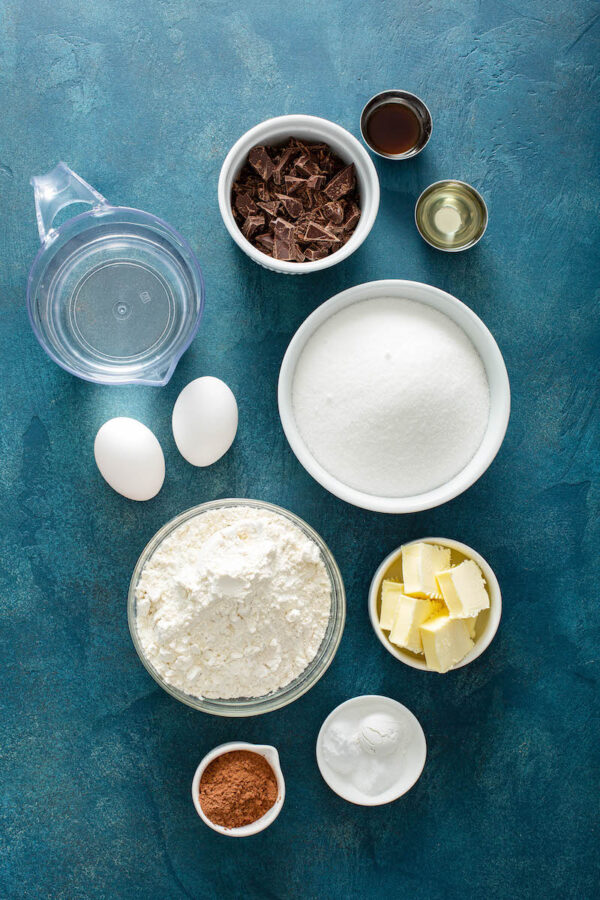 Do I need any special ingredients for Chocolate Peanut Butter Cake?
I know the list of ingredients might appear daunting, but I promise the hardest part is waiting for the cake to cool! This chocolate cake contains fairly standard cake ingredients that you probably already have in your pantry:
Flour
Cocoa Powder
Baking Powder
Baking Soda
Salt
Water
Sugar
Butter
Vanilla Extract
Vegetable Oil
Eggs
Dark chocolate
I recommend a good quality dark chocolate and cocoa powder, you'll be surprised the difference it will make in your final product. Creamy peanut butter will be essential to the peanut butter frosting.
It is always important to test the freshness of your baking powder and baking soda – this helps yield a proper rise on your cake layers. To do this for baking powder – drop a healthy pinch of powder into about ½ cup of hot water. For baking soda – drop a healthy pinch into about a ½ cup of hot water with ¼ teaspoon vinegar. If they fizz – they are still good to use!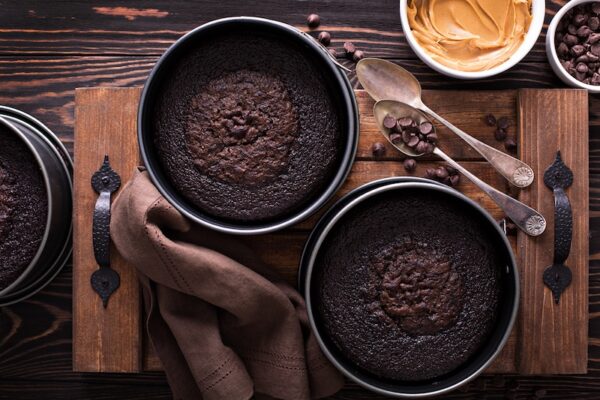 How to make Chocolate Peanut Butter Cake
First we make the chocolate layers for the cake. This batter is pretty straight forward, don't be nervous when it's a little thinner of a batter than some cakes are. It will bake up perfect and moist!
Once the cake layers are cool, beat together the peanut butter frosting until it's light and fluffy. Frost that cake in thick layers of this peanut butter frosting and then pop it into the fridge while you make the chocolate ganache to go on top.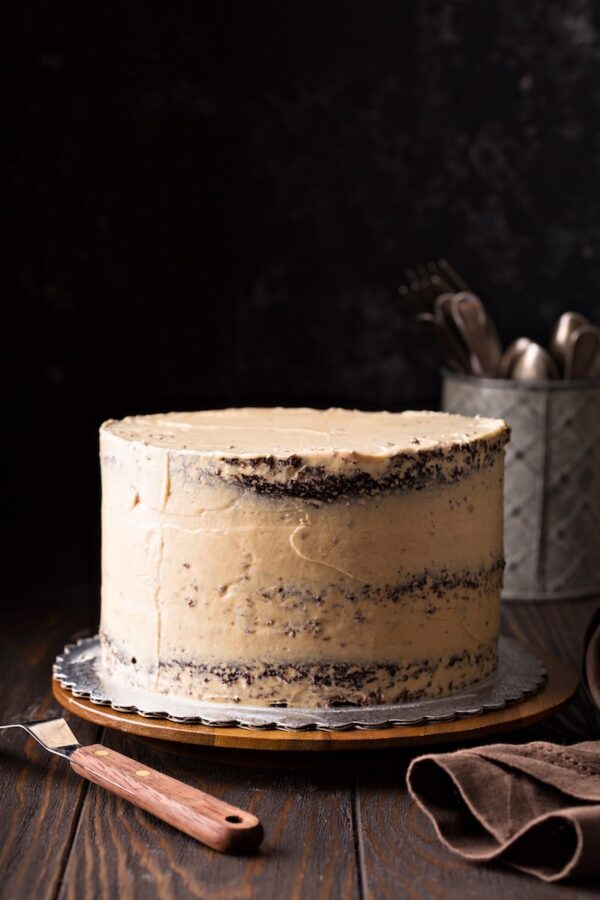 Chocolate Ganache
For the "cherry" on top of this delectable cake… let's talk about the chocolate ganache! It really takes this Chocolate Peanut Butter Cake to the next level. It honestly makes it taste just like a Reese's Peanut Butter Cup, but in cake form!
This Chocolate Ganache is easy to make, you don't need any fancy skills! And the key to the perfect texture for using on top of desserts or ice cream is corn syrup. I know, corn syrup. However, you absolutely cannot skip the corn syrup in the ganache if you want that glistening perfect texture to drizzle on the cake. It's just two teaspoons worth!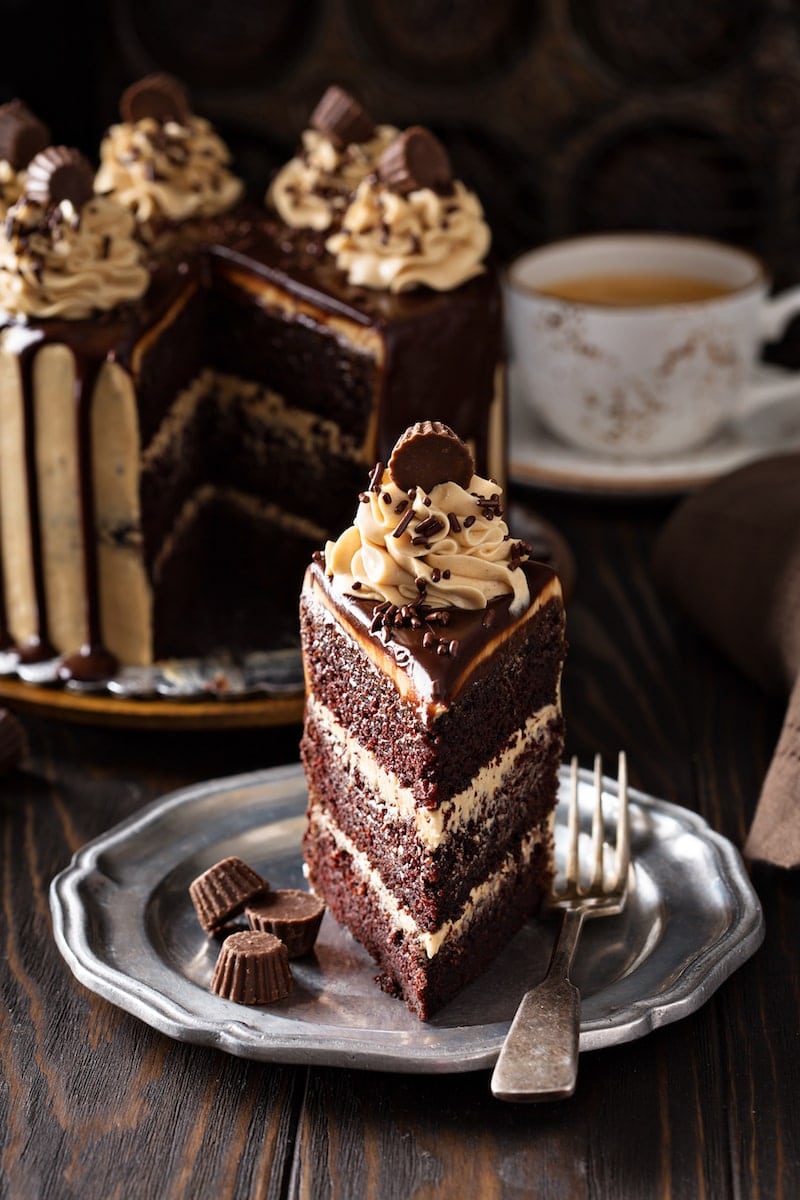 Tips for making the best Chocolate Peanut Butter Cake:
Use a good quality dark chocolate and cocoa powder.
Do not rush the melting of the chocolate or sugar. Doing so may burn the ingredients and making it unusable and you will have to start over again.
Ensure your cake batter is spread evenly between all three cake pans so they bake evenly.
Allow proper cooling time before assembling or frosting cake, otherwise you are going to have a messy melted cake on your cake plate.
Give the ganache enough time, about 5 minutes, to firm up so it properly drizzles and adheres to the chocolate peanut butter cake.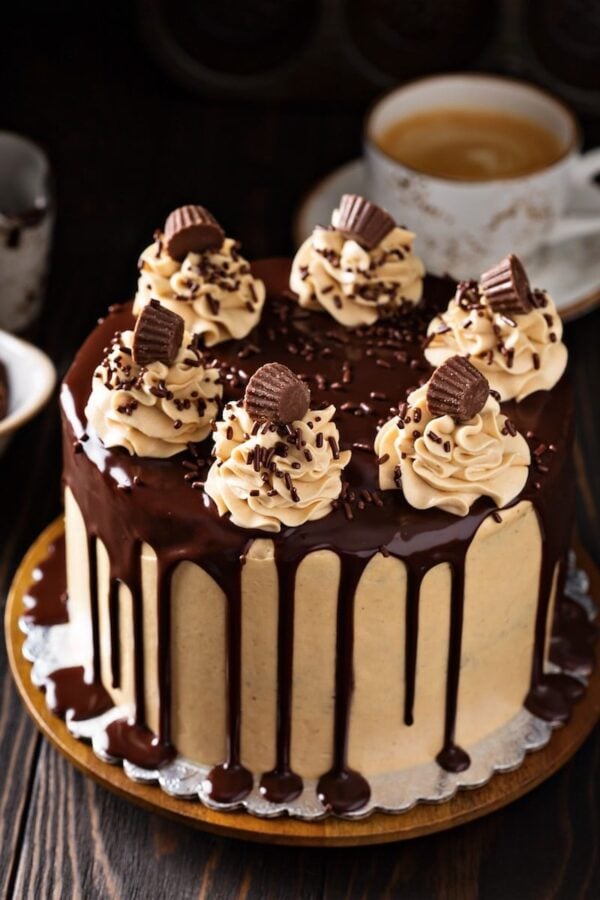 Can I make this cake ahead? How do I store it?
Yes. It's best within the first 2-3 days after baking it…but, good luck keeping it around that long! It's always gone so fast in my house, we just can't stop taking a bite here and there.
If it's going to be longer than a few hours before you serve it, I recommend storing this Chocolate Peanut Butter Cake in the fridge just to be on the safe side. Before serving it, allow the cake to come to room temperature for best flavor and texture.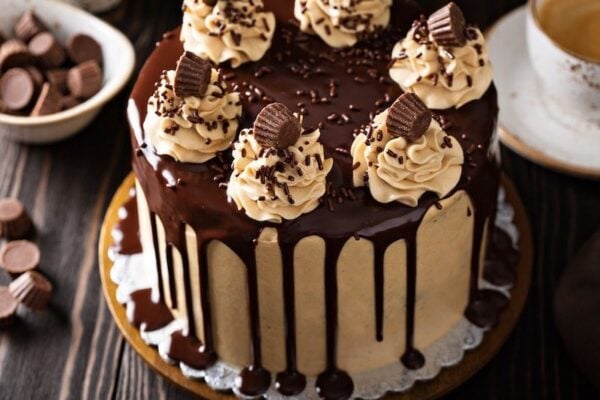 I have made this Chocolate Peanut Butter Cake every year for Jorge's birthday for the past 7 years. It has become his officially birthday cake! Sometimes I swap the peanut butter frosting recipe for my favorite chocolate buttercream frosting to create an epic chocolate on chocolate cake!
I can't wait for you all to try it out — I know it's going to be your new favorite too! Please leave a review/comment below letting me know how it turns out for you!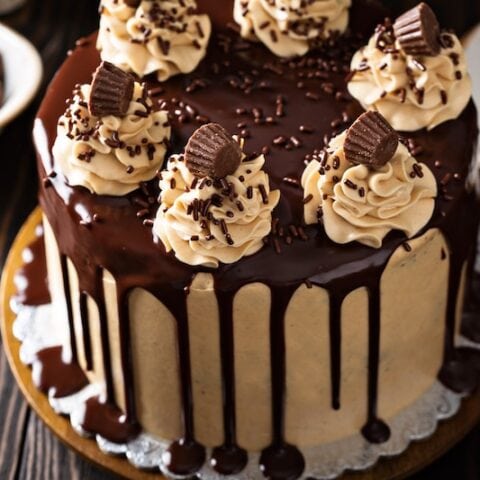 Chocolate Peanut Butter Cake
Yield: serves 12
Prep Time: 30 minutes
Cook Time: 25 minutes
Additional Time: 45 minutes
Total Time: 1 hour 40 minutes
This Chocolate Peanut Butter Cake is an extra moist, rich, three layer chocolate cake with creamy peanut butter frosting and a sweet chocolate glaze on top!
Ingredients
Chocolate Cake
2 cups all purpose flour
1/4 cup cocoa powder
2 teaspoons baking powder
2 teaspoons baking soda
1 teaspoon salt
2 cups water
2 cups sugar
5 oz dark chocolate, chopped
6 tablespoons unsalted butter
2 tablespoons vegetable oil
1 teaspoon vanilla extract
2 large eggs
Peanut Butter Frosting
1 1/2 sticks unsalted butter, room temperature
1 cup creamy peanut butter
1 teaspoon vanilla extract
1/2 teaspoon salt
1 1/2 cup powdered sugar
about 1 1/2 tablespoons milk
Chocolate Ganache
4 tablespoons unsalted butter
2 tablespoons milk
2 teaspoons corn syrup
1 teaspoon vanilla extract
2 ounces dark chocolate, chopped
1 cup confectioners' sugar, sifted
Instructions
Chocolate Cake: Preheat oven to 350°F. Butter three 8 inch round cake pans. Set aside.
In a medium bowl, whisk together flour, cocoa powder, baking powder, baking soda and salt.
In a medium saucepan over medium high heat, combine water and sugar. Bring to a boil and stir until sugar dissolves, about 1 minute. Remove from heat and add chocolate and butter, stirring occasionally, until melted.
Whisk in vegetable oil and vanilla extract. Quickly beat in eggs (do this quickly so they don't cook) into the chocolate mixture until combined. Whisk in dry ingredients, until smooth.
Divide batter evenly between prepared pans and bake for 20 to 23 minutes, or until a toothpick inserted in the center comes out clean.
Let cakes cool in pans until cool to the touch – then frost.
Peanut Butter Frosting: Cream butter and peanut butter in a stand mixer. Add vanilla and salt. Gradually add powdered sugar, one half cup at a time, beating well on medium speed. Scrape sides and bottom of bowl as needed.
When all sugar has been mixed in, icing will appear dry. Add milk, one teaspoon at a time, and beat at medium speed until light and fluffy.
Assemble the two cake layers with a thick layer of frosting in between the layers. Then apply a thin crumb coat on the top and sides. Pop cake in the freezer to harden the crumb coat for about 10 minutes.
Apply one final thick and even layer around the outside of the cake.
Dark Chocolate Glaze: Combine butter, milk, corn syrup, and vanilla extract in small saucepan and heat over medium heat until butter is melted. Decrease the heat to low, add the chocolate, and whisk until melted.
Remove from heat, add the powdered sugar, and whisk until smooth. Let chocolate glaze sit for 5 minutes until it has cooled slightly and started to thicken just a little bit. Then slowly pour on top and push towards the edges – allowing a little to drizzle over the edge for desired effect.
Let glaze harden for 30 minutes and serve!
Nutrition Information:
Yield: 12 Servings
Serving Size: 1 Serving
Amount Per Serving:
Calories: 745
Total Fat: 40g
Saturated Fat: 19g
Trans Fat: 0g
Unsaturated Fat: 18g
Cholesterol: 88mg
Sodium: 682mg
Carbohydrates: 90g
Fiber: 3g
Sugar: 66g
Protein: 9g