Whoever said you can't have it all never tried this Chocolate Espresso Cake! Layers of rich espresso chocolate cake are wrapped with a beautiful fluffy espresso buttercream to create this incredibly indulgent treat. This cake is extra moist, perfectly dense with a soft crumb, and holds up wonderfully to the sweet and strong espresso buttercream.
Chocolate Espresso Cake
Indulgent doesn't even begin to cover it, y'all. This chocolate espresso cake is rich with deep chocolate and espresso flavors with fluffy, yet dense cake layers and a thick homemade buttercream that will undoubtedly have you licking the spoon. Oh, and you can't forget to decorate it with sweet chocolate syrup and espresso beans, if desired! And let's face it – that's definitely desired.
Instead of snagging the usual birthday cake from the store for my hubby this year, I'm HIGHLY considering making this chocolate espresso cake instead. He's a big fan of espresso, and while I'm not even a huge coffee fanatic like he is, I can't stop myself from enjoying a big slice of this cake! The way that the chocolate and espresso flavors meld together is crazy delicious, and honestly, better than any store-bought birthday cake I've ever had. Even if you're not a "coffee person," trust me – you'll love this sweet, decadent treat.
My favorite part of any cake is always the ice cream, but with this cake, it's actually difficult to make that distinction! While the buttercream is spoon-licking good, each layer of soft homemade chocolate espresso cake is also downright delicious. I know what you might be thinking, too. A cake this perfect in every way and so picturesque must be a hassle, right? No! From start to finish, this layer cake takes under an hour to whip up. This is an easy recipe that always impresses – the best of both worlds!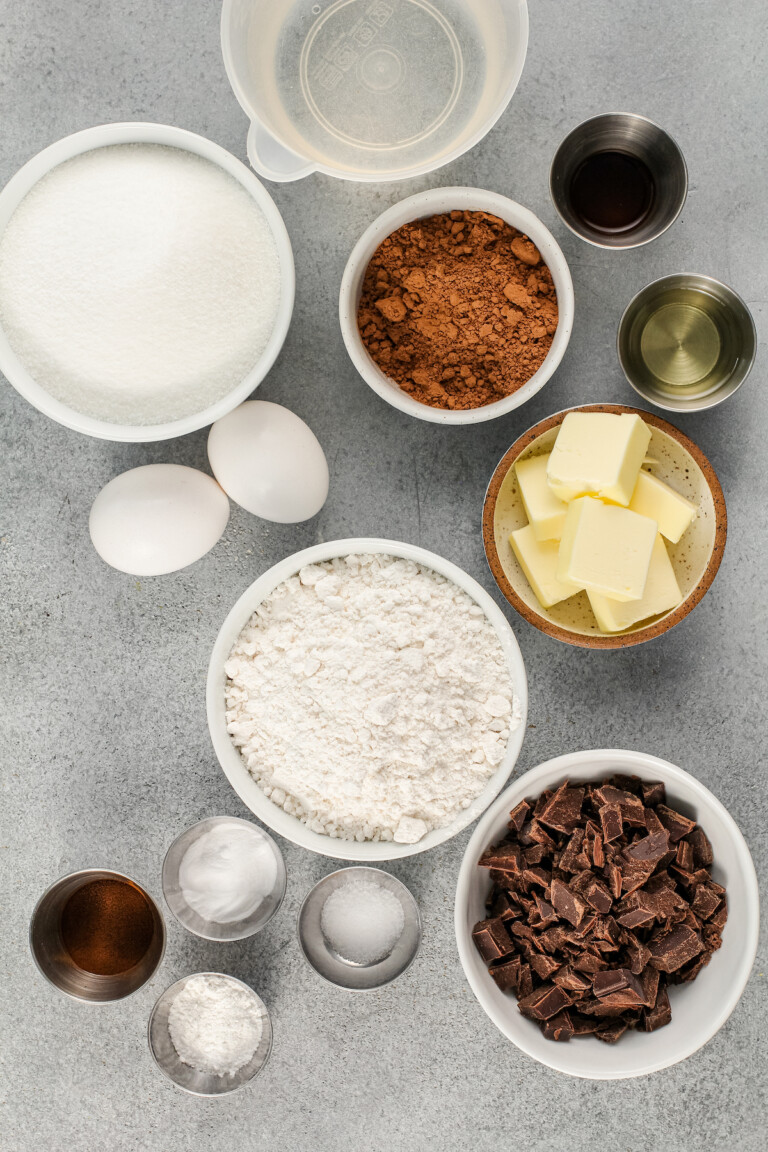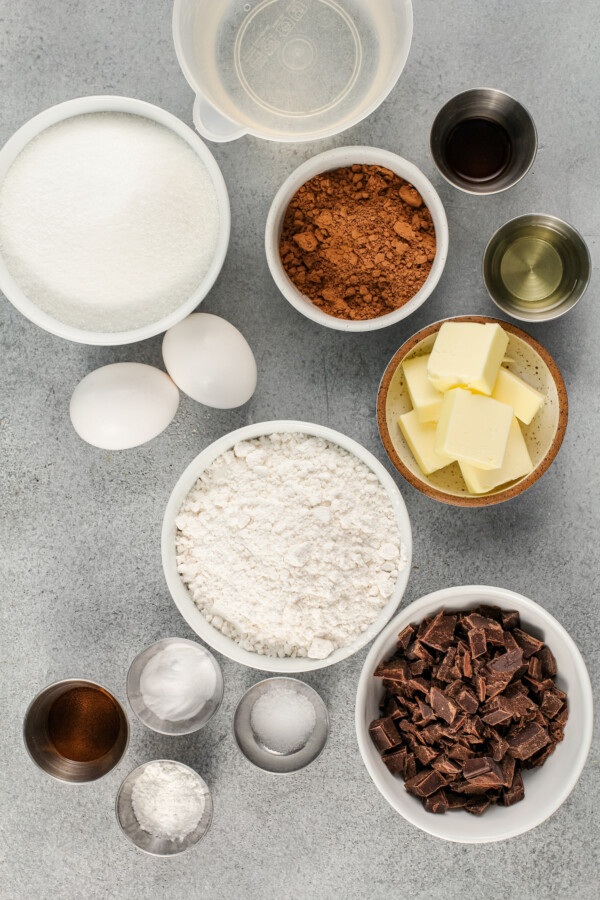 Ingredients
For the cake layers, you'll need:
All-Purpose Flour
Cocoa Powder
Instant Espresso Powder – This isn't the same thing as instant coffee! Double check the label and make sure it's espresso powder.
Baking Powder
Baking Soda
Salt
Water
Granulated Sugar
Dark Chocolate – It's important to use dark, not semi sweet or milk chocolate. It helps create that divine rich flavor that makes this cake so irresistible.
Unsalted Butter – Do NOT use salted! The pinch of salt that the cake calls for is enough to enhance the other flavors. Salted butter will make this cake salty, which you absolutely don't want.
Vegetable Oil
Vanilla Extract
Eggs – It's best if the eggs are room temperature.
The buttercream will need:
Instant Espresso Powder
Water
Unsalted Butter – Make sure it's softened and room temperature, or your buttercream will wind up lumpy.
Powdered Sugar
Vanilla Extract
Salt – Just a pinch!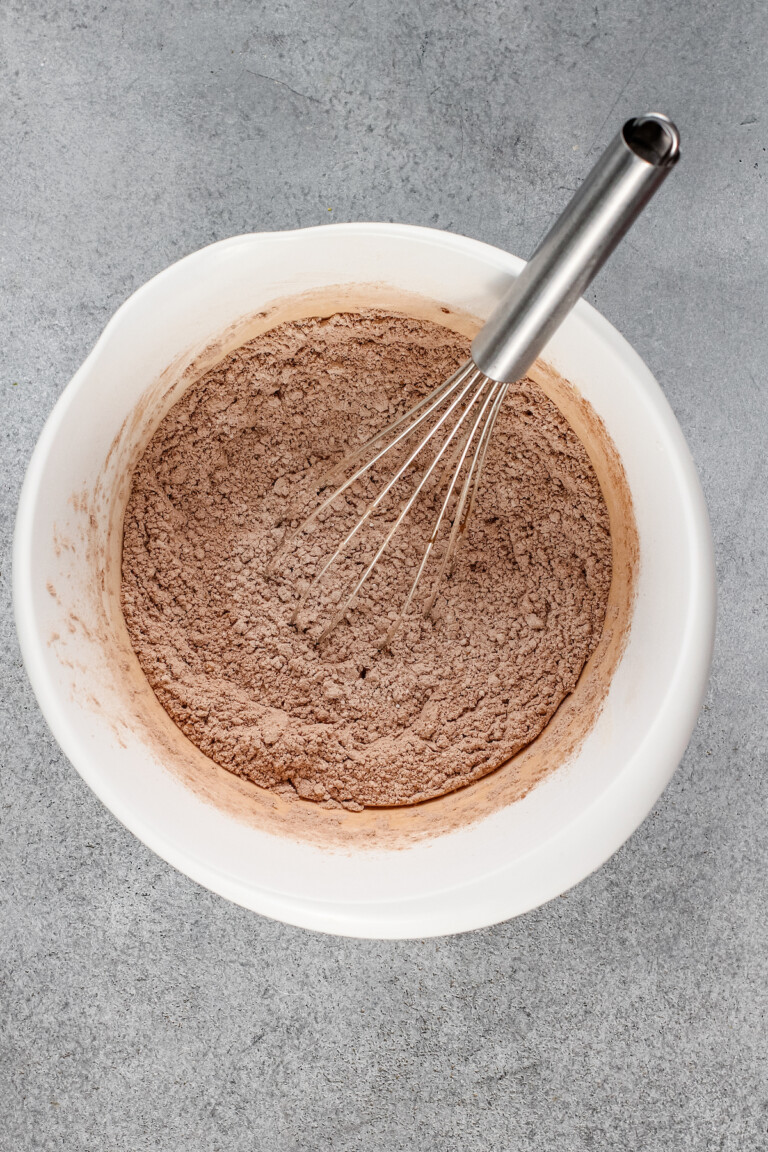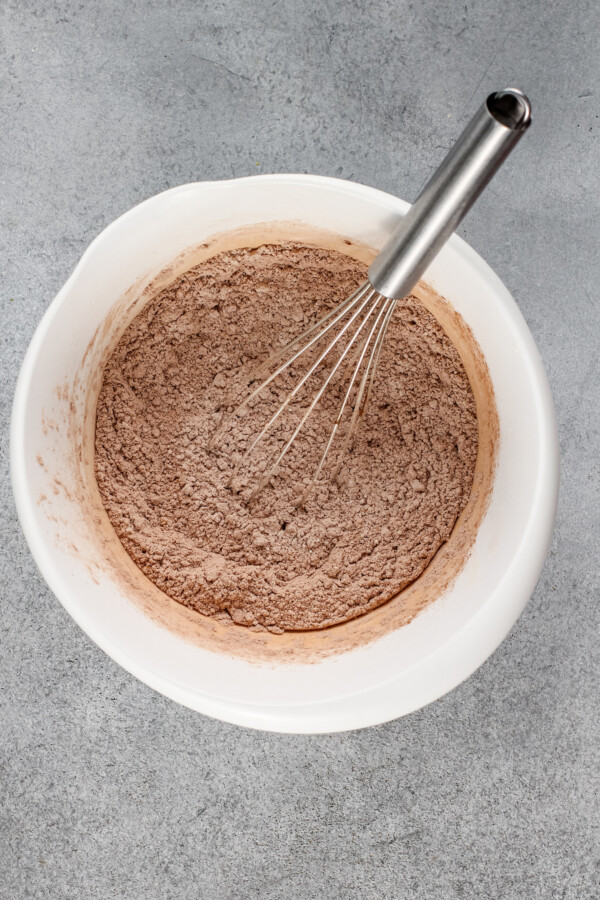 How to make a chocolate espresso cake
Prepare. To make chocolate cake, preheat oven to 350°F. Butter three, 8-inch round cake pans and line bottom with a round piece of parchment paper cut to fit bottom of your cake pans. (This ensures your cake does not stick.) Set aside.
Mix the dry ingredients. In a medium bowl, whisk together flour, cocoa powder, instant espresso powder, baking powder, baking soda, and salt.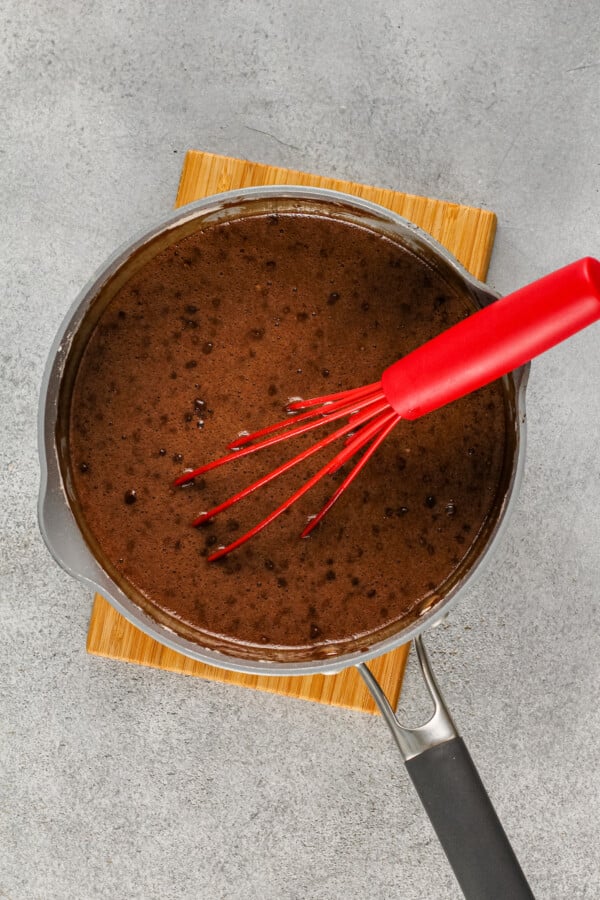 Boil and stir. In a medium saucepan over medium high heat, combine water and sugar. Bring to a boil and stir until sugar dissolves, about 1 minute. Remove from heat and add chocolate and butter, stirring occasionally, until melted.
Whisk. Whisk in vegetable oil and vanilla extract. Quickly beat in eggs (do this quickly so they don't cook) into chocolate mixture until combined. Whisk in dry ingredients, until smooth.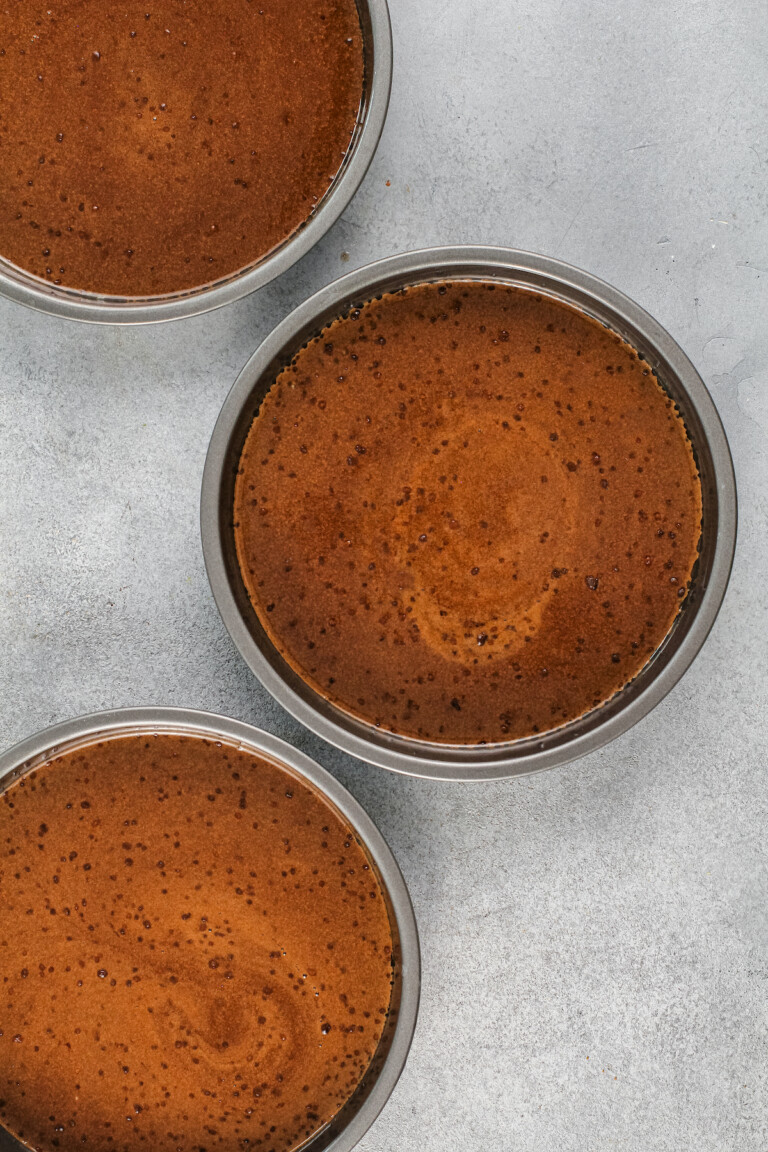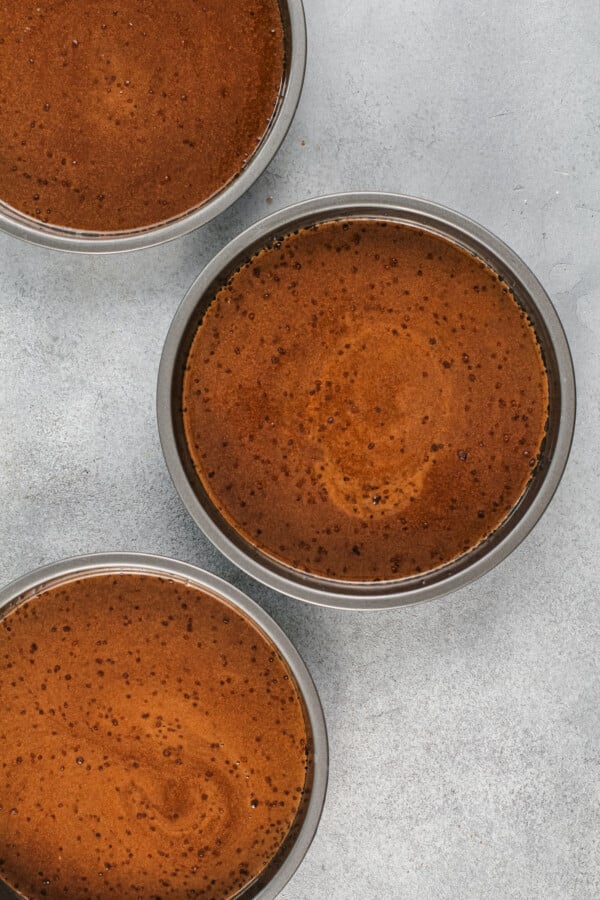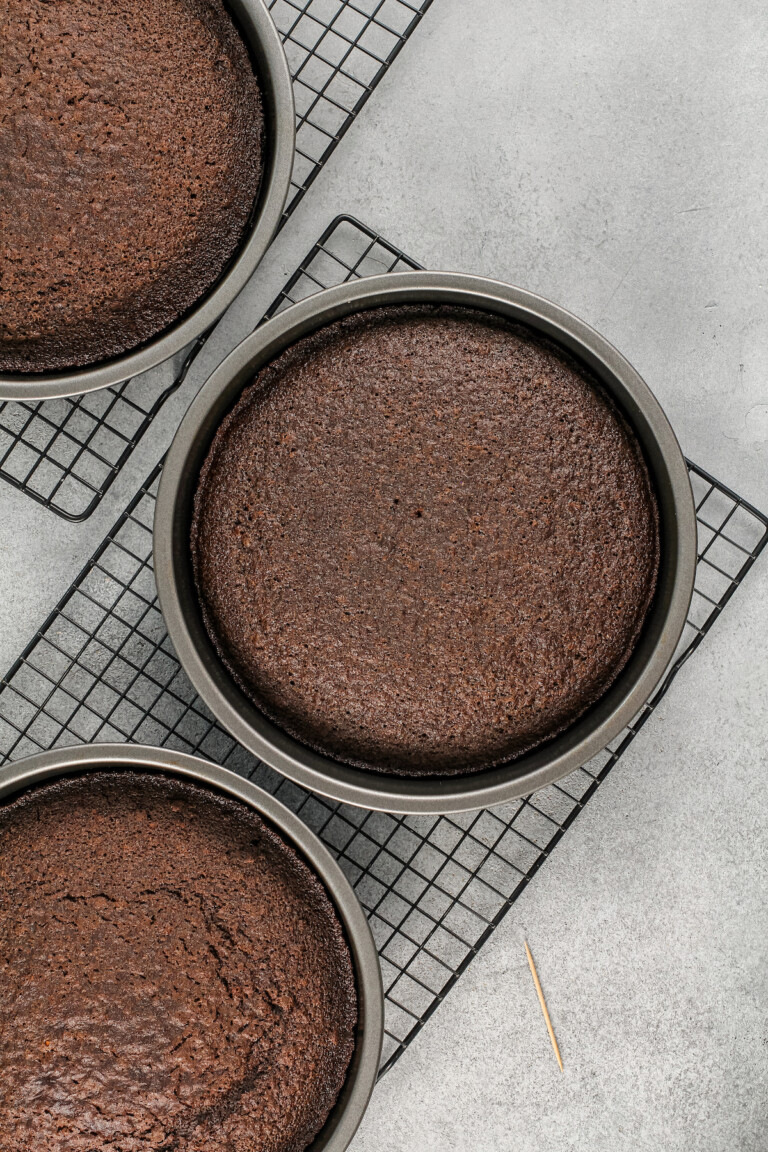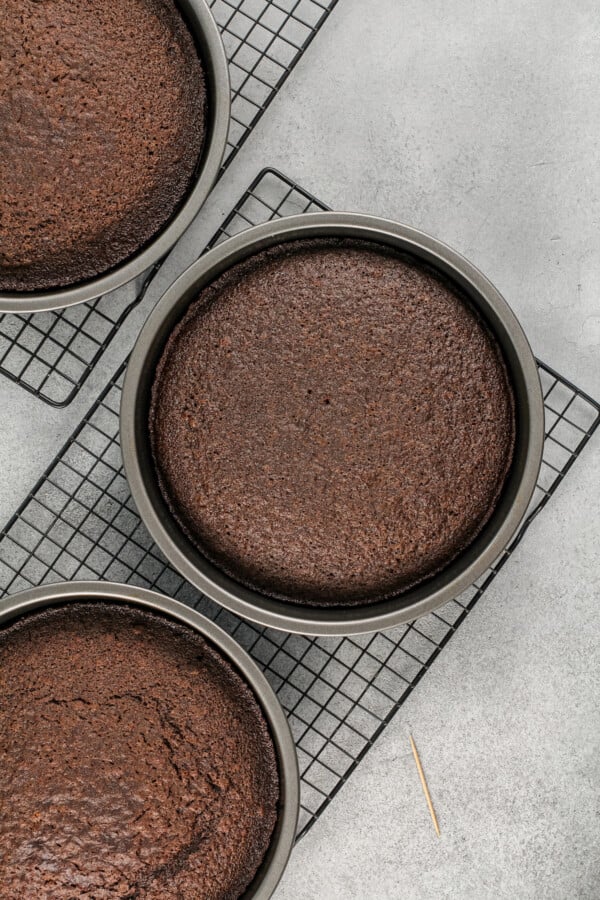 Bake. Divide batter evenly between prepared pans and bake for 20 to 23 minutes, or until a toothpick inserted in center comes out clean.
Cool. Let cakes cool in pans until cool to touch – then frost as desired.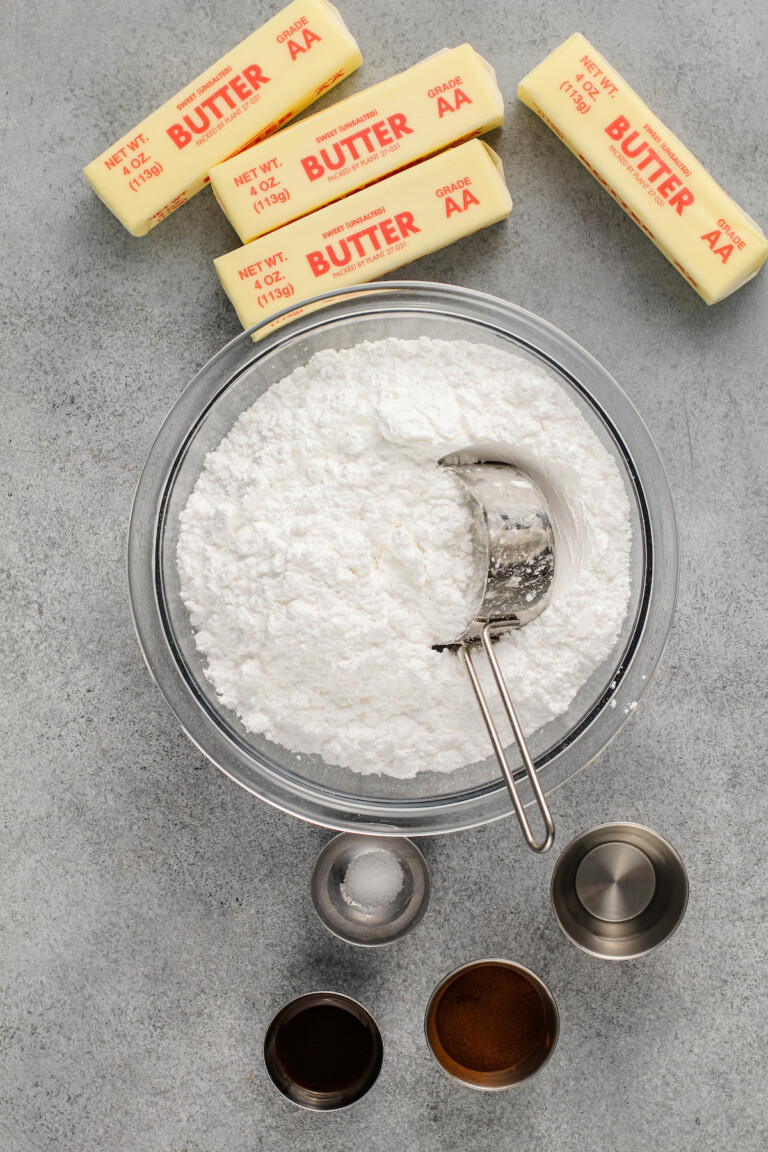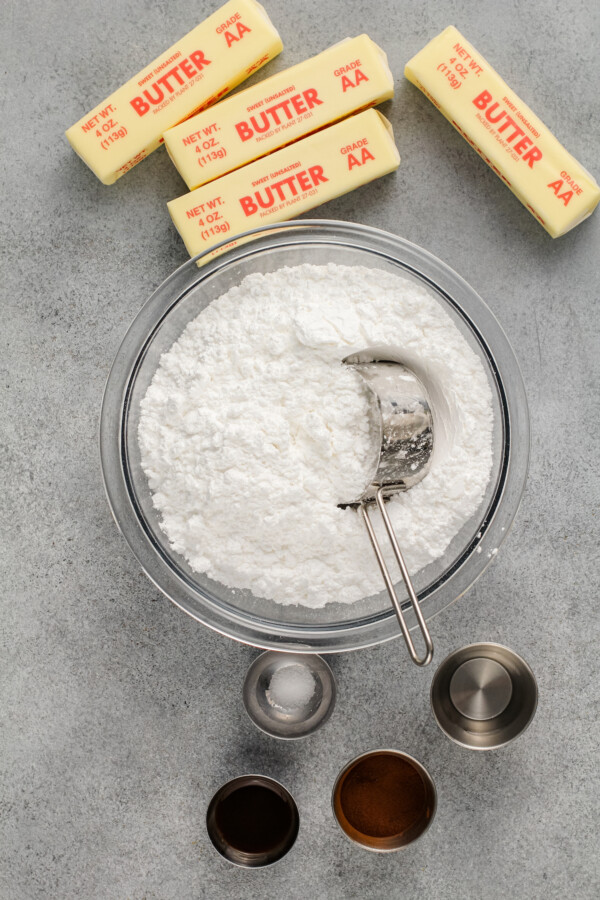 How To Make Espresso Frosting
Whisk. For espresso buttercream, in a small bowl, whisk together espresso powder and water. Set aside.
Beat. Beat butter on medium high, for 3 minutes. Slowly add in powdered sugar, about a half a cup at a time, until you have added 5 cups of powdered sugar.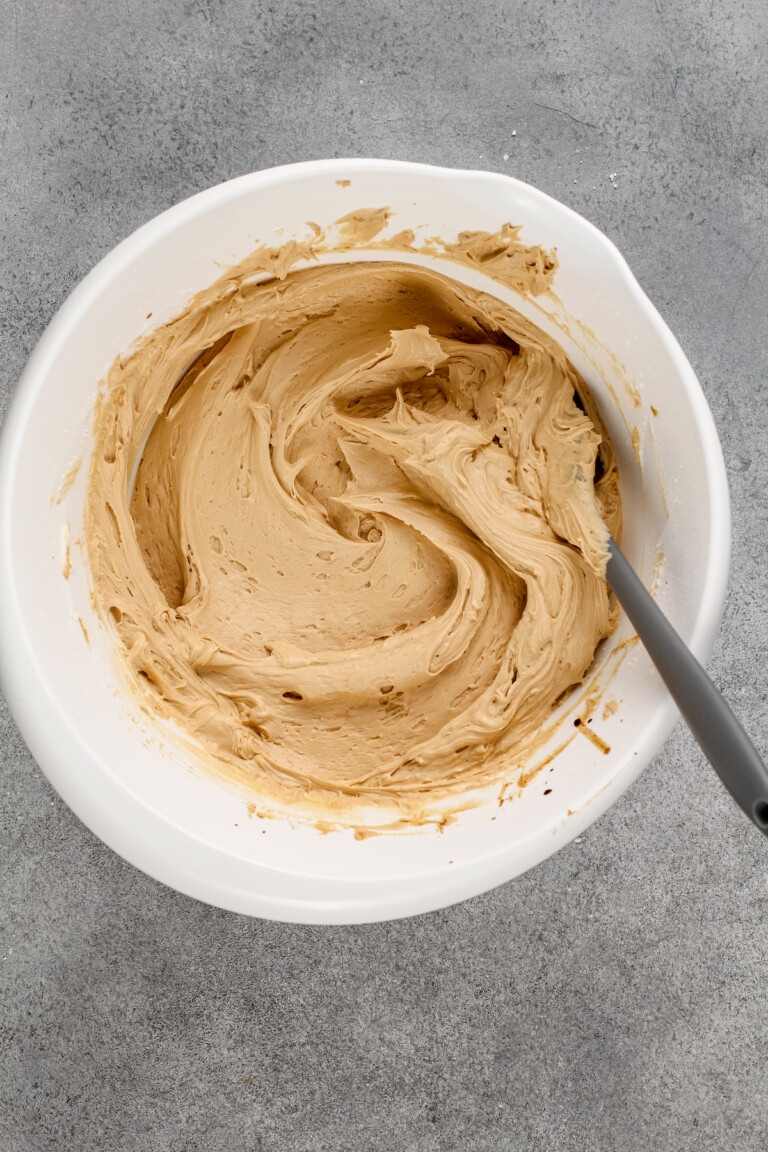 Combine. Carefully add vanilla extract, pinch of salt, and espresso powder/water mixture, beating till well combined.
Check the consistency. At this point check consistency of buttercream. You should be able to lift beaters and have buttercream hold its shape. If it is too loose, add more powdered sugar, again 1/2 cup at a time.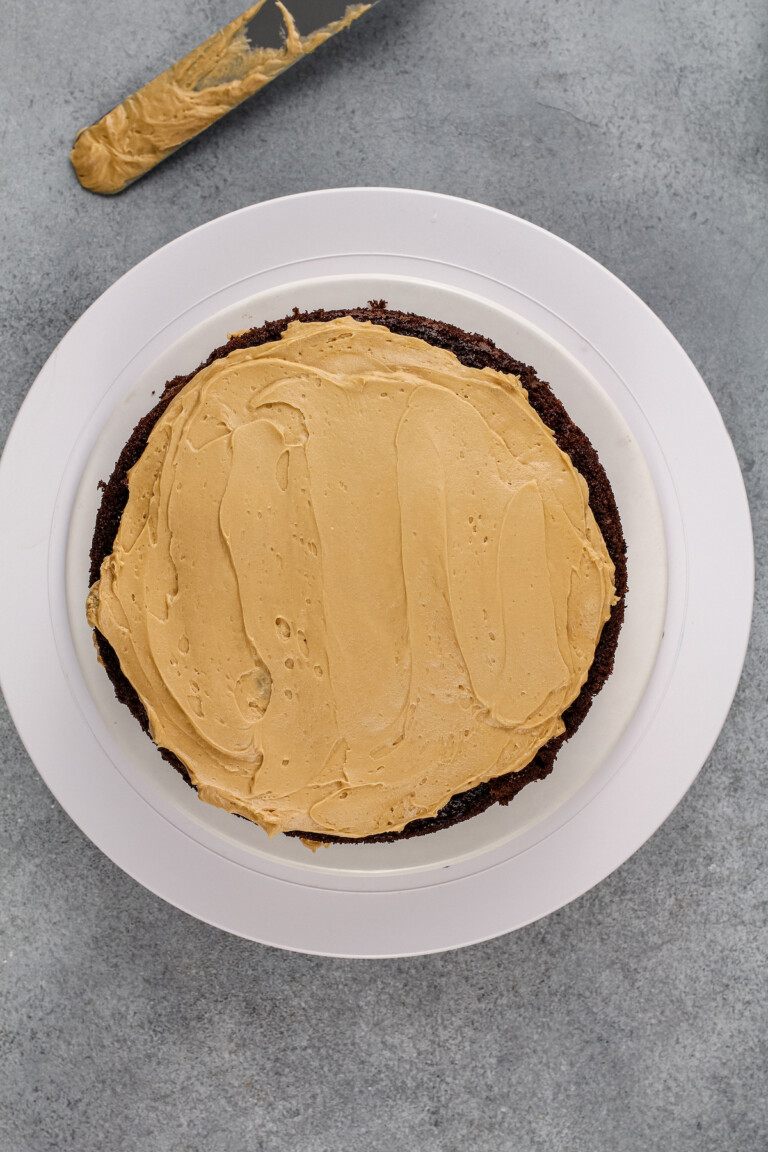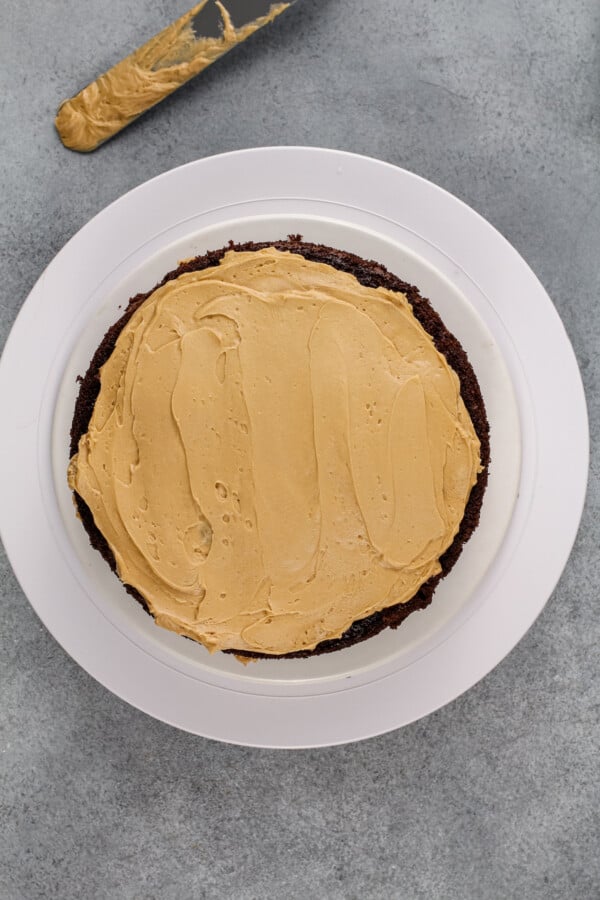 Assemble. Assemble three cake layers with a thick layer of frosting in between layers. Then apply a thin crumb coat on top and sides. Pop cake in freezer to harden crumb coat for about 10 minutes.
Decorate. This is the fun part! Apply one final thick and even layer around outside of cake and decorate as desired.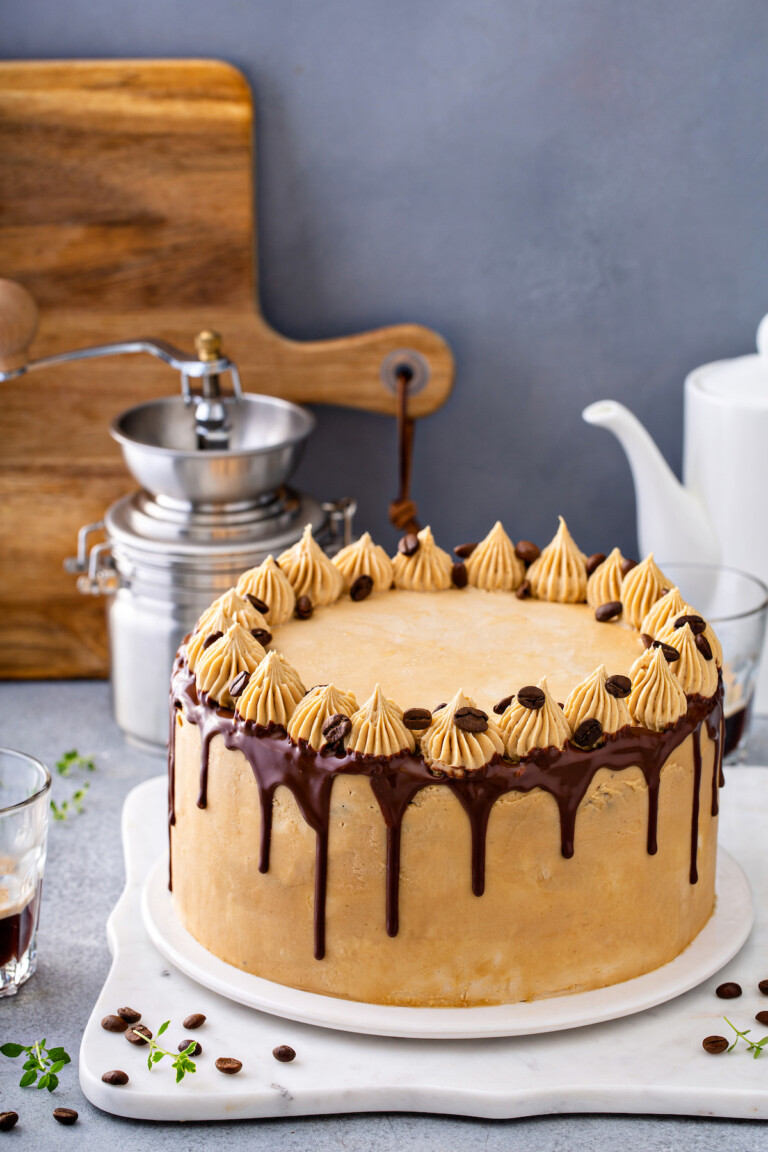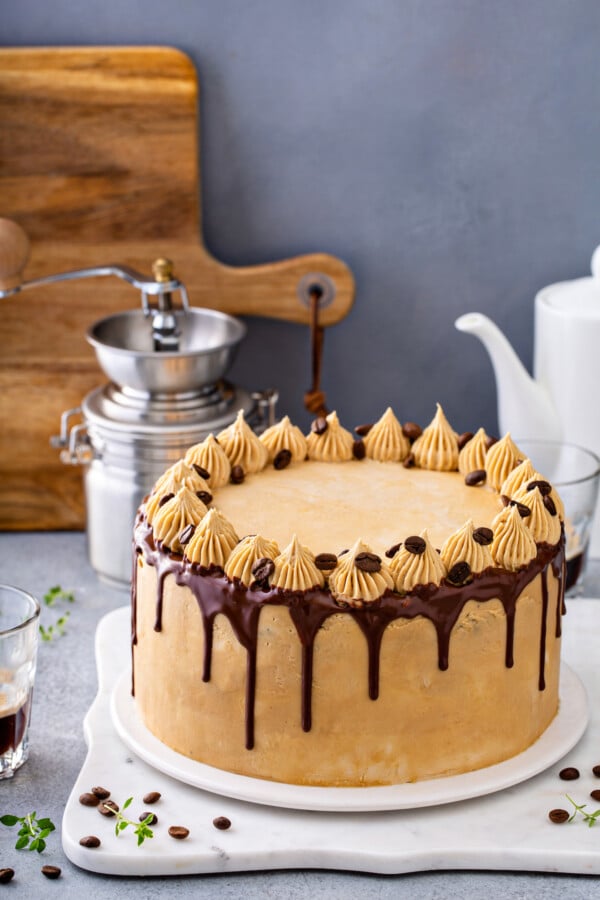 Tips For The Best Chocolate Espresso Cake
Use a high-quality cocoa powder and dark chocolate for the best tasting cake.
Let the cake cool completely before decorating, otherwise, the icing will melt. The cake layers can be made a day before adding the frosting.
Use room temperature eggs to help the cake rise better.
If you're looking for extra protection in your cake pans, flour the edges of each pan after you've buttered them and/or add a circle of parchment paper to the bottom. There's will guarantee your cake will not stick!
After you've finished decorating the cake, allow it to set in the fridge for at least 1 hour.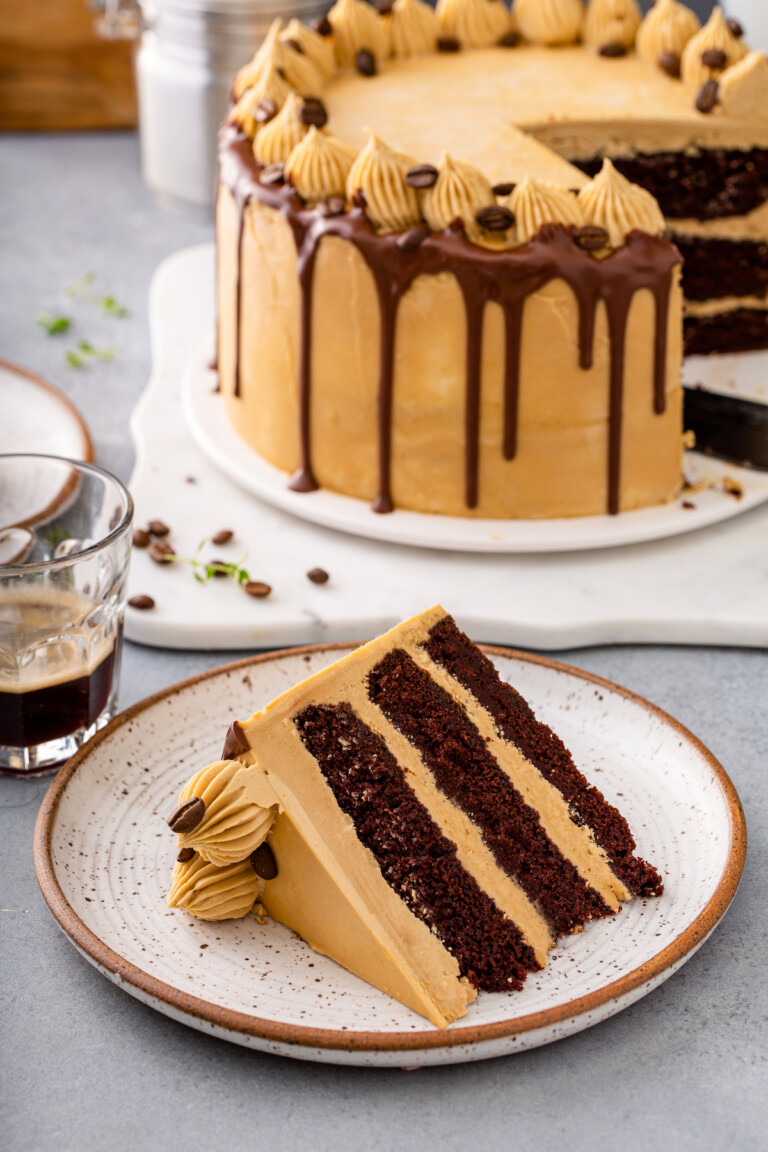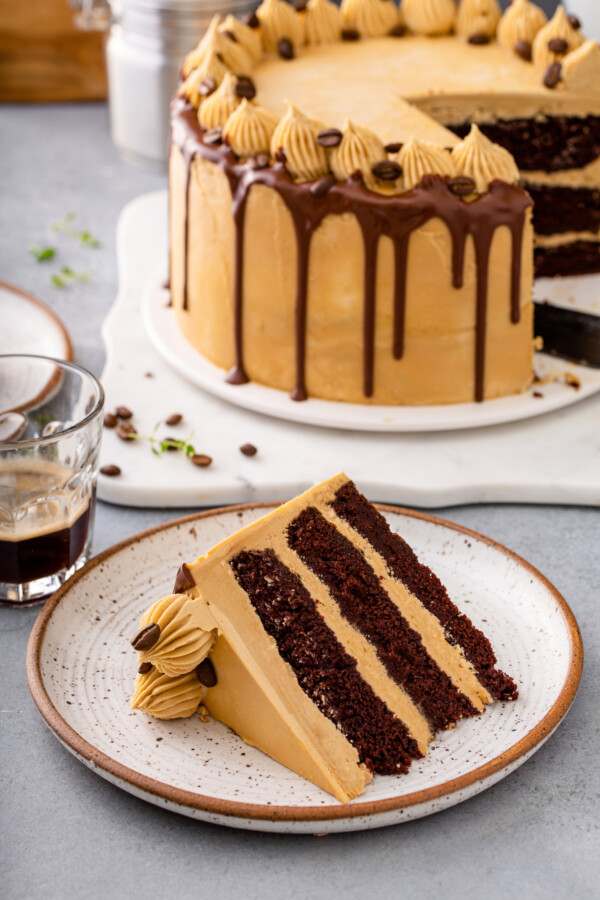 How long will this cake stay fresh?
This cake is so good I doubt you'll have any leftovers, but if you do, cover the cake with a lid or plastic wrap and keep it in your fridge. It should stay fresh for up to 3 days.
You can freeze chocolate cake as well. Bake the cake layers as normal, wrap them individually in plastic wrap once cooled, and freeze for up to 3 months. A frosted cake will last just as long when kept covered in the freezer. To thaw, leave it in the fridge overnight and serve cold.
Chocolate buttercream can be made up to 4 days in advance. Store it in an airtight container in the fridge, then let it sit at room temperature for 1 to 2 hours before using. You can also freeze the buttercream for up to 3 months.
CAN I MAKE THIS CAKE IN TWO LAYERS?
Absolutely! Butter two 8-inch round cake pans instead before baking. Divide the batter evenly in both cake pans, filling to about half-full in each. The baking time may need to be extended to 30-35 minutes.
Looking For More Impressive Cakes?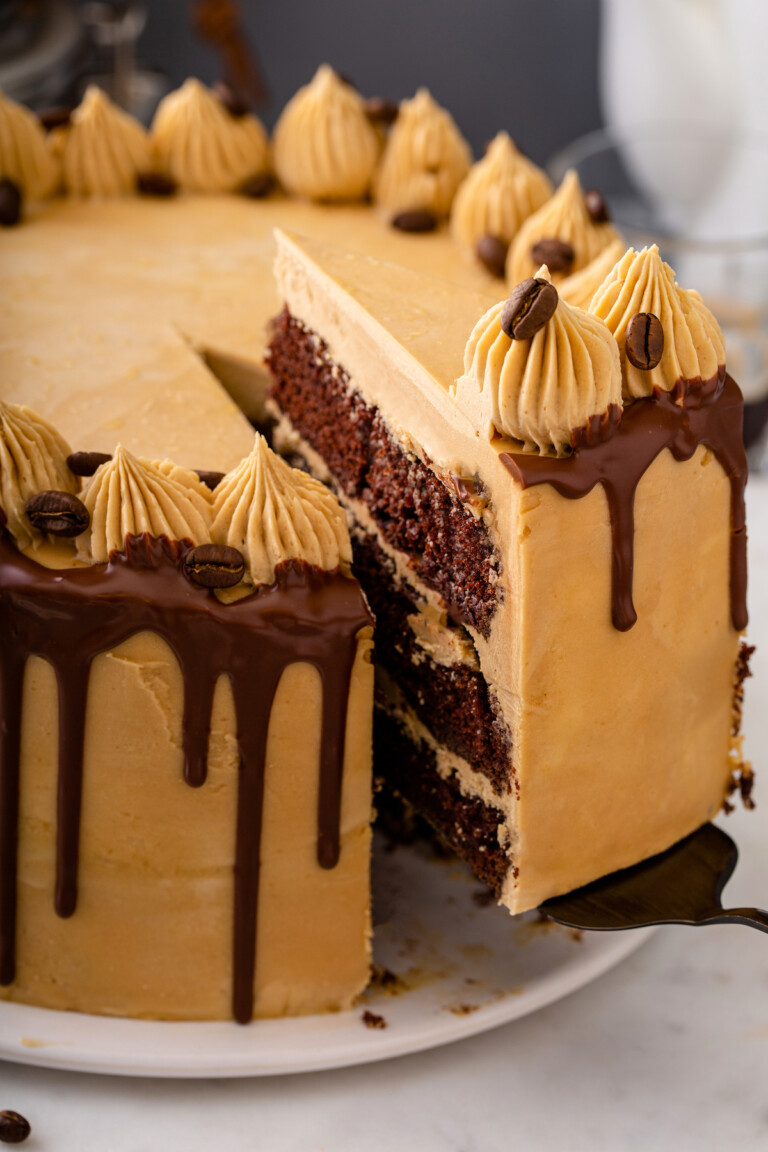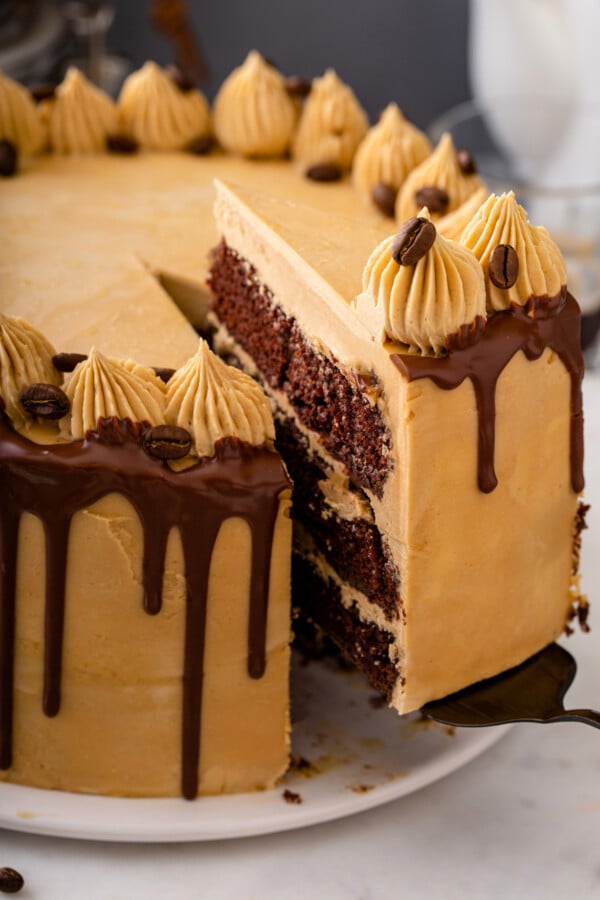 Head on over to Dixie Crystals to get the full recipe I developed for them by clicking the button below:
This post may contain affiliate links. Read my disclosure policy.