This classic Vanilla Bean Pound Cake may be simple, but it is anything but boring. This golden and buttery, buttermilk poundcake is loaded with flecks of sweet vanilla bean speckled inside. Each bite of moist and perfectly dense vanilla pound cake is better than the last!
Vanilla Bean Pound Cake
This Vanilla Bean Pound Cake is a moist, dense bundt cake recipe that is perfect year round for any occasion! It's so beautifully flavored with vanilla beans (or vanilla bean paste), vanilla extract and buttermilk. A vanilla pound cake may sound simple, but this cake is anything but simple once you taste it!
This is my go to recipe to bring to friends or family for many reasons. First, the pound cake keeps it's moisture and flavor wonderfully for days just sitting on the counter. It's honestly just as good on day 1 as it is on day 3. That is rare to find in a cake! Second, the flavor and texture is so perfect and classic that no one can resist it!
This golden and buttery, buttermilk poundcake is loaded with flecks of sweet vanilla bean speckled inside. Each bite of moist and perfectly dense vanilla pound cake is better than the last and I promise you won't regret trying it. Let's get started!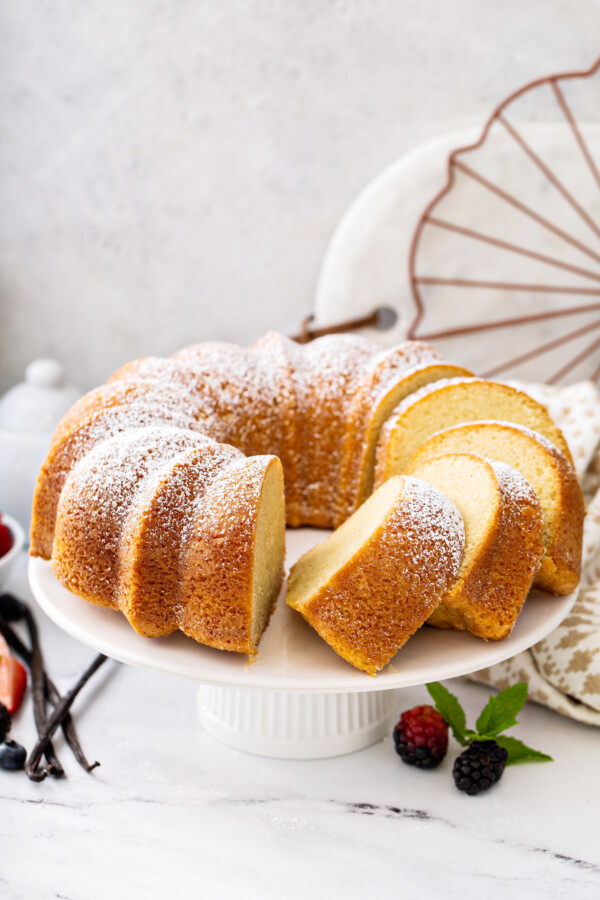 How To Serve Vanilla Pound Cake
Obviously with a glass of milk or a cup of coffee or tea, but there are a few extra fun ways to dress it up as well:
Powdered Sugar: My favorite way is to dust the top with powdered sugar and serve it just as it is!
Whip Cream: Always a classic. Fresh whip cream is the best, but canned whip cream or cool whip will do in a pinch.
Fresh Fruit: raspberries, blueberries blackberries or strawberries all go perfectly with this pound cake.
Sauce: caramel sauce, homemade chocolate sauce, or you can whip up this spectacular pecan praline sauce for drizzling on top!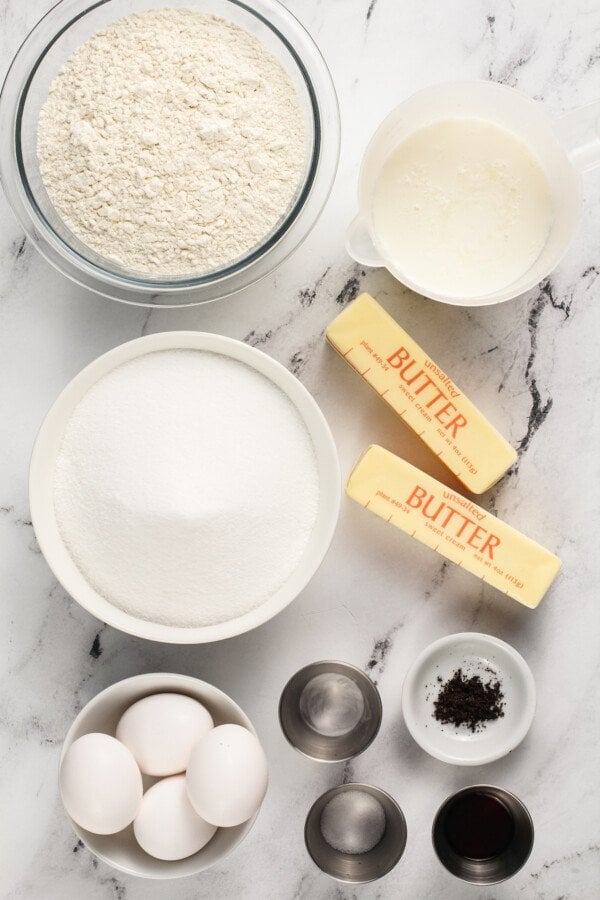 Ingredients
You only need a handful of ingredients to make this pound cake:
All-Purpose Flour
Baking Soda
Salt
Unsalted Butter
Granulated Sugar
Eggs
Vanilla: Vanilla Bean Paste or 1 Vanilla Bean Scraped
Vanilla Extract
Buttermilk: you can also use whole milk with 1 tablespoon of white vinegar added, in place of the buttermilk. Just whisk the whole milk and white vinegar together and let sit for 5 minutes before using.
Powdered Sugar: for dusting on top, optional.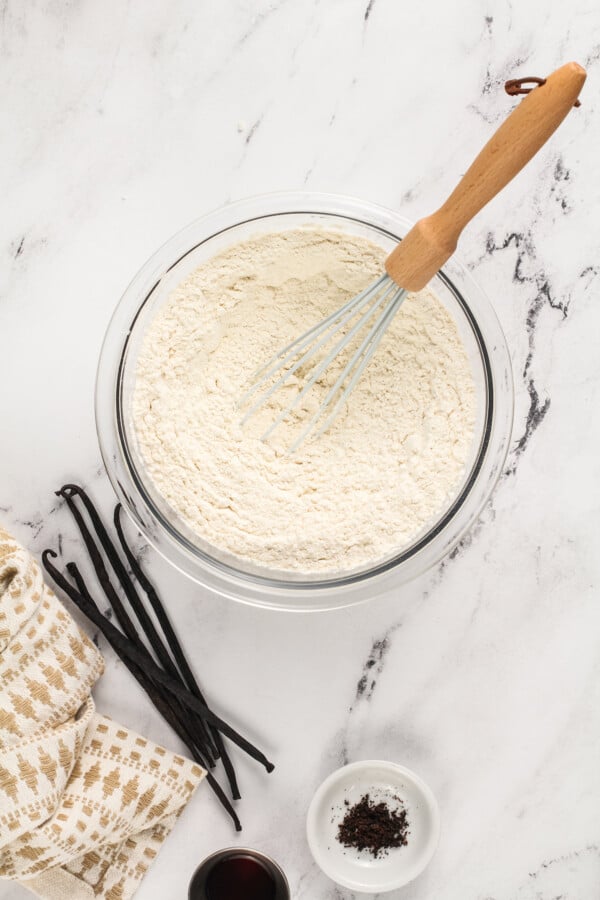 How To Make Vanilla Bean Pound Cake
Prep: Preheat oven to 325°F. Grease a 10-inch bundt pan with baking spray or butter and flour it. Set aside.
Whisk: In a medium bowl, whisk together flour, baking soda, and salt. Set aside.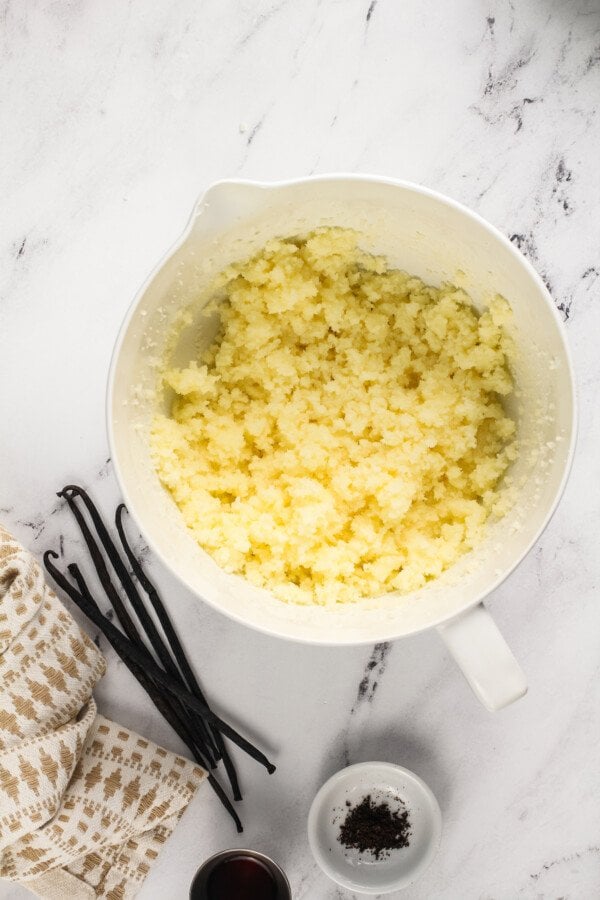 Cream: In a large bowl of stand mixer, cream butter and sugar until light and fluffy. 
Add: Beat in eggs one at a time, then stir in scrapings from vanilla bean (or vanilla bean paste) and vanilla extract until well combined.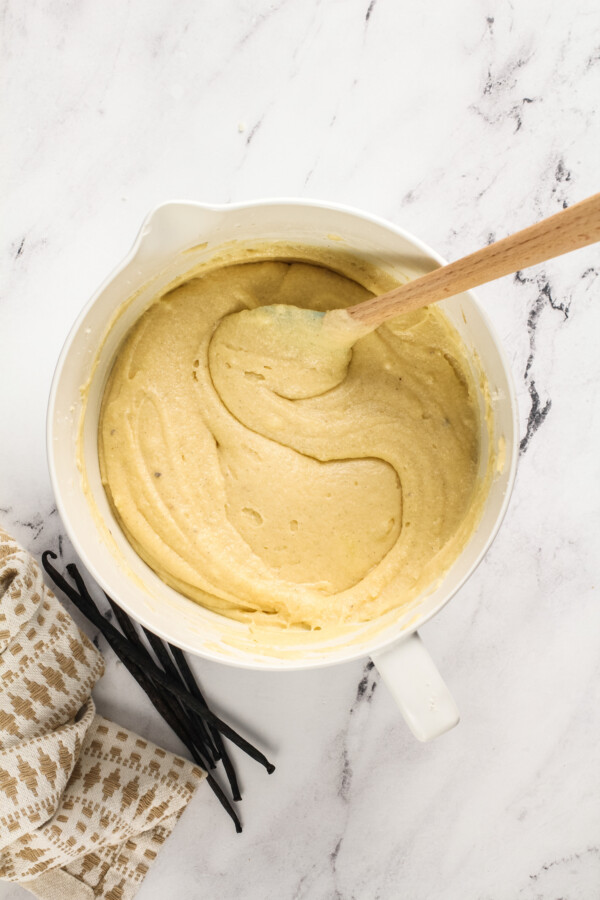 Combine: Beat in flour mixture alternating with buttermilk. 
Bake: Pour batter into prepared bundt pan. Bake for 55 to 65 minutes, until center is set and a toothpick inserted comes out clean.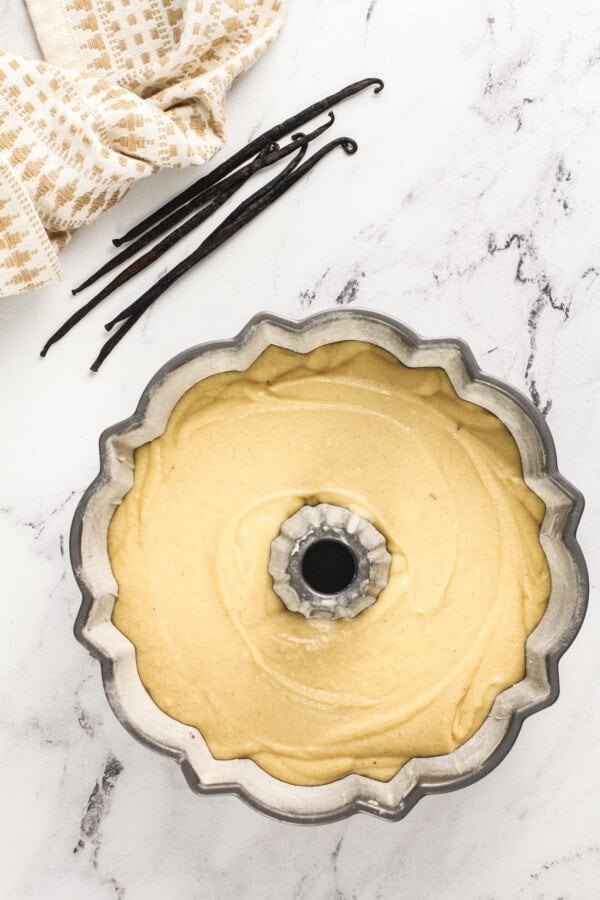 Cool: Allow cake to cool completely (in bundt pan) before inverting onto cake plate.
Powdered Sugar: Dust with powdered sugar before serving, if desired.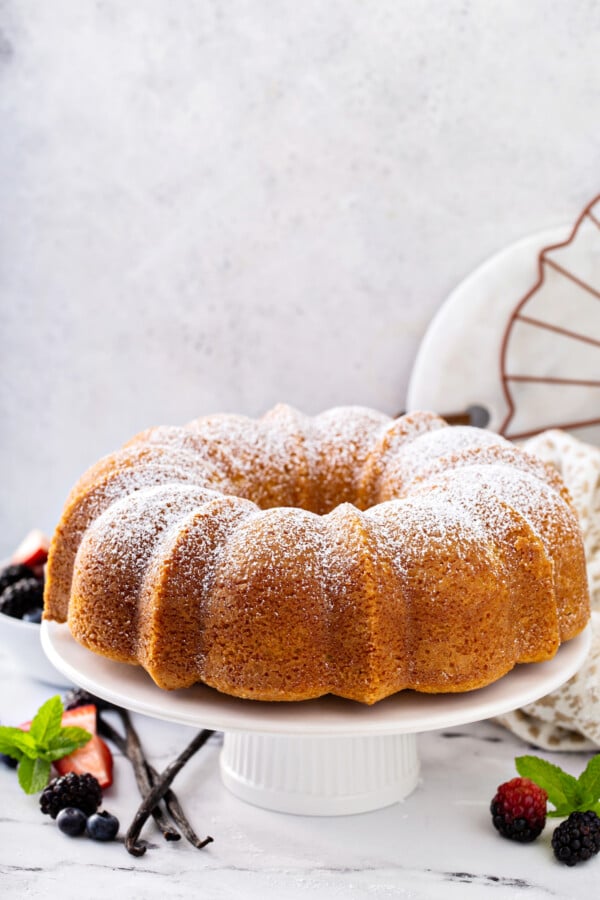 Tips For Perfect Pound Cake
Buttermilk: It is not the end of the world if you don't have buttermilk. I do recommend you use real buttermilk if at all possible, but you can use a mixture of whole milk and vinegar instead. To replace the buttermilk, use an equal amount of whole milk and whisk in 1 tablespoon of vinegar into the milk. Let it sit for 5 minutes, then use it as you would use buttermilk.
Don't Over Bake: This cake is perfectly moist and dense, unless you over bake it. If it's over baked, the cake will turn dry and crumbly. So be sure to watch closely and check often with a toothpick to make sure you do not over bake your pound cake.
Use Real Butter: Always use real 100% butter. The fat content in margarine can vary dramatically, which will change the outcome of your pound cake.
Vanilla: Vanilla beans will give you the most vanilla flavor. Vanilla bean paste will give you the second most amount of vanilla flavor. Vanilla extract will give you the least amount of vanilla taste. I personally like to use a combination of vanilla beans and vanilla extract!
Let It Cool: Make sure to allow your pound cake to cool completely before turning it out of the pan.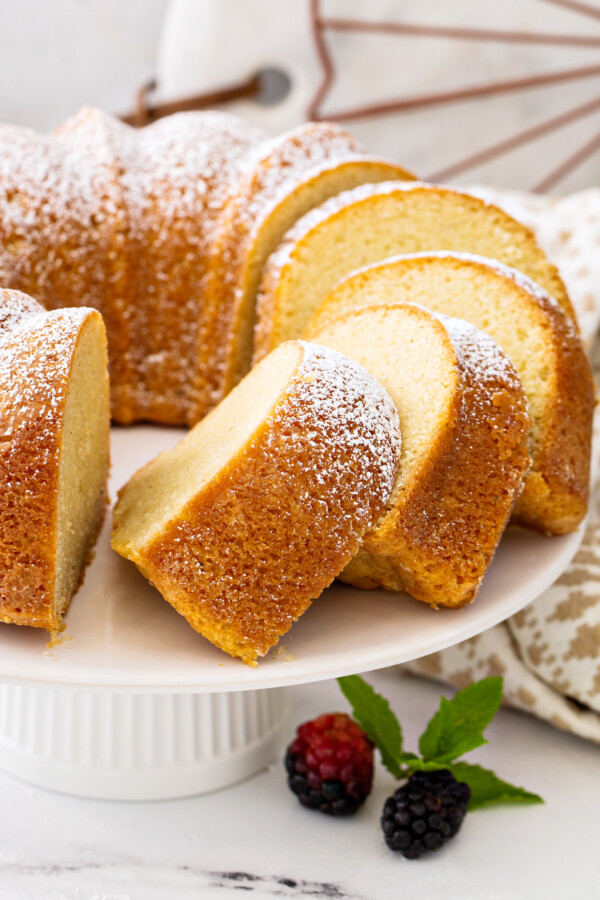 How To Store
This Vanilla Bean Pound Cake is a great make ahead dessert as it tastes just as good on days 2 and 3 as it does freshly baked!
I love to make this pound cake for neighbors, friends who just had babies or guests coming into town. Because as long as it stays in an air tight container, it will stay delicious and moist for days!
Do not refrigerate this pound cake, just store it on the counter in an airtight container for up to 5 days.
Looking For More Pound Cake Recipes:
I am the queen of a good pound cake and I am so excited to finally be sharing this recipe for my favorite classic Vanilla Pound Cake. If this is your first pound cake you have seen, make sure to check out some of my other epic pound cakes: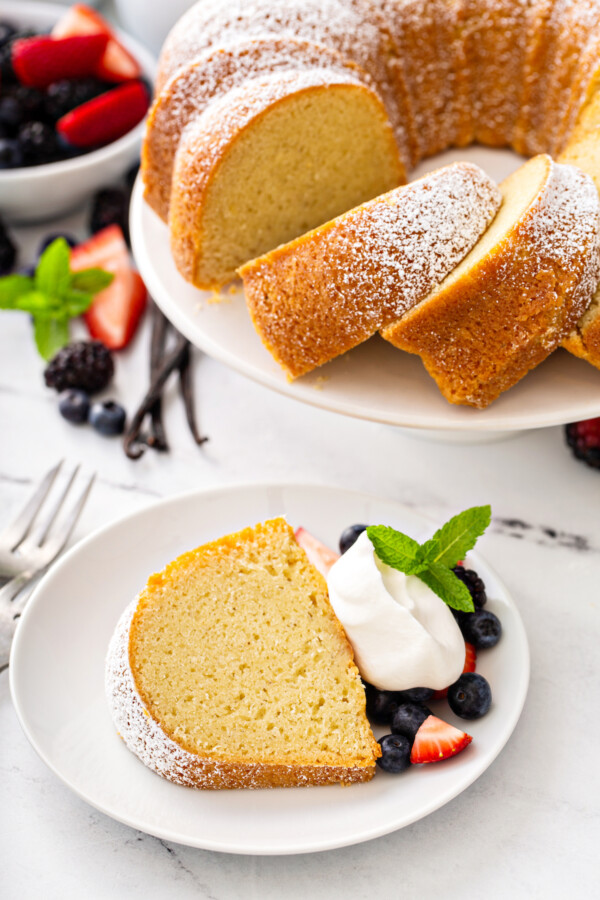 Get The Recipe
Head on over to Dixie Crystals to get the full recipe I developed for them by clicking the button below:
This post may contain affiliate links. Read my disclosure policy.