Pecan Praline Sauce this homemade rich and buttery praline sauce only takes 10 minutes to make and is filled with roasted pecans and a decadent caramel flavor!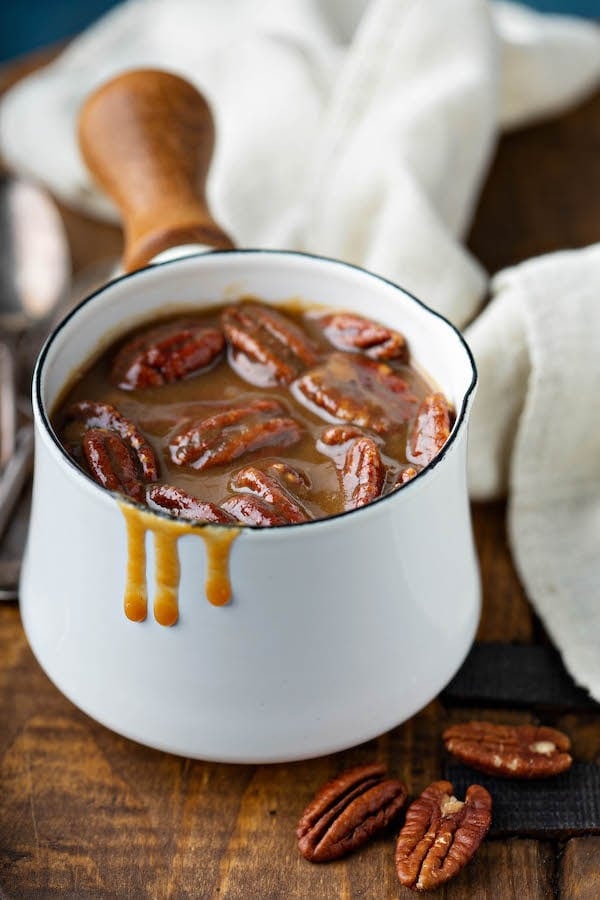 Looking for the perfect DIY Christmas gift, ice cream or pound cake topper? This Pecan Praline Sauce recipe is exactly what you need!
It's loaded with roasted Fisher Pecan Halves and caramel-y goodness, but only takes about 10 minutes to make. Exciting right??
You can whip it up fresh and serve it warm on top of cake, ice cream or even eat it straight with a spoon.
Or you can wrap it up in mason jars, tie it with a big red bow and give it out to your friends and family as a Christmas treat.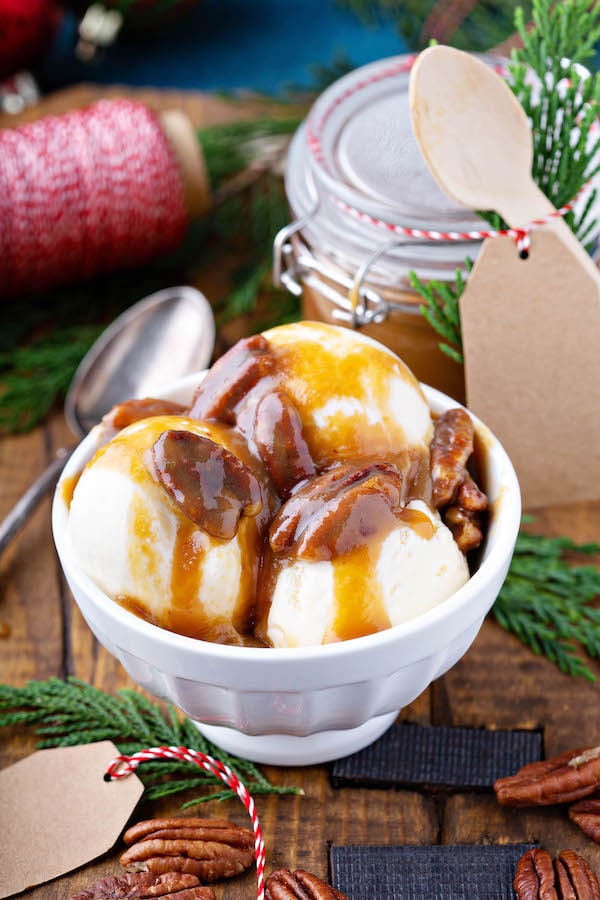 I have been making this particular recipe for Pecan Praline Sauce for years now to impress guests.
It's so easy to make – and so quick – that I usually make it while my dinner guests are visiting after the main meal is served.
I pre-roast my pecans so they are ready to go and then the sauce part is ready – from scratch – in just 5 minutes.
My favorite way to serve it is over ice cream or pound cake. Store-bought or homemade, no one cares once it's topped with this decadent sauce!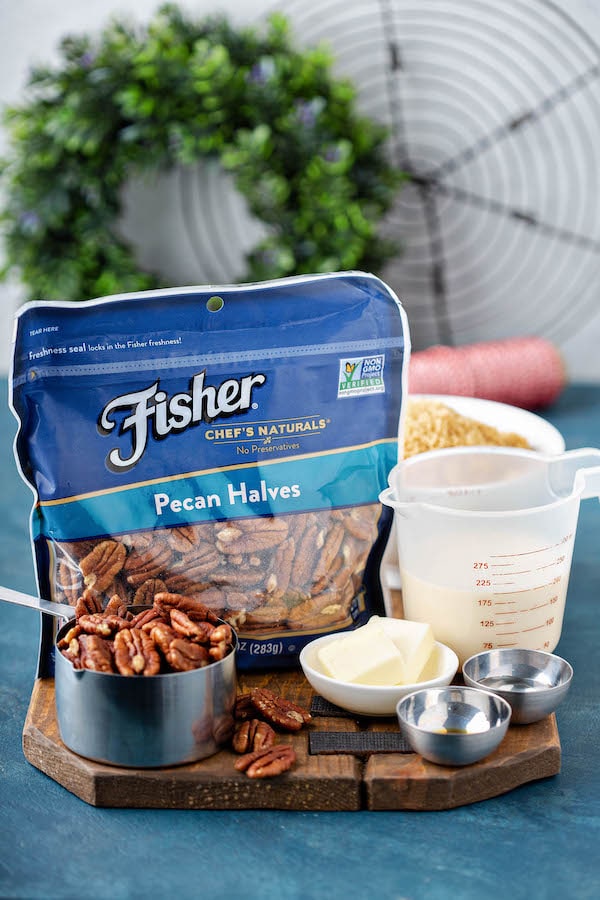 I am really excited to be partnering again this year with my favorite Christmas.
Fisher nuts are always fresh right out of their shells, have no preservatives and are non-GMO Project Verified.
Plus, the super handy stand-up bag is also resealable and keeps your nuts fresh for longer. That way, you can use them all throughout the holiday season!
Walnuts and pecans are both perfect additions to any holiday dish or dessert. They help bring new flavor and texture!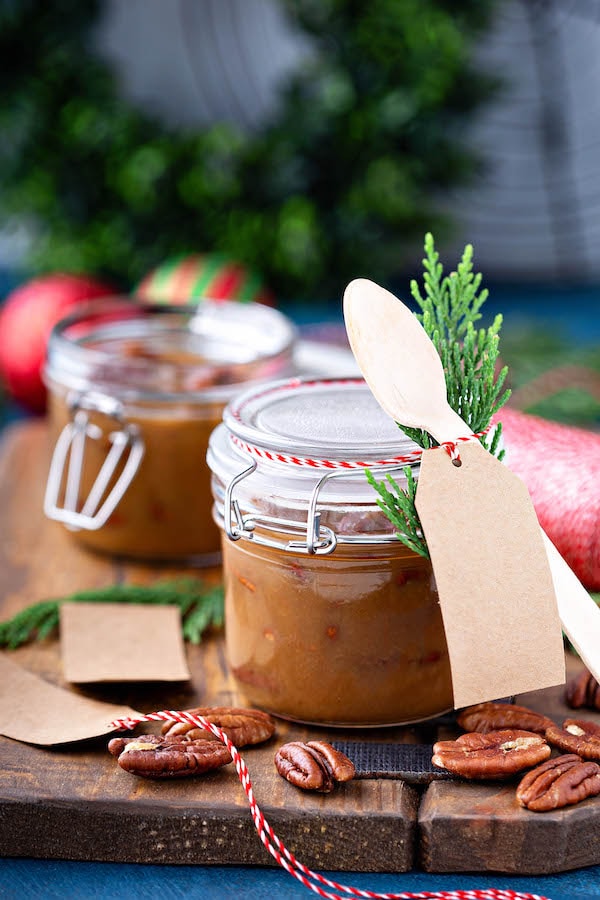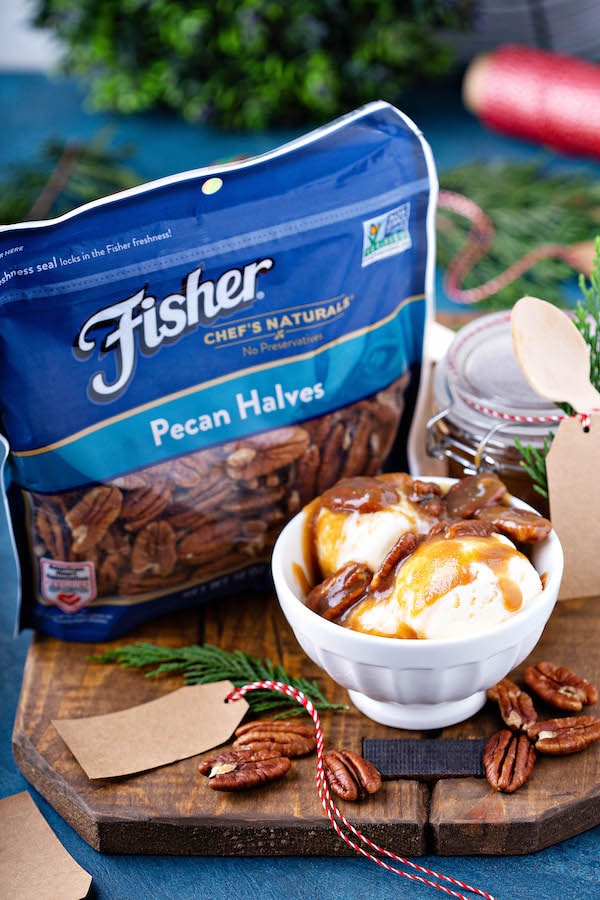 If you are wanting to give this Pecan Praline Sauce as a gift to friends and family, store it in an airtight container with a tight fitting lid in the refrigerator.
One batch will be enough to make two jars for gifts. I like to add a little ribbon or cloth to decorate the jars.
Then to reheat the pecan praline sauce, you can either microwave it or heat it on the stovetop before using.
If it becomes a little too thick, you can always add a splash more milk if needed.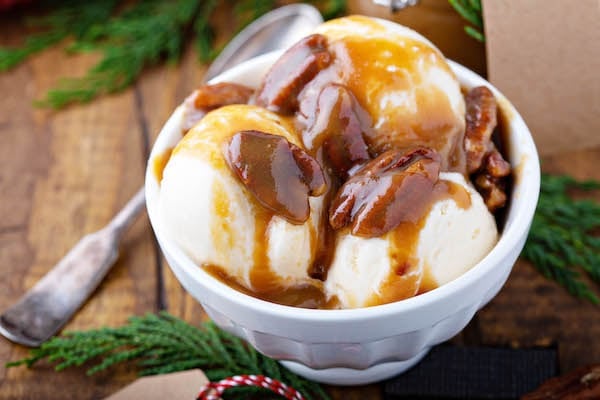 You can also use walnuts or any other nuts instead of pecans, but the pecans pair perfectly with the caramel sauce.
Roast them for a few minutes in the oven for optimal flavor.
This Pecan Praline Sauce is a winner on all fronts. Easy to make and absolutely divine!
Serve it warm over ice cream, pancakes, cakes or even bread pudding.
Or like me, you can even just eat it straight out of the jar with a spoon!
Yield: 2 cups sauce
Pecan Praline Sauce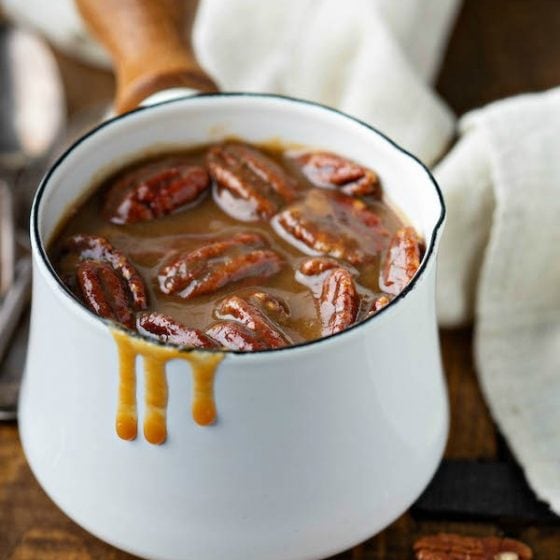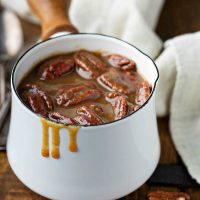 Pecan Praline Sauce this homemade rich and buttery praline sauce only takes 10 minutes to make and is filled with roasted pecans and a decadent caramel flavor!
Ingredients
1 cup Fisher Pecan Halves
1 1/4 cups light brown sugar
3/4 cup evaporated milk
2 tablespoons unsalted butter
1 tablespoon corn syrup
1 teaspoon vanilla extract
1/2 teaspoon salt
Instructions
Preheat oven to 350 degrees. Line baking sheet with parchment paper.
Arrange pecans in a single layer on prepared baking sheet. Toast until browned and fragrant, stirring halfway, about 8 minutes. Remove from oven and set aside.
In a small saucepan over low heat, combine the brown sugar, evaporated milk, butter and corn syrup.
Bring to a simmer, whisking constantly and simmer for 3 minutes, until it thickens slightly and coats the back of a spoon.
Stir in the vanilla extract, salt and toasted pecans. The sauce will thicken more as it cools.
Serve praline sauce warm over ice cream, pancakes, cakes or bread pudding!
Refrigerate any leftover pecan praline sauce and heat it in the microwave or on the stovetop before using.
Nutrition Information:
Yield:
12 servings
Serving Size:
1 serving
Amount Per Serving:
Calories:

176
Total Fat:

9g
Saturated Fat:

2g
Trans Fat:

0g
Unsaturated Fat:

6g
Cholesterol:

10mg
Sodium:

112mg
Carbohydrates:

23g
Fiber:

1g
Sugar:

22g
Protein:

2g
Categories
This post is sponsored by Fisher Nuts. All opinions are, as always, 100% my own. Thank you for supporting the brands that I love!
This post may contain affiliate links. Read my disclosure policy.