This sweet and salty Christmas Crack recipe is totally addictive. A classic Christmas candy made with saltine crackers, homemade toffee, sweet chocolate and crunchy pecans!
An Easy Christmas Crack Recipe
I'm not sure where the name Christmas Crack came from or who came up with it, but I have my suspicions.
Reason #1: It's because you crack the bar apart to make pieces of candy.
Reason #2: It's because it is like crack and you can't stop eating it.
Either way, both are 100% accurate and I dare you to try to just have one piece! It's so addicting!
Sweet, salty, chocolate, toffee and lots of delicious nutty pecans — what else could you ask for?!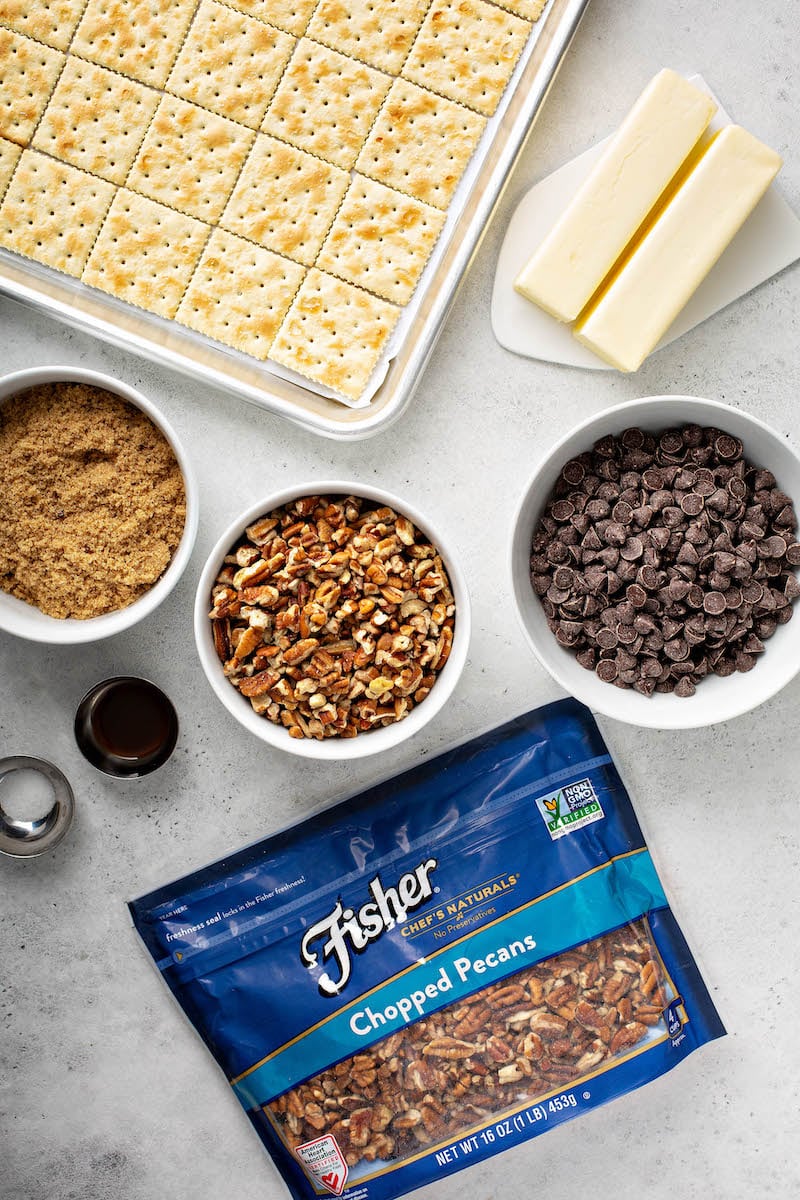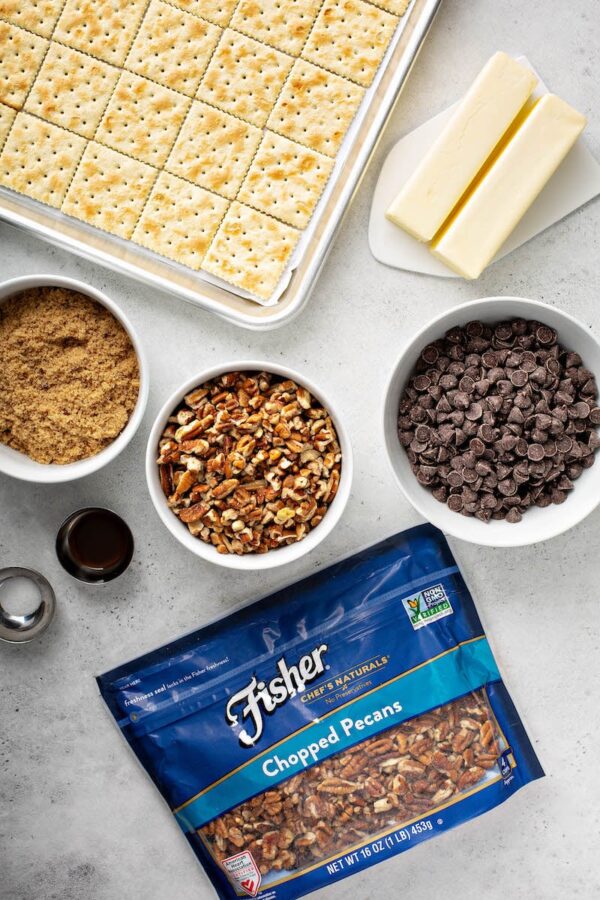 Pecan Christmas Crack Ingredients
You only need 7 ingredients to make this easy Pecan Christmas Crack recipe. Most of them you probably already have in your kitchen ready to go!
Saltine Crackers
Fisher Pecans
Butter
Brown Sugar
Semi-Sweet Chocolate
Vanilla
Salt
Christmas Crack is originally made without nuts, but the addition of crunchy pecans or walnut on top bring a new fun flavor component to it. You can use pecans, walnuts or almonds, but I think the pecans go the best with this sweet and salty combo.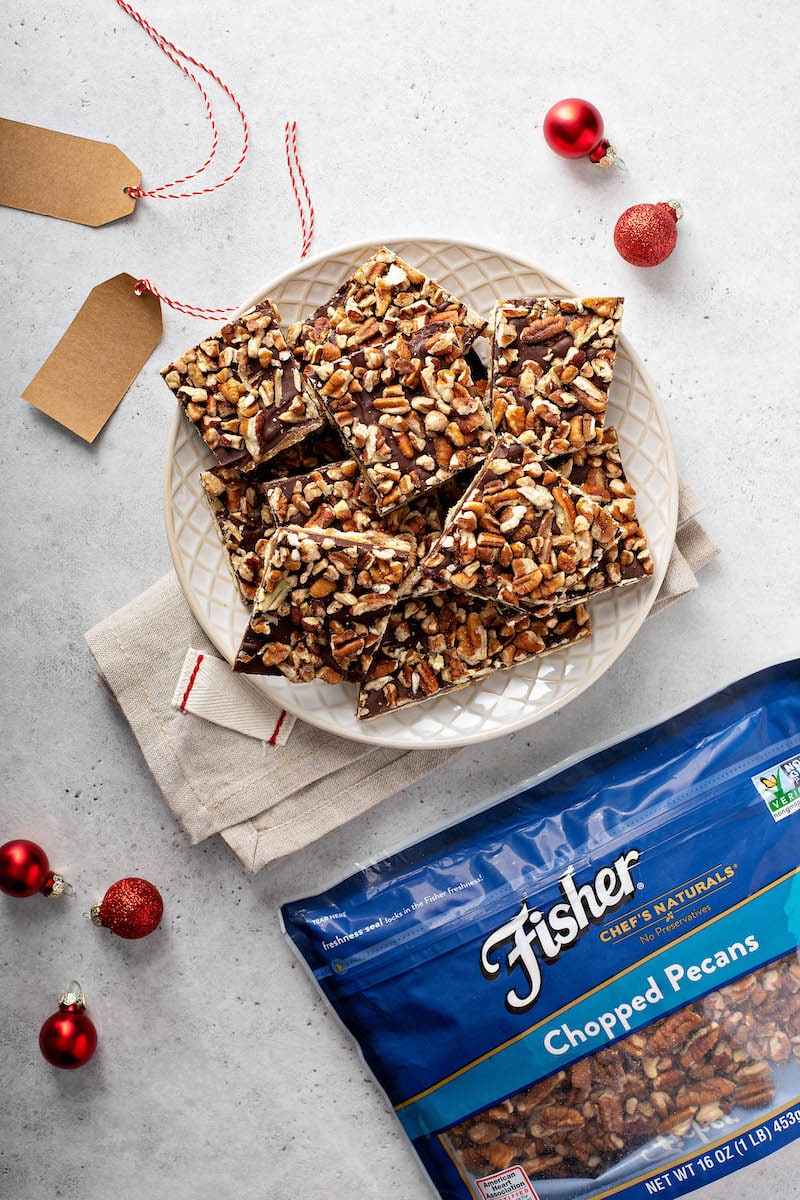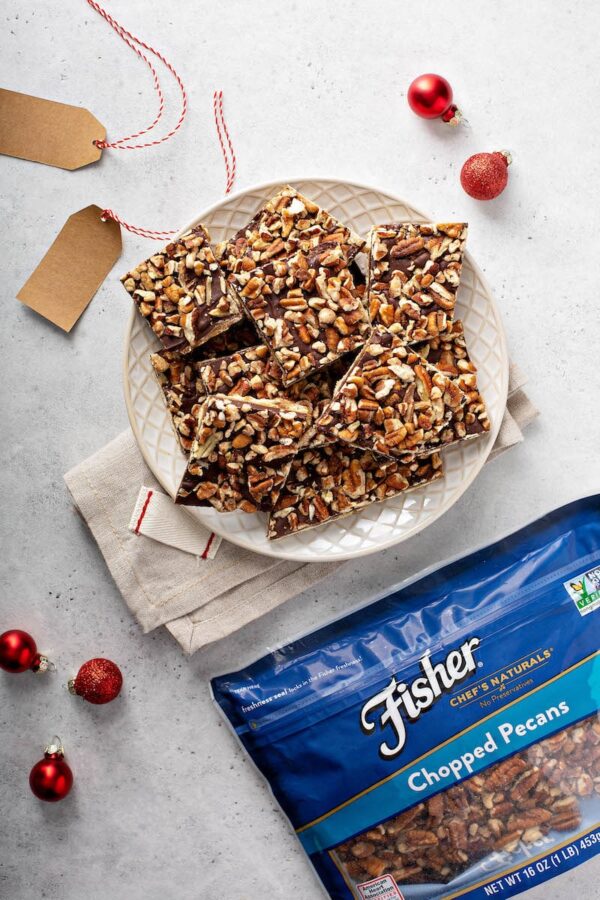 What Kinds of Pecans I Use
I am excited to be partnering with Fisher again to bring you more recipes featuring all of our favorite fresh nuts!
Fisher Pecans and Walnuts are the perfect addition to any holiday dish and always help bring new flavor and texture to dishes.
You can see some of my favorite past nut recipes I have made with Fisher here: Almond Joy Truffles, Praline Sauce, Walnut Rum Cake, Cranberry Pecan Goat Cheese Truffles, and Pecan Caramel Bars!
This is my 4th year working with Fisher and they are fresh right out of their shells, preservative free, non-GMO and gluten free.
They come in a really great stand-up bag. It is a big help when you're baking and your hands are already full to have the bag able to stand on it's own!
Fisher's bags are also resealable. So when you only need a handful of nuts, it keeps them fresher for longer.
And to make things even easier, Fisher nuts are always available on amazon! Purchase your Fisher nuts today!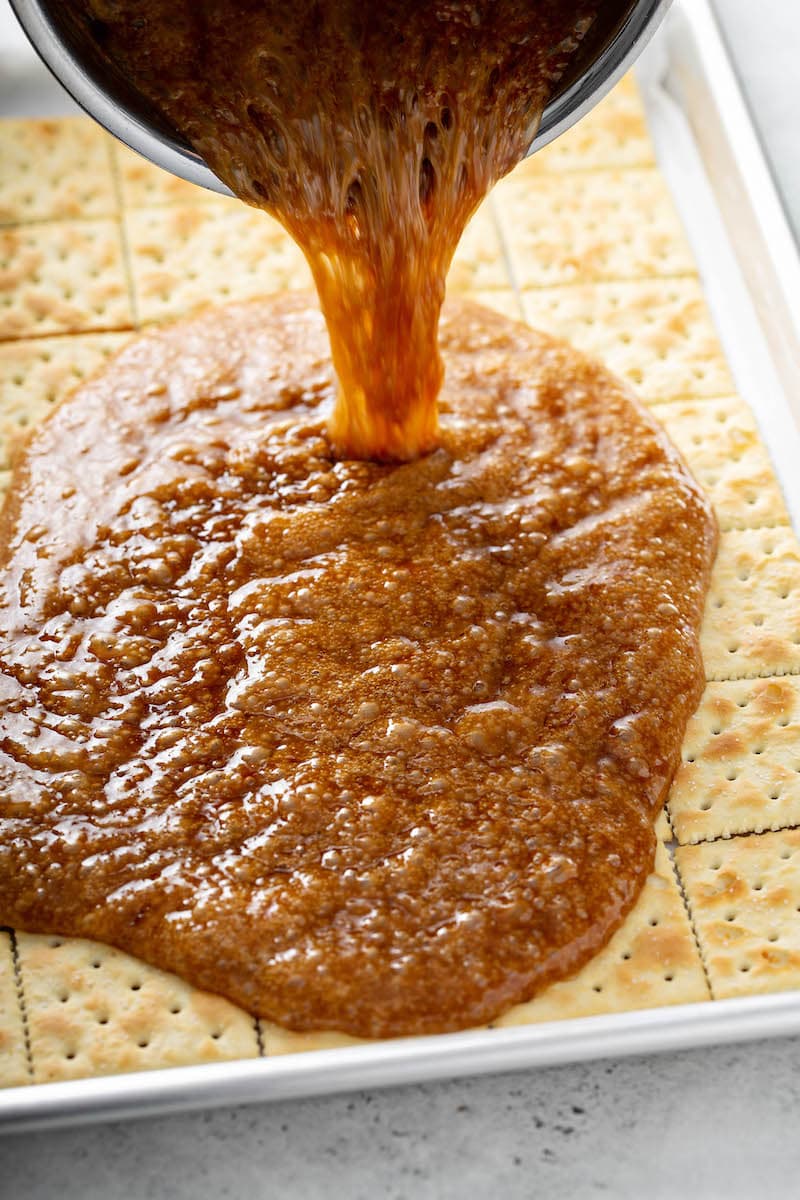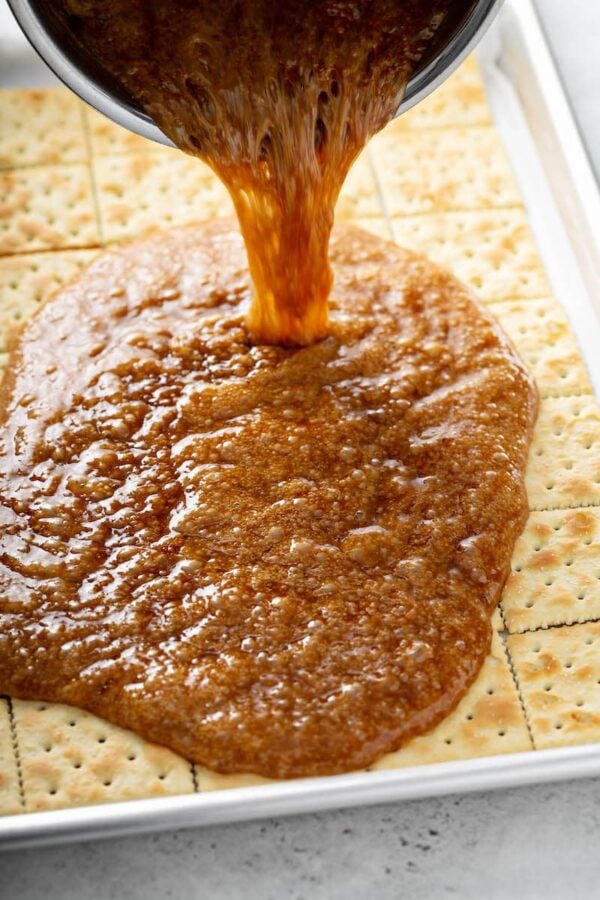 How to Make Christmas Crack
The hardest part of making Christmas Crack is making the toffee layer, but I promise it's not actually hard to do. The key tip is to use a candy thermometer to make sure your toffee reaches the correct temperature.
Otherwise the rest is very simple:
Line the saltine crackers on a sheet pan.
Make the toffee layer and pour it on top and spread it around.
Top with melted chocolate and sprinkle with Fisher pecans.
Cool and crack into pieces! It's that easy!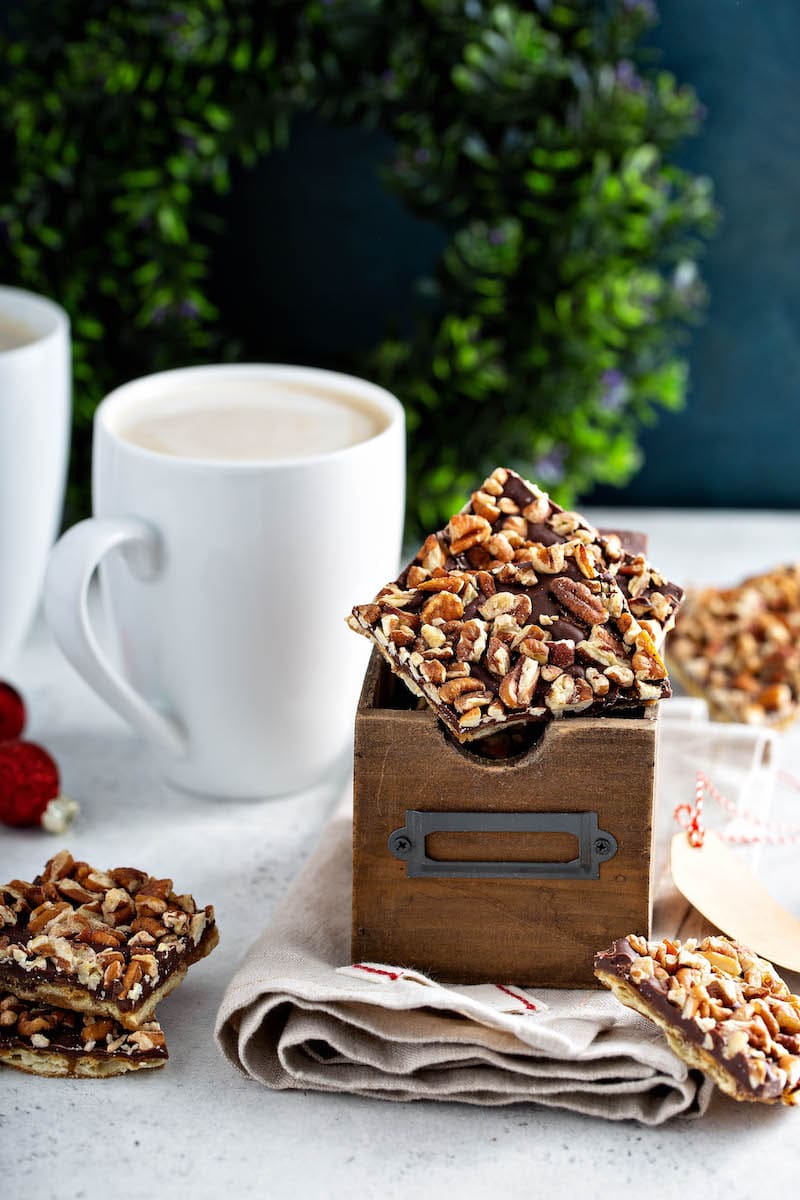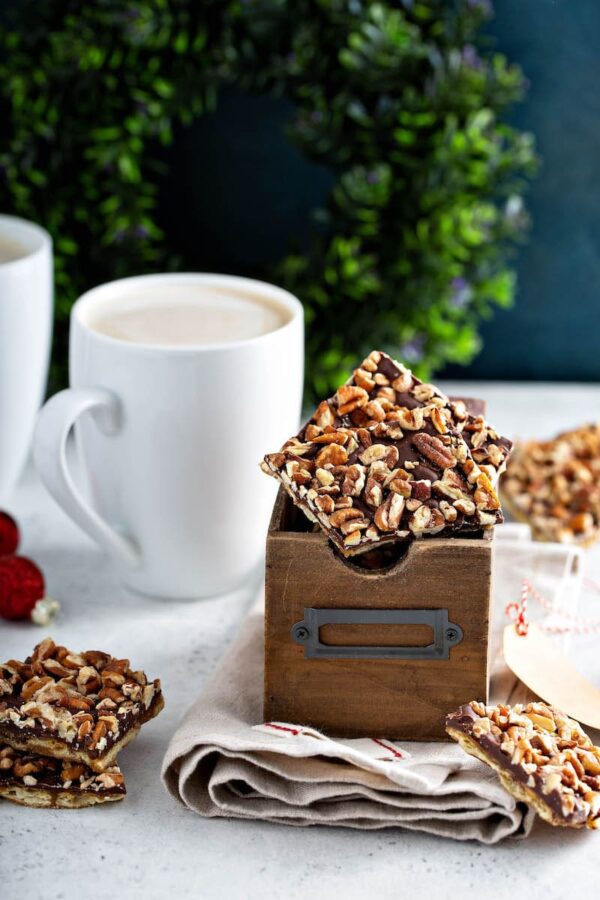 This Christmas Crack is the perfect Christmas candy recipe to make to give to friends and neighbors…or just to enjoy yourself!
My family can't go a single Christmas without making this candy and I am excited to be sharing the recipe.
Please leave a review or comment below letting me know how this recipe turns out for you!
Pecan Christmas Crack Recipe
This sweet and salty homemade Christmas candy is a classic recipe that is made with saltine crackers, homemade toffee, sweet chocolate and crunchy pecans!
Ingredients
35-40

saltine crackers or graham crackers

1

cup

2 sticks unsalted butter

1

cup

packed light brown sugar

¼

teaspoon

salt

1

teaspoon

vanilla extract

1 ½

cups

semi-sweet chocolate chips

1 ½

cups

Fisher chopped pecans
Instructions
Preheat oven to 300°F. Line a 15" x 10" x 1" pan with parchment paper or non-stick foil. Line up crackers in a single layer in rows on foil.

Meanwhile, using a candy thermometer, melt butter, brown sugar and salt in a small saucepan over medium-high heat. Bring to a boil and boil for 2 to 3 minutes (you want the mixture to reach 275°F to 280°F - I recommend using a candy thermometer for optimal results).

Immediately remove from heat and stir in vanilla. Quickly pour mixture over crackers and spread evenly with a spatula.

Transfer the baking pan to the oven and bake for 5 minutes. Remove from oven.

Meanwhile, melt the chocolate in a microwave-safe bowl. Cook in 30-second intervals, stirring between each cook time, until the chocolate has melted.

Sprinkle pecans on top and gently press into the chocolate. Let the crackers cool to room temperature then move to the refrigerator and cool for a minimum of 2 hours.

Once chilled, remove from pan and gently peel the parchment paper/foil away, being careful not to tear the foil. Cut/break the candy into pieces with your hands or a chef's knife.

Store in airtight container in the fridge for up to a week.

Nutrition
Serving:
1
,
Calories:
107
kcal
,
Carbohydrates:
13
g
,
Protein:
1
g
,
Fat:
6
g
,
Saturated Fat:
2
g
,
Polyunsaturated Fat:
4
g
,
Cholesterol:
1
mg
,
Sodium:
54
mg
,
Fiber:
1
g
,
Sugar:
9
g
This post is sponsored by Fisher Nuts. All opinions are, as always, 100% my own. Thank you for supporting the brands that I love!
This post may contain affiliate links. Read my disclosure policy.