This easy Peanut Butter Pretzel Crockpot Candy recipe could not be easier to make! Simply toss all of the ingredients into the crockpot, stir a couple of times, scoop, and bam! Homemade candy! These crunchy, chocolatey treats are ideal for the holidays, potlucks, gifts, and more.
*This post is sponsored by Challenge Butter.*
Easy Chocolate Crockpot Candy
'Tis the season! I don't know about you guys, but this time of year, I never seem to leave my kitchen. I'm always breaking a sweat over my stovetop or popping something into a hot oven. Amidst all of that baking madness, it's so nice to occasionally turn to tried and true Crock Pot recipes like this one.
Crock Pot recipes are loved for being easy as can be, and this candy recipe holds true to that simple standard. The steps for making peanut butter pretzel candy are incredibly easy to follow, and the results are classic and delicious every time!
These Peanut Pretzel Candy Clusters in particular could not be any easier! Throw all the ingredients in the crock pot, stir a couple of times, scoop and BAM! CANDY! Perfect for the holidays, potlucks, and gifts!
Crunchy peanuts and salty pretzels are made sweet with a concoction of different chocolates, my favorite Challenge butter, and plenty of creamy peanut butter. Oh, and you can't forget the sprinkles on top to dress up your candy clusters!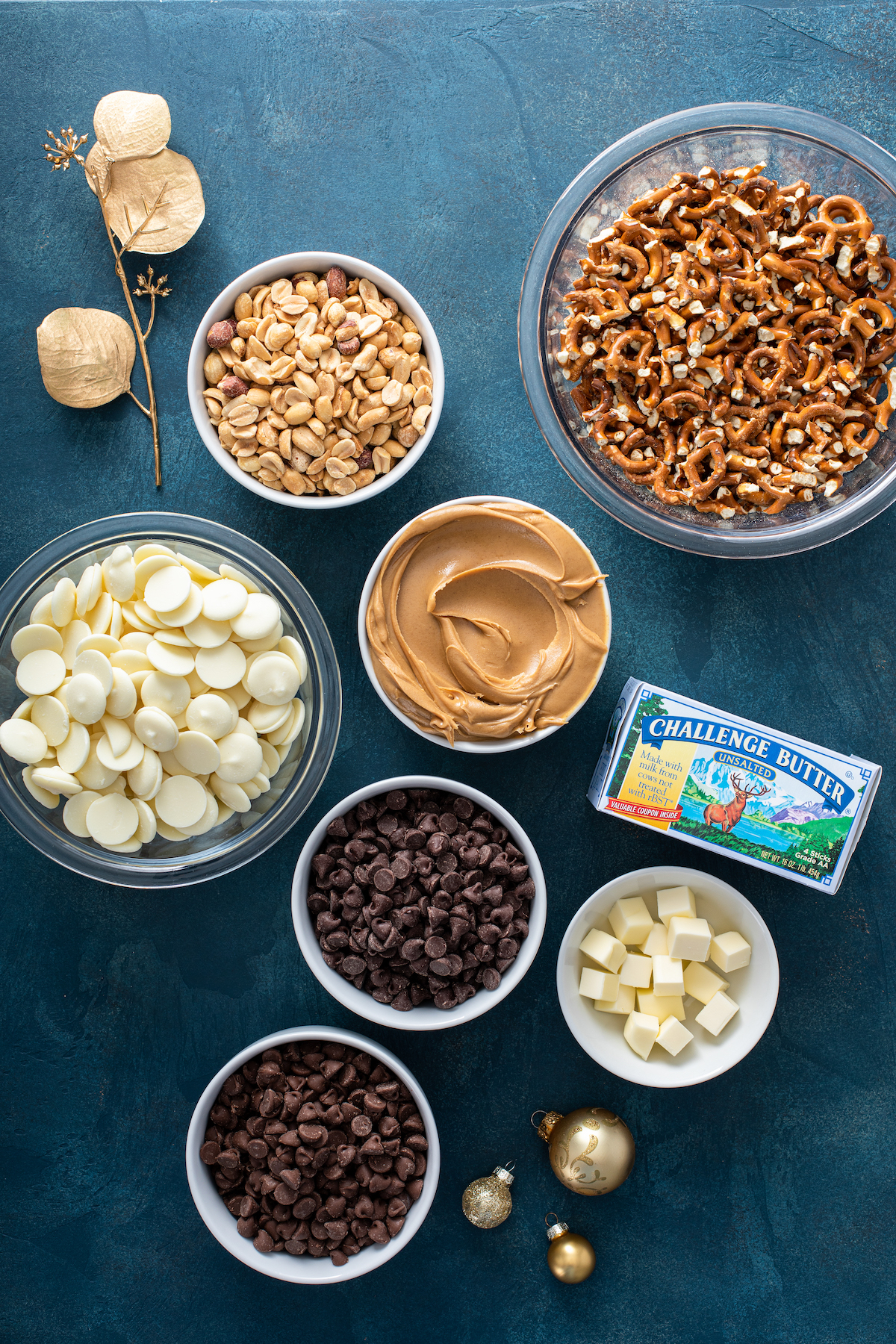 Recipe Ingredients
You only need a handful of ingredients to make these easy crockpot candy clusters. You might already have some of them hanging out in your pantry!
Challenge Unsalted Butter: Don't use salted butter! There will be plenty of salty flavor from the peanuts and pretzels, so you don't want to overdo the sodium with salted butter.
Salted Roasted Peanuts: You could always use unsalted roasted peanuts if that's what you'd prefer, but I like the combo of salty and sweet ingredients here.
White Almond Bark: You can also use white chocolate chips, but I find I like them best with made with white almond bark.
Milk Chocolate: With all of your chocolate, try to get a good quality bag of chocolate chips. That way, you know your final product will be truly decadent.
Semi-Sweet Chocolate Chips: You could opt for dark chocolate chips instead, but I've found that the addition of semi-sweet chocolate adds just the right amount of rich chocolate flavor.
Creamy Peanut Butter: Since we're adding the peanuts ourselves, I like to use creamy peanut butter.
Pretzels: You can lightly crush them by simply placing the pretzels in a durable zip-top bag and smashing them with a rolling pin.
Sprinkles: Festive sprinkles are optional, but let's be honest… They're a necessity!
Challenge Butter
This recipe features my very favorite Challenge Butter. I always use Challenge Butter in my kitchen because it is churned fresh daily, as it always has been since the company began in 1911! Challenge Butter is also farmer-owned with more than 450 family-owned dairies.
Challenge Butter is made the old-fashioned way with the freshest milk and cream from happy cows. It is 100% natural and doesn't have any artificial preservatives, fillers, dyes or added hormones.
Considering we have are a family of five with three young, growing kids, I confidently reach for Challenge Butter at the store. Not only is it great for my own family, I also know we are helping to support other families.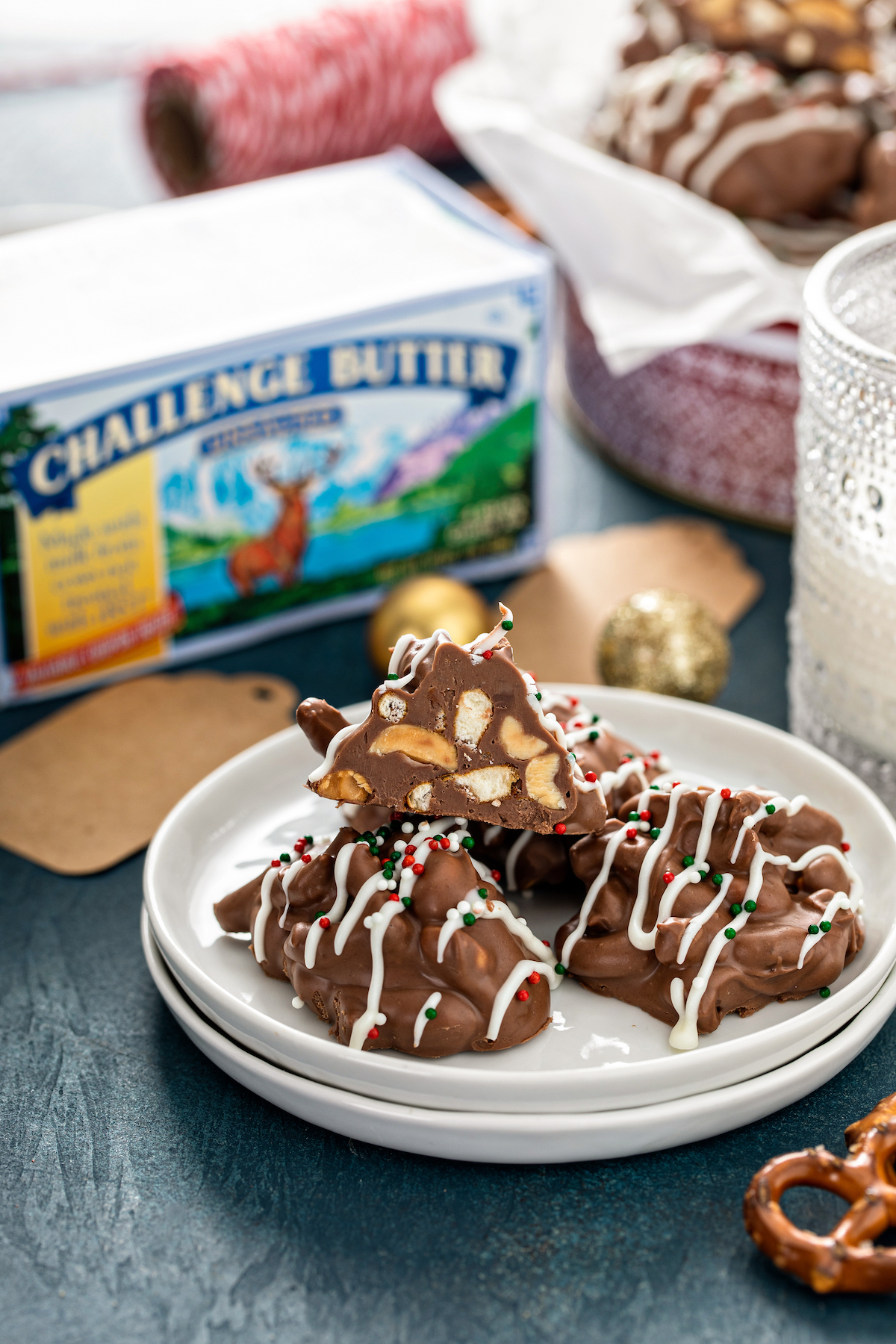 How to Make Peanut Butter Pretzel Candy in the Crock Pot
Once you make this wonderfully simple Christmas candy in the Crock Pot, you'll be finding excuses to whip this stuff up all the time. Cookie exchange? Bring this candy instead! Want to leave Santa a little something next to a tall glass of milk on Christmas Eve? He might just love this classic candy even more than his usual cookies.
Prep: Before you start making this candy, you'll need to prepare baking sheets with either silicone mats or parchment paper.
Toss Everything into the Crock Pot: Like any good Crock Pot recipe, the first step is just to pop everything into it! Add the butter to the bottom of the Crock Pot first, then toss in the rest of the ingredients, except for the pretzels and roasted peanuts. Don't stir quite yet!
Heat and Stir: Turn the Crock Pot to "high," then let the ingredients cook for about 20 minutes. After that, stir everything together before turning the heat down to "low." Cook for another 30 minutes.
Stir Again: After everything cooks for that half hour, lift the lid and give everything in the Crock Pot a good stir again. If not everything has melted all the way, continue cooking and stirring in 5 minute intervals.
Make it Crunchy: Once everything is smooth and melted, stir in the crushed pretzels and peanuts. Turn off the Crock Pot at this point.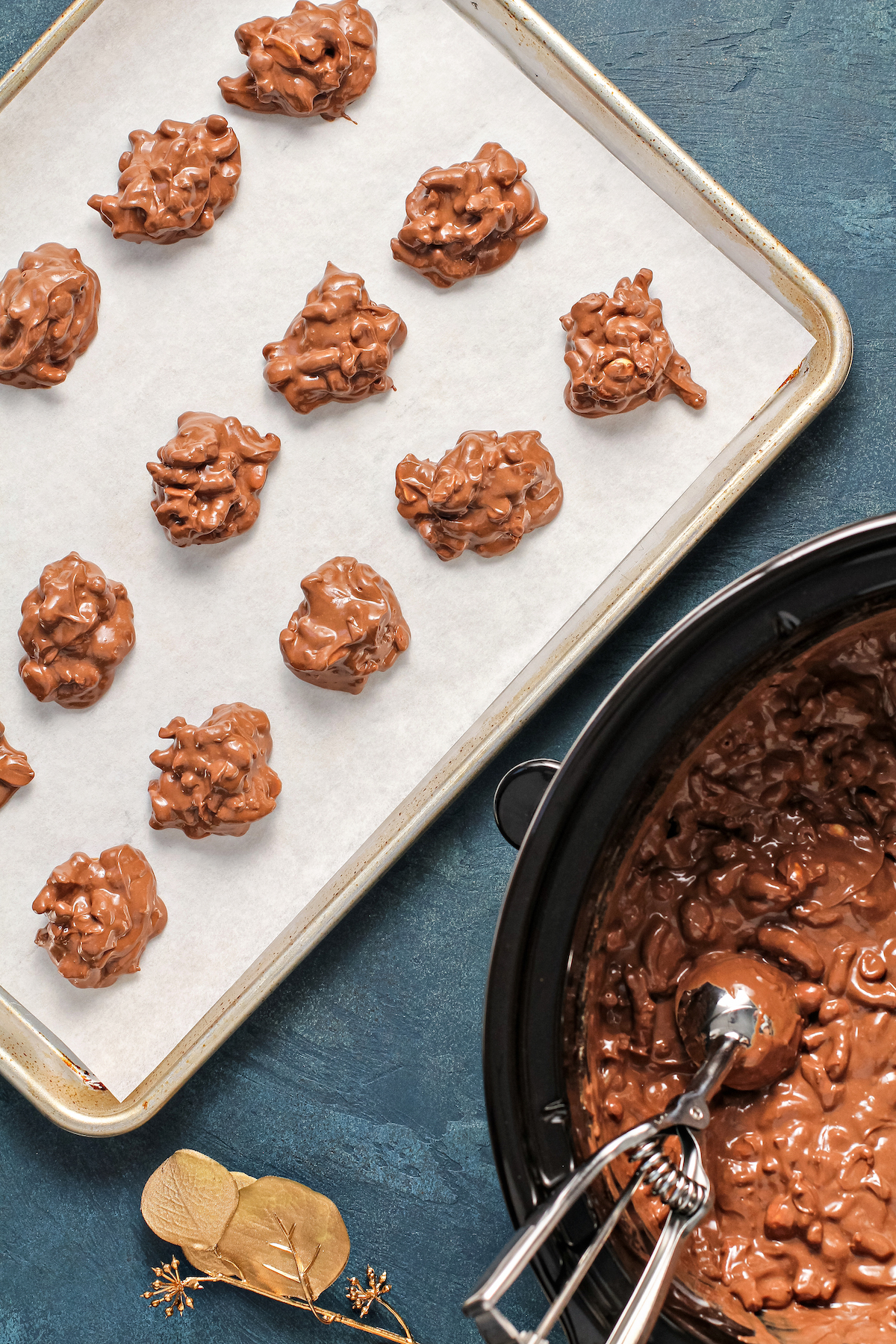 Let it Set: To make sure the candies are all uniform in size, use a cookie scoop to scoop the clusters onto the prepared baking sheets. Let the candy set on the kitchen counter for about an hour to an hour and a half.
Decorate the Candy: This is optional, but so much fun! Decorating the candy also adds a festive flair that makes it perfect for Christmas parties. Melt the white chocolate in the microwave, then pour it into a zip-top baggie before cutting a corner off the side. Drizzle the white chocolate over the candies, then top with your favorite sprinkles, and enjoy!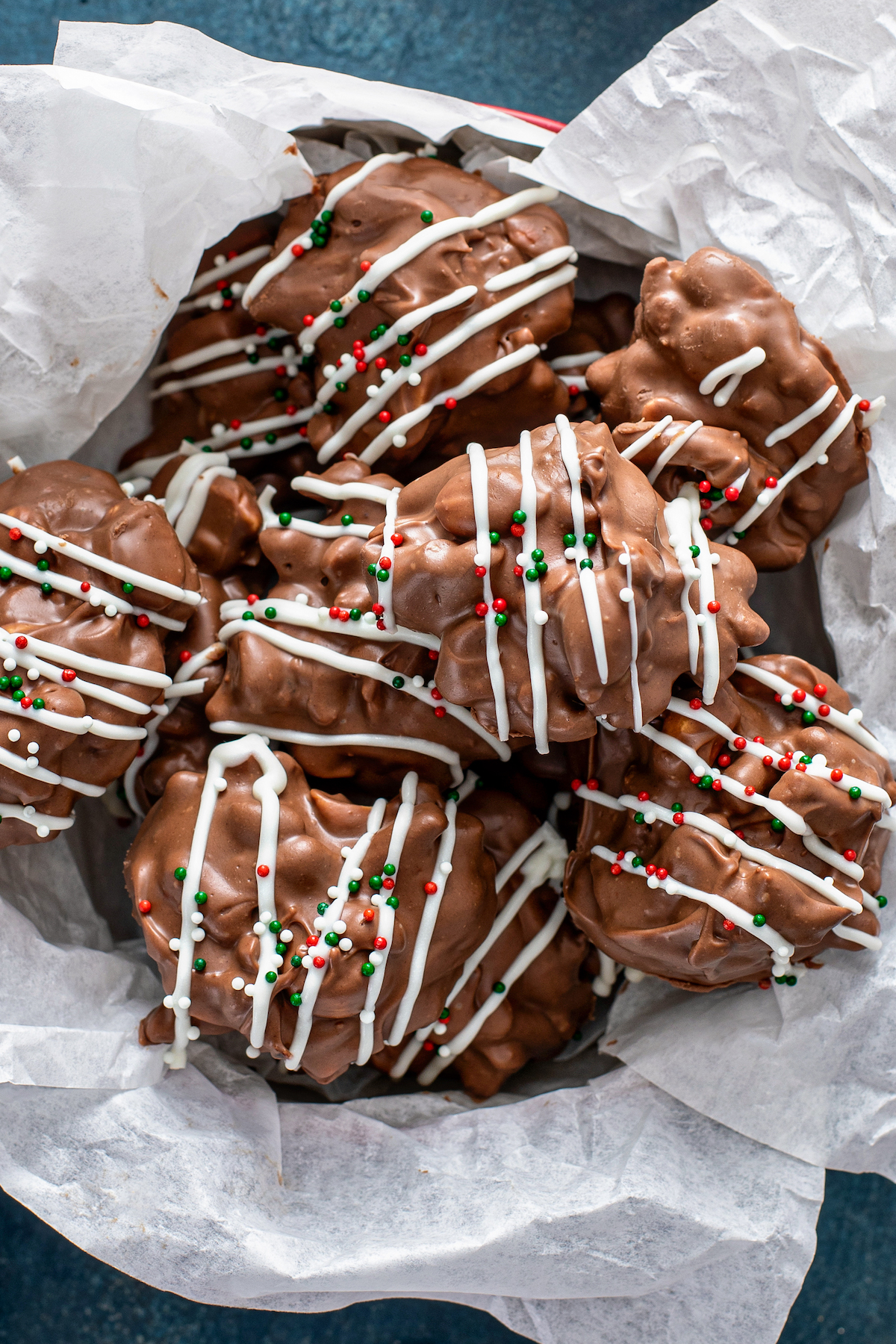 Recipe Tips For Best Crockpot Candy
Countertop: This crockpot candy recipe makes a lot of clusters, so some cooks might find it easier to line the countertop with parchment paper if they do not have enough cookie sheets
Set A Timer: This recipe is incredibly easy as long as you remember to go and stir the candy at the required times. One year I forgot to set my timer and wound up having to throw it all away because it burned.
Good Quality Chocolate: Since chocolate is one of the star ingredients, it worth spending a little more to get the good quality chocolate.
Almond Bark: Some people try to skip the almond bark, but it is an important ingredient! The almond bark helps to sweeten the candy, but more so is used to create the perfect smooth texture. Don't skip it!
Cookie Scoop: A large cookie scoop will make scooping your clusters so much easier. You can use a spoon, but I like the more uniformed look you get using a measured cookie scoop.
Quick Chill Time: If you are in a rush, you can pop your candy into the fridge to help it set quicker.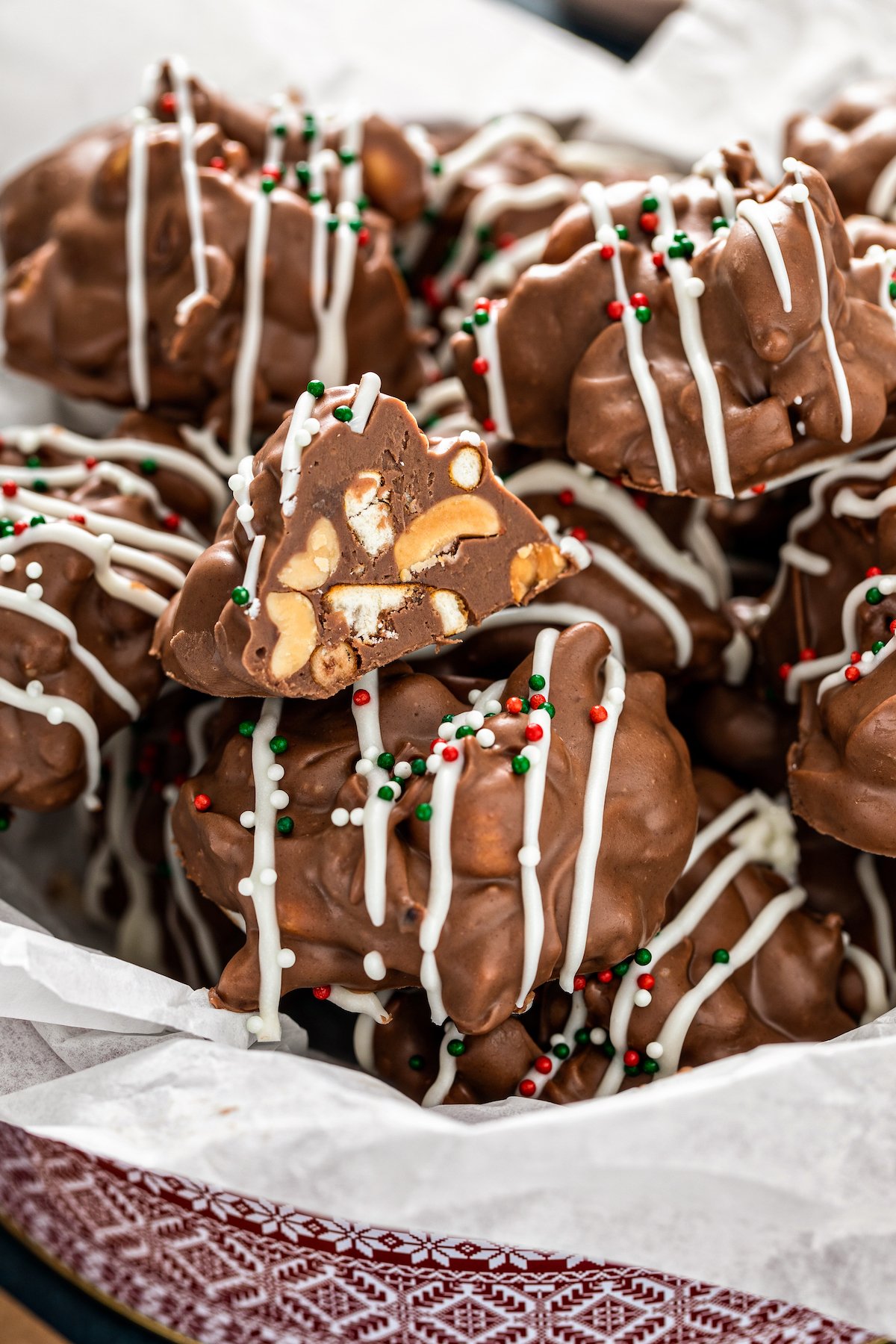 How to Store Peanut Butter Pretzel Candy
These clusters will stay fresh for a whole week! They're a perfect make-ahead dessert during the busy holiday season. Just make sure to keep them in an airtight container and out of direct sunlight for the best results.
If you are shipping the, be aware that they are chocolate and can still melt in the mail. Try to wrap them seperately from any other cookies/treats you are shipping!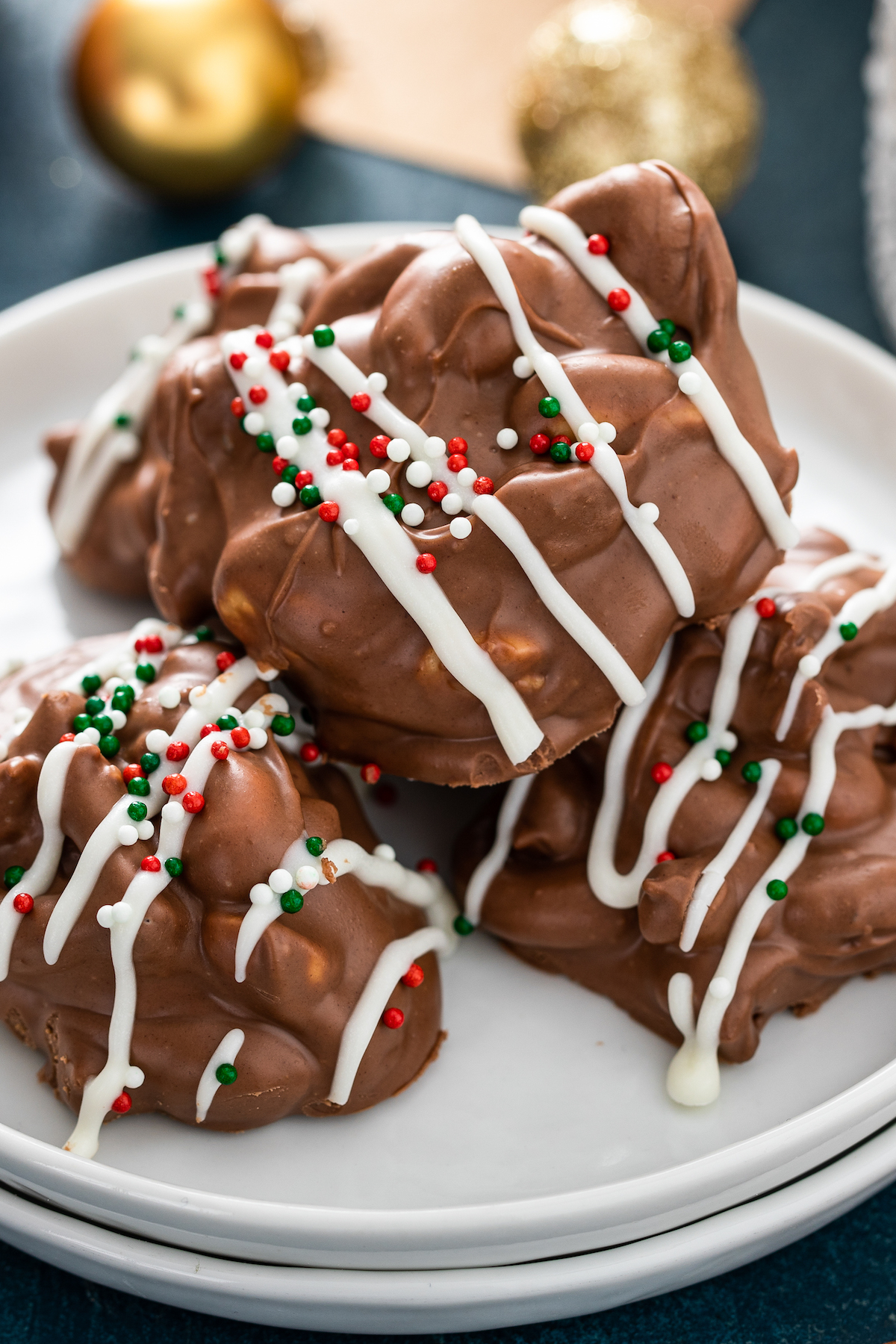 Peanut Butter Pretzel Crockpot Candy
This easy Peanut Butter Pretzel Crockpot Candy recipe could not be easier to make! Simply toss all of the ingredients into the crockpot, stir a couple of times, scoop, and bam! Homemade candy!

Ingredients
½

stick Unsalted Challenge Butter,

cubed

2

cups

salted roasted peanuts

24

ounces

white almond bark

,

or white chocolate chips, reserve 6 ounces

11.5

ounces

milk chocolate chips

10.5

ounces

semi-sweet chocolate chips

2

cups

creamy peanut butter

8

ounces

pretzel twists – lightly crushed

Sprinkles

,

optional
Instructions
Prepare baking sheets with silicone mats or parchment paper.

Add butter to the bottom of the crock pot. Add peanuts, white almond bark, milk chocolate chips, semi-sweet chocolate chips, and peanut butter.

Turn crock pot on high. Stir after 20 minutes. Turn crock pot down to low and allow to cook for an additional 30 minutes.

Stir until all chocolate is melted and ingredients are well combined. If chocolate still isn't fully melted allow to cook for an additional 10 minutes, check in 5 minutes intervals and stir each time. Careful to not let the chocolate overcook and burn.

Once all chocolate is melted, add lightly crushed pretzels, stir to combine. Turn off crock pot.

Using a 2 tablespoon cookie scoop, scoop clusters on to cookie sheets or parchment paper. Allow to set until hardened, about an 60 to 90 minutes.

In a microwave safe bowl, add remaining white chocolate chips (or white almond bark) and melt in 30 second intervals, stirring well after each pass. This should take between 60-90 second depending on the strength of the microwave.

Pour white chocolate into a sandwich size ziplock bag, gently press the air out of the bag while sealing. Cut a small corner off the bag and drizzle the white chocolate over the clusters.

Top with festive sprinkles, if desired, and allow to cool for another 30-60 minutes before serving or packaging.
Nutrition
Serving:
1
,
Calories:
140
kcal
,
Carbohydrates:
11
g
,
Protein:
4
g
,
Fat:
10
g
,
Saturated Fat:
3
g
,
Polyunsaturated Fat:
6
g
,
Cholesterol:
1
mg
,
Sodium:
109
mg
,
Fiber:
2
g
,
Sugar:
6
g
Categories:
More Easy Christmas Desserts
Looking for some more easy recipes for delicious and adorable Christmas desserts? Here are a few other reader favorites I think you will love:
This post may contain affiliate links. Read my disclosure policy.