Microwave Peanut Butter Cup Fudge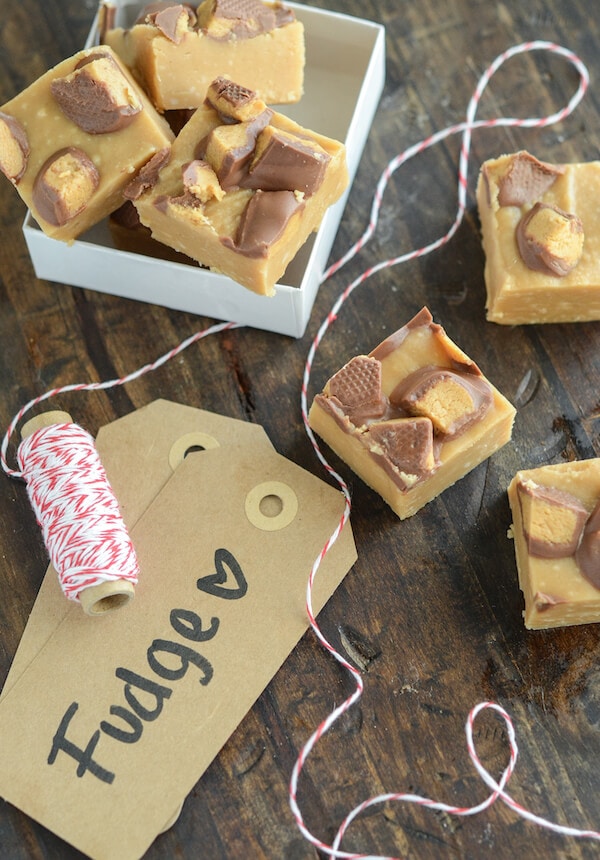 My parents kept the girls for a night this weekend. Wanna guess what Jorge and I did? Grab drinks at a local bar? Dinner and a movie? Nope, we went and did a little Christmas shopping and a Target run. We were still in bed by 10.
I know you are probably laughing at us, but I have to say that it was REALLY nice to get to walk around Target for an hour without being in a rush because one of the girls is about to scream or poop or both. We also got to have dinner and eat it with both hands. Such a luxury! Ha!
Sunday morning we went to pick up the girls and my brand new iPhone took a nose dive into the driveway. It's completely shattered and the screen doesn't work at all. Of course it's completely out of stock in stores, so now I'm waiting for my replacement to be "express" shipped to me. To dry up my tears while I thank my lucky stars that I bought apple care this time, I made fudge.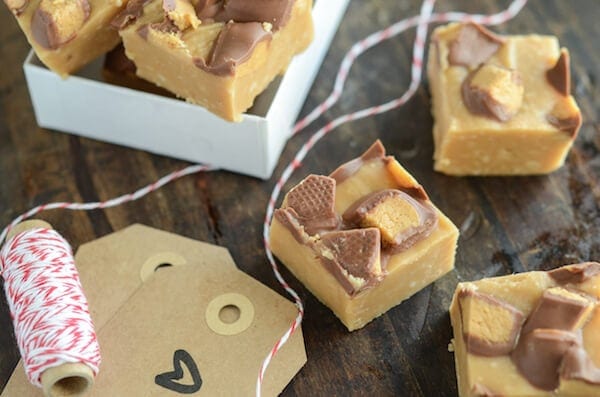 Not just any fudge, but fudge you make in the microwave. I know. I know. Pre-twins me would have probably never made fudge with a microwave. But aren't you glad that I am now post-twins me? You can make fudge in a microwave!!
I love December because…well, CANDY! I have already made one toffee this year and now I was ready for fudge! I found this recipe from my friend Erin. It is originally Alton Brown's recipe. The original recipe says to use a pound of powdered sugar. I ended up using 2 1/2 cups of powdered sugar and I couldn't imagine making it any sweeter.
You could top this fudge with anything…nuts, chocolate, or nothing at all. It stores great and couldn't be easier to make — perfect for packing up in cute little tins for the neighbors!
Microwave Peanut Butter Cup Fudge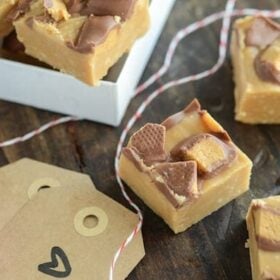 Ingredients:
1 cup (2 sticks) unsalted butter
1 cup creamy peanut butter
2 teaspoons vanilla extract
2 1/2 cups powdered sugar
8 Reese's Peanut Butter Cups, chopped
Directions:
Butter and line an 8×8 baking pan with parchment paper. Set aside.
In a large microwave safe bowl, microwave butter and peanut butter for 2 minutes on high. Stir and microwave on high for 2 more minutes.
Add vanilla and powdered sugar to peanut butter mixture and stir until smooth with a wooden spoon or spatula. The peanut butter mixture will start to thicken and loose it's sheen. If it is still really thin, add 1/4 cup more powdered sugar.
Transfer into prepared pan. Sprinkle chopped peanut butter cups on top of the fudge and press in slightly.
Refrigerate until cool (this took about an hour in my fridge). Cut into 1-inch pieces and store in an airtight container for up to a week.
SaveSave