This Buttery Toffee with Almonds and Chocolate puts all other toffee recipes to shame! This almond roca bark is crunchy, sweet and super easy to make.
Chocolate and Almond Toffee Recipe
It's finally candy-makin' time! October is for Halloween candy and everything pumpkin. November is still everything pumpkin, with Thanksgiving turkey tossed in for good measure. And December is all about the cookies and candies.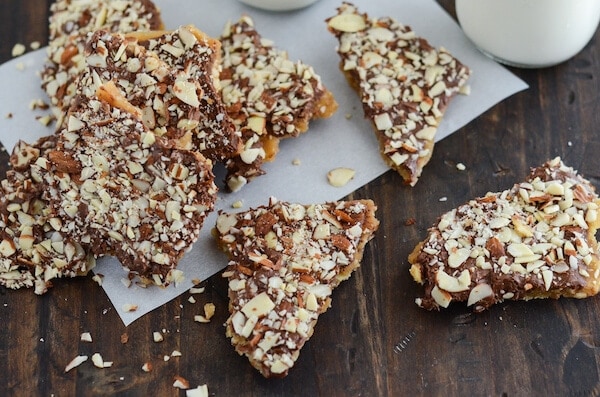 Candy can be hard to make if you don't follow directions. If you are just a little off with your temperature or the amount of fat and sugar content, you have a big mess on your hands. I know this from experience. There is currently a big saucepan with burnt toffee stuck to it soaking in my sink. I turned away for just a minute to pick up one of the babies…and BAM. Burnt toffee.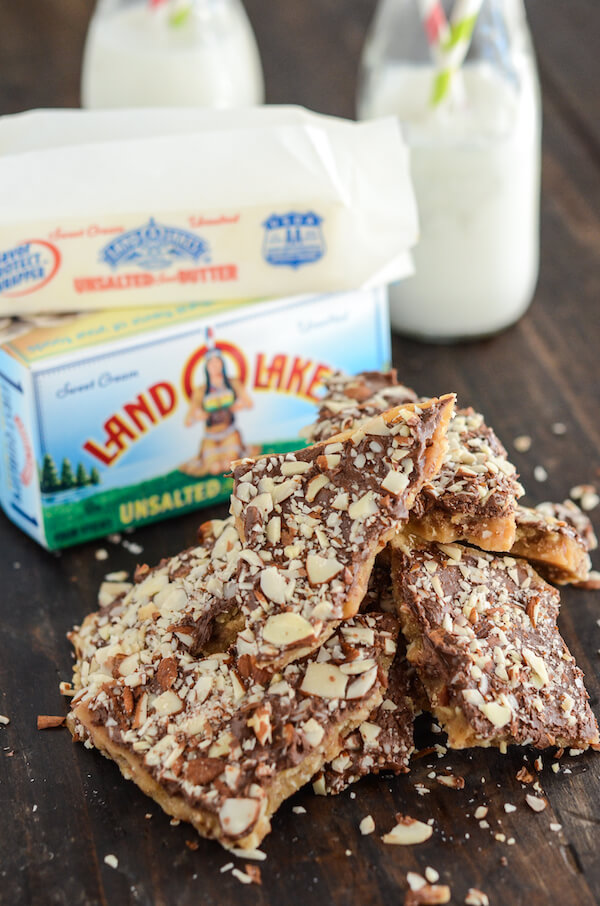 Luckily, if you pay attention and follow directions, unlike me, Almond Roca Bark is really pretty easy to make! You toss some Land O Lakes® Butter, sugar, water and molasses into a saucepan and just watch and stir…watch and stir…and watch and stir.
This is a good recipe to make with someone else so you can chat while you stir. Then at the last second, you pour it out and top it with some milk chocolate and toasted almonds. This recipe holds up great for about a week and makes amazing holiday gifts when wrapped up in tins!
Yield: 16
Buttery Toffee with Almonds and Chocolate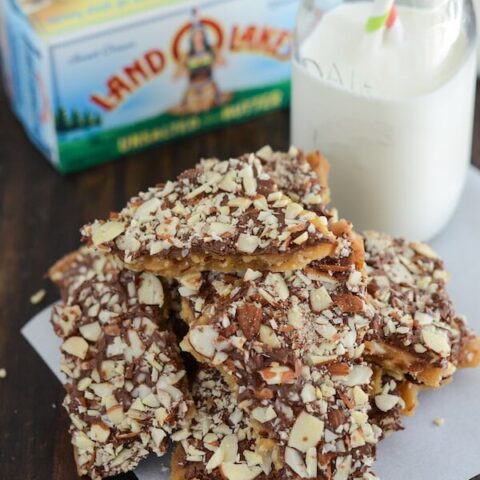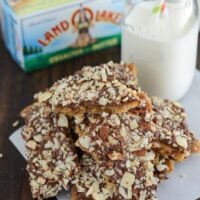 This Buttery Toffee with Almonds and Chocolate puts all other toffee recipes to shame! This almond roca bark is crunchy, sweet and super easy to make.
Additional Time
20 minutes
Ingredients
1 cup Land O Lakes® Unsalted Butter (2 sticks)
1 cup granulated sugar
1/4 cup water
1 tablespoon molasses
1 1/2 cup chopped toasted almonds, divided
6 1.55 oz. milk chocolate bars, unwrapped
Instructions
Line a 9x13 inch cookie sheet (You can use a 9x13 cake pan too.) with waxed paper. Set aside.
In a nonstick medium saucepan, mix together Land O Lakes® Butter, sugar, water and molasses. Bring mixture to a slow boil, stirring with a wooden or silicone spoon. Do not use a whisk, as overstirring will ruin the toffee and make it separate.
Attach candy thermometer and continue cooking until the thermometer reaches 295° F, stirring often to prevent burning or sticking. Slow and steady will win this race. I kept my burner at medium-low heat, with a steady, slow boil, and it took me 20 minutes. If you try turning up the heat to speed it up, it will burn before it reaches the correct temperature.
As soon as you reach 295° F, remove the pan from the heat and set it on a hot pad. Stir in 1 cup of the almonds. Pour toffee mixture onto prepared pan.
Lay unwrapped chocolate bars evenly on top of the toffee. Wait a few minutes to let the heat melt the chocolate and then, using a spatula, swirl melted chocolate to the edges of the candy. Sprinkle the remaining almonds along the top and gently press into the melted chocolate.
Let candy cool and harden overnight, or speed up the cooling time by popping the pan in the fridge for 20 minutes. Break the candy into pieces and serve immediately or store in an airtight container for up to a week.
Nutrition Information:
Yield:
16
Serving Size:
1
Amount Per Serving:
Calories:

303
Total Fat:

22g
Saturated Fat:

10g
Trans Fat:

0g
Unsaturated Fat:

11g
Cholesterol:

34mg
Sodium:

77mg
Carbohydrates:

24g
Fiber:

2g
Sugar:

21g
Protein:

4g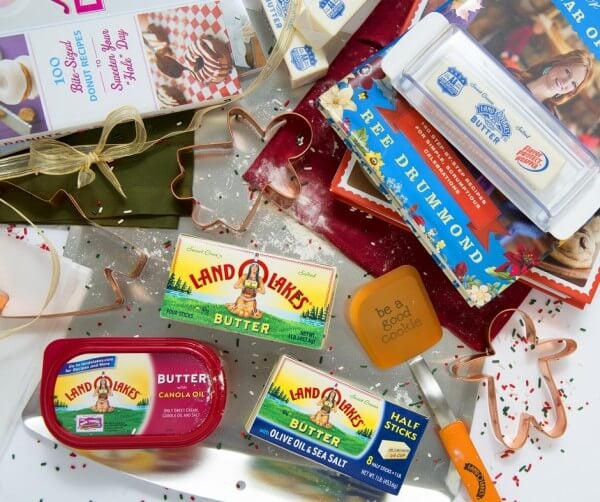 Make sure and join all of us in the Kitchen Convo crew for a fun #CookieChatter twitter party on Thursday, December 4th, from 8 to 9 pm EST. We will be talking about our favorite holiday recipes and tips for a delicious holiday season. Plus, you have a chance to win a holiday baking prize pack from Land O'Lakes, which included a signed copy of Ree Drummond's cookbook, "A Year of Holidays" and a year's supply of Land O Lakes® Butter, a signed copy of my Mini Donuts cookbook and more!
Use the hashtag #CookieChatter in your tweets for a chance to win. Go to landolakes.com for the giveaway details!
The Novice Chef has partnered with Land O'Lakes for an exclusive endorsement of Land O Lakes® Butter for the Kitchen Conversations blogger program. This blog post is sponsored by Land O'Lakes.
This post may contain affiliate links. Read my disclosure policy.