This impossibly rich Chocolate Sauce is going to be your new best friend! Whip it together in just 10 minutes, and you'll get the perfect addition to cakes, cupcakes, and ice cream!
Use this easy Chocolate Sauce as the perfect finisher for my dreamy Peanut Butter Chocolate Cake.
Easy Homemade Chocolate Sauce
If you're looking for an elegant way to decorate pastries and desserts, this Chocolate Sauce recipe is for you. You can use it in so many ways: on top of cakes, to glaze donuts, drizzled on ice cream or on top of pastries!
Just like ganache, this recipe is silky smooth and firm, except it's a little sweeter and more stable to work with. It's just what you need when you want to add beautiful chocolate droplets or a mirror glaze to your pastries.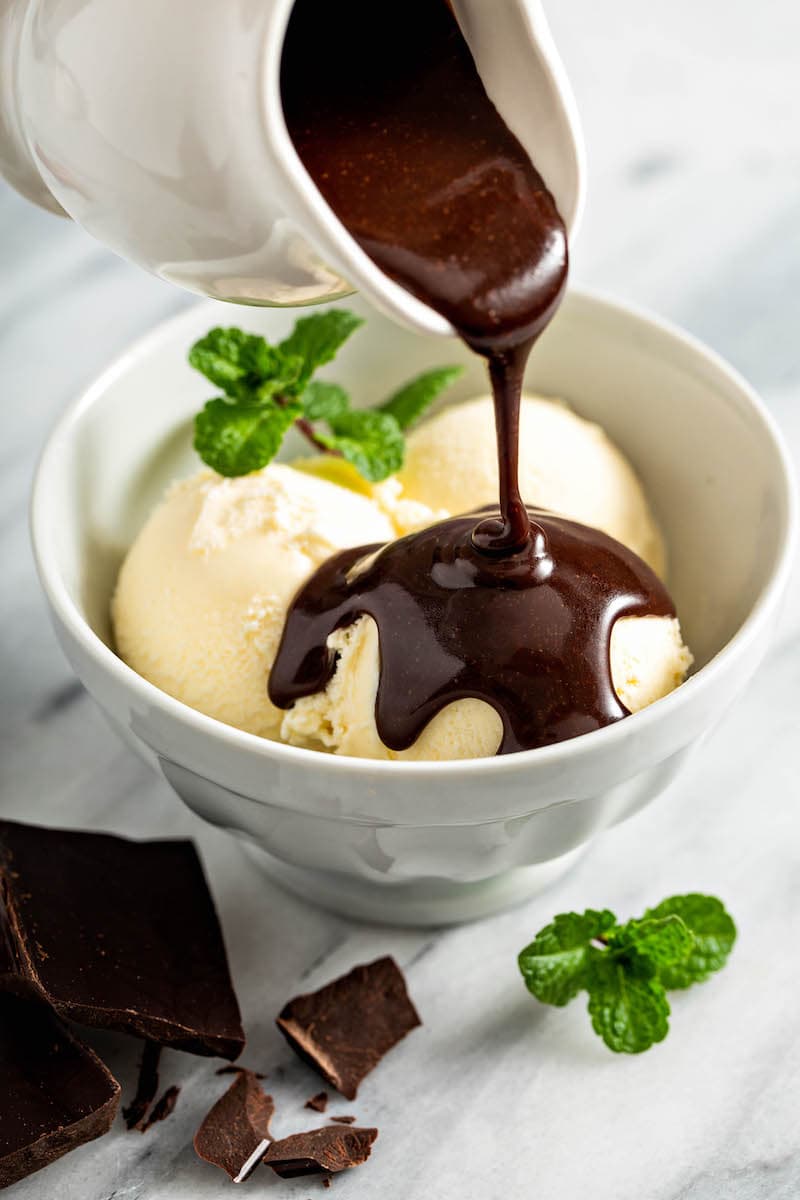 If you ever end up having leftovers of this sauce, it makes a great fruit dip (hello, chocolate strawberries!) or re-heated and served over a bowl of ice cream. Its uses are endless, you can even enjoy it with a bowl and a spoon! All you need are a handful of ingredients and 10 minutes for this amazing chocolate treat.
Uses for Chocolate Sauce
Spoon it over top of a bowl of ice cream.
Dip donuts in it for a great chocolate glaze.
Use it as an elegant decoration for cakes or cupcakes.
Use it as a dip for fruit, such as strawberries, bananas, or watermelon.
Stir a spoonful in a cold coffee drink or drizzle on top of a latte.
Drizzle it over whipped cream.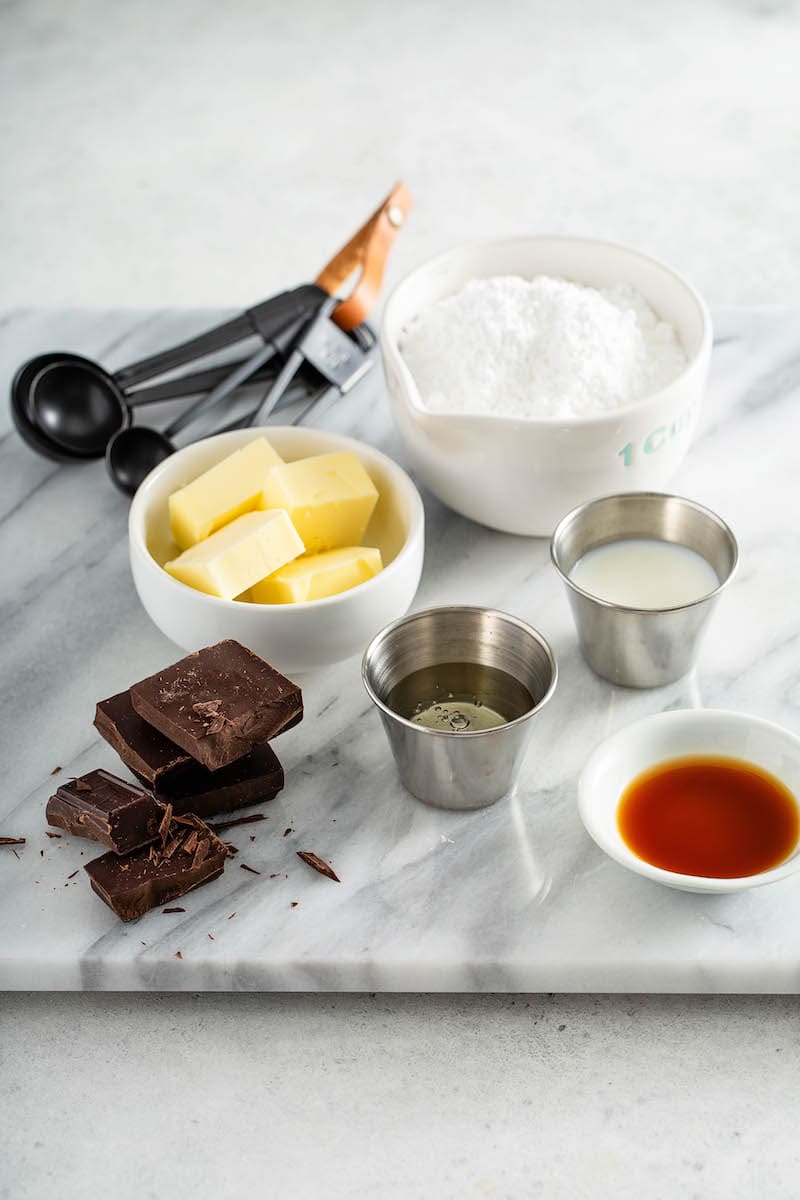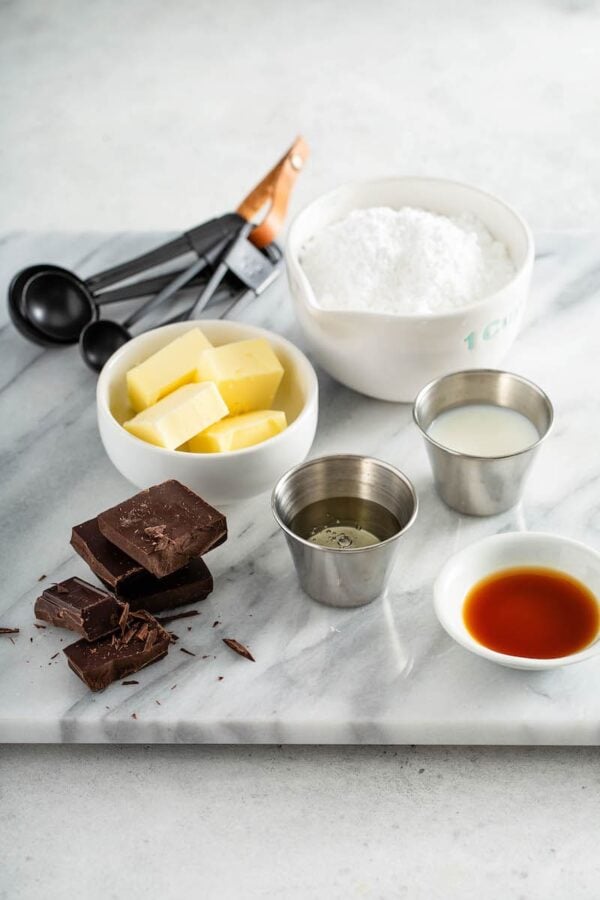 Chocolate Sauce Ingredients
Unlike traditional 2-ingredient chocolate ganache (cream and chocolate), this homemade sauce is thickened with butter and has a silky texture thanks to the addition of corn syrup. Once the mixture stands for 5 minutes after coming together, it will turn into a firm glaze that's perfect for decorating cakes and cupcakes.
You only need 6 ingredients to make your chocolate glaze:
Unsalted butter

Milk

Corn syrup

Vanilla extract

Dark chocolate
Powdered sugar
The Best Chocolate For Chocolate Sauce
Use a high-grade dark chocolate, such as Bakers, Lindt, or Ghirardelli brands. Pure dark chocolate is best because it will elevate the taste, quality, and appearance of the sauce. Do not use chocolate chips or milk chocolate as they will not melt as smoothly and affect the texture.
Don't worry about the bitterness when using dark chocolate! Unsalted butter and powdered sugar help the sauce taste sweet and irresistible.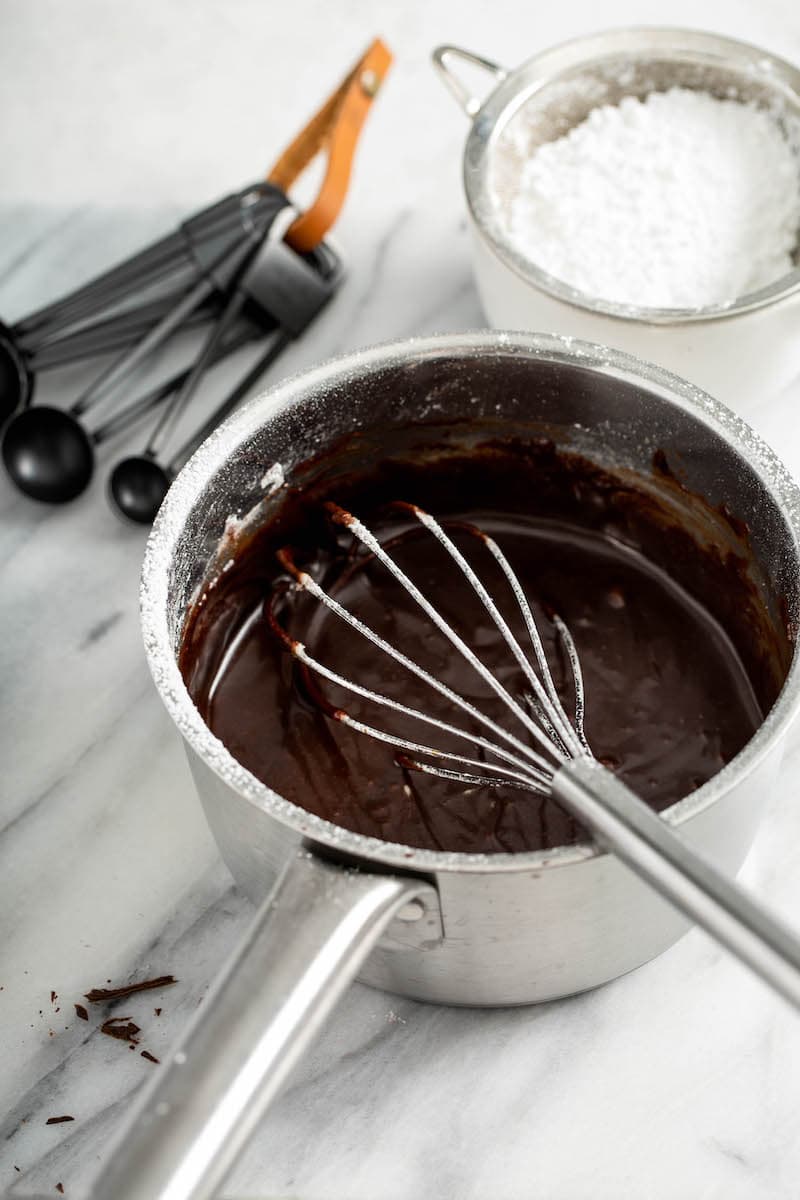 How To Make Homemade Chocolate Sauce
All you need is one saucepan and 15 minutes to whip together this chocolatey goodness!
Combine: Add the butter, milk, corn syrup, and vanilla extract to a small saucepan and heat over medium heat until the butter is melted.

Lower The Heat: Turn the heat to low, and add in the chocolate. Whisk until melted.

Add Sugar: Remove the saucepan from the heat and whisk in the powdered sugar until smooth. Let the chocolate glaze sit for 5 minutes until it has cooled slightly and started to thicken just a little bit.
Decorating Tips
When using the sauce to decorate pastries, you can spoon it right out of the saucepan after it's cooled, or add it to a pastry bag or squeeze bottle. This recipe is perfect for making chocolate drips down the edges of a cake. Afterward, fill in the top of the cake with the rest of the syrup for a beautiful chocolate mirror glaze.
Allow the sauce to sit and harden on the pastry for at least 30 minutes before serving. The longer it sits, the better, so be patient!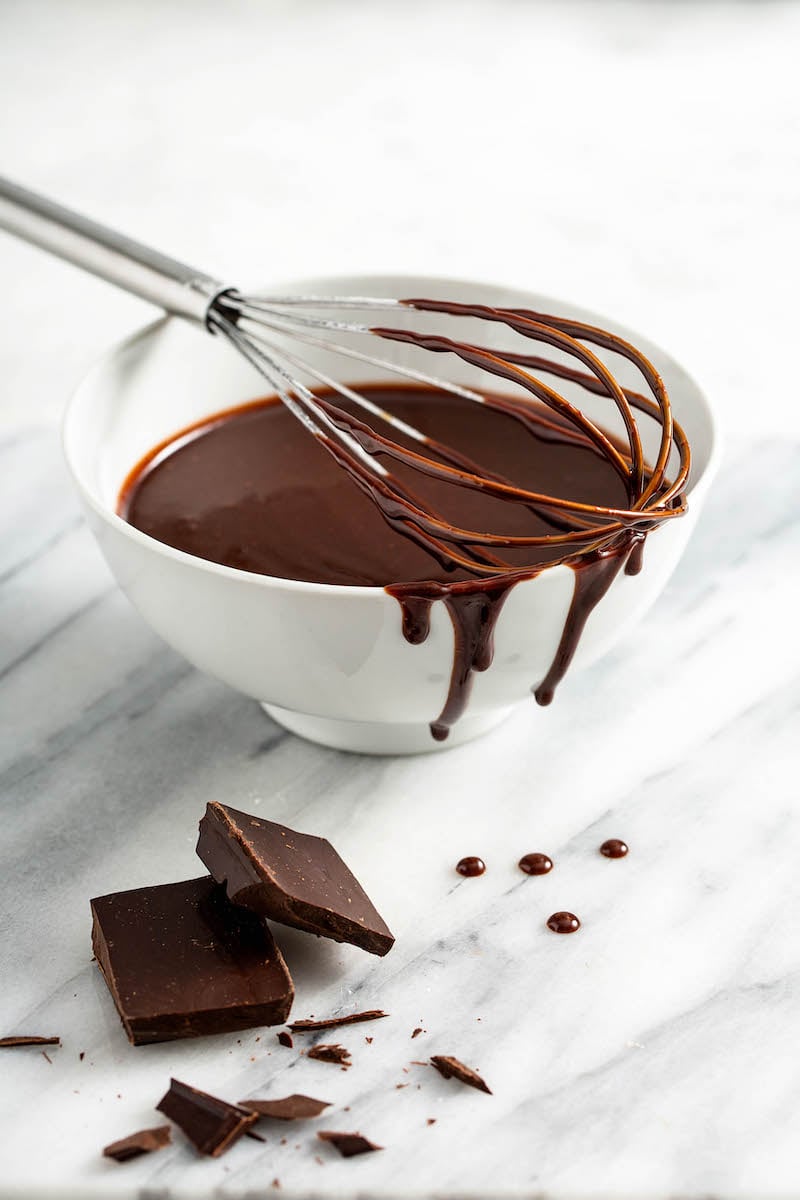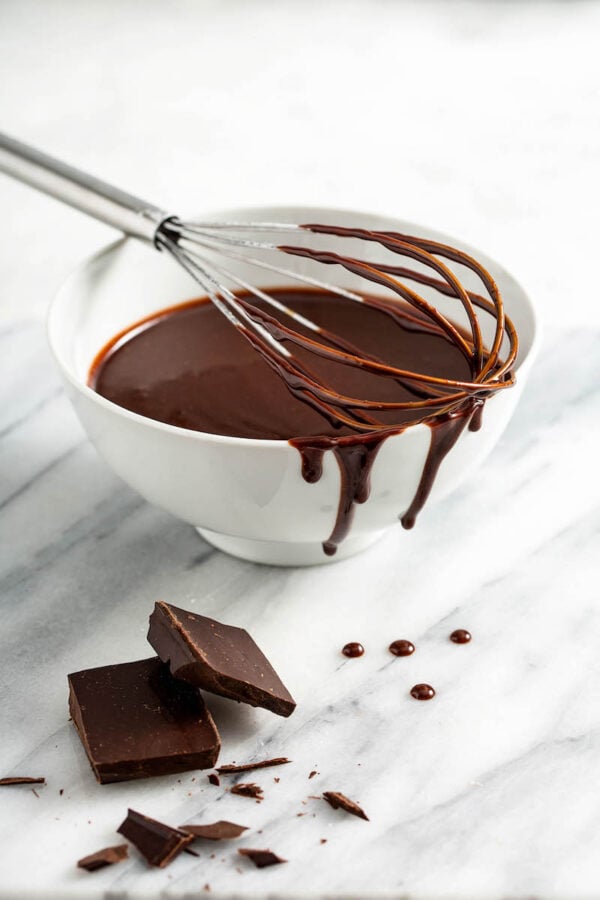 Making It Ahead of Time
Homemade chocolate sauce is perfect to keep in your home for a fun treat. Keep it on your kitchen counter for up to 2 days, in an air tight container, or store it in your refrigerator for up to a month.
Recipe Variations
Add Salt: Use salted butter for a hint of salt in the chocolate sauce.
Leave Out The Butter And Milk: For a more traditional ganache, leave the butter and milk out and sub in cream.
Naturally Gluten-Free: This chocolate sauce recipe is naturally gluten-free, however, make sure to double-check the brand labels to confirm there is no risk of cross-contamination.
Make It Vegan: Pure dark chocolate should not contain any dairy, making it the perfect solution for a vegan chocolate sauce. Full fat coconut milk instead of dairy milk and butter will create a creamy, plant-based ganache. Heat up 1 can of coconut milk, melt in 16 oz. of dark chocolate, then stir in ½ teaspoon of vanilla!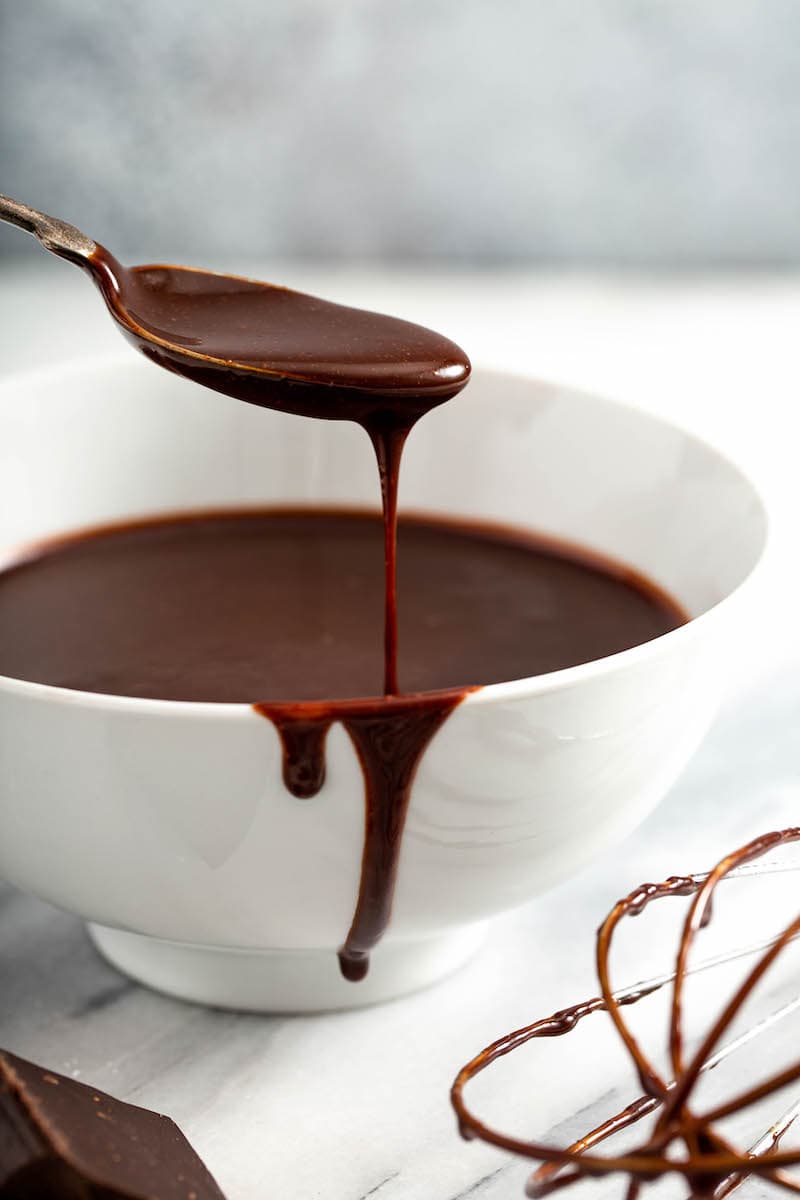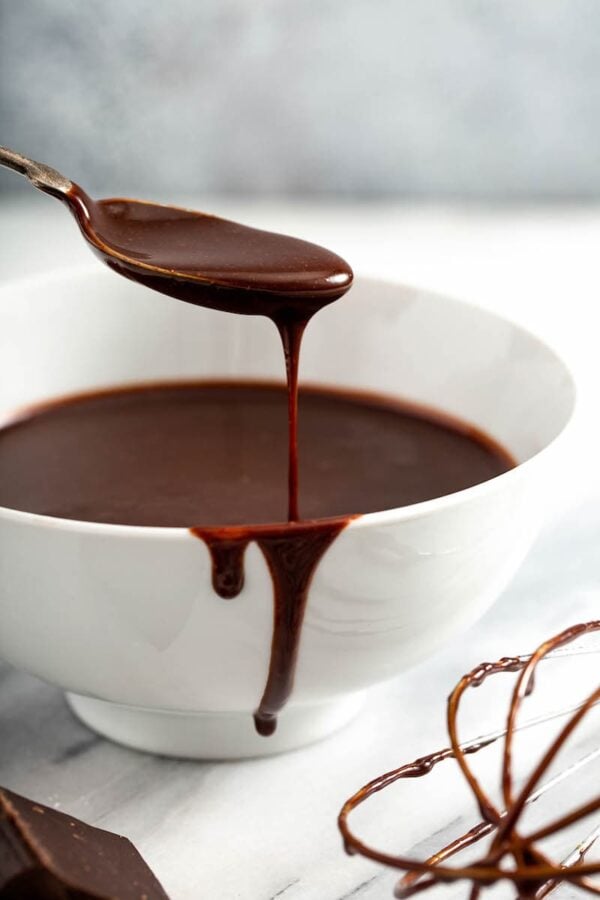 This homemade Chocolate Sauce is the perfect addition to a cake, cupcakes, ice cream, fruit or just on a spoon straight into your mouth. This is one of my favorites to dress up a dessert, pastry or use to top homemade donuts. Leave a review below letting me know how it turns out for you!
Yield: 1.5 cups
Chocolate Sauce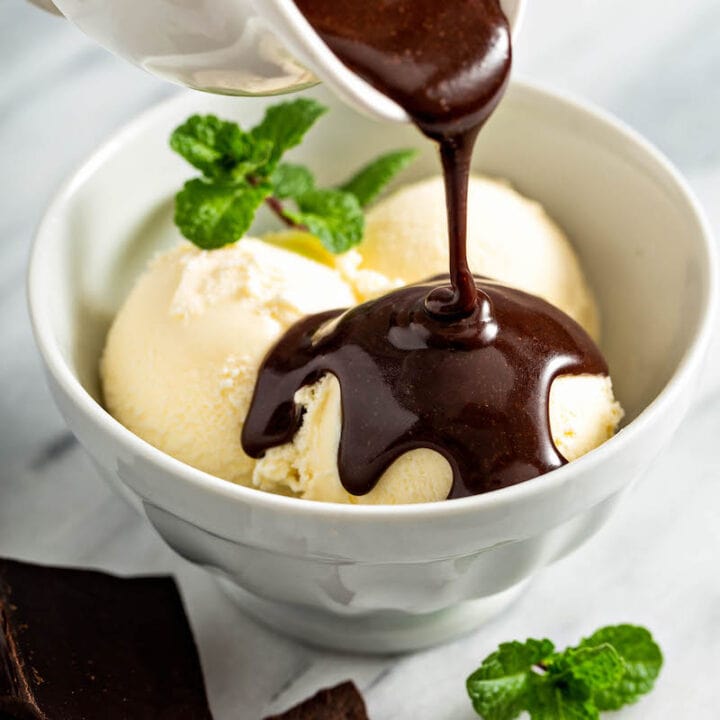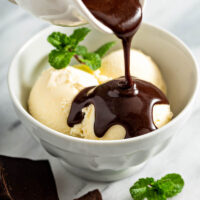 This impossibly rich chocolate sauce is going to be your new best friend! Whip it together in just 15 minutes, and you'll get the perfect addition to cakes, cupcakes, and ice cream!
Ingredients
4 tablespoons unsalted butter
2 tablespoons milk
2 teaspoons corn syrup
1 teaspoon vanilla extract
2 ounces dark chocolate, chopped cup
1 cup powdered sugar, sifted
Instructions
Combine butter, milk, corn syrup, and vanilla extract in small saucepan and heat over medium heat until butter is melted. Decrease the heat to low, add the choco- late, and whisk until melted.
Remove from heat, add the powdered sugar, and whisk until smooth. Let chocolate glaze sit for 5 minutes until it has cooled slightly and started to thicken just a little bit.
Then slowly drizzle over cake, cupcakes, pastries, dunk donuts into it or top ice cream or whip cream with it!
Nutrition Information:
Yield:
12 servings
Serving Size:
1
Amount Per Serving:
Calories:

101
Total Fat:

5g
Saturated Fat:

3g
Trans Fat:

0g
Unsaturated Fat:

2g
Cholesterol:

11mg
Sodium:

4mg
Carbohydrates:

13g
Fiber:

0g
Sugar:

12g
Protein:

0g
This post may contain affiliate links. Read my disclosure policy.