Dark Chocolate Bark: This lightly sweetened dark chocolate bark takes only a few minutes of work and is loaded with dried fruits, nuts, coconut and sea salt!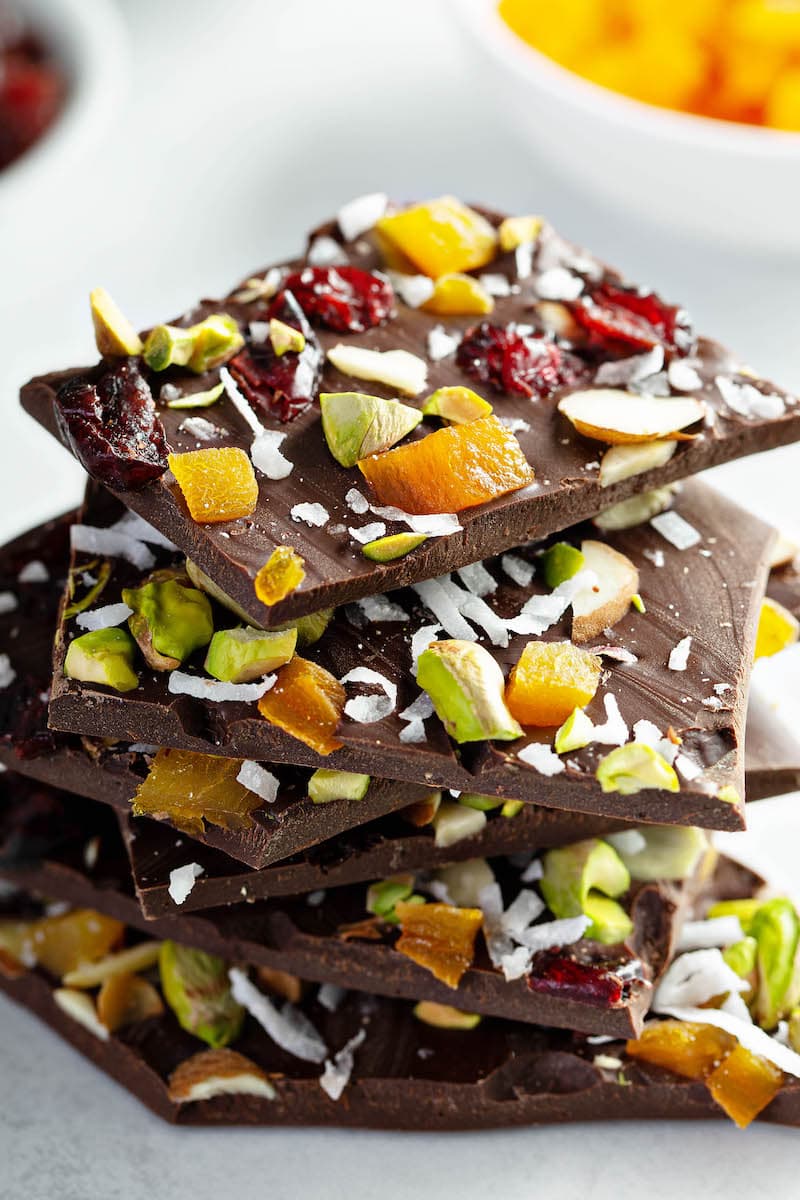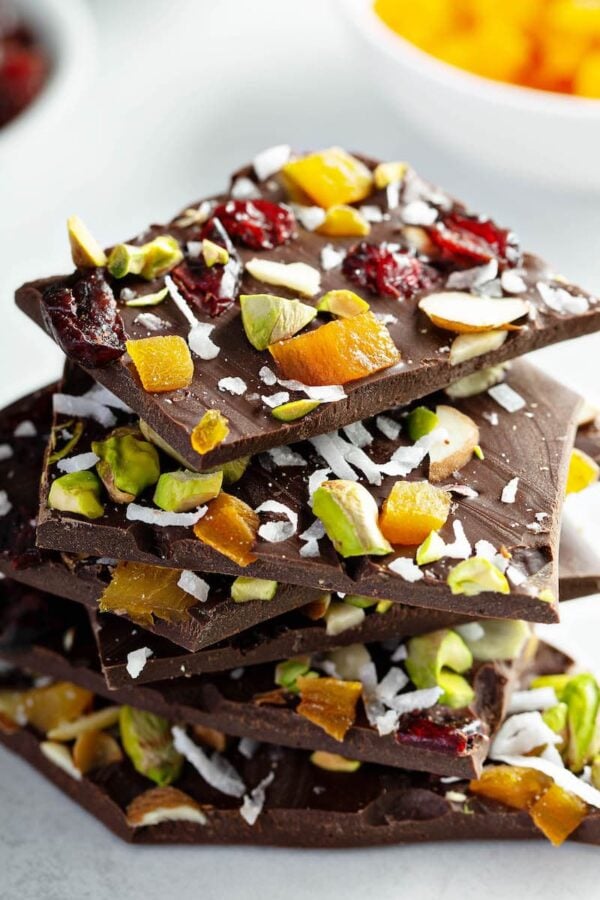 Oh yeah, look at that chocolate bark with it's ribbons of dark chocolate, sweet fruits and crunchy bites of nuts.
And while you can't really see it, it also has some flaky sea salt sprinkled on top.
You know, that sweet and salty combo? I just love it SO much. And this chocolate bark also has that.
It makes a great low-guilt dessert option and a gorgeous gift when wrapped up and gifted to friends.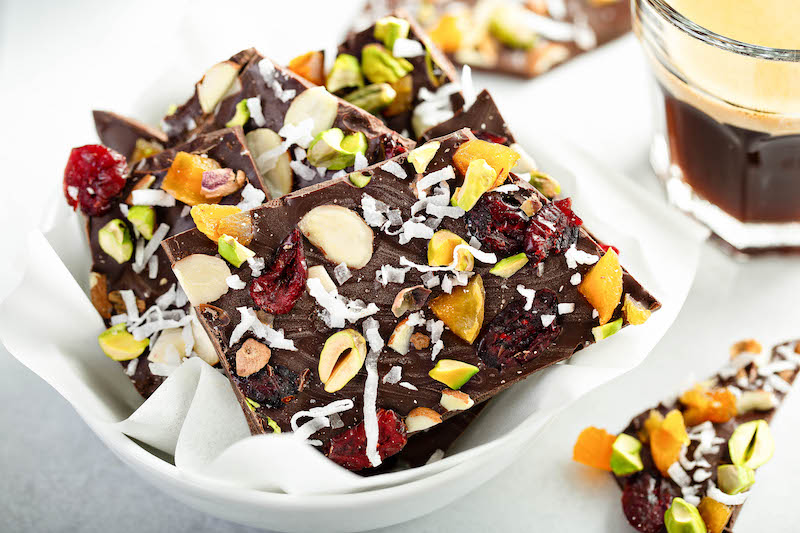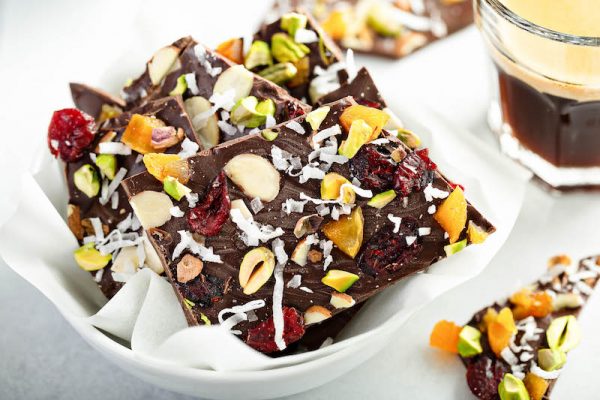 Dark Chocolate
I used a 66% cocoa count chocolate for my chocolate bark. However, there is a big range of what will work well.
Then, I just microwaved it until just melted and smooth…and spread it on to parchment paper.
Which is 100% fine, as long as you let the chocolate harden at room temperature and do not place the chocolate in the refrigerator.
If you refrigerate chocolate that has not been tempered, it can bloom. Which is unattractive, but will still taste the same.
If you would prefer to temper your chocolate, I recommend you follow these directions: how to temper chocolate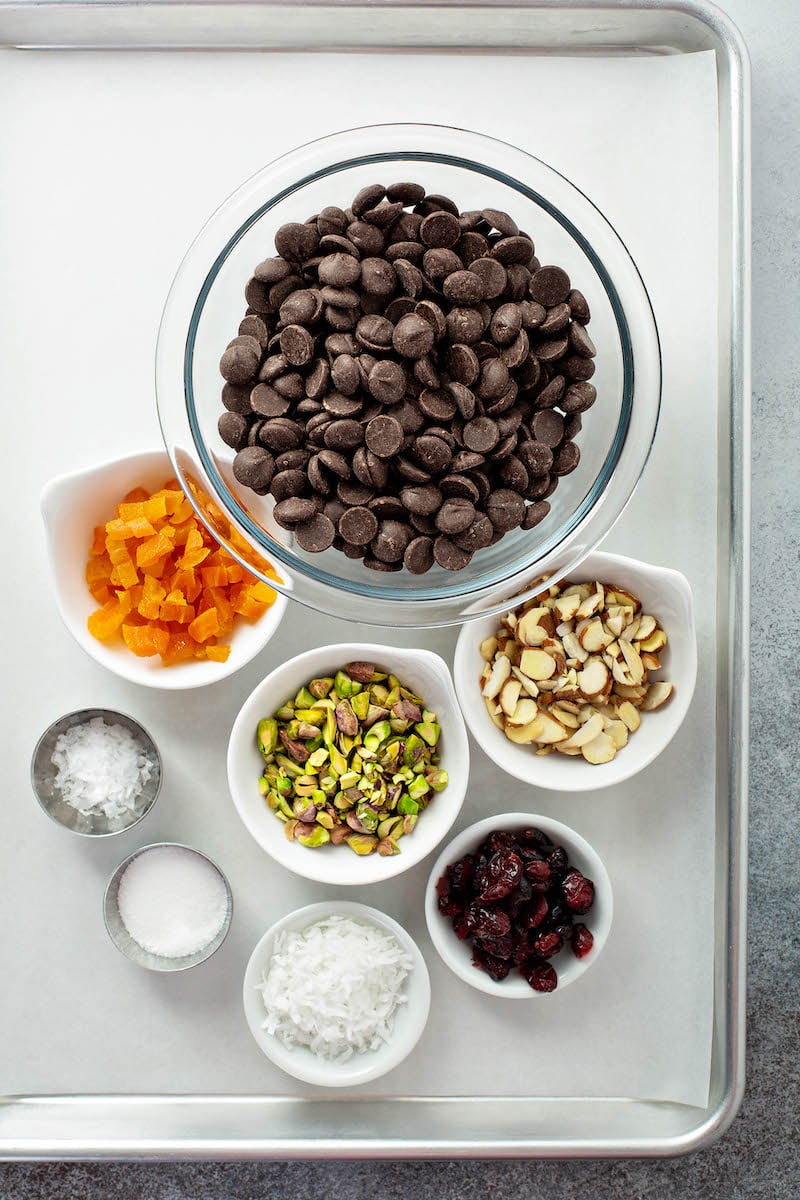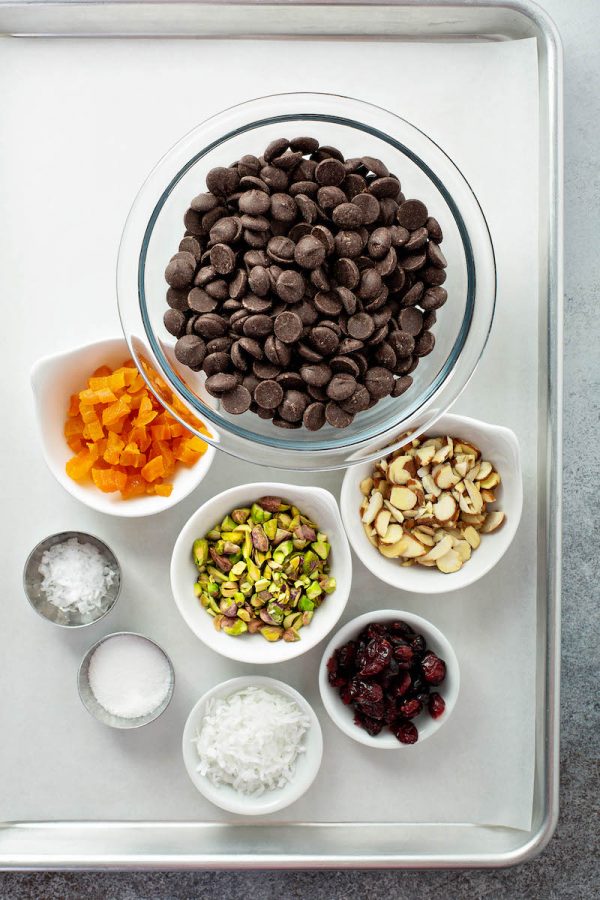 Dried Fruits & Nuts
There are SO many options of toppings, but before you run out to the store check your pantry!
Nuts: pistachios, almonds, walnuts, peanuts, cashews, macadamia nuts, or even an old jar of mixed nuts!
Dried Fruits: craisins, apricots, cherries, coconut flakes, pineapple, mango, crystallized ginger, goji berries or elderberries.
Also, don't forget that flaked sea salt (affiliate link) because it really does pull it all together.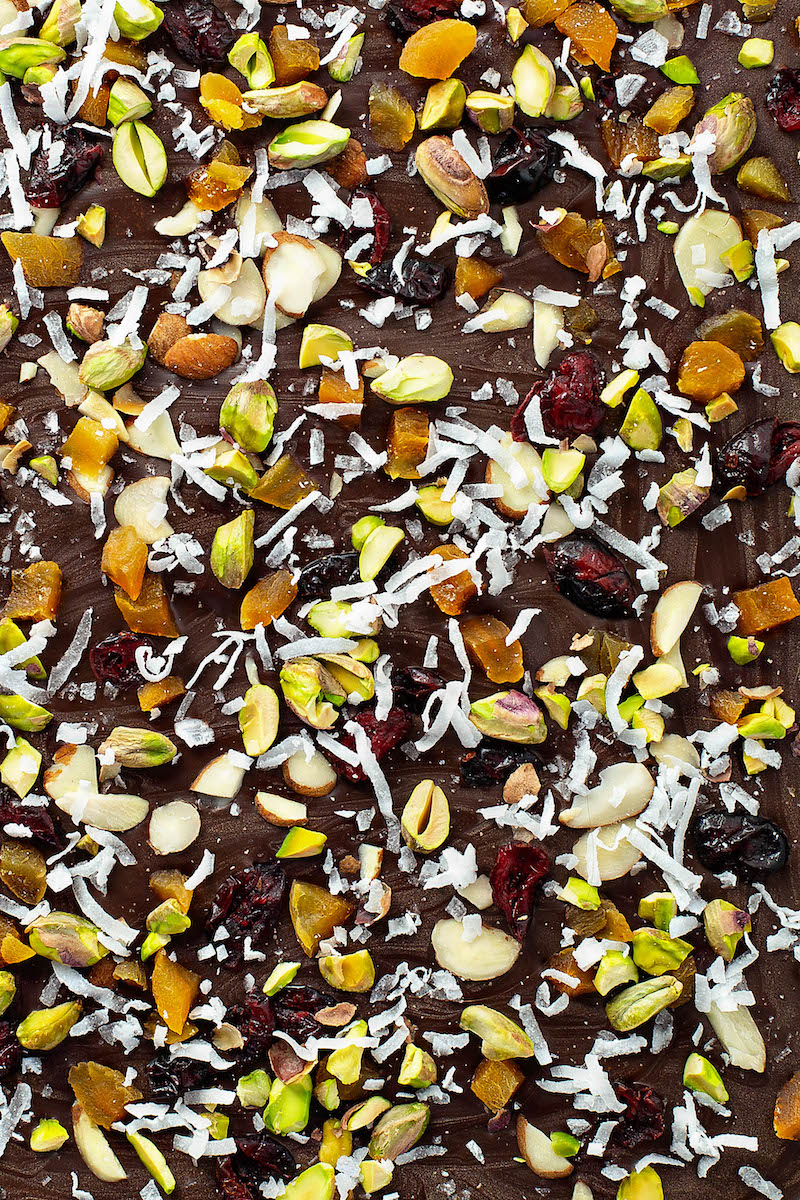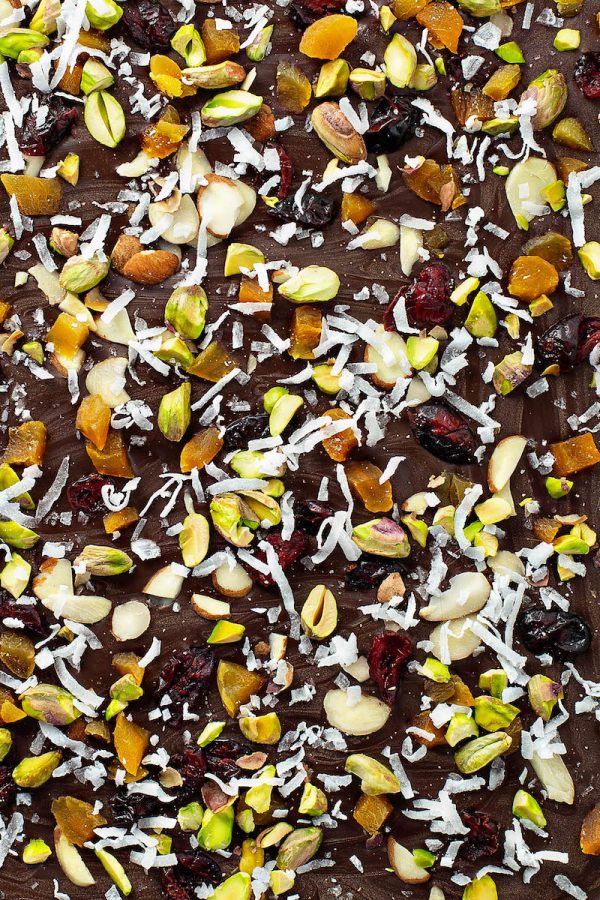 It only takes a few minutes to melt the chocolate and sprinkle on your chosen toppings.
It's incredibly easy and takes about 10 minutes in total of work.
However, plan ahead, it takes about 2 hours for the chocolate to harden at room temperature.
Don't try to break it until it has fully re-hardened. Or you are going to end up with a mess.
To taste if it has hardened fully, gently slide your hand under the parchment paper and make sure it is firm and the bark doesn't bend.
Once it is fully hardened, break it into irregular pieces and store in an airtight container for up to a week.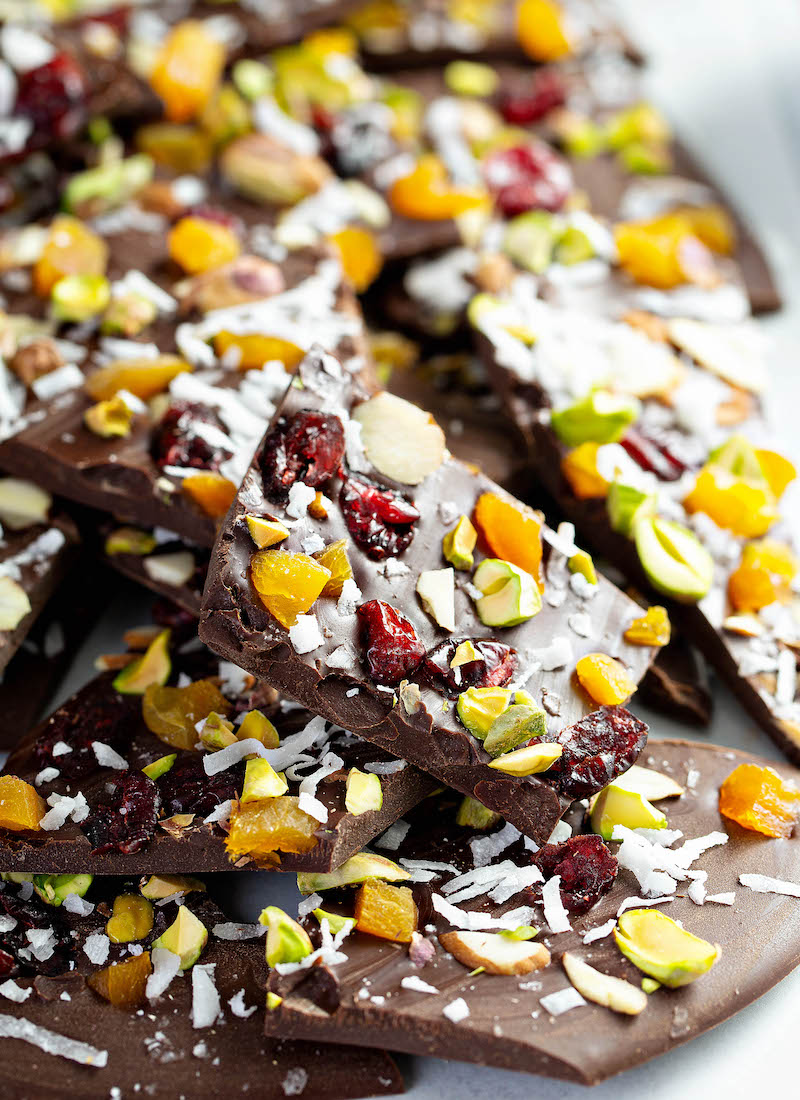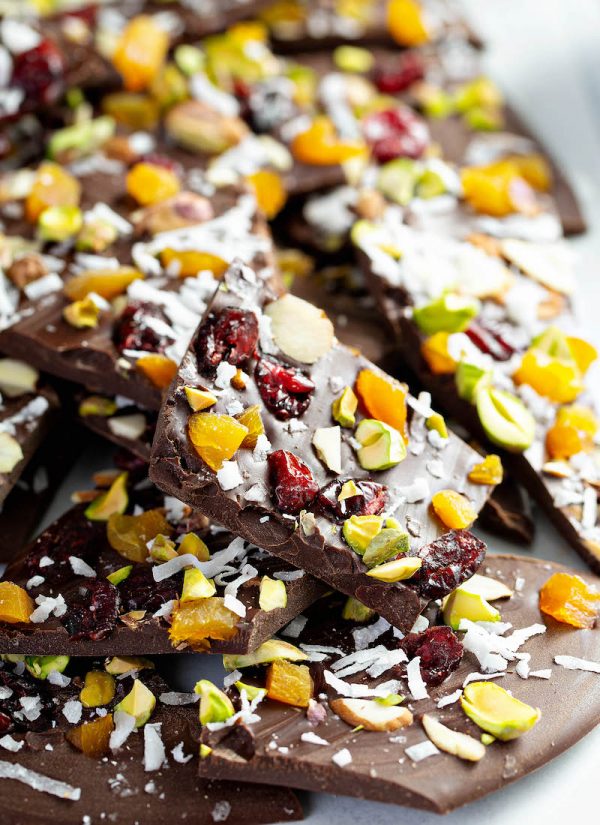 I developed this recipe for Dixie Crystals, so head on over there for the full recipe!
RECIPE: Dark Chocolate Bark
This post may contain affiliate links. Read my disclosure policy.