I have started and stopped this post 9 times tonight. I have two babies who keep waking up and not wanting to go to sleep.
I feel like they know their first birthday is just days away and are planning their rebellion.
Oh, speaking of the first birthday, let's talk about first birthday parties. Whoa.
Everyone is coming and it's going to be one heck of a shindig.
I have about 50 people RSVP'd yes and about 2 weeks left to plan.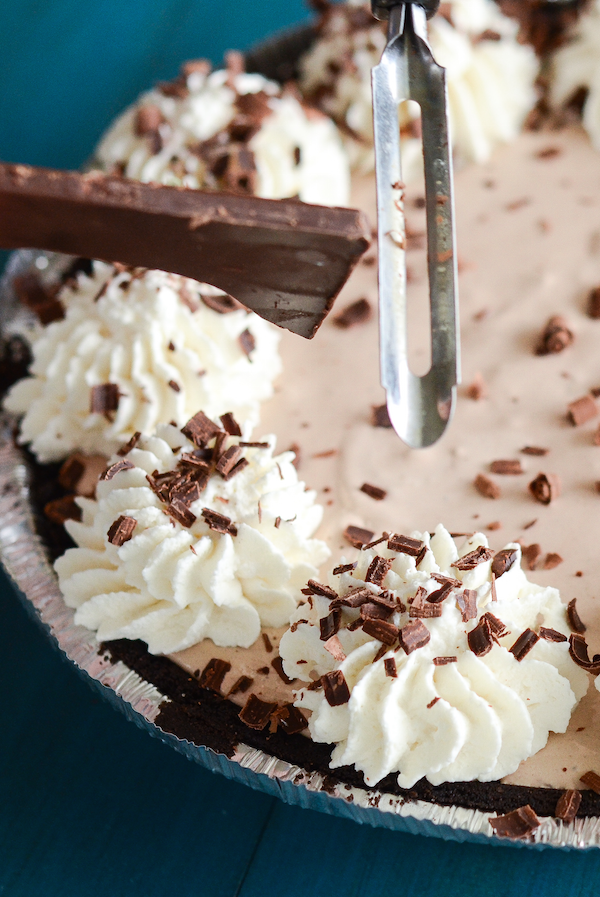 For all our other parties and celebrations over the years I have always made everything myself from appetizers to dessert.
However for this big of a party and so many guests, I have decided to only do the dessert bar myself.
It just seemed like the only way I would keep my sanity…otherwise y'all might have found me the night before drinking out of a bottle of chocolate syrup with no hair left on my head.
I am planning on making tons of fun desserts and this pie is one of them.
I can make this a couple of days ahead and keep it in the freezer for the big day! It's August in Florida – so I can only imagine that a frozen pie will go fast. 🙂
This is a pie version of your favorite chocolate frappuccino.
It is incredibly quick to put together and then you freeze it until ready to serve! Perfect no-bake summer dessert! (Make sure and check out all my other no bake desserts!)
Head on over to Dixie Crystals for the EASY recipe: Frozen Mocha Pie
This post may contain affiliate links. Read my disclosure policy.