Take your enchiladas to the next level with this amazing Homemade Enchilada Sauce recipe. This sauce only takes 7 minutes to make and is loaded with flavor!
Looking for more Mexican recipes? Try my easy Cheese Enchiladas Recipe, these Vegetable Enchiladas, this great make-ahead Mexican Casserole or these Sour Cream Enchiladas!
Homemade Enchilada Sauce
This is the best enchilada sauce recipe! I can say that confidently, because I have been making it and testing this recipe against other recipes for over 10 years now.
This red enchilada sauce only takes 7 minutes to make and is absolutely packed with flavor. Most of the ingredients you need, you probably already have sitting in your spice drawer.
You can make this sauce ahead of time and refrigerate it or freeze it for later uses, so I always make a double (or triple!) batch for future easy weeknight dinners.
If you haven't tried making homemade enchilada sauce, now is the time! You won't want to go back to jarred sauce ever again!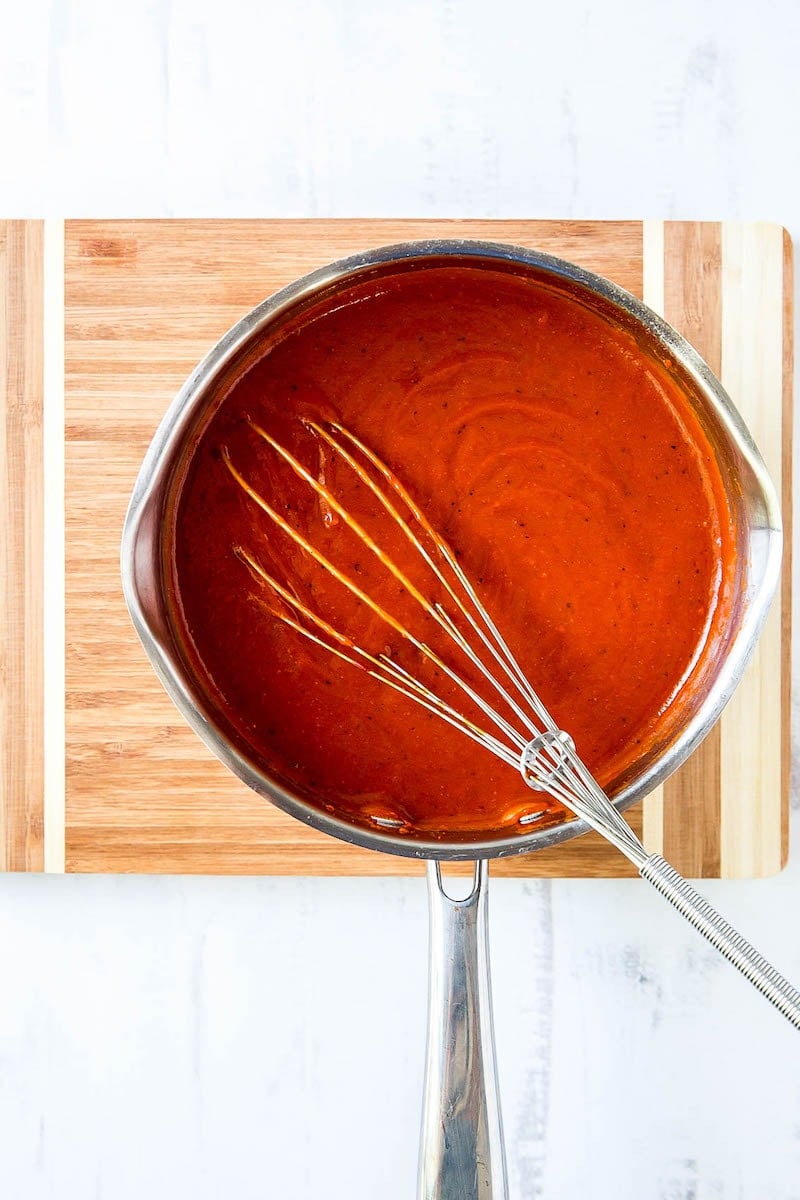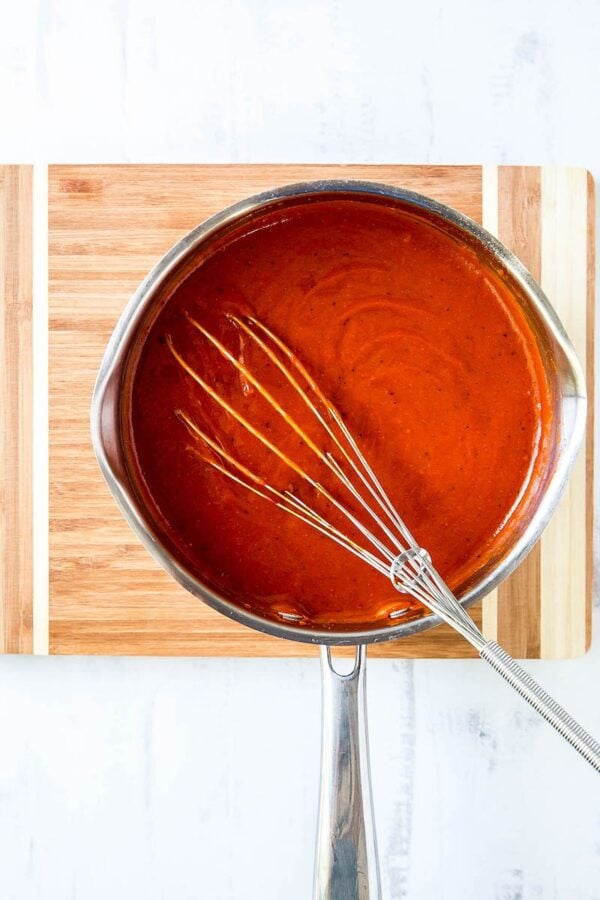 Why Make Enchilada Sauce From Scratch?
The best part about homemade enchilada sauce, versus a store bought version, is that you can make it your own.
I like it just as it is written below. It's flavorful without being spicy, so I can let the rest of the dish shine as well.
However, if you want your enchilada sauce to be spicy, you can easily add more heat by adding any of the following:
Cayenne Pepper – start with a 1/2 teaspoon and add more to taste!
Chipotle Pepper in Adobo Sauce – add one to start. You will need to puree the sauce with the adobo pepper in a blender or food processor.
Hot sauce – whatever kind you prefer! Add as much or as little as you would like!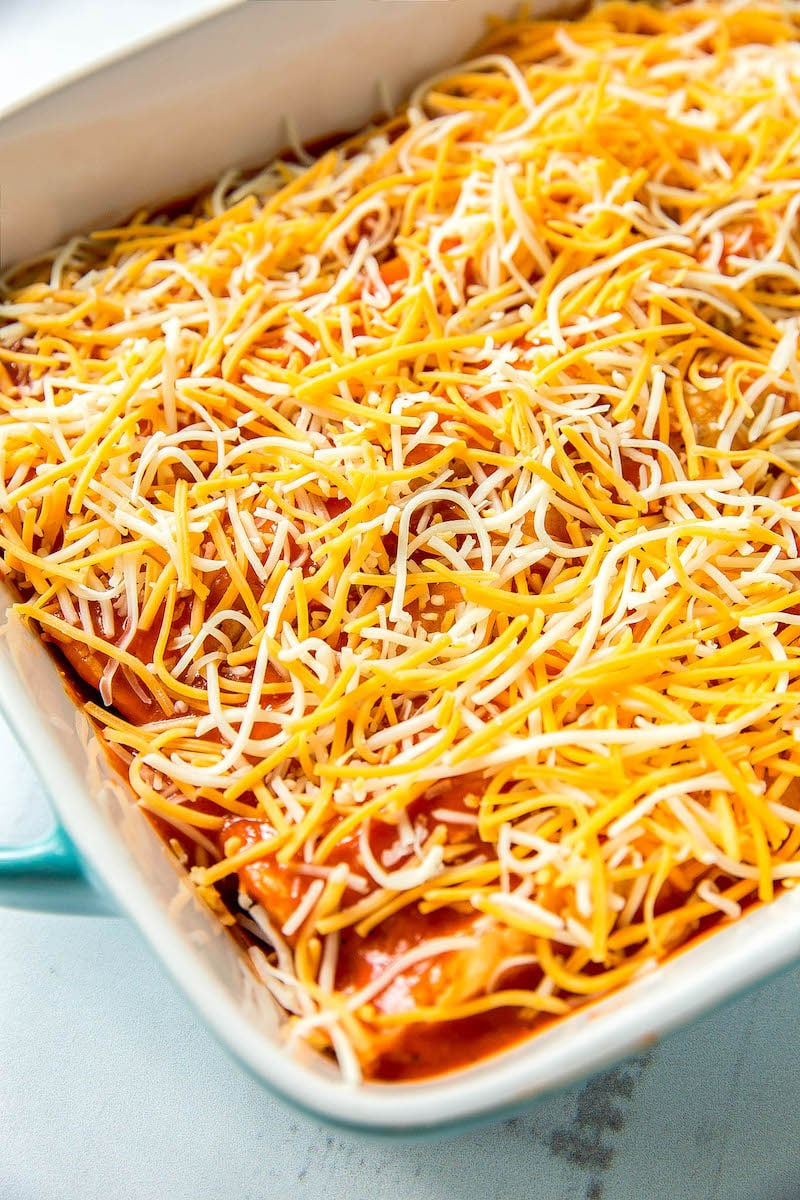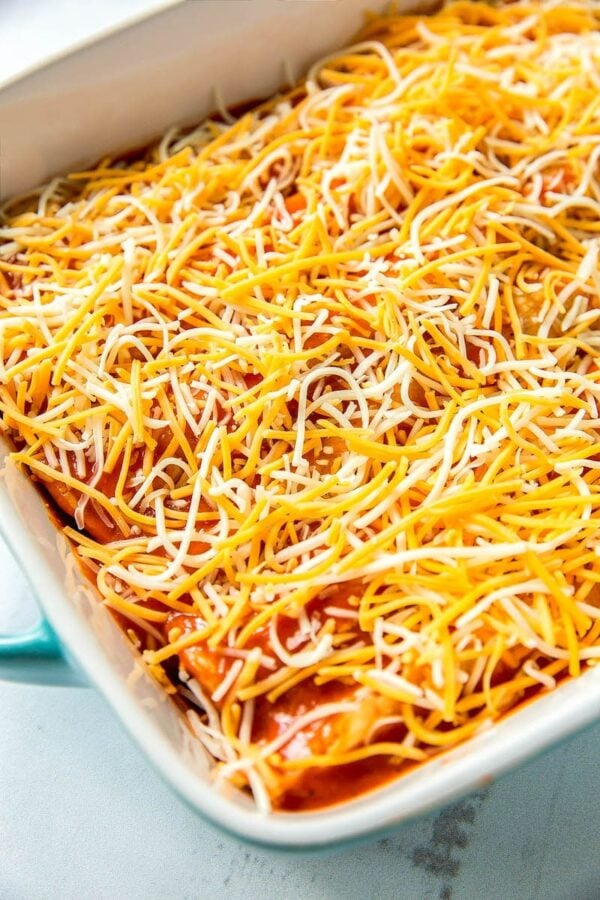 How to Make Enchilada Sauce
This recipe takes SEVEN minutes from start to finish, I am not exaggerating!
We start with olive oil, all our seasonings, flour and tomato paste in a sauce pan and cook it for one minute – almost like making a roux/gravy. This is an important step to make sure you don't get a raw flour taste.
Next, we add in our chicken broth (yes, you can use vegetable broth to make this homemade enchilada sauce vegetarian/vegan), whisking constantly. Then cook for 5 minutes, whisking occasionally, until thickened.
THAT'S IT! At this point you can use it in your desired recipe or refrigerate/freeze it for later use!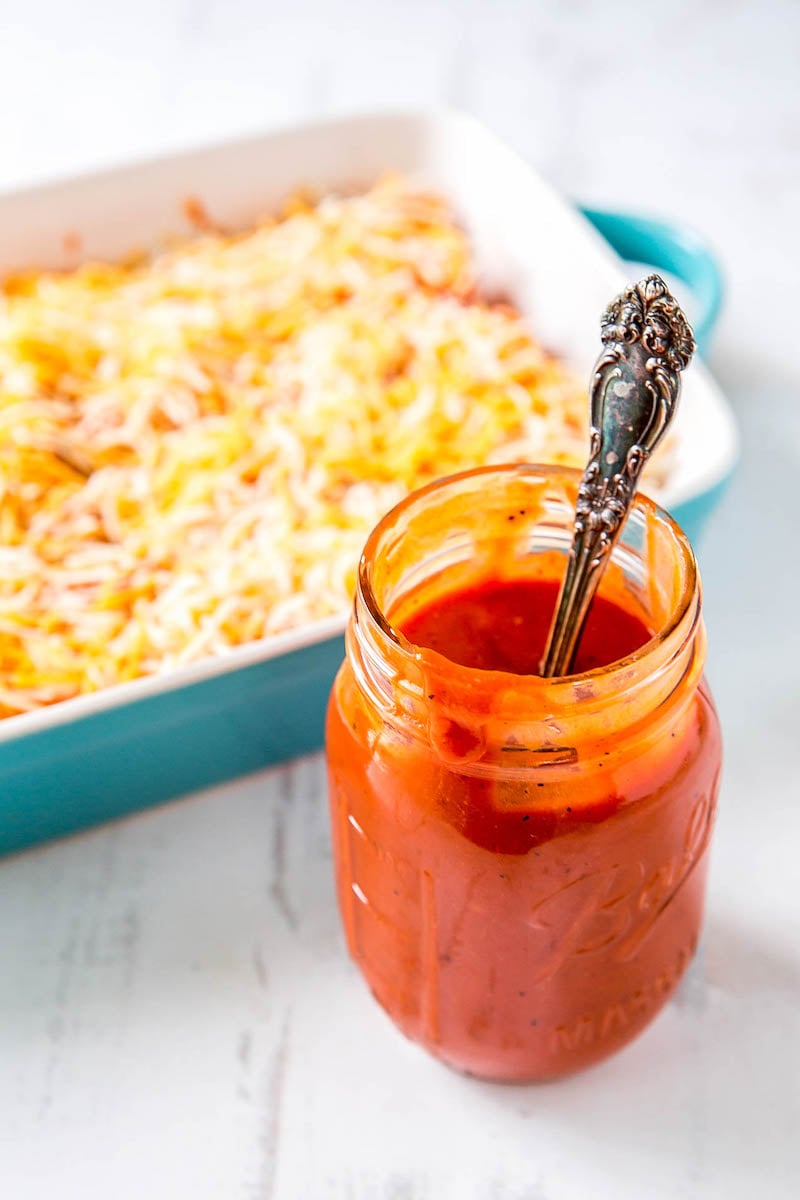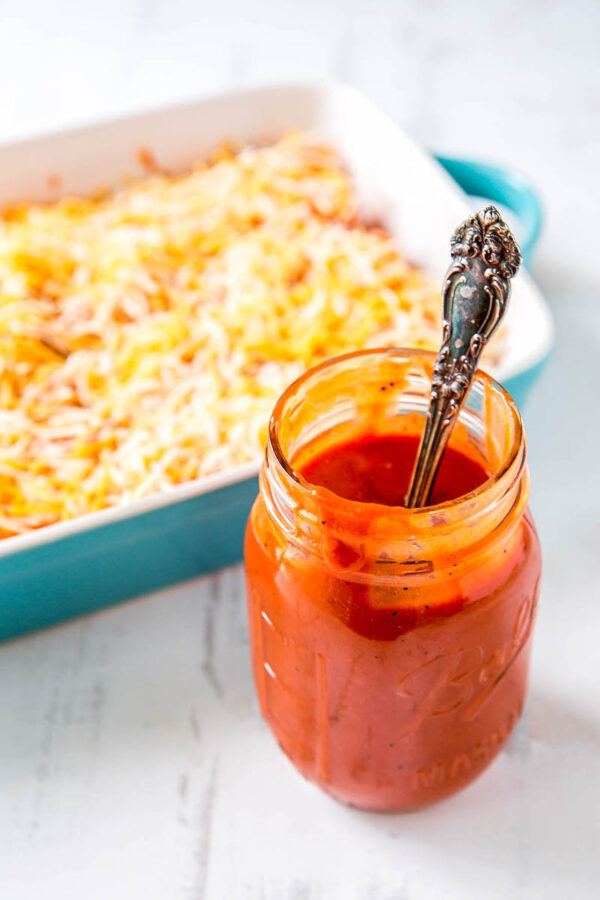 How to Freeze Enchilada Sauce
When I am making a batch of this homemade enchilada sauce, I usually double or even quadruple the recipe and make an extra large batch to save for future easy dinners.
It takes no extra effort to double the recipe and then I have more sauce ready to go whenever I want to make another batch of enchiladas.
To freeze this enchilada sauce, follow the below steps:
Allow the sauce to cool completely at room temperature.
Transfer to freezer friendly ziplock bags. Label enchilada sauce with your made on date and use within 6 months.
Freeze! I make sure the ziplock bags are laying flat in the freezer so they don't take up too much space.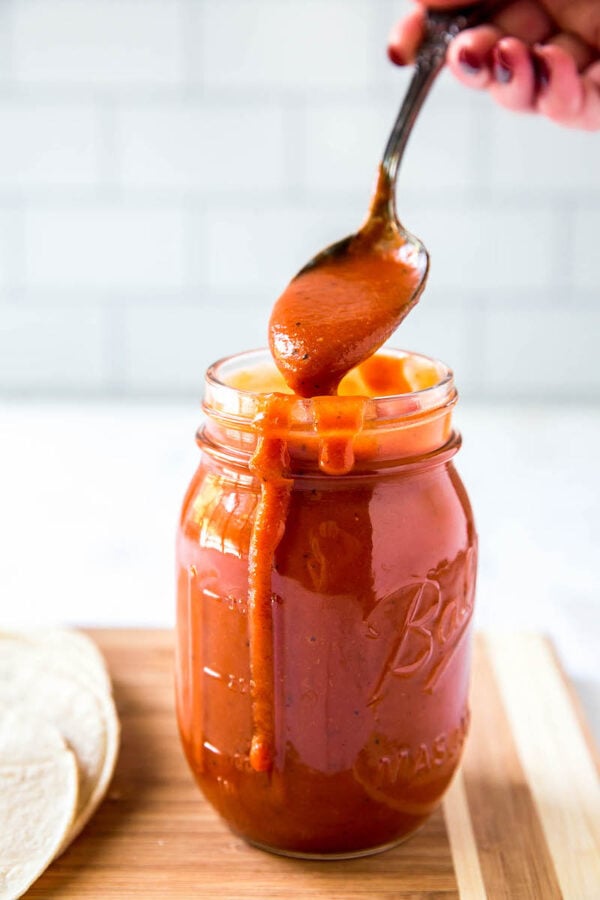 I am excited to share this recipe for homemade enchilada sauce with all of you, it's a recipe that has been enjoyed in my family for over 10 years!
Some recipe suggestions for how to use this enchilada sauce:
Please leave a comment or review below letting me know how this recipe turns out for you!
Yield: 3.5 cups sauce
Enchilada Sauce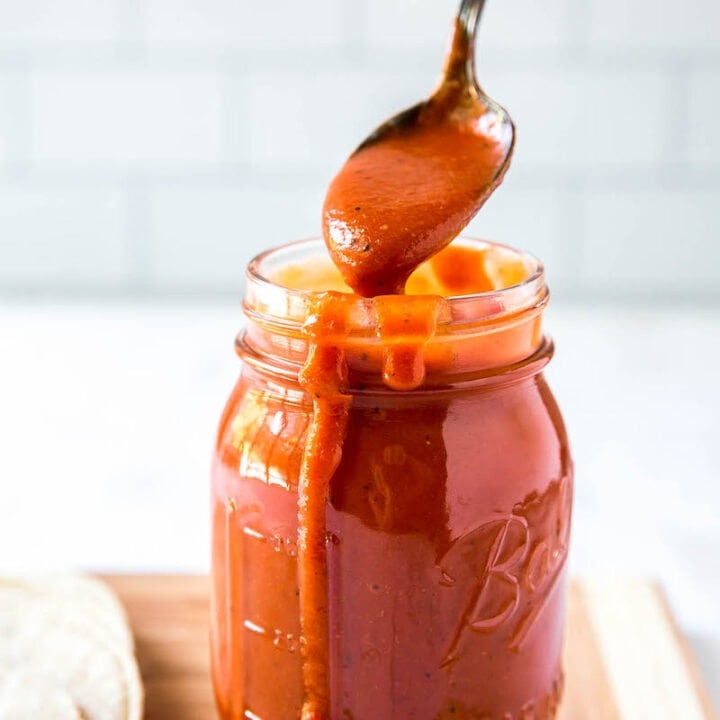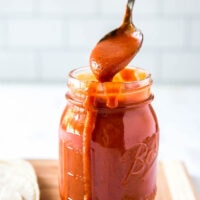 Take your enchiladas to the next level with this amazing homemade enchilada sauce recipe. This sauce only takes 7 minutes to make and is loaded with flavor!
Ingredients
3 tablespoons olive oil
1 tablespoon ground cumin
2 teaspoons adobo seasoning
1/2 teaspoon garlic powder
1/2 teaspoon white pepper
1/4 teaspoon ground coriander
1/4 teaspoon black pepper
1/4 cup all purpose flour
6 oz can tomato paste
3 cups chicken or vegetable broth
salt, to taste as needed
Instructions
In a medium saucepan, heat olive oil over medium-high heat. Add cumin, adobo, garlic powder, white pepper, coriander, black pepper, flour, and tomato paste.
Cook, whisking constantly, for 1 minute. Whisk in the broth and bring to a boil. Reduce to a simmer and cook until slightly thickened, about 5 minutes.
Remove from heat and allow to cool. Use in recipes as desired.
Store in an airtight container in fridge for up to a week or freeze for up to 6 months!
Nutrition Information:
Yield:
16 servings
Serving Size:
12 servings
Amount Per Serving:
Calories:

97
Total Fat:

6g
Saturated Fat:

1g
Trans Fat:

0g
Unsaturated Fat:

4g
Cholesterol:

24mg
Sodium:

293mg
Carbohydrates:

4g
Fiber:

1g
Sugar:

1g
Protein:

7g
Categories
This post may contain affiliate links. Read my disclosure policy.