Churros with Salted Caramel Sauce
These Churros with Salted Caramel Sauce are perfect for when you need a sweet treat. They are easy to make and the homemade caramel sauce is so delicious you'll want to put it on everything!
You should also try these Churro Twists and Churro Chex Mix recipes!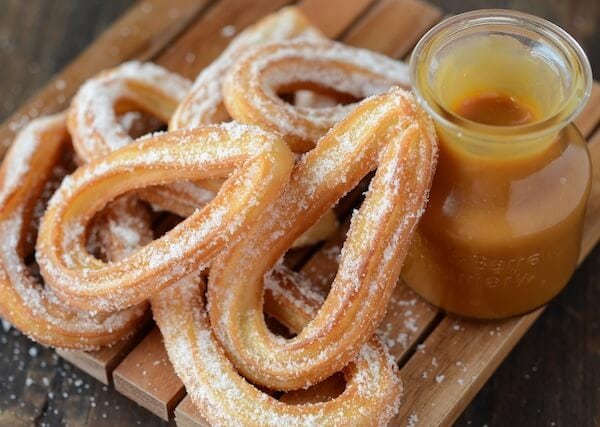 Churros Taste Even Better With Homemade Caramel Sauce
The only places to get churros near me are amusement parks or Taco Bell. And as much as I love Disney, I can't justify paying to get into Disney for a churro. Plus, they don't have delicious salted caramel dipping sauce to go with their churros!
I am partnering up with Land O'Lakes for their Pin a Meal, Give a Meal campaign. Help us reach our goal of donating 2.7 million meals. You can pin my signature recipe, Churros with Salted Caramel Sauce, to contribute 9 meals to Feeding America. You can pin more recipes from Land O'Lakes here to contribute even more meals.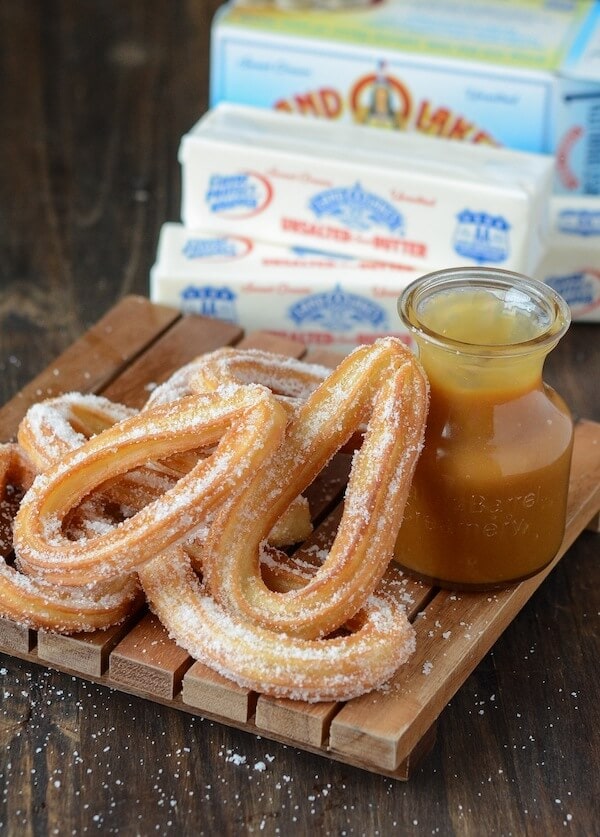 One in six people are living at risk of hunger in America, but there is hope and there are ways to help. Land O'Lakes has partnered with Feeding America® to kick off their second year of the Pin a Meal, Give a Meal campaign. With a simple pin, you can give more than just a meal; you can give a family hope.
Participants will need a Pinterest account to pin or re-pin Land O'Lakes recipes. Creating a Pinterest account is free and easy. Visit Pinterest to learn how.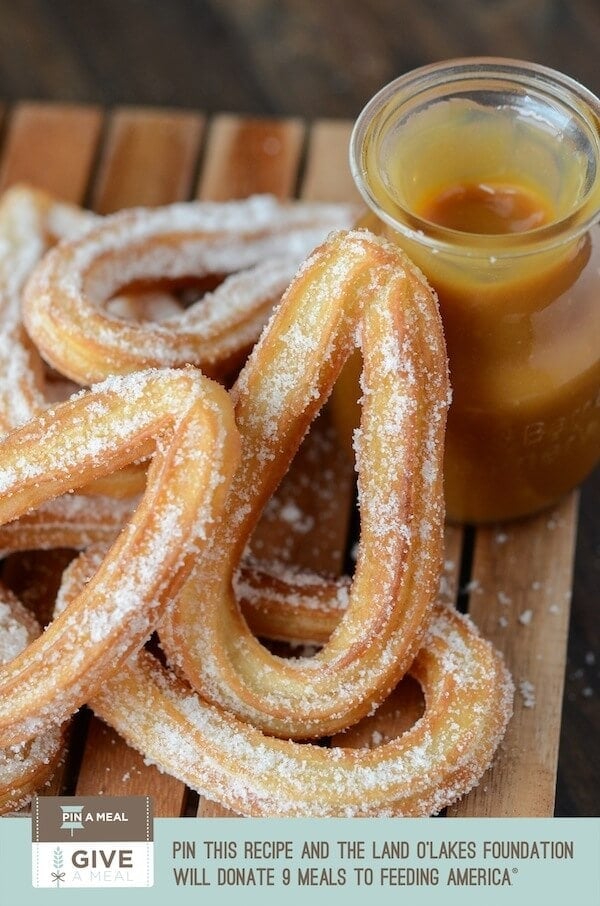 Tag your pins with the #giveameal hashtag so we can all follow along together. And remember, each pin or re-pin of any Land O'Lakes recipe will equal 9 meals for Feeding America!
$1 helps provide 9 meals* secured by Feeding America® on behalf of local member food banks. The Land O'Lakes Foundation guarantees a minimum of 2.7 million meals* (monetary equivalent of $300,000.00) to Feeding America and member food banks from March 28 through May 31, 2014.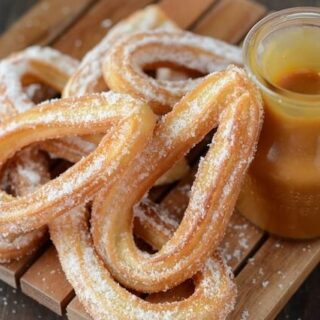 Churros with Salted Caramel Sauce
Yield: 4 Servings

Prep Time: 25 minutes

Cook Time: 25 minutes

Additional Time: 1 minute

Total Time: 51 minutes

These Churros with Salted Caramel Sauce are so easy to make and the homemade caramel dipping sauce is so delicious you'll want to put it on everything!
Ingredients
1 cup water
2 1/2 tablespoons white sugar
1/2 teaspoon salt
2 tablespoons vegetable oil
1 cup all-purpose flour
2 quarts vegetable oil, for frying
1/2 cup white sugar, for tossing
1 teaspoon ground cinnamon, for tossing
1 1/2 cups granulated sugar
1 stick (8 tablespoons) Land O Lakes® Unsalted Butter, at room temperature, cut into pieces
3/4 cup heavy cream, at room temperature
2 teaspoons flaky sea salt
Instructions
In a small saucepan over medium heat, combine water, sugar, salt and vegetable oil. Bring to a boil and immediately remove from heat.

Stir in flour. Continue stirring until mixture forms a ball. Transfer dough to a piping bag with a star tip attached.

Heat oil for frying in deep skillet to 375°F. Pipe strips of dough into hot oil using a pastry bag. You can make any shape you like – even hearts! Fry until golden; drain on paper towels to remove excess oil.

Using a paper bag (or a large re-sealable bag) combine 1/2 cup sugar and cinnamon. Toss drained churros in sugar mixture and serve immediately with salted caramel sauce!

Salted Caramel Sauce:

In a large sauce-pan over medium-high heat, add sugar, whisking as it begins to melt. The sugar will form clumps, but keep whisking. It will continue to melt.

Stop whisking once all of the sugar has melted and swirl the pan occasionally while the sugar cooks.

Continue cooking the sugar until it reaches a deep amber color. Using a candy thermometer (or instant- read thermometer) cook caramel until it reaches 350°F.

As soon as the caramel reaches 350°F, carefully add the Land O Lakes® Unsalted Butter. Whisk until butter is completely melted.

Immediately remove the saucepan from the heat and slowly add the heavy cream. Whisk until caramel is smooth. Whisk in the sea salt.

Allow caramel sauce to cool for 10 - 15 minutes in the pan. You can serve it with your churros once it has cooled, or you can store it in an airtight container in the refrigerator until ready to fry your churros!
Nutrition Information:
Yield: 4 Serving Size: 1
Amount Per Serving: Calories: 4610Total Fat: 460gSaturated Fat: 45gTrans Fat: 12gUnsaturated Fat: 394gCholesterol: 58mgSodium: 1338mgCarbohydrates: 133gFiber: 1gSugar: 109gProtein: 5g

The Novice Chef has partnered with Land O'Lakes for an exclusive endorsement of Land O Lakes® Butter for the Kitchen Conversations blogger program. This blog post is sponsored by Land O'Lakes.
SaveSave