Crispy on the outside but soft on the inside, these homemade churros are perfect for drizzling with caramel or dunking in hot chocolate. Tossed in cinnamon sugar, they're an irresistible Mexican dessert with Spanish origins.
The Best Homemade Churros
Drizzled with caramel sauce or dunked into hot chocolate, these homemade churros taste like a million dollars. Perfectly golden and ready in under an hour, they take the lead when it comes to easy Mexican sweet treats.
Don't worry if the dough looks lumpy at first, though. Just keep going! If you trust the hand mixer, everything will be alright and a beautiful, smooth dough will eventually come together. Don't have a hand mixer? You can also do it by hand.
Once ready, store them really well (and out of sight) because they'll be gone before you know it. If you're looking for the culprit, I recommend following the trail of cinnamon sugar. However, you might find yourself staring at yourself in the mirror with a sugar-studded smile.
If you love these homemade churros, I bet you will love these decadent Churro Cupcakes! Or if you are looking for a fun fall themed twist, try my Pumpkin Churros!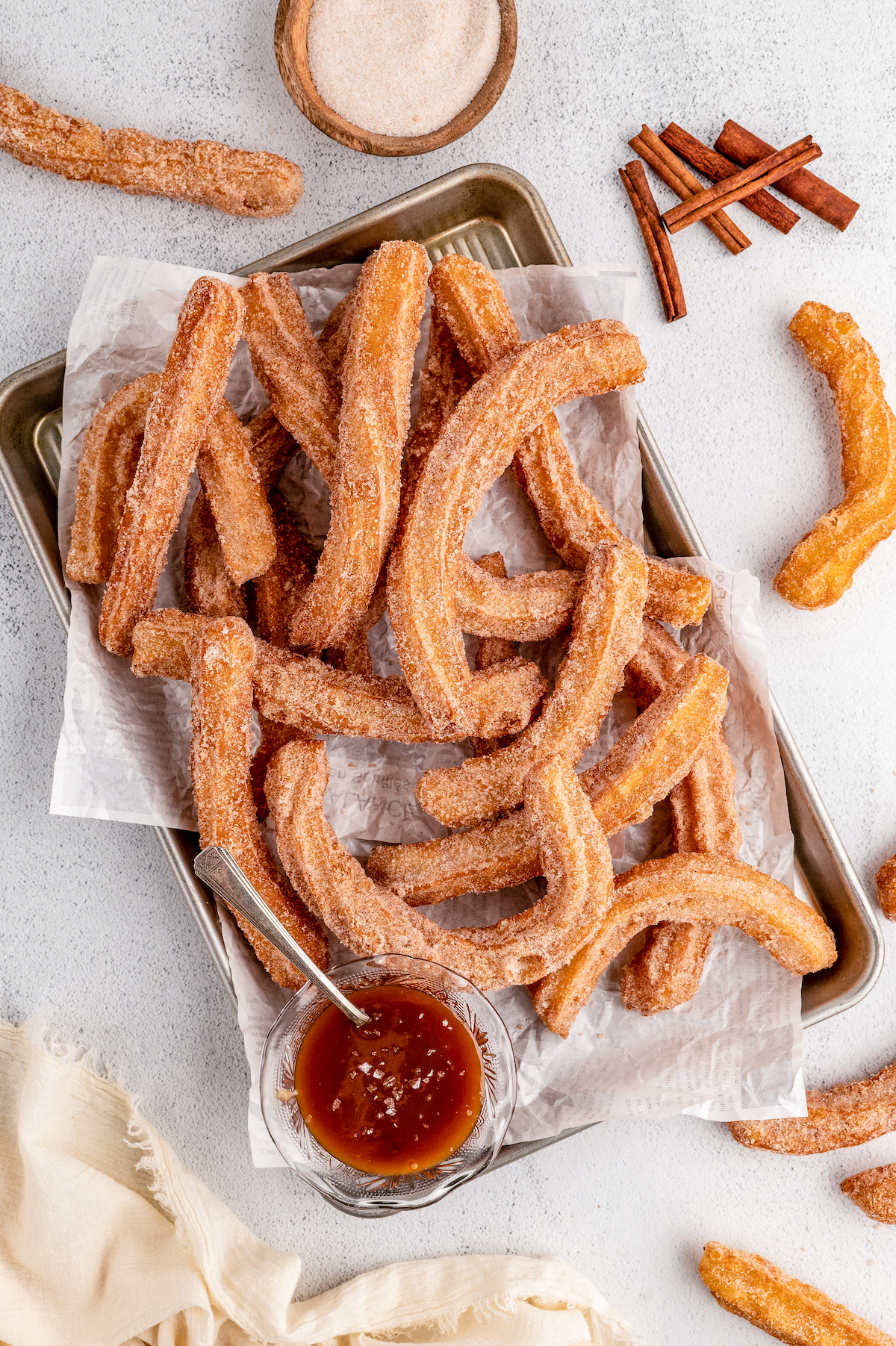 What Are Churros?
Churros are a traditional Spanish dessert that was brought over to Mexico during the Spanish conquest. It has since been popularized so much that it's now considered more of a Mexican dessert than a Spanish one.
They are strips of deep-fried choux dough tossed in granulated sugar or cinnamon sugar. They're usually cylindrical or star-shaped depending on the piping tip used to lower the dough into the oil.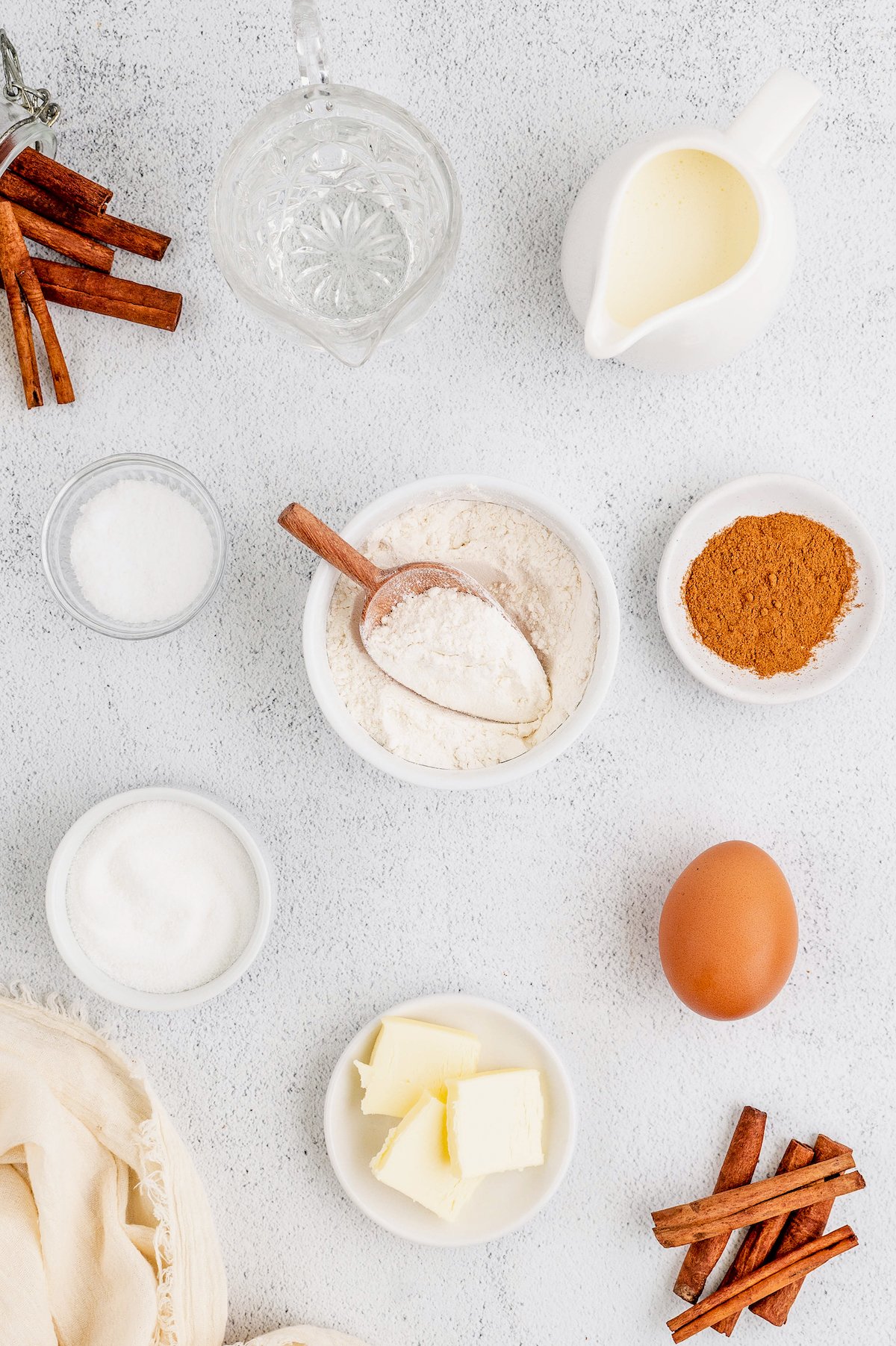 Recipe Ingredients
With a little oil, flour, and sugar, you'll be on your way to making homemade churros in no time. Check the recipe card at the bottom of the post for the full ingredient amounts.
Water – Feel free to substitute it for milk.
Granulated sugar – Light brown sugar works too.
Salt – Skip it if you're using salted butter.
Butter – Use salted or unsalted butter.
All-purpose flour – Please don't use cake or bread flour.
Eggs
Vegetable oil – Corn and canola oil are good substitutes.
Ground cinnamon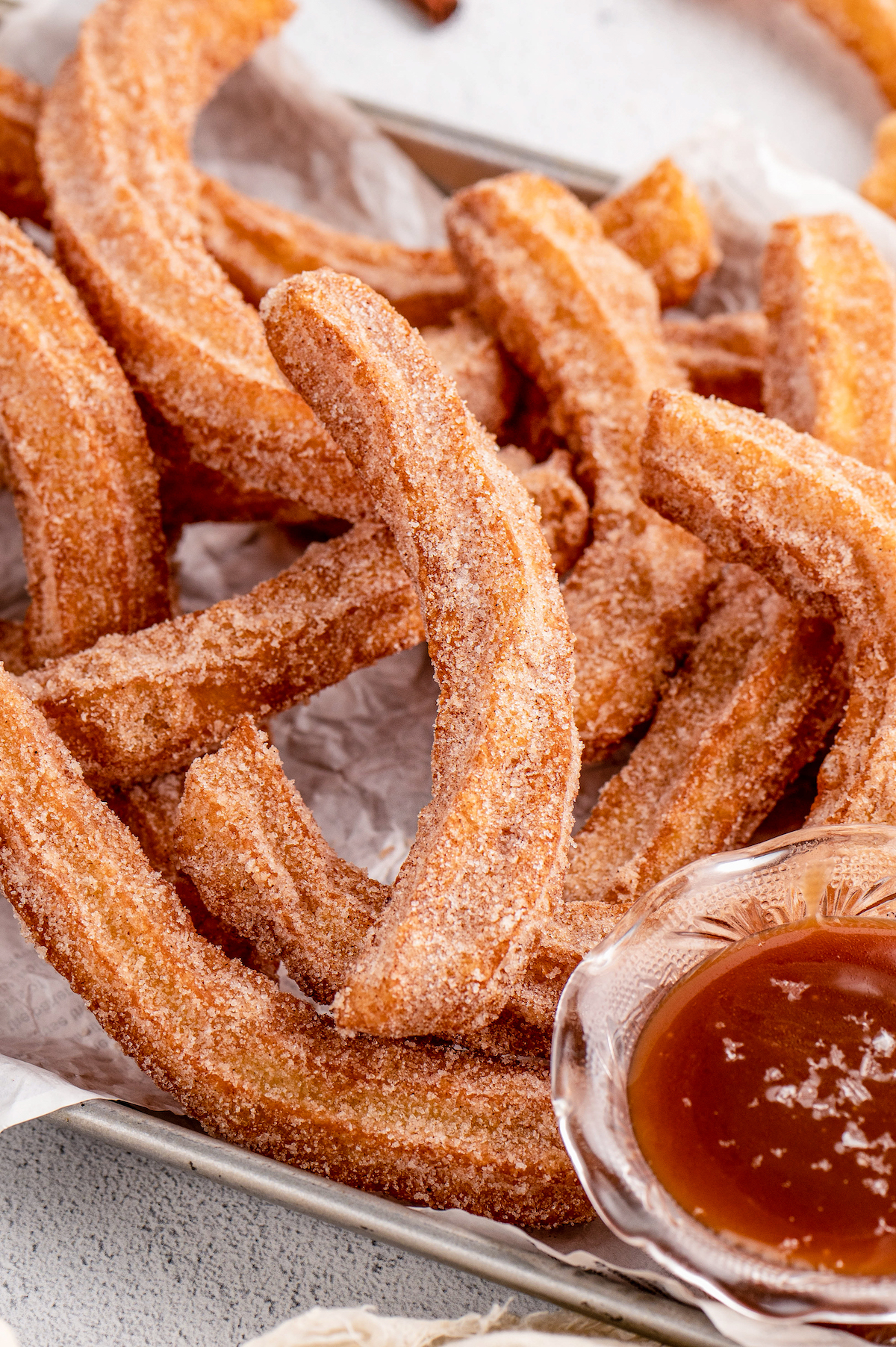 How To Make Churros
The secrets to the dough are making sure it pulls away from the sides of the pot and then beating it until it no longer looks lumpy.
Melt the butter. Add the water, sugar, salt, and butter to a medium saucepan. Bring it to a boil over medium-high heat.
Stir it. Remove the saucepan from the heat and add the flour. Use a silicone spatula to stir well until the mixture begins pulling away from the sides and comes together. Transfer the mixture to a large mixing bowl and let it rest for 10 minutes.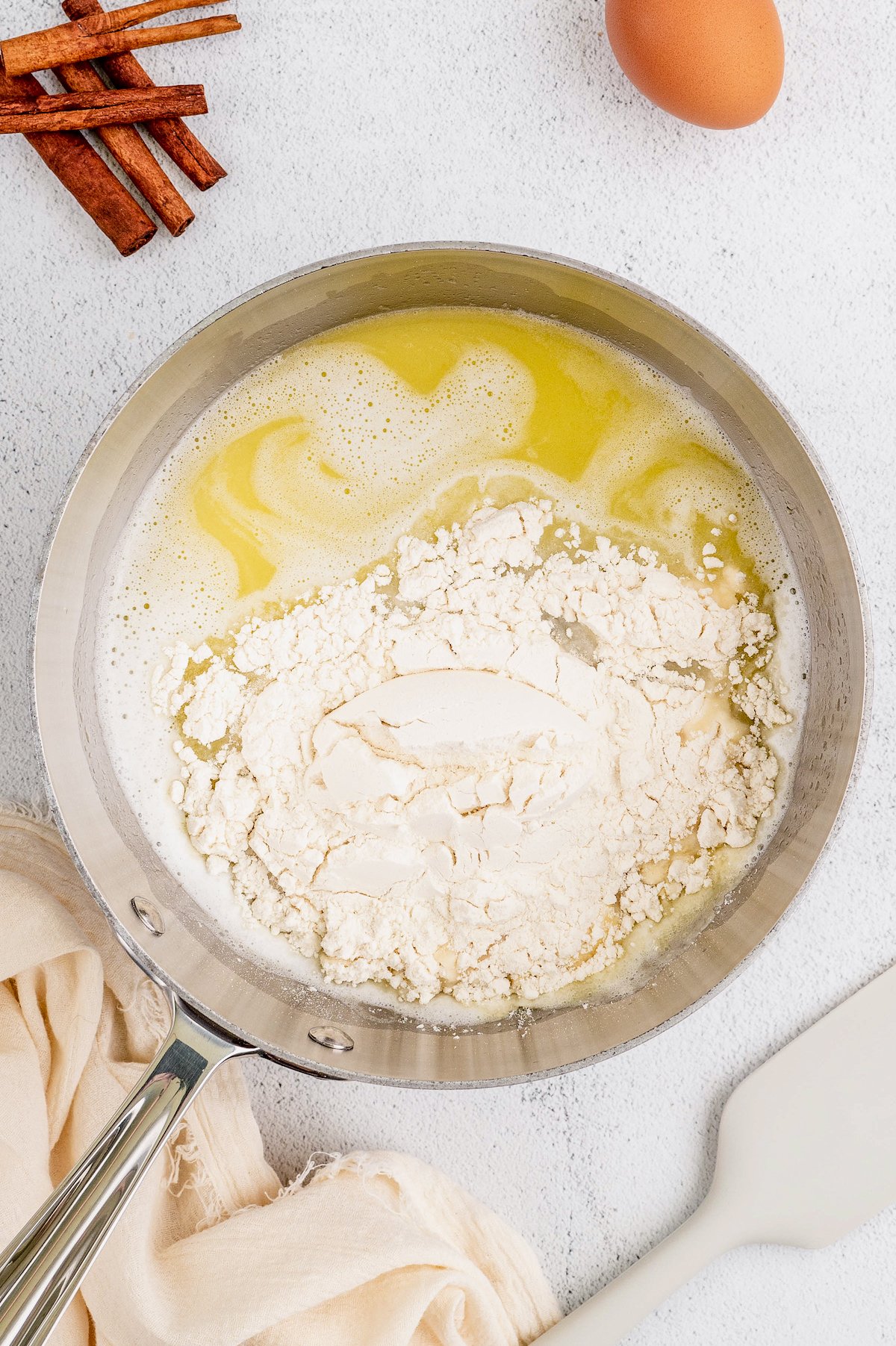 Add the eggs. Use a hand mixer over medium speed to beat in the eggs one at a time. Make sure every egg is incorporated into the dough before adding the next one. It will be lumpy at first but keep going until the dough is smooth. If you don't have a mixer, you can do it by hand but it'll take longer and some muscle. Transfer the dough to a piping bag fitted with a large star tip. If you don't have a star tip, use any tip with a large opening.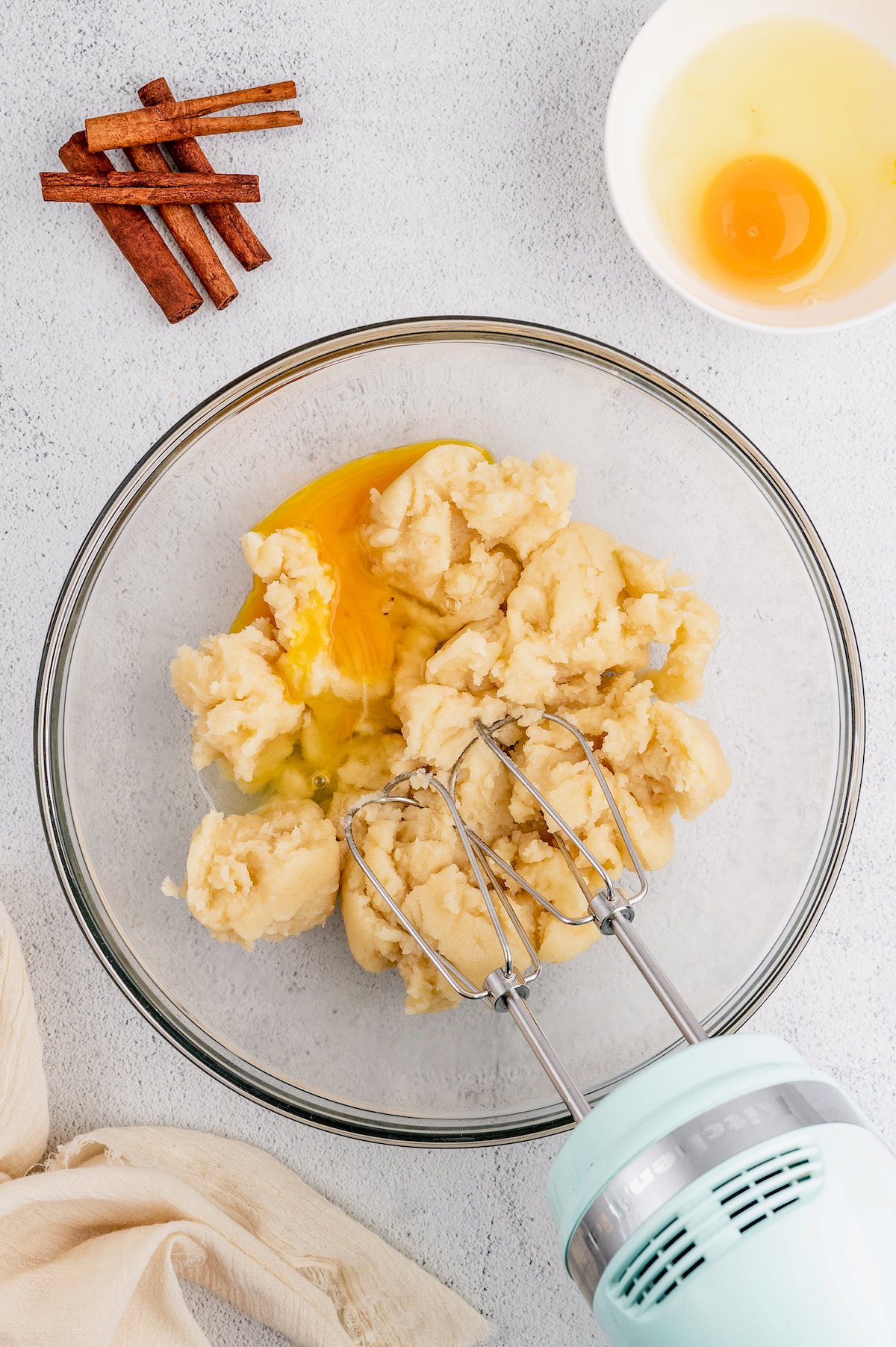 Make the cinnamon sugar. Mix 1/2 cup of granulated sugar and all the ground cinnamon in a large mixing bowl. Set it aside.
Prepare the oil. Fill a pot with vegetable oil and heat it over medium heat. Use a kitchen thermometer to bring it up to 375°F. If you don't have one, gently lower a bit of dough into the oil. It should sizzle right away if it's ready. Pipe strips of dough into the oil and use a knife to cut the dough from the tip.
Fry them. Fry the churros for 2-4 minutes or until they're golden brown. Use kitchen tongs to flip them over frequently to ensure even cooking. Remove them from the oil and set them on a paper towel-lined tray to drain for 1-2 minutes.
Toss them. Place the churros in the cinnamon sugar while still hot and toss until completely combined. Serve with hot chocolate or caramel sauce.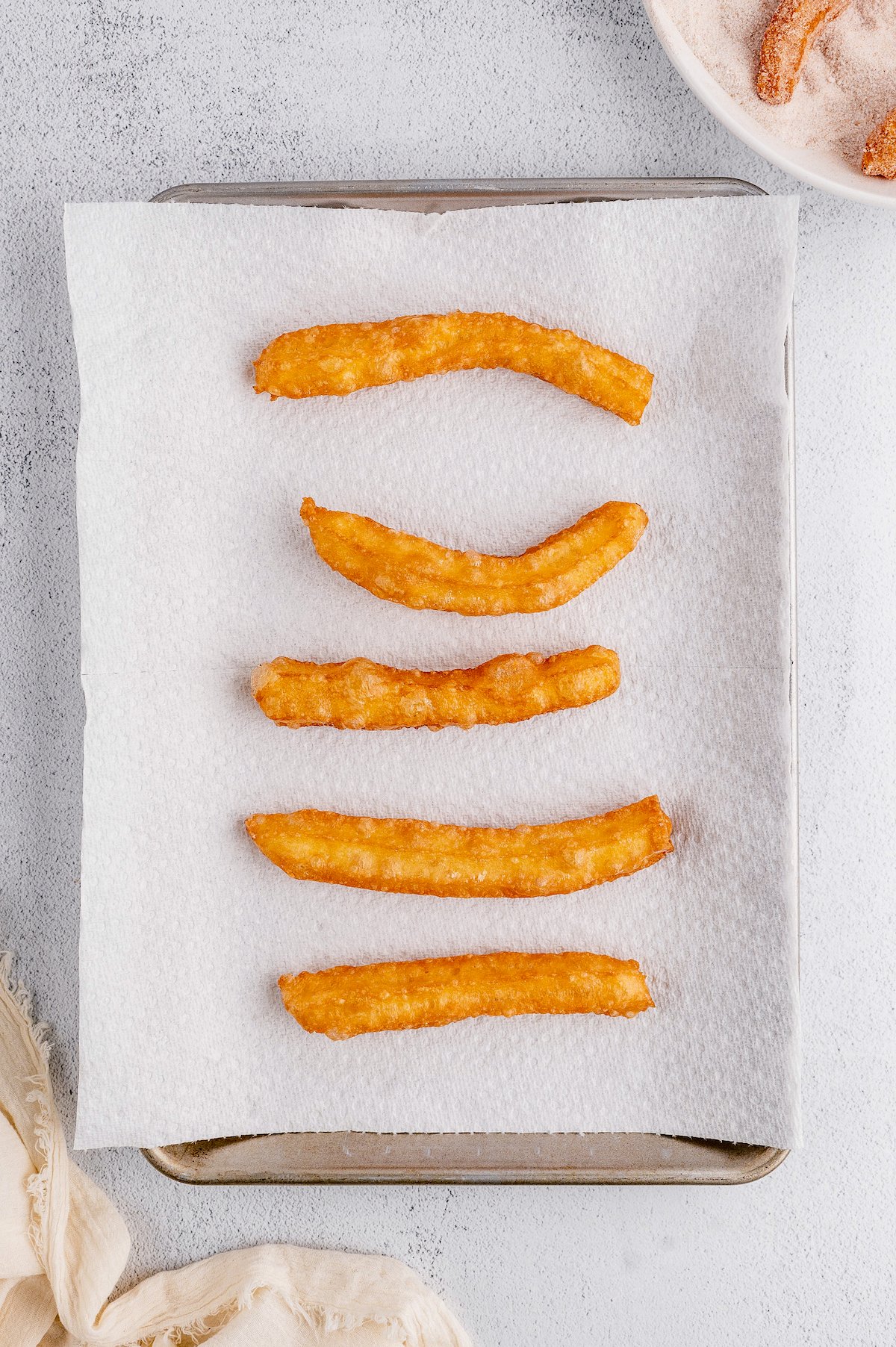 Tips for Success
You might as well open a homemade churro factory if you follow these tips.
Use A Thermometer. Keeping your oil at the right temperature is important to ensure your churros turn out perfectly crisp and not oily or raw on the inside. If your oil is too hot, the outsides will cook quickly, but the centers will be raw. If your oil is not hot enough, it will take too long to cook the churros resulting in soggy/greasy churros. I like to use a clip on candy thermometer to easily watch the temperature of the oil when I fry any food!
Don't crowd the pot. Only cook 3-4 churros at a time otherwise the oil's temperature will lower and the churros won't cook properly. After removing them from the oil, let it heat again for 1-2 minutes before adding more churros. This will ensure even cooking.
Use a non-stick pot. It will be especially helpful when stirring the butter mixture together because nothing will stick or burn as easily. If you have a non-stick pot, use it.
Don't use the same tongs. Use a different set of tongs to remove the churros from the oil and toss them in cinnamon sugar. Any bits of sugar that come in contact with the oil will burn and give your churros a nasty bitterness.
Keep them straight. Line a baking sheet with wax paper or parchment paper, and spray with non-stick cooking spray. Pipe strips of dough onto the baking sheet, and freeze for 10 minutes before deep frying. This will prevent your churros from curling during frying.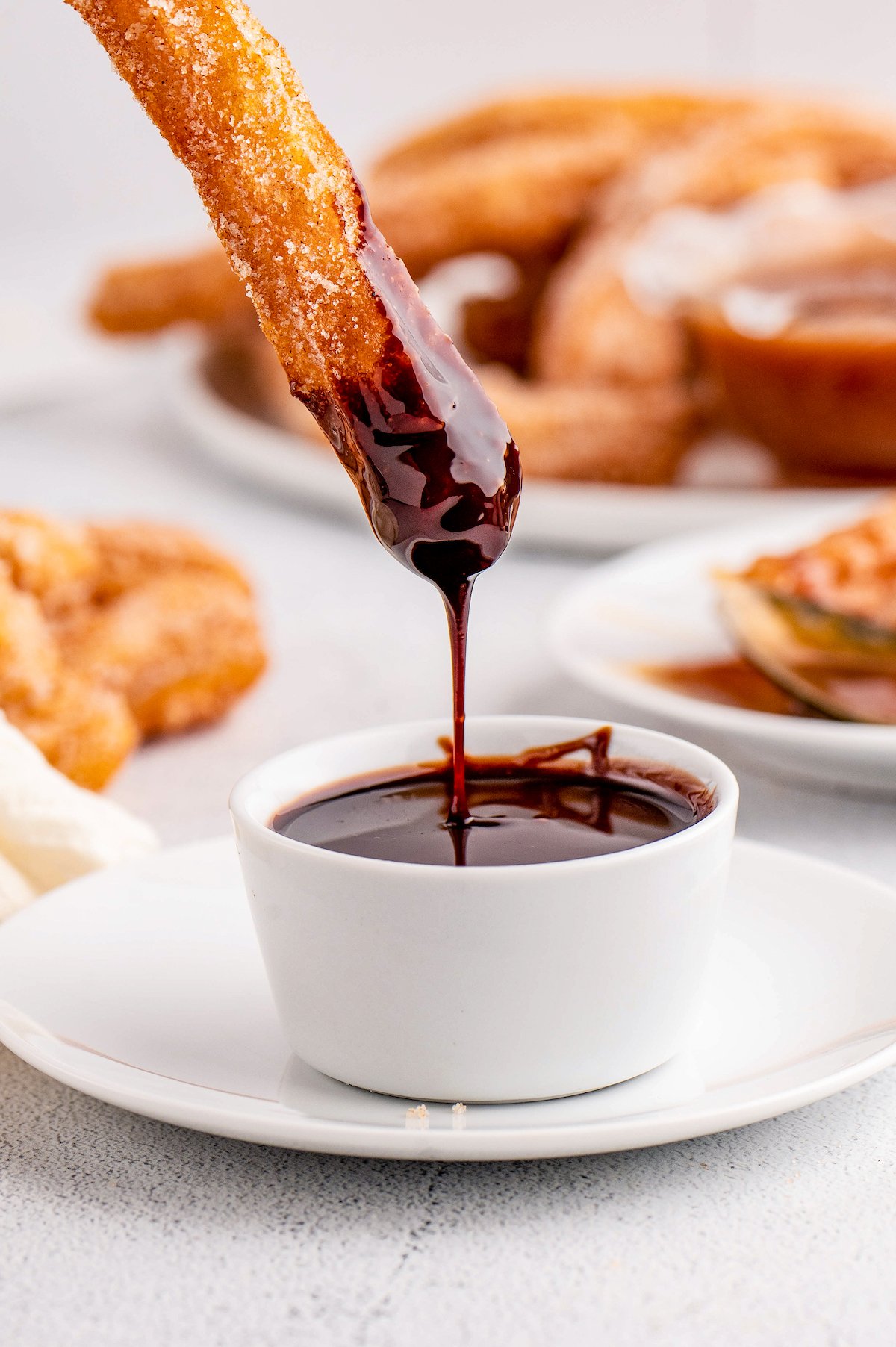 What to Serve With Mexican Churros
While they're perfect on their own, you can drizzle them with salted caramel sauce or chocolate sauce.
Depending on the time of year, I also enjoy these homemade churros with my Red Velvet Hot Chocolate with Marshmallow Whipped Cream. Regular hot chocolate or a glass of milk works too.
For an extra sweet treat, don't forget to add a scoop of ice cream on the side!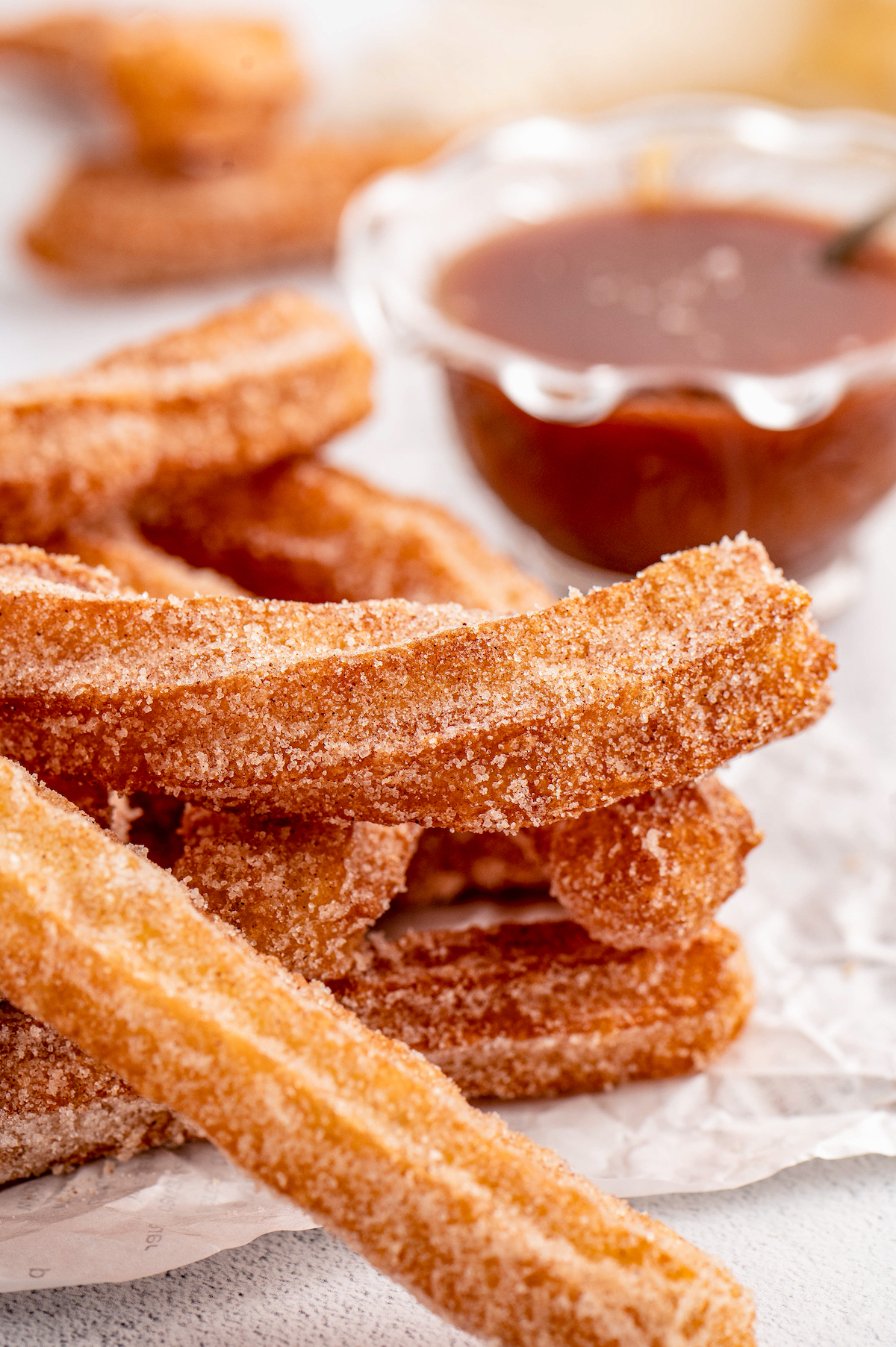 How to Store Leftovers
Line an airtight container with napkins or paper towels. Place the fully cooled churros inside and store them at room temperature for up to 2 days. If the weather isn't too humid, you can also store them in a paper bag at room temperature for 2-3 days. Don't refrigerate them or they'll soften too much.
If you'd like to heat them, sprinkle each churro with 1/4 teaspoon of water and microwave it for 20 seconds or until warm to taste. Heating them in an electric oven at 320°F for 5-8 minutes should also help crisp them up again.
More Mexican Recipes
Churros
Perfectly golden and crispy, these easy homemade churros tossed in cinnamon sugar are the perfect Mexican sweet treat with hot chocolate. 
Ingredients
1

cup

water

2 ½

tablespoons

granulated sugar

½

teaspoon

salt

½

cup

(1 stick) butter

1 ½

cup

,

plus 1 tablespoon, all purpose flour

4

large eggs

2

quarts

vegetable oil

,

for frying

½

cup

sugar

,

for dusting

1 ½

teaspoons

cinnamon

,

for dusting
Optional Dipping Sauces:
Instructions
In a medium saucepan, bring the water, sugar, salt and butter to a boil. 

Remove from the heat and add in all the flour. Stir until the mixture comes together and starts to form a ball, pulling away from the sides of the pan. Transfer to a large mixing bowl, let the mixture cool for 10 minutes. 

Using a hand mixer, or a wooden spoon and lots of muscle, beat in the eggs one at a time, making sure they are incorporated into the batter before adding the next one. It will be lumpy at first, but keep going until the batter is smooth, about 2 minutes. Transfer dough to a

piping bag fitted with a large star tip

.

Mix together the ½ cup sugar and cinnamon in a bowl. Set aside.

Heat oil to 375℉. Pipe strips of dough into the hot oil. You can use scissors or a knife to cut the dough from the tip.

Fry until the churros are golden brown on the outside, about 2-4 minutes, giving them a turn frequently. Remove to a paper towel lined sheet pan to drain for 1-2 minutes.

While still hot, roll the churros in the cinnamon and sugar mixture. Serve hot with chocolate or caramel sauce, if desired.
Nutrition
Serving:
1
,
Calories:
4048
kcal
,
Carbohydrates:
35
g
,
Protein:
7
g
,
Fat:
439
g
,
Saturated Fat:
34
g
,
Polyunsaturated Fat:
385
g
,
Trans Fat:
11
g
,
Cholesterol:
186
mg
,
Sodium:
338
mg
,
Fiber:
1
g
,
Sugar:
33
g
Categories:
This post may contain affiliate links. Read my disclosure policy.