These easy Pumpkin Churros are ready in 30 minutes and pack all the taste of fall. Loaded with pumpkin puree, you won't believe how good these are when tossed in cinnamon sugar and dipped into a luscious cream cheese dip.
Easy Pumpkin Spice Churros
Once the leaves start falling, I'm obsessed with pumpkin spice and cinnamon. Recently, I've discovered another celestial ingredient to add to the mix: cream cheese. Its tanginess is the perfect addition to the pumpkin's sweetness and the cinnamon's earthy spice.
I couldn't really decide on what to make with them until a friend randomly suggested the best thing I've heard all year. Pumpkin churros with cinnamon pumpkin cream cheese dip.
Immediately (quite literally) I set all the ingredients on the counter and got to work. I didn't want to scare our friends with the mess so I knew it had to be a quick and easy recipe. No cooking the dough like in traditional churro recipes or fancy ingredients.
30 minutes later, we were biting into these crunchy, moist pumpkin churros with cinnamon sugar. Although they were amazing on their own, it was dipping them into the luscious cream cheese dip that knocked our socks off. With a bit of coffee and hot chocolate, we realized dreams do come true. They come in the form of warm pumpkin churros on October afternoons.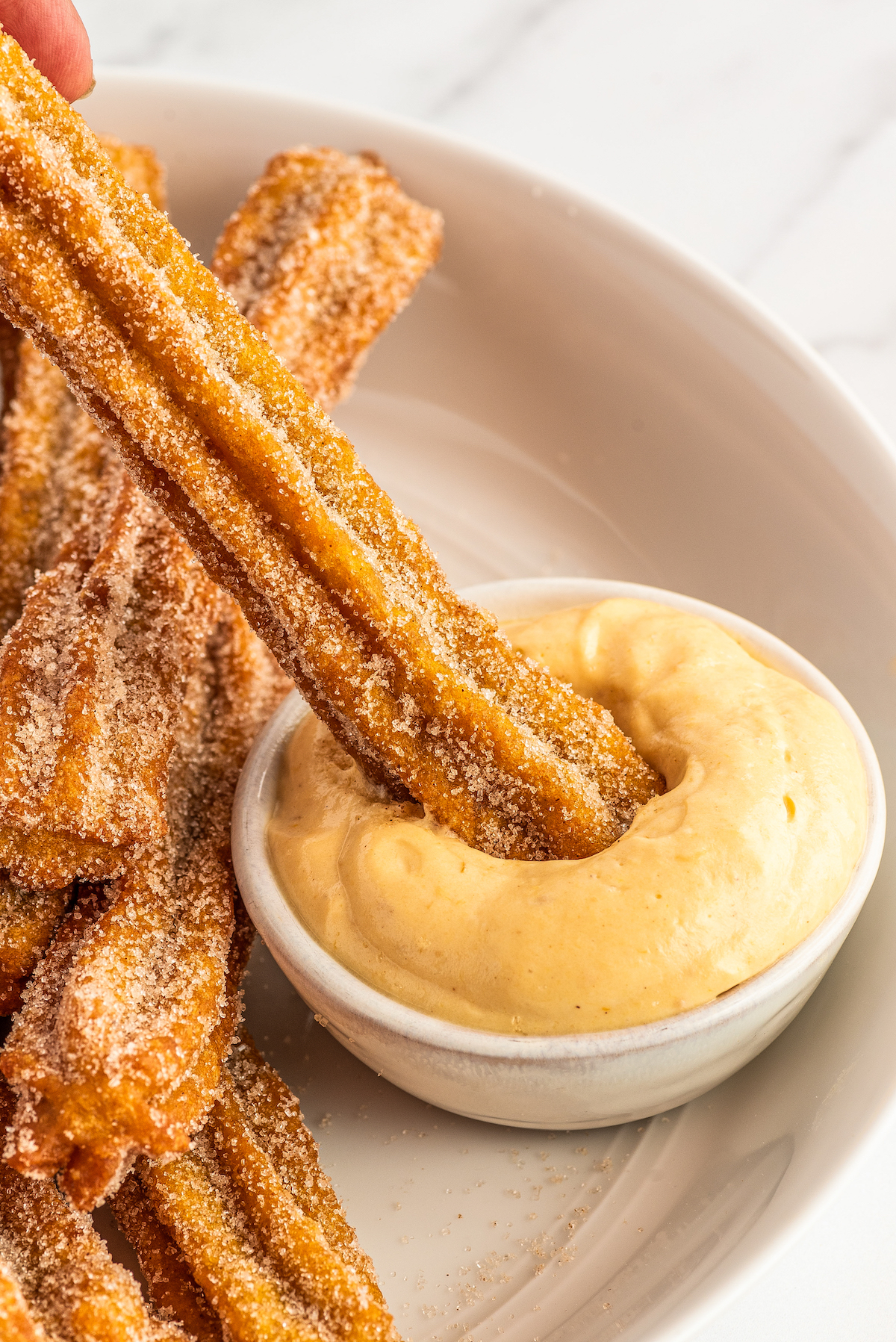 Why You'll Love This Recipe
Having a strong pumpkin flavor is enough to make you love them, but here are some actual reasons for you to make them:
Quick. These will be ready in just 30 minutes! 15 minutes of prep time and 15 minutes for frying is all it takes to bite into one of these pumpkin churros with a creamy dip.
Easy. You won't have to choose between making the dip or not because the whole recipe is easy from start to finish.
Autumn-themed. Packed with cinnamon and pumpkin spice, they taste like cozy nights in.
Great for parties. My pumpkin churros are the perfect fall-treat when conventional pumpkin desserts just won't cut it anymore. You can also make them larger or smaller in size to accommodate your crowd.
What Are Churros?
There's a whole debate about where they actually come from. Mexico and Spain take the lead, but some theories argue they're actually Chinese! To be honest, it doesn't really matter as long as they're crispy and delicious.
Churros (anywhere in the world) are bits of deep-fried dough that are sprinkled with cinnamon sugar. They're crispy on the outside but soft and airy on the inside. The dough is usually unsweetened because the sprinkled sugar adds enough sweetness.
They're often served on their own, with hot chocolate, or a variety of sweet syrups for dipping. These pumpkin churros are just my Americanized fall-version of the treat.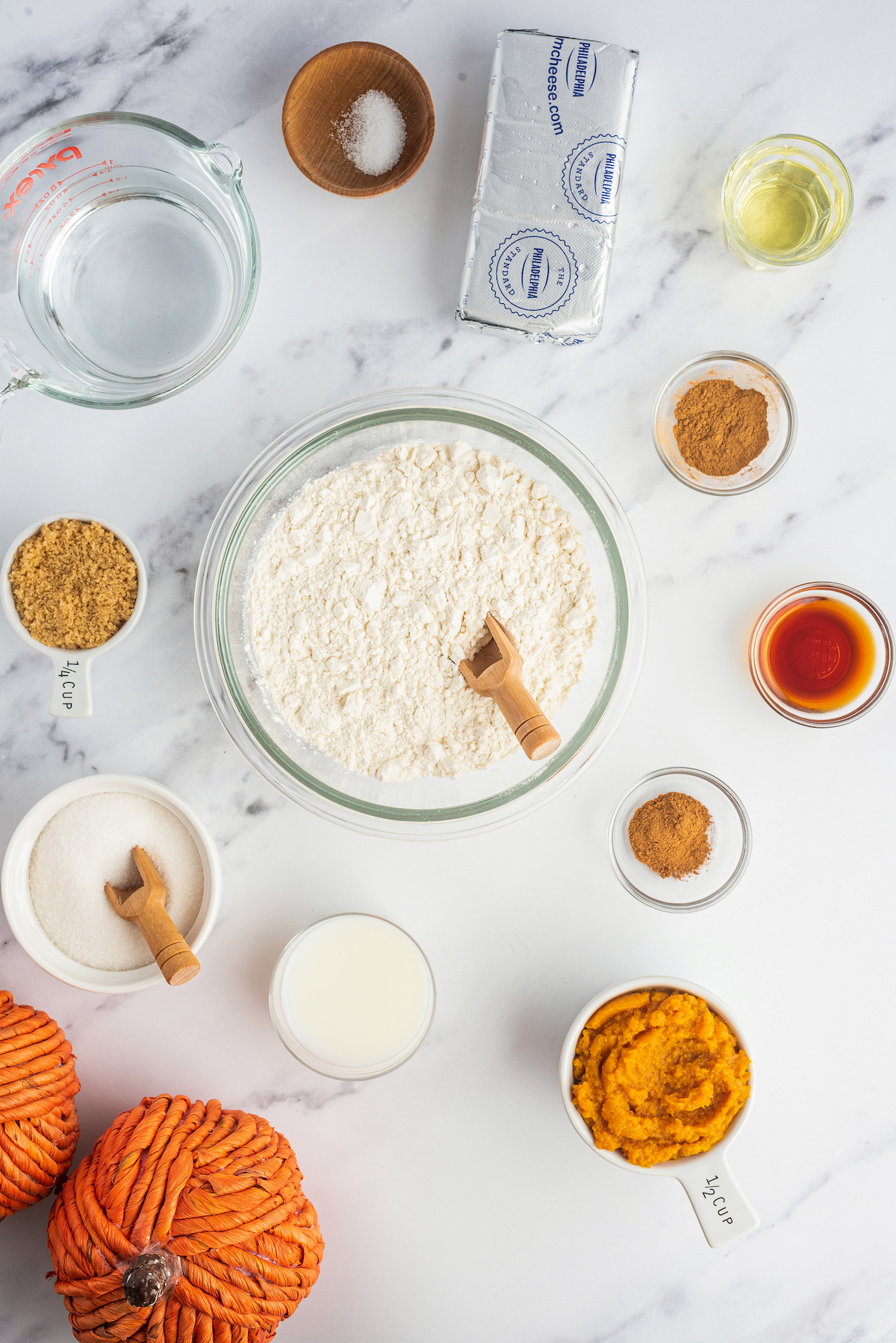 Recipe Ingredients
It's all about pumpkin. As long as you've got pumpkin puree and pumpkin pie spice, you're already on the other side. Scroll down to the recipe card at the bottom of this post for exact ingredient amounts.
For the Pumpkin Churros
Water
Pumpkin puree – If you can't find any, pumpkin pie filling works great too. You might have to reduce the amount of sugar in the recipe because pie filling tends to be way sweeter.
Vegetable oil – You can also use any neutral tasting oil with a high smoke point like canola and corn oil.
Vanilla extract
All-purpose flour – Don't use cake or bread flour.
Granulated sugar – White or light brown sugar work fine.
Pumpkin pie spice – If you can't get a hold of any, make your own. For every teaspoon of pumpkin pie spice, mix 1/4 tsp ground ginger, 1/4 tsp ground allspice, and 3/4 tsp ground cinnamon.
Salt
Oil: This is for frying. It needs to be a neutral tasting oil with a high smoke point like peanut, canola, or vegetable oil.
Granulated sugar: White or light brown sugar are great for sprinkling.
Ground cinnamon
For the Cinnamon Pumpkin Cream Cheese Dip
Cream cheese: Try to use full-fat because it makes for a creamier dip, but you can also use a high-quality low-fat cream cheese.
Granulated sugar: If you don't have white granulated sugar, substitute it for more light brown sugar.
Light brown sugar
Milk: Whole or low-fat milk are fine. Don't use plant-based milks because they're water-based and will split your dip.
Vanilla extract
Ground cinnamon
Pumpkin purée: You can also use pumpkin pie filling for this.
How to Make Pumpkin Churros
Ready in 30 minutes, you won't believe how easy it is to make all three components: the churros, cinnamon sugar, and dip.
Make the dip. Use a stand or hand mixer to beat the cream cheese, granulated sugar, brown sugar, milk, vanilla extract, cinnamon, and pumpkin puree until well combined. Set it aside. Make sure your cream cheese is at room temperature or it'll be harder to incorporate.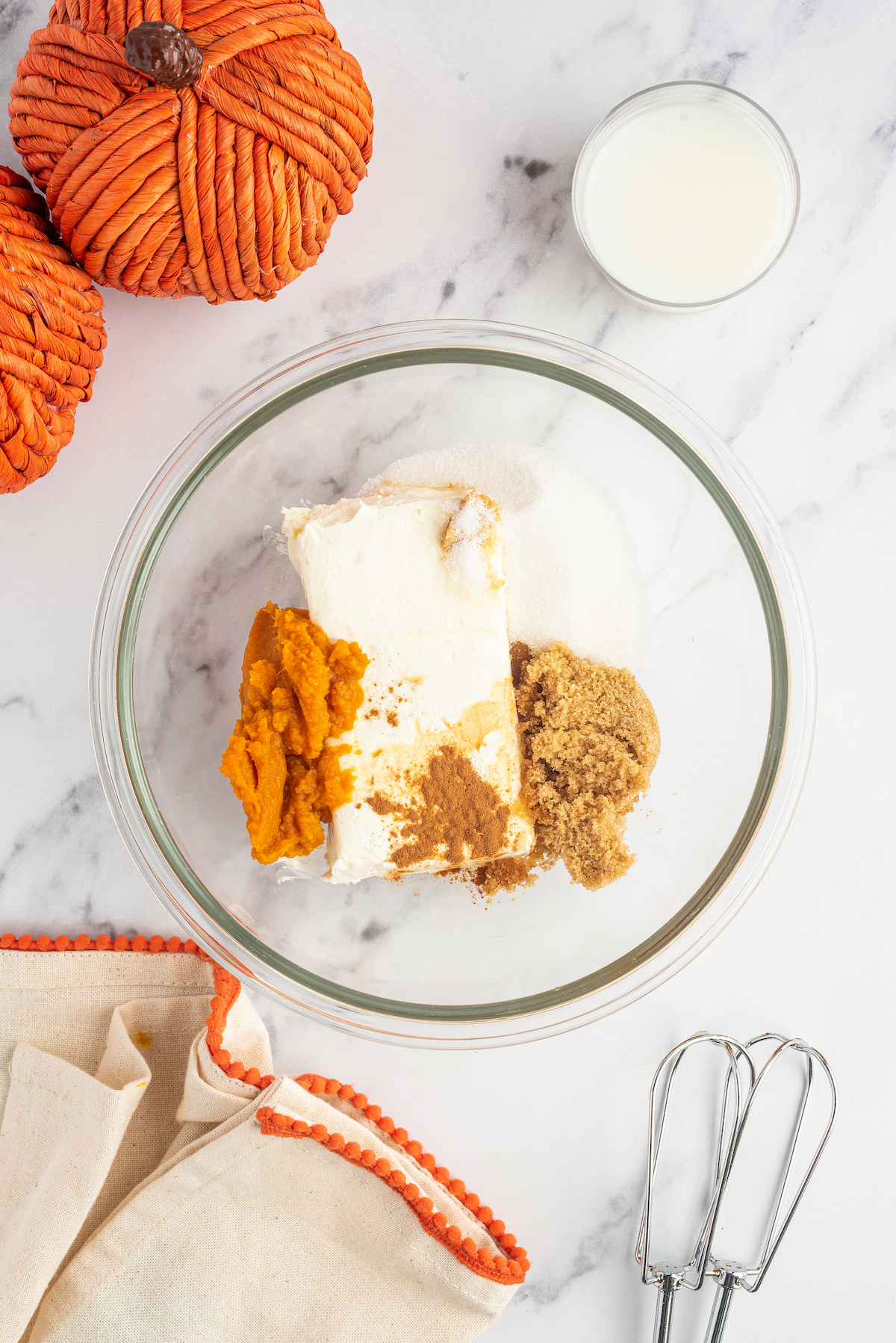 Make the cinnamon sugar. In a small bowl, whisk 1/2 cup of granulated sugar and 2 tsp of cinnamon. Set it aside.
Mix the wet ingredients. Mix the water, pumpkin puree, vegetable oil, vanilla extract in a small bowl.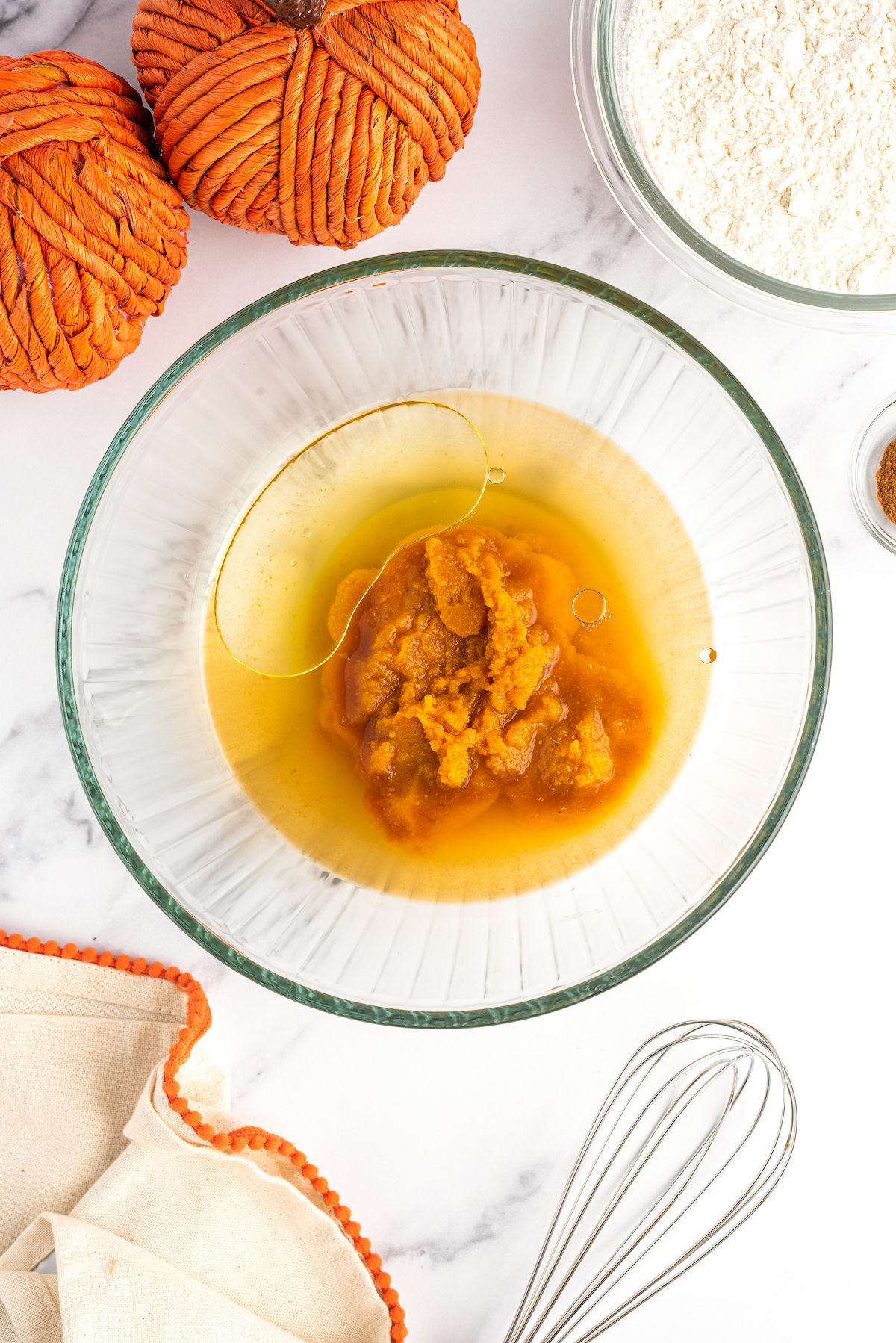 Make the dough. Mix the flour, sugar, pumpkin pie spice, and salt in a large bowl. Slowly pour the wet ingredients into the bowl and use a wooden spatula to fold them in. Transfer the dough to a piping bag with a closed star tip.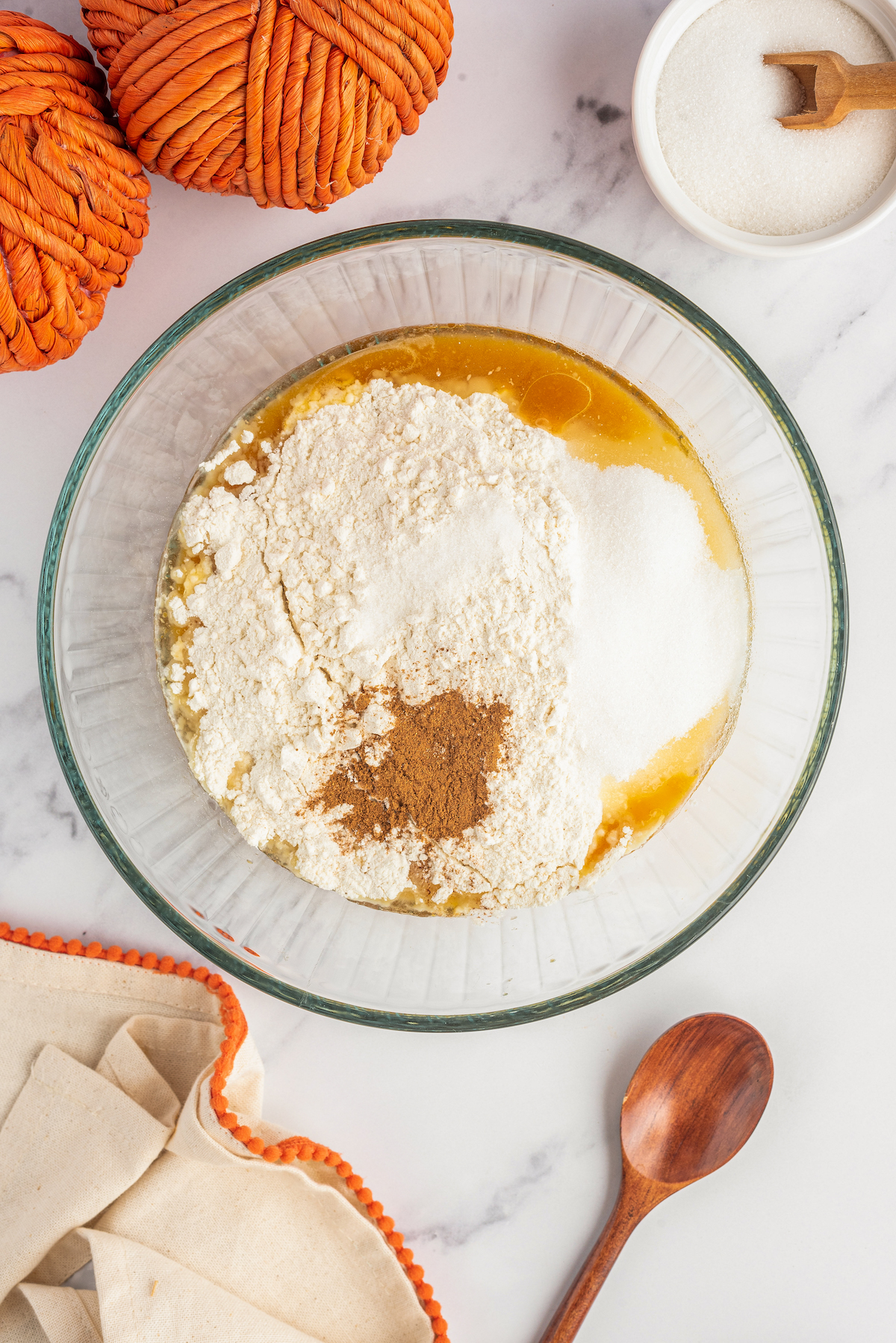 Prepare the oil. Add oil to a pot or fryer and let it heat. Once it reaches 350°F-375°F, it's ready for frying. I highly recommend using a kitchen thermometer to ensure your oil is at the correct temperature so you don't wind up with raw centers. If you don't have a kitchen thermometer, you can drop a pinch of dough into the oil. If it sizzles right away, your oil should be ready.
Fry. Snip the tip of the piping bag off. Pipe 4″ strips of dough into the oil, using your finger or a pair of scissors to carefully cut each churro. Repeat this 3-4 more times per batch so you don't overcrowd the pot. Fry the churros for about 1 minute per side or until golden brown.
Add cinnamon sugar. Remove them from the heat using kitchen tongs and set them on a wire rack or napkin-lined plate. Toss them in cinnamon sugar while still warm. The sugar won't stick to them once cooled.
Serve. Serve them hot or at room temperature with the dip on the side. Enjoy!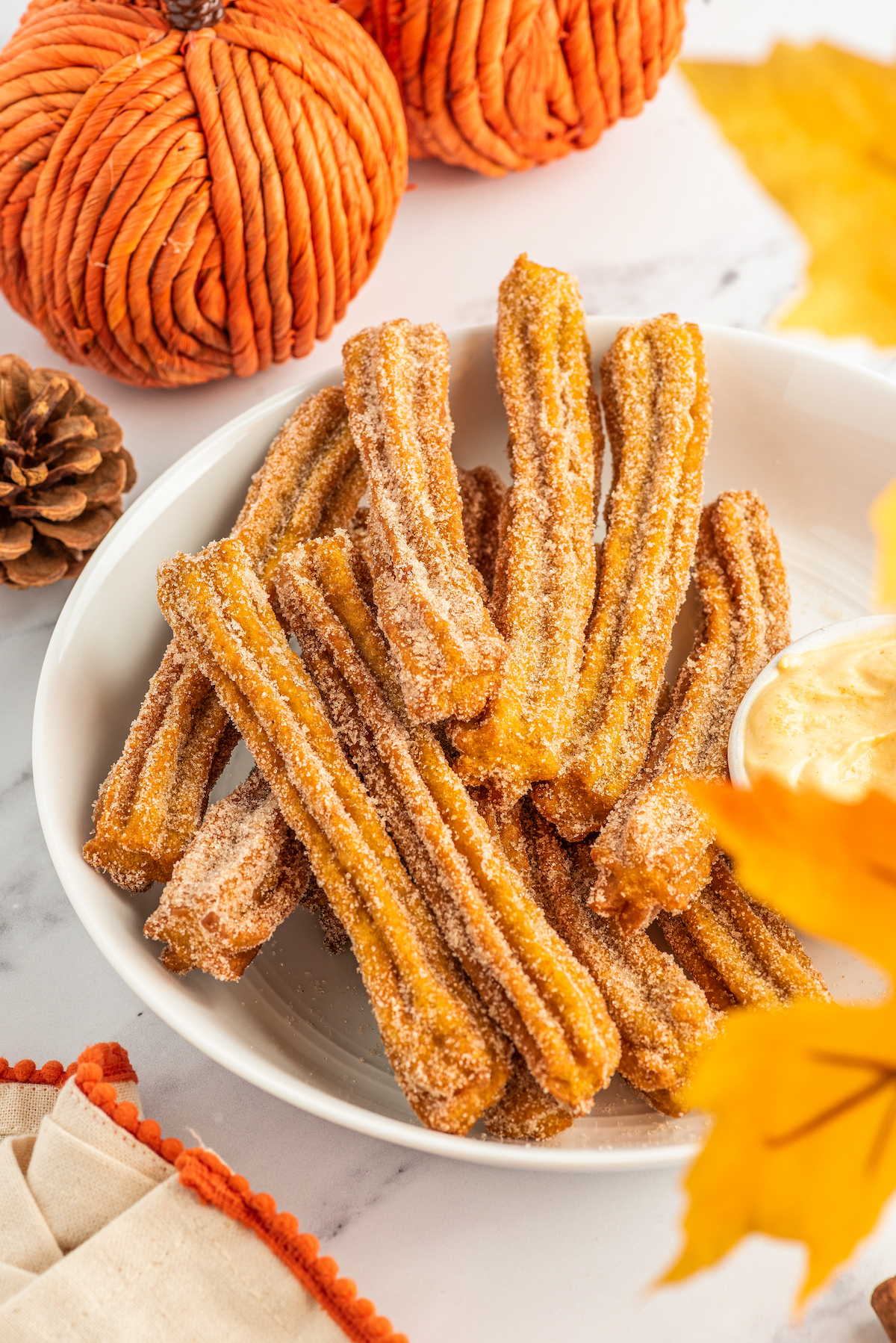 How to Keep the Oil Temperature Just Right
For anything deep-fried to be a success, the oil's temperature is extremely important. Too hot and the outside will turn golden (or even burn) but the interior will still be raw. Too cold and whatever you're frying will come out greasy.
Getting it to the right temperature, though, is about more than just eye-balling it. Sometimes it'll work— don't get me wrong— but other times it might be easier to save yourself the trouble and just get a kitchen thermometer. Even so, here are a couple of ways to keep the oil temperature just right:
Wait for it to heat. Stick the thermometer into the pot and wait for it to read 350°F-375°F before you start deep-frying anything.
Watch out for smoke. Especially if you're not using a thermometer, keep this one in mind. If your oil starts smoking before or during the frying process, it's beyond its smoke point and is burning. You can still save it by lowering the heat if it just started smoking. If it's been smoking for a while, anything you add to it will burn and have a certain bitterness.
Don't crowd the pot. Don't be tempted to fry as many churros as can fit in the pot at once. The more you add, the more the oil's temperature will drop.
Tips for Success
Making good churros is easy, but that doesn't mean you can't make them better. Follow these tips to make sure they come out perfect every time:
Use separate tongs. Don't use the same tongs to fry the churros and toss them in the cinnamon sugar. Once any sugar hits the oil, it all goes downhill from there. It will burn and stick to the churros, giving them a bitter flavor and ugly black spots.
Use a kitchen thermometer. Oil should remain at a steady 350°F-375°F for deep-frying. A kitchen thermometer is the best way to be accurate about it.
Let the oil reheat. Every time you remove a batch of churros from the oil, wait at least 30 seconds for the oil to return to the right temperature.
Use a wire rack. After frying, set them on a wire rack instead of a plate. This will help the steam escape without softening them.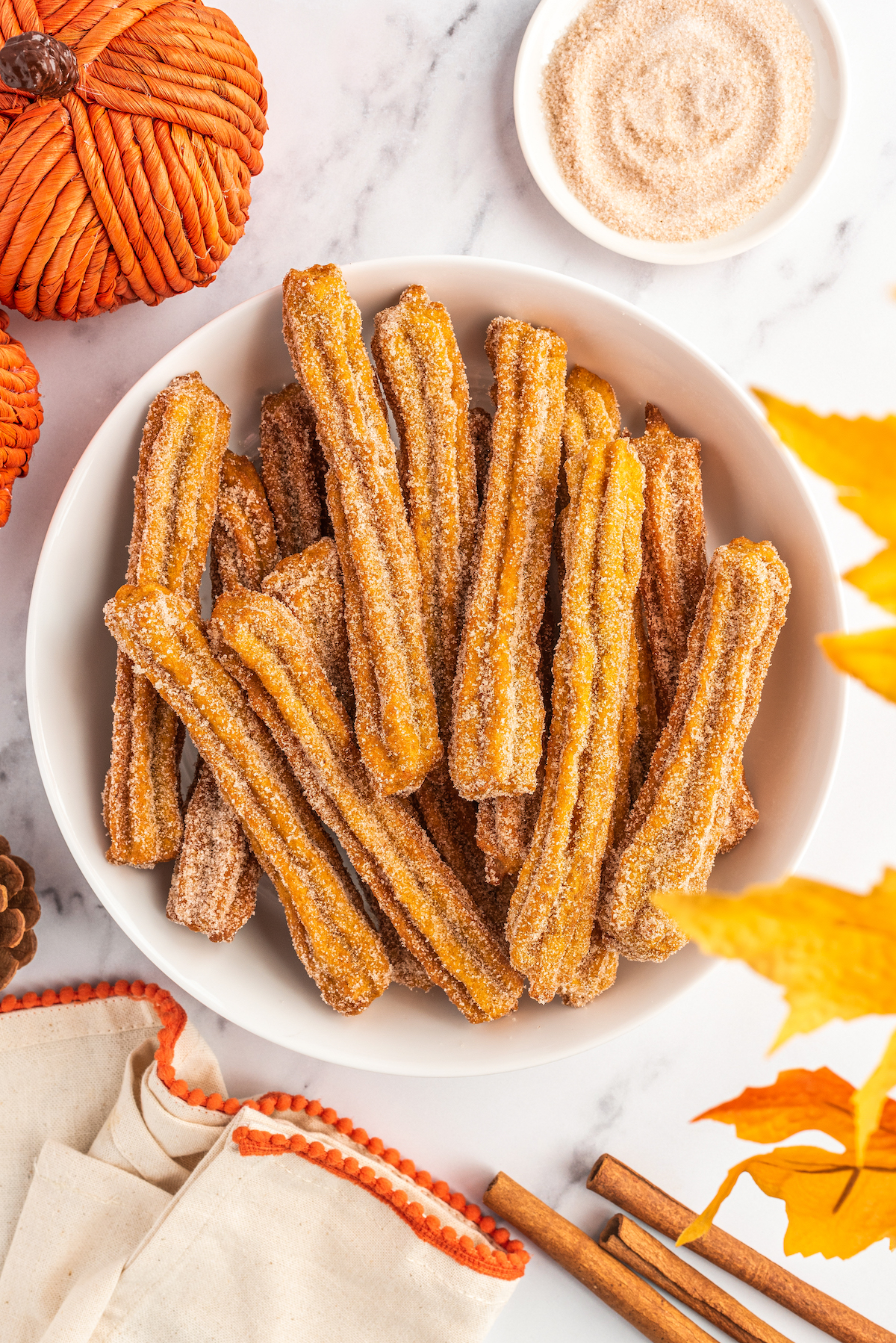 How to Store Leftovers
Churros are best eaten the day they're made. However, if you line an airtight container with napkins and store them in there they'll keep just fine for up to 3 days. They might soften a little, but if this happens just pop them into the toaster oven (or an air fryer) at 375°F for about 5 minutes or until warm. Placing the airtight container in the fridge will make them last an additional 2 days.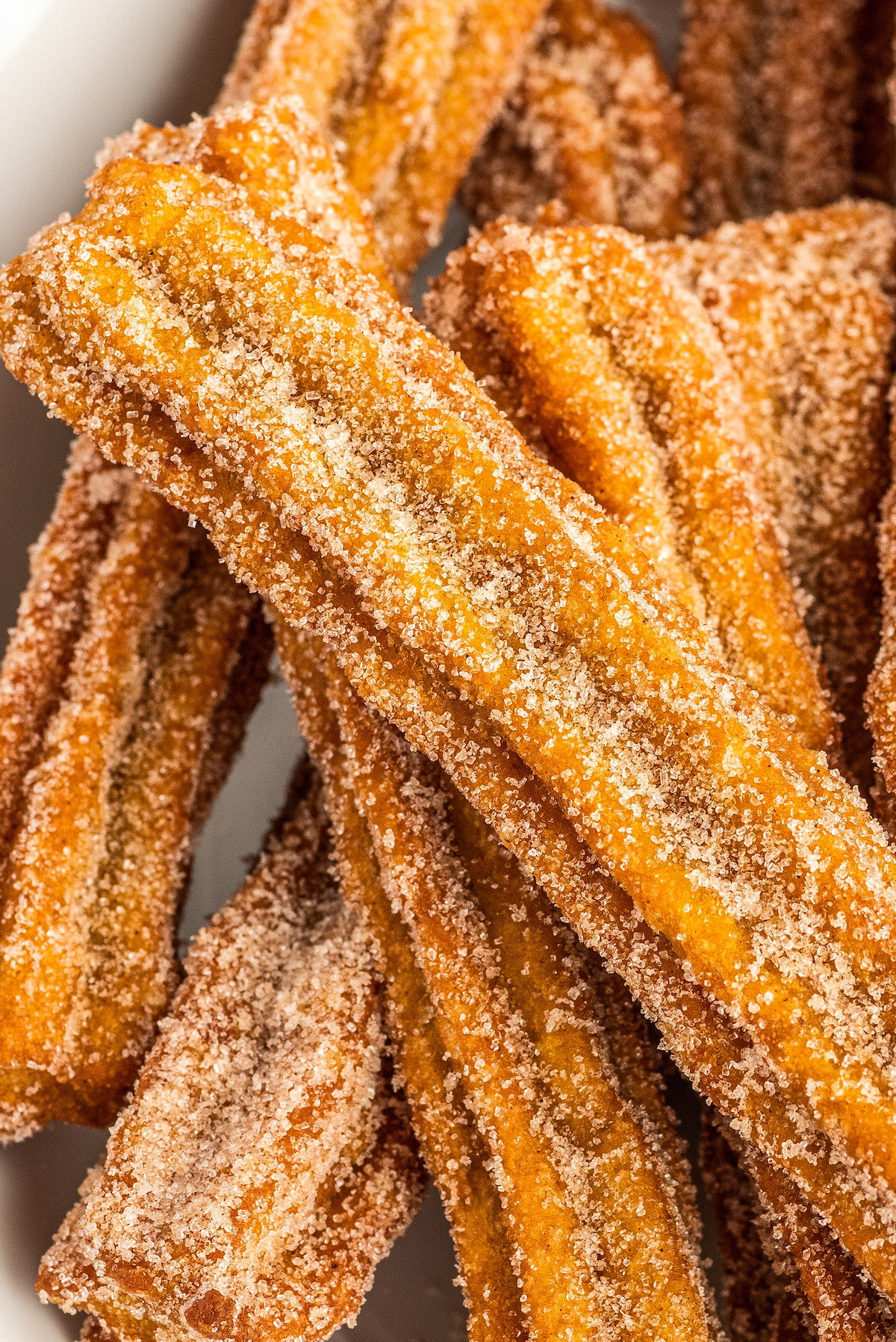 Can You Freeze Homemade Churros?
Absolutely! They only last for a month, but it's still enough time to get you through a last-minute churro craving. Once they've cooled, pop them into the freezer in a parchment-lined tray for 4 hours or until completely frozen. Then wrap each one with plastic wrap. Transfer them to a freezer-friendly bag or container and freeze.
To thaw, set them on the counter until they come to room temperature. They'll be quite soft, so I recommend heating them in the toaster oven at 375 F for 5-10 minutes or until warm and crunchy.
More Pumpkin Desserts
Pumpkin Churros Recipe
These easy pumpkin churros taste just like fall. Toss them in cinnamon sugar and enjoy with a cream cheese dip for ultimate decadence.
Ingredients
For the pumpkin churros
1

cup

water

½

cup

pumpkin puree

2

tablespoons

vegetable oil

1

teaspoon

vanilla extract

1 ¾

cups

all-purpose flour

3

tablespoons

granulated sugar

1

teaspoon

pumpkin pie spice

½

teaspoon

salt

1

quart

oil for frying

,

peanut, canola, vegetable

½

cup

granulated sugar

2

teaspoons

cinnamon
For the cinnamon pumpkin cream cheese dip
8

oz

cream cheese

,

softened

¼

cup

granulated sugar

¼

cup

light brown sugar

¼

cup

milk

1

tablespoon

vanilla extract

2

teaspoons

cinnamon

2-3

tablespoons

pumpkin purée,

to taste
Instructions
In a stand mixer, beat cream cheese, granulated sugar, brown sugar, milk, vanilla extract, cinnamon and pumpkin purée until smooth. Set aside.

In a small bowl, toss together 1/2 cup granulated sugar and 2 teaspoons cinnamon. Set aside.

In a large bowl, whisk together water, pumpkin puree, vegetable oil and vanilla. Add in flour, sugar, pumpkin pie spice and salt. Use a wooden spoon or spatula to fold in the dry ingredients, until well combined. Transfer churro dough into a piping bag with a closed star tip.

Heat oil for frying in deep-fryer or deep skillet to 375°F using a candy thermometer to ensure your oil holds the correct temperature.

Pipe a 4-inch strip of dough into the hot oil. Repeat, frying 3 or 4 strips at a time. Fry the churros, turning them once, until golden brown, about 2 minutes per side.

Transfer the cooked churros to a plate lined with paper towels to drain for 1 minute. Then quickly toss in cinnamon sugar mixture.
Nutrition
Serving:
1
,
Calories:
1353
kcal
,
Carbohydrates:
55
g
,
Protein:
5
g
,
Fat:
126
g
,
Saturated Fat:
13
g
,
Polyunsaturated Fat:
106
g
,
Trans Fat:
1
g
,
Cholesterol:
29
mg
,
Sodium:
230
mg
,
Fiber:
2
g
,
Sugar:
31
g
Categories:
This post may contain affiliate links. Read my disclosure policy.