These Pumpkin Churros are tossed in cinnamon sugar and then served with a Cinnamon Pumpkin Cream Cheese Dip. An easy homemade churros recipe that's perfect for Fall!
Looking for more pumpkin recipes? Try this Pumpkin Pie Cheesecake or these Pumpkin Muffins.
Homemade Pumpkin Churros
This is my very first Pumpkin recipe of the season! I can not believe I held out as long as I did, but I am starting off with a whopper of a recipe: Pumpkin Churros with a Cinnamon Pumpkin Cream Cheese Dip.
Our friend Rick and Kerri stopped by and they had the brilliant idea for pumpkin churros.
I was immediately in love with the idea and started pulling everything out of the pantry to make them! Hey, when inspiration strikes right??
This isn't my first time making churros, but I had to switch up the traditional recipe a bit to accommodate the pumpkin.
You don't have to make this dough on the stove like traditional churros, so it does come together a little quicker than most recipes.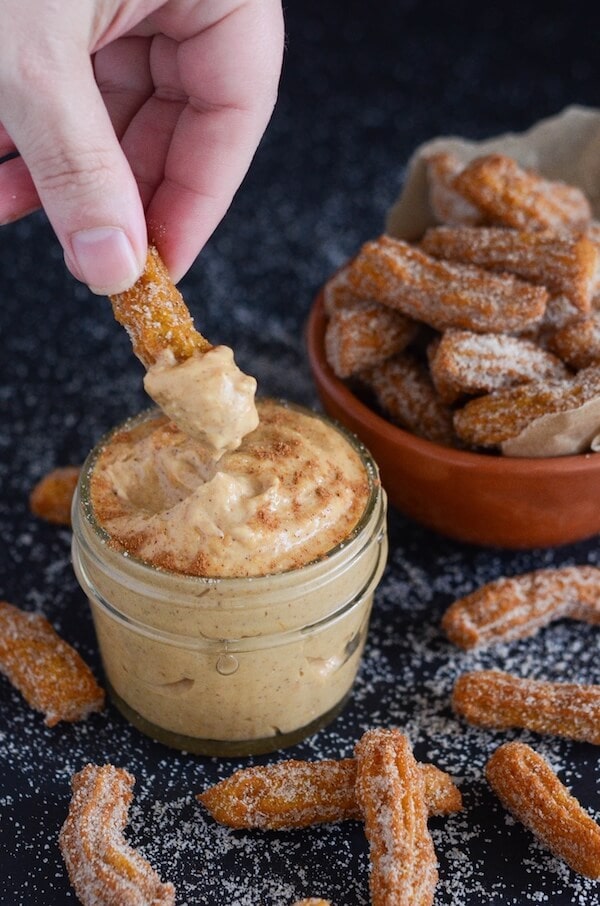 The Cinnamon Pumpkin Cream Cheese Dip Takes this Over the Top!
The Cinnamon Pumpkin Cream Cheese Dip to pair with the Pumpkin Churros is perfectly divine.
As well all know, pumpkin and cream cheese is a match made in heaven (just look at these Pumpkin Cream Cheese Swirl Muffins).
At first, it was just a cinnamon cream cheese dip, but we felt there was not enough pumpkin flavor overall when the churros and the dip were combined.
Adding just a few tablespoons of pumpkin, to the dip, totally changed that. Now you can absolutely taste the pumpkin in each delicious bite!
Sure, you could make these without the dip, but like any true churro lover knows — you totally need a dip.
If you love the chocolate and pumpkin combination, you could also dip them in Nutella instead.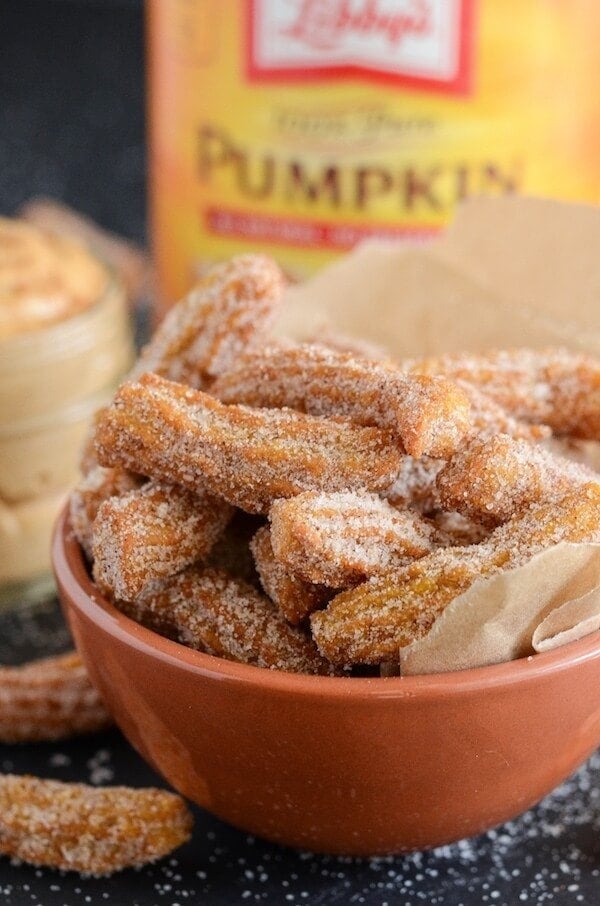 Oil Temperature is Key
The secret to frying anything is a candy thermometer to attach to the side to ensure your oil is always at the correct temperature. They are cheap and make a world of difference.
If your oil is too hot, the outside with burn and the inside will be raw.
If your oil is too cold, they will become greasy because it will take too long to cook them. Keep it right at 375°F and your churros will come out perfect every time.
I hope you enjoy these Pumpkin Churros as much as we all did! While I was trying to take pictures, the girls kept sneaking up and stealing churros.
It's pretty adorable to watch two year olds who think they are being sneaky. Every time they would grab one, they would rat themselves out by saying "MMMM"!
Yield: 8 servings
Pumpkin Churros Recipe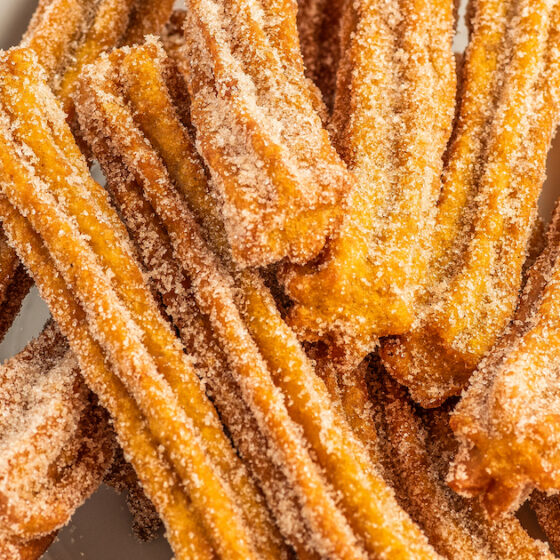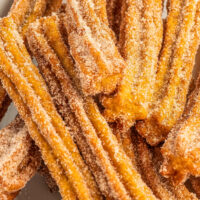 These easy pumpkin churros taste just like fall. Toss them in cinnamon sugar and enjoy with a cream cheese dip for ultimate decadence.
Ingredients
For the pumpkin churros
1 cup water
1/2 cup pumpkin puree
2 tablespoons vegetable oil
1 teaspoon vanilla extract
1 3/4 cups all-purpose flour
3 tablespoons granulated sugar
1 teaspoon pumpkin pie spice
1/2 teaspoon salt
1 quart oil for frying (peanut, canola, vegetable)
1/2 cup granulated sugar
2 teaspoons cinnamon
For the cinnamon pumpkin cream cheese dip
8 oz cream cheese, softened
1/4 cup granulated sugar
1/4 cup light brown sugar
1/4 cup milk
1 tablespoon vanilla extract
2 teaspoons cinnamon
2 – 3 tablespoons pumpkin purée, to taste
Instructions
In a stand mixer, beat cream cheese, granulated sugar, brown sugar, milk, vanilla extract, cinnamon and pumpkin purée until smooth. Set aside.
In a small bowl, toss together 1/2 cup granulated sugar and 2 teaspoons cinnamon. Set aside.
In a large bowl, whisk together water, pumpkin puree, vegetable oil and vanilla. Add in flour, sugar, pumpkin pie spice and salt. Use a wooden spoon or spatula to fold in the dry ingredients, until well combined.
Heat oil for frying in deep-fryer or deep skillet to 375°F using a candy thermometer to ensure your oil holds the correct temperature.
Pipe a 4-inch strip of dough into the hot oil. Repeat, frying 3 or 4 strips at a time. Fry the churros, turning them once, until golden brown, about 2 minutes per side.
Transfer the cooked churros to a plate lined with paper towels to drain for 1 minute. Then quickly toss in cinnamon sugar mixture.
Serve hot with cream cheese dip on the side!
Nutrition Information:
Yield:
8
Serving Size:
1
Amount Per Serving:
Calories:

1353
Total Fat:

126g
Saturated Fat:

13g
Trans Fat:

1g
Unsaturated Fat:

106g
Cholesterol:

29mg
Sodium:

230mg
Carbohydrates:

55g
Fiber:

2g
Sugar:

31g
Protein:

5g
Categories
This post may contain affiliate links. Read my disclosure policy.