Dreamy maple cream cheese filling is sandwiched between pillowy rounds of pumpkin cake in this perfect fall dessert. These Pumpkin Whoopie Pies might just be the best you'll ever eat!
Easy Homemade Whoopie Pies with Fall Flavors
Whoopie pies have shown up all over the baking world lately, and for good reason. Any kind of sandwich cookie is a good idea, in my book – and these cakey little goodies are moist, light, and completely addictive. These pumpkin whoopie pies take that technique and add warm, sweet pumpkin spice flavors. They're perfect for serving with coffee, or a tall glass of cold milk.
In addition to the sweetly spiced pumpkin cake-lets, these whoopie pies are held together by a simple cream cheese frosting sweetened with maple syrup. It's the perfect combination – slightly tangy, ultra-creamy, and perfectly Fall. Each bite will put you in the mood for crisp leaves and warm, cozy sweaters.
What You'll Need
The ingredients for this recipe are simple and wholesome, making these whoopie pies a dessert you can feel good about. Here's the list, in detail: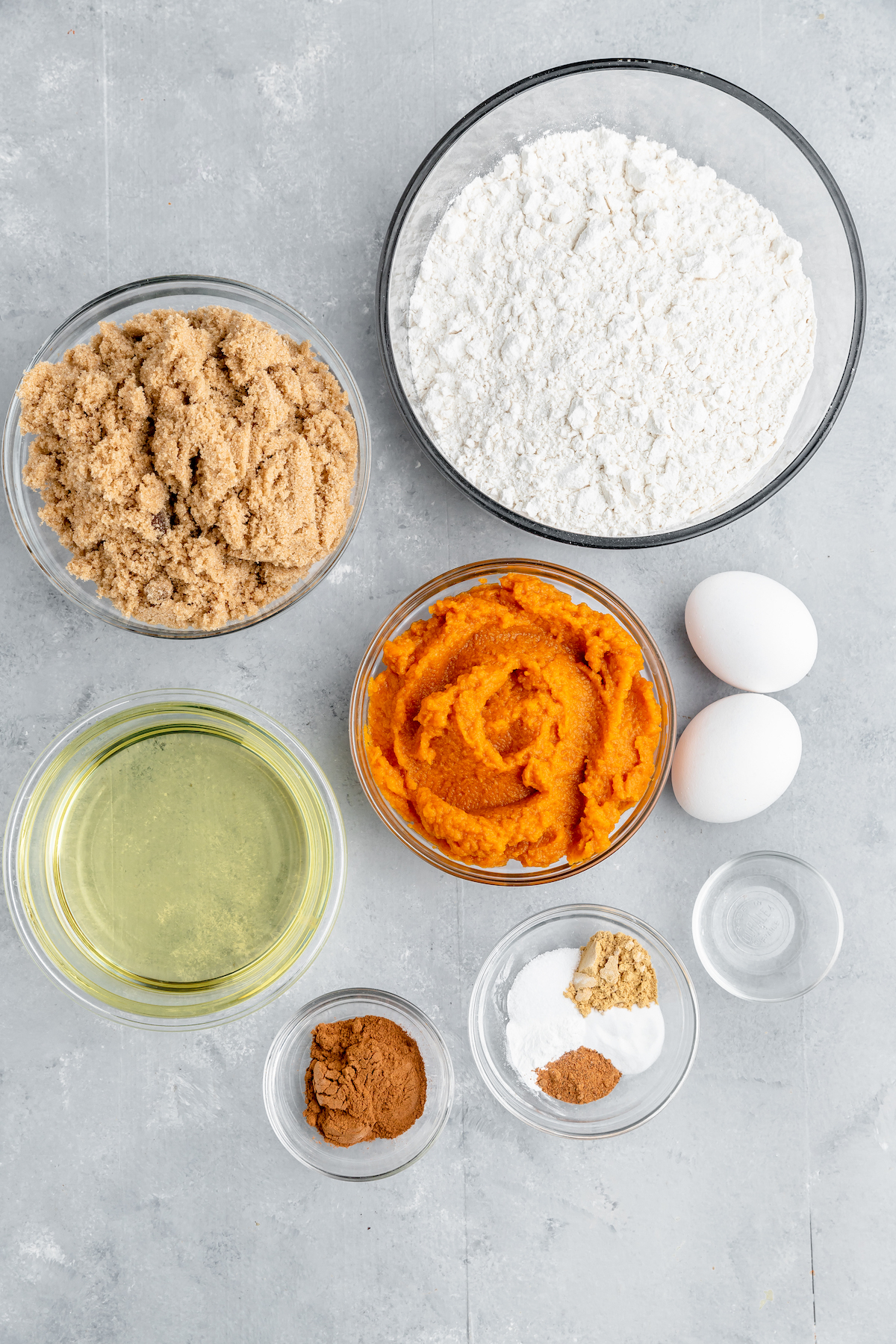 For the Whoopie Pies
Flour: I use all-purpose flour in this recipe, but you can substitute a 1:1 gluten-free flour (with xanthan gum) if you prefer (this may change the texture a bit).
Salt
Baking Soda and Baking Powder: To lighten the whoopie pie batter and help it rise.
Spices: To get that pumpkin spice flavor, you'll need cinnamon, ginger, and nutmeg.
Brown Sugar: Brown sugar gives the whoopie pies sweetness and a honeyed warmth. Firmly pack the brown sugar into the measuring cup for accuracy.
Canola Oil: This is my go-to, but you can use any neutral-flavored cooking oil that you like.
Pumpkin Puree: Chill the pumpkin puree before using it. Make sure to use 100% pumpkin, not canned pumpkin pie filling, which has added sugar, eggs, and other ingredients.
Eggs: Large, whole eggs bind the batter together.
Vanilla Extract: Pure vanilla extract or a scraped vanilla bean adds the perfect finishing touch.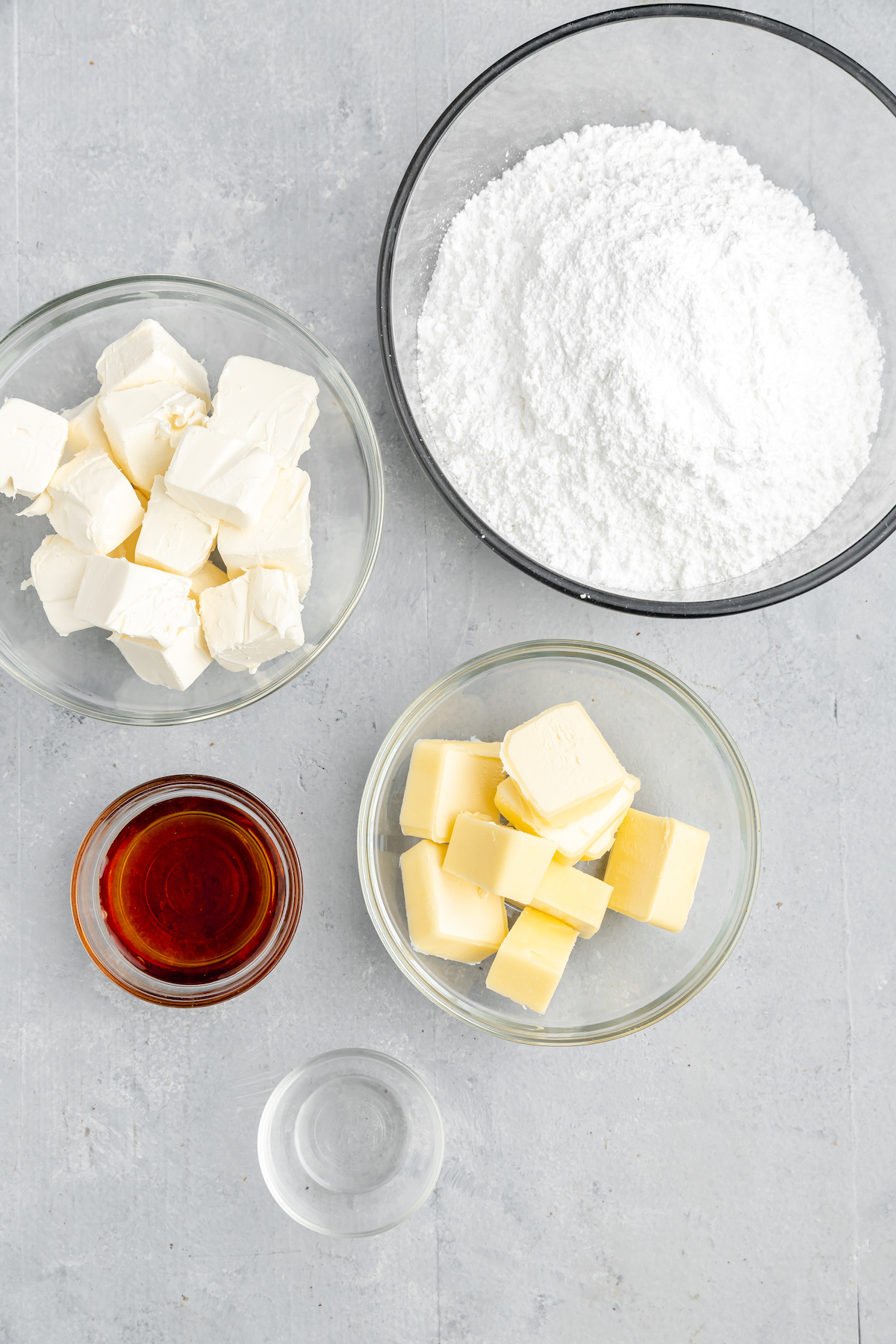 For the Maple Cream Cheese Filling
Powdered Sugar: Also known as confectioners' sugar, this makes the filling light and fluffy.
Butter: I use unsalted butter, but you could also use salted butter.
Cream Cheese: Make sure the cream cheese is at room temperature before you make the frosting.
Maple Syrup: Pure maple syrup adds the perfect Fall flavor.
Vanilla: Again, I prefer to use pure vanilla extract, or a scraped vanilla bean.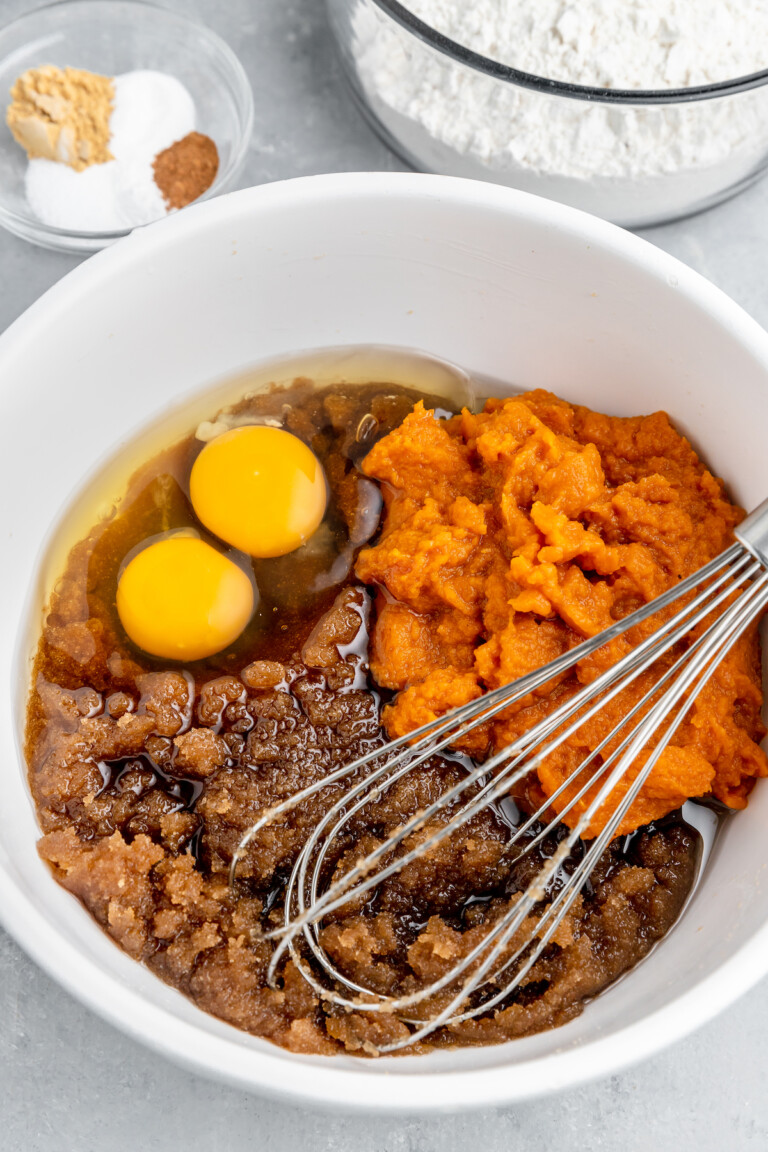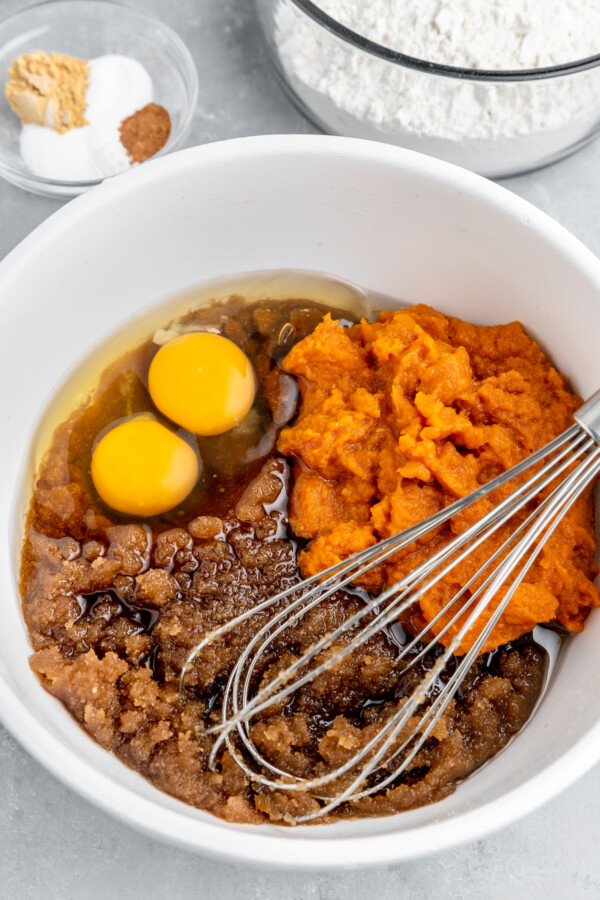 How to Make Pumpkin Whoopie Pies from Scratch
The process for making these is actually really simple. It's a lot like baking cookies, and then sticking them together with some homemade frosting. Let's take a closer look:
Prep. To begin, set your oven to preheat to 350°F. Line a couple of baking sheets with parchment paper, and set them aside.
Make the Pumpkin Batter. In a large mixing bowl, whisk the brown sugar and oil together. Next, whisk in the pumpkin puree, followed by the eggs. Sprinkle the dry ingredients andd the vanilla over the pumpkin mixture, and whisk again until completely combined. Let the mixture stand for about 10 minutes, to thicken.
Bake. Using a spoon or a small cookie batter scoop, drop the dough onto the prepared baking sheets by heaping teaspoons, about 1 inch apart. Bake for 10-12 minutes, or until the cookies are just starting to crack on top and a toothpick inserted into the center of a cookie comes out clean. Remove them from the oven, and them cool completely on the pan while you make the filling. They will look more like mini cakes than cookies, so don't panic about that.
Make the Filling. Using an electric mixer fitted with the paddle attachment, beat the butter until it is smooth with no visible lumps. Add the cream cheese, and beat again. Then add the powdered sugar, maple syrup, and vanilla, and beat until smooth. Be careful not to over-beat the filling, or it will lose structure.
Assemble. Turn half the cooled cookies upside down, and pipe about a tablespoon of filling onto those halves. Top with the remaining cookies, flat side down. Press down slightly so that the filling spreads to the edges of the cookies. Chill the assembled whoopie pies in the refrigerator for about 30 minutes, to firm up, before serving.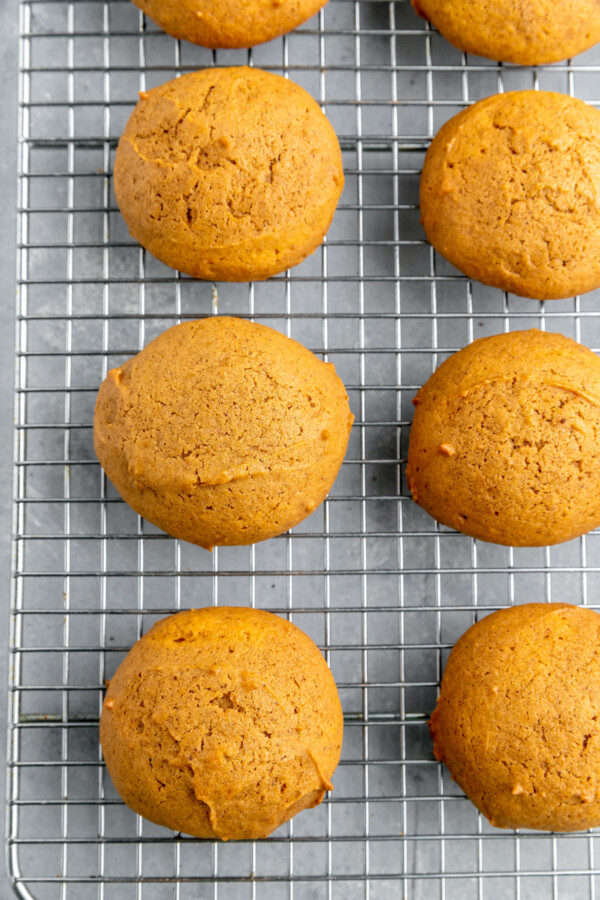 How to Make Whoopie Pies Rise
You may notice that your pies don't seem to rise very well. This can happen for a variety of reasons. It may be that you are overmixing your batter, or that your batter is too thin.
When your batter is too thin, it means that you did not proportion your ingredients correctly. This is important in a whoopie pie – so, to have the best chance of getting your pies to rise, be careful not to overmix and to measure well.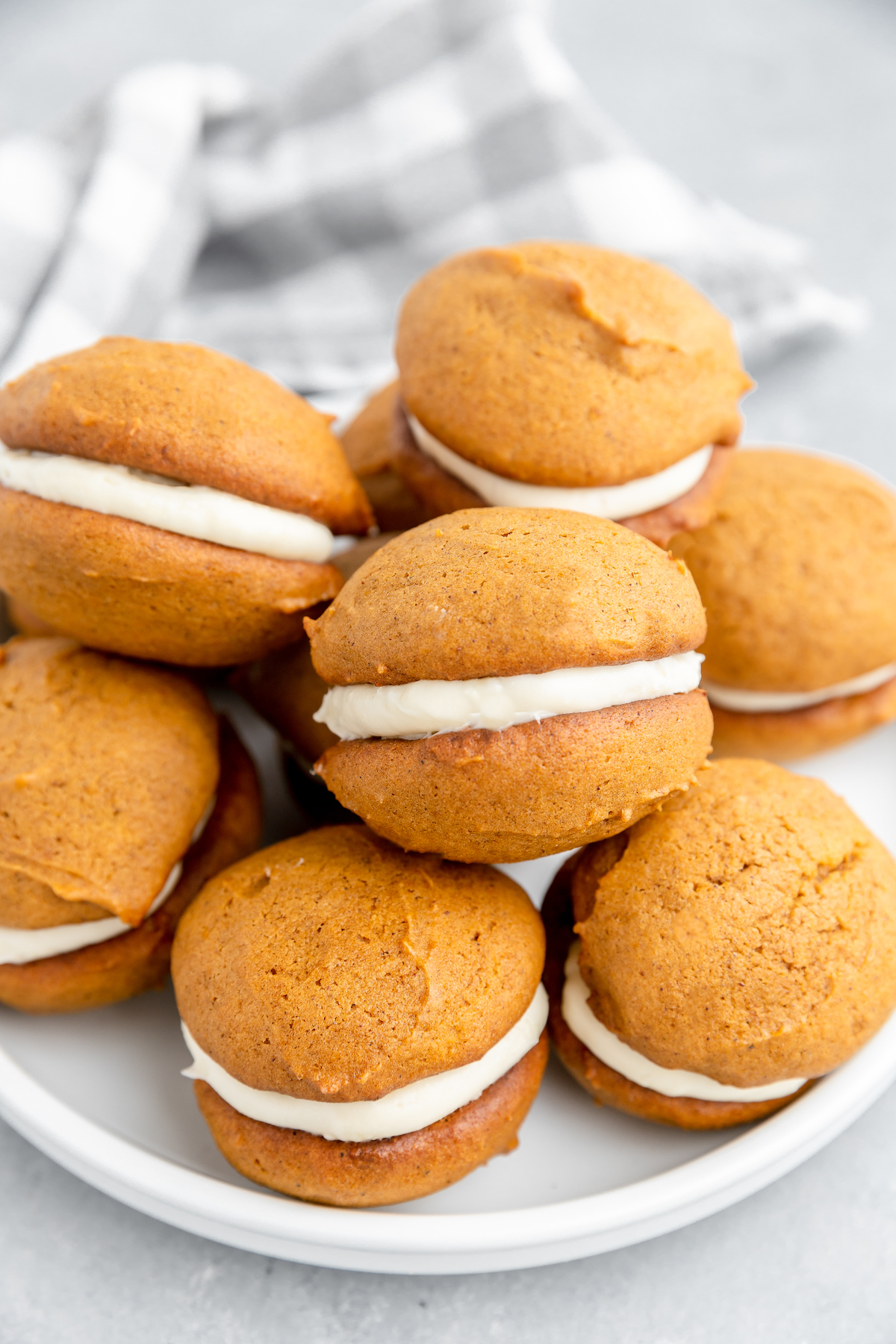 Tips for Success
My whoopie pies may be simple, but there are a few places you could make a mistake. Use these helpful tips to achieve success!
Spreading: To keep your whoopie pies from spreading and flattening when they bake, try chilling your batter for about 20 minutes before putting the whoopie pies in the oven.
Even Size: Try to keep all of your whoopie pies the same size, so that you don't end up with uneven pies.
Piping Bag: If you don't have a piping bag, you can use a plastic bag with a corner cut out of it. You may not be able to attach a tip to it, but it does the job!
Filling Variations: Feel free to change out your filling. Instead of using cream cheese frosting, you could use buttercream, marshmallow frosting, or whatever you like.
Melting Filling: To ensure that your filling doesn't melt when piped, make sure that your cookies are fully cooled first. Even a slightly warm whoopie pie can melt homemade frosting!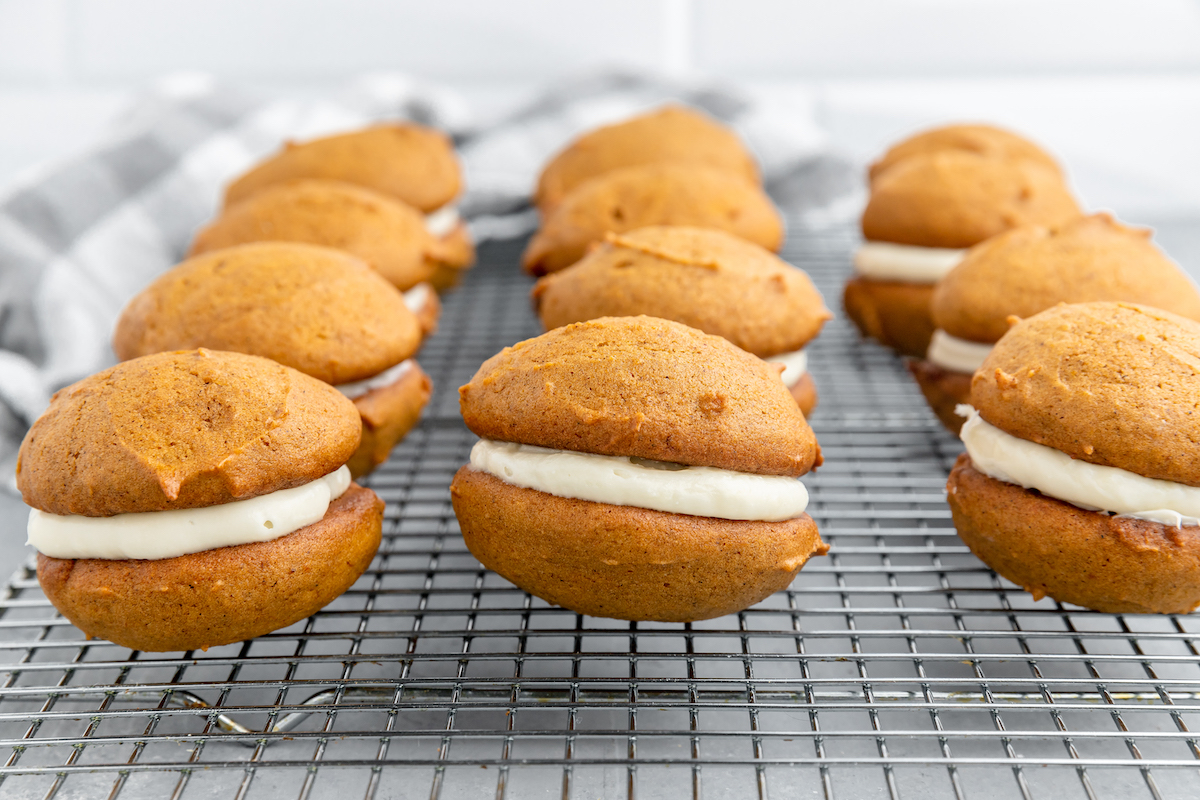 How to Store Whoopie Pies
For easy storage, keep your whoopie pies in an airtight container in the refrigerator, for up to 10 days.
Can I Freeze Whoopie Pies?
Yep! To freeze your whoopie pies, wrap them each individually in plastic wrap and then pack into freezer bags. Keep them in the freezer for up to 3 months. Thaw to room temperature before serving.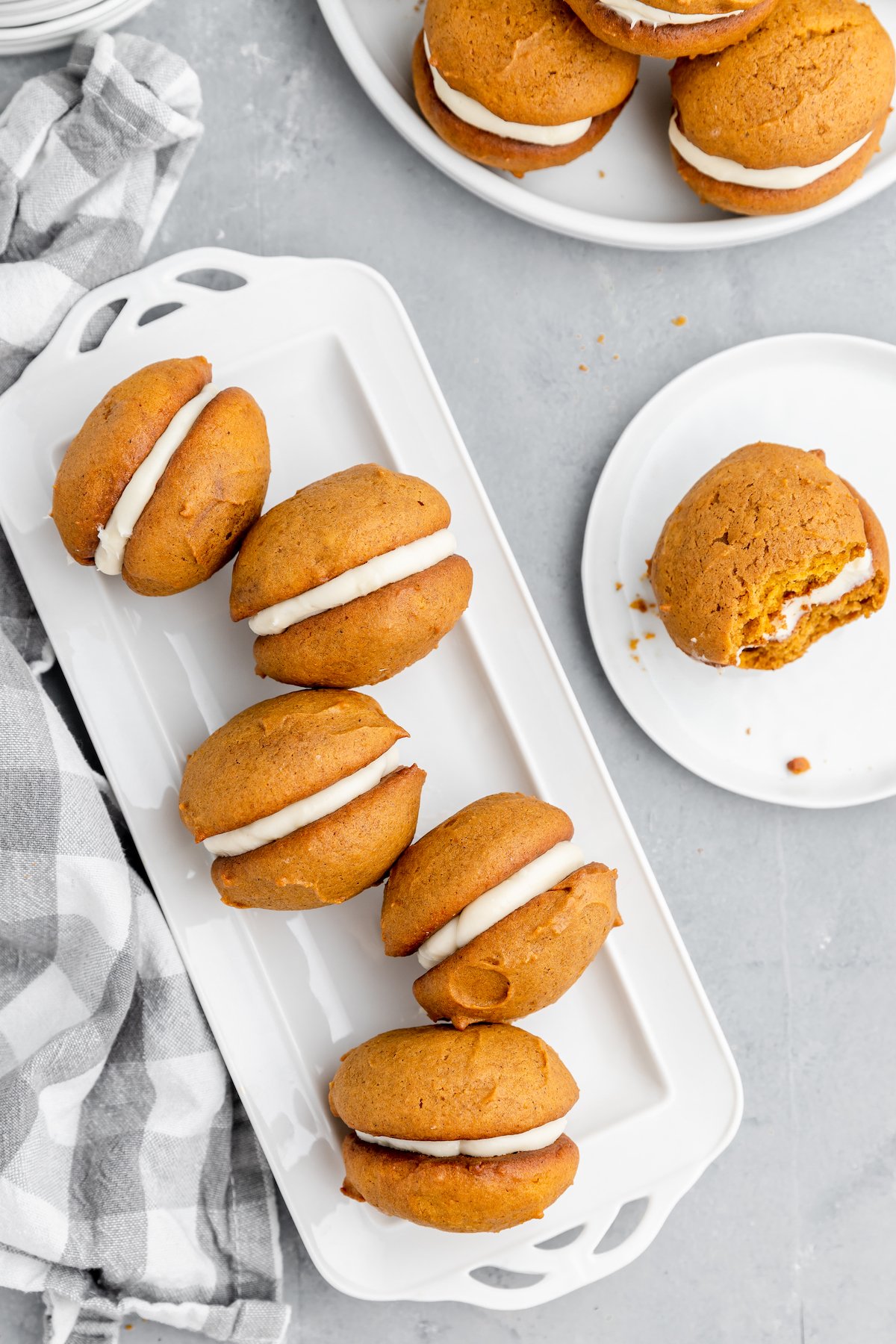 Pumpkin Whoopie Pies with Maple Cream Cheese Filling
Dreamy maple cream cheese filling is sandwiched between pillowy rounds of pumpkin cake in this perfect fall dessert. These Pumpkin Whoopie Pies might just be the best you'll ever eat!
Ingredients
For the Whoopie Pies
2

cups

brown sugar

1

cup

canola oil

1 ½

cups

chilled pumpkin puree

2

large eggs

3

cups

all-purpose flour

1

teaspoon

salt

1

teaspoon

baking soda

1

teaspoon

baking powder

2

tablespoons

cinnamon

1

teaspoon

ground ginger

½

teaspoon

ground nutmeg

1

teaspoon

vanilla extract
For the Cream Cheese Filling
3

cups

powdered sugar

½

cup

unsalted butter

,

at room temperature

8

ounces

cream cheese

,

at room temperature

3

tablespoons

maple syrup

1

teaspoon

vanilla
Instructions
Preheat the oven to 350°F. Line two large baking sheets with parchment paper, and set aside.

In a large bowl, mix together the brown sugar and oil. Add in the pumpkin puree and eggs. Beat until well combined.

Add the flour, salt, baking powder, baking soda, cinnamon, ginger, nutmeg, and vanilla to the pumpkin mixture. Mix well. Let the batter rest for 10 minutes to thicken slightly.

Using a spoon or small cookie batter scoop, place roughly 1 heaping teaspoon of batter evenly on the prepared baking sheets. Bake for 10 – 12 minutes in the preheated oven until the cookies start to slightly crack on the top. Let the cookies cool before assembling the whoopie pie sandwiches.

To prepare the filling, use an electric mixer or stand mixer with paddle attachment. Beat the butter until smooth, with no lumps remaining. Add the cream cheese and beat until combined. Add in the powdered sugar, vanilla, and maple syrup. Beat until just combined, making sure not to overmix.

To assemble: After the cookies have cooled, turn half of them upside down on the baking sheet. Fill a piping bag with cream cheese filing, and pipe 1 tablespoon of filling in the center of each upside-down cookie. Gently place the top half of each cookie on the filling. Gently press together, and chill until ready to serve.
Nutrition
Serving:
1
,
Calories:
336
kcal
,
Carbohydrates:
45
g
,
Protein:
3
g
,
Fat:
17
g
,
Saturated Fat:
5
g
,
Polyunsaturated Fat:
11
g
,
Cholesterol:
35
mg
,
Sodium:
203
mg
,
Fiber:
1
g
,
Sugar:
31
g
More Pumpkin Favorites
Looking for more amazing pumpkin recipes? Lucky for you I am pumpkin obsessed! Here are a few of my personal favorites:
This post may contain affiliate links. Read my disclosure policy.