This amazing Pumpkin Sour Cream Coffee Cake is a fluffy and moist pumpkin spice cake topped with a cinnamon crumb topping. It makes a perfect Fall breakfast coffee cake or dessert!
Pumpkin Coffee Cake
Coffee Cakes (also sometimes called Crumb Cakes) might be one of my favorite things in the world because you get to eat cake for breakfast. Seriously, what is better than cake served in the morning with coffee? I'll tell you what, nothing. Well, except when you make that cake pumpkin flavored, because then that is just a tiny bit better.
However, to be fair, this Pumpkin Sour Cream Coffee Cake is also amazing for dessert. Or snack. Or lunch. Or 1 am. It's literally delicious anytime you want to eat it. It just sits on the counter calling your name when you walk by.
This Pumpkin Coffee Cake starts off with a soft, fluffy, but still moist, spiced pumpkin cake. Then, on top of that cake, sits a thick layer of cinnamon crumb topping that bakes into the top of the cake. Each bite is better than the last and I promise you wont want to miss making this recipe! Let's get started!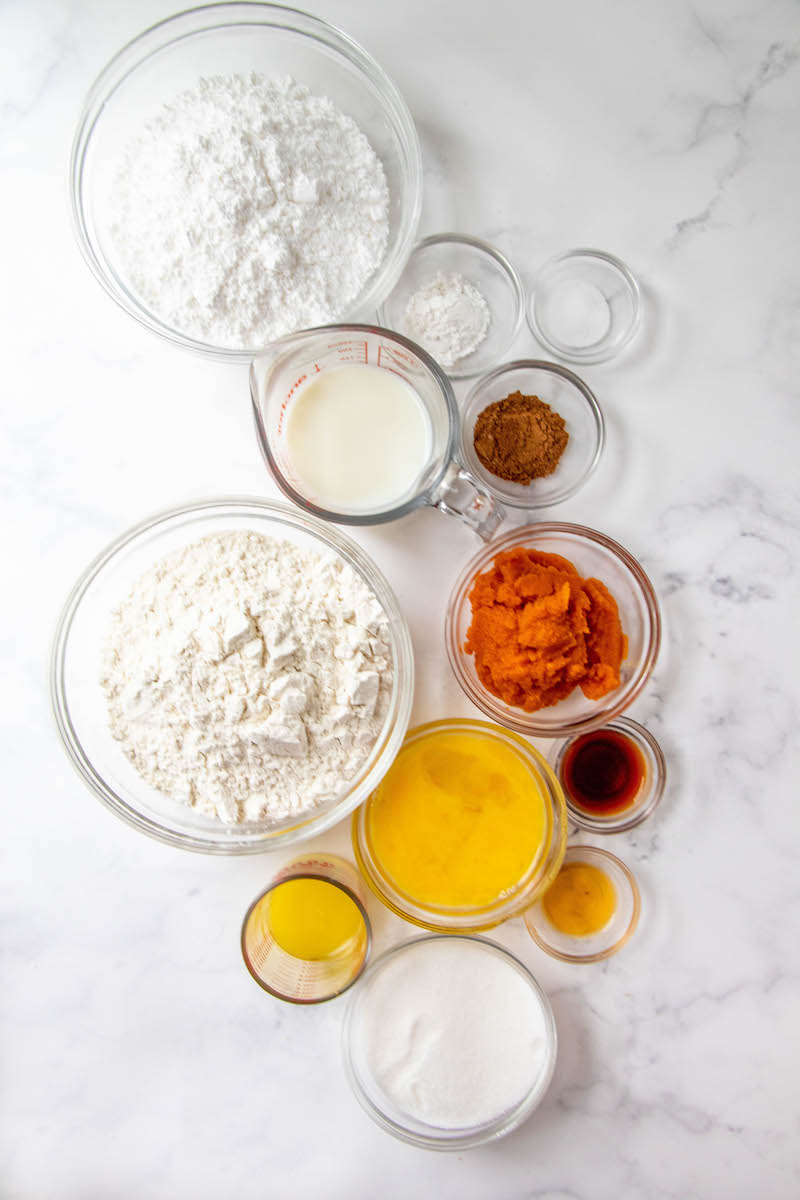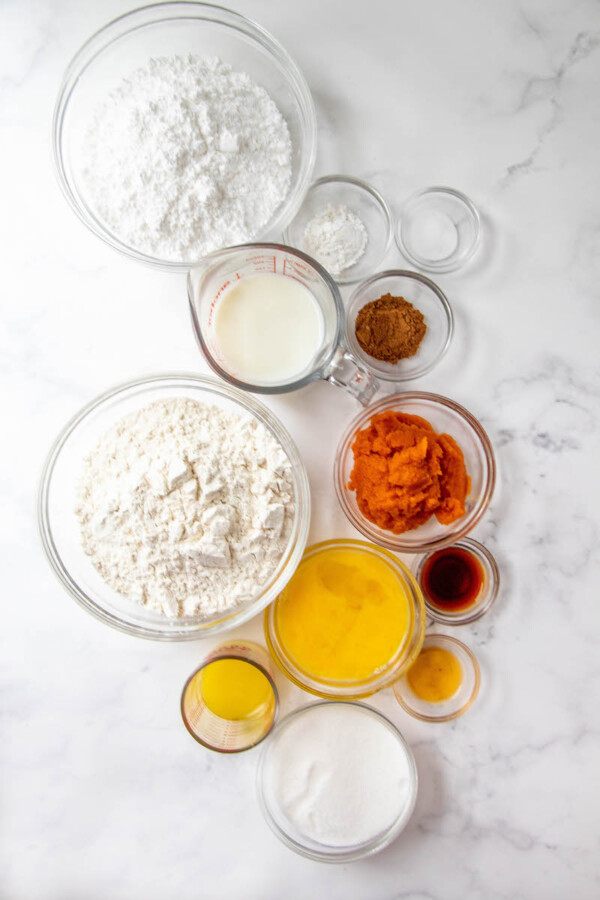 Ingredients
There are a few important ingredients needed for this pumpkin cake recipe to be a success. Like most pumpkin baking recipes, you want to use pure canned pumpkin puree — not pumpkin pie filling. This pumpkin cake recipe uses an entire 15 oz can of pumpkin, so no worries about wasting or having any leftovers!!
Streusel Topping
All-Purpose Flour
Granulated Sugar
Cinnamon
Butter: melted
Pumpkin Coffee Cake
All-Purpose Flour
Pumpkin Pie Spice
Baking Soda
Baking Powder
Salt
Butter: softened
Granulated Sugar
Eggs
Vanilla Extract
Canned Pumpkin: the one that is just pureed pumpkin, not pumpkin pie filling
Sour Cream
Whole Milk: you can also use buttermilk or even evaporated milk.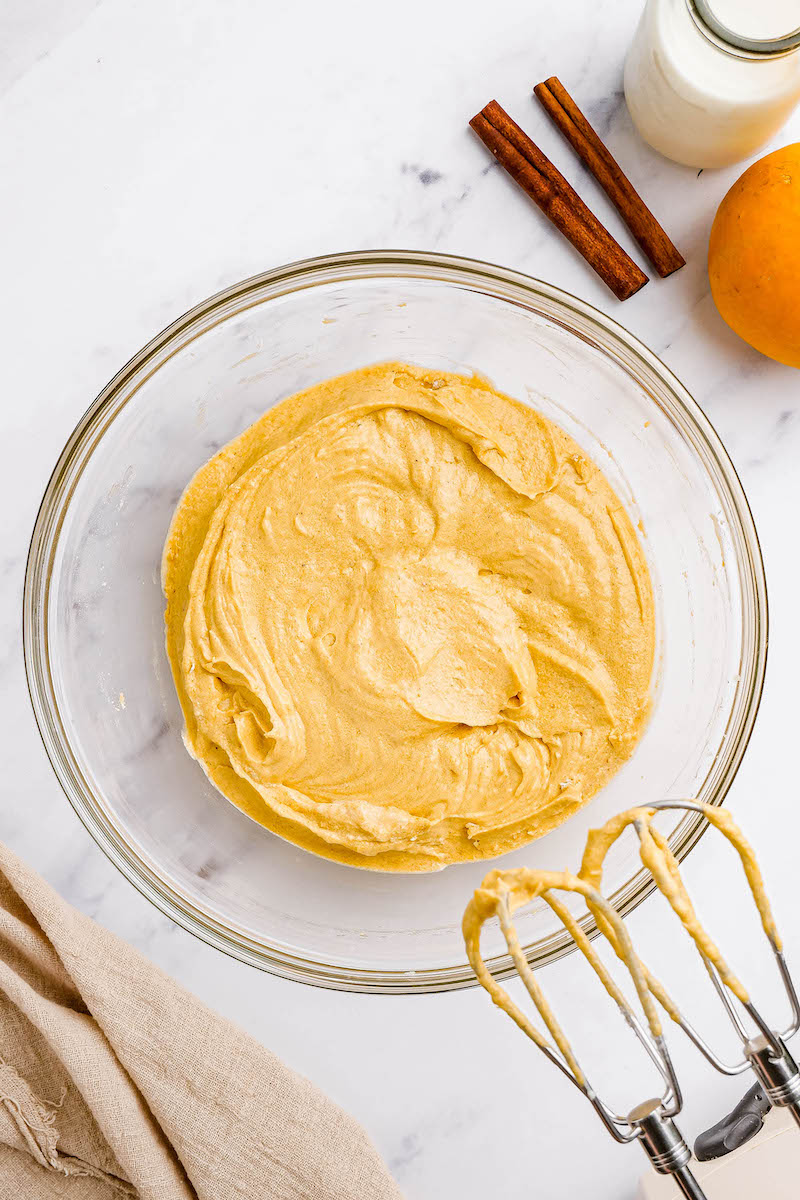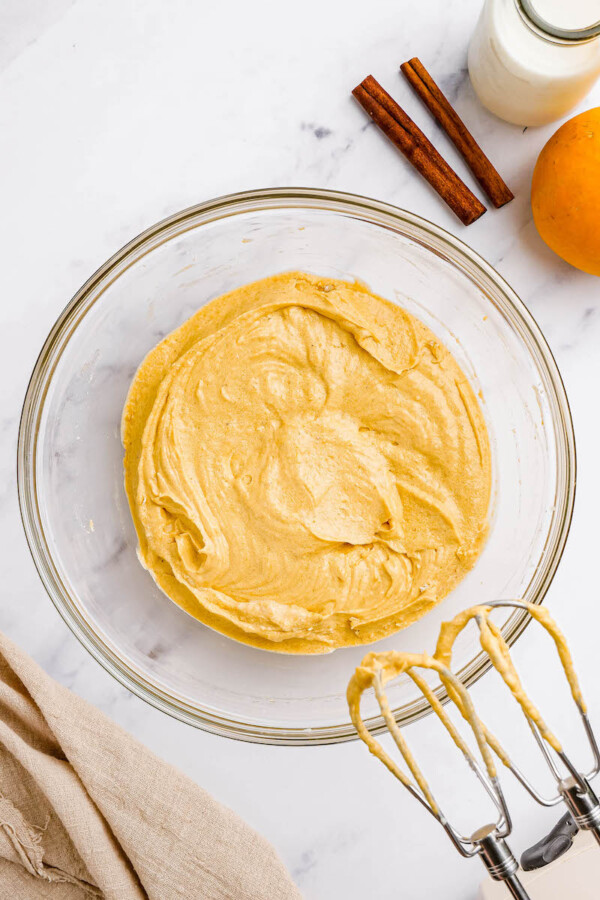 Tips For Pumpkin Sour Cream Coffee Cake
How To Keep Cake Moist: I like to use butter in this cake, but you can also use vegetable oil (or canola oil), combined with pumpkin, to keep the cake extra moist. However, you still have to make sure you do not over bake it. Keep an eye on your cake and make sure it doesn't over-bake.
Cinnamon Crumb Topping: If your topping happens to be browning quicker than the cake underneath can cook, top the cake lightly with a piece of tinted foil. This will keep your crumb topping from over baking and browning too much.
Pumpkin Pie Spice: I like to use pumpkin pie spice as it's a great combination of ground cinnamon, nutmeg, ginger, cloves and allspice to flavor my pumpkin cake. I also included a homemade recipe below for homemade pumpkin spice! However, you can substitute it with plain cinnamon if that is what you have on hand.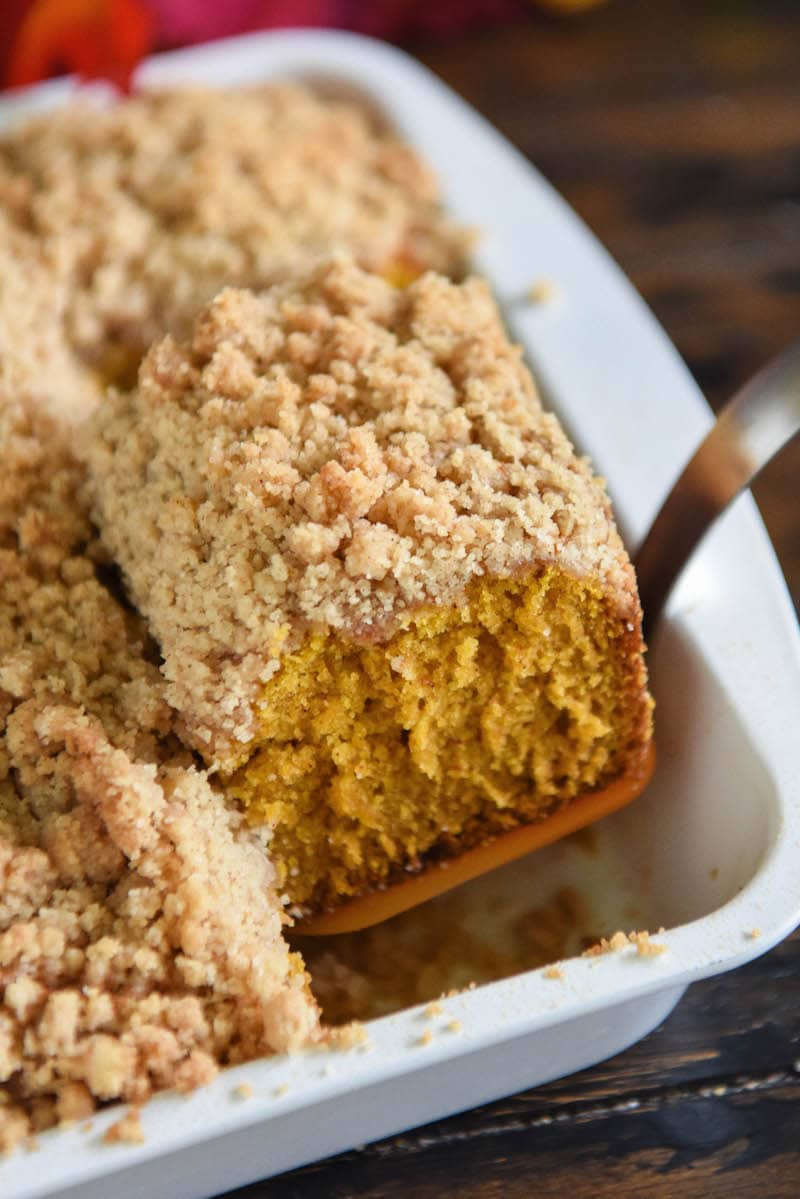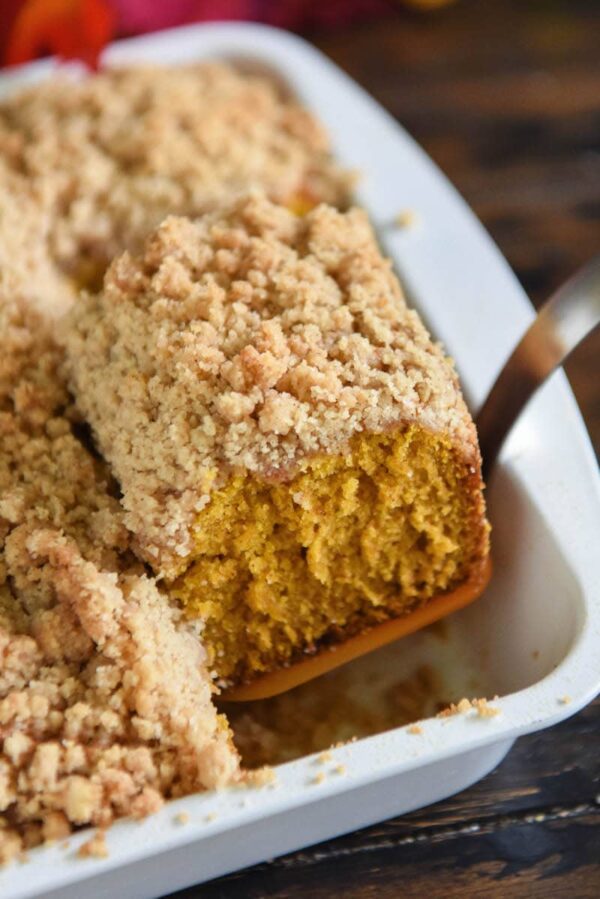 Pumpkin Pie Spice vs Cinnamon?
You can use pumpkin pie spice or just cinnamon in this recipe. Either way is delicious! If you do not have Pumpkin Spice on hand, but would like to make it, below is a simple recipe:
DIY Pumpkin Pie Spice
4 teaspoons ground cinnamon
2 teaspoons ground ginger
1 teaspoon ground cloves
1/2 teaspoon ground nutmeg
1/2 teaspoon ground allspice
Mix all ingredients together. This recipe will make a little over 2 tablespoons of pumpkin pie spice.
You can double or triple the recipe and save it for any other wonderful Fall recipes or even sprinkle it over your morning coffee!
Can I Use Something Other Than Pumpkin?
If you are not a pumpkin fan, this cake would also be amazing made with a butternut squash puree or a sweet potato puree. As long as they have the same texture as canned 100% pumpkin puree (not pumpkin pie filling!) it will work just fine.
Sometimes homemade squash style purees are not as thick canned pumpkin and sadly they will be too much liquid when added to this cake. If this happens to you, try squeezing your puree with cheesecloth to remove some of the excess liquid.
More Reader Favorite Pumpkin Desserts
Pumpkin tends to be a favorite every year around these parts! I have spent almost 14 years now making epic pumpkin desserts for all of you! Here are a few of the crowd favorites: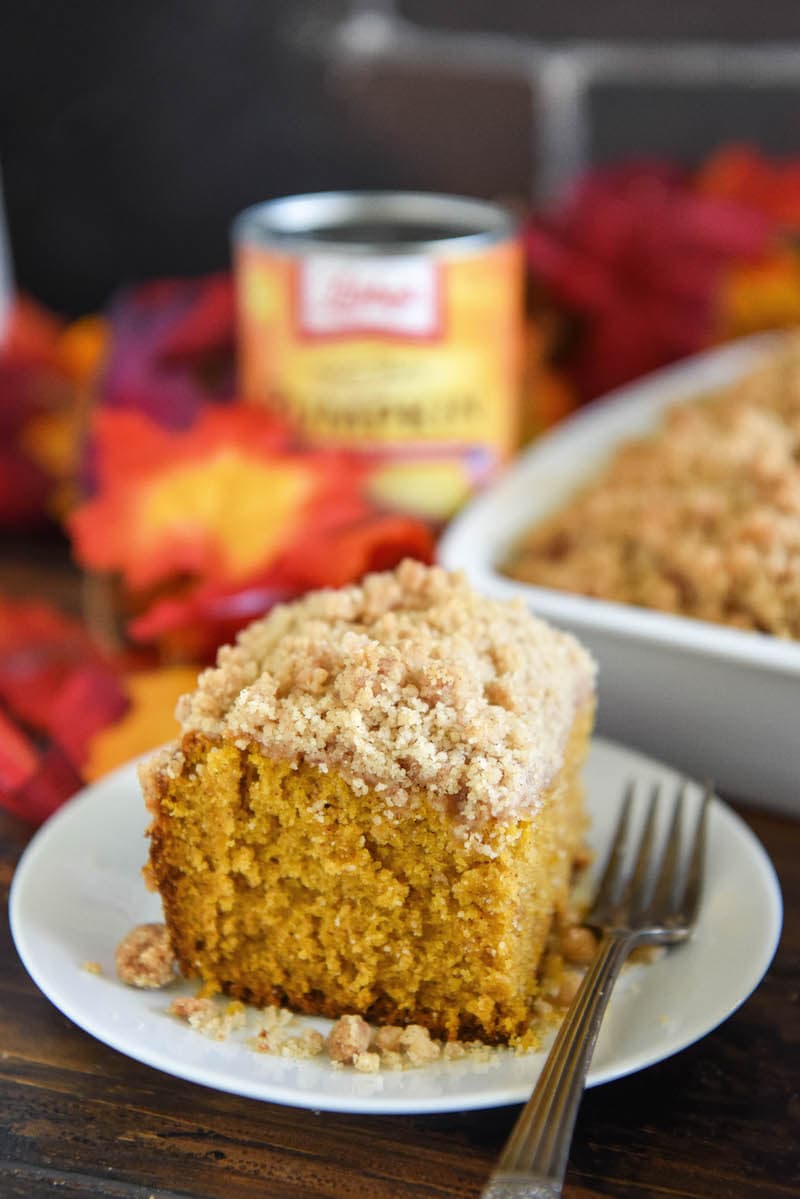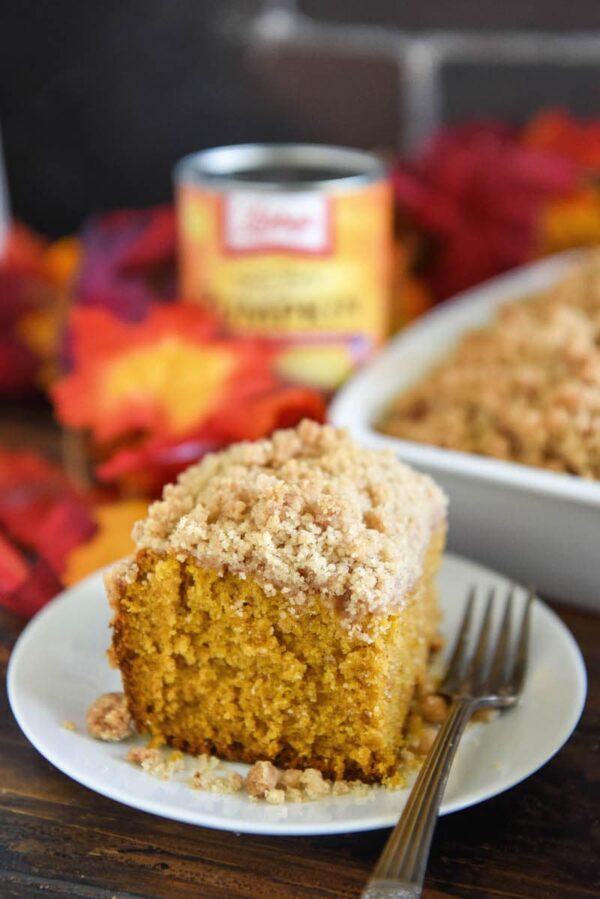 This Pumpkin Sour Cream Coffee Cake is one of my favorite fall time desserts and I am asked every year to share this recipe when I make it for friends. It's a wonderful cake to serve any time of day, but boy do I love it for breakfast with a cup of coffee.
Head on over to Dixie Crystals to get the full recipe I developed for them by clicking the button below:
This post may contain affiliate links. Read my disclosure policy.