This easy Pumpkin Sheet Cake is made in a sheet pan and coated with a creamy cinnamon cream cheese frosting that melts into the cake as it cools. A tender pumpkin cake recipe that's ready in 30 minutes and perfect for fall baking!
Fluffy Pumpkin Sheet Cake Recipe
This irresistibly moist yet fluffy pumpkin sheet cake quite literally "takes the cake" as my favorite pumpkin cake recipe! Just when I thought nothing could rival the marvelous flavor and texture of this pumpkin cake, I fell head-over-apron for this quick and easy sheet cake recipe that's packed full of pumpkin and spices, and absolutely delicious. Best of all, it's ready in 30 minutes or less!
Inspired by classic Texas sheet cake, this homemade cake is made in a sheet pan and calls for savory pumpkin in place of chocolate cake and a rich, cinnamon cream cheese frosting in lieu of chocolate icing. The resulting cake is simply heavenly and perfect for fall gatherings – in flavor and in size!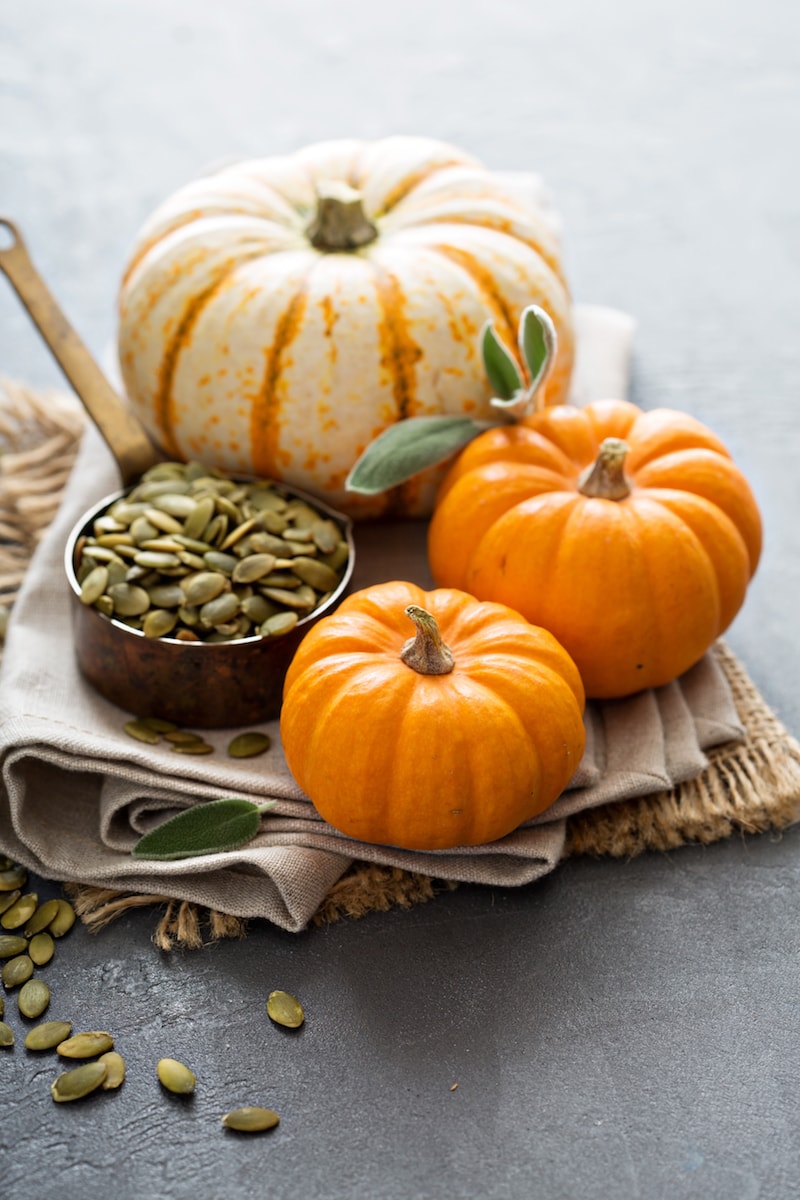 What You'll Need
The great pumpkin and spice flavors of this cake come together with a list of common ingredients (many overlap between the cake and the frosting!). Here's what you'll need to make this Pumpkin Sheet Cake with Cinnamon Frosting:
Pumpkin Puree: Either canned or freshly pureed pumpkin. Along with pumpkin flavor, the puree gives the cake crumb a rich, moist texture.
Flour: All-purpose flour (as opposed to cake flour) works best with a thick and wet batter like this one.
Pumpkin Pie Spice: Use premixed Pumpkin Pie Spice from your local supermarket, or make your own using the instructions in the "Tips" section!
Butter: For the cake and for the frosting. Use unsalted, melted butter for the batter, and softened butter for the frosting.
Milk: Whole milk does the trick, or use a dairy-free alternative. Whichever milk you choose for the cake, you'll need it for the frosting as well!
Sugar: Keep the batter simple with granulated sugar, or use brown sugar for some extra depth of flavor!
Eggs: You'll need 2 large eggs for this recipe.
Vanilla: Pure vanilla extract almost always offers the best flavor when baking. You'll also need vanilla for the sweet, flavorful cinnamon frosting!
Cream Cheese: For the cream cheese frosting. The perfect pairing for pumpkin spice!
Cinnamon: The star ingredient in the frosting, alongside cream cheese; use fresh or pre-ground cinnamon for a hit of warmth and spice.
Powdered Sugar: Confectioners' sugar gives the frosting an irresistible, melt-in-your-mouth texture.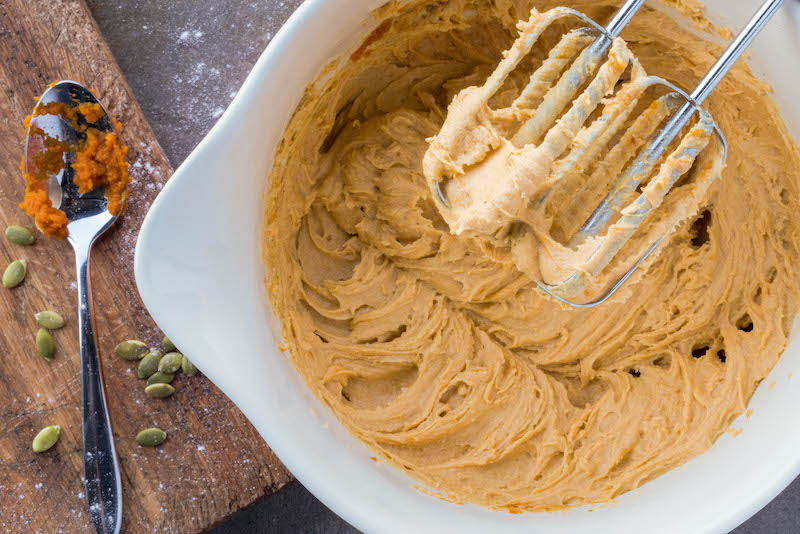 How to Make a Pumpkin Sheet Cake
The key to a sheet cake is the large, shallow pan. Like my White Texas Almond Sheet Cake and Chocolate and Peanut Butter Sheet Cake, one cake can serve a large number of friends and family, making these cakes the best for parties, potlucks, and sharing! Not to mention, this single-layer cake is incredibly easy to make — no assembly required! Here's how you do it:
Prep the Sheet Pan: While your oven is preheating, grease a large sheet pan with a light coating of butter or cooking spray. I prefer to use a 13 x 18 inch jelly roll pan (also known as a baker's half-sheet) for a thin, moist cake with the perfect frosting-to-cake ratio! You can use a 9 x 13 inch pan in a pinch, bearing in mind that the cake's cooking time will increase to about 35 minutes.
Cream the Butter: In the microwave, melt the butter in short 10-15 second bursts. Whisk the melted butter together with the milk, pumpkin puree and sugar. In the same bowl, add in the eggs and vanilla extract and whisk until combined.
Combine the Dry Ingredients: Add the flour, baking soda, pumpkin pie spice and salt to the bowl with the batter. Combine these gradually and make sure everything is fully incorporated.
Bake: Spread the batter evenly into your prepared jelly roll pan. Bake until a toothpick inserted in the center comes out clean, about 20 minutes. This leaves plenty of time to whisk together the cream cheese frosting!
Make the Cinnamon Cream Cheese Frosting: Cream together the softened butter and cream cheese until it makes a smooth mixture. Slowly beat in the milk, vanilla extract and cinnamon until everything is combined. Finally, whisk in the powdered sugar. Turn the beater up to high and mix until the frosting is light and smooth! 
About this time is when the whole kitchen starts to fill with the warm smell of fall spices. Freshly baked pumpkin cake is one of my family's favorite smells and just divine!
Frost the Cake. Remove the sheet cake from the oven and spread the cinnamon frosting over the top while the cake is still warm. The frosting will melt into the cake as it cools – giving the cake the most finger-licking, crumbly soft taste and texture!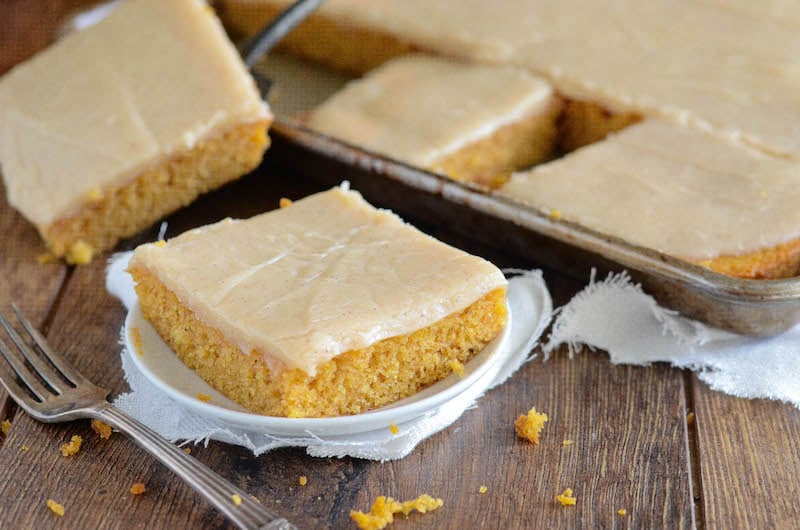 Tips for Success
Keep Refrigerated: Refrigerate the cake until you're ready to serve. Before slicing, allow the cake to warm up on the counter for 10 minutes or so. 
Make Your Own Pumpkin Pie Spice: You can buy a premixed spice, or easily make your own! Combine 1 part each of the ground spices that make up the store bought version: cinnamon, ginger, nutmeg, cloves, and allspice.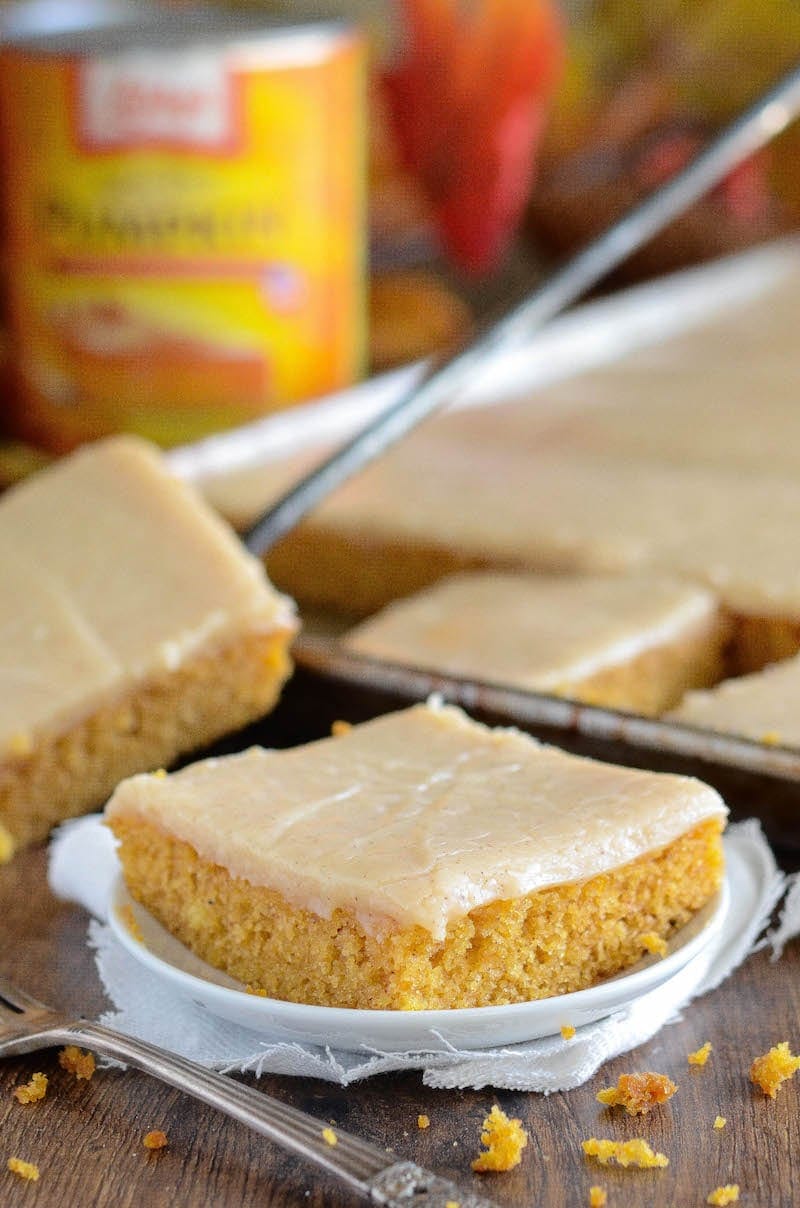 How to Store a Frosted Cake
Sheet cake travels wonderfully, which is just one more reason why this is the ideal cake for gatherings. You can leave the cake in the sheet pan for transporting and serving!
If you have cake leftover, these slices can be stored in an air-tight container for 2-3 days. I recommend keeping the cake in the fridge for the freshest, longest-lasting results.
More Pumpkin Desserts to Try
Can't get enough pumpkin this season? Here are more pumpkin recipes that you and your family are sure to love!
Pumpkin Sheet Cake with Cinnamon Frosting
This irresistible homemade Pumpkin Sheet Cake topped with tangy Cinnamon Cream Cheese Frosting is bursting with flavor and easy to make for fall!
Ingredients
Pumpkin Sheet Cake:
1

cup

2 sticks unsalted butter, melted

1

cup

milk

½

cup

pureed plain pumpkin

,

canned plain pumpkin

2

cups

granulated sugar

2

large eggs

1

teaspoon

vanilla extract

2

cups

all purpose flour

1

teaspoon

baking soda

1 ½

teaspoons

pumpkin pie spice

½

teaspoon

salt
Cinnamon Cream Cheese Frosting:
½

cup

1 stick unsalted butter, softened

8

oz

cream cheese

,

softened

⅓

cup

milk

1

teaspoon

vanilla extract

1

teaspoon

cinnamon

5 ½

cups

powdered sugar
Instructions
Preheat oven to 350°F. Grease a 13 x 18 jelly roll pan with butter or spray with Baker's Joy.

In a large bowl, whisk together melted butter, milk, pumpkin and sugar. Whisk in eggs and vanilla extract. Then whisk in flour, baking soda, pumpkin pie spice and salt.

Pour batter into prepared jelly roll pan and bake for 20 minutes, or until a toothpick inserted in the center comes out clean.
Cinnamon Cream Cheese Frosting:
In a large bowl cream butter and cream cheese until smooth. Beat in milk, vanilla extract and cinnamon on low speed until combined.

Then whisk in powered sugar – beating on high until frosting is smooth. Spread frosting on top of cake.

Refrigerate cake until ready to serve, and let cake rest on counter for 10 minutes before serving to let it warm up just a little.
Nutrition
Serving:
1
,
Calories:
409
kcal
,
Carbohydrates:
82
g
,
Protein:
4
g
,
Fat:
8
g
,
Saturated Fat:
4
g
,
Polyunsaturated Fat:
3
g
,
Cholesterol:
45
mg
,
Sodium:
233
mg
,
Fiber:
1
g
,
Sugar:
67
g
Categories:
This post may contain affiliate links. Read my disclosure policy.