Pumpkin Dream Cake
Pumpkin Dream Cake: three big layers of super moist pumpkin spiced cake, made completely from scratch, frosted with a sweet cinnamon maple cream cheese icing!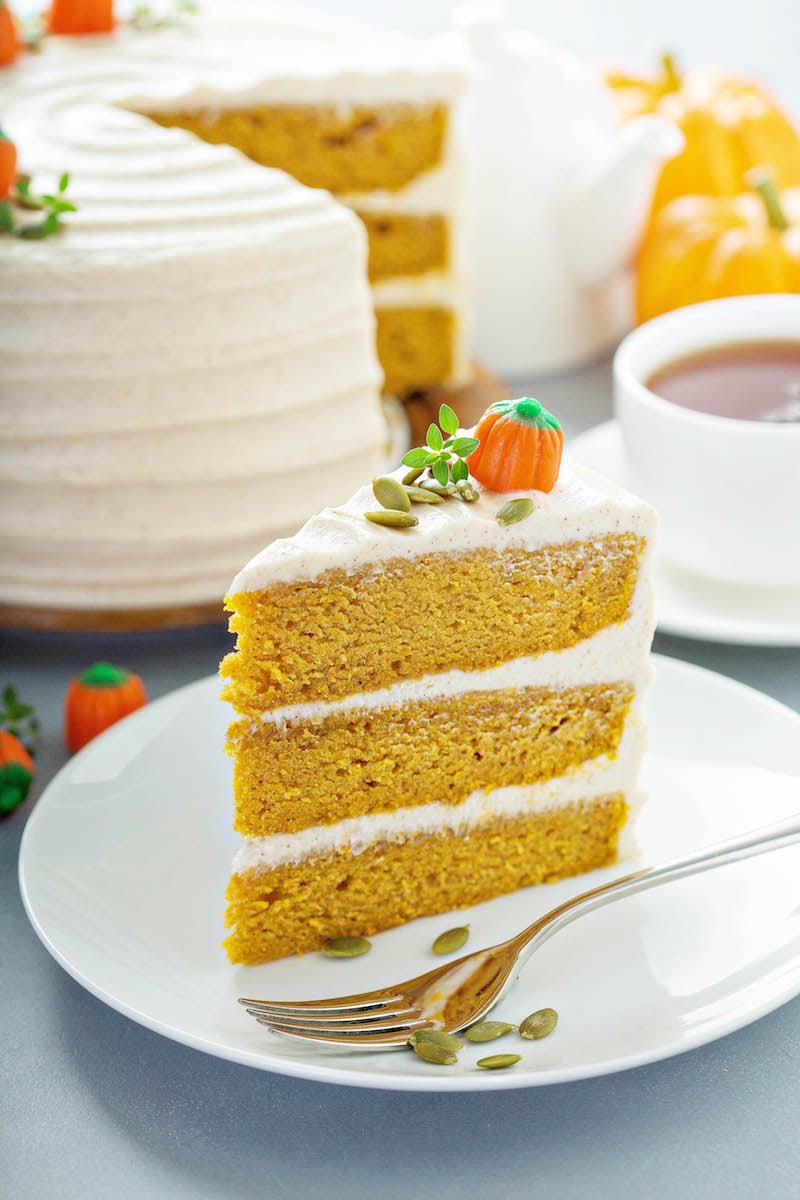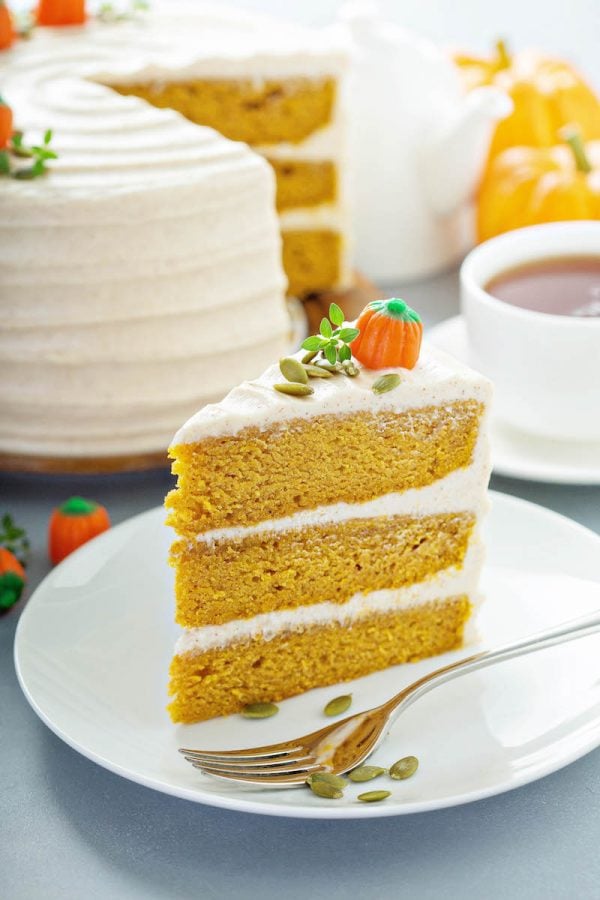 This gorgeously stacked cake is the BEST PUMPKIN CAKE YOU WILL EVER EAT.
That is why it is rightly named Pumpkin Dream Cake. It's totally a dream of a cake.
This is an old tried and true recipe — just read all the comments or photo reviews on pinterest.
But it's been six years, so I figured it was time for a little tune up. We have some new photos and a recipe video!
I promise I haven't changed a thing to the recipe! It's just as perfect as it always was.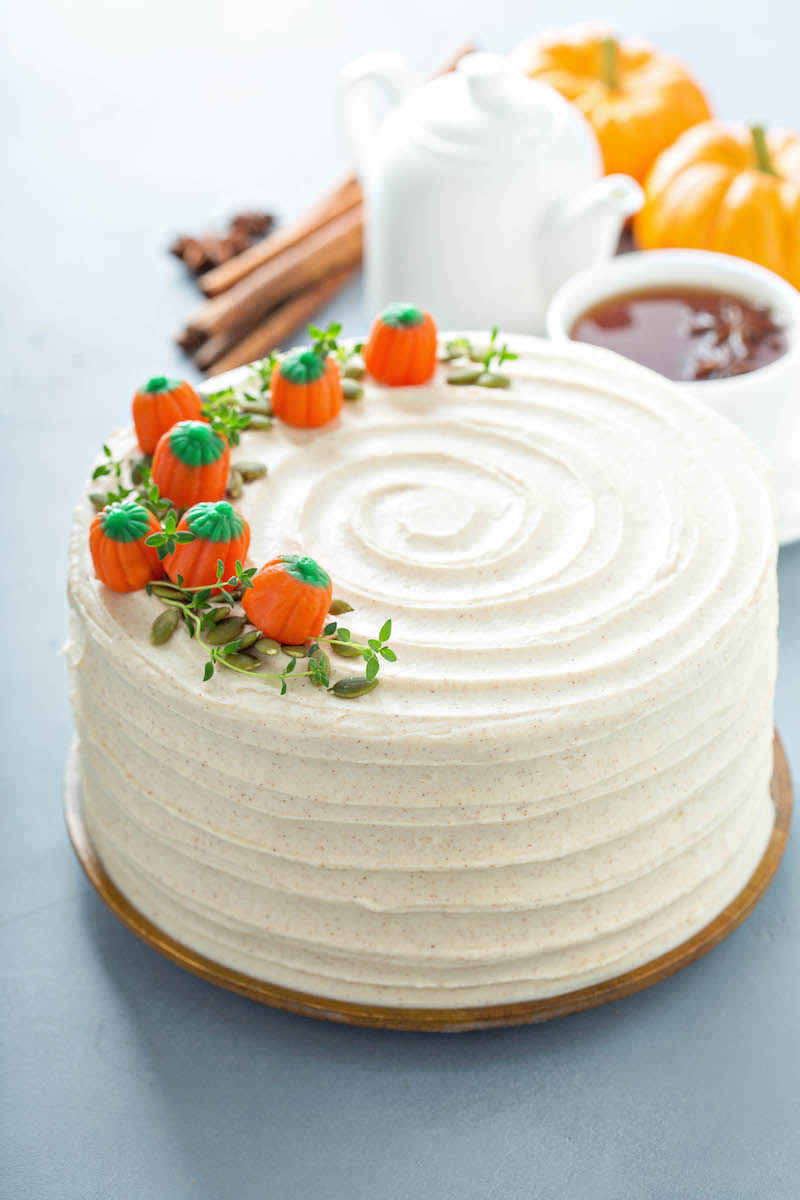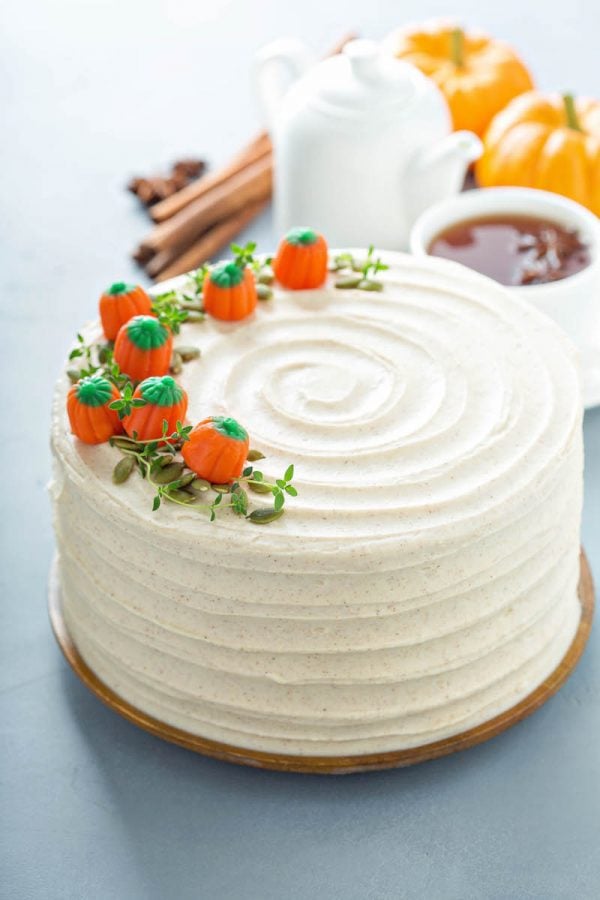 If you are new to the blog, this cake is one of the best rated recipes I have ever shared.
This Pumpkin Dream Cake and my favorite Pumpkin Cream Cheese Swirl Muffins are my number one recipes for the Fall months, every single year.
Everyone comes back and makes it year after year for their families and that is the greatest compliment I could receive.
I love that all of you love pumpkin everything just as much as I do. It reaffirms that you are my people. 😉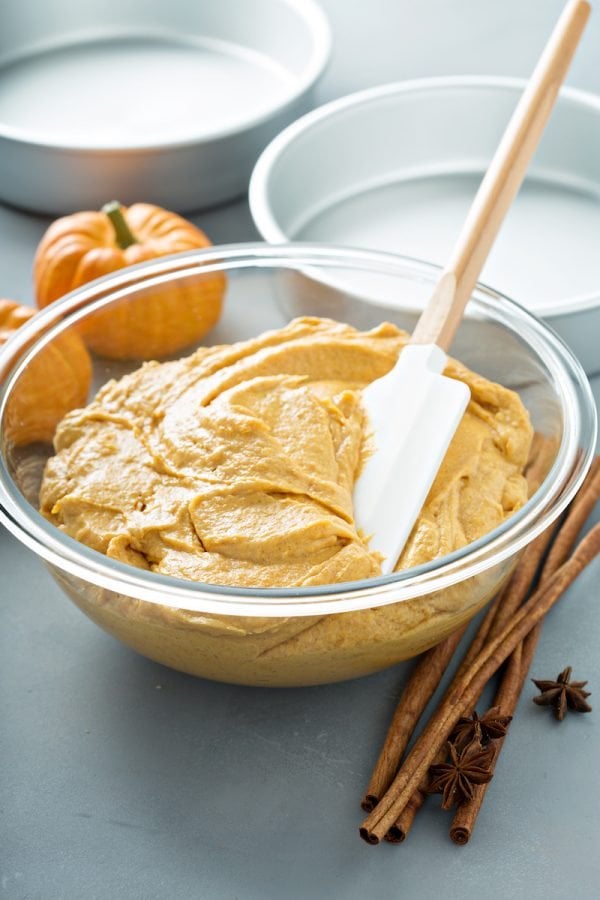 If you are new around here, you must be wondering what a Dream Cake is.
A Dream Cake is a gorgeous layered cake, that is super moist, and so dang good it's truly dreamy.
You check out all the other Dream Cakes from years past, but I have to admit the Pumpkin Dream Cake is my all time personal favorite, because PUMPKIN.
However, I have two that tie for second place in my heart: the Banana Dream Cake and the Chocolate Peanut Butter Dream Cake.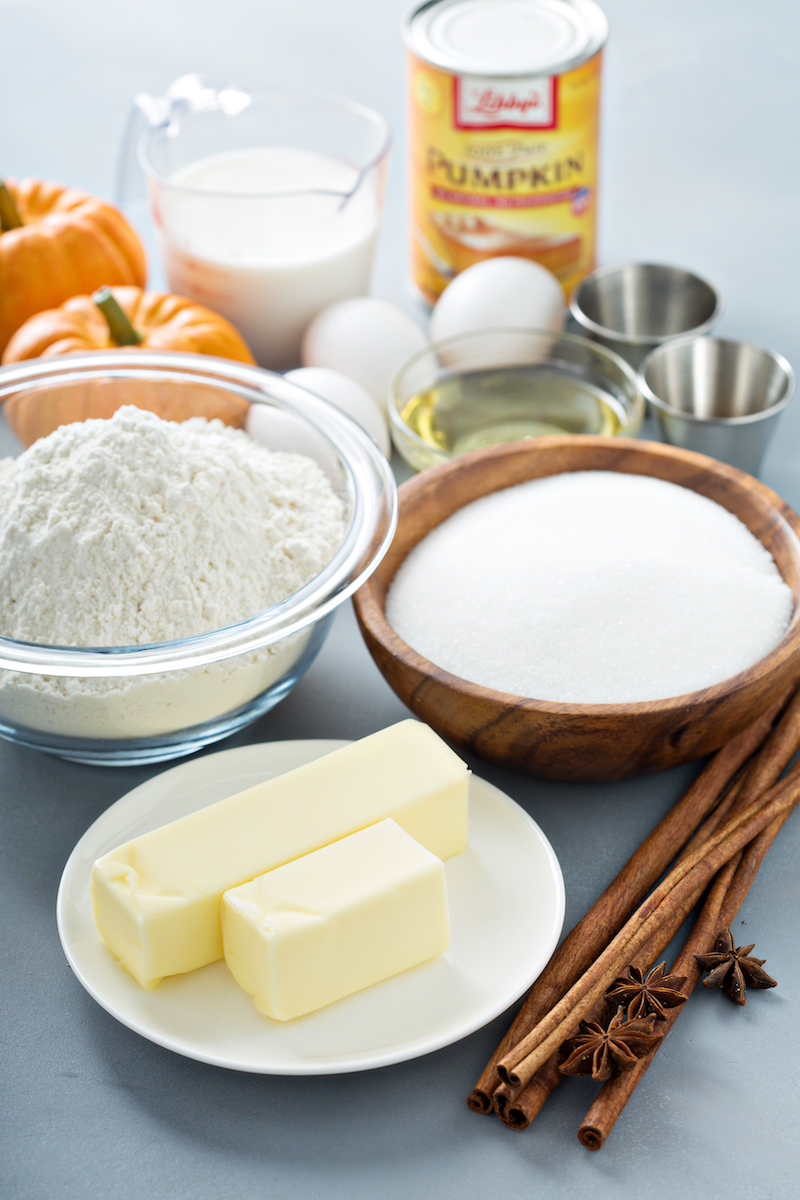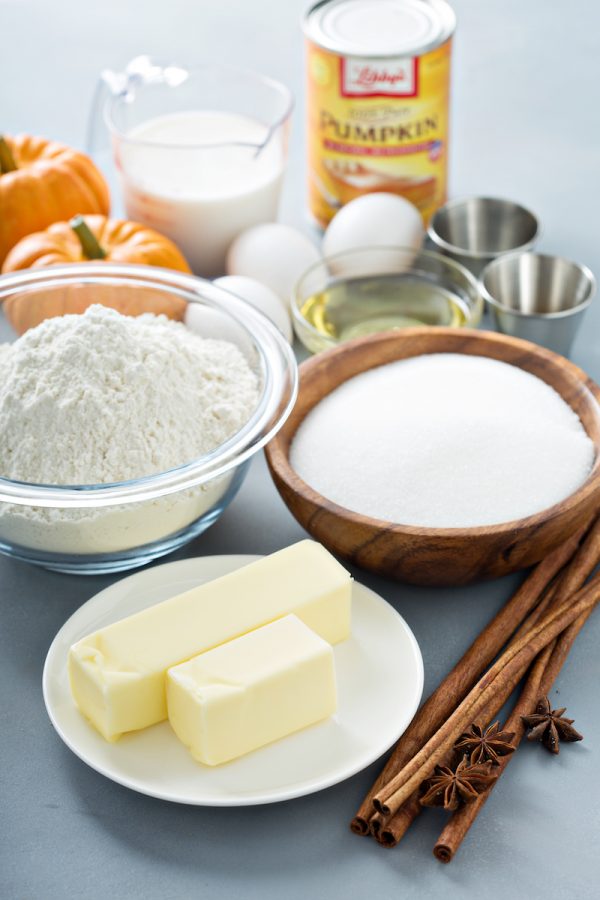 For this Pumpkin Dream Cake, you start with a delectably moist pumpkin spice cake made from scratch.
It uses an entire 15 oz can of pumpkin, so no worries about wasting or having any leftovers!!
Then we keep it extra moist by adding both butter and oil to the cake batter.
I use pumpkin spice in my cake, but you can use plain cinnamon as well if you prefer or if that's all you have on hand.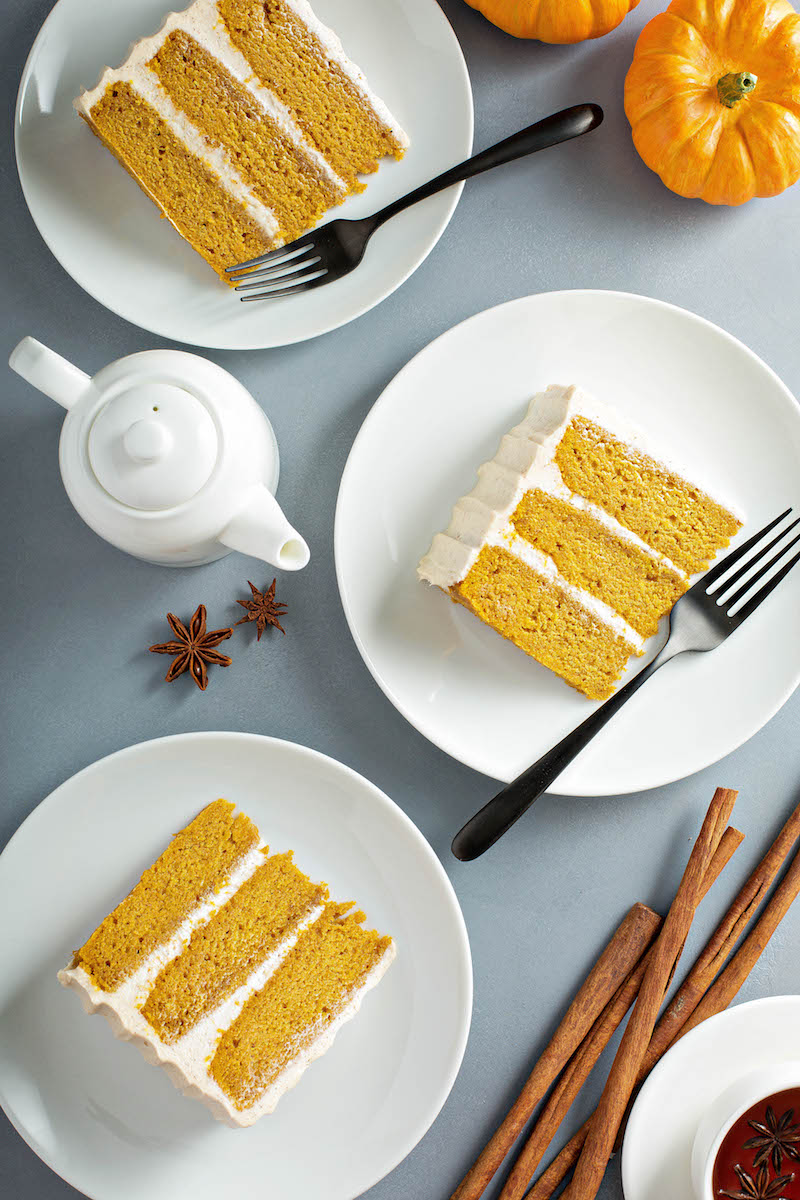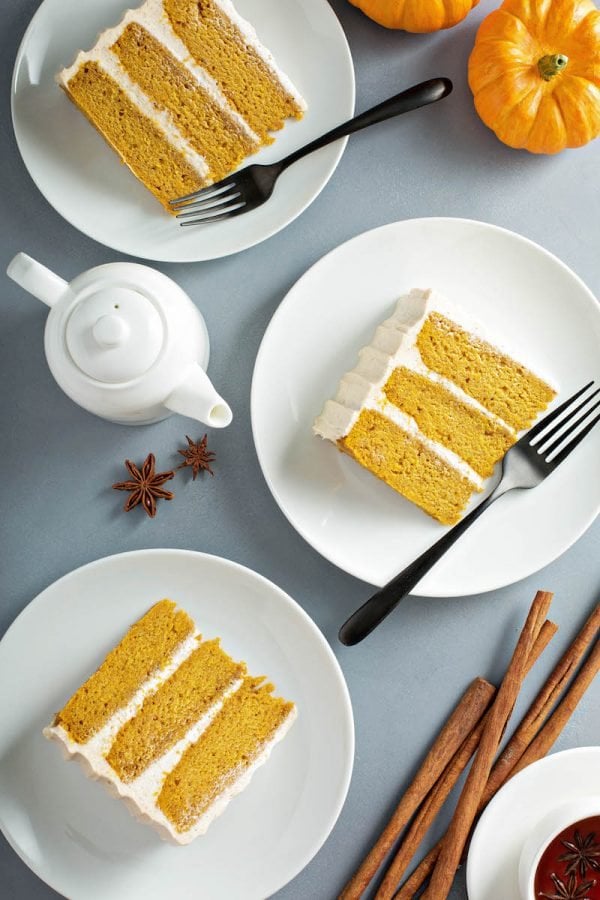 For the frosting, you whip up a quick cream cheese icing that is flavored with cinnamon, real maple syrup and vanilla extract.
Then you generously coat each thick layer with this cinnamon cream cheese frosting that is just so dang creamy.
When you put the cake all together, it is seriously the best pumpkin cake recipe EVER. I swear.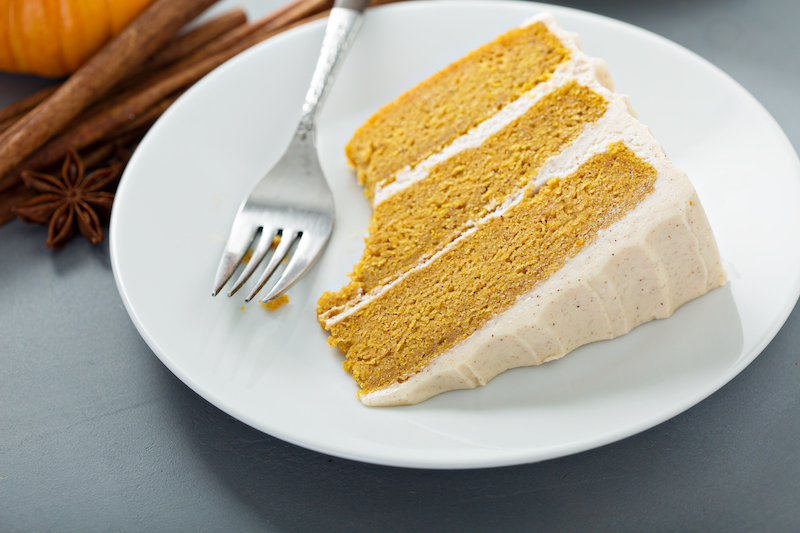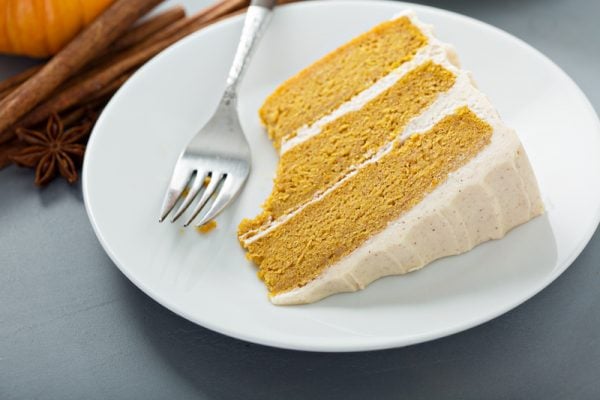 I love this cake so much that I have even made it into cupcakes: Pumpkin Maple Cupcakes with Cinnamon Cream Cheese Frosting!
It's always a common question – can I make this as cupcakes?? So I did it for you!
However, I will tell you, I personally love the layer dream cake better still. It stays much more moist!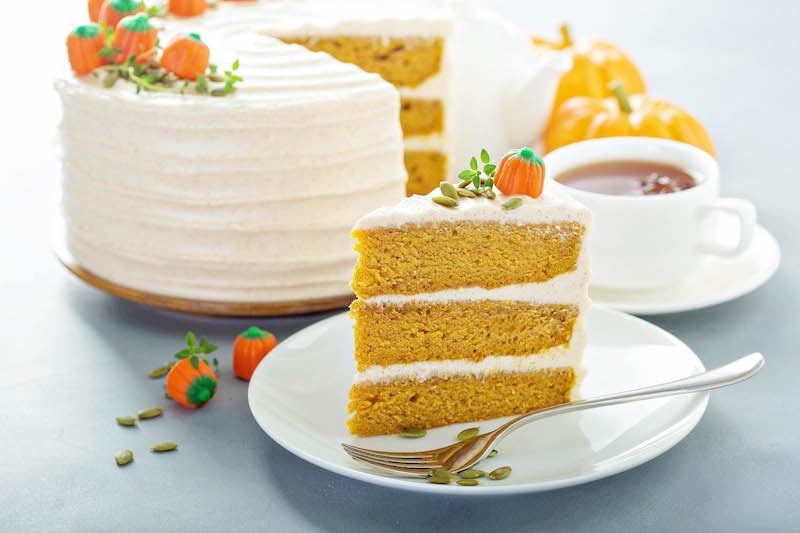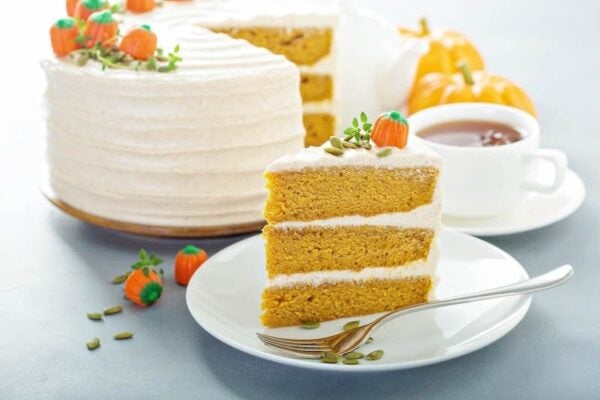 To decorate the cake like shown in the photos, you just use a little fresh time, pumpkin seeds and candy pumpkins!
A cake turntable, off set spatula and decorating comb can help speed up the process. I bought mine from amazon: cake decorating set.
This Pumpkin Dream Cake has three big gorgeous layers of super moist pumpkin spiced cake, made completely from scratch.
Then we frost it with a sweet cinnamon maple cream cheese icing to create the BEST PUMPKIN CAKE EVER.
I promise everyone is going to LOVE it and beg for the recipe!
Pumpkin Dream Cake with Cinnamon Maple Cream Cheese Frosting
Pumpkin Dream Cake: three big layers of super moist pumpkin spiced cake, made completely from scratch, frosted with a sweet cinnamon maple cream cheese icing!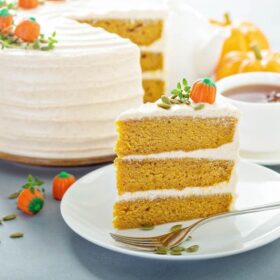 Ingredients:
3 cups all-purpose flour
1 tablespoon pumpkin pie spice (optional)
1 1/2 teaspoons baking soda
1/2 teaspoon salt
3/4 cup unsalted butter, softened
2 cups granulated sugar
3 large eggs
1 tablespoon vanilla extract
1 (15 oz) can pumpkin
1/4 cup vegetable oil
1 cup milk
12 oz (1 1/2 packages) cream cheese, softened
3/4 cup unsalted butter, softened
3 tablespoons pure maple syrup
2 teaspoons vanilla extract
2 teaspoons cinnamon
6 cups powdered sugar
Directions:
Preheat oven to 300°F. Grease 3, 8-inch round cake pans. Set aside.
In a medium bowl, mix flour, pumpkin pie spice, baking soda and salt. Set aside.
In a large bowl/stand mixer, cream butter and sugar until light and fluffy. Beat in the eggs one at a time, then stir in vanilla, pumpkin and vegetable oil. Beat in the flour mixture alternately with the milk.
Divide batter evenly into prepared pans. Bake for 35-40 minutes, or until a toothpick inserted into the center of the cake comes out clean.
Remove pans from oven and place in freezer for 45 minutes to cool. (UPDATE: Through more testing… You do not have to do this step, it is optional. You can let the cakes cool completely at regular room temperature with no issues. The original freezer method was designed to keep the cake moist by immediately stopping the baking process. And it DOES work, but the cake is just as amazing when cooled at room temperature. Do whichever you find easier.)
For the frosting: In a large bowl, cream butter and cream cheese until smooth. Beat in maple syrup, vanilla and cinnamon. Add confectioners' sugar and beat on low speed until combined, then on high until frosting is smooth.
Assemble the 3 layers with a thick layer of frosting in between each layer. Then apply a thin crumb coat on the top and sides. Pop back in the freezer to harden the crumb coat for about 10 minutes.
Apply one final thick and even layer around the outside of the cake. Store in the fridge until ready to serve.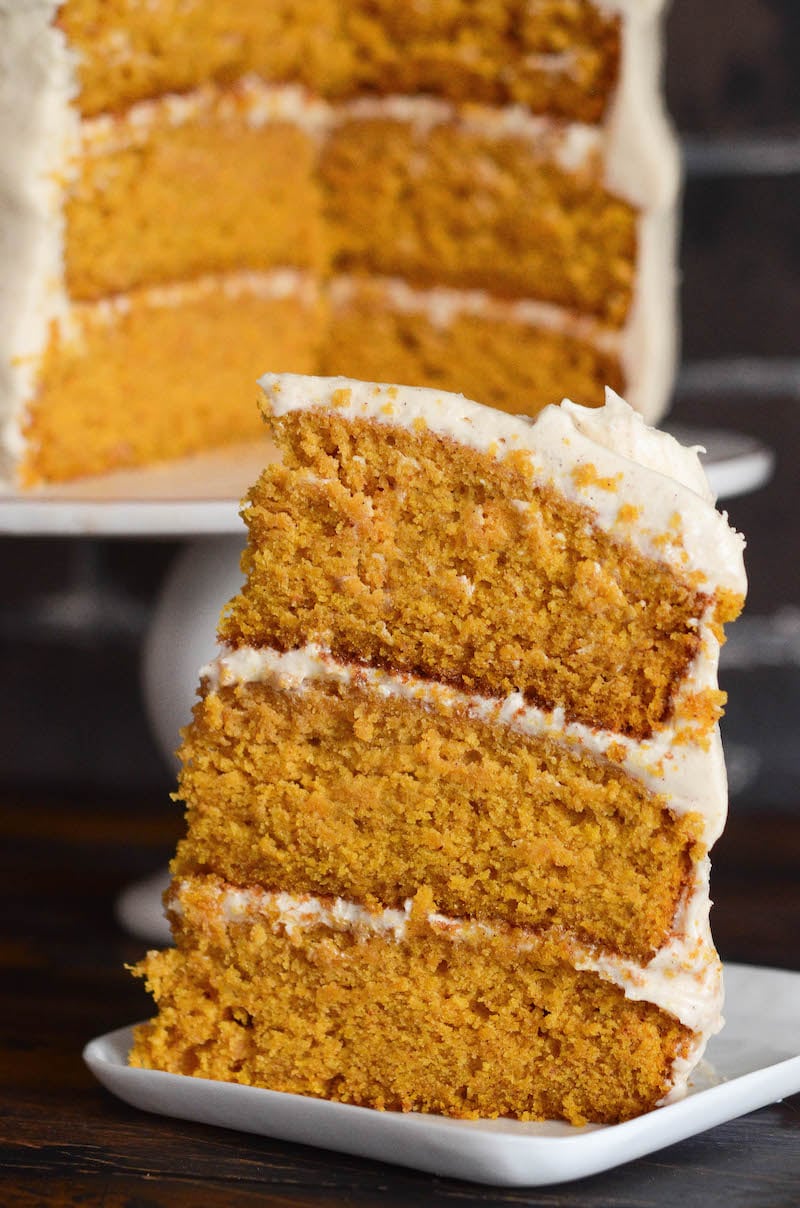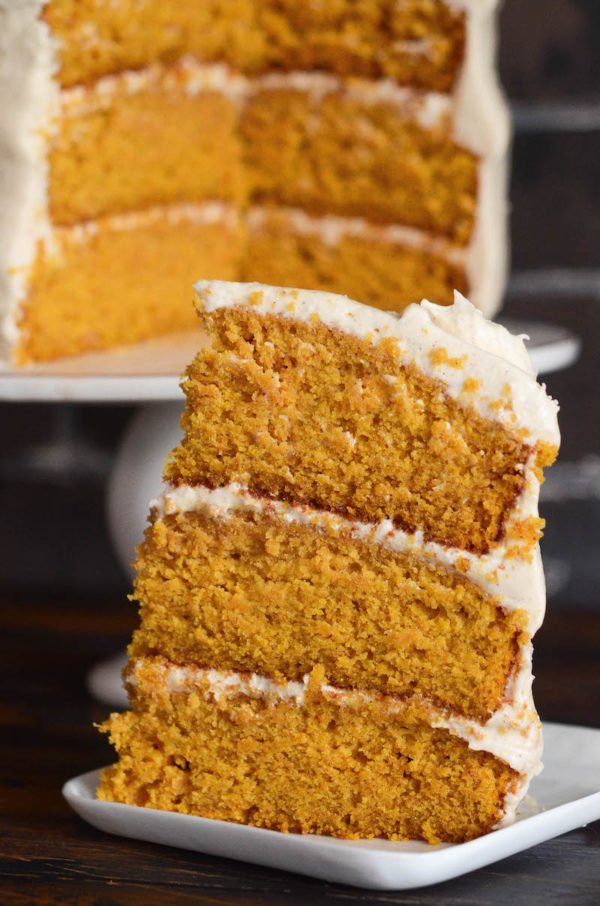 Here is the original photo for the Pumpkin Dream Cake! Just in case you came here from pinterest, this is the same recipe!
I updated the post in August 2018, but the recipe is still the exact same!
*this post includes an amazon affiliate link. If you purchase anything through it, I will get a small amount back from amazon. Thanks for helping support me bringing you free recipes!! 
SaveSave
SaveSave