This easy Pumpkin Cake has three layers of super moist, spiced pumpkin cake, made completely from scratch, frosted with a sweet cinnamon maple cream cheese icing!
An Easy and Delicious Pumpkin Layer Cake
This gorgeously stacked cake is the BEST PUMPKIN CAKE YOU WILL EVER EAT.
This is an old tried and true recipe — just read all the comments or photo reviews on pinterest.
This Pumpkin Cake is perfectly spiced, extra moist and coated in a sweet cream cheese frosting. It's seriously the best!
But it's been six years, so I figured it was time for a little tune up. We have some new photos and a recipe video!
I promise I haven't changed a thing to the original recipe! This pumpkin cake is just as perfect as it always was.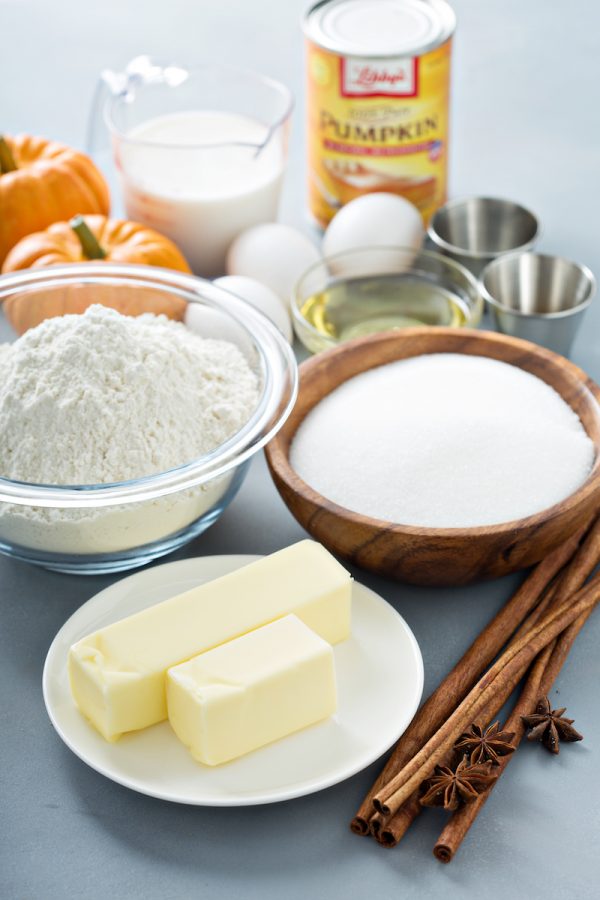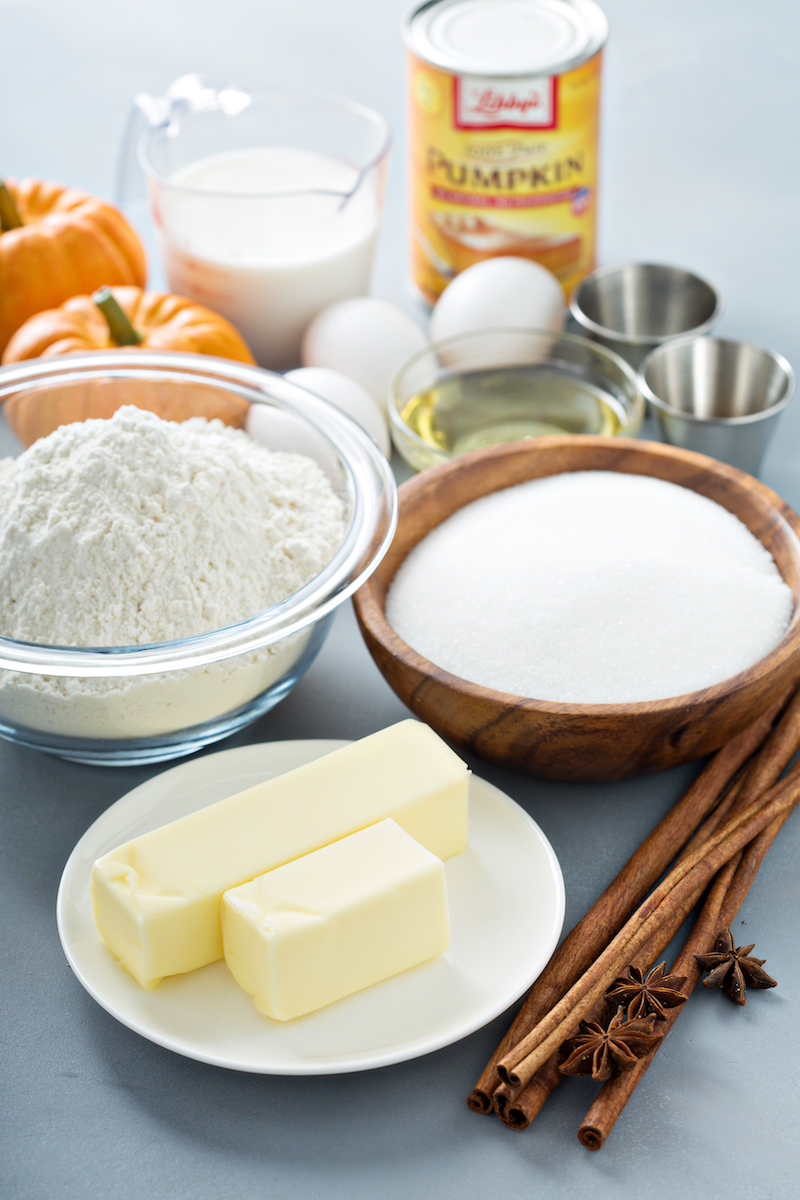 Ingredients for Pumpkin Cake
There are a few important ingredients needed for this pumpkin cake recipe to be a success.
Like most pumpkin baking recipes, you want to use pure canned pumpkin puree — not pumpkin pie filling.
This pumpkin cake recipe uses an entire 15 oz can of pumpkin, so no worries about wasting or having any leftovers!!
Also, I like to use pumpkin pie spice as it's a great combination of ground cinnamon, nutmeg, ginger, cloves and allspice.
However, you can substitute it with plain cinnamon if that is what you have on hand.
Vegetable oil (or canola oil), combined with pumpkin, will keep the cake extra moist.
If you are against oil in cakes, you can substitute apple sauce in its' place. However, know that the cake texture will be fluffier.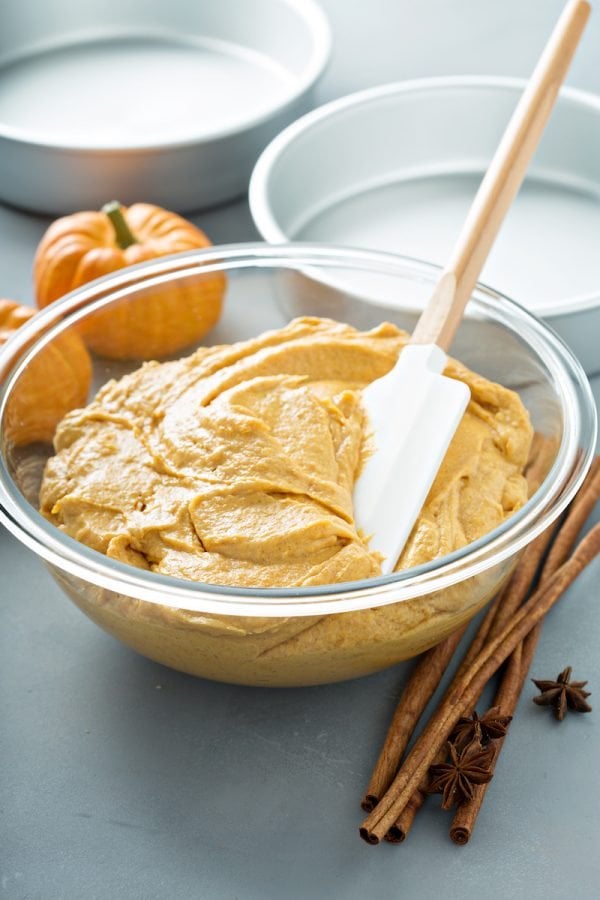 Crazy tips to keep this Pumpkin Cake moist:
Bake this cake at 300°F
Cool it in the freezer
Unlike traditional cakes, this pumpkin cake recipe is baked at 300°F.
Baking a cake at a lower temperature slows the rapidness of the leavening, which prevents a tall dome from forming on your cake.
It also keeps the cake extra moist since it doesn't rise too much or too quickly.
Second, as soon as these cakes come out of the oven, pop them into the freezer.
This helps to stop the cooking process much quicker and keep the cake moist.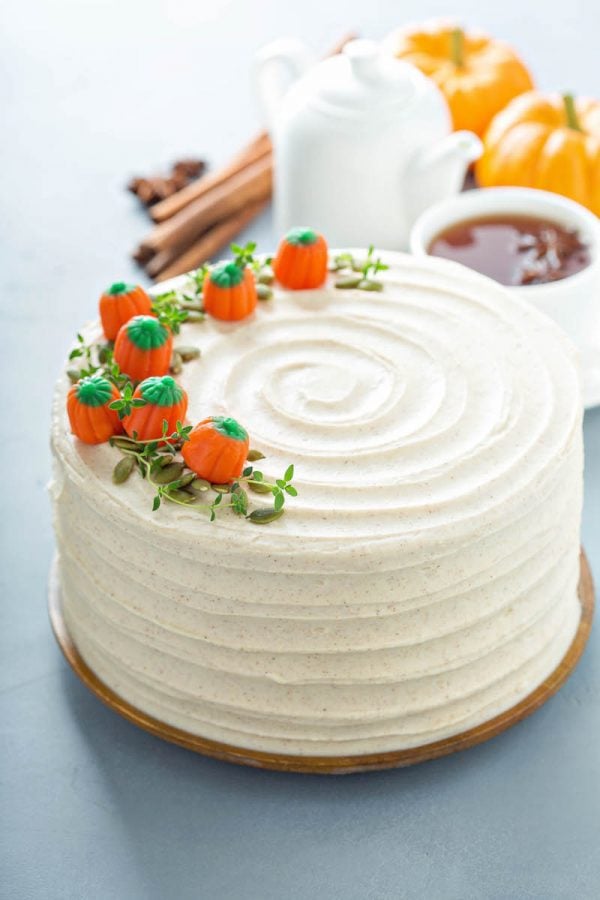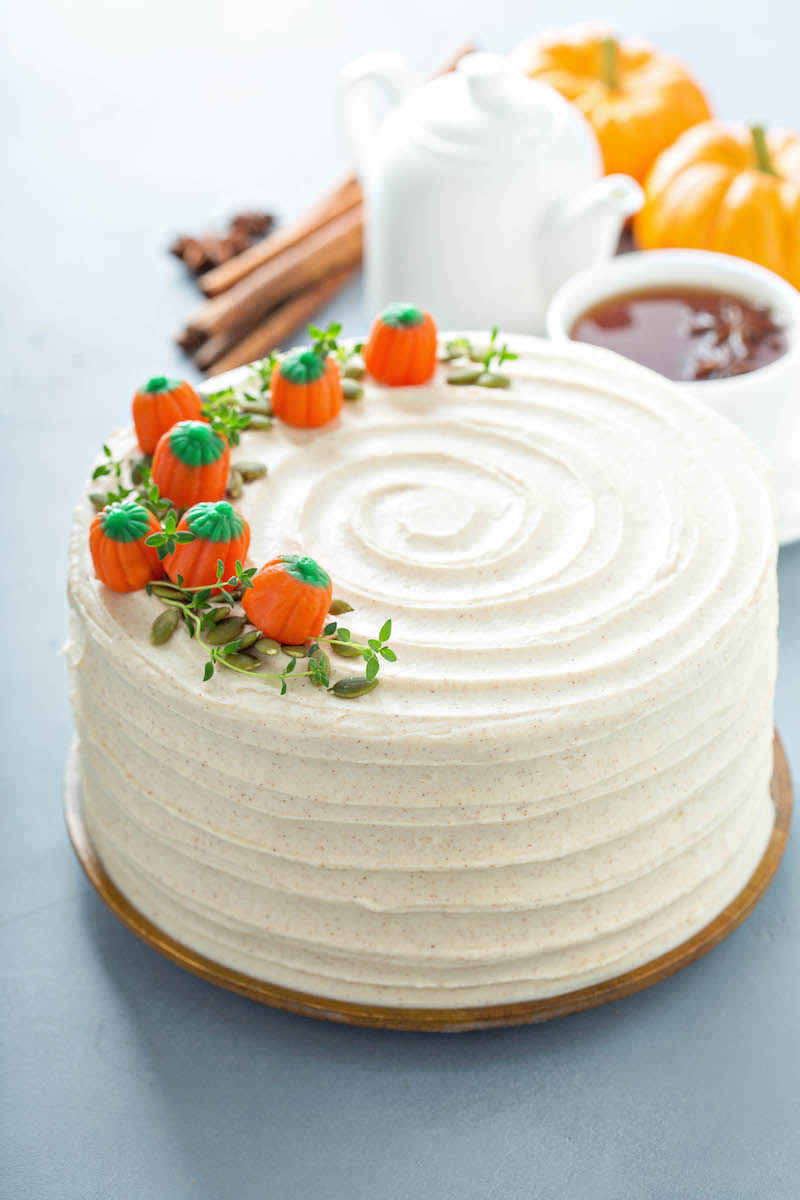 Cinnamon Cream Cheese Frosting
For the frosting, I added a quick cream cheese icing that is flavored with cinnamon, real maple syrup and vanilla extract.
Then you generously coat each thick layer with this cinnamon cream cheese frosting that is just so dang creamy.
When you put the cake all together, it is seriously the best pumpkin cake recipe EVER. I swear.
Pumpkin Cake Decoration
To create the swirls on the outside of the cake with the frosting, I use the round end of a rubber spatula and swirl it.
For the pumpkin patch/vine on the top of the cake, you need pumpkin candies, pumpkin seeds and fresh thyme.
Sprinkle the pumpkin seeds, top with a few sprigs of thyme and add on the pumpkin candies on top!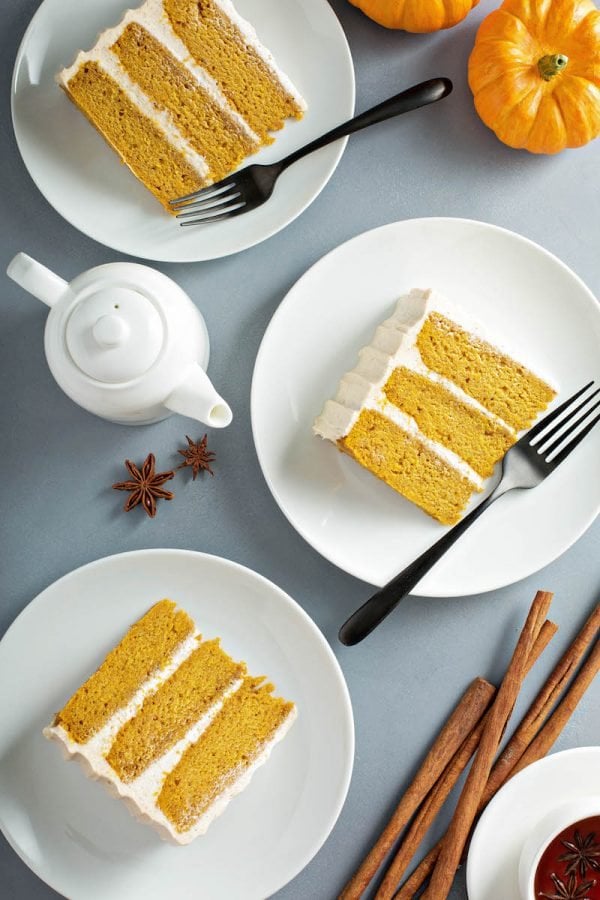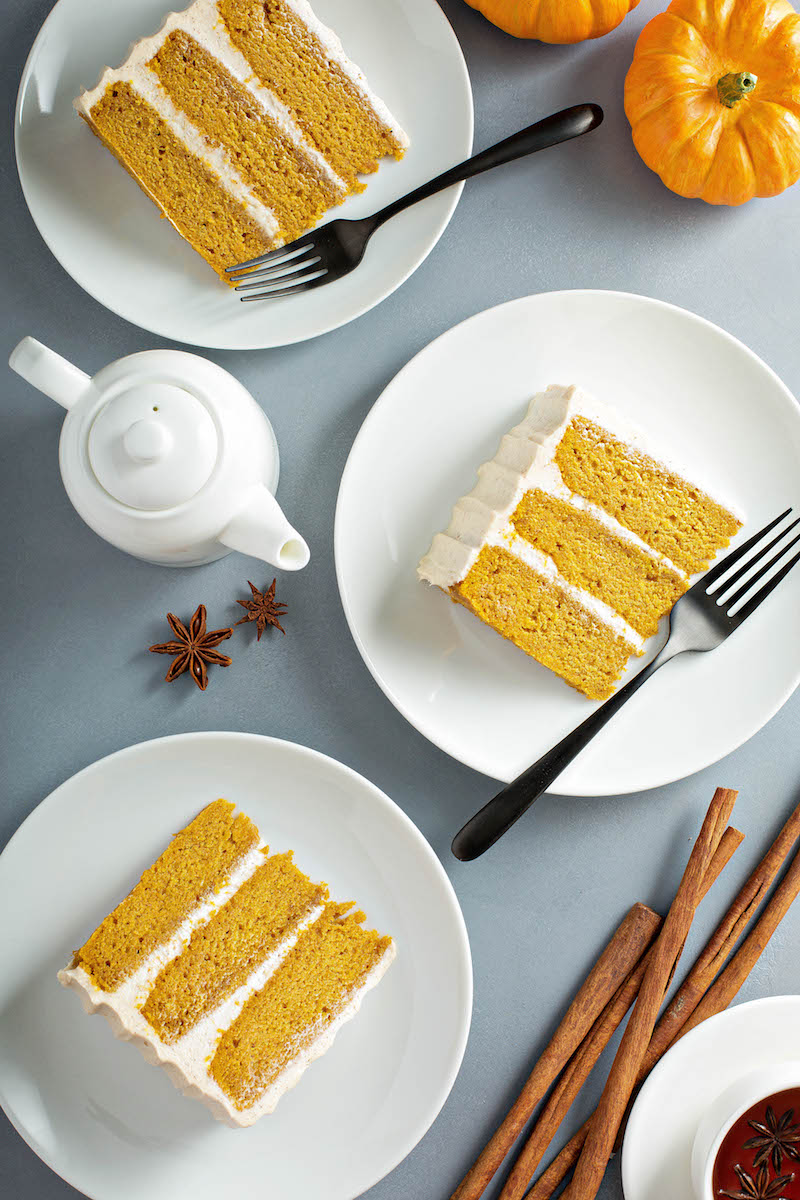 Can I make this pumpkin cake recipe into cupcakes?
YES! You can! It's always a common question – can I make this recipe into cupcakes?? So I did it for you!
I love this cake so much that I have even made it into cupcakes: Pumpkin Maple Cupcakes with Cinnamon Cream Cheese Frosting!
However, I will tell you, I personally love the layer dream cake just a little bit more. It stays moist and has the perfect amount of frosting to cake.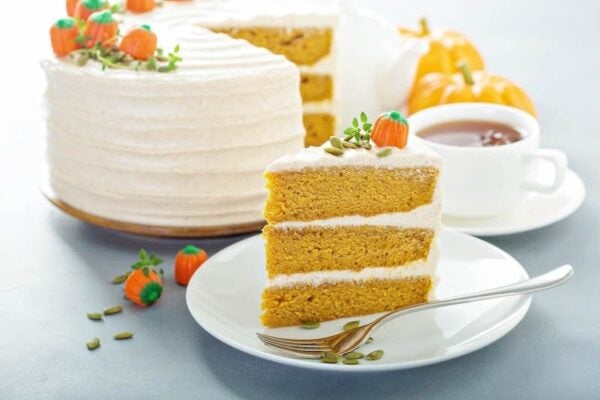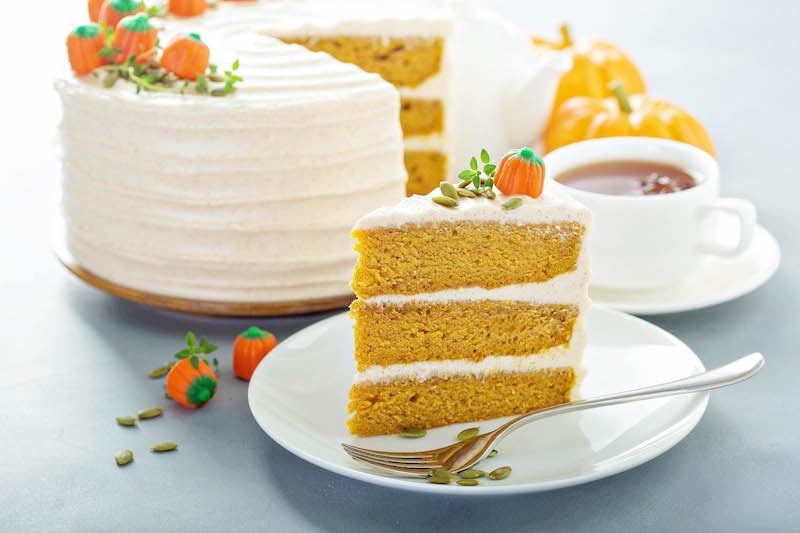 This Pumpkin Cake is one of my most popular pumpkin recipes ever. It is second only to my favorite Pumpkin Cream Cheese Swirl Muffins.
This Pumpkin Dream Cake has three big gorgeous layers of super moist pumpkin spiced cake, made completely from scratch.
Then we frost it with a sweet cinnamon maple cream cheese icing to create the BEST PUMPKIN CAKE EVER.
Everyone comes back and makes it year after year for their families and that is the greatest compliment I could ever receive.
I promise everyone is going to LOVE it and beg for the recipe!
Yield: 3 layer cake
The Best Pumpkin Cake Recipe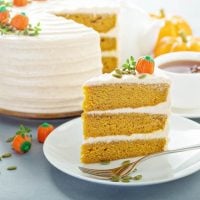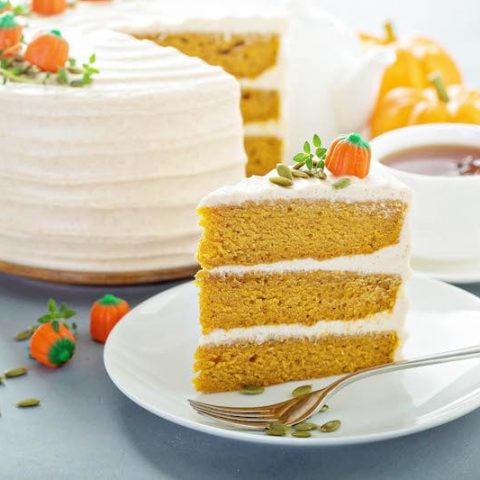 The Best Pumpkin Cake: three layers of super moist, spiced pumpkin cake, made completely from scratch, frosted with a sweet cinnamon maple cream cheese icing!
Additional Time
45 minutes
Total Time
1 hour
35 minutes
Ingredients
Pumpkin Cake
3 cups all-purpose flour
1 tablespoon pumpkin pie spice (optional)
1 1/2 teaspoons baking soda
1/2 teaspoon salt
3/4 cup unsalted butter, softened
2 cups granulated sugar
3 large eggs
1 tablespoon vanilla extract
1 (15 oz) can pumpkin
1/4 cup vegetable oil
1 cup milk
Cinnamon Cream Cheese Icing
12 oz (1 1/2 packages) cream cheese, softened
3/4 cup unsalted butter, softened
3 tablespoons pure maple syrup
2 teaspoons vanilla extract
2 teaspoons cinnamon
6 cups powdered sugar
Instructions
Preheat oven to 300°F. Grease 3, 8-inch round cake pans. Set aside.
In a medium bowl, mix flour, pumpkin pie spice, baking soda and salt. Set aside.
In a large bowl/stand mixer, cream butter and sugar until light and fluffy. Beat in the eggs one at a time, then stir in vanilla, pumpkin and vegetable oil. Beat in the flour mixture alternately with the milk.
Divide batter evenly into prepared pans. Bake for 35-40 minutes, or until a toothpick inserted into the center of the cake comes out clean.
Remove pans from oven and place in freezer for 45 minutes to cool. (update: this step is optional, you can let the cake cool on the counter instead if you prefer.)
For the Cinnamon Cream Cheese Icing: In a large bowl, cream butter and cream cheese until smooth. Beat in maple syrup, vanilla and cinnamon. Add confectioners' sugar and beat on low speed until combined, then on high until frosting is smooth.
Assemble the 3 layers with a thick layer of frosting in between each layer. Then apply a thin crumb coat* on the top and sides. Pop back in the freezer to harden the crumb coat for about 10 minutes.
Apply one final thick and even layer around the outside of the cake. Store in the fridge until ready to serve.
Notes
What is a crumb coat? A crumb coat is a thin layer of frosting called that seals in stray crumbs before a second frosting layer is applied. Remember to chill the crumb coat before applying the second layer of frosting.
Nutrition Information:
Yield:
16 slices
Serving Size:
1 slice
Amount Per Serving:
Calories:

650
Total Fat:

29g
Saturated Fat:

15g
Trans Fat:

0g
Unsaturated Fat:

12g
Cholesterol:

103mg
Sodium:

347mg
Carbohydrates:

89g
Fiber:

1g
Sugar:

68g
Protein:

9g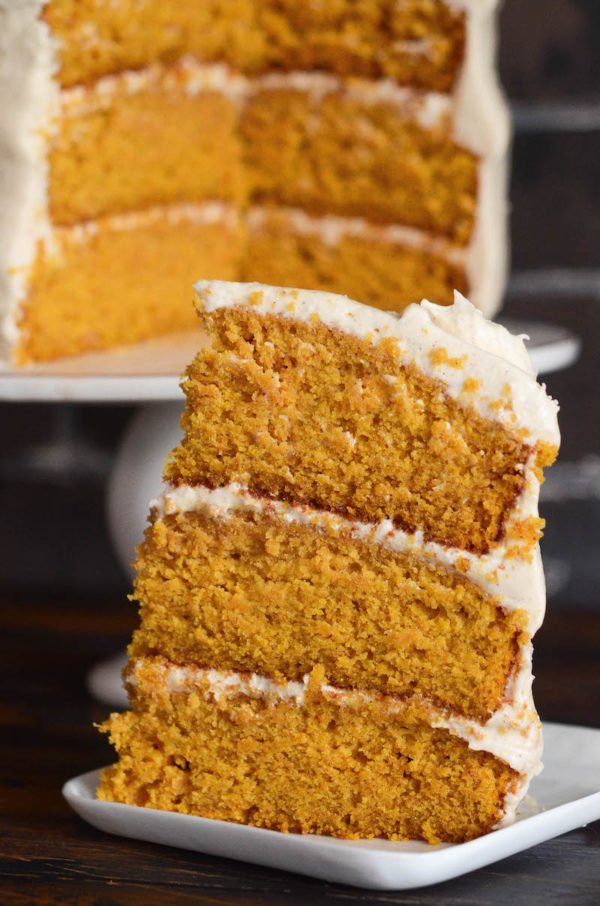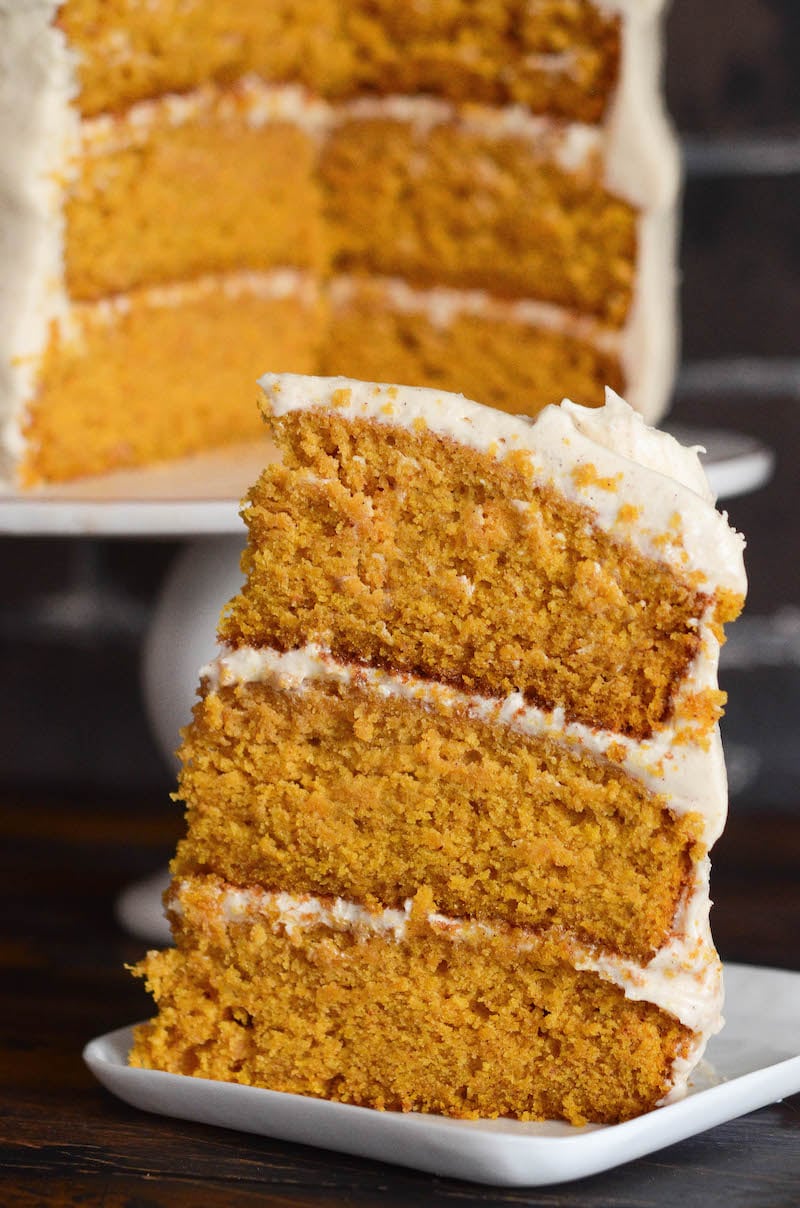 Here is the original photo for the Pumpkin Dream Cake! Just in case you came here from pinterest, this is the same recipe!
I updated the post in August 2018, but the recipe is still the exact same!
This post may contain affiliate links. Read my disclosure policy.