Pumpkin Cream Cheese Swirl Muffins
Pumpkin Cream Cheese Swirl Muffins: moist spiced pumpkin muffins are topped with sweet cream cheese that melts into them as they bake and only take 30 minutes!
If you are looking for the best pumpkin muffins ever, get yourself ready, because these Pumpkin Cream Cheese Muffins are going to make you fall in love.
The base of these muffins is an extra moist pumpkin muffin that uses an entire can of pumpkin puree.
Then we top our pumpkin muffins with swirls of sweet cream cheese that melt right into the top as they bake.
You might want to make a double batch, because these pumpkin cream cheese muffins tend to disappear FAST!
PUMPKIN MUFFINS WITH A WHOLE CAN OF PUMPKIN
One goal I have when making a pumpkin recipe is using an entire can of pumpkin, whenever I am able to.
I know we can't always help it, but I hate when a recipe only uses part of a can of pumpkin puree and I have to open an entire can.
I worked on this pumpkin muffins recipe until it was perfect and uses a whole 15 oz can of canned pumpkin for 18 muffins.
Since we are only making 18 muffins total, each muffin is loaded with lots of real pumpkin flavor!
PUMPKIN MUFFIN INGREDIENTS:
Like most pumpkin baking recipes, you want to use pure canned pumpkin puree. You do not want to buy a can of pumpkin pie filling.
I use a combination of brown sugar and granulated sugar, but you can use all of one or the other if you choose.
The brown sugar adds a little molasses to the muffins and adds moisture to the muffins and flavor.
The last key to these epic pumpkin muffins is the tablespoon of pumpkin spice! Don't skip it!
Or, if you don't have it on hand already, you can use cinnamon and a healthy pinch of nutmeg in place of the pumpkin spice.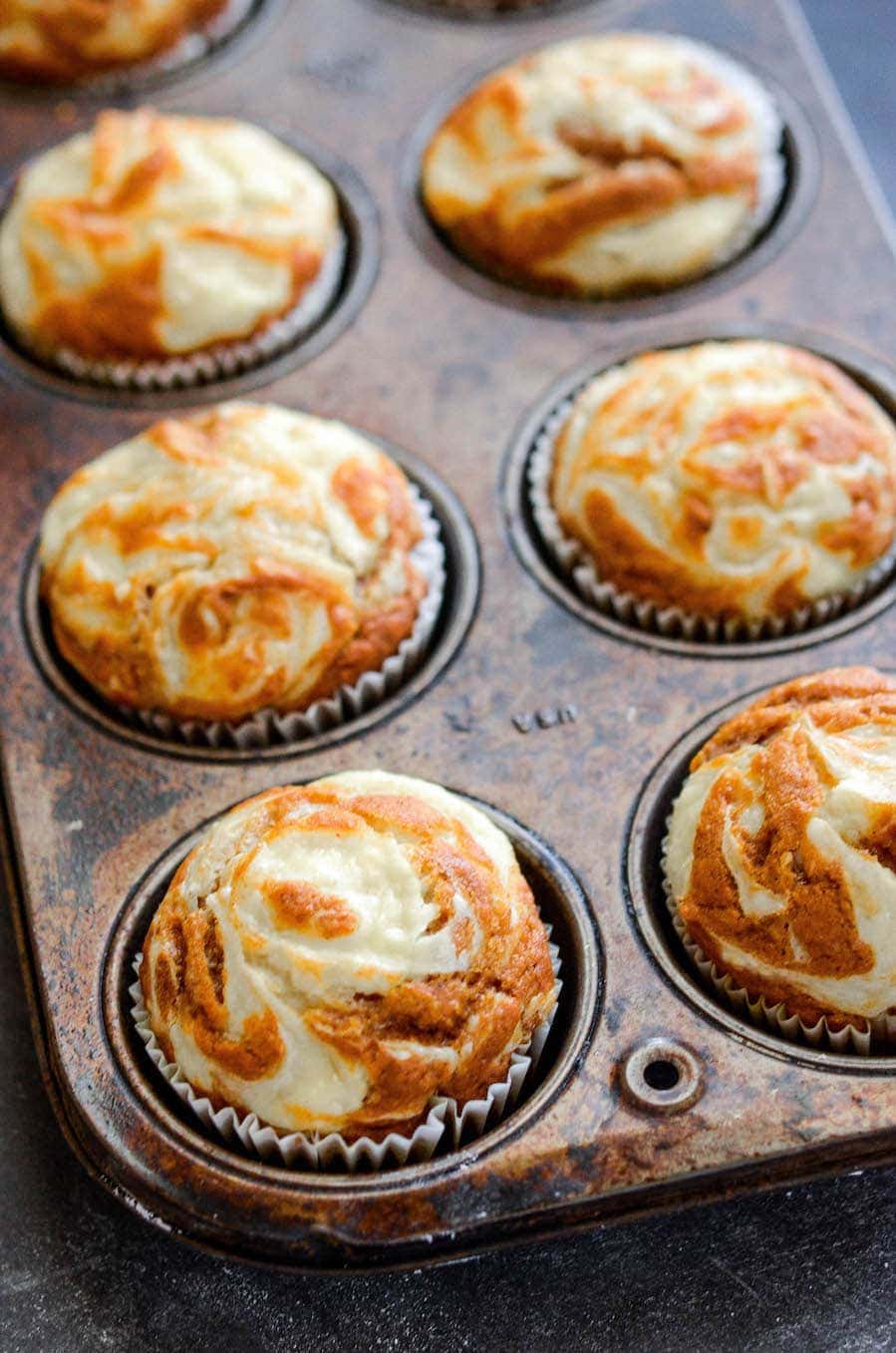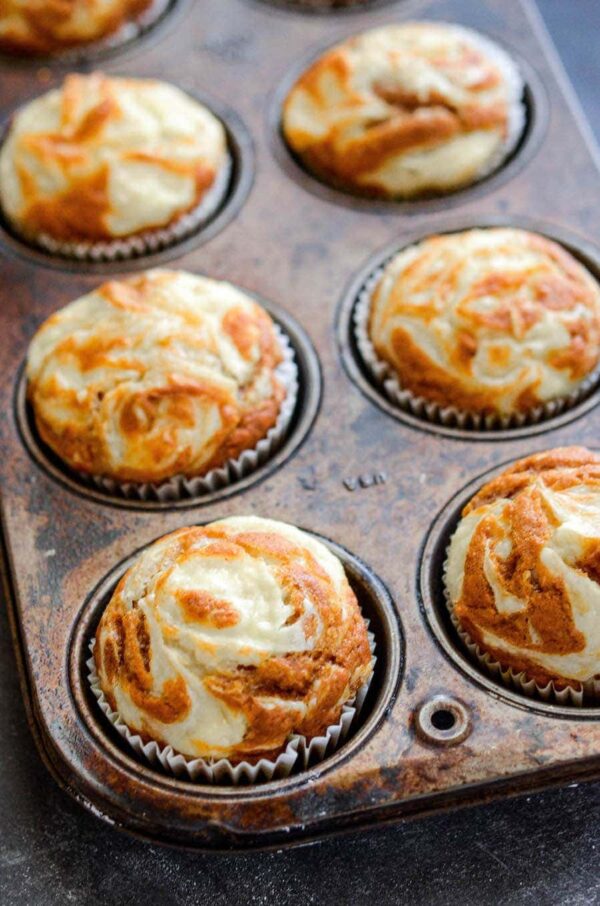 Cream Cheese Swirl
With the cream cheese swirl in these pumpkin muffins, it's almost like having a cupcake for breakfast…but for a bonus, they self frost themselves as they bake!
To create the cream cheese swirl, you need a few ingredients:
cream cheese
granulated sugar
egg yolk
vanilla extract
Beat together all ingredients until smooth and then swirl it right into the top of the pumpkin muffin batter before baking.
To swirl it in, I like to drop a spoonful of the cream cheese mixture and then I use a tooth pick to drag the cream cheese towards the edges.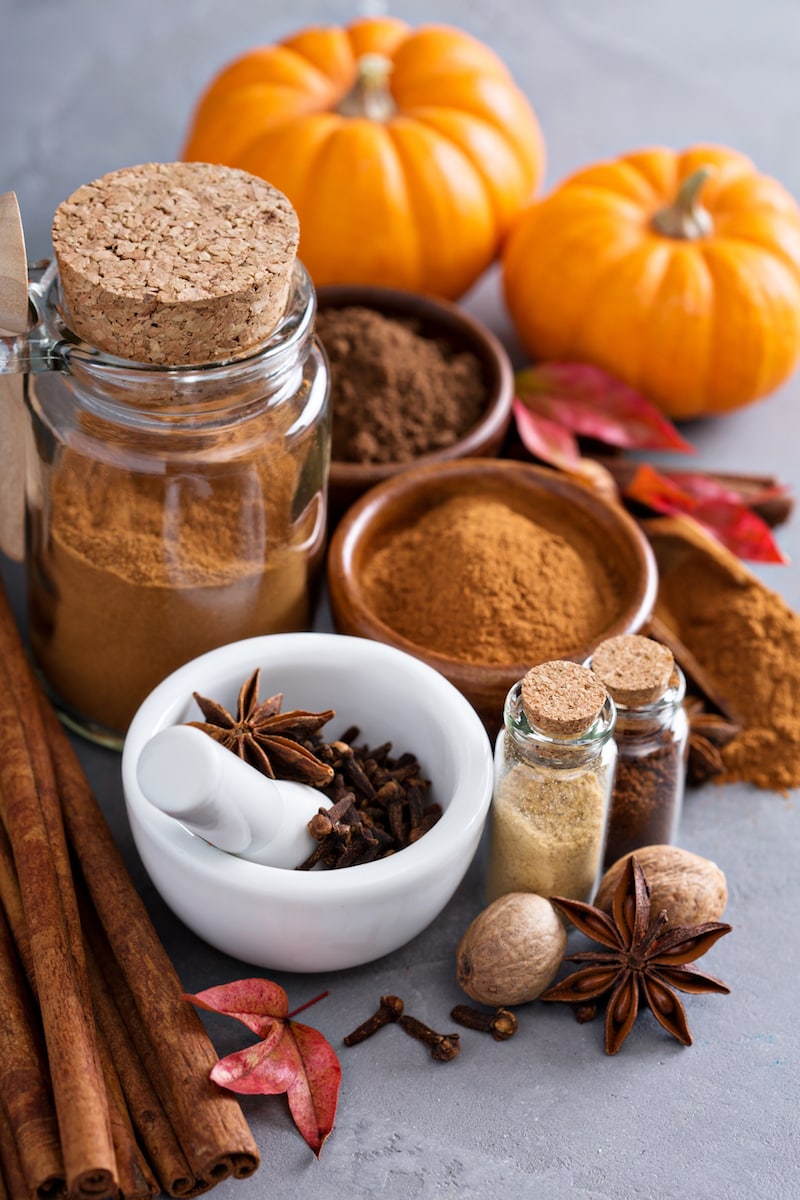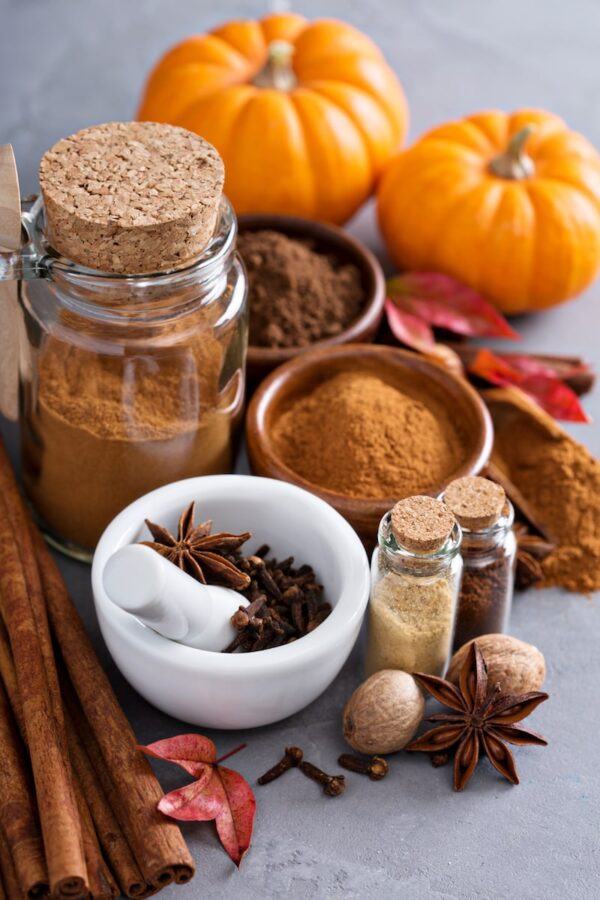 How to store Pumpkin Cream Cheese Muffins
These Pumpkin Muffins have to be stored in the refrigerator because of the cream cheese swirl.
I personally like these muffins best served at room temperature or slightly chilled, so I take them out of the fridge for a few minutes before serving.
A few people have asked about freezing these muffins and this year, I gave it a whirl.
I found they lost some of their appeal after freezing, the cream cheese swirl just does not do well in the freezer.
So while you can't freeze them, the recipe thankfully only takes 30 minutes to make start to finish!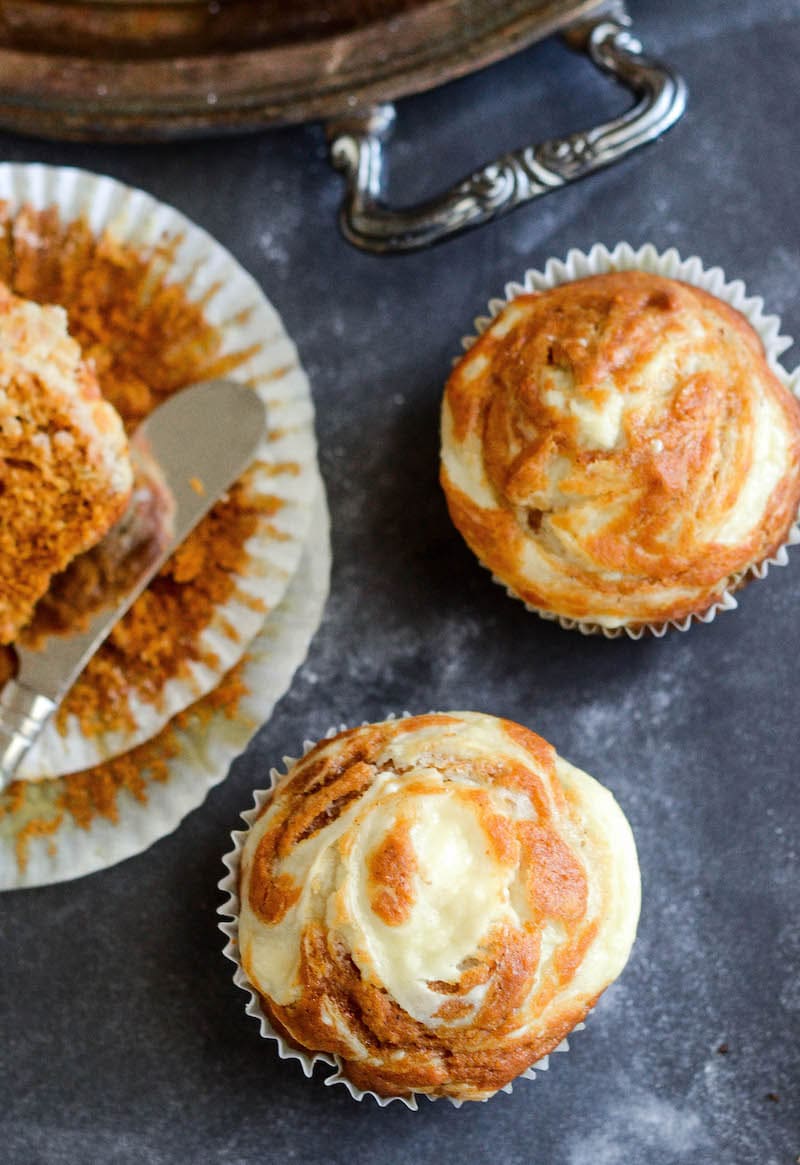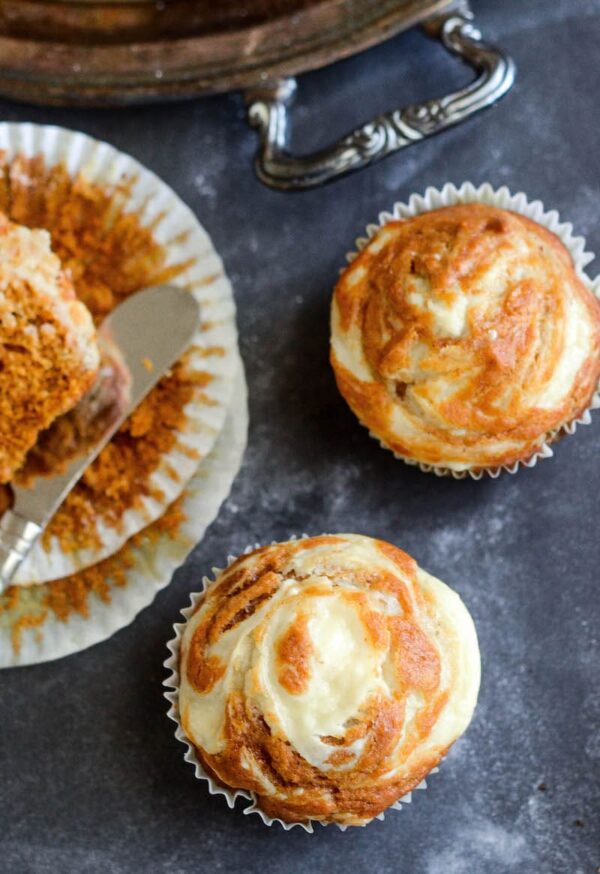 These Pumpkin Cream Cheese Swirl Muffins are my favorite pumpkin muffins, ever.
The whole family LOVED these
muffins
and they were all gone in just a couple of days. It was actually pretty impressive how many muffins two little girls could eat! 😉
Yield: 18 standard muffins
Pumpkin Cream Cheese Swirl Muffins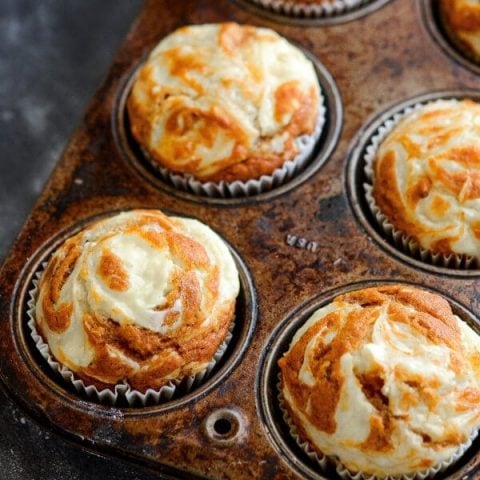 Pumpkin Cream Cheese Swirl Muffins: moist spiced pumpkin muffins are topped with sweet cream cheese that melts into them as they bake and only take 30 minutes!
Ingredients
Muffin:
1 3/4 cups all purpose flour
1 tablespoon pumpkin spice
1 teaspoon baking soda
1/2 teaspoon salt
1 (15 oz) can pumpkin (pure pumpkin puree)
1 cup granulated sugar
1/2 cup packed brown sugar
2 large eggs
1/2 cup vegetable oil
1 tablespoon vanilla extract
Cream Cheese Swirl:
8 oz cream cheese
1/4 cup granulated sugar
1 large egg yolk
2 teaspoons vanilla extract
Instructions
Preheat oven to 375°F. Place paper baking cups into muffin pan. Set aside.
In a medium bowl, whisk flour, pumpkin spice, baking soda and salt until well combined. Set aside.
In large bowl, whisk together pumpkin, sugar and brown sugar.
Beat in eggs, vegetable oil and vanilla extract. Slowly whisk in the flour mixture, until there are no lumps. Fill muffin tins 3/4 full.
In a medium bowl, beat cream cheese until smooth. Add in sugar, egg yolk and vanilla extract and beat until well combined.
Top each muffin with about 1 tablespoon of cream cheese mixture and use a toothpick to swirl it into the batter. This will not look smooth, but it will bake up much prettier. (You can see exactly how I did this in the video above.)
Bake muffins for 18-20 minutes, or until a toothpick inserted in the center comes out clean.
I liked these best at room temperature or even slightly chilled! Store in an airtight container in the fridge.
Recommended Products
I am an Amazon affiliate member and I earn a small percentage from qualifying purchases. Thank you!
Nutrition Information:
Yield:
18
Serving Size:
1 muffin
Amount Per Serving:
Calories:

200
Total Fat:

10g
Trans Fat:

0g
Cholesterol:

5mg
Carbohydrates:

28g
Fiber:

2g
Sugar:

18g
Protein:

3g
Want to Save This Recipe?
Make sure and leave a review/comment below when you try this pumpkin cream cheese muffin recipe!
Want to Save This Recipe?
This post may contain affiliate links. Read my disclosure policy.