Pumpkin Cream Cheese Swirl Muffins
Pumpkin Cream Cheese Swirl Muffins: moist spiced pumpkin muffins are topped with sweet cream cheese that melts into them as they bake and only take 30 minutes!
Pumpkin "season" is quickly coming to a close with it's last big day on Thursday. I am already morning it's loss.
I decided I had to end this season with a bang — so I made a double batch of these Pumpkin Cream Cheese Swirl Muffins.
I absolutely love every thing pumpkin flavored and I am not ready to put it away for a whole year.
To be honest, I always buy a couple of extra cans of pumpkin and hide them in the pantry for a fun surprise during the Summer.
It helps hold me over till Fall comes around again!
I even bought the girls their own pumpkin book: Big Pumpkin.
I stumbled across this book the other day on amazon while searching for new books for them and I had to order it.
My Mom read this book to my sister and I every year growing up and it is one of my favorites. I still remembered all the words!
But I guess Fall really is coming to a close and it is time for me to start getting ready for Christmas.
Sure, I am super excited for everything gingerbread and all of the many Christmas cookies…but can't I still have everything pumpkin flavored too?
These muffins are reminiscent of my Pumpkin Nutella Swirl Muffins.
I obviously have a love of making swirl muffins (I also have a recipe for banana nutella swirl muffins!).
It's almost like having a cupcake for breakfast…but for a bonus, they self frost themselves as they bake. Gotta love that!
These Pumpkin Cream Cheese Swirl Muffins are simple enough to put together and take 30 minutes or less to make.
The sweet cream cheese on top adds a ton of flavor and I love how pretty they look.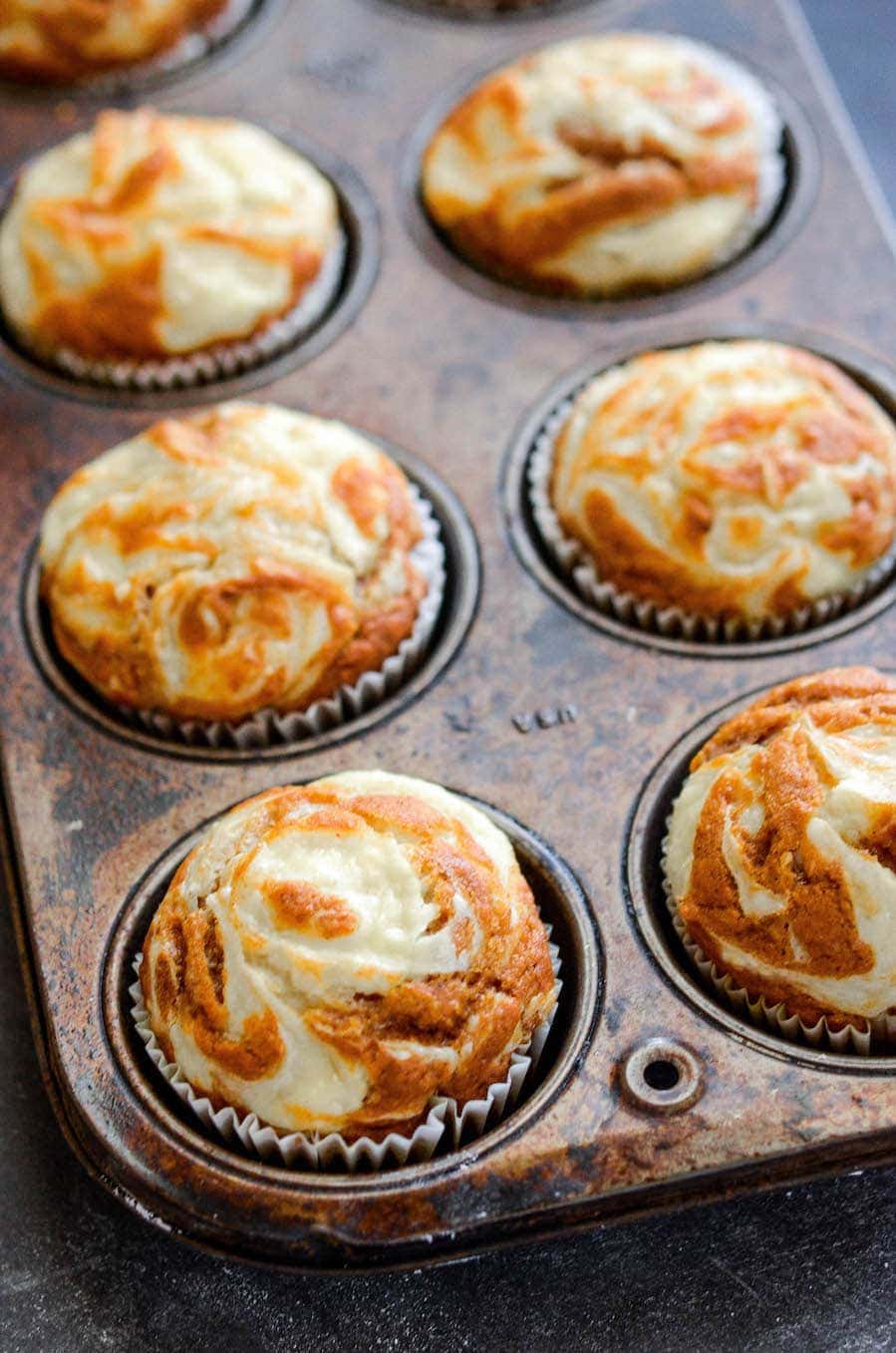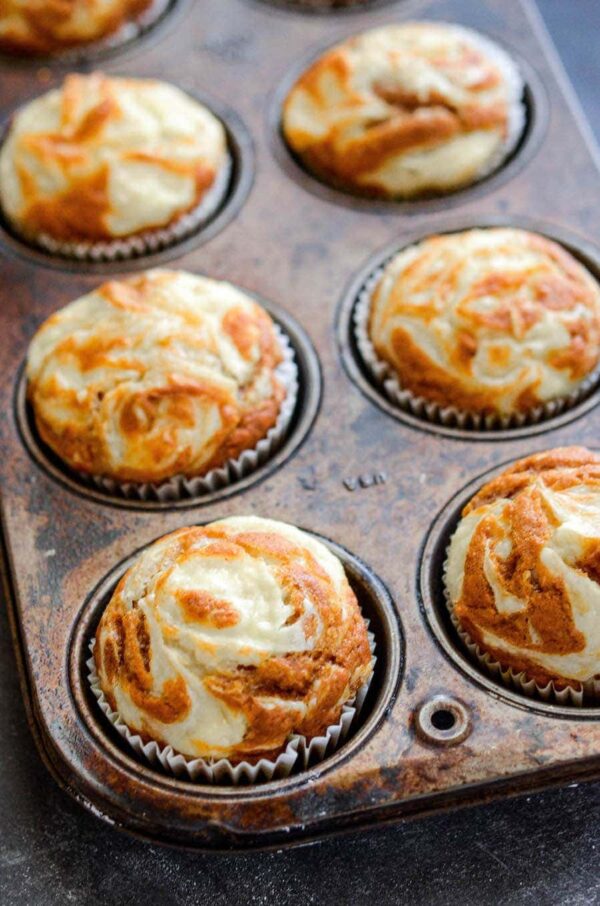 I liked these muffins best served at room temperature or slightly chilled.
Heck, I even eat them boiling hot out of the oven and burn my mouth every single time!
If you feel like going crazy, you can also swap the pumpkin puree for mashed sweet potatoes for a different spin.
I have done it a few times when I was out of pumpkin and was craving these glorious little muffins.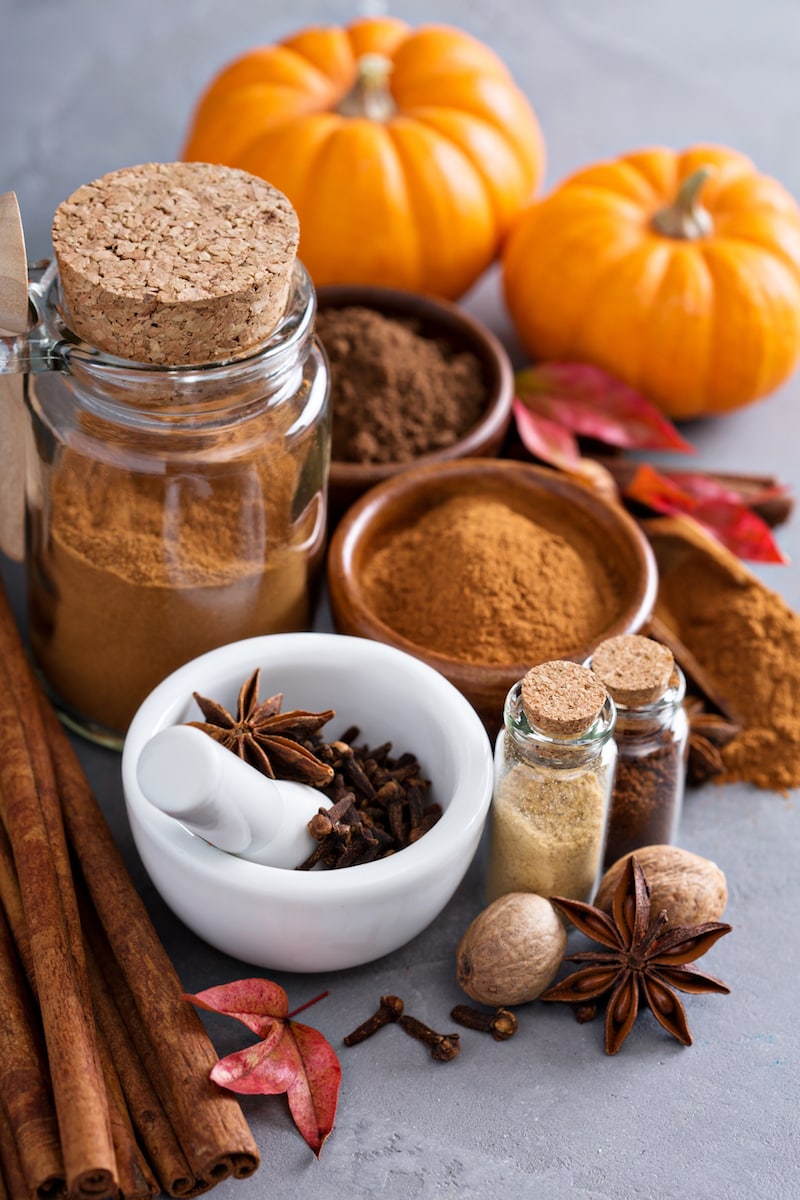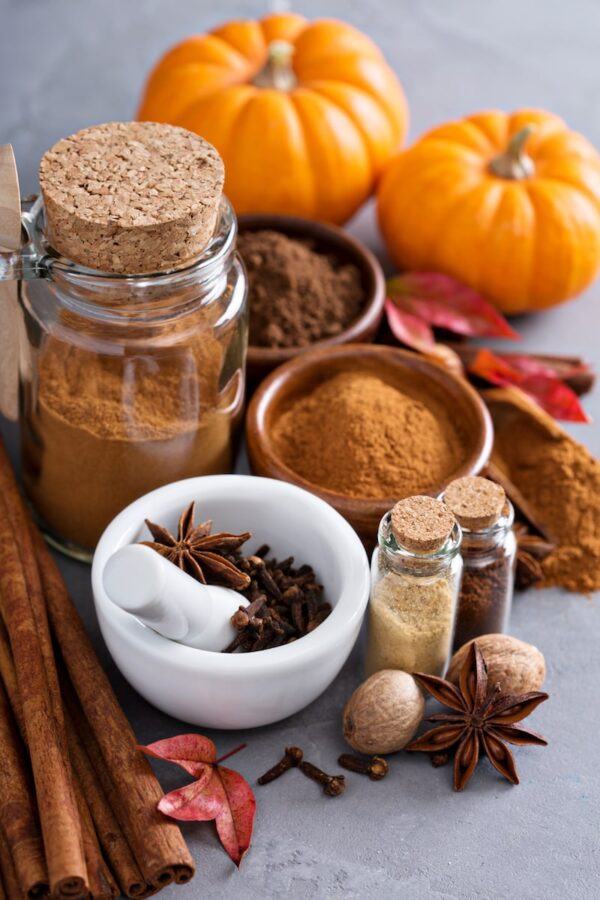 If you love these Pumpkin Swirl Muffins, here are some other FALL recipes I know you will love:
Pumpkin Sour Cream Coffee Cake
Sweet Potato Cream Cheese Bundt Cake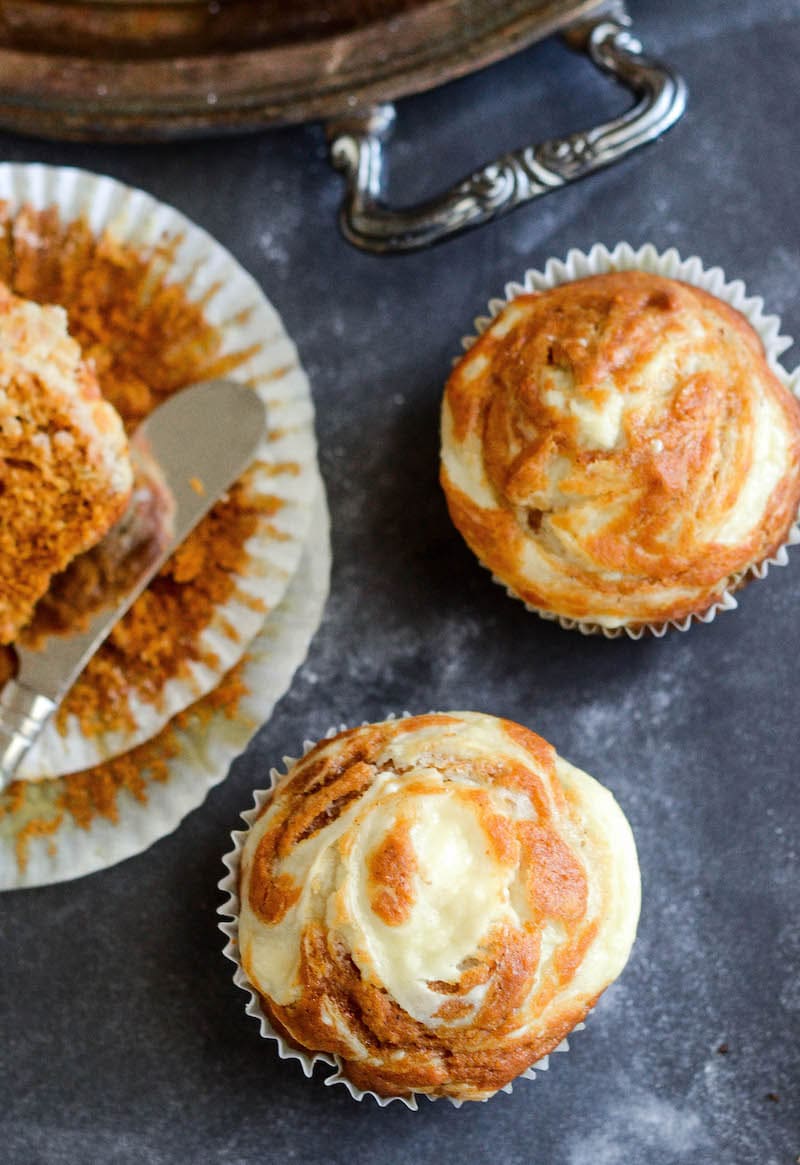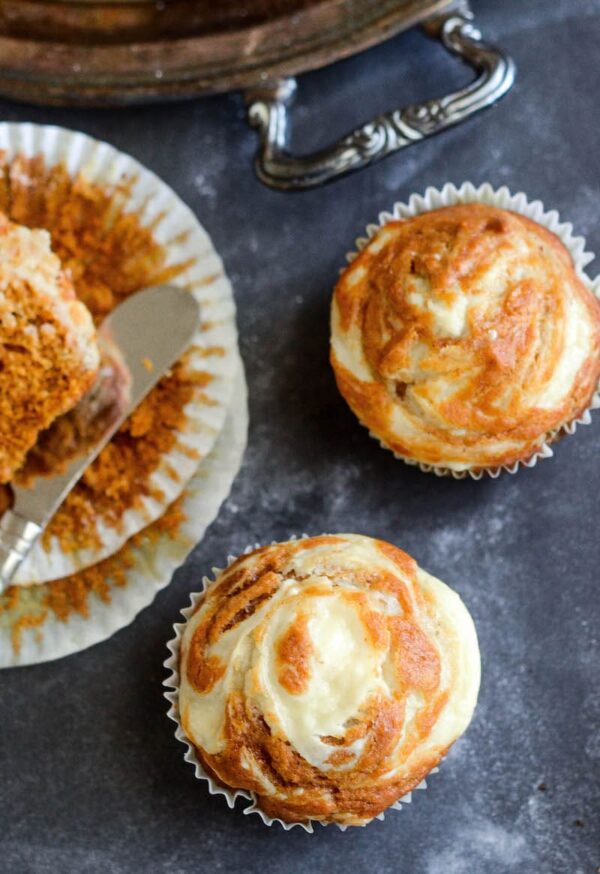 These Pumpkin Cream Cheese Swirl Muffins are my favorite pumpkin muffins ever.
You start with a super moist spiced pumpkin muffin and top it with swirls of sweet cream cheese that melt into the top as it bakes.
The whole family LOVED these muffins and they were all gone in a couple of days.
It was actually pretty impressive how many muffins two little babies could eat! 😉
And if you don't believe us, just read all the reviews! This is one of my most popular Fall recipes ever!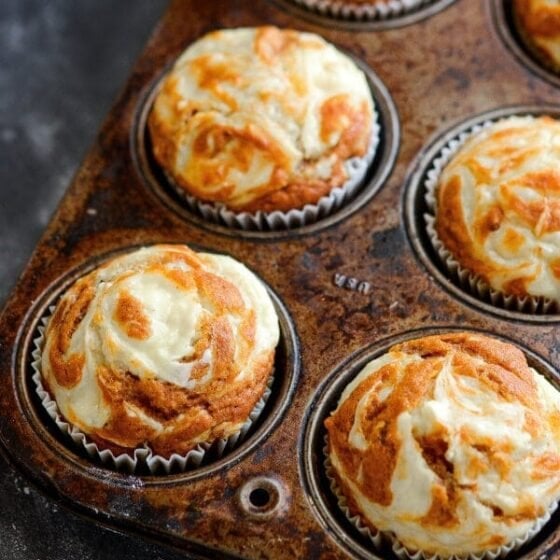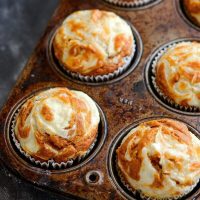 Pumpkin Cream Cheese Swirl Muffins
Yield: 18 standard muffins

Prep Time: 12 minutes

Cook Time: 18 minutes

Total Time: 30 minutes

Pumpkin Cream Cheese Swirl Muffins: moist spiced pumpkin muffins are topped with sweet cream cheese that melts into them as they bake and only take 30 minutes!
Ingredients
Muffin:
1 3/4 cups all purpose flour
1 tablespoon pumpkin spice
1 teaspoon baking soda
1/2 teaspoon salt
1 (15 oz) can pumpkin (pure pumpkin puree)
1 cup granulated sugar
1/2 cup packed brown sugar
2 large eggs
1/2 cup vegetable oil
1 tablespoon vanilla extract
Cream Cheese Swirl:
8 oz cream cheese
1/4 cup granulated sugar
1 large egg yolk
2 teaspoons vanilla extract
Instructions
Preheat oven to 375°F. Place paper baking cups into muffin pan. Set aside.
In a medium bowl, whisk flour, pumpkin spice, baking soda and salt until well combined. Set aside.
In large bowl, whisk together pumpkin, sugar and brown sugar.
Beat in eggs, vegetable oil and vanilla extract. Slowly whisk in the flour mixture, until there are no lumps. Fill muffin tins 3/4 full.
In a medium bowl, beat cream cheese until smooth. Add in sugar, egg yolk and vanilla extract and beat until well combined.
Top each muffin with about 1 tablespoon of cream cheese mixture and use a toothpick to swirl it into the batter. This will not look smooth, but it will bake up much prettier. (You can see exactly how I did this in the video above.)
Bake muffins for 18-20 minutes, or until a toothpick inserted in the center comes out clean.
I liked these best at room temperature or even slightly chilled! Store in an airtight container in the fridge.
Recommended Products
I am an Amazon affiliate member and I earn a small percentage from qualifying purchases. Thank you!
Nutrition Information:
Yield: 18 Serving Size: 1 muffin
Amount Per Serving:Calories: 200 Total Fat: 10g Trans Fat: 0g Cholesterol: 5mg Carbohydrates: 28g Fiber: 2g Sugar: 18g Protein: 3g

*this post contains affiliate links to amazon. Thank you for helping me continue to bring you free recipes!