Pumpkin Muffins that are perfectly moist and tender and make a perfect Fall breakfast or snack. Warm autumn spices and real pumpkin give them lots of wholesome flavor.
A Sweet, Simple Fall Favorite
Fall baking is not just a fun, optional thing in my kitchen – it's a necessity. When the cold weather finally hits, I can't help but make all the pumpkin, apple, and cinnamon goodies – and there are so many! Some are super-fancy and indulgent, like this recipe for The Best Pumpkin Cheesecake. Others are more farmhouse-style faves, like these scrumptious Pumpkin Bread (it's better than Starbucks!).
But in addition to the "special" recipes, there are also some really simple, basic favorites that we all love. Pumpkin muffins are one of those. They are just plain, sweet, pumpkin-y breakfast muffins that work equally well for a snack. With plenty of warm, cozy spices, they are a seasonal treat that you can whip up with no hassle at all.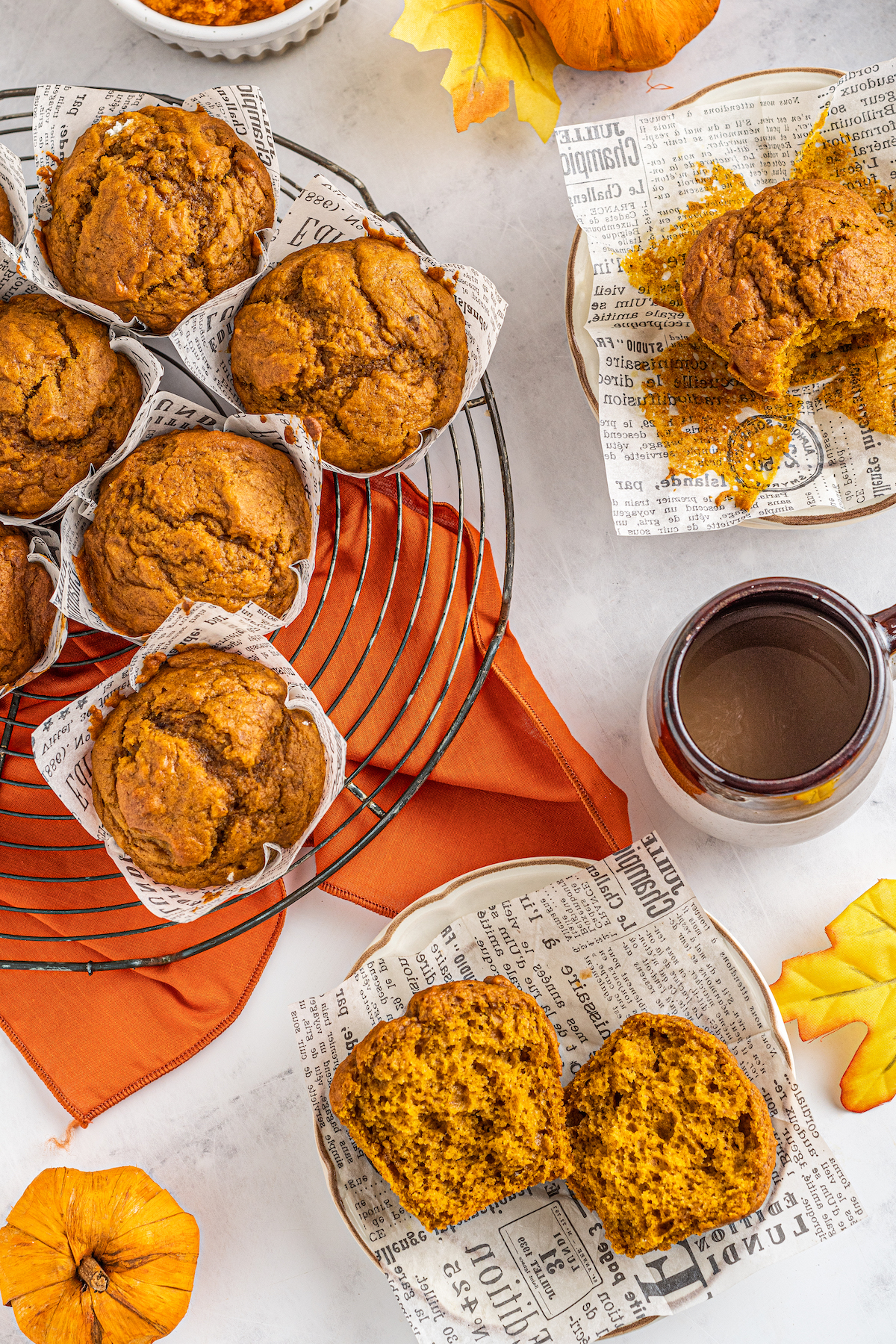 How Much Sugar Is in a Pumpkin Muffin?
This recipe makes about 15 standard-sized muffins, and uses 1 ⅓ cups of sugar (1 cup of brown sugar, and ⅓ cup of white sugar). That equals a little less than 1.5 tablespoons of sugar per muffin. You can dial back the amount of sugar if you like, to make these less sweet, or you can substitute maple syrup for some of the sugar.
The Ingredients You'll Need
These ingredients are super-simple, but keep in mind that you need to use canned pumpkin puree (100% pumpkin), not canned pumpkin pie filling. Pie filling includes lots of extra sugar and other ingredients, and it won't work well in this recipe.
Flour: All-purpose flour is the basis for this quick muffin batter.
Spices: Ground cinnamon, nutmeg, and cloves are so delicious with pumpkin.
Baking Powder and Baking Soda: A little of both makes a nice, light muffin.
Salt
Sugar: I use mostly brown sugar, with a little white sugar, for an ultra-tender and flavorful result.
Vegetable Oil: Softened butter also works, but oil makes a more moist muffin. 1
Eggs: A couple of whole eggs, plus an extra yolk for richness.
Sour Cream: Plain yogurt is also good.
Pumpkin: The star of the show! Canned or homemade pumpkin is fine.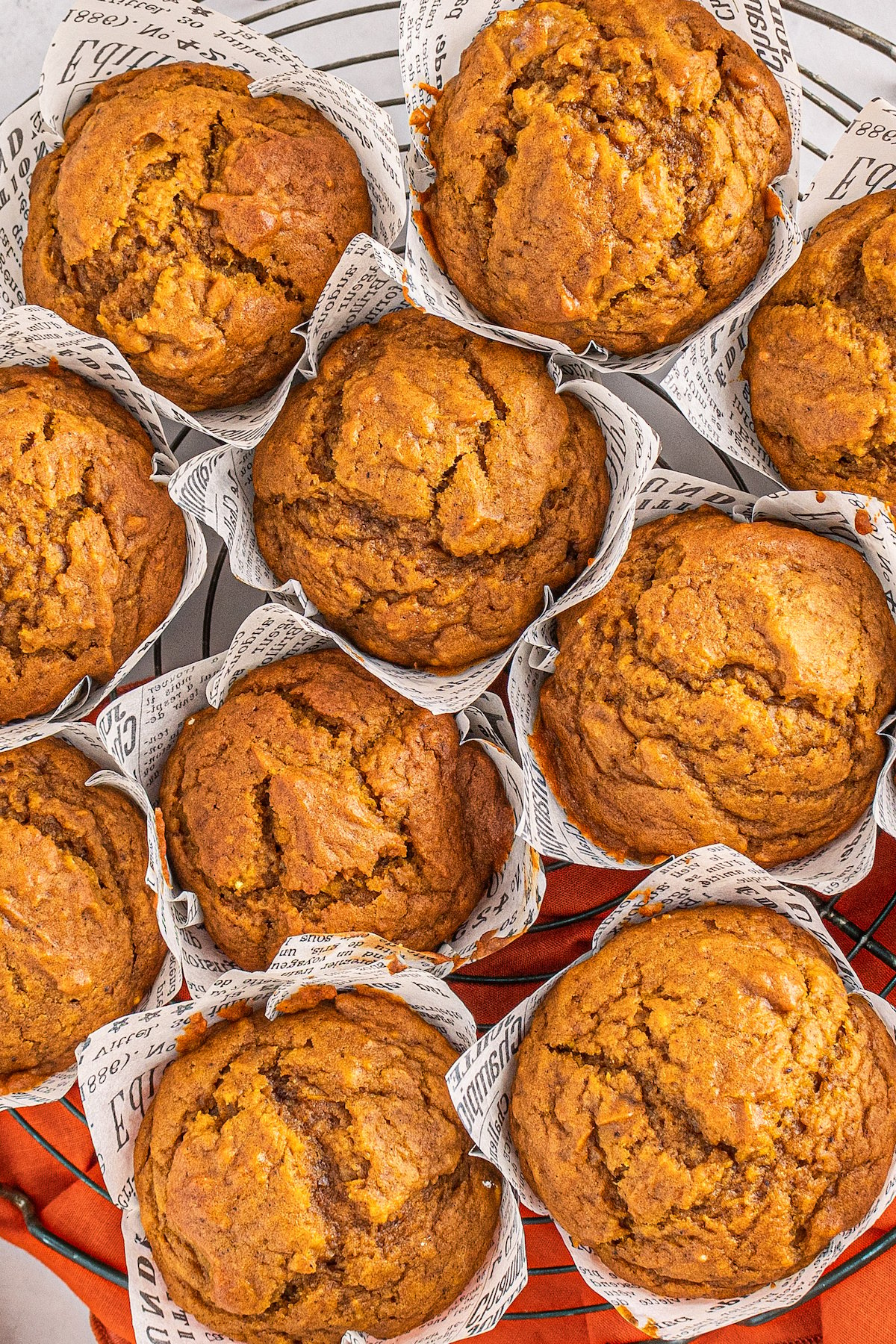 Baking Time!
This is an easy recipe – mix the dry, mix the wet, and then combine the two. It's easy enough even for a total baking newbie, and a great recipe to make with the kiddos.
Prepare the Muffin Tin and Preheat the Oven. Before you start, set your oven to preheat to 350°F. Next, pull out a standard muffin tin and line it with paper liners. Spritz them lightly and evenly with baking spray, and set aside.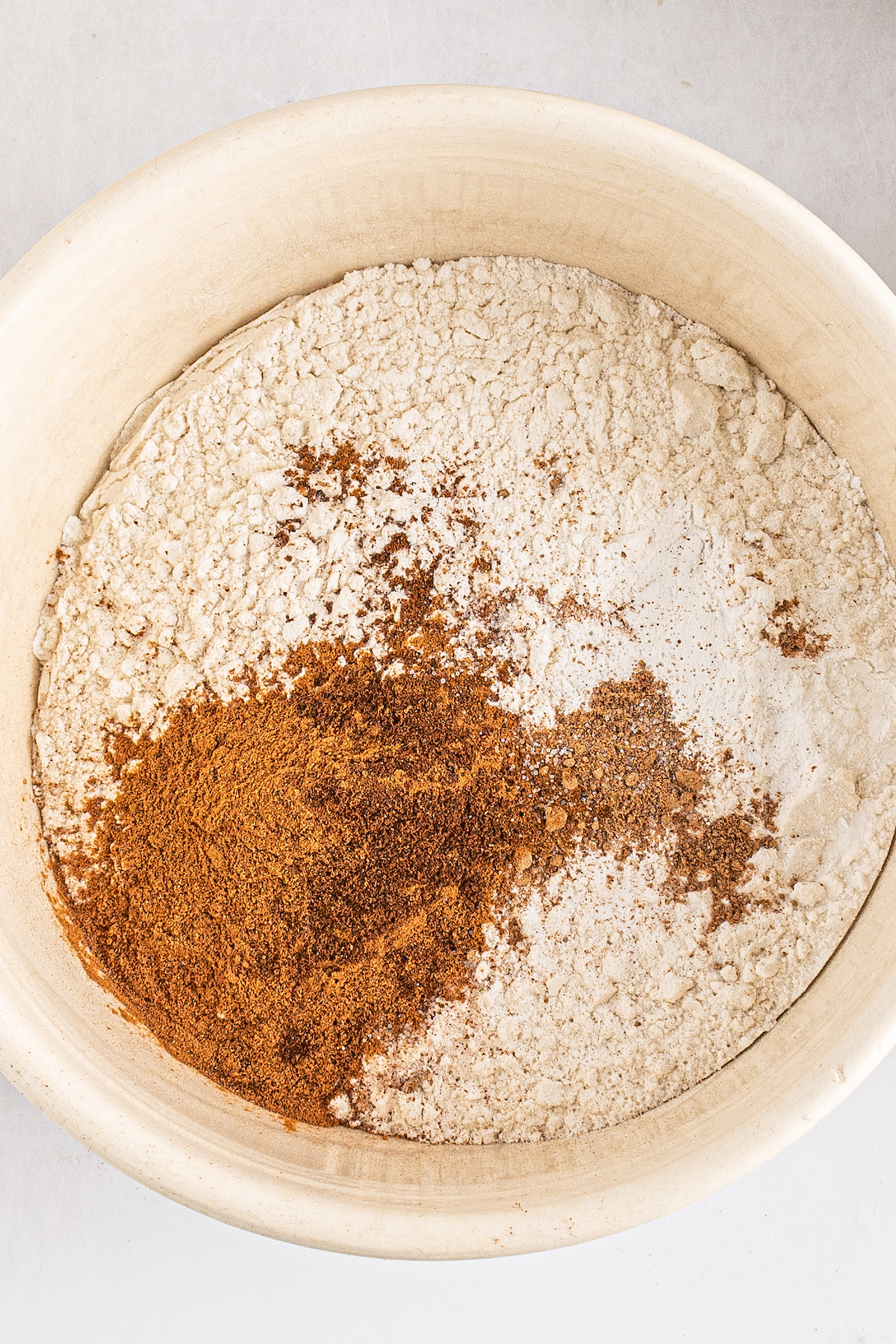 Mix the Dry Ingredients. In a large mixing bowl, whisk together the flour, cinnamon, baking powder, baking soda, salt, nutmeg, and cloves. Set this aside as well.
Mix the Wet Ingredients. In the bowl of a stand mixer fitted with a paddle attachment, (or in a large mixing bowl, with a hand mixer or whisk) blend together the brown sugar, vegetable oil, and sugar. Once those ingredients are smooth, add the eggs and mix to incorporate. Then add the sour cream and pumpkin puree, and mix those in as well.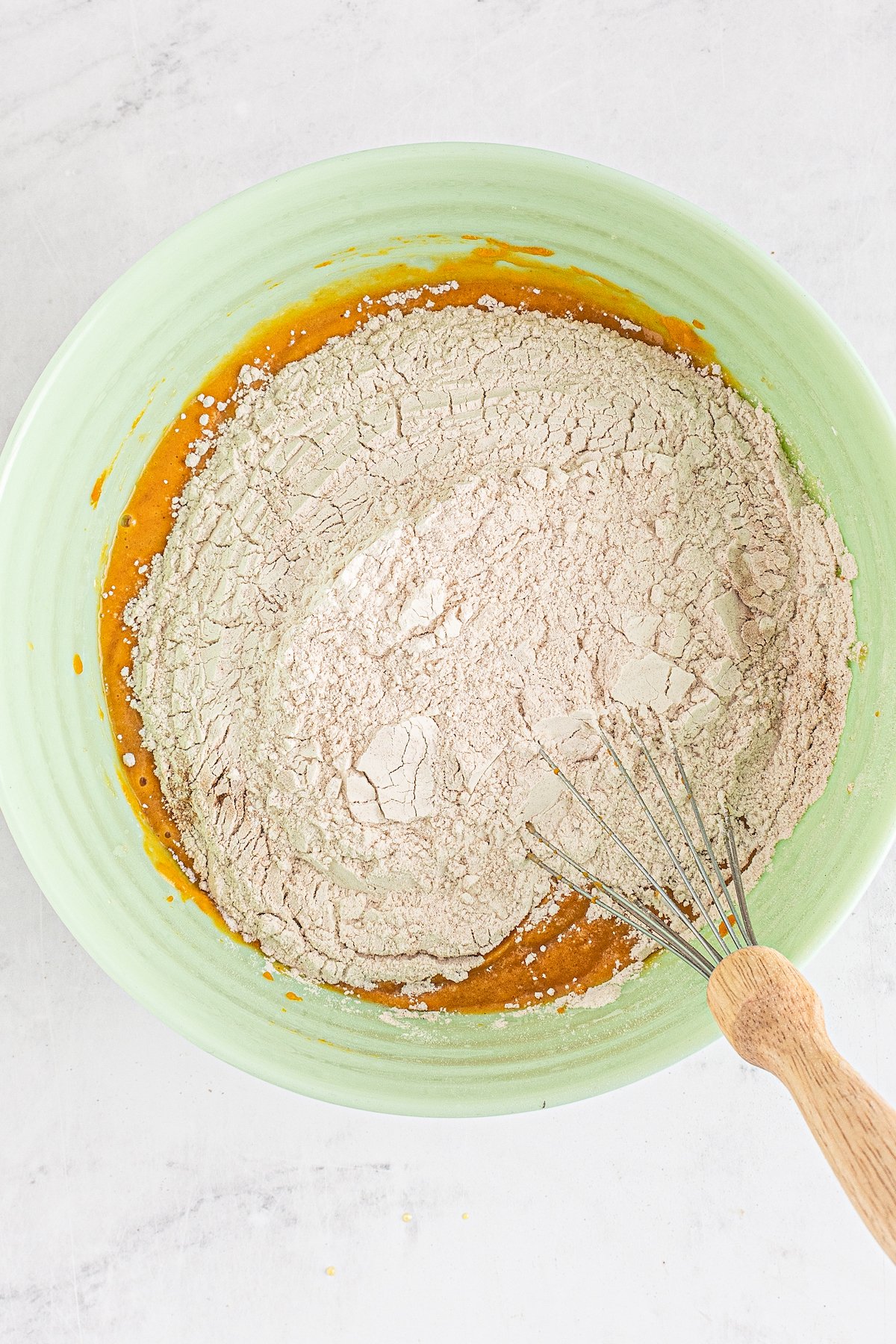 Combine the Wet and Dry Mixtures. Dump the flour mixture into the pumpkin mixture, and mix until the two are fully blended, but don't overmix past that point.
Bake the Muffins. Pour or scoop muffin batter into each liner, filling them each ¾ of the way full. Bake for 20 to 22 minutes, or until a toothpick inserted into the center comes out clean (or with a few moist crumbs). Let the muffins cool in the muffin tin for 10 minutes, and then move them to a cooling rack to finish cooling.
Enjoy!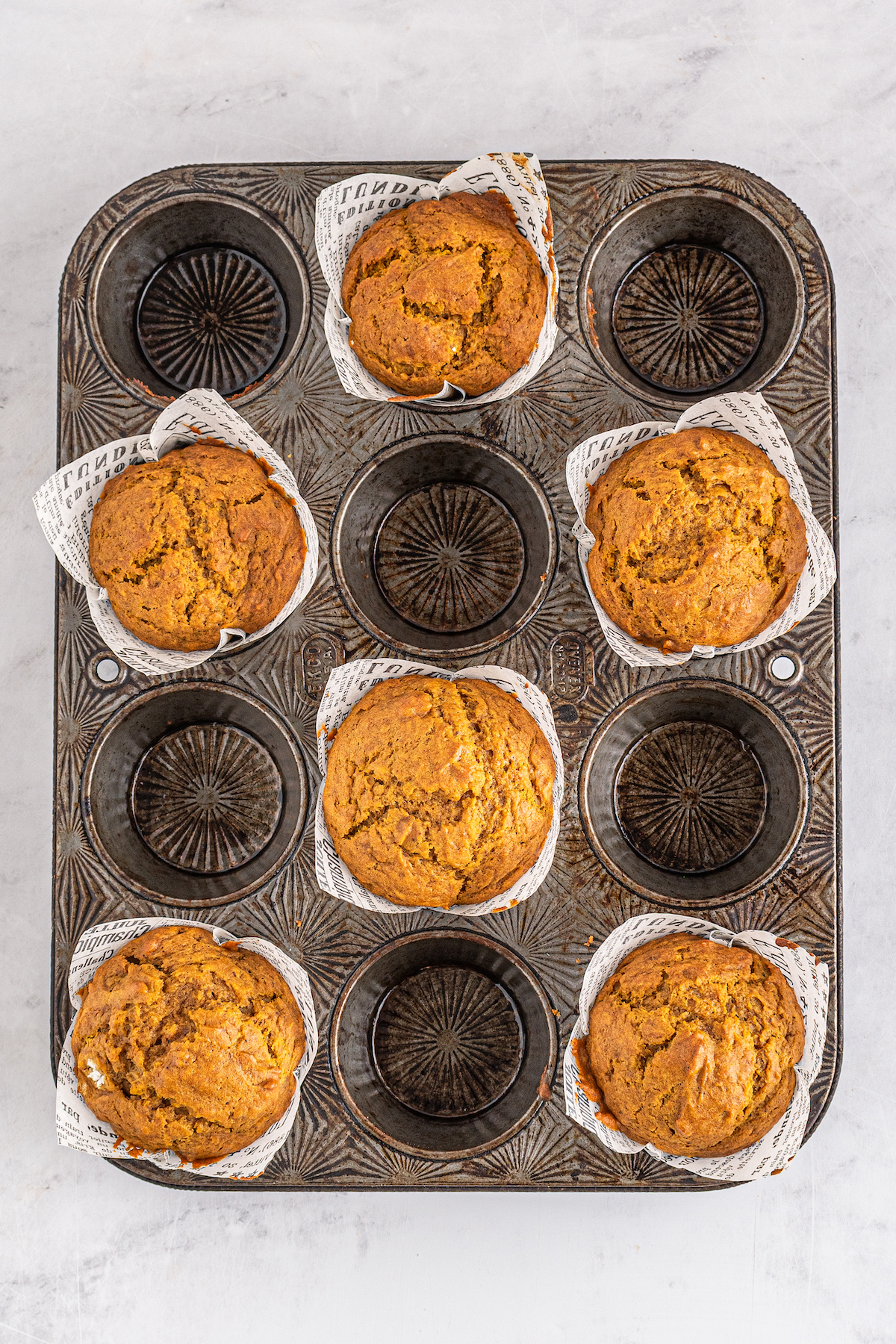 Helpful Recipe Notes
So there you have it – classic pumpkin muffins. I also have a few additional tips I'd like to share about this recipe, so read on, and happy baking!
Don't Overmix: Once the flour is added to the recipe, make sure you only mix until just combined. Overmixing can cause the gluten to overdevelop, resulting in crumbly muffins.
Cookie Scoop Using a cookie scoop to add the batter to the liners in a great, mess free way to do so! This is my favorite cookie scoop.
Rounder Muffins: For a higher rise and more rounded muffin tops, try spacing the muffins out so that you only fill every other muffin well in the tin. You'll need to bake in batches or use two muffin tins if you do this.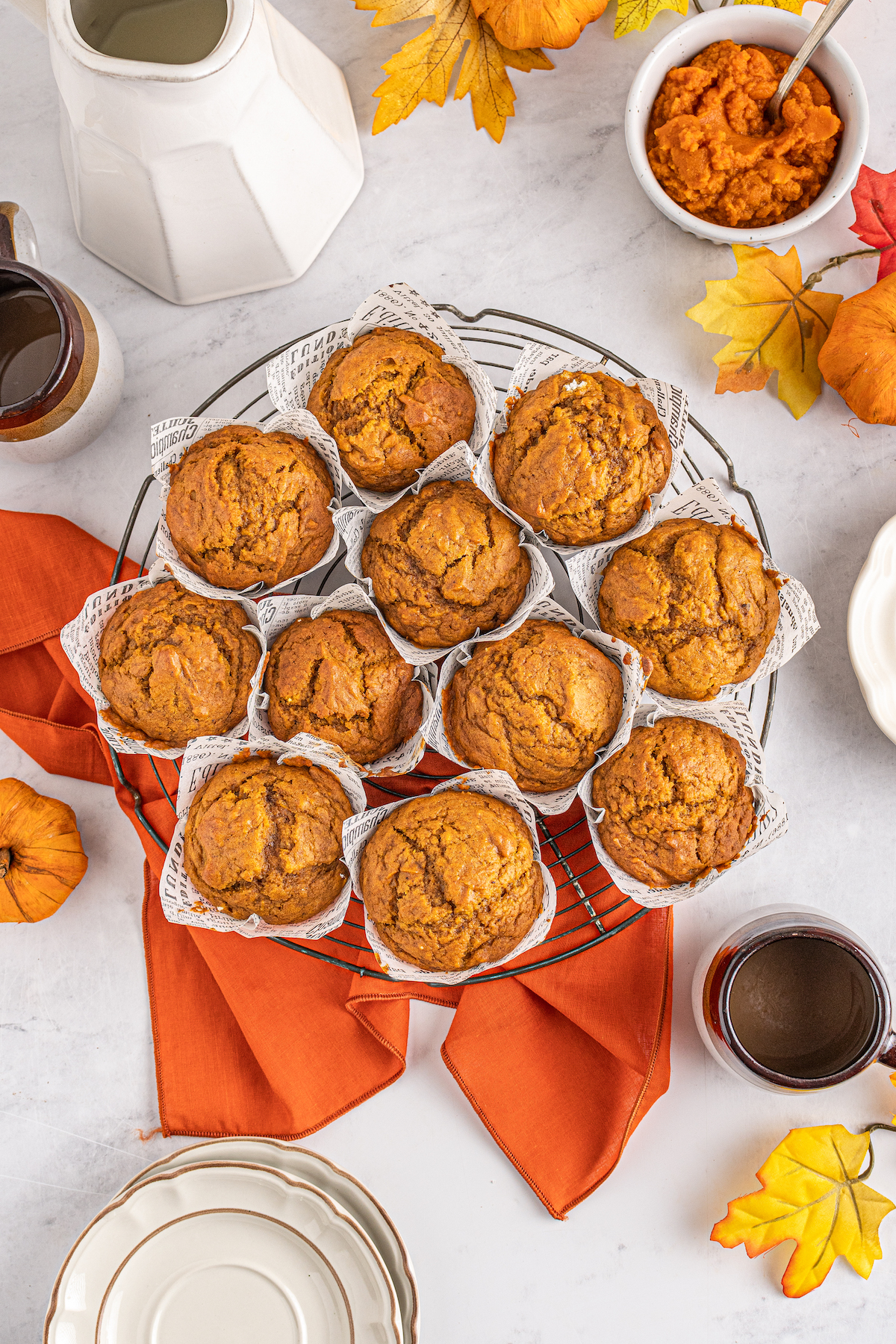 Tasty Variations
You can make this recipe just as it is, or add your favorite tweaks – these are just a few ideas to get you started:
Mix-Ins: Try adding raisins, chopped nuts, or even Heath crumbles to the muffin batter for an extra-special treat.
Toppings: This is a great recipe for topping! Give the muffins a little Maple Glaze from my easy donut recipe, or a drizzle of decadent Pecan Praline Sauce.
Chocolate: For the ultimate yumminess, try adding chocolate chips to the batter and pressing a few extra on top. Everyone will love this variation!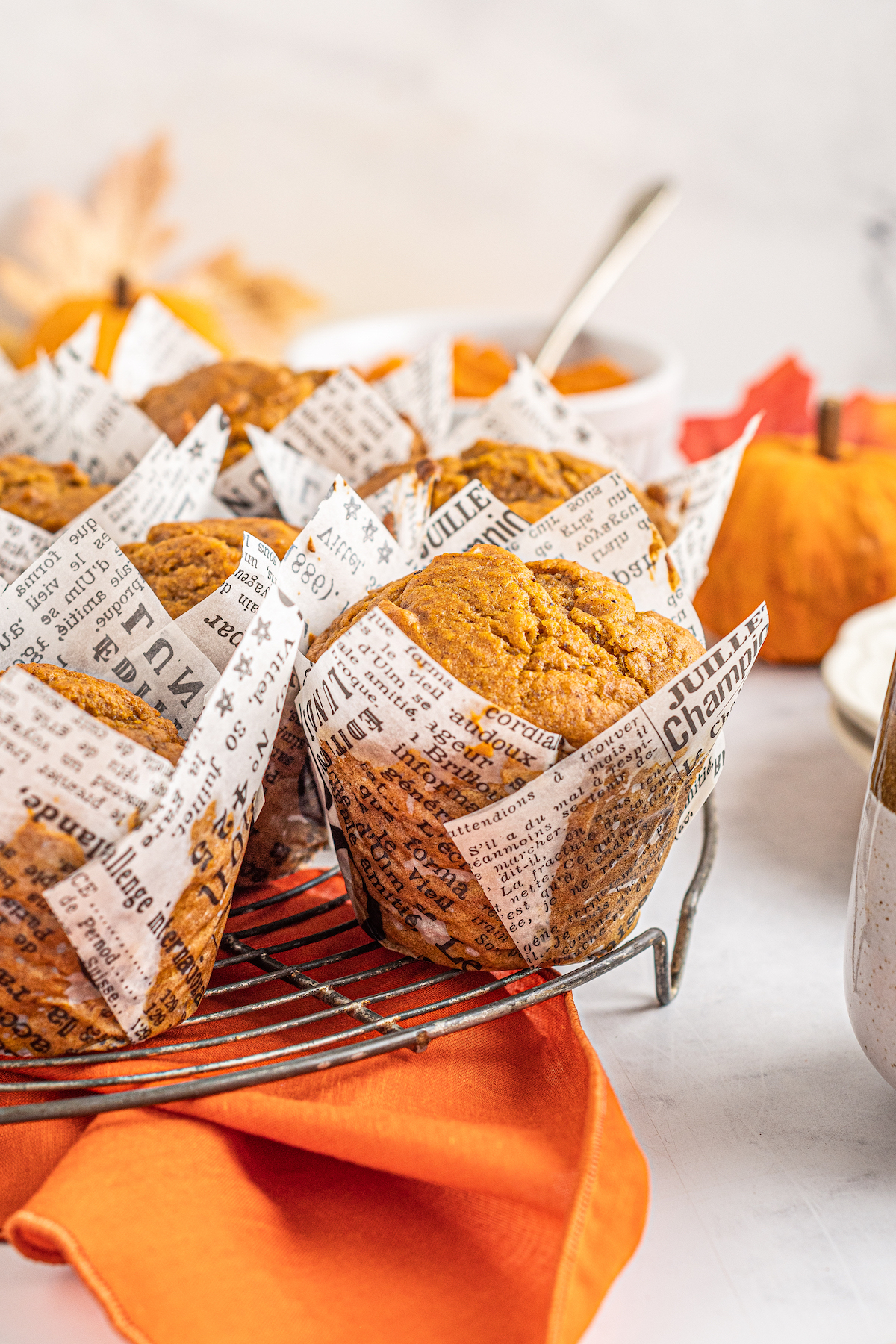 Storing and Warming Leftover Muffins
Pumpkin muffins may be stored in an airtight container or baggie for up to 5 days. No need to refrigerate.
Do Pumpkin Muffins Freeze Well?
Yes, you can definitely freeze these – in fact, you may want to double the recipe and freeze half for another time! To freeze, wrap them tightly in plastic wrap, or place in freezer bags. Freeze them for up to 3 months. Thaw to room temperature before you serve them.
Pumpkin Muffins
Tender, sweet Pumpkin Muffins are the perfect easy breakfast or snack. Warm autumn spices and real pumpkin give them loads of wholesome flavor.
Ingredients
2 ¼

cups

all purpose flour

2 ½

teaspoon

ground cinnamon

1 ½

teaspoon

baking powder

¾

teaspoon

baking soda

¾

teaspoon

salt

½

teaspoon

nutmeg

¼

teaspoon

cloves

1

cup

packed brown sugar

½

cup

vegetable oil

⅓

cup

granulated sugar

2

large eggs + 1 yolk

3

tablespoons

sour cream

1

15 oz can pumpkin puree
Instructions
Preheat the oven to 350°F. Line a muffin tin with paper liners and lightly spray with baking spray. Set aside. 

In a large mixing bowl combine flour, cinnamon, baking powder, baking soda, salt, nutmeg and cloves. Mix to combine, then set aside.

In the bowl of a stand mixer, fitted with a paddle attachment, combine brown sugar, vegetable oil and sugar. Beat on a medium speed until smooth. 

Add in eggs and mix until just incorporated. Add sour cream and mix to combine, then add in pumpkin puree and mix. Add in the dry ingredients and mix until just incorporated.

Fill each muffin liner in the prepared muffin tin 3⁄4 of the way full with batter. 

Bake muffins for 20 to 22 minutes or until a toothpick inserted into the center comes out clean, or with a few moist crumbs. Let cool for 10 minutes then transfer to a cooling rack to cool completely.
Nutrition
Serving:
1
,
Calories:
222
kcal
,
Carbohydrates:
33
g
,
Protein:
3
g
,
Fat:
9
g
,
Saturated Fat:
1
g
,
Polyunsaturated Fat:
7
g
,
Cholesterol:
39
mg
,
Sodium:
233
mg
,
Fiber:
1
g
,
Sugar:
17
g
Categories:
More Cozy Pumpkin Recipes
This post may contain affiliate links. Read my disclosure policy.