Streusel Pumpkin Muffins: these made from scratch, moist pumpkin spice muffins, are topped with a golden cinnamon streusel and drizzled with cream cheese icing!
These Pumpkin Streusel Muffins are the adorable sister of the now famous Pumpkin Cream Cheese Swirl Muffins.
The base muffin recipe for the pumpkin spice muffins are exactly the same. Why mess with perfection?
But they have a brand new topping — an amazing cinnamon streusel! The streusel topping bakes into the top of the muffins and turns a gorgeous golden brown.
Then, you can stop there, or you can add a cream cheese icing drizzle right on top before serving. These pumpkin muffins are absolutely divine!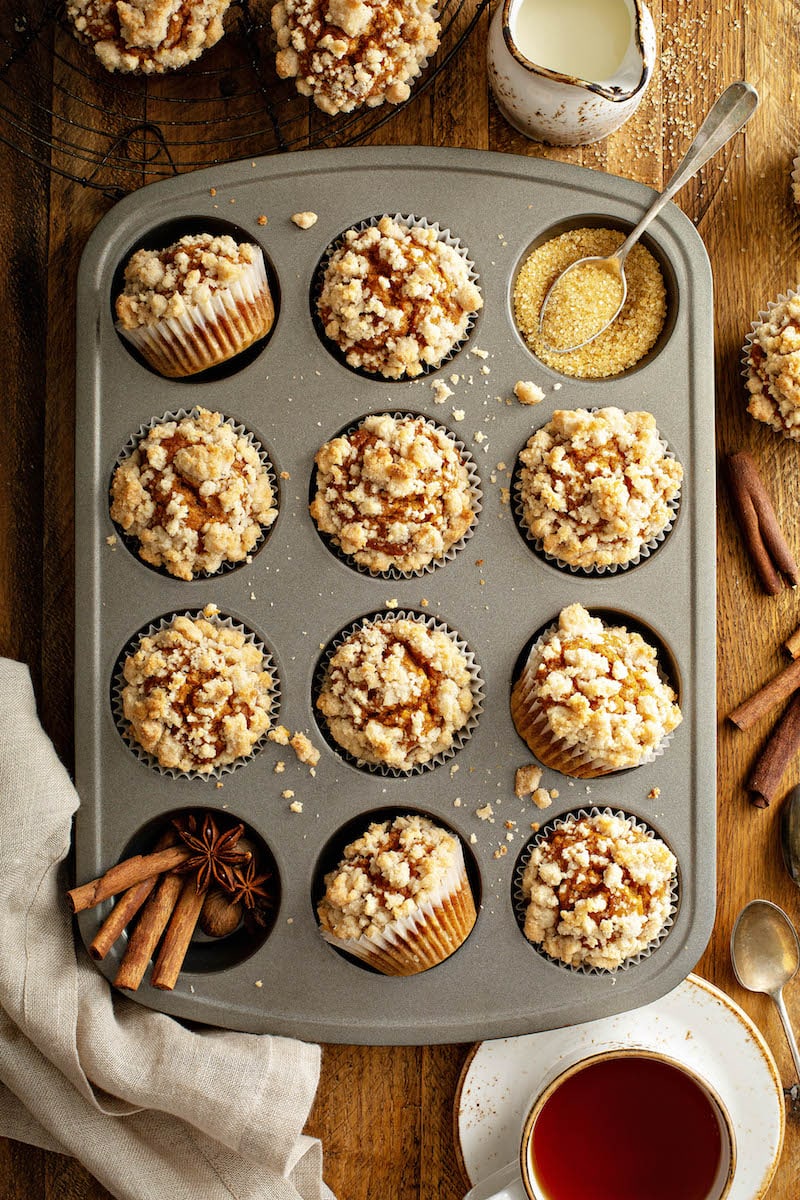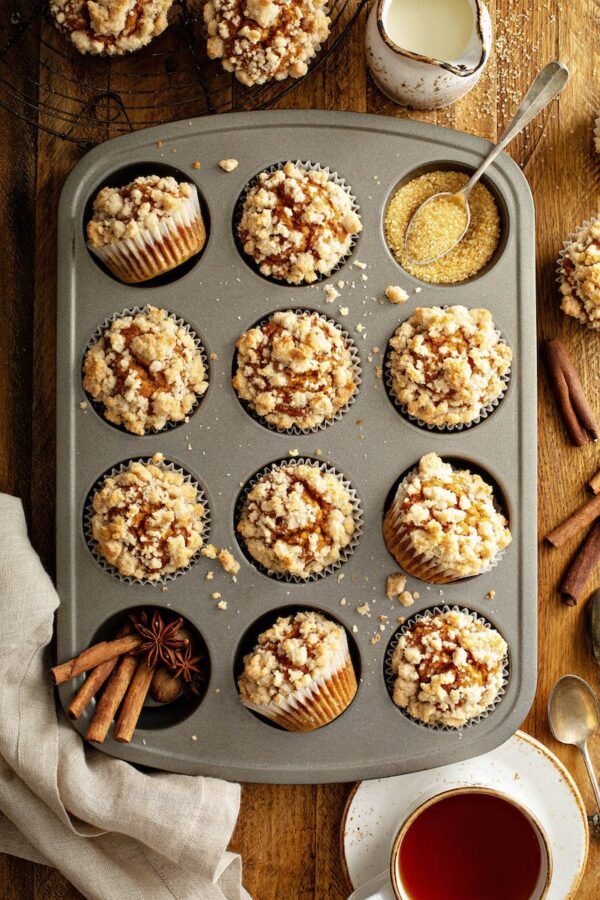 Pumpkin muffins with a whole can of pumpkin!
One goal I have when making a pumpkin recipe is using an entire can of pumpkin if I am able to.
I know we can't always help it, but I hate when a recipe only uses part of a can of pumpkin puree and I have to open an entire can.
And I worked on this streusel pumpkin muffins recipe to use a whole 15 oz can of canned pumpkin!
However, we are only making 18 muffins total, so each muffin is loaded with real pumpkin flavor!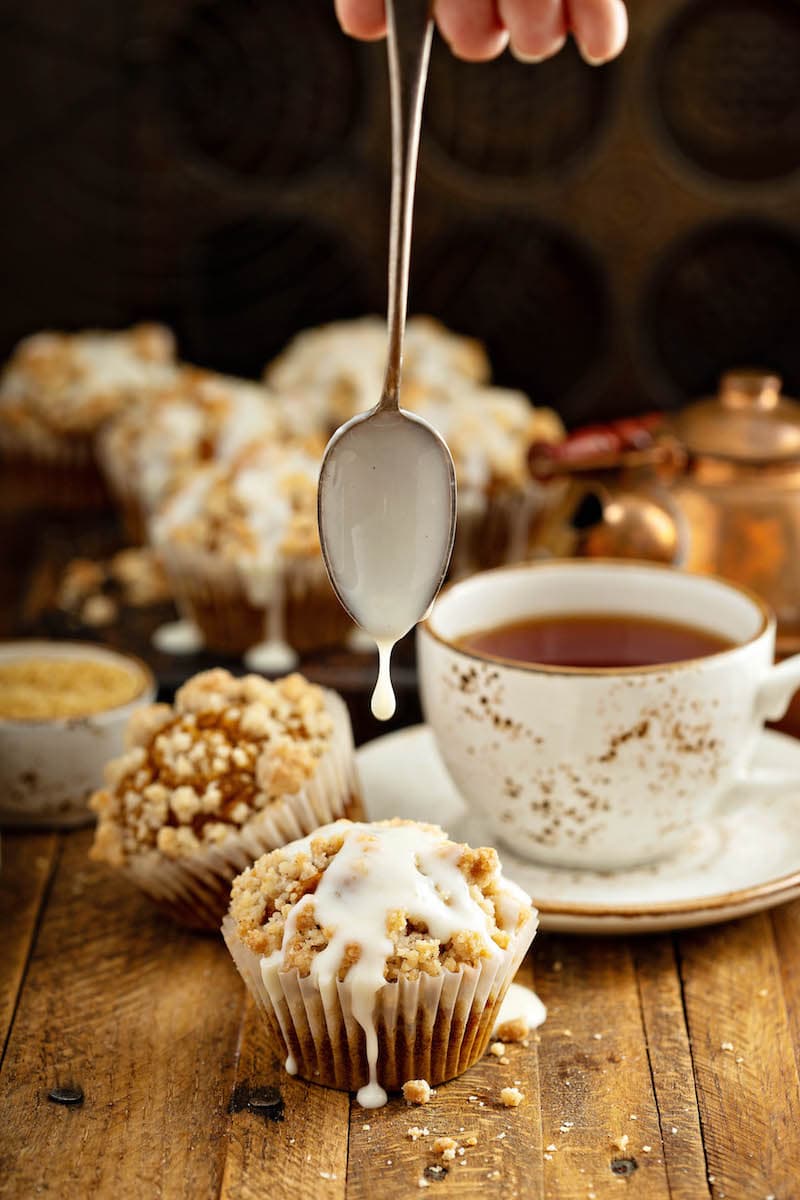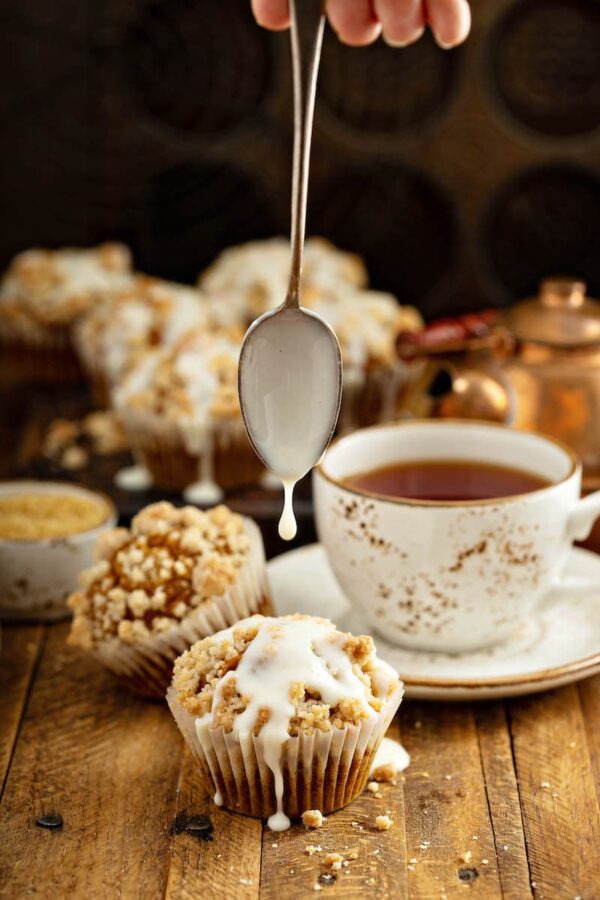 Pumpkin Muffin with Streusel:
A muffin with streusel is so much better than a muffin without streusel. There, I said it.
When I drizzled the cream cheese on top of a warm streusel pumpkin muffin fresh out of the oven, I about died. SO GOOD.
If you are worried, make a streusel is very easy:
In a small bowl, whisk together flour, sugar and cinnamon.
Then you add melted butter and then stir with a fork until crumbly. (You can also beat it with a hand mixer until just crumbly).
Sprinkle it on the top of the muffins and bake them! It's that easy and adds a ton of flavor!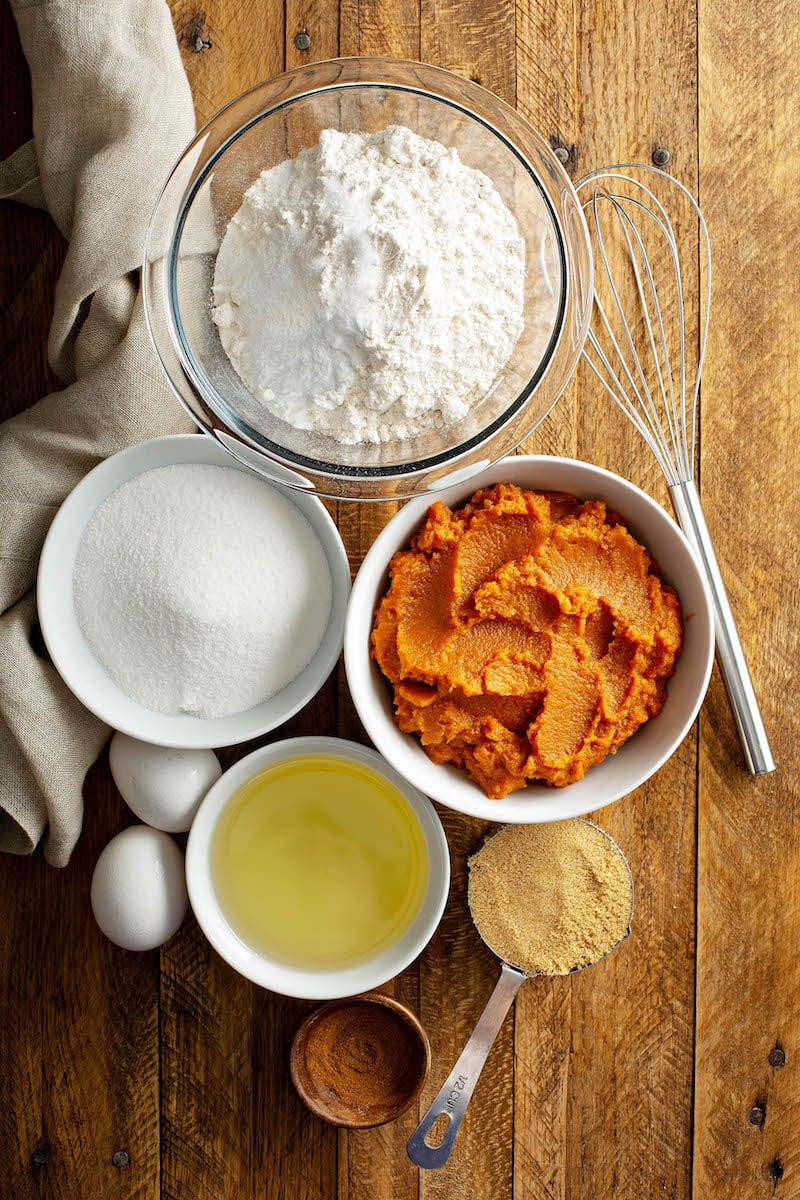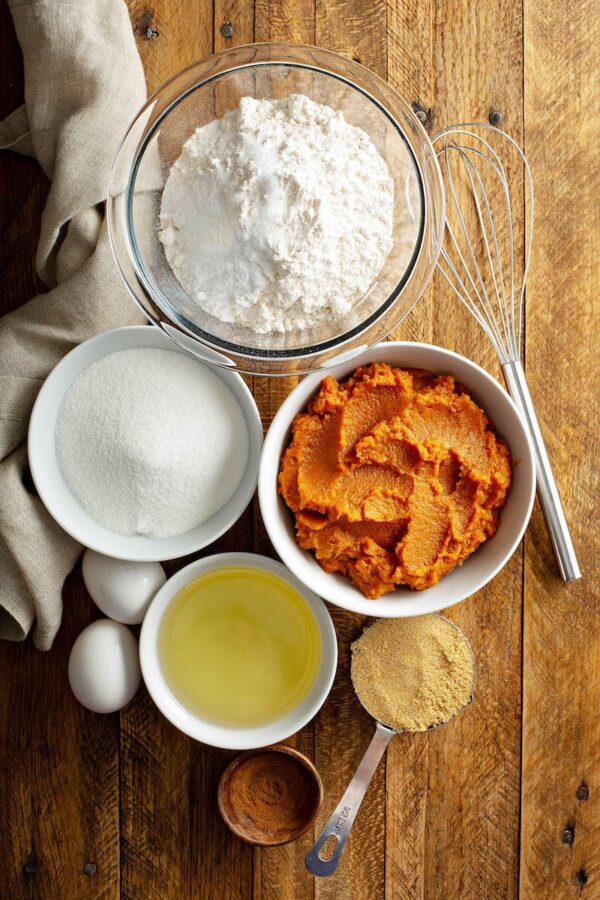 Pumpkin Muffin Ingredients:
Like most pumpkin baking recipes, you want to use pure canned pumpkin puree. You do not want to buy a can of pumpkin pie filling.
I use a combination of brown sugar and granulated sugar, but you can use all of one or the other if you choose.
The brown sugar adds a little molasses to the muffins and adds moisture to the muffins and flavor.
The last key to these epic pumpkin muffins is the tablespoon of pumpkin spice! Don't skip it!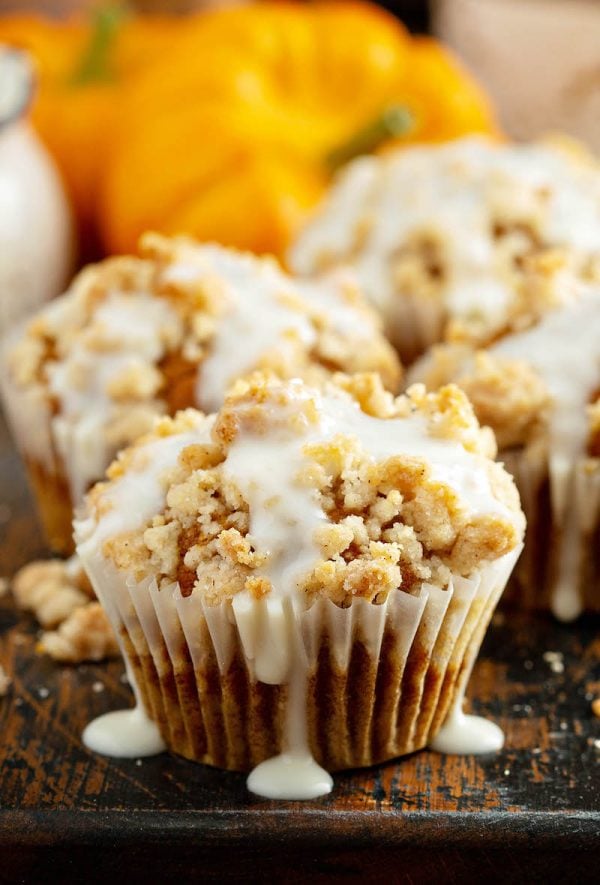 Oil vs Applesauce in Pumpkin Muffins:
The last key ingredient is to add a little oil to keep them extra moist.
A lot of muffins use butter, but trust me on the oil choice instead for these.
If you are anti vegetable oil, you can use unsweetened applesauce in it's place, that's totally ok.
They are best with oil, but still delicious with applesauce. Just a little less moist and the texture is fluffier.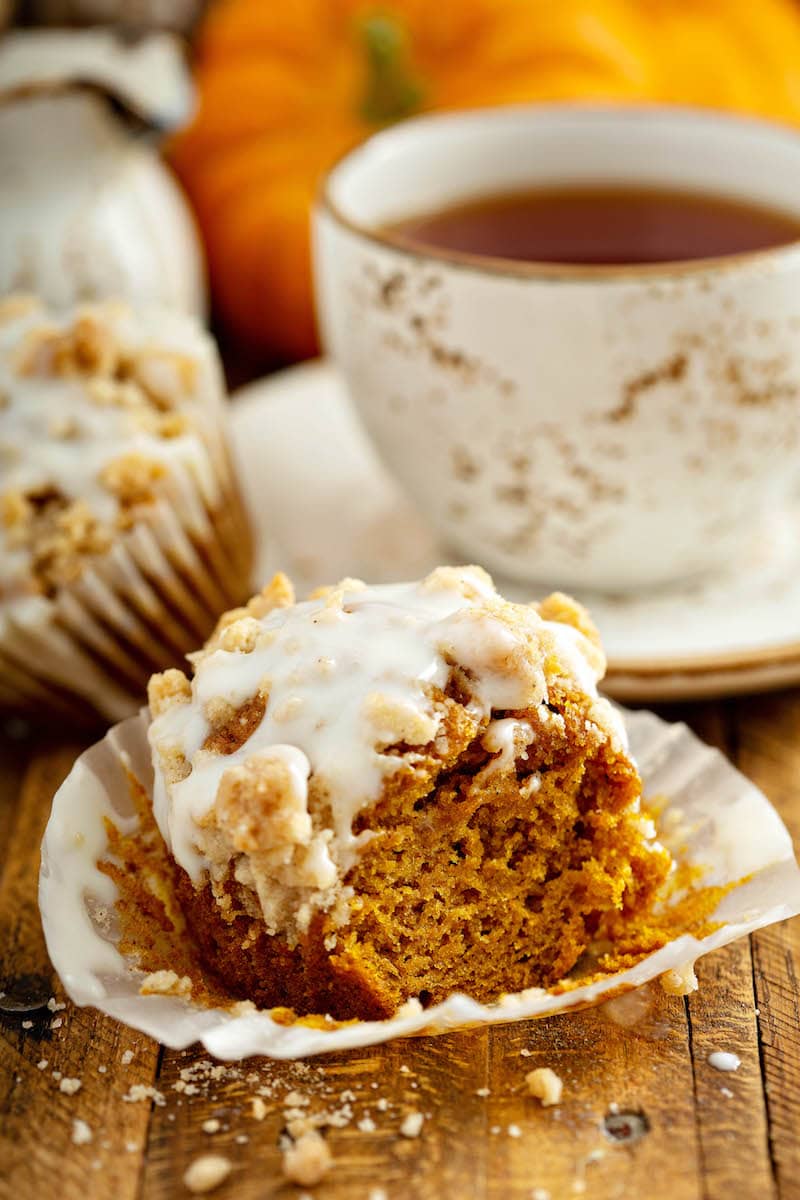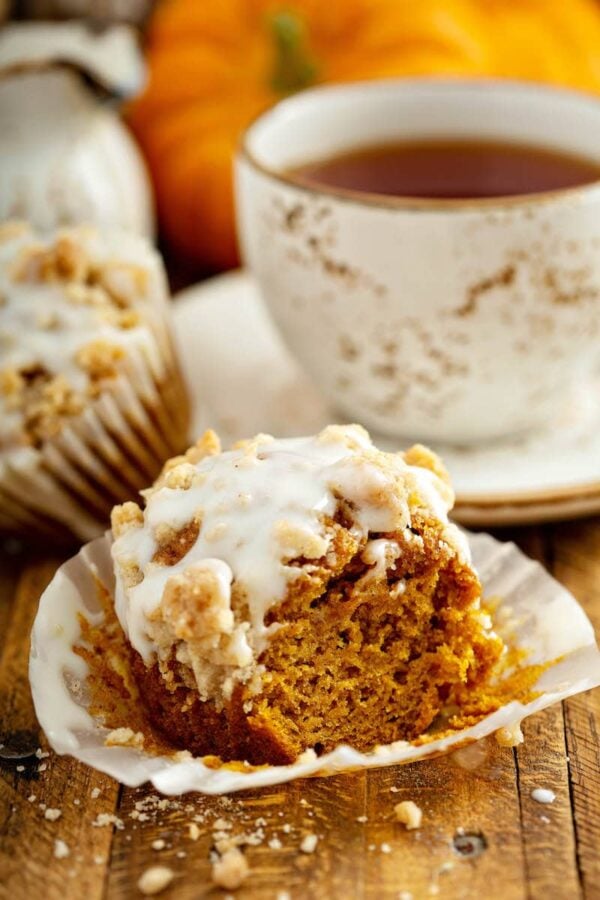 Just look at that perfect texture inside these pumpkin spice muffins! Holy cow, they are so soft and moist.
Plus, in case you are in a rush, these Pumpkin Streusel Muffins do not take long to make and are super easy to whip up.
No hand mixer or stand mixer needed! Just a couple of bowls and a good strong whisk!
I am so excited for all of you to try these Pumpkin Streusel Muffins with Cream Cheese Icing!
I know you are going to love them as much as we do. They are an extremely well tested recipe and are well loved by everyone who has had them!
If you love this recipe, make sure and check out my Pumpkin Sour Cream Coffee Cake , that also has an amazing streusel on top, and the famous, big layered Pumpkin Dream Cake!
Yield: 18 standard muffins
Streusel Pumpkin Muffins Recipe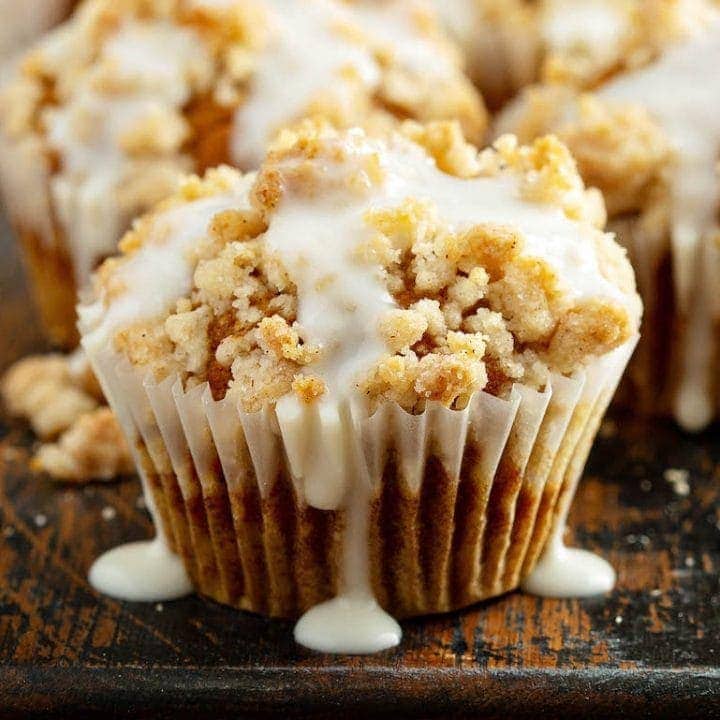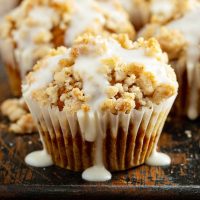 Streusel Pumpkin Muffins: these made from scratch, moist pumpkin spice muffins, are topped with a golden cinnamon streusel and drizzled with cream cheese icing!
Ingredients
Pumpkin Spice Muffins:
1 3/4 cups all purpose flour
1 tablespoon pumpkin spice
1 teaspoon baking soda
1/2 teaspoon salt
1 (15 oz) can pumpkin (pure pumpkin puree)
1 cup granulated sugar
1/2 cup packed brown sugar
2 large eggs
1/2 cup vegetable oil
1 tablespoon vanilla extract
Cinnamon Streusel:
1 cup all-purpose flour
3/4 cup granulated sugar
1 teaspoon cinnamon
1/4 teaspoon salt
6 tablespoons butter, melted
Cream Cheese Icing:
2 ounces cream cheese, room temperature
3/4 cup powdered sugar
2 tablespoons milk
1/2 teaspoon vanilla extract
Instructions
Preheat oven to 375°F. Place paper baking cups into muffin pan. Set aside.
Cinnamon Streusel: In a small bowl, whisk together flour, sugar and cinnamon, add melted butter and stir with a fork until crumbly (can also beat with a hand mixer until crumbly if you need to). Set aside.
Pumpkin Spice Muffins: In a medium bowl, whisk flour, pumpkin spice, baking soda and salt until well combined. Set aside.
In large bowl, whisk together pumpkin, sugar and brown sugar.
Beat in eggs, vegetable oil and vanilla extract. Slowly whisk in the flour mixture, until there are no lumps. Fill muffin tins 3/4 full.
Top each muffin with about 2-3 tablespoons of streusel mixture and gently press down.
Bake muffins for 18-20 minutes, or until a toothpick inserted in the center comes out clean.
Cream Cheese Icing: In a small bowl, beat together cream cheese, powdered sugar, milk and vanilla until smooth. If needed, slowly add more milk until you reach a good drizzle consistency.
Drizzle the frosting onto the warm muffins and serve immediately!
Notes
To reheat muffins, pop one or two muffins into the microwave for 10 seconds. They will taste freshly baked!
Nutrition Information:
Yield:
18 muffins
Serving Size:
1 muffin
Amount Per Serving:
Calories:

295
Total Fat:

12g
Saturated Fat:

4g
Trans Fat:

0g
Unsaturated Fat:

7g
Cholesterol:

34mg
Sodium:

210mg
Carbohydrates:

45g
Fiber:

1g
Sugar:

29g
Protein:

3g
Categories
If you try these muffins, make sure and leave a comment/review below letting me know how they turn out!
Categories
This post may contain affiliate links. Read my disclosure policy.