Move over, pie – this decadent Pumpkin Roll with Toffee Filling might just be everyone's new Thanksgiving favorite! Spirals of tender pumpkin cake and dreamy cream cheese filling with toffee bits are an unbeatable combination.
A Beautiful Autumn Pumpkin Roll with Toffee-Cream Cheese Filling
There are a few flavors that you just have to have around Halloween and Thanksgiving: pumpkin, toffee, cream cheese, and of course, pumpkin pie spice. This recipe combines them all into a decorative jelly-roll-style cake that will have everyone begging for the recipe. You can make this for a holiday meal, or just serve it with coffee for a delightful weekend break.
Even if you've never made a roll cake, this recipe is easy and practically foolproof. Rolling the warm cake around the filling is simple, and it doesn't have to be perfect to be beautiful. So preheat that oven, throw on an apron, and let's get baking!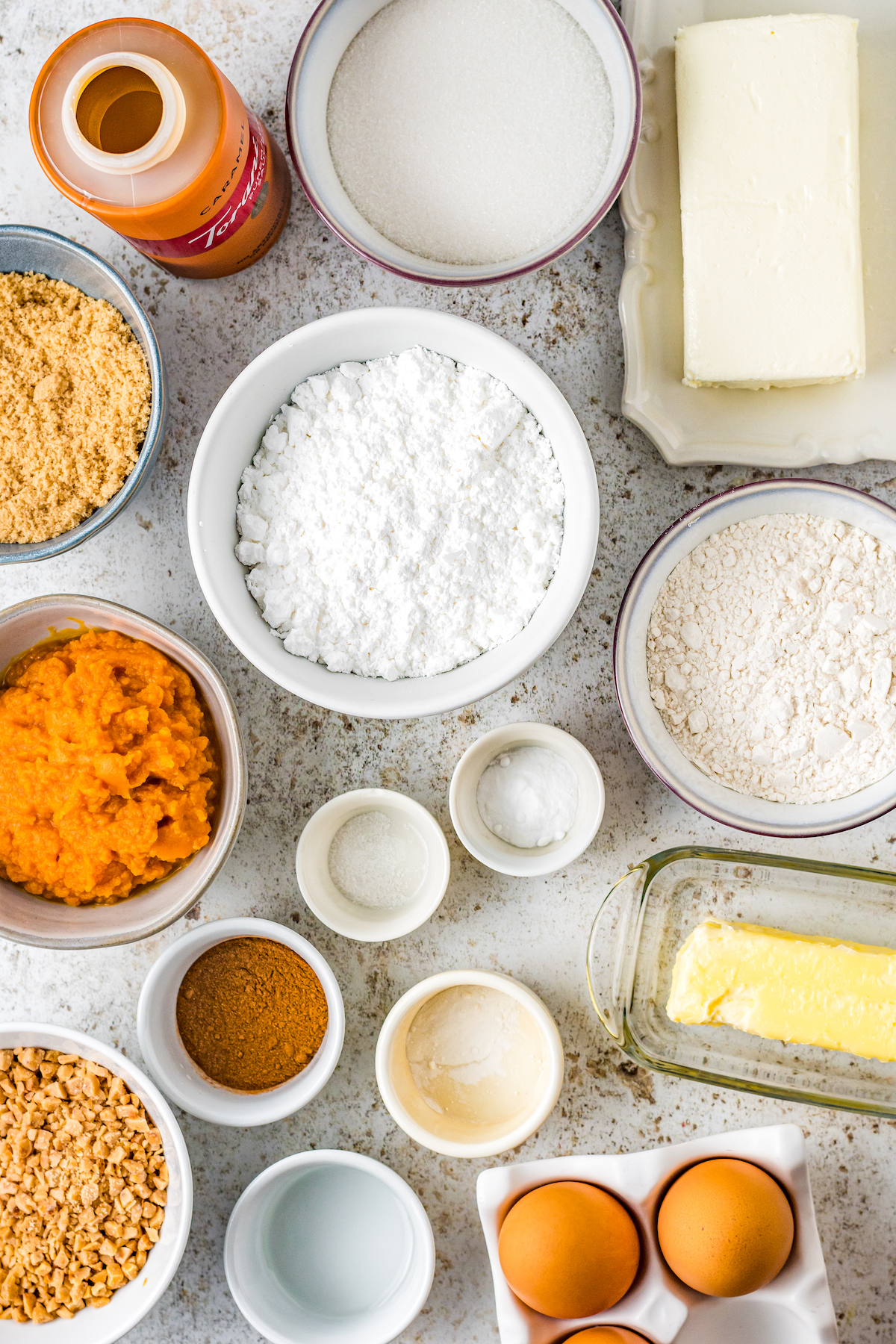 Ingredients
Since this is a made-from-scratch recipe, it's full of simple, wholesome ingredients. And there are lots of easy substitutions you can make, as well! Here's the list:
For the Pumpkin Roll
Eggs: Large, whole eggs will bind the batter together and make it roll-able.
Sugar: A combination of white sugar and brown sugar keeps the cake moist, and adds a slight molasses flavor.
Pumpkin: Make sure to use pumpkin puree, not pumpkin pie filling. Look for cans that have only one ingredient: pumpkin!
All-Purpose Flour: You don't need much here – this cake will be a thin layer.
Baking Powder and Baking Soda: Using both baking powder and baking soda keeps things light and fluffy.
Pumpkin Pie Spice: Use store-bought pumpkin pie spice, or blend your own.
Salt
For the Toffee Cream Cheese Filling
Cream Cheese: To make a smooth filling, have your cream cheese at room temperature before you start mixing the filling.
Butter: The butter should also be at room temperature. Salted or unsalted is fine – I usually use unsalted when I bake.
Vanilla: Pure vanilla extract gives the best flavor.
Powdered Sugar: Sifted, to remove any lumps. You can use a sifter or just tap it through a sieve.
Toffee Bits: These are usually available on the baking aisle, with the other baking chips and pieces. If you can't find them, you can chop up a Heath bar or similar (a little extra chocolate never hurt anyone!)
Caramel Sauce: For serving. The sauce from my recipe for Churros with Salted Caramel Sauce would be perfect, or you could use caramel sauce in a jar from the ice-cream section of the grocery store.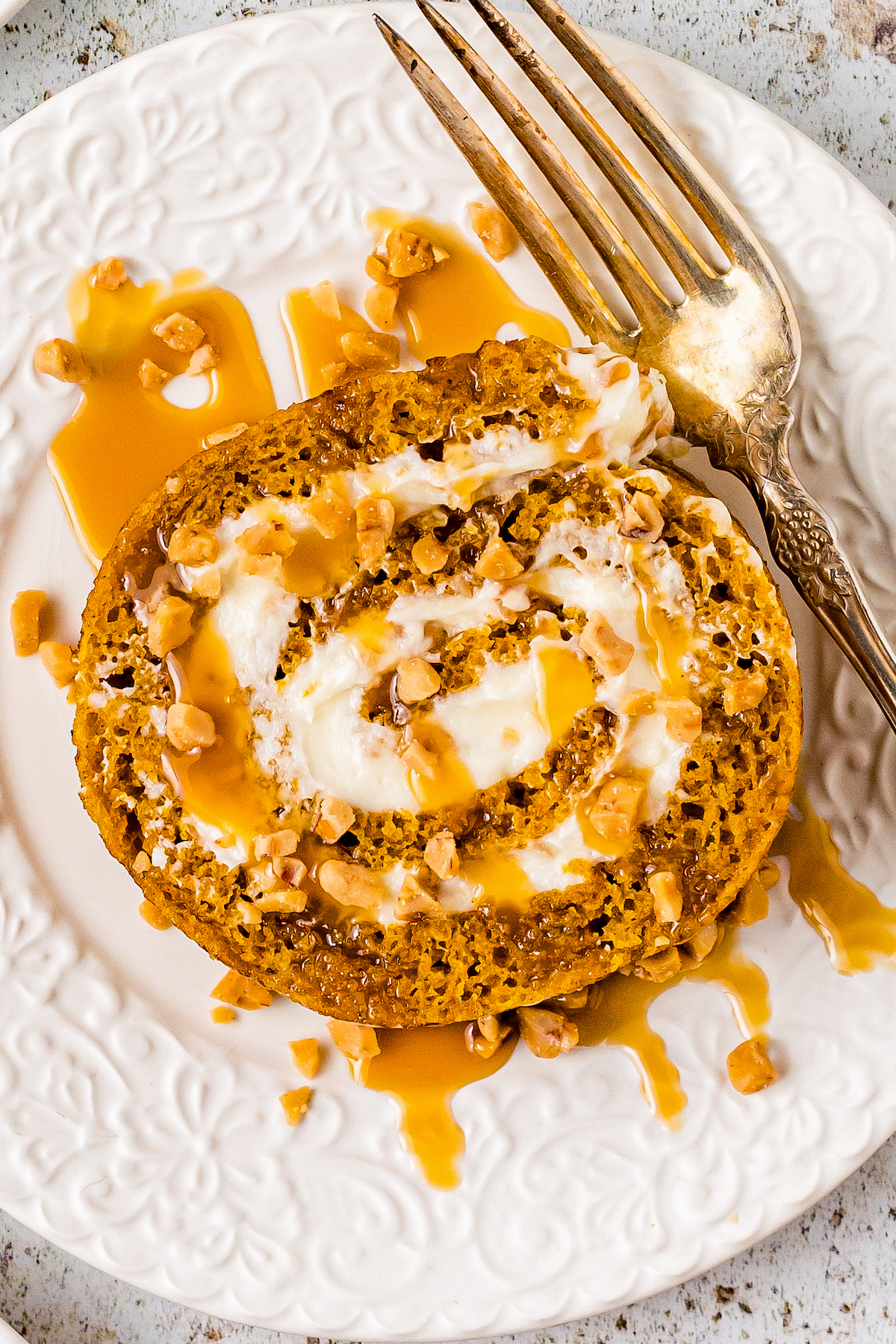 How to Make a Pumpkin Roll
Now that we've covered the ingredients you will need, let's take a look at the method. There are basically two major parts to this recipe: making the cake and doing the first roll, followed by making the filling and doing the second roll.
Prep the Oven and Baking Pan. To start, preheat your oven to 350°F. While it heats, line a 15×10" rimmed jelly roll pan with parchment paper.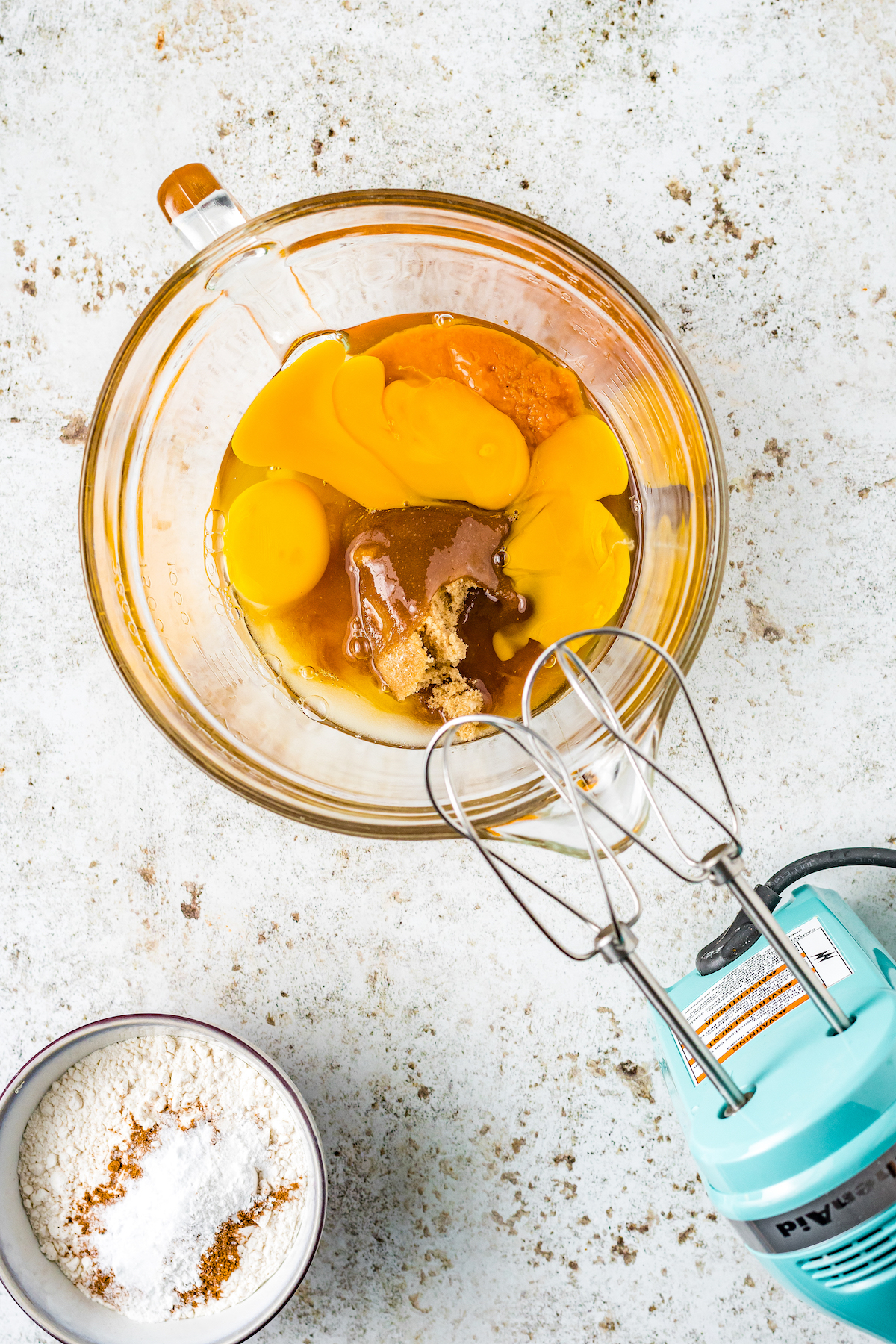 Mix the Dry Ingredients in One Bowl, and the Wet Ingredients in Another. Using a hand mixer (or stand mixer), beat the eggs, sugar, brown sugar, and pumpkin puree together in a large mixing bowl. Then combine the flour, baking powder, baking soda, pumpkin pie spice, and salt in another mixing bowl, whisking them together.
Combine the Wet and Dry Mixtures. Beat the dry ingredients into the wet ingredients until just combined, but don't overmix past that point.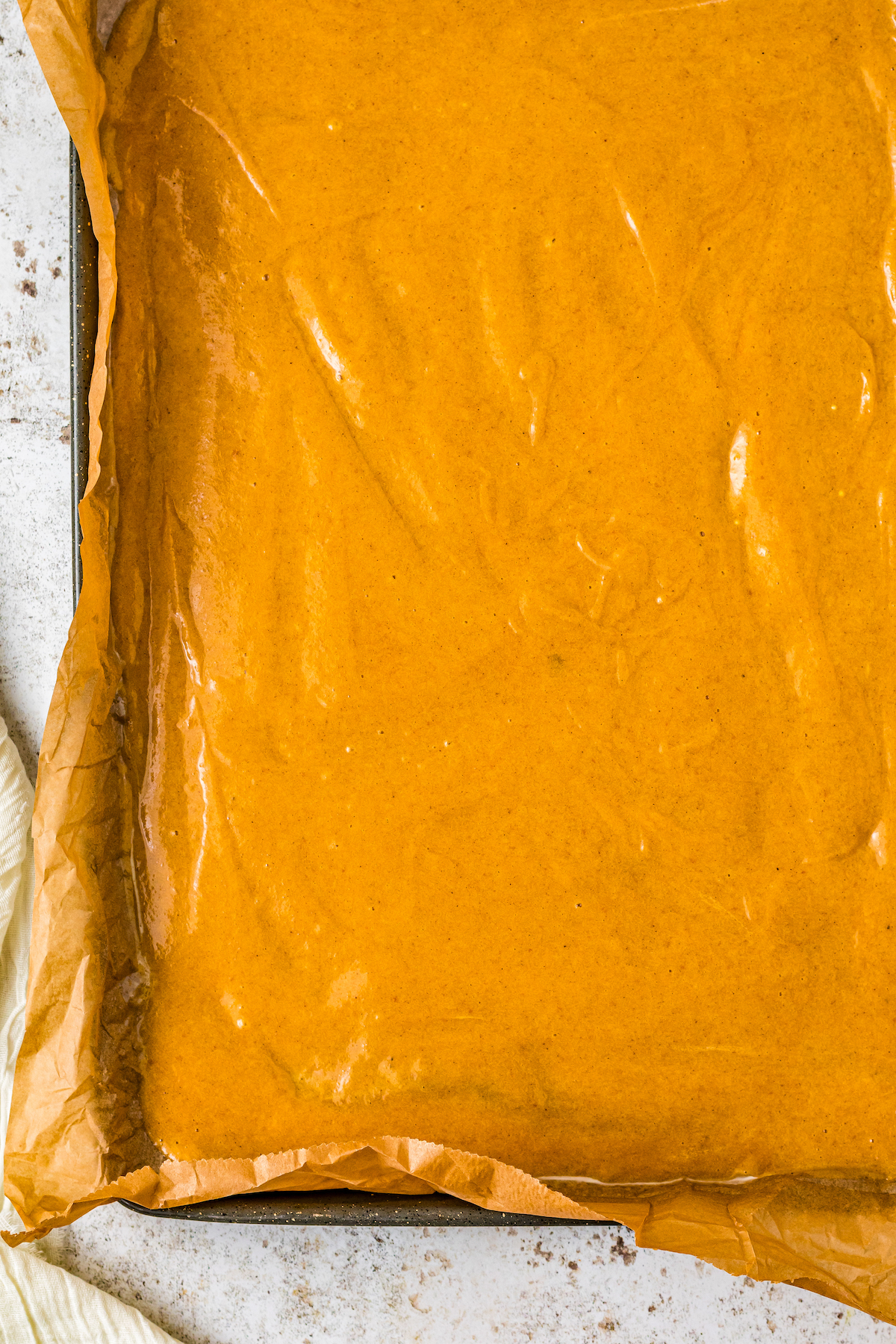 Bake the Cake. Pour the cake batter over the parchment in the jelly roll pan, and spread it out evenly with a spatula. Slide it into the oven, and let it bake for about 15 minutes, until the cake is done.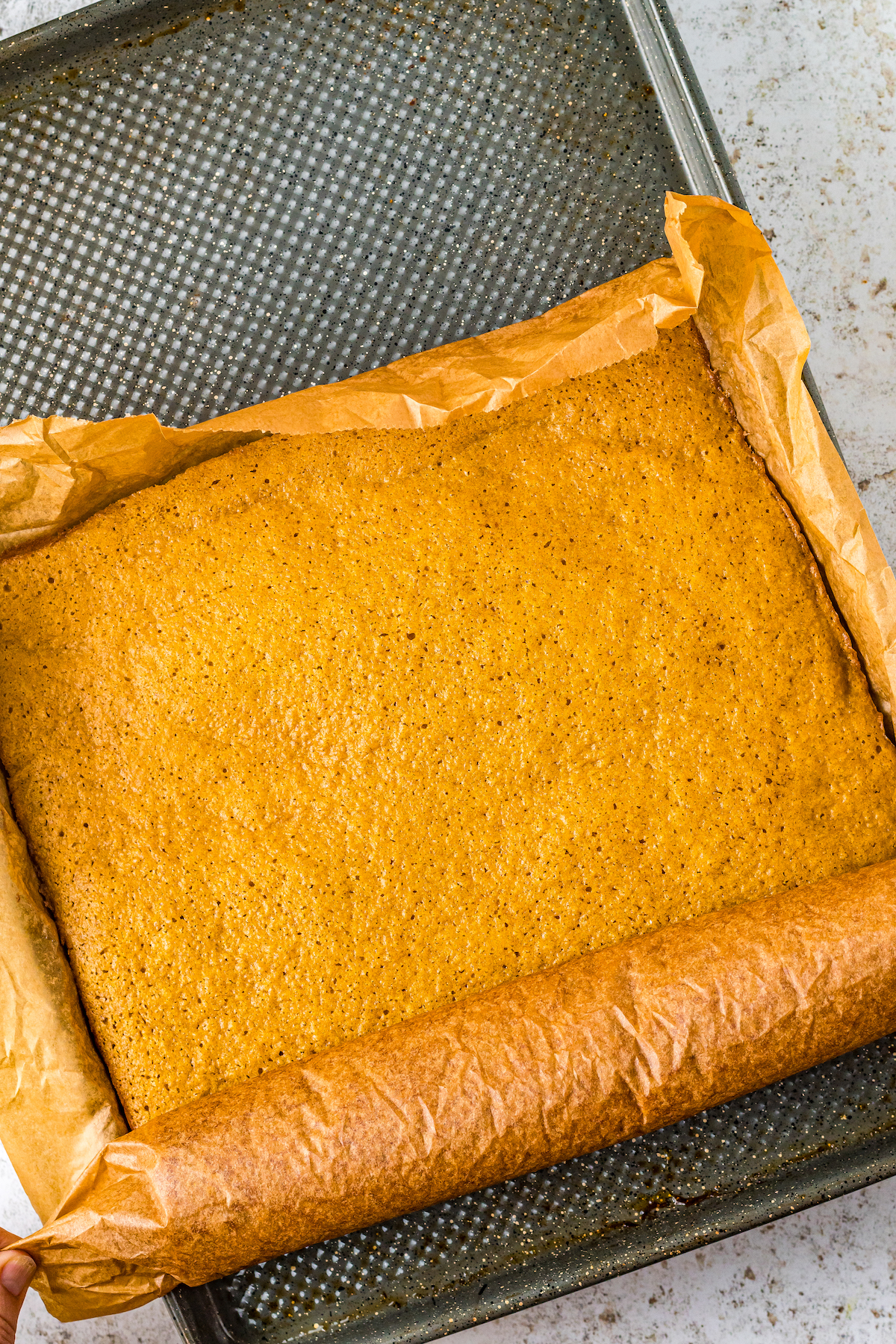 Roll It Up (First Rolling). Now it's time to roll up the warm cake, to help it get into the right shape (even though it's not filled yet). Fold one end of the parchment over the bottom edge of the cake, and then continue rolling the cake and parchment together, to make a spiral. Place the rolled-up cake on a cooling rack to cool down completely.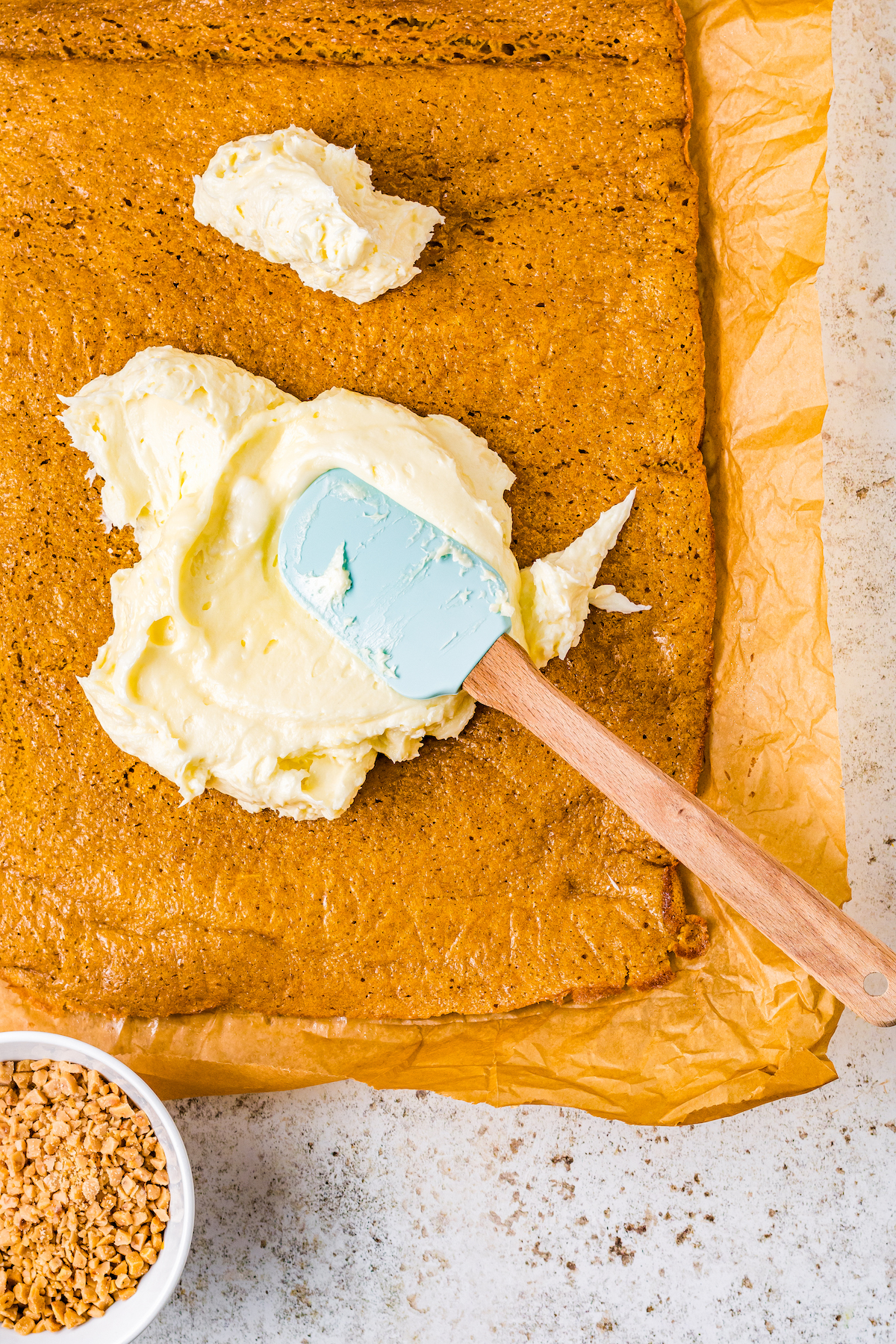 Make the Filling. In the bowl of a stand mixer, or in a clean mixing bowl with a cleaned hand mixer, beat together the cream cheese, softened butter, vanilla extract, and powdered sugar. Beat it well, until it's light and creamy.
Fill and Roll the Cake (Second Rolling). When the filling is made and the cake is completely cool, it's time to finish the cake roll! Carefully unroll the cake, and spread the filling evenly over the surface, all the way to the edges. Sprinkle toffee bits all over the filling, except for one spoonful for the top of the cake roll. Roll up the cake again, this time unpeeling the parchment as you go.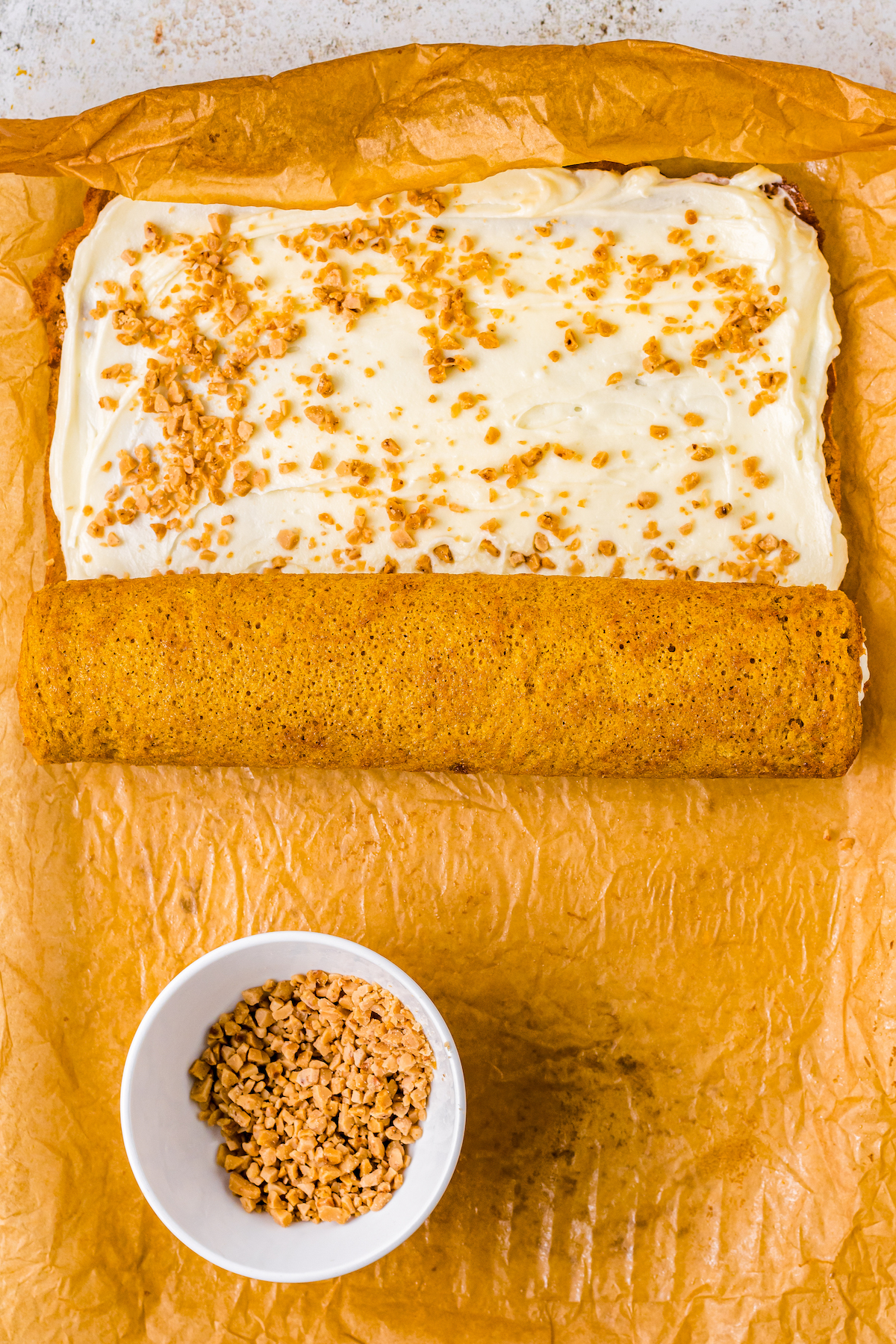 Chill, Top, and Serve. Place the pumpkin cake roll on a serving dish, cover with plastic wrap or foil, and refrigerate until you're ready to serve. To serve this cake, drizzle it with caramel sauce, sprinkle with a spoonful of toffee pieces, and slice.
Enjoy!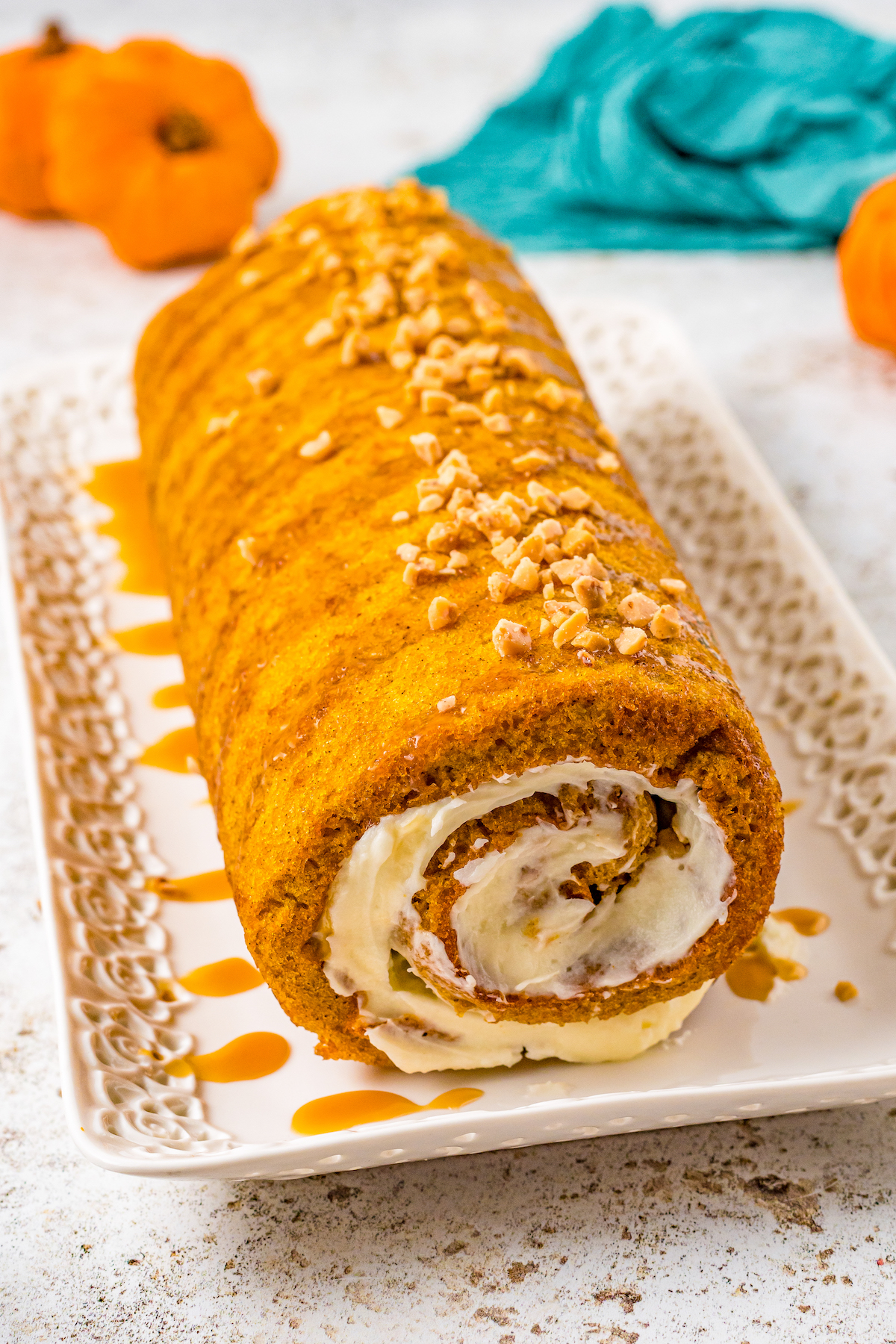 How Do I Keep My Pumpkin Roll from Cracking?
One of the keys to an uncracked, unbroken pumpkin roll cake is the first roll, when the cake is warm from the oven. Warm cake is softer than cooled cake, in part because it's filled with steam. So when your cake comes out of the oven and you roll it up right away, that helps it "set" in the right shape.
The other key is very gentle handling when you unroll the cake and fill it. Since it cooled in a spiral shape, it may not unroll completely flat. That's okay! Just gently open it out and gently spread the filling on. Then very, very gently roll it back up. Almost every time, you should get a nice, uncracked cake!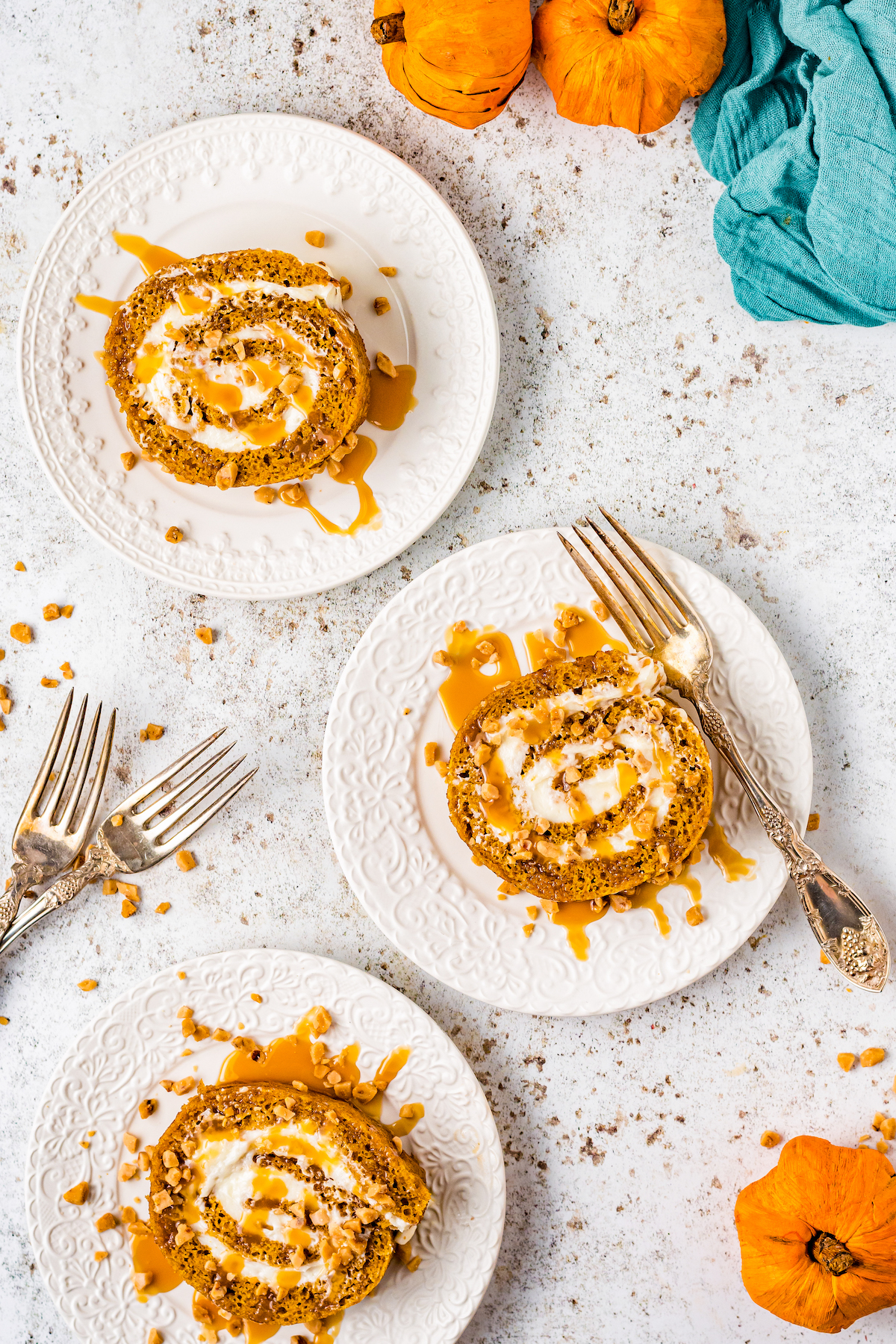 Tips and Tricks for the Perfect Pumpkin Roll
Want more easy tips? I've got 'em! Here are a few more helpful pointers for making this pumpkin cake roll.
About the Parchment: No need for a tea-towel! For easy handling, use parchment paper (not a tea towel) to line your 10×15-inch jelly roll pan. Parchment is super non-stick, and works very well to sturdily, evenly roll that cake up.
Fitting the Parchment: Make sure to cut a piece that is 2 inches longer than your baking sheet on each end. To make it fit into the rimmed pan, gently crumple the paper, then press it into the corners, letting the longer ends hang over the edges.
Pumpkin Notes: Make sure you use 100% canned pumpkin puree, not canned pumpkin pie filling. Sometimes the cans they come in look almost identical! But pumpkin pie filling has lots of other ingredients, like sweeteners, thickeners, and spices – it won't taste good or perform well in this recipe.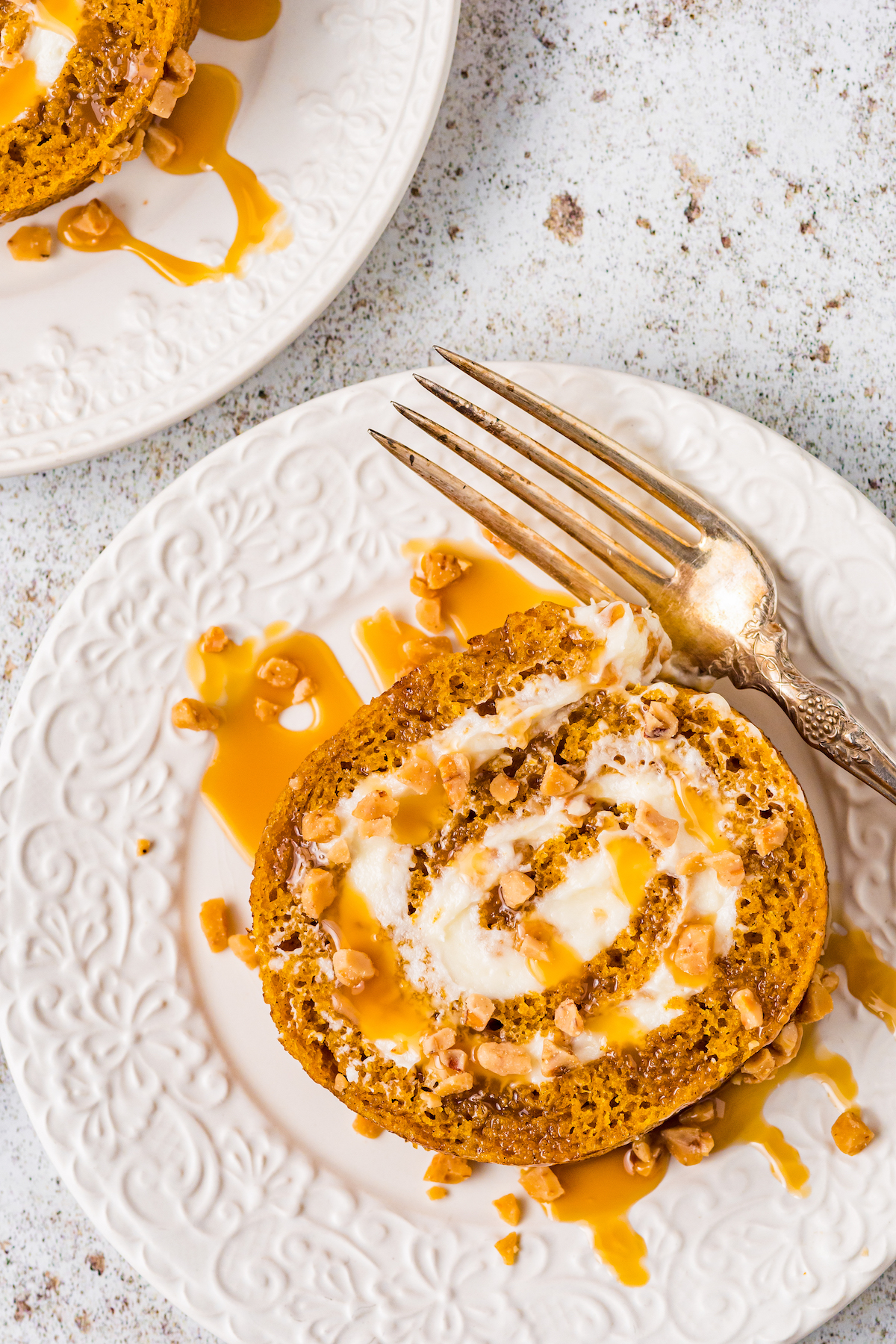 Yummy Variation Ideas
Not sure you want caramel? No problem. Toffee not your thing? Change it up! Put your own twist on this decadent dessert. These easy tweaks and variations will give you a little inspiration.
Buttercream Instead of Cream Cheese: Cream cheese frosting as a tangy sweetness, but a more traditional buttercream would also be great. Make sure to make a good, thick buttercream and only apply it to a completely cool cake, and put it right into the fridge until you're ready to serve – buttercream tends to be delicate.
Chocolate Instead of Caramel: A drizzle of chocolate ganache or store-bought fudge sauce would make a great topping in place of the caramel.
White Chocolate Macadamia: For a sweet, creamy twist, replace the toffee bits with crushed macadamia nuts, and top with a drizzle of melted white chocolate instead of (or in addition to) caramel sauce.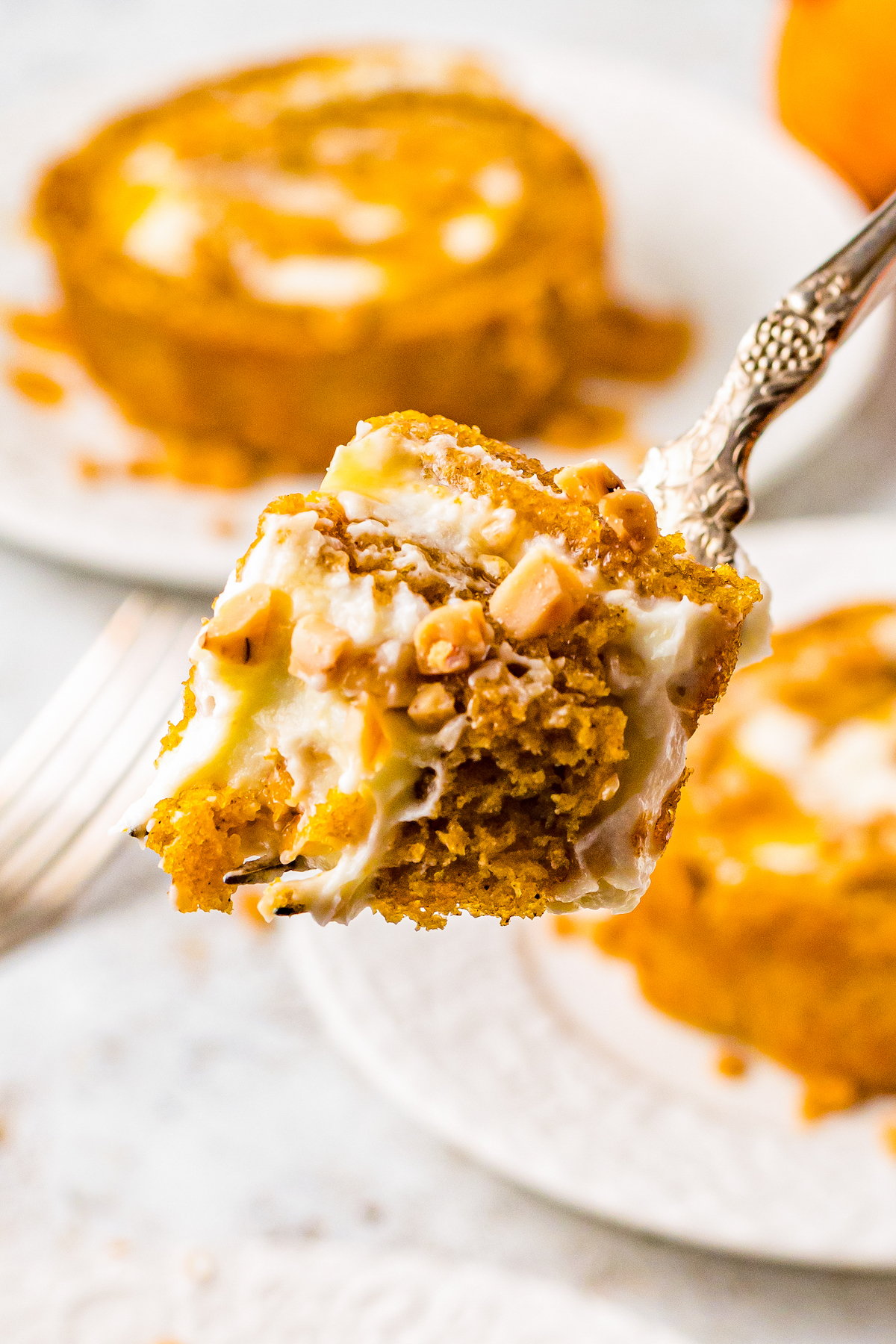 How Long Does a Pumpkin Roll Last in the Fridge?
The most important thing to keep in mind when storing a roll cake is to wrap it in plastic wrap or foil, so that as little air as possible can get to the cake and dry it out. Store it in an airtight container in the refrigerator, for up to 5 days.
Can I Freeze This?
You can definitely freeze this recipe! Wrap it in a double layer of plastic followed by foil, mark with the date, and store in the freezer for up to 3 months. Thaw it in your refrigerator before cutting and serving.
Yield: 12 Servings
Pumpkin Roll with Toffee Filling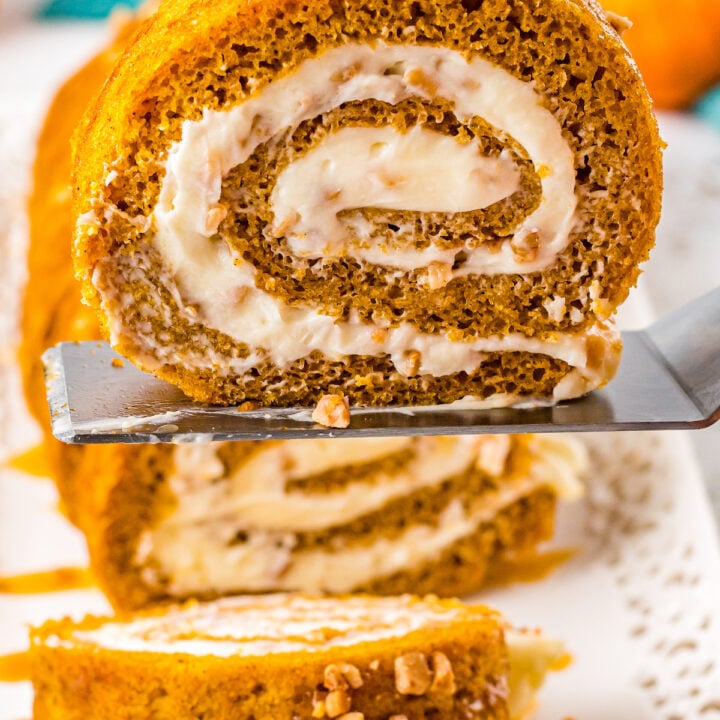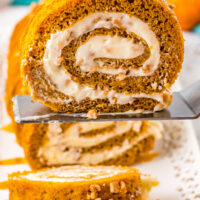 Move over, pie - this decadent Pumpkin Roll with Toffee Filling might just be everyone's new Thanksgiving favorite! Spirals of tender cake and dreamy cream cheese filling with toffee bits are an unbeatable combination.
Additional Time
25 minutes
Total Time
1 hour
10 minutes
Ingredients
For the Cake:
3 large eggs
2/3 cup granulated sugar
1/3 cup packed brown sugar
2/3 cup canned pumpkin puree
3/4 cup all purpose flour
1/2 teaspoon baking powder
1/2 teaspoon baking soda
1 tablespoon pumpkin pie spice
1/4 teaspoon salt
For the Filling:
1 (8 ounce) block cream cheese, room temperature
6 tablespoons butter, softened
1 teaspoon vanilla extract
1 cup powdered sugar, sifted
1/2 cup toffee bits
Caramel sauce, for serving
Instructions
Heat the oven to 350°F and line a 15 x 10 jelly roll pan with parchment paper.
Using a hand mixer (or stand mixer), beat the eggs, sugar, brown sugar, and pumpkin puree together in a bowl.
In a separate bowl, whisk to combine the dry ingredients: flour, baking powder, baking soda, pumpkin pie spice, and salt. Then beat the dry ingredients into the wet ingredients, until just combined.
Pour the cake into the prepared jelly roll pan and spread out evenly. Bake for 15 minutes, until cooked through.
Remove and fold one end of the parchment paper over the cake and roll the warm cake up into a roll (with the parchment paper). If you are unsure, check the photos in the post above. Place the cake on a cooling rack and allow it to cool completely.
With a hand mixer (or stand mixer), beat the cream cheese, butter, vanilla and powdered sugar together until creamy.
Unroll the cooled cake and spread the icing evenly over the cake all the way to the edges. Sprinkle with the toffee bits, reserving a spoonful of toffee bits for the top.
Roll the cake up and place on a serving plate. Refrigerate until ready to serve (wrapped with cling wrap or foil to keep it moist).
When ready to serve, drizzle with caramel sauce and sprinkle with remaining toffee pieces.
Nutrition Information:
Yield:
12
Serving Size:
1
Amount Per Serving:
Calories:

274
Total Fat:

11g
Saturated Fat:

7g
Trans Fat:

0g
Unsaturated Fat:

4g
Cholesterol:

75mg
Sodium:

216mg
Carbohydrates:

41g
Fiber:

1g
Sugar:

34g
Protein:

3g
More Pumpkin Desserts to Try
This post may contain affiliate links. Read my disclosure policy.