30 MINUTE PUMPKIN CINNAMON ROLLS. This is not a drill! I made another video showing you how incredibly easy these rolls are. And trust me, they are as good as they look!
Go ahead and run to the store right now and grab yourself a can of pumpkin and a tube of the big crescent rolls. I'll wait…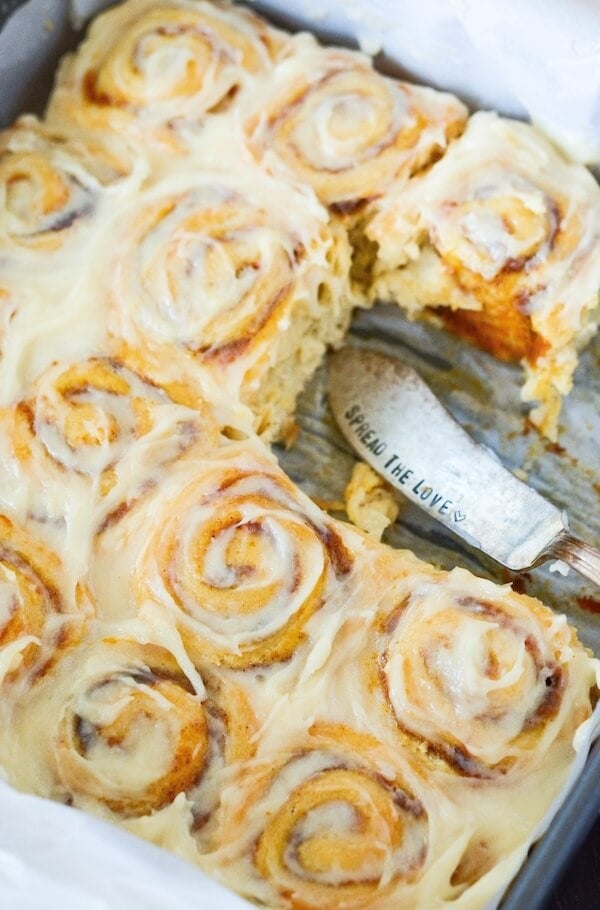 Jorge headed out of town again for work and we had just enough time to have a quick breakfast together before he left for the airport. So I woke up early this morning and got busy in the kitchen slaving away. I made the dough with yeast, let it rise and kneaded it by hand. I let it rise again and then I made my own pumpkin puree from scratch with pumpkins I grew in my own garden.
KIDDING. We all know I don't have that kind of time and I bet neither do most of you. I have twin toddlers, a job and a husband that travels a lot. We are all lucky if we are wearing clean clothes some days. That's why I describe the blog as "Easy Delectable Recipes"…keyword being easy!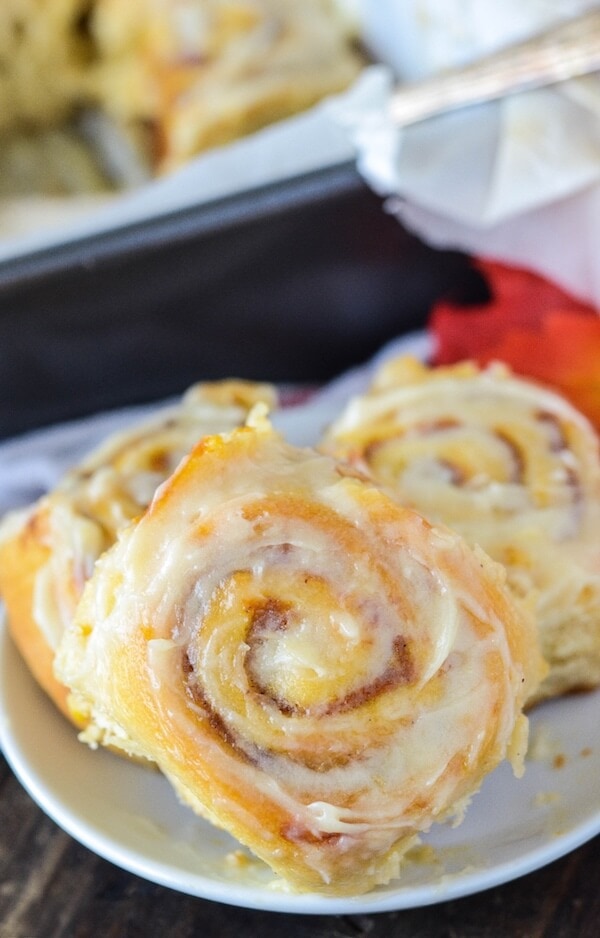 I actually just reached in my fridge and grabbed a tube of crescent dough I had picked up the night before on a late night run to Target. (P.S. That target run? I went all by myself and walked each Halloween/Fall aisle slowly. It was heaven.)
I stuffed the crescent dough with pumpkin, pumpkin pie spice and a ton of brown sugar. The cinnamon rolls were in the oven in under 10 minutes and I was whipping up the sweet cream cheese frosting. 20 minutes later we were all stuffing our faces. Can't beat that!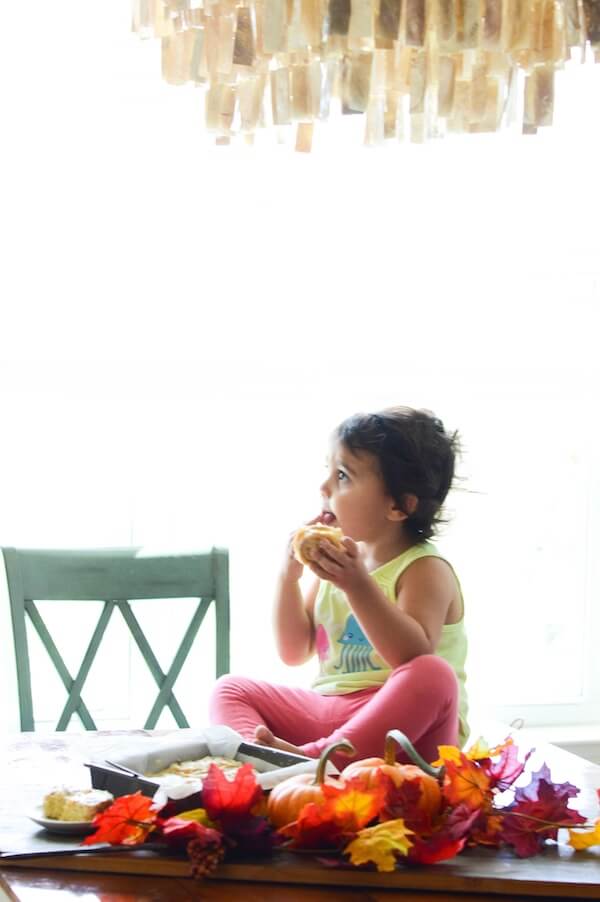 When I tell you the girls were obsessed with these Pumpkin Cinnamon Rolls, I am not kidding. Ellie kept climbing up onto the kitchen table and trying to steal the cinnamon rolls as I photographed them.
At first I was fighting her off, trying to explain that she already had one and if she would just let me finish I would let her have another one. And then I remembered that there is no arguing with a two year old and I just tried to take my pictures around her.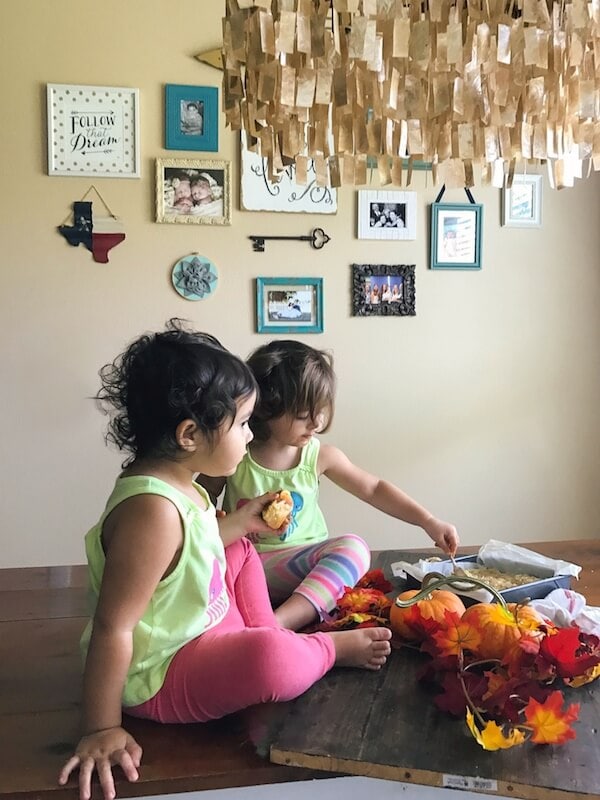 I turned my back for one second to grab a plate and the next thing I knew, Lyla had joined her sister on the kitchen table.
I was nervous they were going to push each other off (ahhh, kids), so I quickly grabbed a photo with my iphone and just gave them the pan of cinnamon rolls. They demolished them in minutes! They definitely inherited their mother's (and grandmother's) sweet tooth and love of everything breakfast.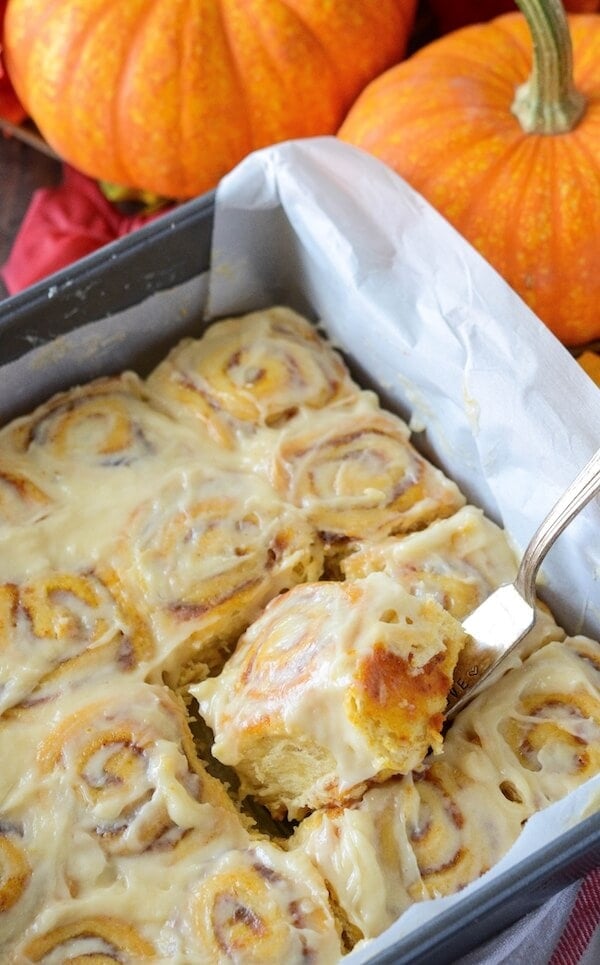 These Pumpkin Cinnamon Rolls could not be any easier to make or taste any more delicious. The kids can absolutely help (mine did!) and they only take 30 minutes to make.
They are best served fresh and hot out of the oven with a healthy dose of the homemade cream cheese frosting on top! If you like the pumpkin and cream cheese combo, make sure and also check out my favorite Pumpkin Cream Cheese Swirl Muffins!
I hope you enjoy these as much as my family did!
Yield: 16 servings
Pumpkin Cinnamon Rolls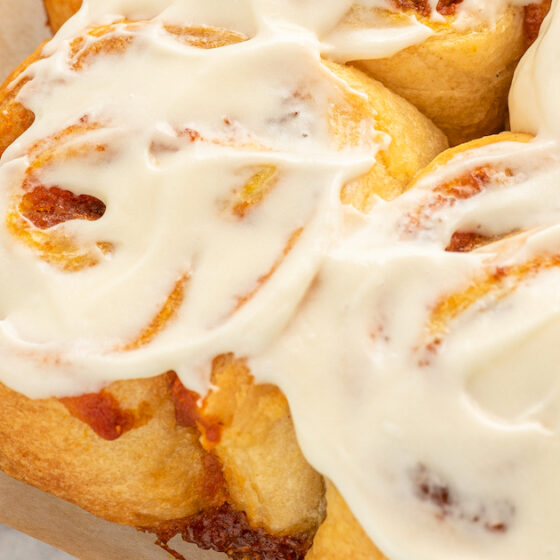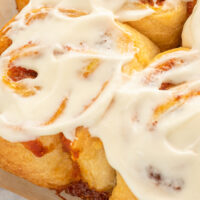 These easy no-knead pumpkin cinnamon rolls are the perfect baking project. With a cream cheese frosting, they're decadent and packed with fall's favorite flavors.
Ingredients
1 package (12 oz) grands crescent rolls
1/2 cup pumpkin puree
1 teaspoon pumpkin pie spice
1/3 cup packed brown sugar
3 oz cream cheese
1 1/2 tablespoons butter
2 teaspoons vanilla extract
1 cup powdered sugar
1 tablespoon milk
Instructions
Preheat oven to 350°F. Line a 9×9 baking pan with parchment paper, set aside.
Unroll crescent dough and separate dough into two squares (4 crescent roll triangles will make each square). Firmly press perforations to seal.
Spread pumpkin evenly over each dough rectangle. Sprinkle pumpkin pie spice and brown sugar evenly over rectangles.
Starting at one end, roll the dough over the pumpkin/brown sugar mixture.
Using a serrated knife, cut each roll into 8 equal slices. Place slices, cut side down, in prepared pan.
Bake for 20 to 22 minutes, until turning lightly golden at the edges.
While cinnamon rolls are baking, combine cream cheese, butter, vanilla extract, powdered sugar and milk. Beat until completely combined.
Once cooked, remove cinnamon rolls from oven, frost and serve immediately!
Nutrition Information:
Yield:
16
Serving Size:
1
Amount Per Serving:
Calories:

80
Total Fat:

3g
Saturated Fat:

2g
Trans Fat:

0g
Unsaturated Fat:

1g
Cholesterol:

9mg
Sodium:

35mg
Carbohydrates:

12g
Fiber:

0g
Sugar:

11g
Protein:

1g
Categories
This post may contain affiliate links. Read my disclosure policy.