No-knead and ready in 30 minutes, these are the easiest pumpkin cinnamon rolls you'll ever make. Packed with fall-flavors and topped with a luscious cream cheese frosting, pumpkin is the star of the show.
Homemade Pumpkin Spice Cinnamon Rolls
These pumpkin cinnamon rolls are as easy as fall-baking gets without sacrificing any of the flavor. Pillsbury crescent rolls are the ultimate hack for an easy, no-knead recipe. After pinching the dough triangles together, all you have to do is spread the good stuff on.
Pumpkin puree, pumpkin pie spice, and brown sugar come together to make the most beautiful of fillings. If that doesn't taste enough like fall already, just wait until you add the luscious cream cheese frosting on top.
They bake so soft and fluffy that you won't miss yeasted dough one bit. What more could you ask of a 30-minute no-knead dessert? Altogether, their butteriness is the perfect canvas for this rich pumpkin-based treat with creamy, tangy cream cheese. Warm or at room temperature, these pumpkin cinnamon rolls are perfect for lazy days and last minute gatherings.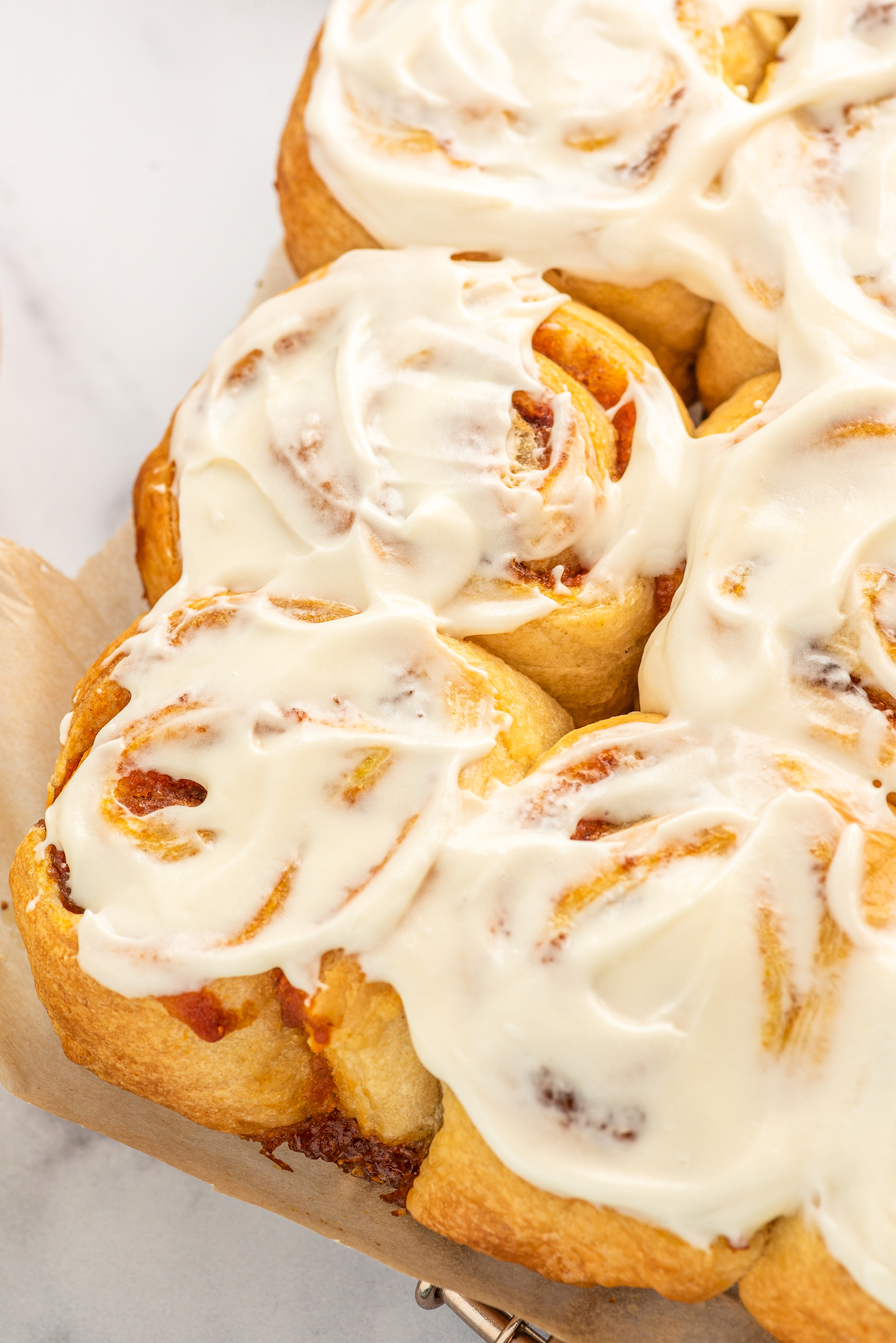 Why You'll Love This Recipe
The fact that these are no-knead cinnamon rolls is enough for me, but you'll be happy to know there are more reasons to make these:
Quick. They're ready in 30 minutes! 10 minutes of prep time and 20 minutes in the oven. That's it!
Prep-friendly. Since there's no yeast involved, they can't be over-proofed. Prepare them the night before and bake them the next day. You can also prepare and freeze them unbaked for cinnamon roll cravings throughout the week.
No kneading. By using pre-made dough, we've eliminated 90% of the effort cinnamon rolls usually require. It also avoids loads of things going wrong, like "dead" yeast, over-worked or under-worked dough.
Crowd pleaser. Who doesn't love a good cinnamon roll? Set these out at your next gathering and watch them disappear within minutes.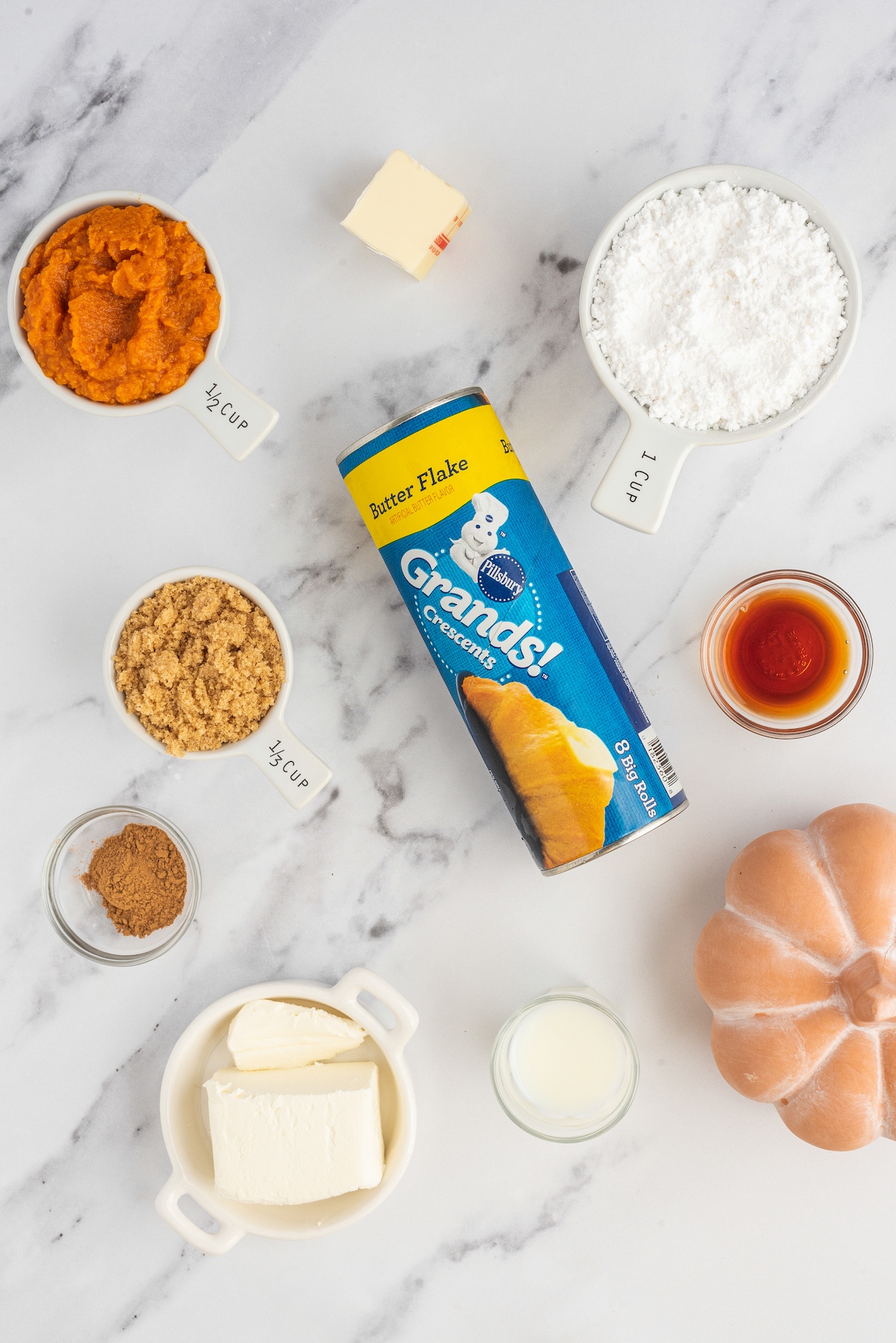 Recipe Ingredients
Crescent rolls make this my kind of lazy-day recipe. Don't forget to check out the recipe card at the bottom of this post for exact ingredient amounts.
Crescent rolls – Pillsbury is my favorite brand, but use whichever one you prefer! You could also use homemade crescent roll dough if you want to make your own from scratch!
Pumpkin puree – You can also use pumpkin pie filling, but you may have to reduce the sugar in the recipe to taste. Pie filling tends to be sweeter.
Pumpkin pie spice – If the supermarket has run out, get it online. If you don't want to order a tiny container of it, make your own. Mix 3/4 tsp ground cinnamon with 1/4 tsp allspice and 1/4 tsp ground cloves or ginger.
Brown sugar – Dark brown sugar adds a more caramel-like, molasses flavor. However, light brown sugar works too.
Cream cheese – Any high-quality full-fat or low-fat cream cheese will do.
Butter – Feel free to use salted or unsalted butter for this recipe.
Vanilla extract
Powdered sugar – Also called confectioners' sugar. Don't substitute it for granulated sugar because it'll make the frosting very grainy.
Milk – Whole or low-fat dairy milks will do. No plant-based milks because they're water based and will split the frosting.
How to Make Pumpkin Cinnamon Rolls
We're cutting all possible corners for these cinnamon rolls and that's okay. The end result is just as good as (or even better than) most cinnamon rolls out there anyway. Plus, these ones have pumpkin in them!
Prepare the pan and oven. Preheat the oven to 350°F. Line a baking pan with parchment paper and set it aside.
Prepare the dough. Unroll the crescent dough and grab 4 triangles. Arrange them so they create a square/rectangle. Gently press down and even pinch along the edges so they become one large shape. You should now have a square/rectangle of dough. Repeat this step once more so you have two squares.
Fill. Use a blunt knife to carefully spread pumpkin puree over both squares. Sprinkle pumpkin pie spice and brown sugar on top.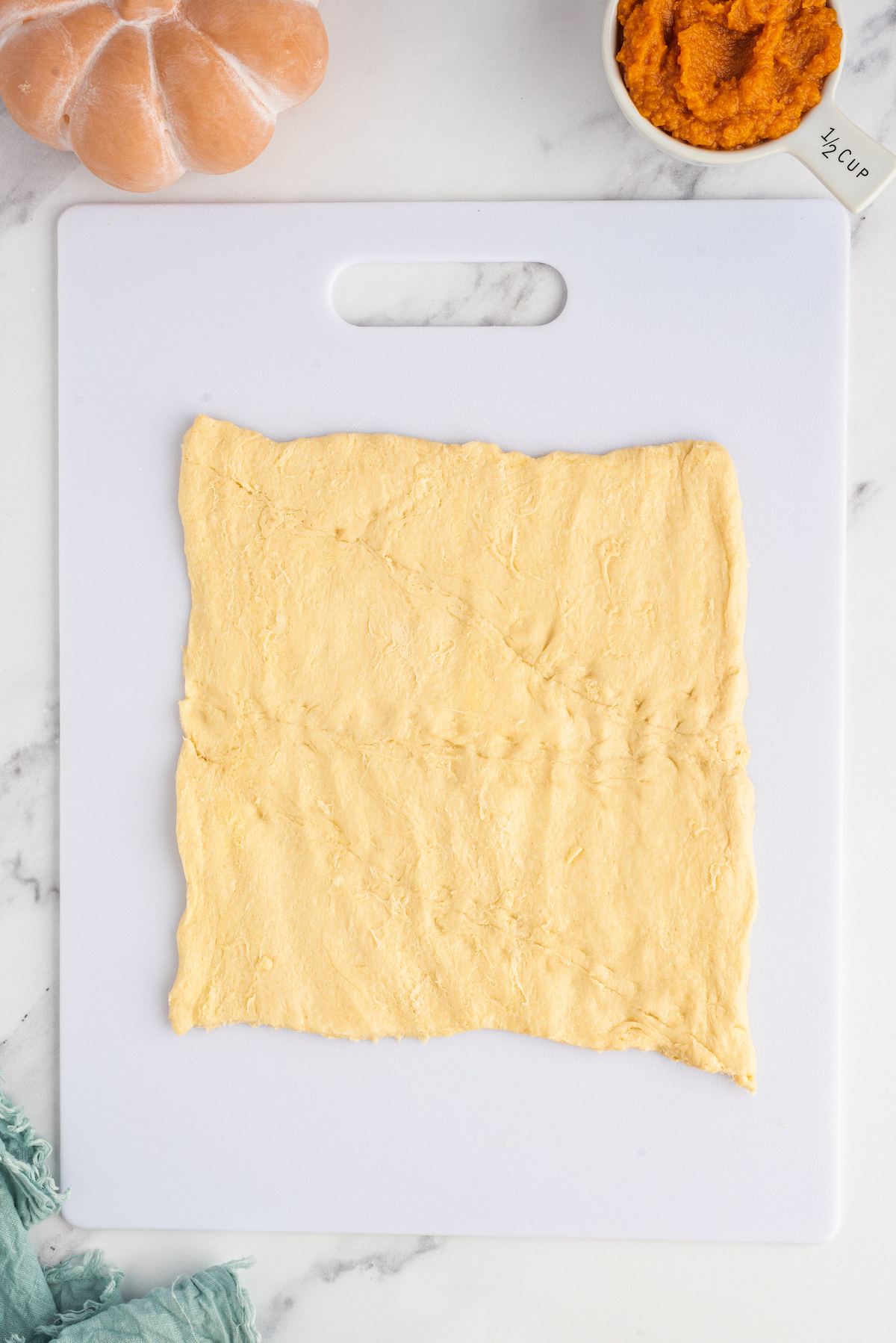 Roll. Grab one end of the square and carefully begin to roll it inwards, enclosing the filling. Think of it like rolling a carpet.
Cut. Use a serrated knife to slice the rolled dough into 8 equal pieces. My favorite hack, though, is to use unflavored dental floss. Slide it under the dough, right where you want to slice a roll. Then bring both ends up and tie it, pulling on both ends to tighten it. It should cut right through the dough without any sticking. After you slice the rolls, arrange them in the prepared baking tray. The cut-side should be facing downwards.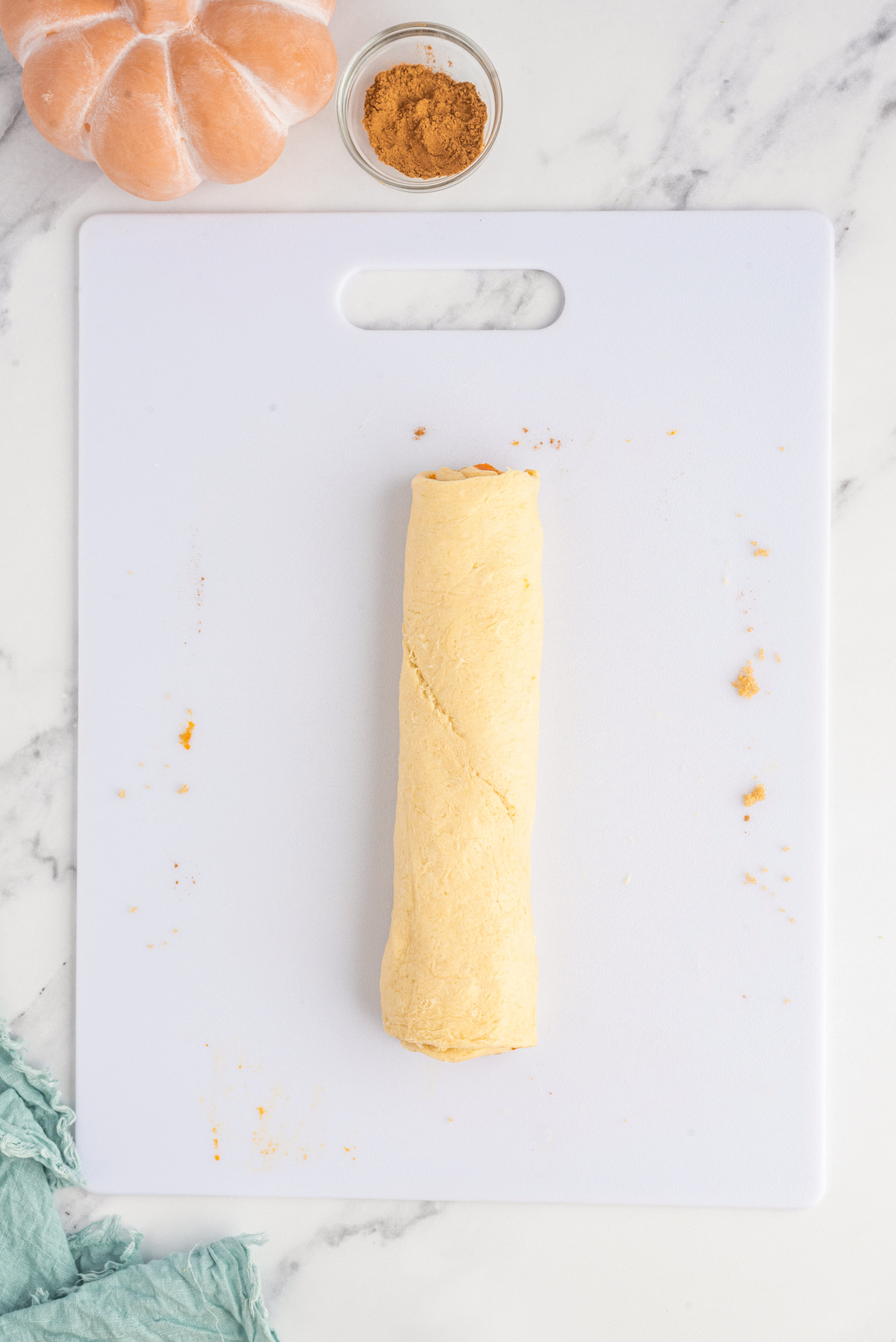 Bake. Pop them into the oven for 20-22 minutes or until golden brown around the edges.
Make the frosting. Sift the powdered sugar to remove any clumps. Then beat the cream cheese, butter, vanilla extract, powdered sugar and milk until you get a smooth, thick mixture. Set it aside.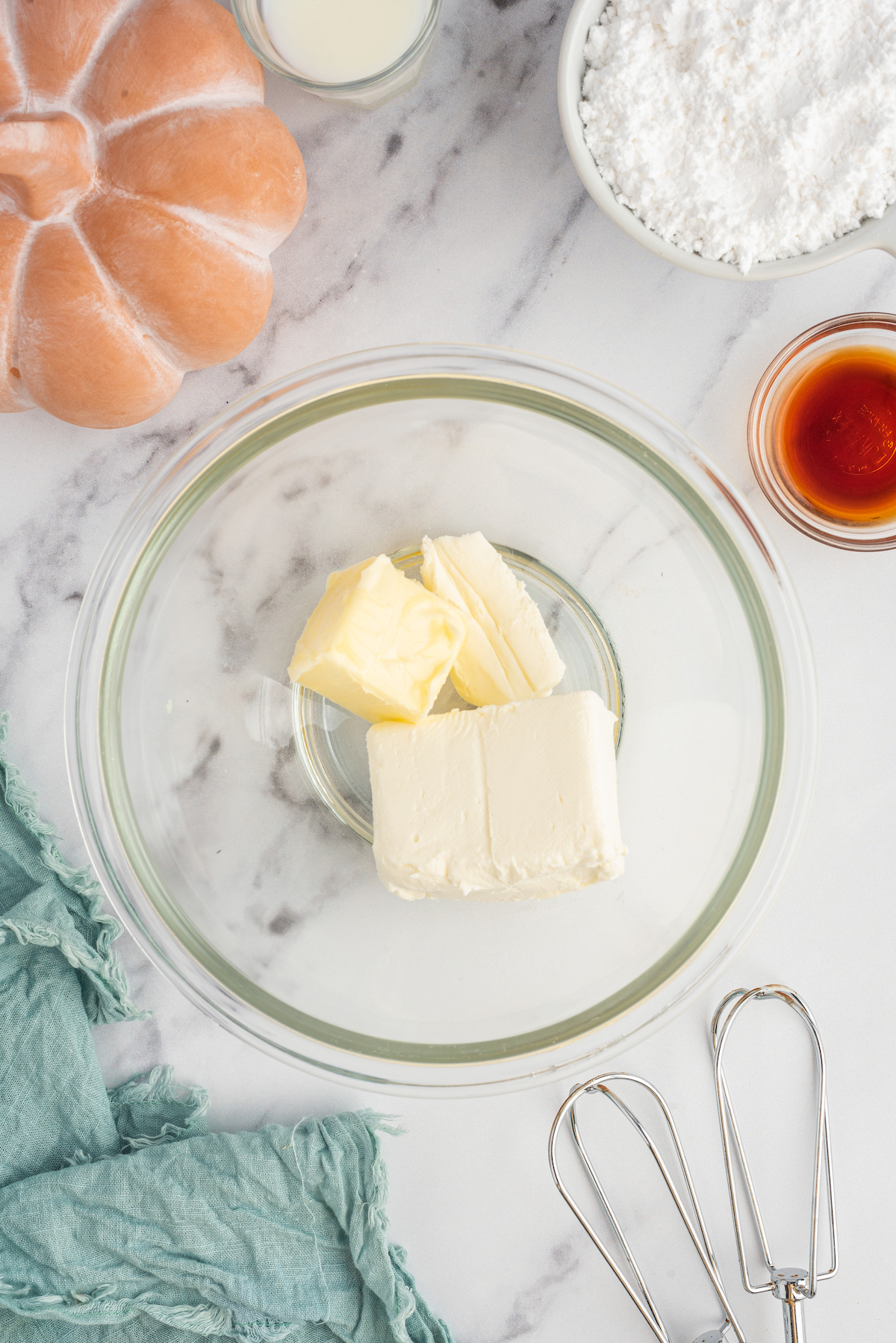 Cool. Remove the cinnamon rolls from the oven. Let them cool for 10 minutes before frosting. Frosting them right out of the oven will make the butter and cream cheese melt. Serve and enjoy!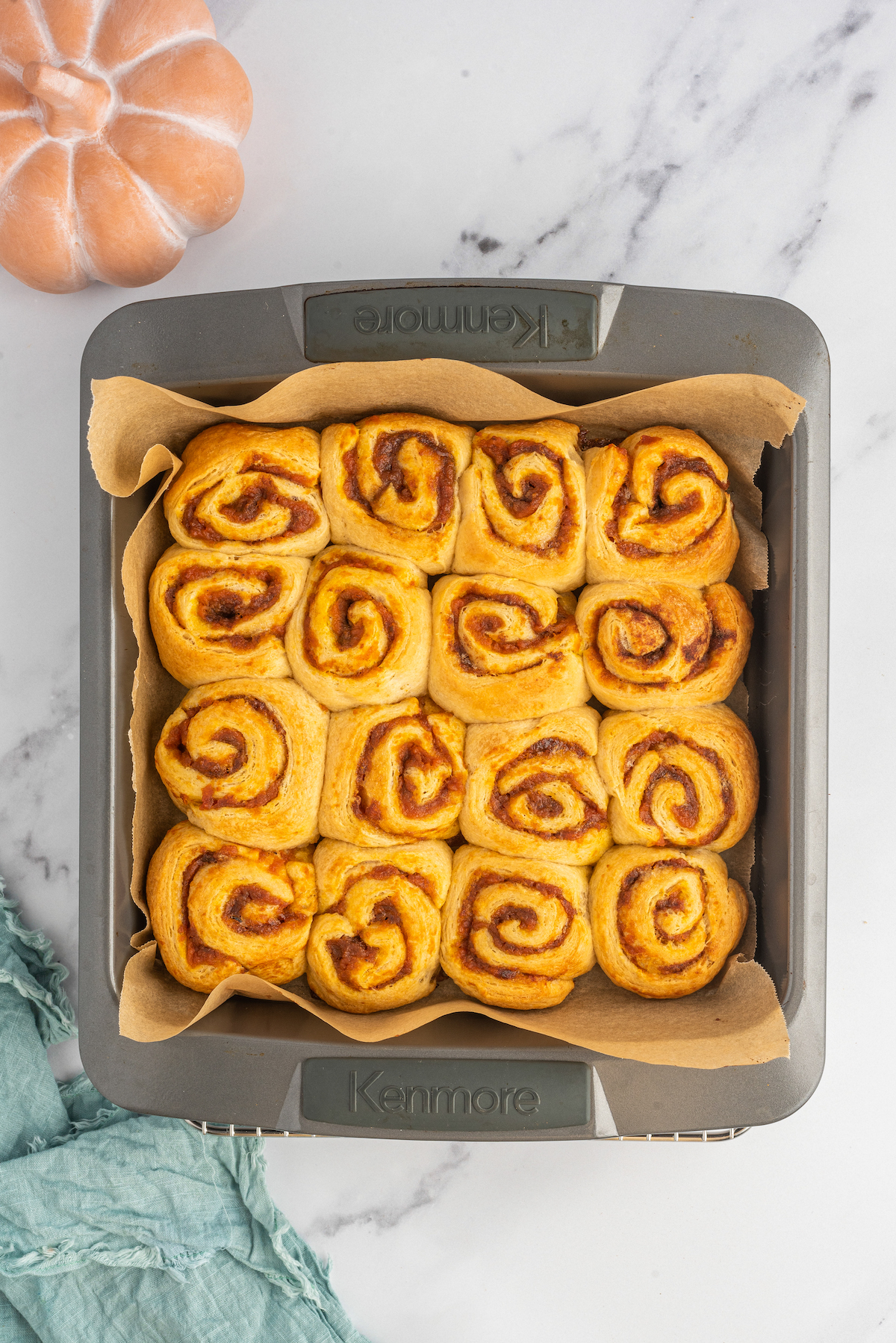 Tips for Success
With pre-made dough, little could go wrong. However, these tips will help you prepare for any scenario.
Flour the surface. Just because we're using pre-made dough, it doesn't mean it can't stick to the counter. Lightly dust your counter with flour to prevent any sticky situations.
Add maple syrup. Add 1/2 tbsp of maple syrup to the frosting for some extra fall-goodness!
Let them rest. After baking, let them rest for at least 10-15 minutes before trying to remove them from the pan. Warm cinnamon rolls tend to stick to each other a lot more.
Don't frost them all. Place the frosting in a bowl and spread some whenever you eat one. This way you can easily freeze the leftovers for later.
What to Serve with Pumpkin Cinnamon Rolls
Pumpkin cinnamon rolls go great with all sorts of drinks (even boozy ones). Try my Easy Homemade Eggnog, Spiked Apple Cider, Vanilla Cinnamon Iced Coffee, and even The Best Chocolate Milkshake.
You can also enjoy them with a savory breakfast like my favorite Homemade Sausage Gravy over Homemade Biscuits, this easy Overnight Ham Breakfast Casserole, or this quick and easy Chorizo and Eggs!
In addition to the cream cheese frosting, chopped candied pecans, mini chocolate chips, or a drizzle of salted caramel over them will also add more flavor and texture.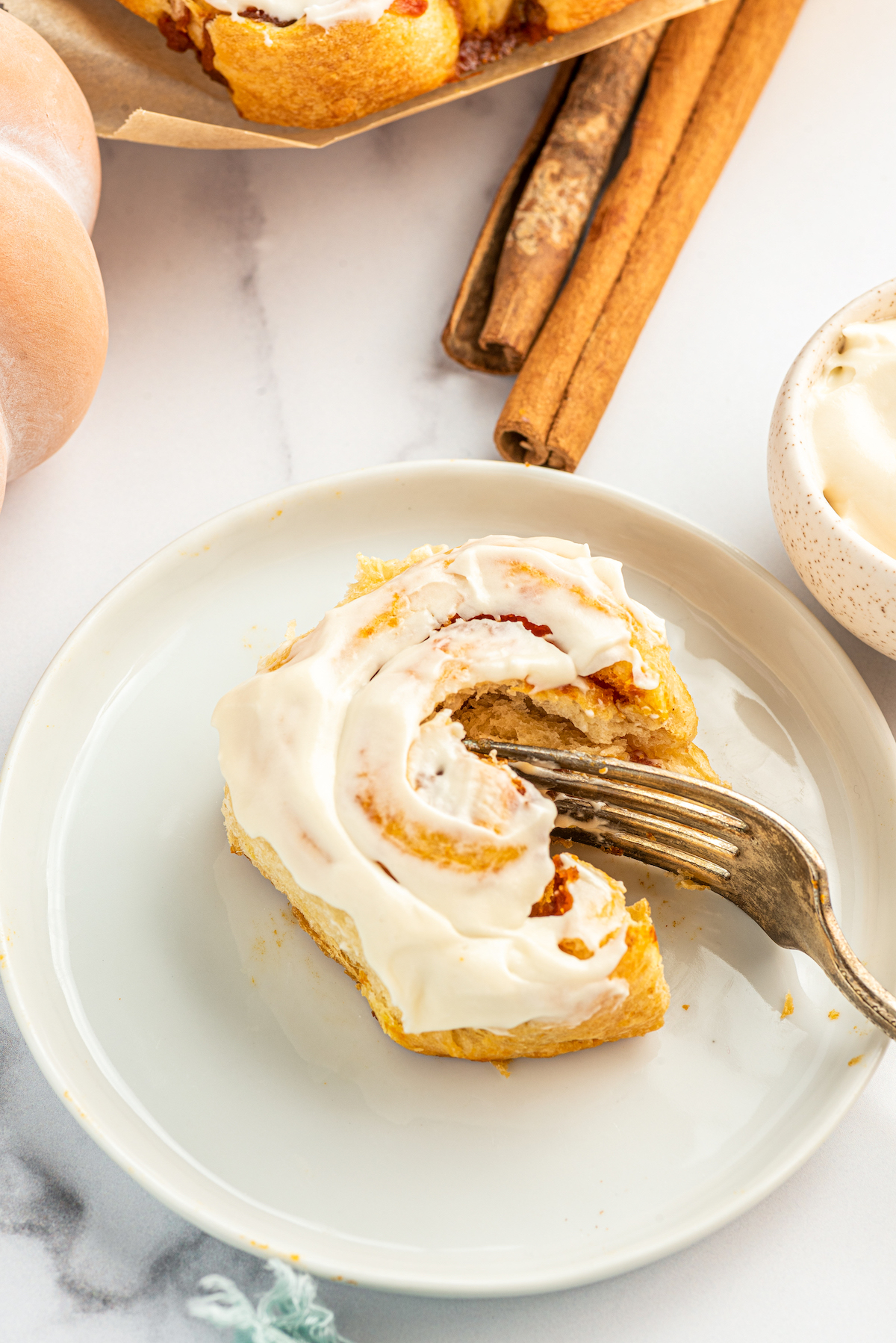 How to Store Leftovers
Frosted cinnamon rolls need to be refrigerated. This is because the cream cheese in the frosting spoils quickly when unrefrigerated. To store, place them in an airtight container and refrigerate for up to a week. If they're unfrosted, store them in an airtight container at room temperature for up to 2 days. You can also pop them into the fridge for up to a week.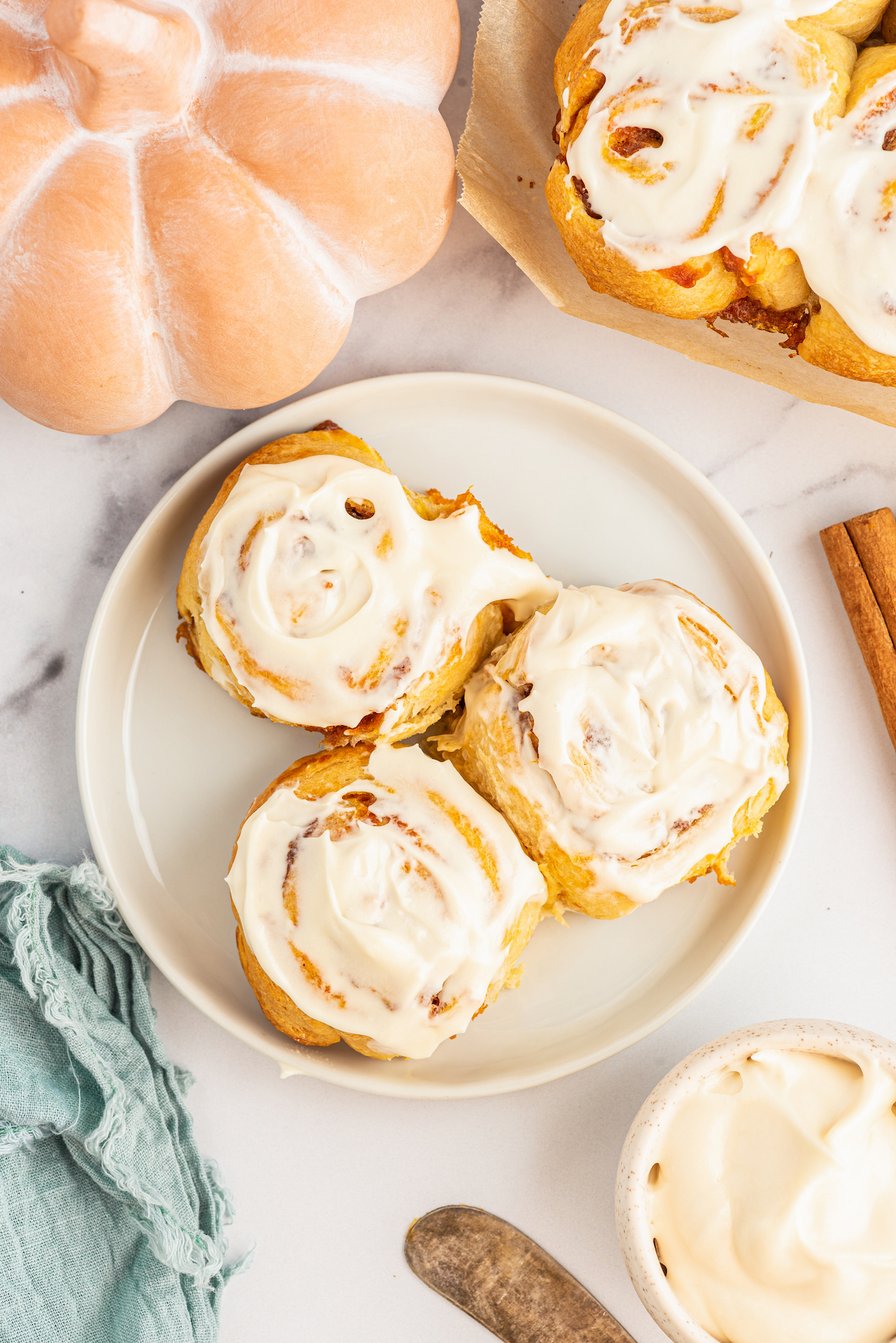 Can I Freeze These?
Yes! You can freeze them before or after baking. If it's after baking, though, don't frost them.
Before baking: Prepare and slice the cinnamon rolls like stated in the recipe. Transfer and arrange each slice to a parchment-lined tray. Freeze for 4 hours or until completely frozen. Individually wrap each piece with plastic wrap. Pop them into a freezer-friendly bag or container and freeze for up to 3 months.
After baking: Once your unfrosted cinnamon rolls have come to room temperature, place them on a parchment-lined tray. Freeze them for 4 hours or until completely frozen. Wrap each slice in plastic wrap. Then transfer them to a freezer-friendly bag or container. Freeze for up to 2 months. When ready to eat, place them on the counter to thaw and prepare the frosting.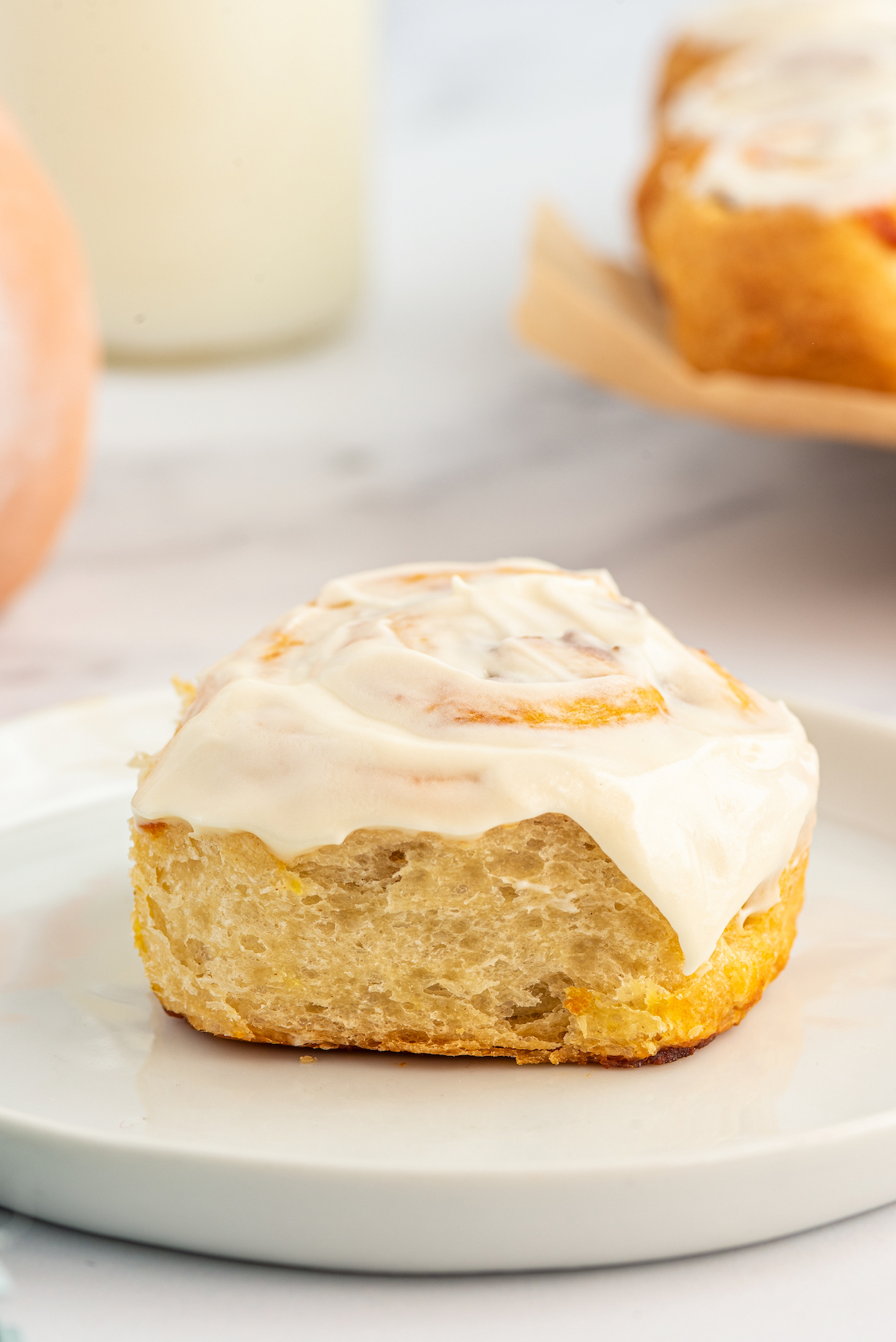 More Pumpkin Dessert Recipes
Pumpkin Cinnamon Rolls
These easy no-knead pumpkin cinnamon rolls are the perfect baking project. With a cream cheese frosting, they're decadent and packed with fall's favorite flavors.
Ingredients
Frosting
3

oz

cream cheese

1 ½

tablespoons

butter

2

teaspoons

vanilla extract

1

cup

powdered sugar

1

tablespoon

milk
Instructions
Preheat oven to 350°F. Line a 9×9 baking pan with parchment paper, set aside.

Unroll crescent dough and separate dough into two squares (4 crescent roll triangles will make each square). Firmly press perforations to seal.

Spread pumpkin evenly over each dough rectangle.  Sprinkle pumpkin pie spice and brown sugar evenly over rectangles.

Starting at one end, roll the dough over the pumpkin/brown sugar mixture.

Using a serrated knife, cut each roll into 8 equal slices. Place slices, cut side down, in prepared pan.

Bake for 20 to 22 minutes, until turning lightly golden at the edges.

While cinnamon rolls are baking, combine cream cheese, butter, vanilla extract, powdered sugar and milk. Beat until completely combined.

Once cooked, remove cinnamon rolls from oven, frost and serve immediately!
Nutrition
Serving:
1
,
Calories:
80
kcal
,
Carbohydrates:
13
g
,
Protein:
0.5
g
,
Fat:
3
g
,
Saturated Fat:
2
g
,
Polyunsaturated Fat:
0.1
g
,
Monounsaturated Fat:
1
g
,
Trans Fat:
0.04
g
,
Cholesterol:
8
mg
,
Sodium:
28
mg
,
Potassium:
32
mg
,
Fiber:
0.2
g
,
Sugar:
12
g
,
Vitamin A:
1298
IU
,
Vitamin C:
0.4
mg
,
Calcium:
13
mg
,
Iron:
0.2
mg
Categories:
This post may contain affiliate links. Read my disclosure policy.