Spider Cinnamon Rolls: store bought cinnamon rolls, candy eyes & pretzel sticks combine to become a spooky Halloween treat for a fun Halloween themed breakfast!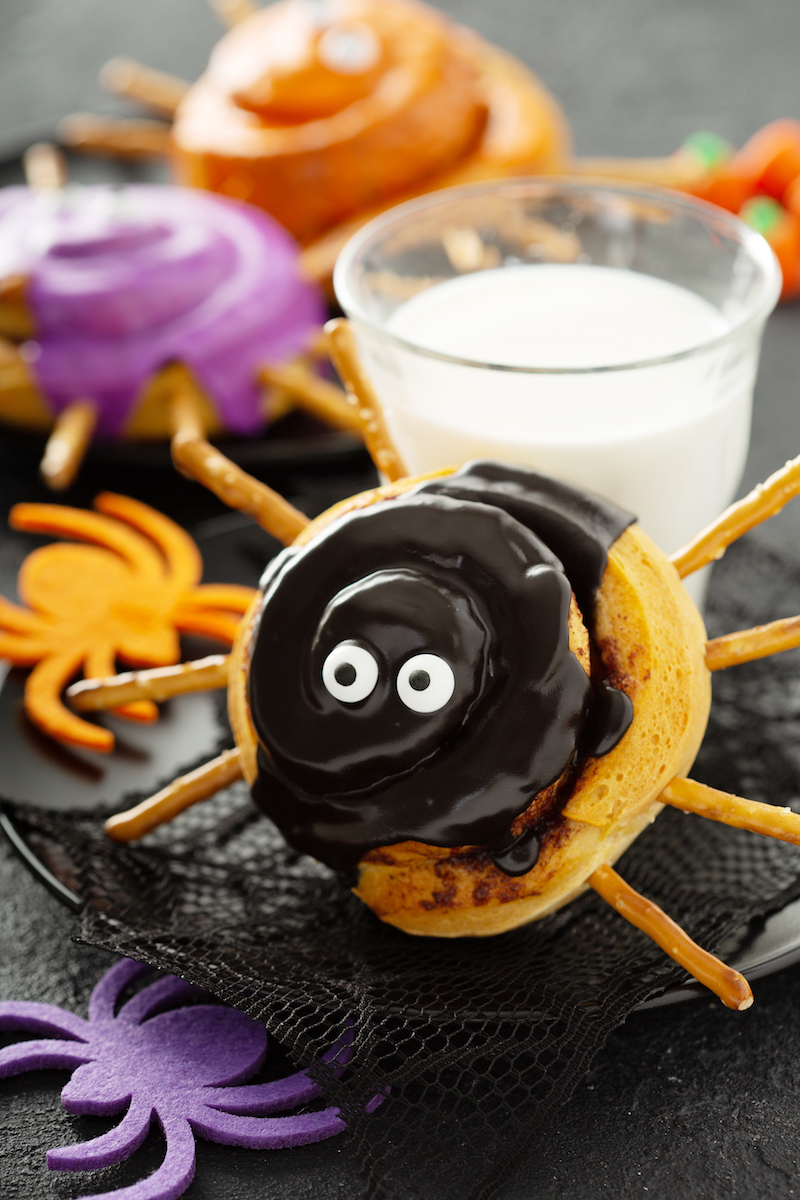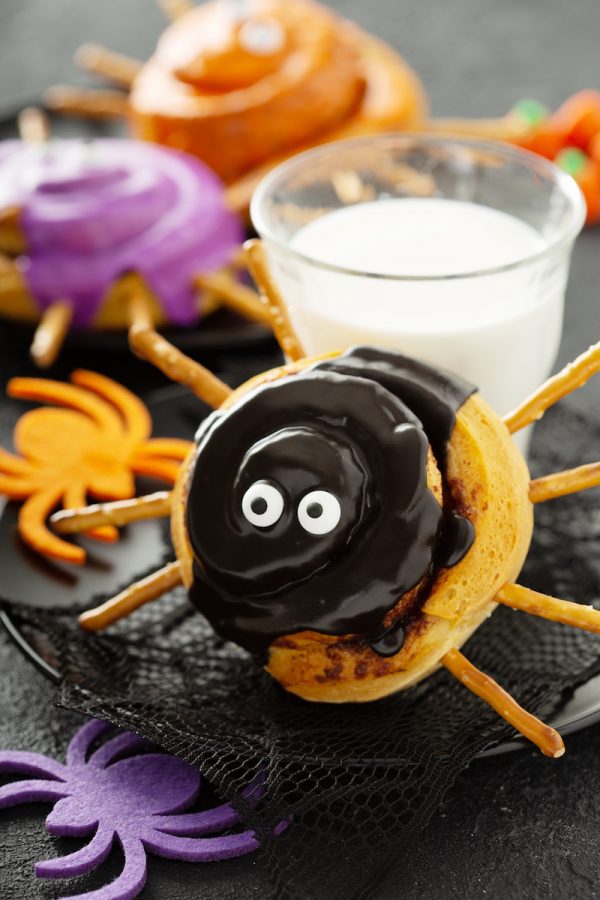 Have you ever seen a more adorable Halloween spider?? I think not!
These Spider Cinnamon Rolls could not be any cuter or easier to make. Just wait till you see how seriously easy they are.
You only need a few ingredients and about 20 minutes of time (total) for this great Halloween breakfast idea.
I know mornings are busy getting the kids ready for school, but these are easy enough that you can whip them up before the kids are dressed and ready to go.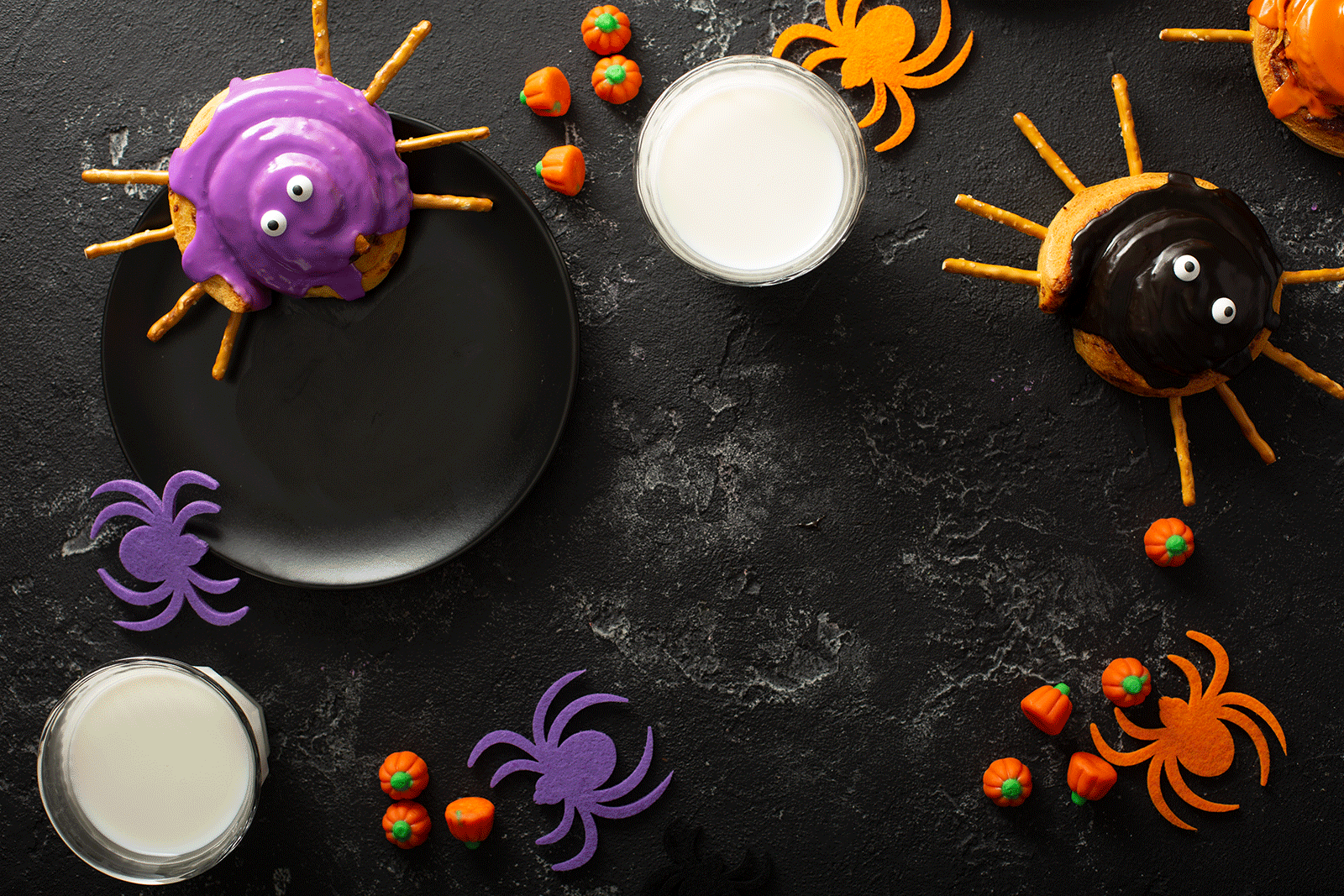 I made these as a surprise for the girls to kick off October and they FLIPPED out over them.
They were so excited and couldn't decide if they wanted to eat them or take them to school to show their friends.
Definitely the best Halloween treats for toddlers idea I have had yet!
They were truly so excited when they saw them sitting on the counter waiting for them.
They were possibly even more excited for these than Halloween candy. And that is saying something y'all.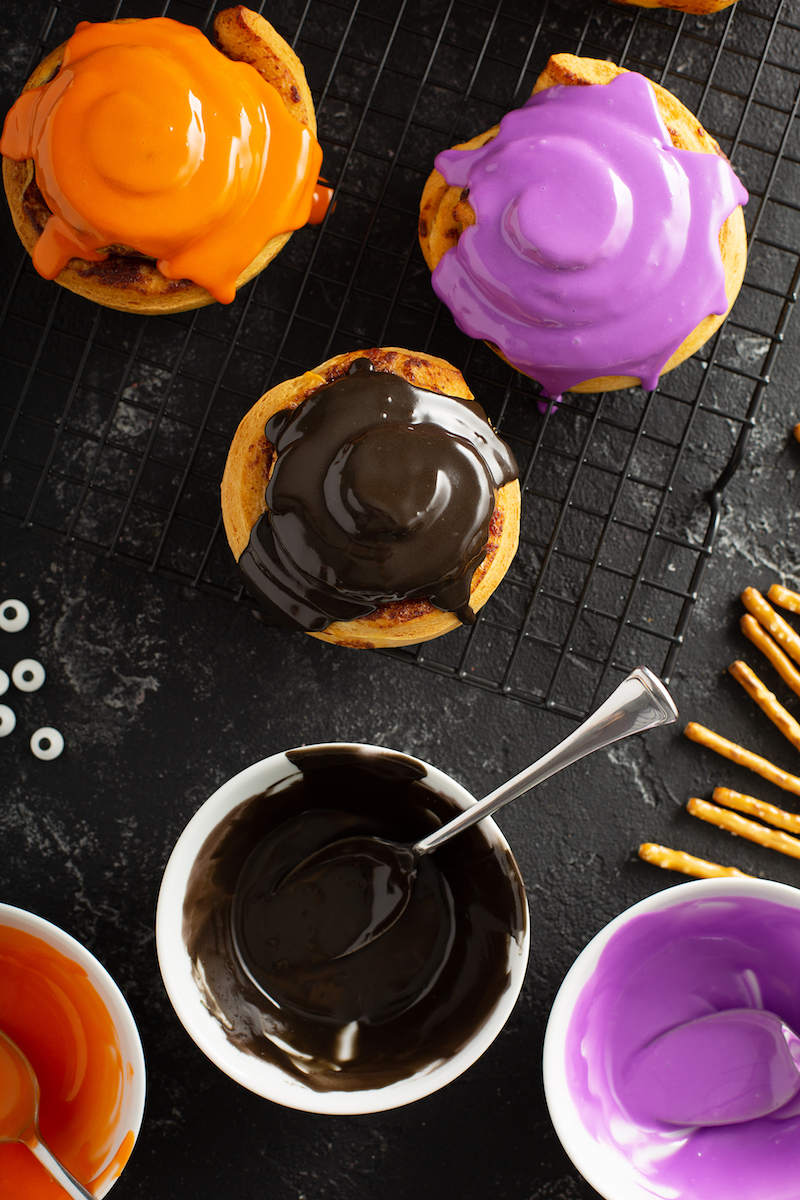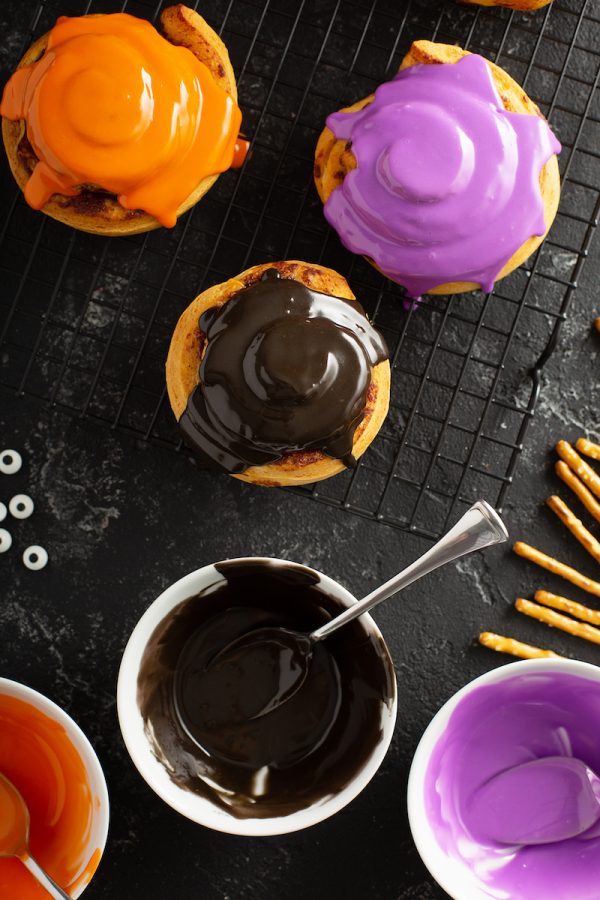 To get the perfect colors for icing without messing up the flavor, I used Wilton icing gel colors.
You can buy them at walmart, michaels, joanns or on amazon. They are inexpensive and last forever.
A little goes a long way, so you just have to add a little bit and you will get full color.
I did purple, orange and black. Other great colors would be plain white (like a ghost!) or lime green.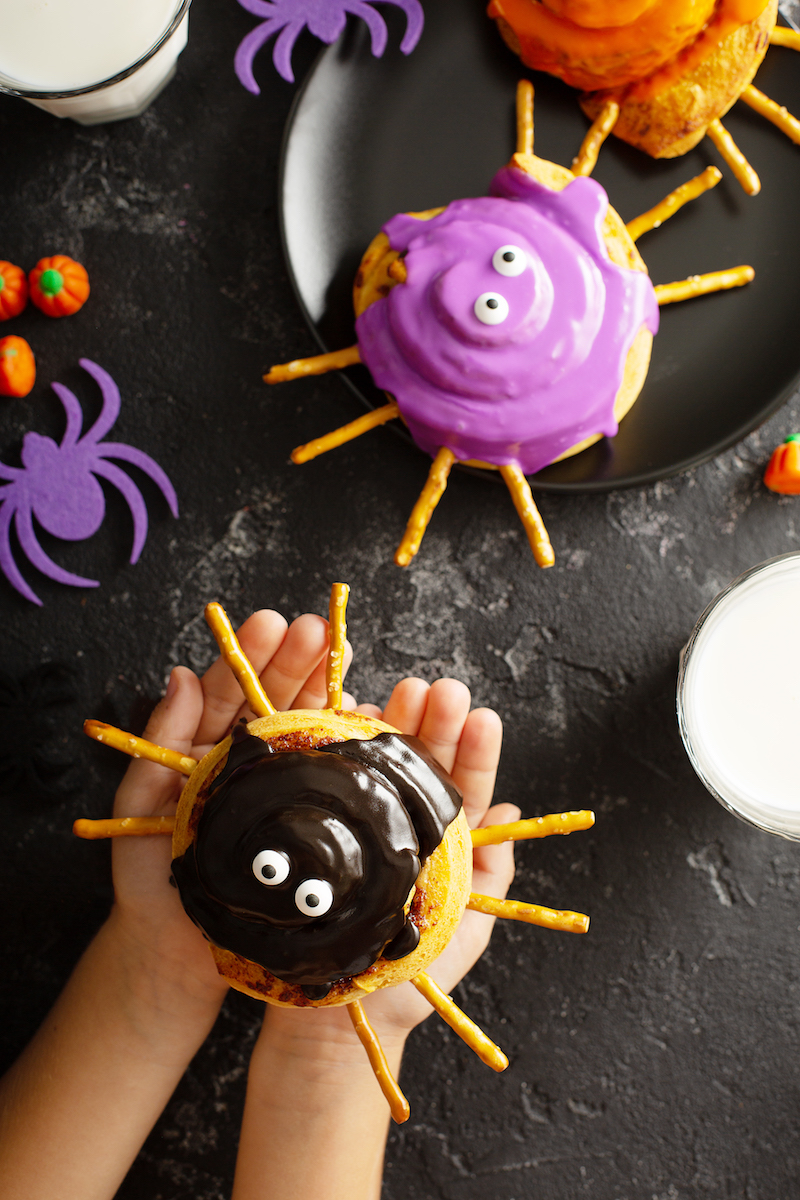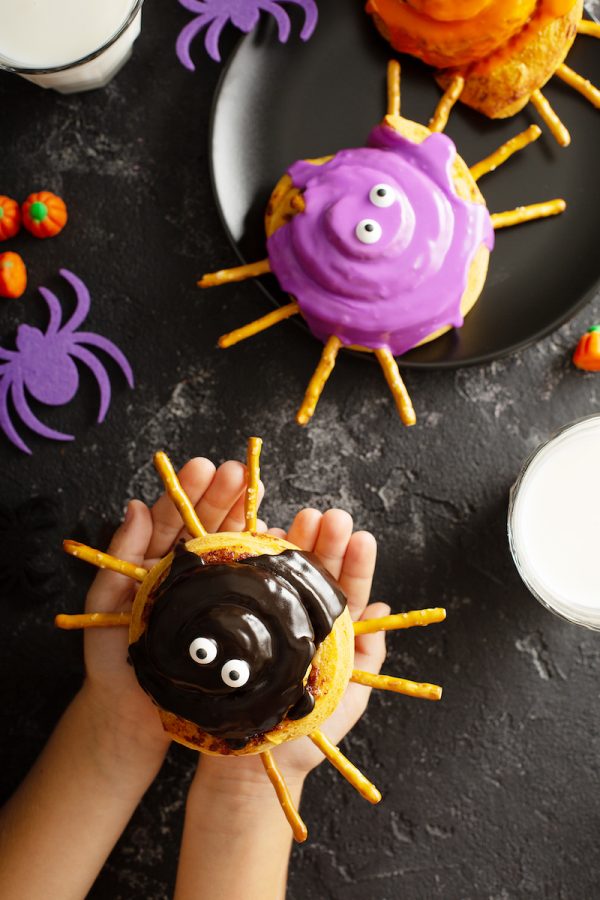 I used store bought cinnamon rolls to keep things quick and easy. Of course, you can make your own.
If you do make your own, I have a great easy recipe for Pumpkin Cinnamon Rolls that is semi-homemade.
But I'm 6 months pregnant and have 4 year old twins, so a can of Pillsbury cinnamon rolls won out at my house this time.
I used Pillsbury Grands Cinnamon Rolls, the Cinnabon version. They bake up very nicely like homemade cinnamon rolls.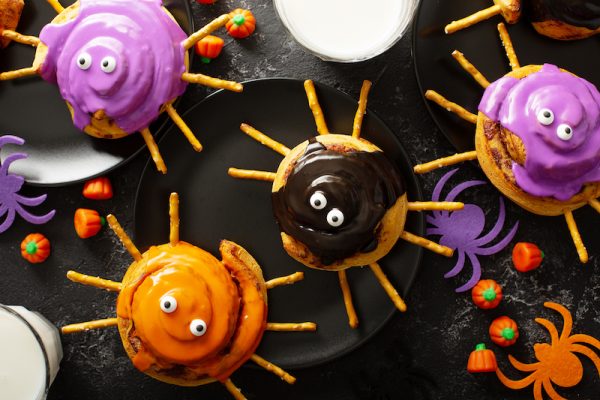 At the very end, you add some pretzel sticks to create the cute legs. I did 4 on each side to keep the sider anatomically correct. 😉
Then you dye the cream cheese icing that comes with the cinnamon rolls and spread it on the top of each cinnamon roll.
Lastly, add a couple of candy eyeballs onto the top and that's it!
These Halloween Spider Cinnamon Rolls are adorable spooky
halloween
treats that can be made in no time at all.
I hope your kids love these as much as mine did! Bonus: they can easily help make this Halloween dish!
A couple of handy items (or ingredients) that will make this recipe easier:
candy eyeballs
gel icing colors
Yield: 10 large cinnamon rolls
Halloween Spider Cinnamon Rolls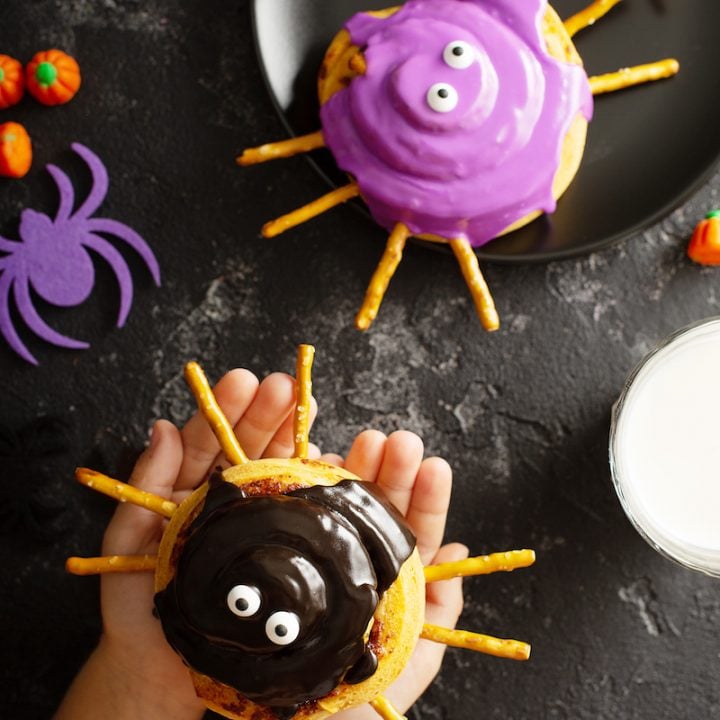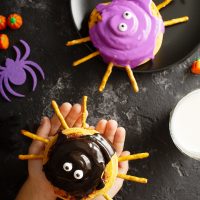 Spider Cinnamon Rolls: store bought cinnamon rolls, candy eyes and pretzel rods combine to become a spooky Halloween treat for a fun Halloween themed breakfast!
Ingredients
2 (17.5 oz) Pillsbury Grand Cinnamon Rolls
wilton gel icing colors (purple, orange and black)
80 pretzel sticks
candy eyes
Instructions
Bake cinnamon rolls according to package directions.
While cinnamon rolls bake, divide icing that came with the cinnamon rolls into three small bowls. Dye as desired with gel icing colors.
Allow cinnamon rolls to cool for a couple of minutes, until you are able to handle them. Add 4 pretzel sticks to each side of a cinnamon roll to create the spider legs.
Top cinnamon roll with colored icing and candy eyes. Serve immediately!
Want to Save This Recipe?
*this post contains affiliate links to amazon. Thank you for helping me continue to bring you free recipes!
This post may contain affiliate links. Read my disclosure policy.