Celebrate the season with these easy, pretty Pumpkin Pie Cookies! With a delicate sugar cookie base and creamy, homemade pumpkin pie filling, they are a truly festive sweet treat.
What's better than pumpkin pie? How about pumpkin pie in a sweet, sugar-cookie crust? And what's better than that? Miniaturizing it into a cute little cookie. That's this recipe in a nutshell. It's a fun, easy dessert that combines classic sugar cookies with sweet, spicy pumpkin pie filling, for mini-tarts that are perfect for fall.
I like to bake these cookies a day in advance, store them in the fridge, and serve them chilled or brought to room temperature beforehand. A dollop of whipped cream makes a pretty presentation and emphasizes that classic pumpkin pie taste. But fair warning: these disappear really fast, and it's hard to eat just one!
Looking for more mini pumpkin pie treats? Try these Mini Pumpkin Pies or my favorite Mini Pumpkin Cheesecakes!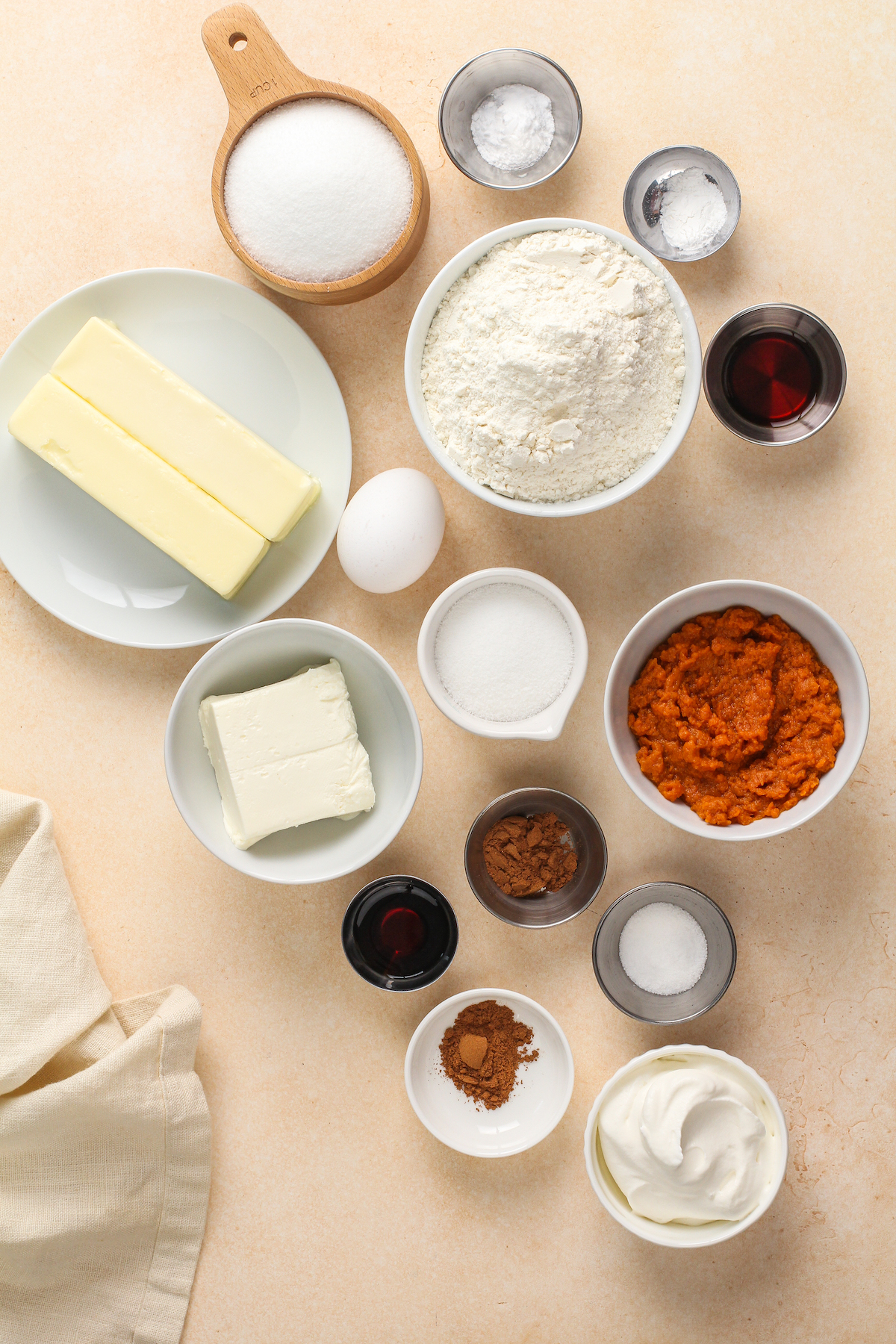 What You'll Need
To make these cute, mini treats, you'll need the ingredients for a sugar cookie dough base, and for the pie filling. Here's the list in more detail:
Sugar Cookie Base
Flour: Regular all-purpose flour is perfect.
Baking Soda and Baking Powder: To lighten the cookies and give them a good texture.
Butter: I usually choose unsalted butter for my baking recipes, so that I can control the saltiness of the finished bake. If you use salted butter, you may want to reduce the salt in the dough slightly.
Sugar: Granulated sugar.
Egg: One large whole egg brings the mixture together.
Vanilla Extract
Pumpkin Pie Filling
Cream Cheese: Softened, for easier mixing.
Pumpkin Puree: Canned or homemade.
Sugar: Again, I used granulated. However, brown sugar or turbinado sugar would be an interesting swap!
Pumpkin Pie Spice: Or you could use a homemade mix of cinnamon, ginger, nutmeg, and cloves.
Vanilla Extract
Topping/Garnish
Whipped Cream: Or Cool Whip, or whipped coconut cream.
Sugar: Use granulated sugar, or sprinkle in finely ground raw sugar for a more golden color.
Pumpkin Pie Spice: Or cinnamon.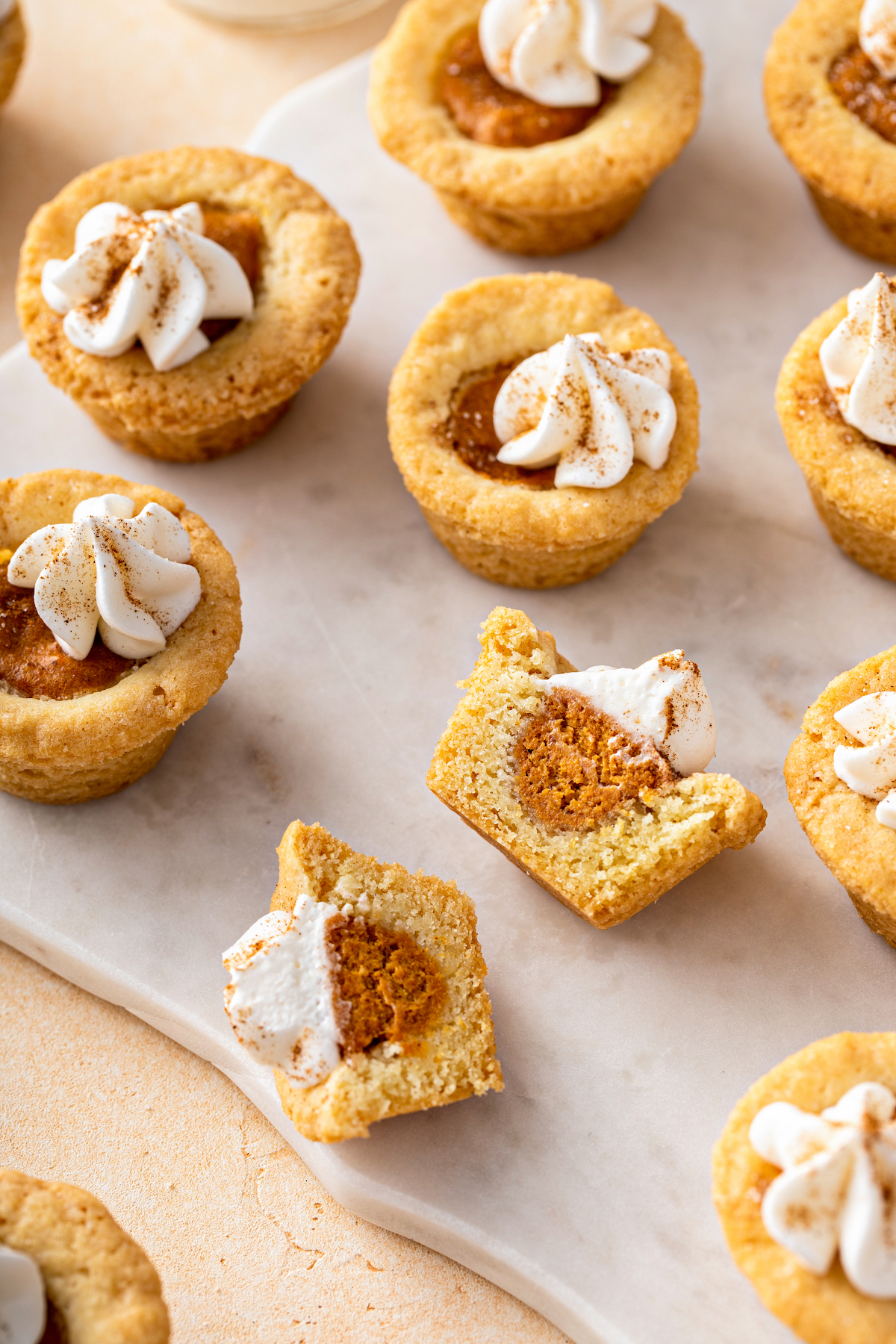 Are Canned Pumpkin and Pumpkin Puree the Same Thing?
Most of the time, yes. Canned pumpkin is simply pureed pumpkin in a can. But you do have to watch out for cans of pumpkin pie filling. They look a lot like regular cans of pumpkin, but they contain extra ingredients like sugar and dairy, to make a custard-like mixture. I recommend double-checking that label to be sure your can of pumpkin has just one ingredient: pumpkin!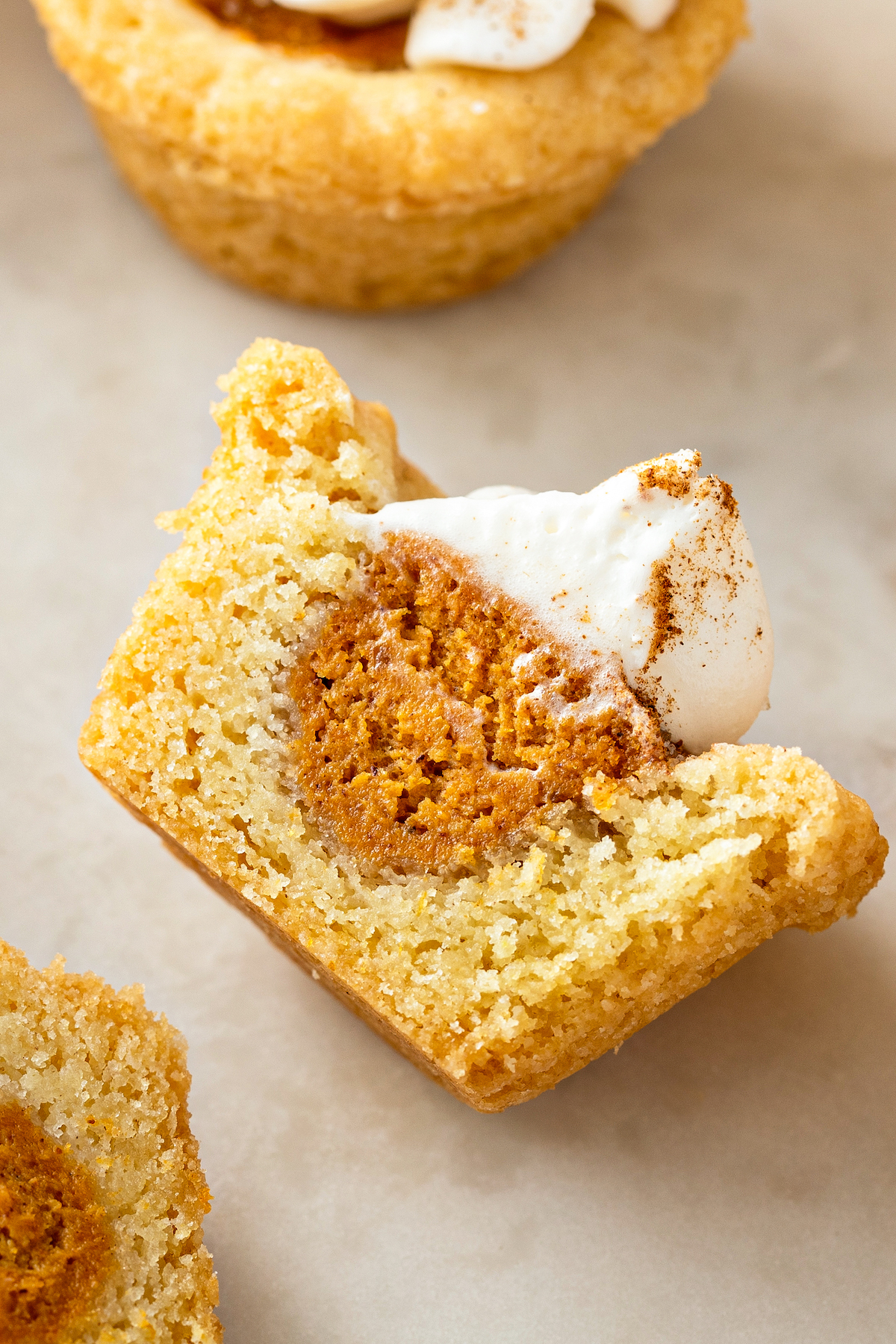 This recipe is fun and easy to make, but there are a few steps involved. I recommend reading through the instructions once or twice before you get started, so you'll be familiar with the process from the start.
Make the Sugar Cookie Crusts
Prep the Oven and Muffin Tin. To start, make sure your oven is preheating to 350°F. Then spray or grease a mini muffin tin, and set it aside while you make the cookie crust and filling.
Combine the Dry Sugar Cookie Ingredients. In a medium mixing bowl, whisk together the flour, baking soda, and baking powder.
Combine the Wet Sugar Cookie Ingredients. Next, combine the softened butter and granulated sugar, using a stand mixer or handheld mixer. Beat on medium for about 3 minutes, and make sure to scrape down the sides of the bowl once. Then beat in the egg and vanilla extract on medium-low, until fully incorporated.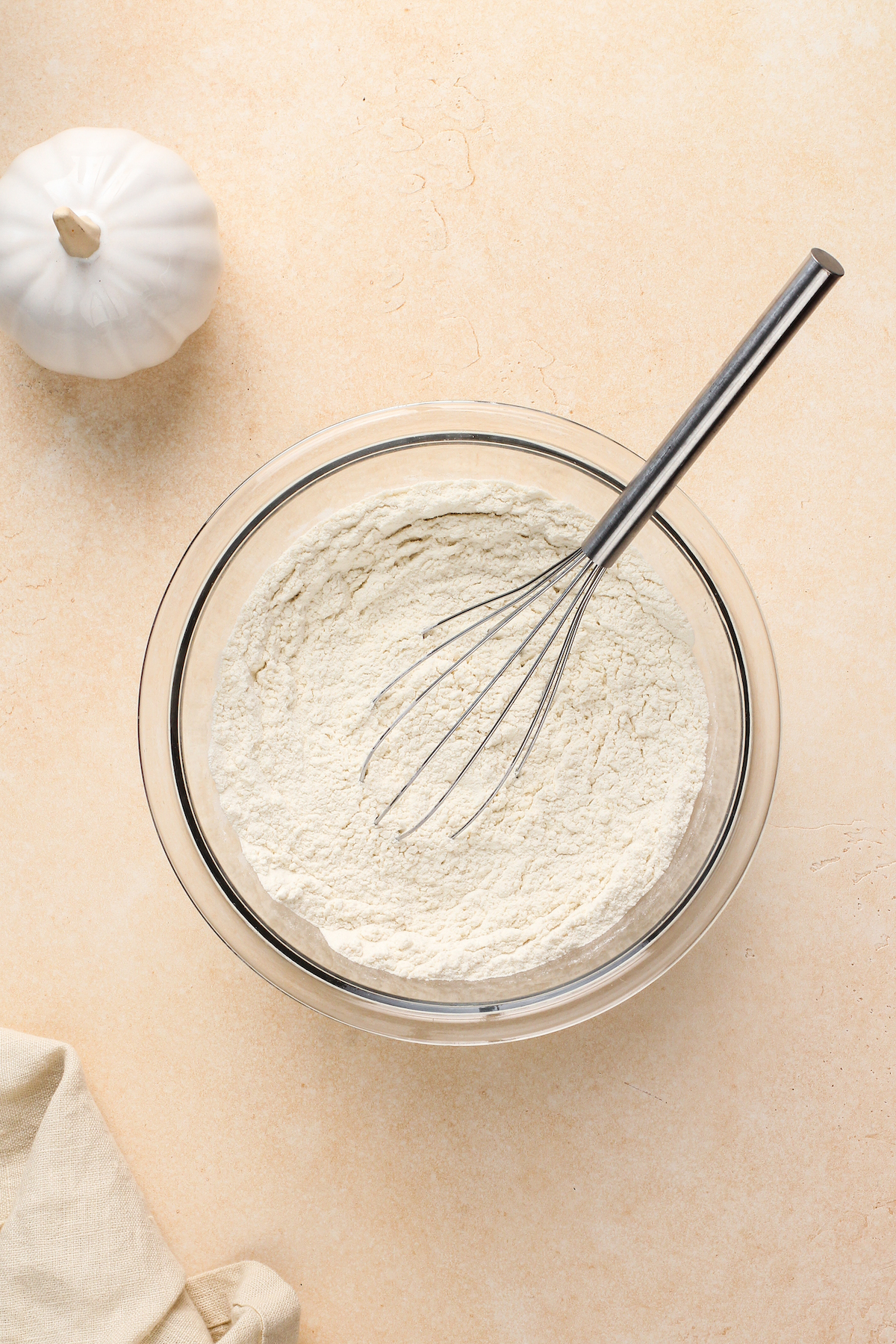 Add the Dry Ingredients to the Wet Ingredients. Pour the dry ingredients into the bowl with the wet ingredients, and mix on low speed to make a smooth, even dough with no flour streaks remaining.
Form the Crusts. Scoop about half a tablespoon of dough into each well of the mini muffin tin. Press the dough into the bottoms of the wells and slightly up the sides.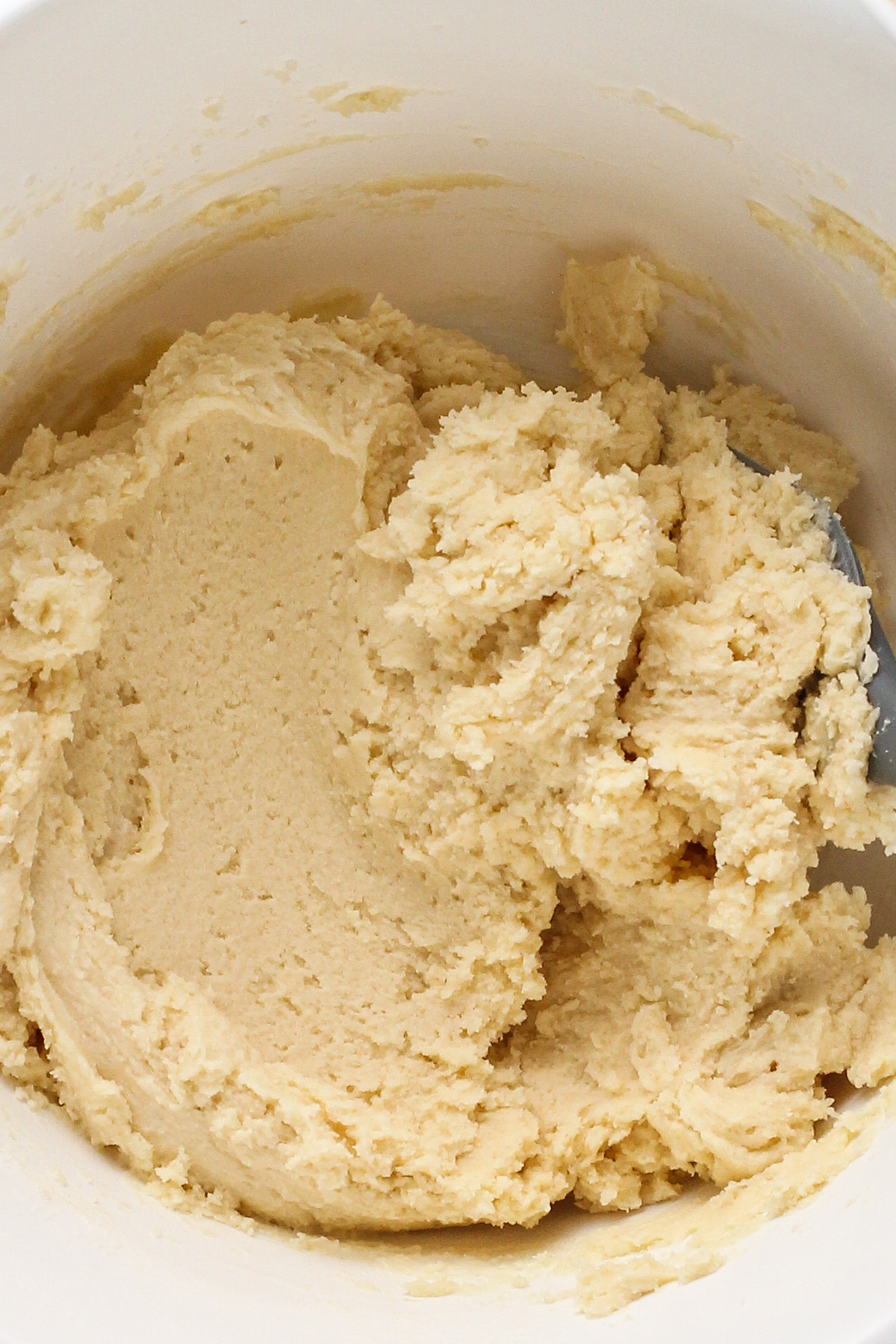 Make the Filling
Combine All Filling Ingredients. In a medium mixing bowl, measure and combine the cream cheese, pumpkin pureé, sugar, pumpkin pie spice, and vanilla. Whisk together by hand, or using a hand mixer on medium-high, until the are ingredients completely blended, with no more cream cheese visible.
Fill the Cookie Cups. Spoon or pipe the filling into the prepared cookie crusts. Each one should hold about one and a half teaspoons.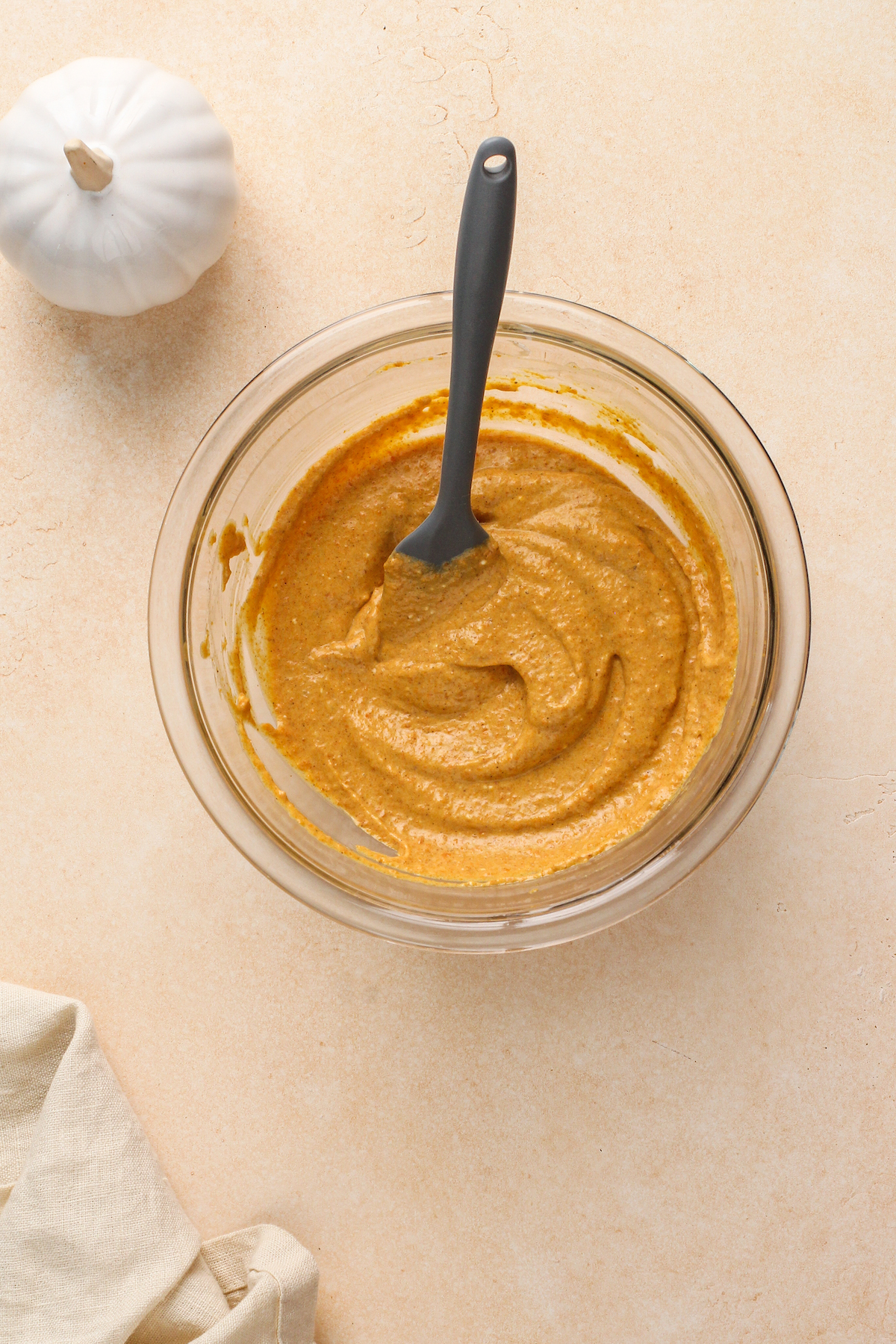 Bake the Pumpkin Pie Cookies
Bake. Once each crust is filled, place the mini muffin tin into the preheated oven. Let the pumpkin pie cookies bake until the cookie crusts are slightly golden-brown around the edges. This only takes about 10 minutes!
Cool. Once the cookies are done baking, take them out of the oven. Carefully run a butter knife or a paring knife around the edge of each cup, to make sure they're loosened from the muffin tin. Don't take them out just yet, though – let them cool in the tin for about 10 minutes, and then carefully pull each one out and place on a wire rack to finish cooling. The cookie base and filling will firm up while they cool.
Enjoy! Serve the cookies at room temperature, or if you would rather serve them cold, stick them in the fridge to chill. Either way, when you're ready, top them with whipped cream, a sprinkle of sugar, and a sprinkle of pumpkin pie spice.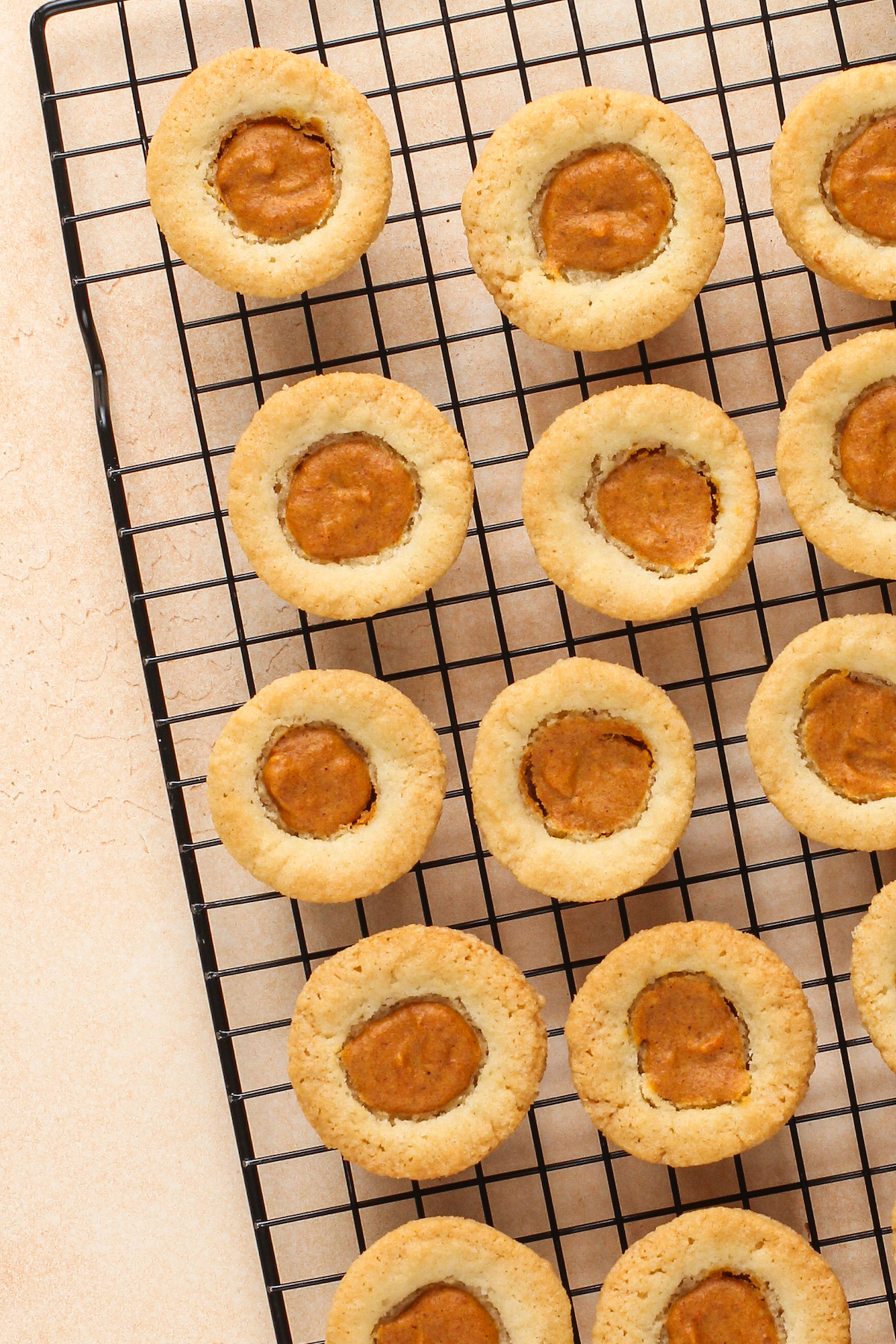 Helpful Hints
What else should you know about making pumpkin pie cookies? As a matter of fact, I do have some helpful tips to share. Here are my best pieces of advice for the perfect dessert.
Prevent Sticking: You can grease your tin with shortening, oil, or baking spray. My personal favorite is Baker's Joy. It works really great to prevent sticking (don't be stingy).
Muffin Tin: If you don't have a mini muffin tin, or you just want slightly larger cookies, you can definitely use a regular size muffin tin. Keep in mind that you would not get as many cookies out of the recipe, and that they would probably need to bake for a few additional minutes.
Cooling Time: The cookies will be very soft when they come out of the oven, and that's normal. However, don't serve them until they've had a chance to cool off and firm up. Otherwise, they'll be runny, and not as tasty.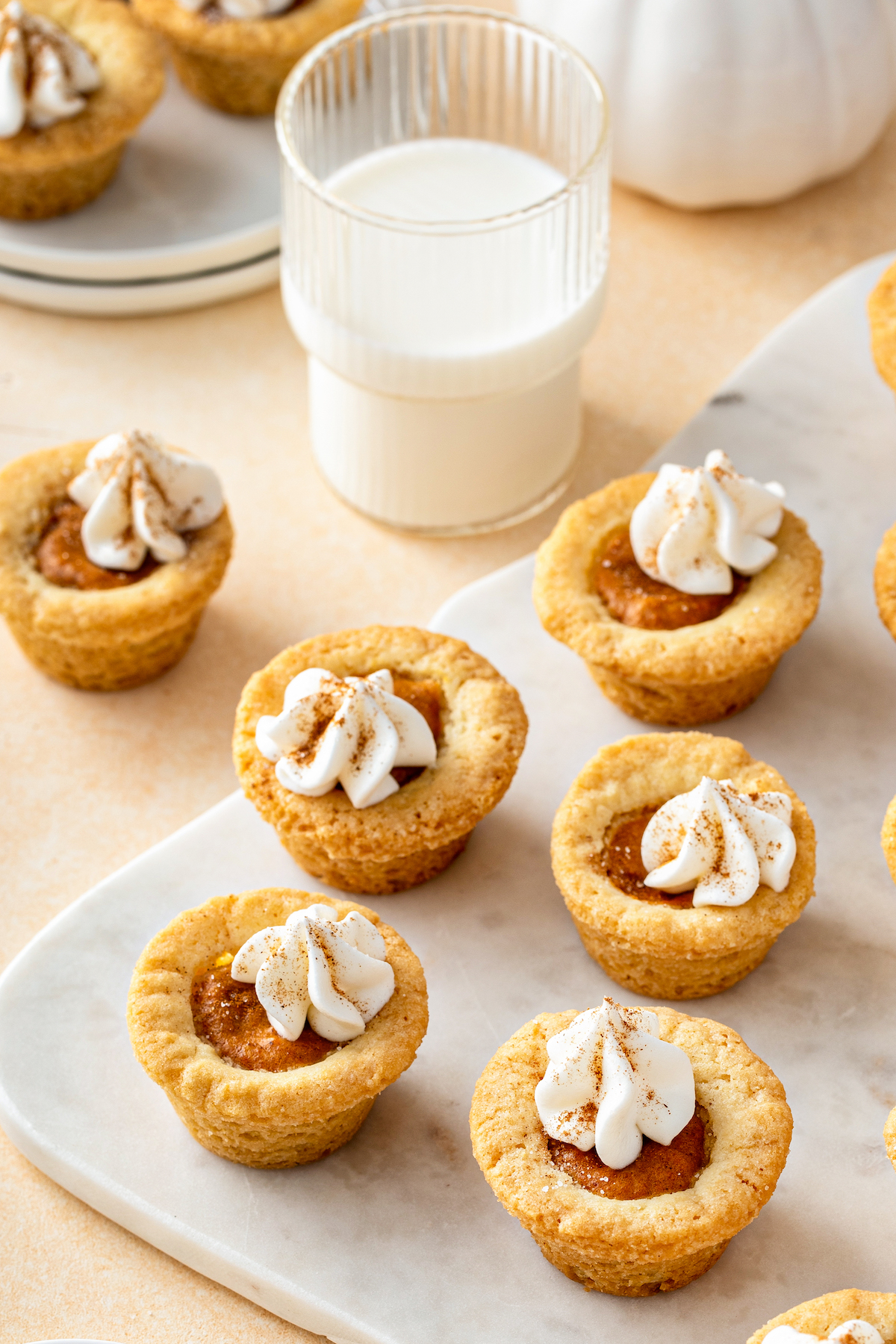 Recipe Variations
In addition to making the recipe as written, you could also tweak it in a few different ways to change things up and suit your family's taste. These easy ideas are just the start:
Store Bought Cookie Dough: You can save a few steps and use store bought sugar cookie dough.
Topping Ideas: Everyone loves pumpkin pie with classic whipped cream, but a sweet cream cheese frosting would also be fantastic. Need something a little more subtle and durable? Go for a simple vanilla or white chocolate drizzle.
More Pumpkin! If you want a stronger pumpkin pie flavor, add up to two teaspoons of pumpkin pie spice to the cookie dough. Yum.
Add Pecans: Now here's a match made in heaven! Top your pumpkin pie cookies with roasted or sugared pecans, for a sweet and crunchy finish.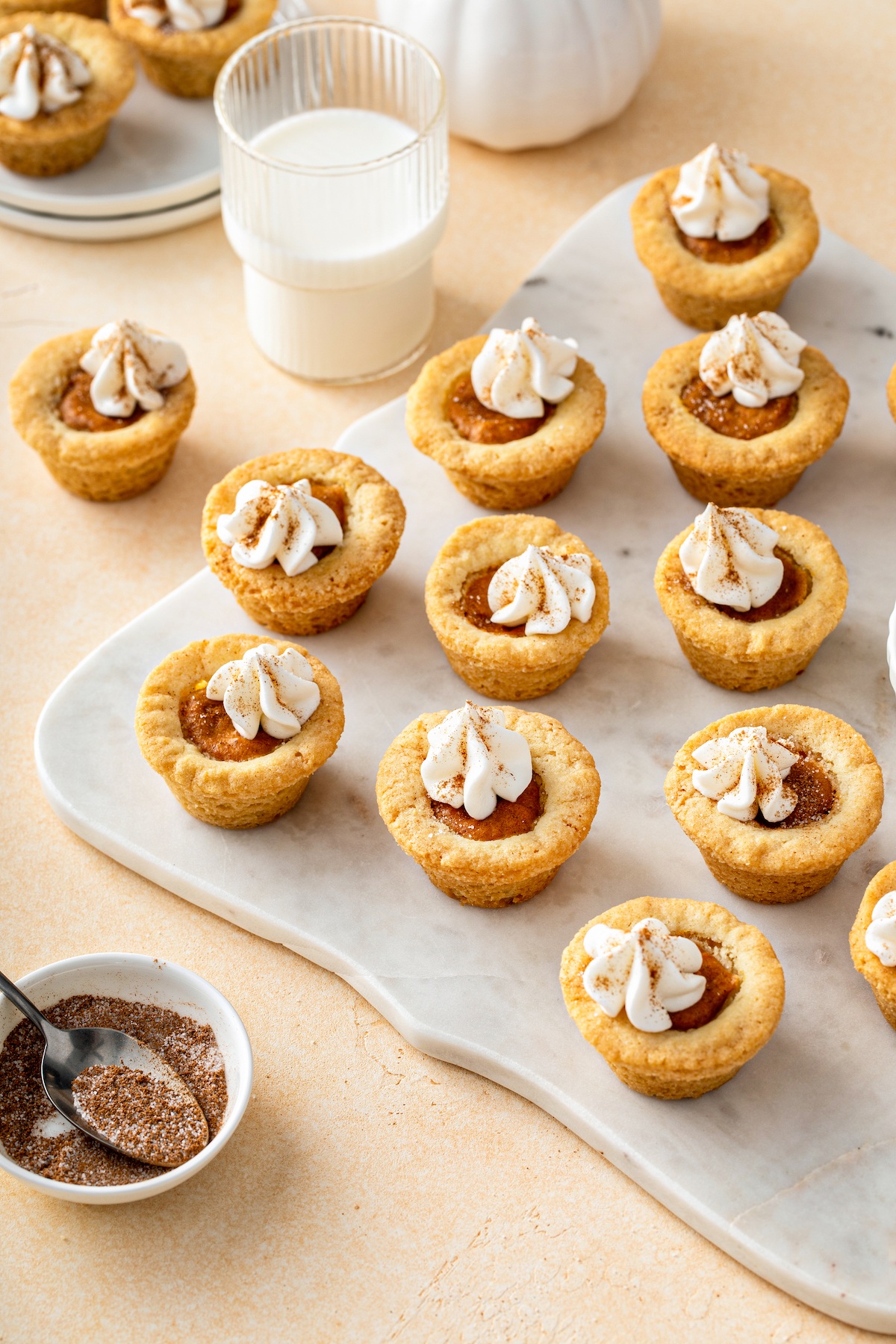 Storage Instructions
Similar to pumpkin pie, these pumpkin pie cookies will keep fresh for about 3 days in the refrigerator. I recommend placing them in an airtight container or zip-top bag to keep them as fresh as possible, but you could also place them on a serving platter and cover them tightly with plastic wrap.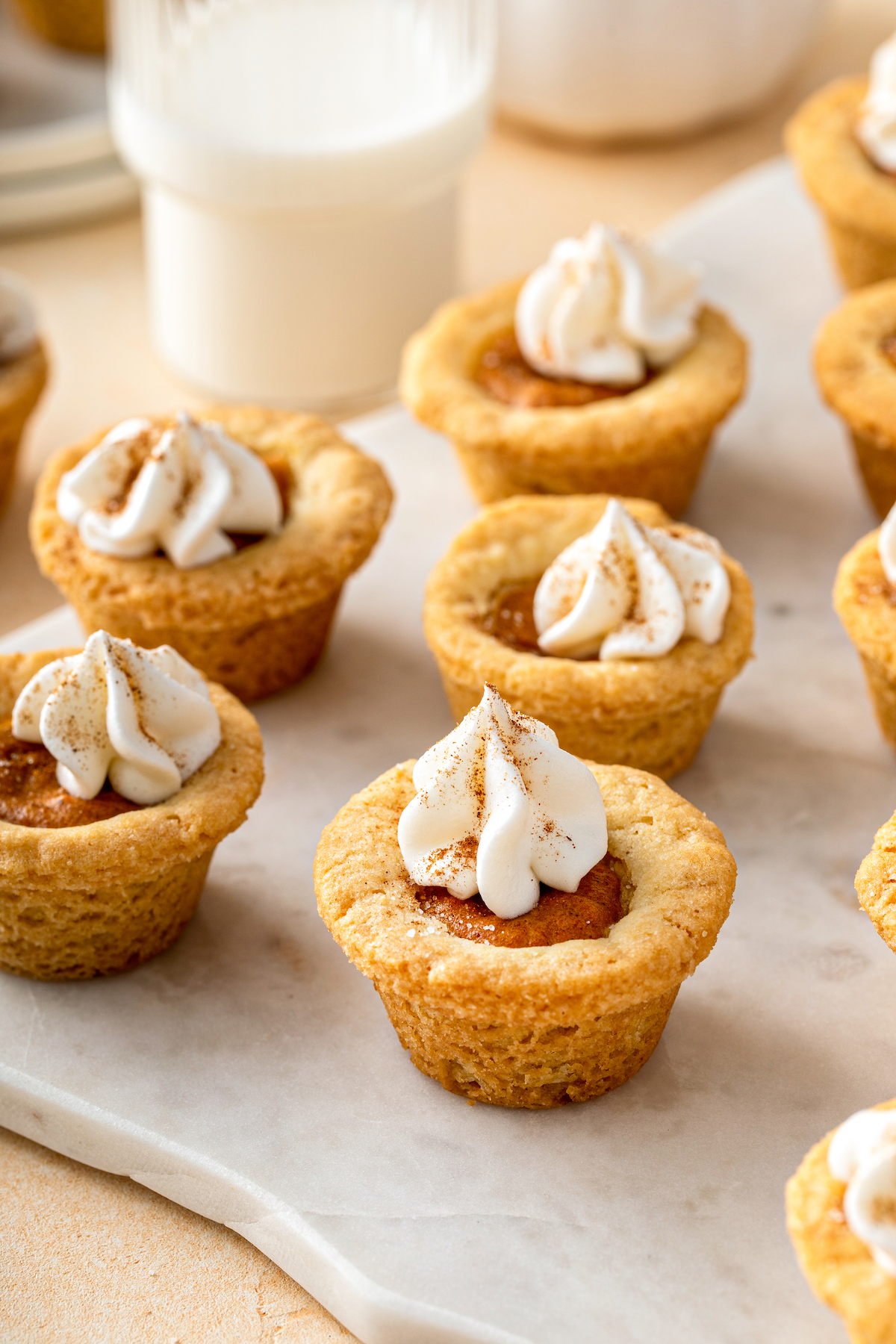 Yes, you can! Just cool them down to room temperature first, and then place them on a baking sheet. Stick them in the freezer until they're frozen solid, and then line them up in layers in an airtight food storage container. You can place sheets of parchment or wax paper between the layers of cookies, so they don't get stuck to each other. Thaw before serving.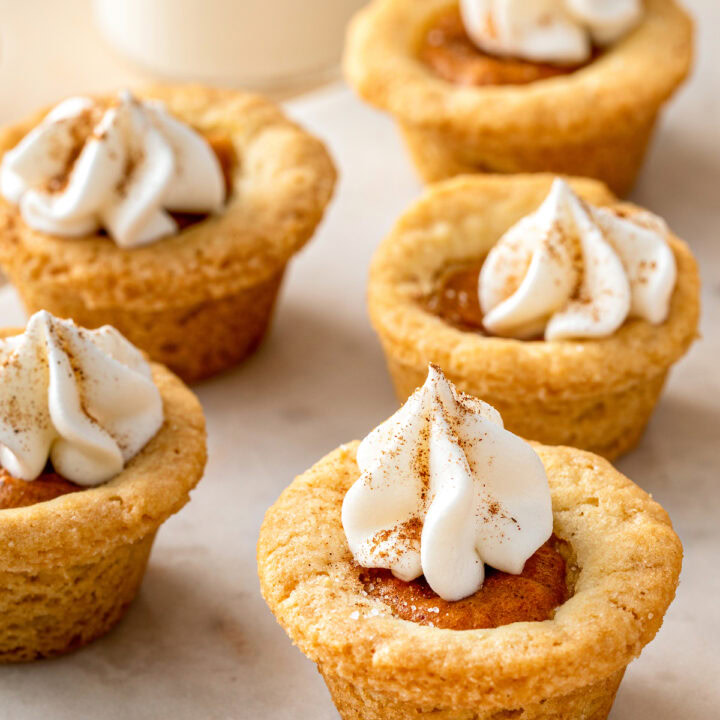 Celebrate the season with these easy, pretty Pumpkin Pie Cookies! With a delicate sugar cookie base and homemade pumpkin pie filling, they are a truly festive sweet treat that will have everyone fighting for the last one.
Additional Time
30 minutes
Ingredients
For the Sugar Cookie Base
2 1/4 cups all-purpose flour
3/4 teaspoon baking soda
½ teaspoon baking powder
1 cup (2 sticks) butter, softened
1 cups granulated sugar
1 large egg
1 teaspoon vanilla extract
For the Pumpkin Pie Filling
4 ounces cream cheese, softened
1/2 cup pumpkin puree (not pumpkin pie filling)
5 level tablespoons granulated sugar
1 teaspoon pumpkin pie spice
1/2 teaspoon vanilla extract
Toppings (Optional)
Cool Whip or whipped cream
Sugar
Pumpkin pie spice or cinnamon
Instructions
Preheat oven to 350°F (176°C). Grease a mini muffin tin and set aside. \In a medium mixing bowl, combine flour, baking soda, and baking powder. Whisk ingredients together and set aside.
In a stand mixer, combine softened butter and granulated sugar. Mix on medium for 3 minutes. Scraping down the sides of the bowl once. Then, add egg and vanilla extract. Beat on medium-low until fully incorporated.
Next, pour in the dry ingredients. Mix on low until no flour remains.
Using a small spoon, scoop dough into muffin tins - approximately 1/2 tablespoon of dough. Gently, press dough onto the bottom of each muffin tin and slightly up the sides.
Next, in a medium mixing bowl, combine the cream cheese, pumpkin pureé, granulated sugar, pumpkin pie spice, and vanilla extract. Whisk together by hand, or using a hand mixer on medium-high, until completely incorporated and no more cream cheese is visible.
Spoon about 1.5 teaspoons of pumpkin pie filling into the center of each cookie cup. Bake for 10 to 12 minutes until the cookie cups start to slightly brown around the edges.
Once done baking, take out of the oven and gently run a knife around the edge of the cup to help loosen for easy removal from the tin. Allow cookie cups to cool for at least 10 minutes before moving to a cooling rack to cool. Allow cookie cups to finish cooling completely as the cookie base still hardens as it cools.
Serve at room temperature or refrigerate until chilled. Once ready to serve, top with a dollop of cool whip or whipped cream and a sprinkle of sugar and pumpkin pie spice!
Nutrition Information:
Yield:
36
Serving Size:
1
Amount Per Serving:
Calories:

74
Total Fat:

1g
Saturated Fat:

1g
Trans Fat:

0g
Unsaturated Fat:

0g
Cholesterol:

8mg
Sodium:

45mg
Carbohydrates:

14g
Fiber:

0g
Sugar:

8g
Protein:

1g
Categories
More Pumpkin Dessert Recipes
This post may contain affiliate links. Read my disclosure policy.