These Mini Pumpkin Pies are just perfect for when you're looking for a creative and fun way to serve a traditional dessert. The miniature pies have that creamy and rich pumpkin pie filling that you love along with a sweet and buttery crust.
Easy Mini Pumpkin Pie Recipe
Pumpkin pie is by far one of my favorite holiday desserts. There's something really special about its simplicity and rich flavor that I crave every holiday season. And now that I have this recipe for Mini Pumpkin Pies, I love them even more!
I call it a culinary win when you can have a contrast in flavors and textures in one single bite. These miniature desserts hit all the right spots when it comes to having that "perfect bite". First, there's the rich and creamy pumpkin pie filling. Pumpkin is a great ingredient to use when making desserts because it's not overly sweet. It has an earthy flavor to it and when you add sugar and some fall spices, it's just delicious!
Then, that sweet and creamy pumpkin pie filling goes into a buttery, flakey pie crust. The crust provides a little crunch to go with the smooth filling. Finally, my favorite part – adding a little whipped cream! The additional of cool and milky whipped cream cuts the richness of the pie just perfectly.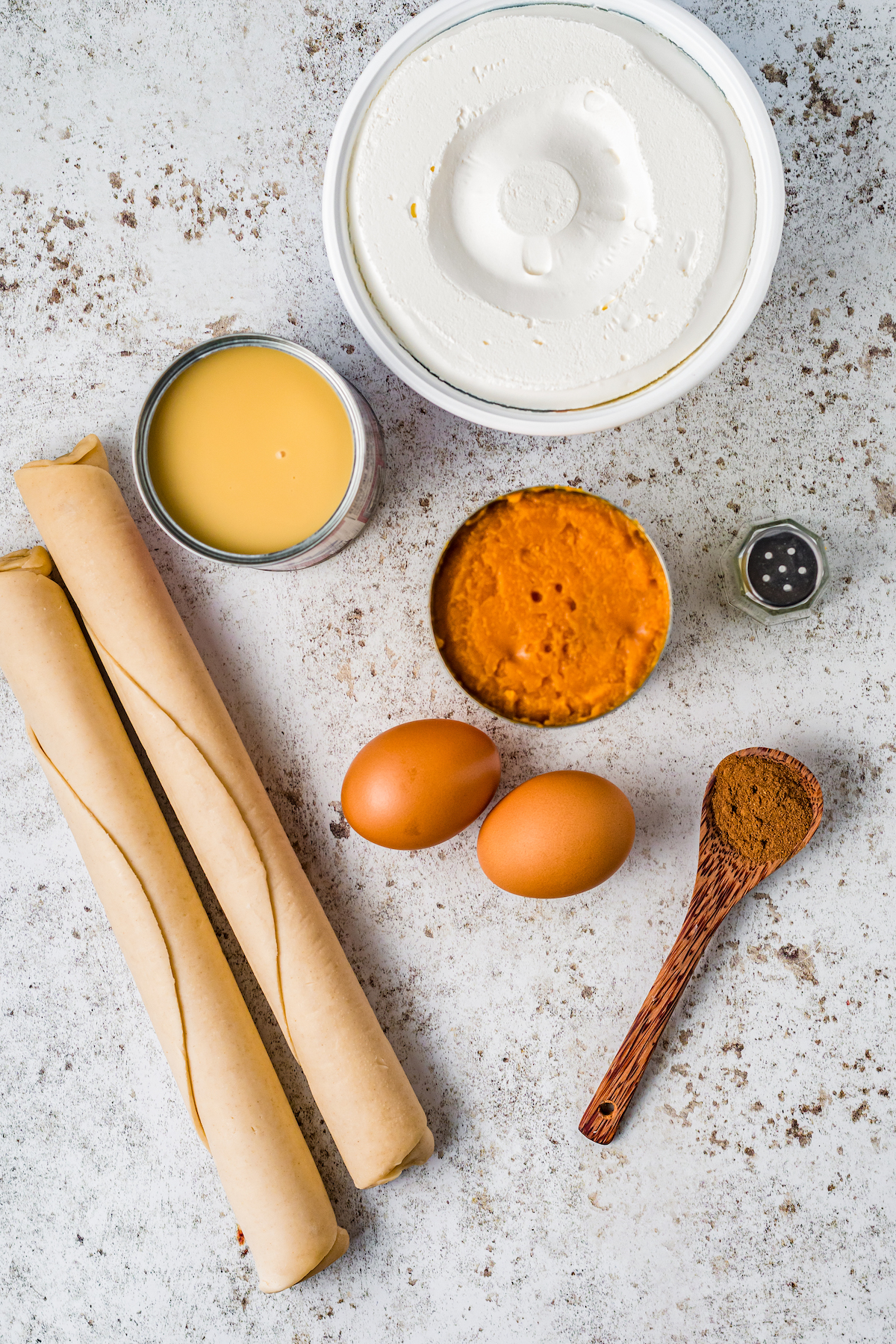 What You'll Need
Here's what you need to make Mini Pumpkin Pies. Remember to check the recipe card below for the exact measurements.
Pie Crust: You have two options here. You can make your own, using my Homemade Pie Crust recipe, or you can buy refrigerated pie crust at the grocery store.
Pumpkin Puree: This ingredient should be very easy to find during the fall months. You'll find it in the baking aisle.
Sweetened Condensed Milk: This ingredient is the best way to sweeten pumpkin puree for pie filling. It's smooth and blends well so the filling doesn't have any chunks or bits of granulated sugar.
Eggs: The eggs help bind everything together and allow the pie to set in the pie crust.
Pumpkin Spice: You can also find this labeled as pumpkin pie spice. It's the perfect blend of fall spices like cinnamon, nutmeg, ginger, and allspice.
Salt: Using salt when baking is more important than you think! Just a tiny bit really elevates the flavor of the entire recipe.
Whipped Cream: You can use whatever whipped cream you'd like. I like to use Cool Whip!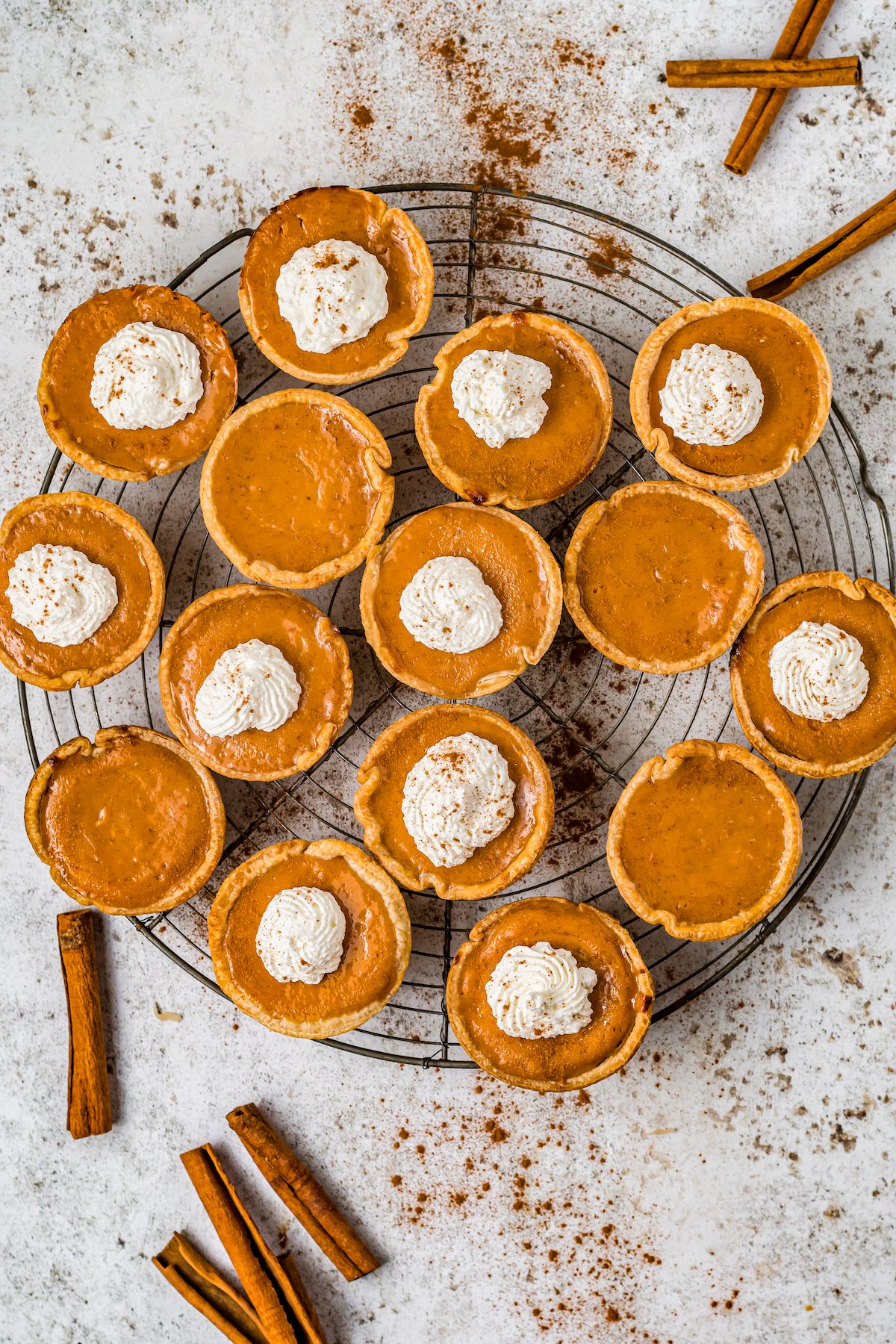 How to Make Mini Pumpkin Pies
Below you'll find a rundown on how to make these miniature pies. Grab your ingredients and let's get baking!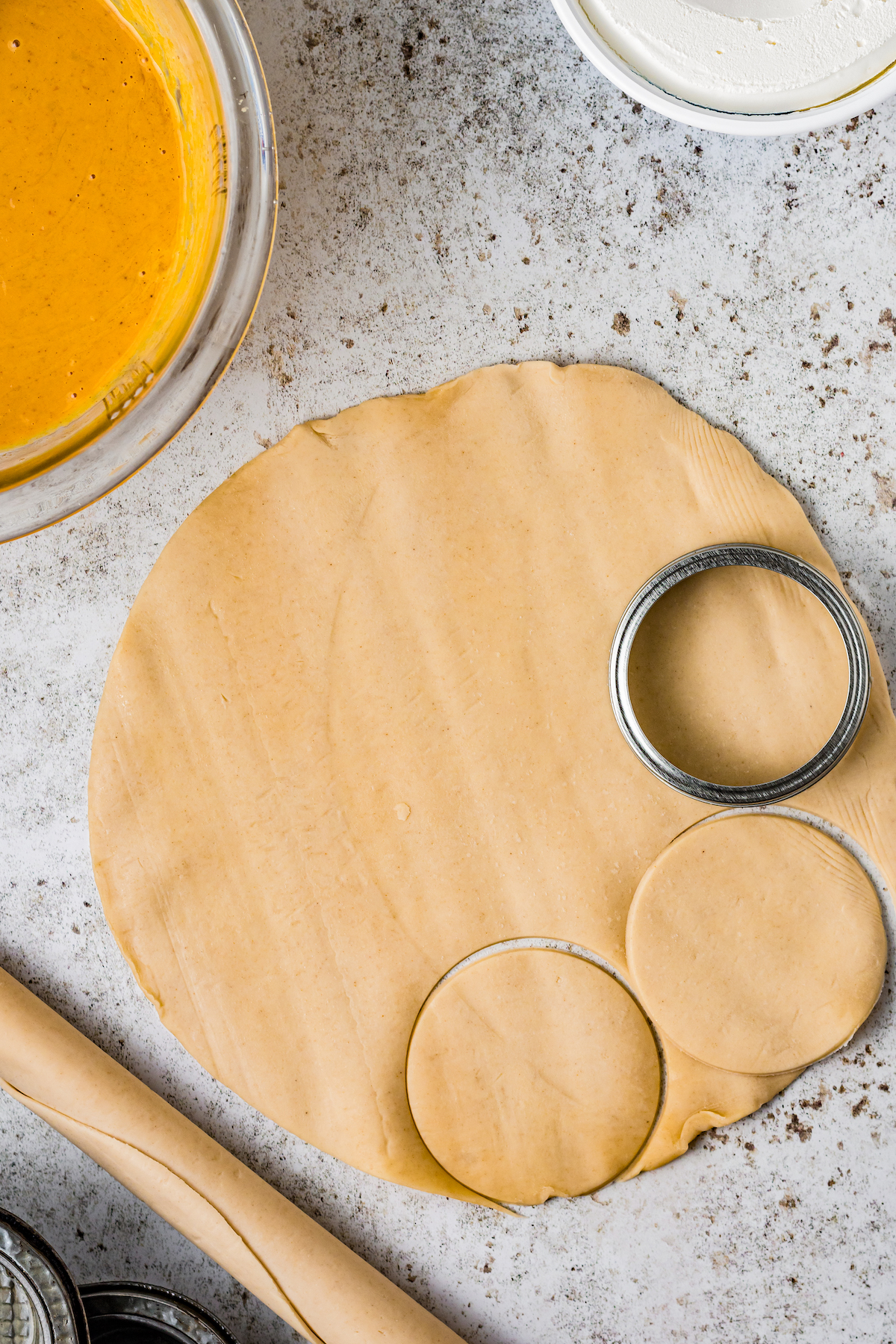 First, make sure the oven and your muffin pan are ready to go. You'll want to preheat the oven to 400F. Also, you can go ahead and spray a muffin pan with non-stick spray.
Next, make the mini pie crusts. Start by unrolling the pastry dough. Then, using a round cookie cutter or the ring from a mason jar, cut out the mini pie crusts and put them in the muffin pan.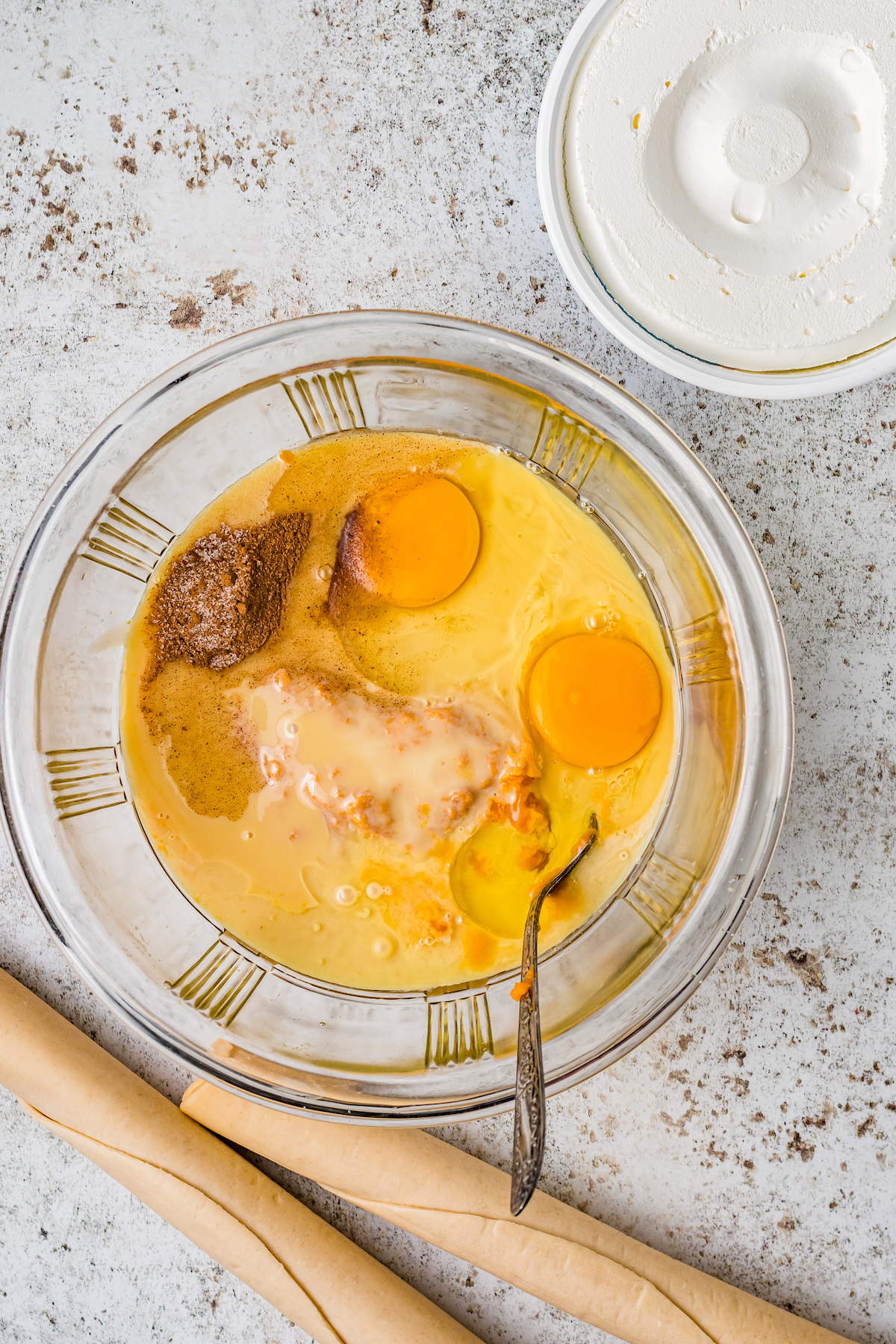 Make the pie filling. Mix together the filling ingredients in a large bowl. Then fill each pie crust almost to the top.
Bake the mini pies. Pop them in the oven and bake for about 10 minutes. Then, you'll lower the temperature and cook for another 10 minutes.
Let the pies cool before serving. You want the pies to cool down before you serve them. They will be very delicate right out of the oven. You can serve them at room temperature or chilled. And don't forget the whipped cream!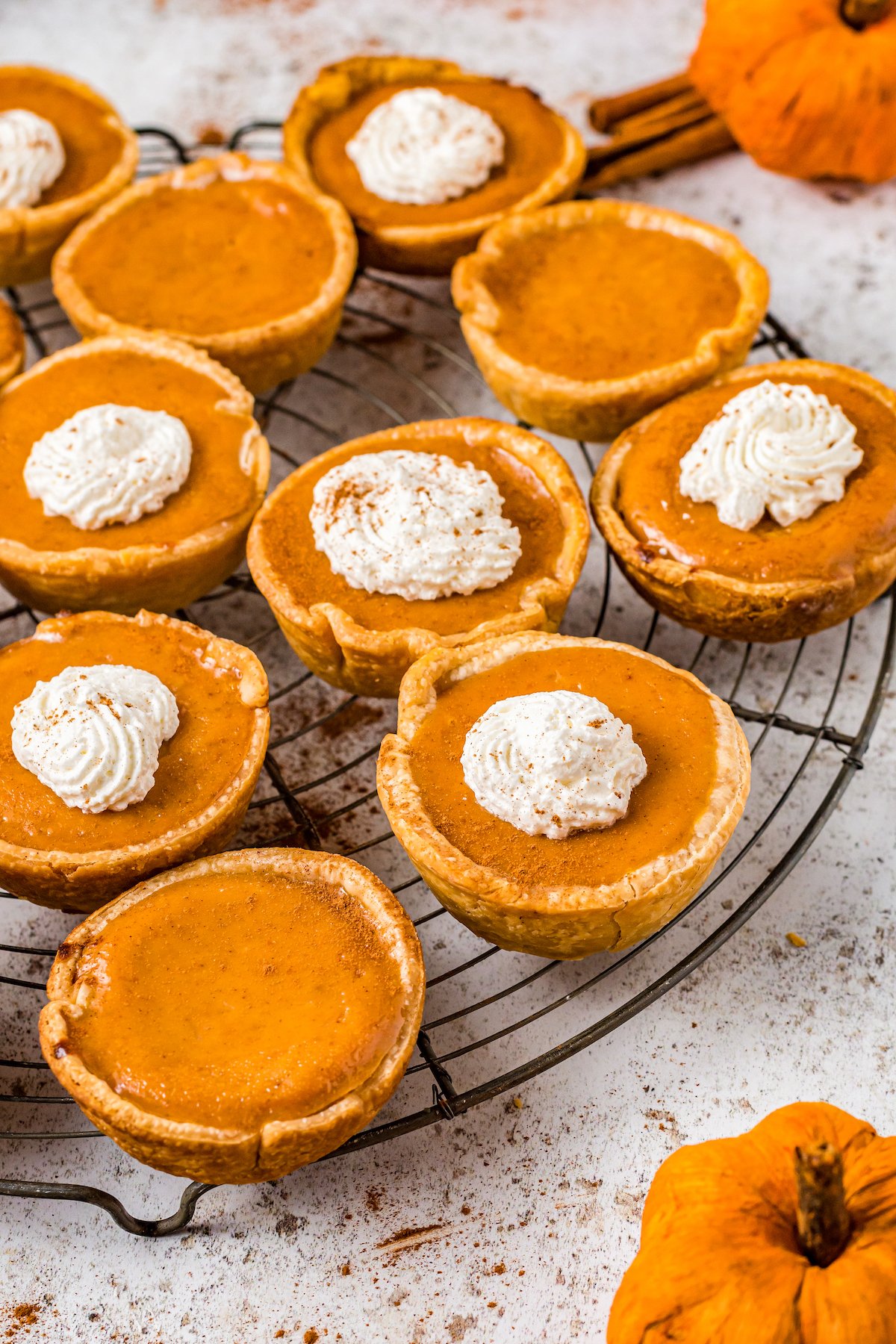 Tips & Serving Suggestions
Here are some helpful tips for when you're baking this dessert. Plus, I'll share some fun serving suggestions and pairings!
Keep the pastry dough very cold until you're ready to use it. The buttery and flaky layers develop when the cold dough is baked at a high temperature. Work quickly and you'll get that delicious crunch!
What if I don't have pumpkin pie spice? You can use a combination of cinnamon, nutmeg, mace, allspice, and/or ginger if you do not have any pumpkin pie spice. You could also just use cinnamon if you'd like.
Serve up a little coffee with this crowd-pleasing dessert. You can wow your guests and make my Homemade Pumpkin Spice Creamer.
Keep the "mini" theme going. Pair these little pumpkin pies with other desserts like Mini Lemon Meringue Pies, Peanut Butter Cookie Cups, and Mini Pumpkin Cheesecakes.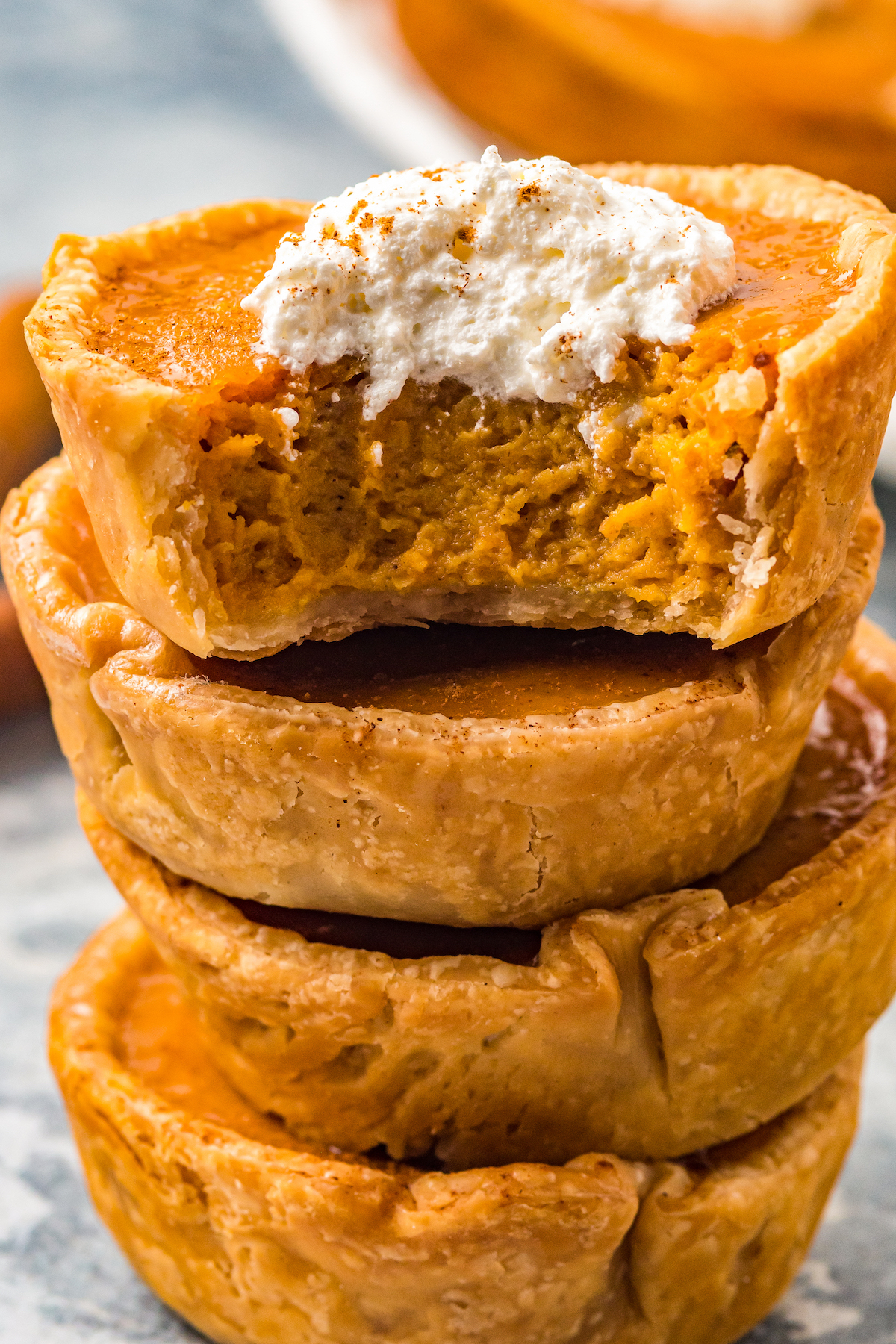 How to Store These Pies
You can make these mini pies ahead of time and store them in the refrigerator until you are ready to serve them. It's best to store them in a single layer in an air-tight container. They will stay fresh in the refrigerator for up to 5 days.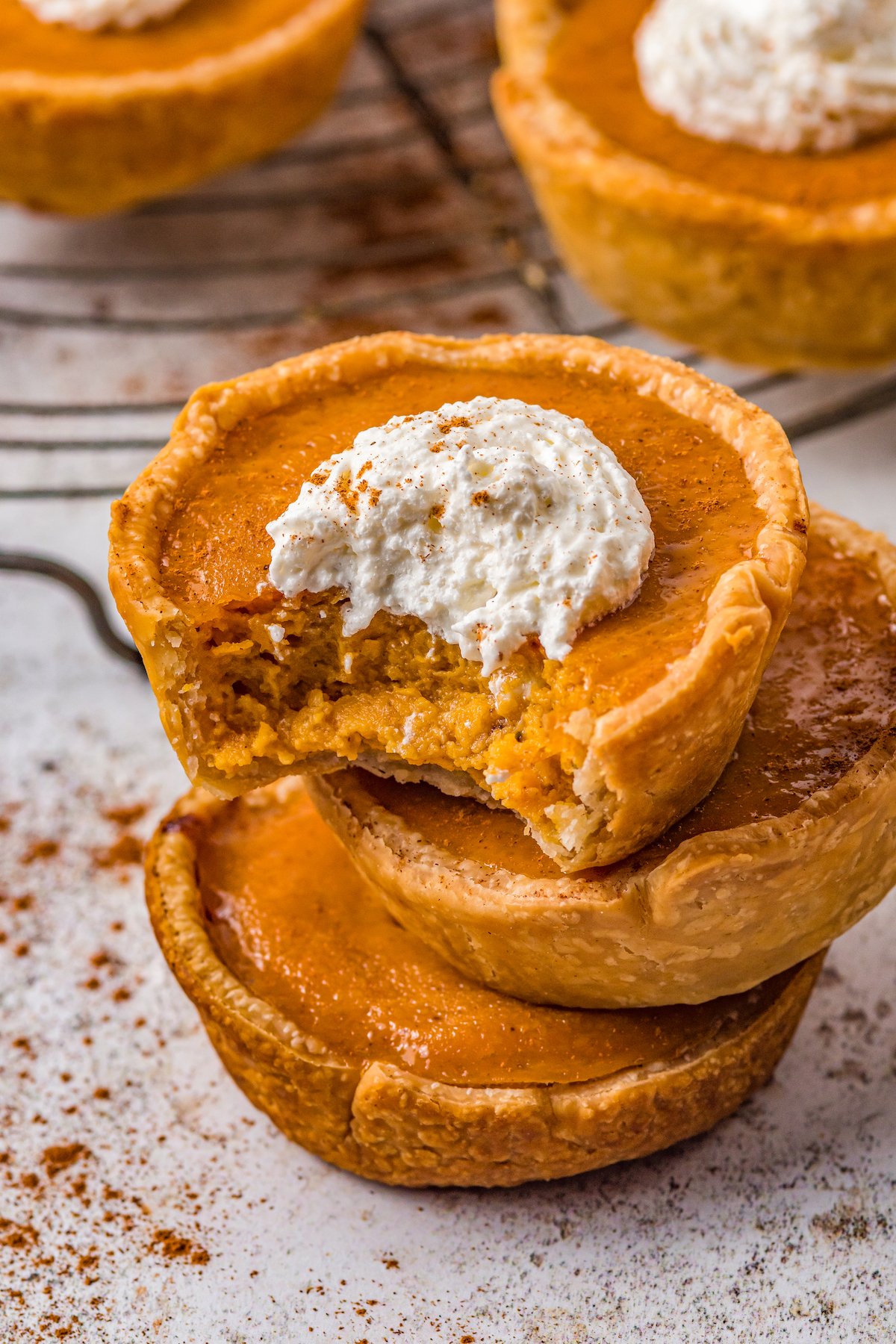 Can I Freeze Them?
Yes! You can freeze Mini Pumpkin Pies. It's just important that you let them cool completely before putting them in the freezer. You can use parchment paper to layer them in an air-tight container. You can then keep them in the freezer for up to 3 months.
Mini Pumpkin Pies
These mini pies have traditional pumpkin pie filling made with pumpkin pure, sweetened condensed milk, and pumpkin spices. You can make your own crust or buy refrigerated pastry dough.
Ingredients
1

(15 oz)

can pumpkin puree

1

(14 oz)

can sweetened condensed milk

2

large eggs

2

teaspoons

pumpkin spice

½

teaspoon

salt

½

cup

cool whip or whipped cream
Instructions
Heat the oven to 400°F and spray 16 muffin tins with non-stick cooking spray.

Unroll the refrigerated pie crust. Use a large canning ring or wide mouth jar and press down on the pie crust. Make sure to get them close together so you don't waste any pie crust. Press the pie crust pieces into the muffin tins.

Beat the pumpkin puree, condensed milk, eggs, pumpkin spice, and salt together in a bowl. Fill the pie crusts almost to the top.

Place the muffin pans into the oven and bake for 10 minutes.

Reduce the oven temperature to 325°F and continue baking for 10 more minutes. To test if the pies are done, poke a toothpick into the center.  It should come out clean.

Let mini pies cool on a cooling rack. 

Serve at room temperature, or chilled, with whipped cream or Cool Whip on top! 
Nutrition
Serving:
1
,
Calories:
129
kcal
,
Carbohydrates:
14
g
,
Protein:
2
g
,
Fat:
7
g
,
Saturated Fat:
3
g
,
Polyunsaturated Fat:
4
g
,
Cholesterol:
24
mg
,
Sodium:
169
mg
,
Fiber:
1
g
,
Sugar:
3
g
More Pumpkin Desserts
This post may contain affiliate links. Read my disclosure policy.