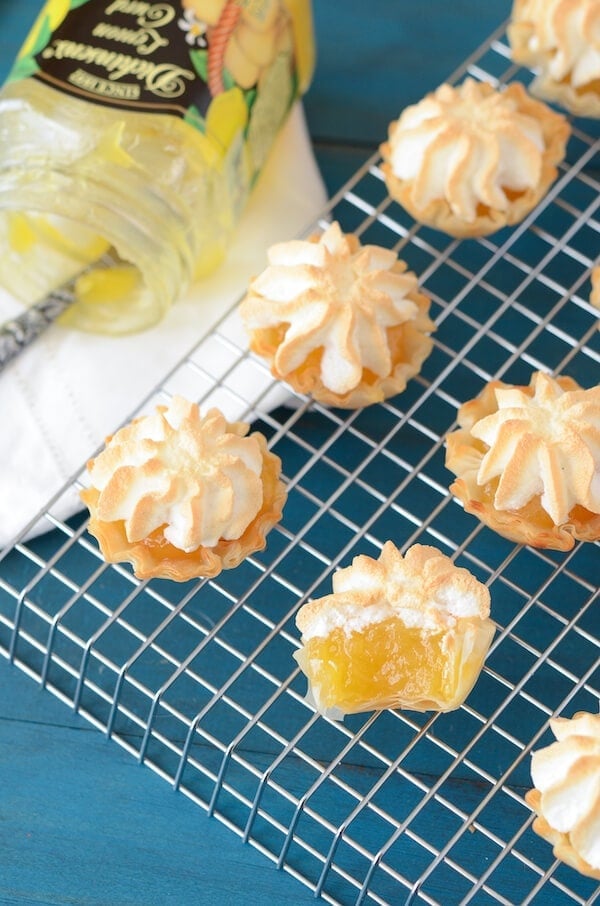 Earlier this week, I ran into target to grab shampoo. That was all I needed and was the only thing I was there for. So of course, an hour later I found myself still in Target wandering around the house and kitchen stuff. I found a tea towel that featured a big beautiful lemon meringue pie in the center with the words lemon written all around.
It was cute, but I didn't buy it (cause my arms were already filled with crap I didn't need — I have a Target rule, I can only buy what I can carry…which tends to be a lot). But it got Lemon Meringue Pie stuck in my head. It was sitting there in the back of my mind, whispering sweet nothings to me when I fell asleep at night.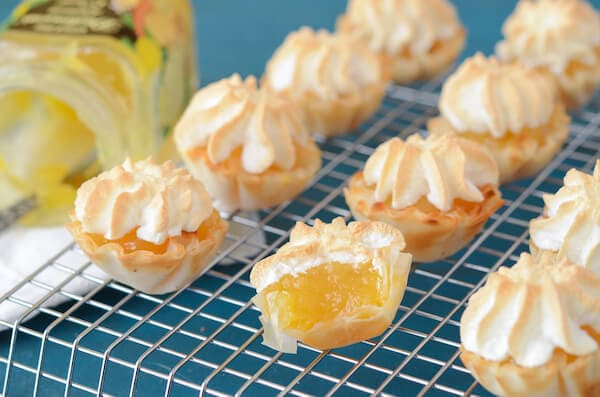 But I stayed strong! I was NOT going to make a whole lemon meringue pie for me. Sure Jorge's home, but if it's not Peanut Butter & Chocolate or a Brownie, he will have a few bites and be done. That means I would eat 97.5% of the pie all by myself. I just couldn't let that happen.
Then today I had to run in Publix. And right up front they had STACKS of Lemon Meringue Pies on sale. STACKS of them!! I almost ripped open every single pie and took a bite of each one right there in front of the judgmental customer service lady. But you would be proud, I didn't! Instead I had an idea. Mini Pies. In those Phyllo cups that need no baking! And store bought Lemon Curd! OH YES!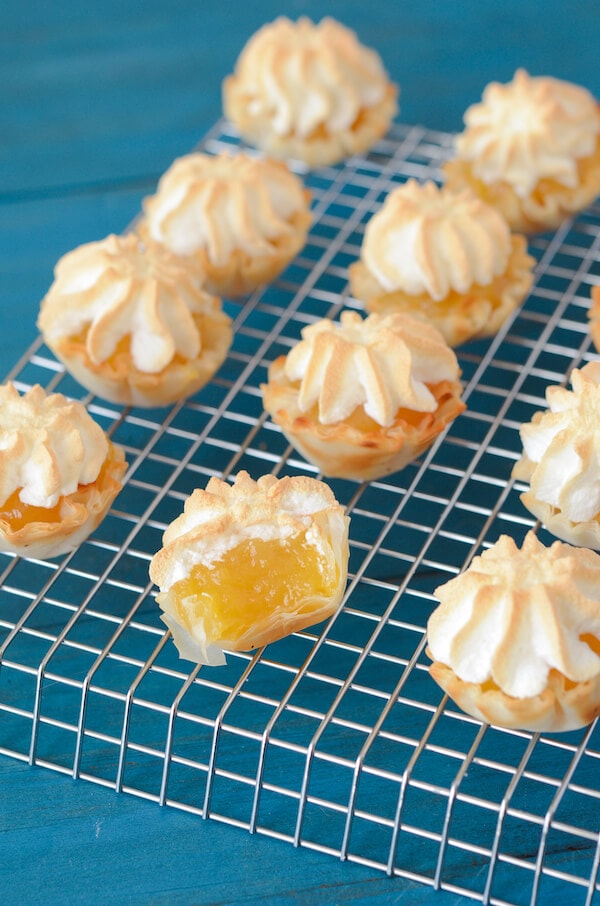 I bought the 2 ingredients I needed, rushed home and had mini bite size pies in 10 minutes. They are just as delicious as any regular Lemon Meringue Pie…but without all the work. While they are great for when you don't want a whole pie in the hosue…I think they would also be a great party dessert. Imagine, a dessert par full of mini pies! But the best part? I didn't feel any guilt when I ate 3 whole pies all to myself. 🙂
Yield: 15 bite-size pies
Mini Lemon Meringue Pies in 10 minutes!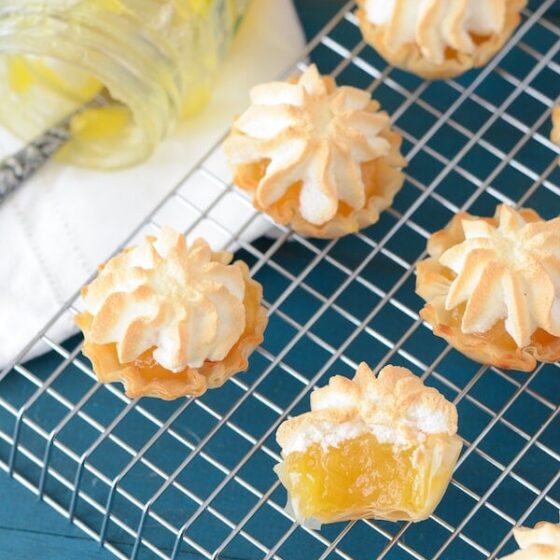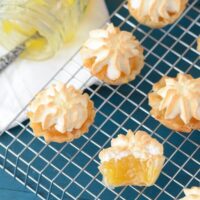 Are you craving a slice of pie, but not the work that comes with making a whole one? Mini Lemon Meringue Pies, made with lemon curd, are sweet little bite-size pies that you can make in just 10 minutes!
Ingredients
1 package Mini Fillo Shells
1 cup homemade or store bought lemon curd
2 large egg whites
3 tablespoons granulated sugar
1/2 teaspoon vanilla extract
Instructions
Preheat oven to 350°F.
Place mini fillo shells on a baking sheet. Place lemon curd in a ziplock baggie with the tip cut off and pipe into shells. Set aside.
In a small bowl (or stand mixer if you choose), whip egg whites until foamy. Add sugar and vanilla extract and continue to whip until stiff peaks form. Pipe meringue onto the tops of each mini pie (using a piping bag or a ziplock again).
Bake for 5 minutes, or until the tops of the meringue brown. Let cool and then store in the fridge until ready to serve!
Notes
recipe note: you will have a little more meringue than you need, but one egg white just wasn't enough.
Nutrition Information:
Yield:
15
Serving Size:
1
Amount Per Serving:
Calories:

74
Total Fat:

3g
Saturated Fat:

1g
Trans Fat:

0g
Unsaturated Fat:

1g
Cholesterol:

22mg
Sodium:

37mg
Carbohydrates:

12g
Fiber:

0g
Sugar:

9g
Protein:

1g
Want to Save This Recipe?
This post may contain affiliate links. Read my disclosure policy.