Buttery, creamy Lemon Curd is the perfect balance of tart and sweet. Use this bright and cheerful spread on desserts, English muffins, and pretty much everything else!
A Classic Treat Made with Fresh Lemons
Let me walk you through two scenarios. In scenario 1, you go to the store and see that Oreos are on a BOGO sale. So you buy four (yes, four) packages. Because, you know, they go perfectly with that gallon of milk your wife asked you to pick up. If you are this type of person, you are a Jorge.
In scenario 2, you are minding your own business, driving home, when suddenly you slam on your breaks and make an illegal U-turn. Why? Because you saw an adorable old man (in red suspenders) selling fruit out of the back of his pickup truck. Once you pull in, the old guy suckers you into buying five times the amount of lemons you need. If you are this type of person, you are a Jessica.
So while the Jorges of the world sit on the couch covered in Oreo crumbs, the Jessicas make lemon curd. Because what else can you do with 39 million lemons?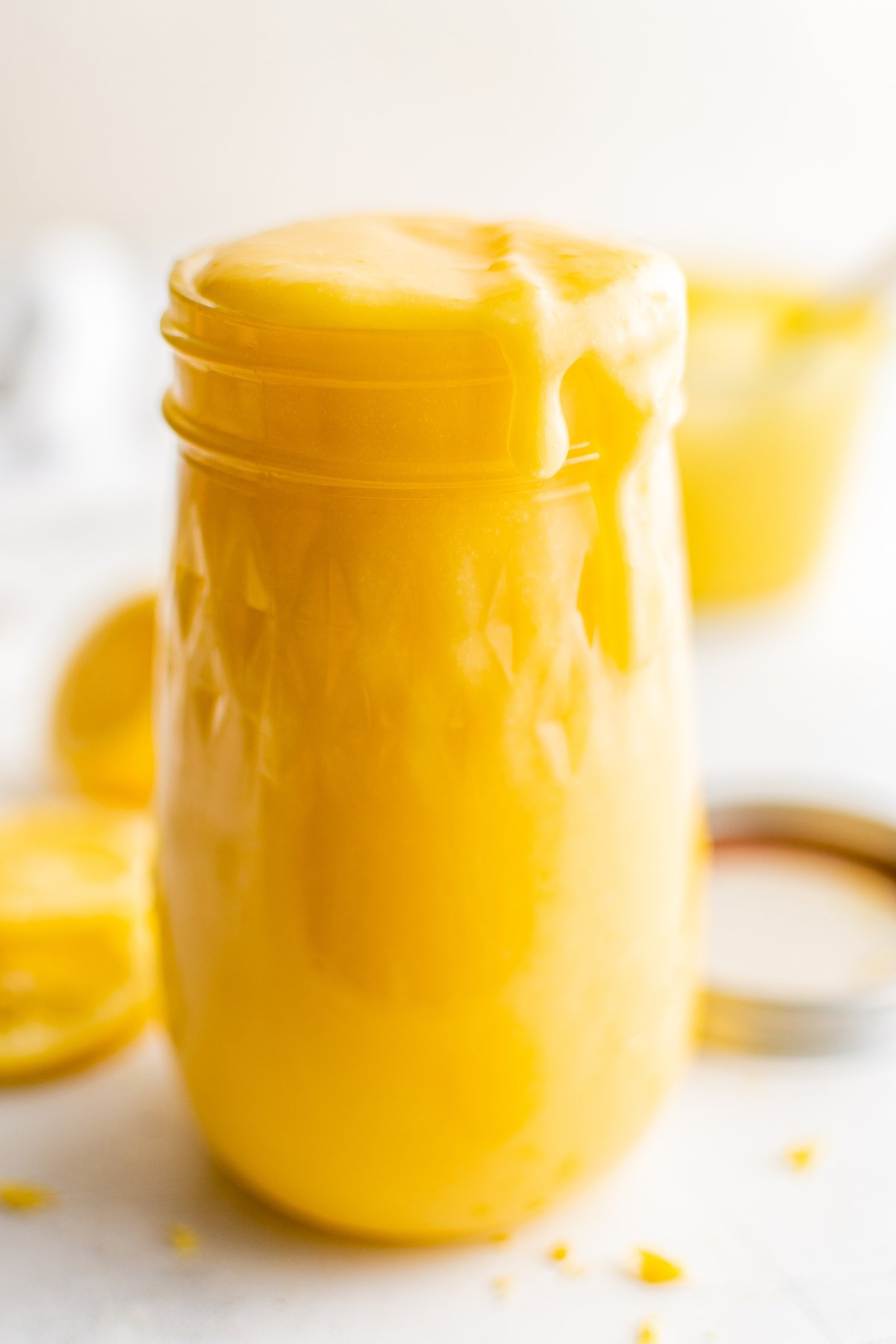 Is Lemon Curd the Same as Lemon Pie Filling?
No, although they are similarly thick and smooth. And lemon curd does make a gorgeous filling for tarts and pastries. However, pie filling is usually thickened with cornstarch or flour, while lemon curd gets its ultra-decadent flavor and texture from real butter and eggs.
By the way, I don't think "curd" does justice to this smooth, creamy, sunny-yellow lemon spread. Curd makes me think of those little curds in cottage cheese. Or just the word curdle, which is… gross. Honestly, we should start calling it Lemon Cream, or more truthfully Lemon Crack! Because once you taste it, you won't want to stop eating it. It's that good.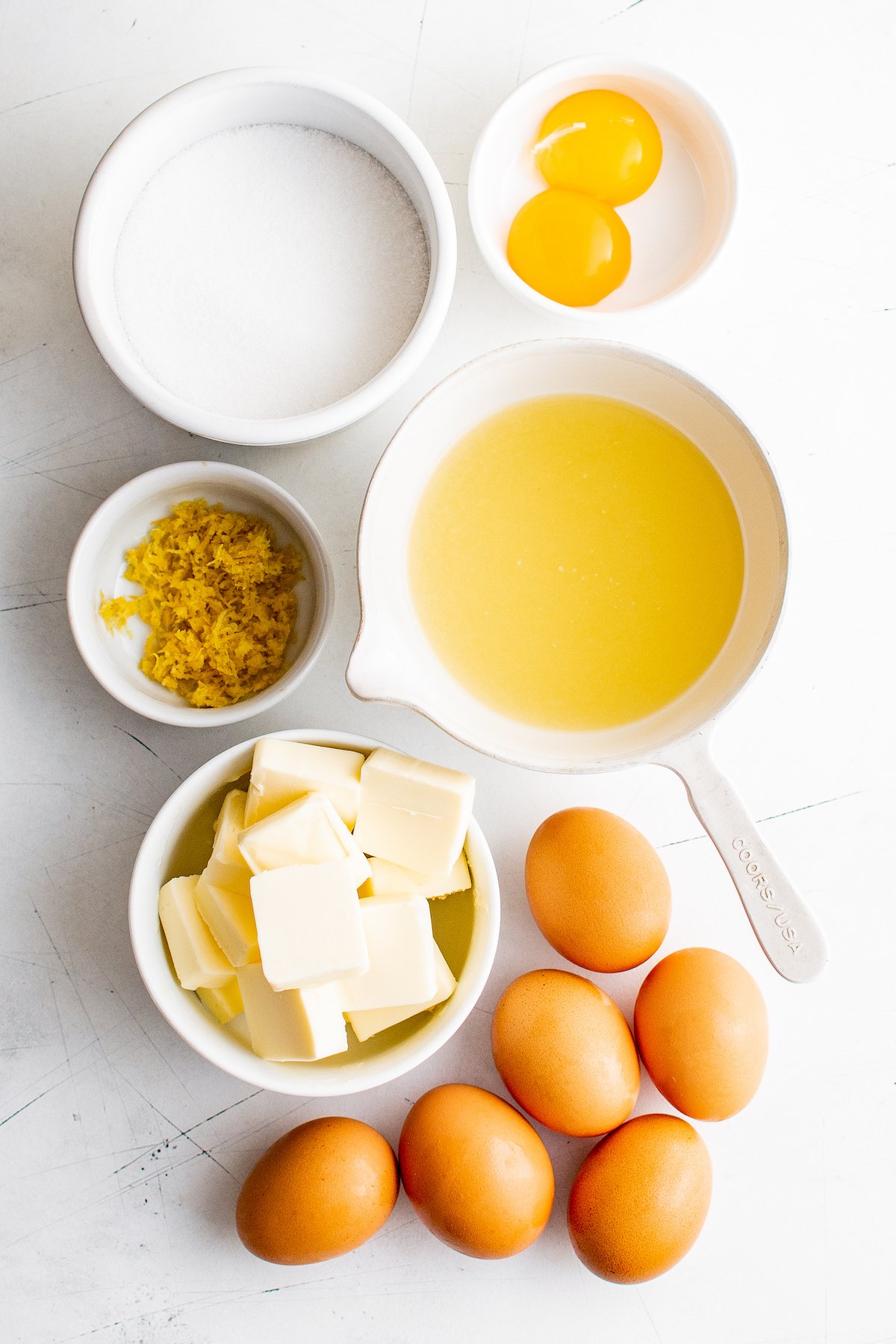 What You'll Need
To make your own lemon curd, you need just a handful of simple (but delicious) ingredients, and a little bit of time. Here's the ingredients list in detail:
Lemon Juice: Juice up those fresh lemons (or you can use bottled lemon juice, if you prefer).
Lemon Zest: I like to add lemon zest to this dish, but if you are using bottled juice you can omit the zest.
Sugar: Use plain granulated sugar, or substitute raw sugar.
Eggs: You'll need six large eggs, plus a couple of extra egg yolks.
Butter: Roughly chop up the butter, which should be unsalted.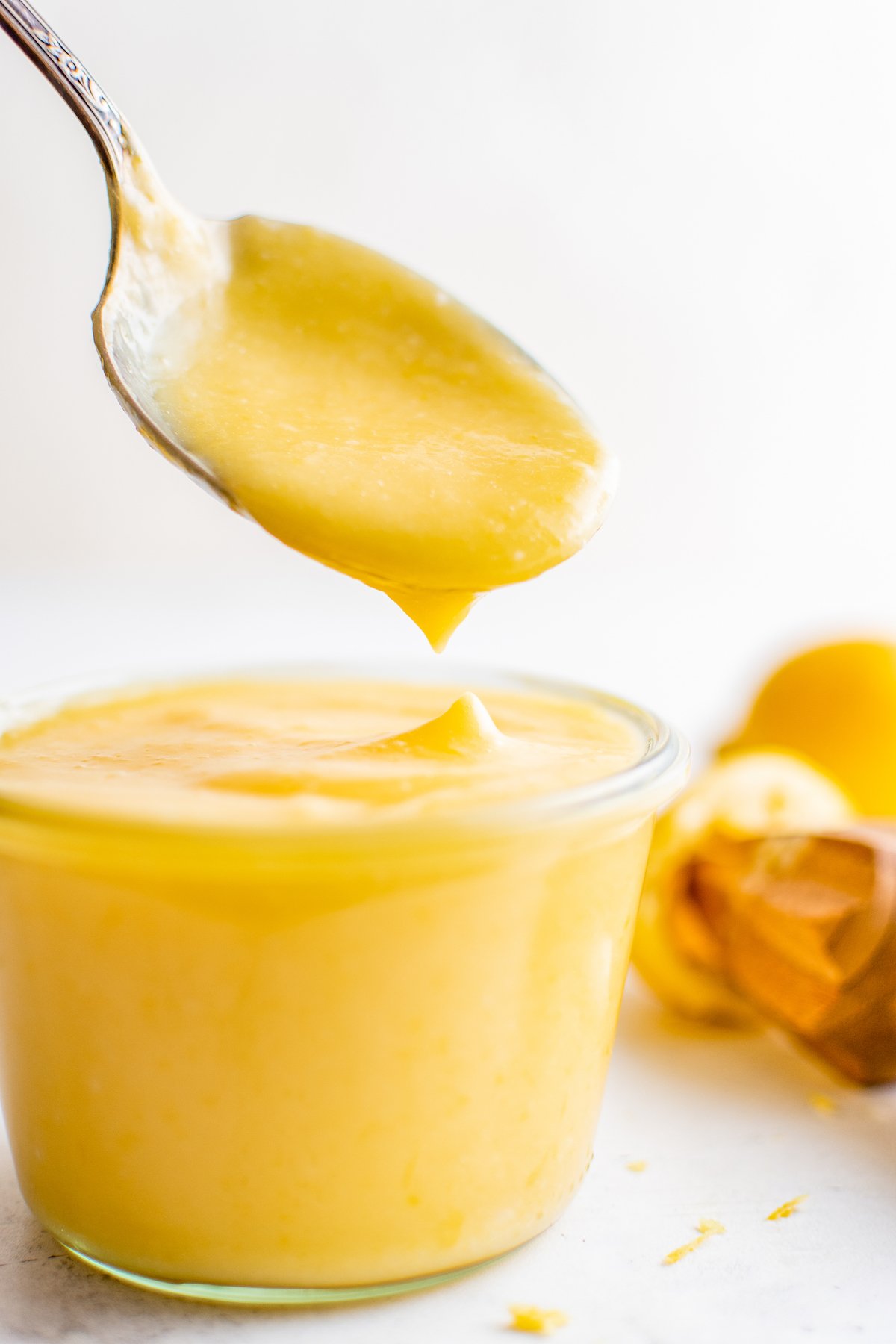 How to Make Lemon Curd
Making lemon curd is similar to making custard, although there's no milk involved. It's fun to do, and all you need is a saucepan, spoon, and strainer.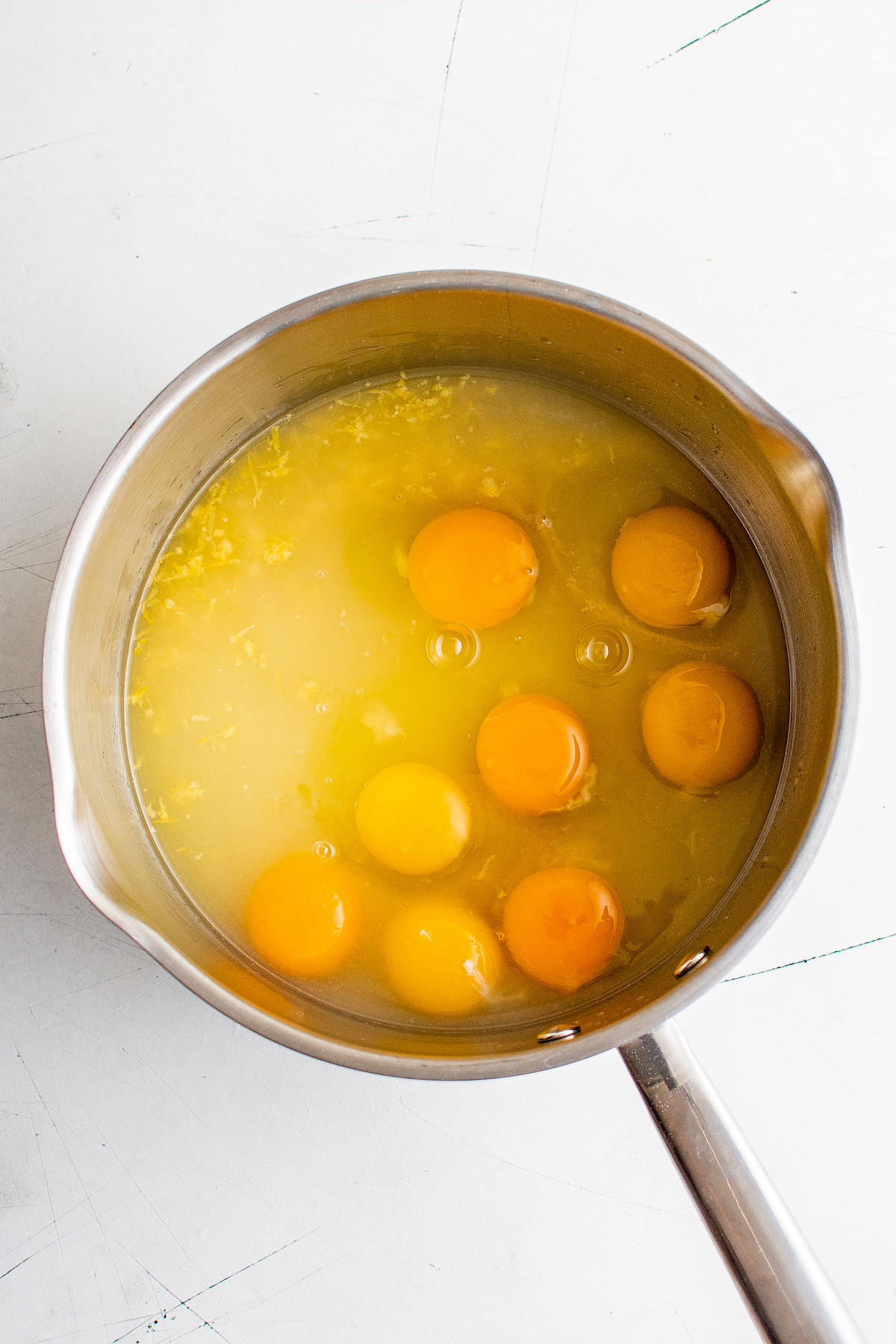 Whisk All the Ingredients EXCEPT Butter in a Saucepan. Set a heavy-bottomed saucepan over medium-low heat. In it, whisk the lemon juice, lemon zest, sugar, and eggs.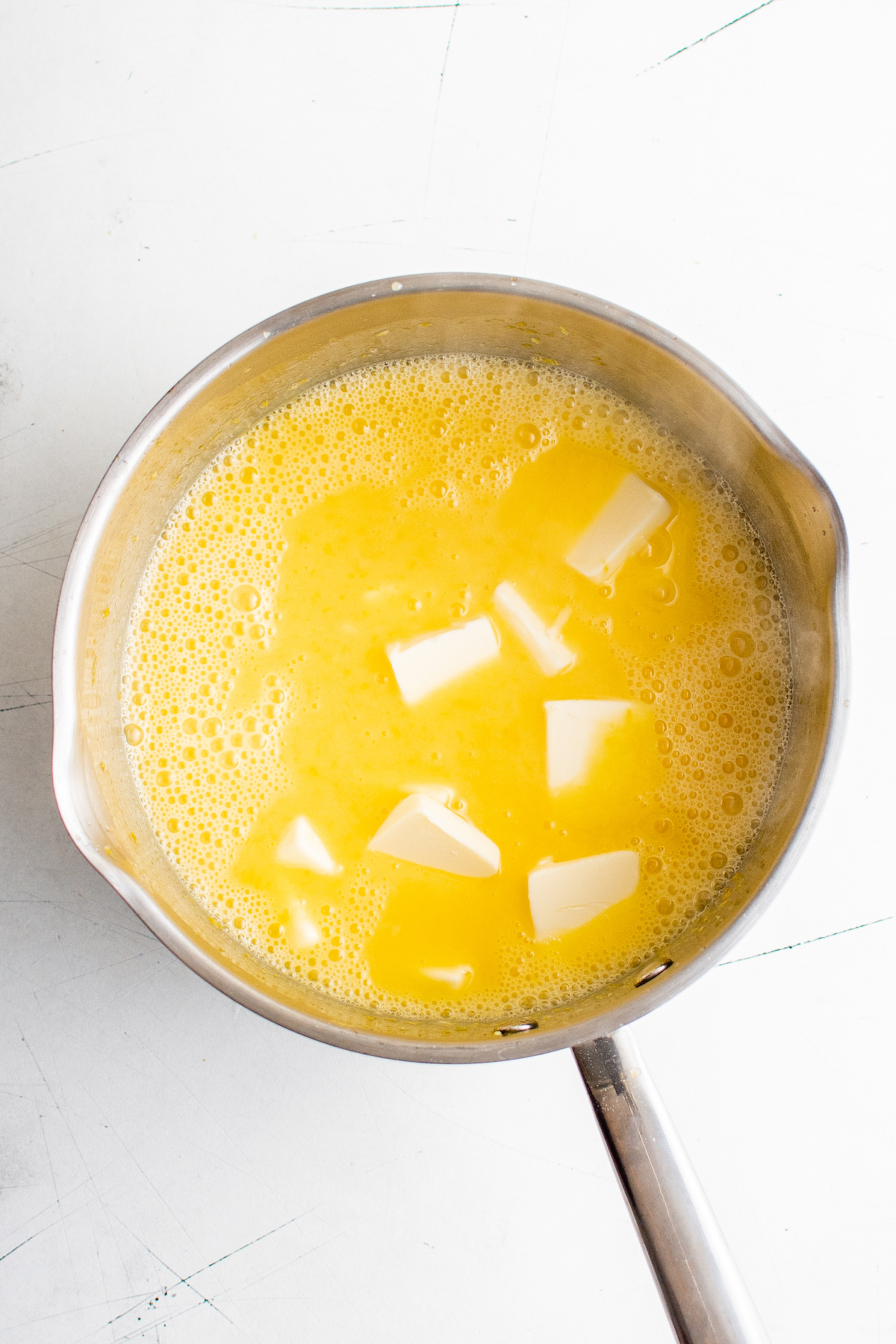 Simmer, and Then Add the Butter. Bring the mixture to a slow simmer, and then immediately add the chopped butter, whisking constantly. It will thicken. Don't let it boil, though, or the eggs may scramble and become lumpy.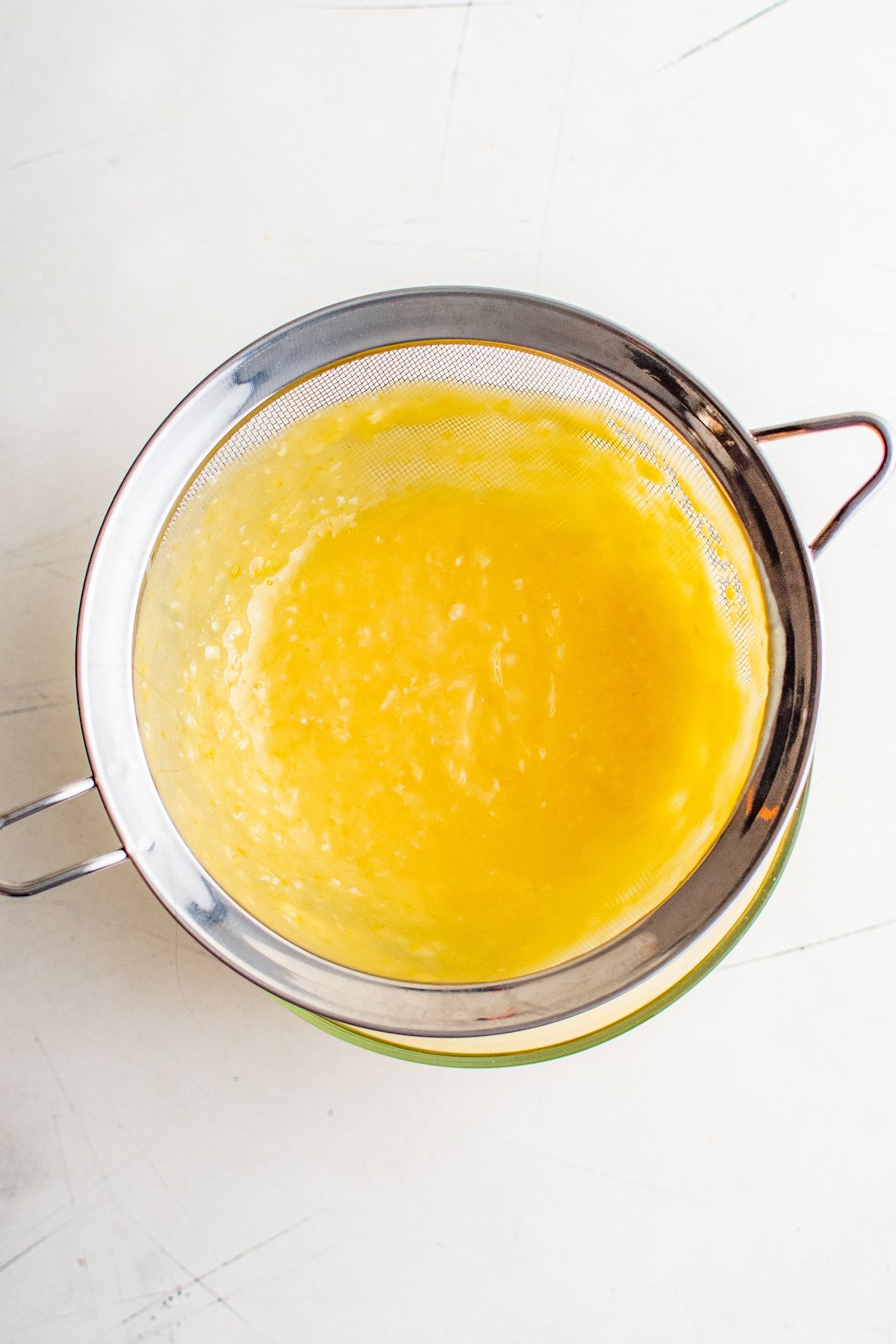 Strain the Lemon Curd. After about ten minutes, the mixture should be thick enough to stick to the back of a spoon. At that point, take it off of the heat and strain it through a small mesh strainer into a clean bowl.
Chill. Cover the bowl tightly with plastic wrap, and chill it in the fridge for at least an hour, or until cold.
Serve! Use as a dessert topping, spread – or just devour it by the spoonful! (Just kidding. I think.)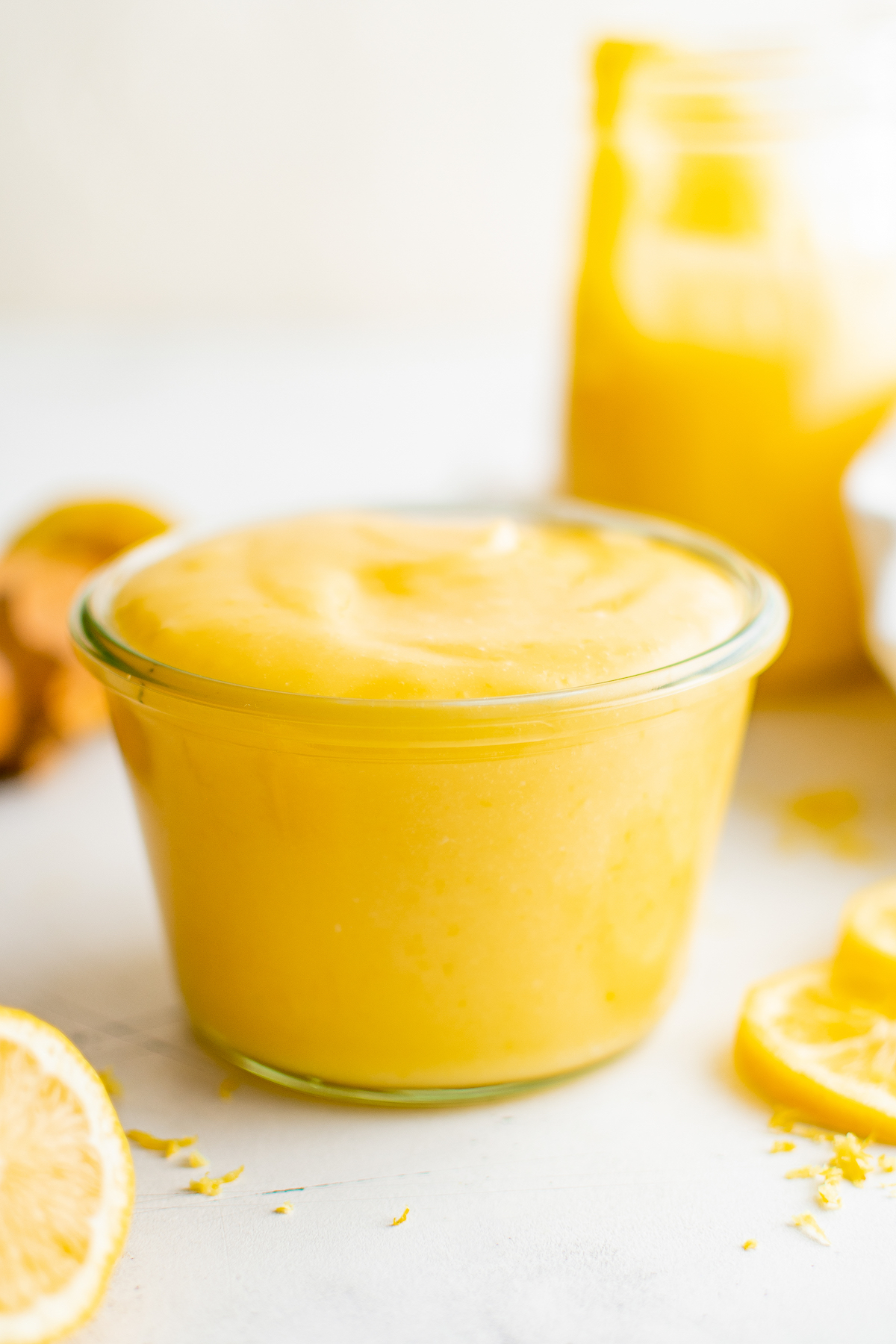 Helpful Tips and Tricks
Making lemon curd can sometimes have its quirks, so be sure to look over these tips for success. They'll help ensure that this creamy treat turns out perfectly, every time.
Avoid High Heat: The mixture should barely simmer, and definitely not boil! Overcooking or cooking at a high heat can make it lumpy.
Use More Yolks: For the richest lemon curd, replace one or more of the whole eggs with egg yolks. You'll need two yolks to replace each egg.
Play with the Sweetness: If you'd like an extra-tart version, reduce the sugar. For an extra-sweet version, add more.
Emergency Thickening: If you're stirring constantly over low heat, but the mixture just won't thicken, add a small amount (start with ½ teaspoon) of cornstarch blended with an equal amount of water. Continue to cook and stir until thick.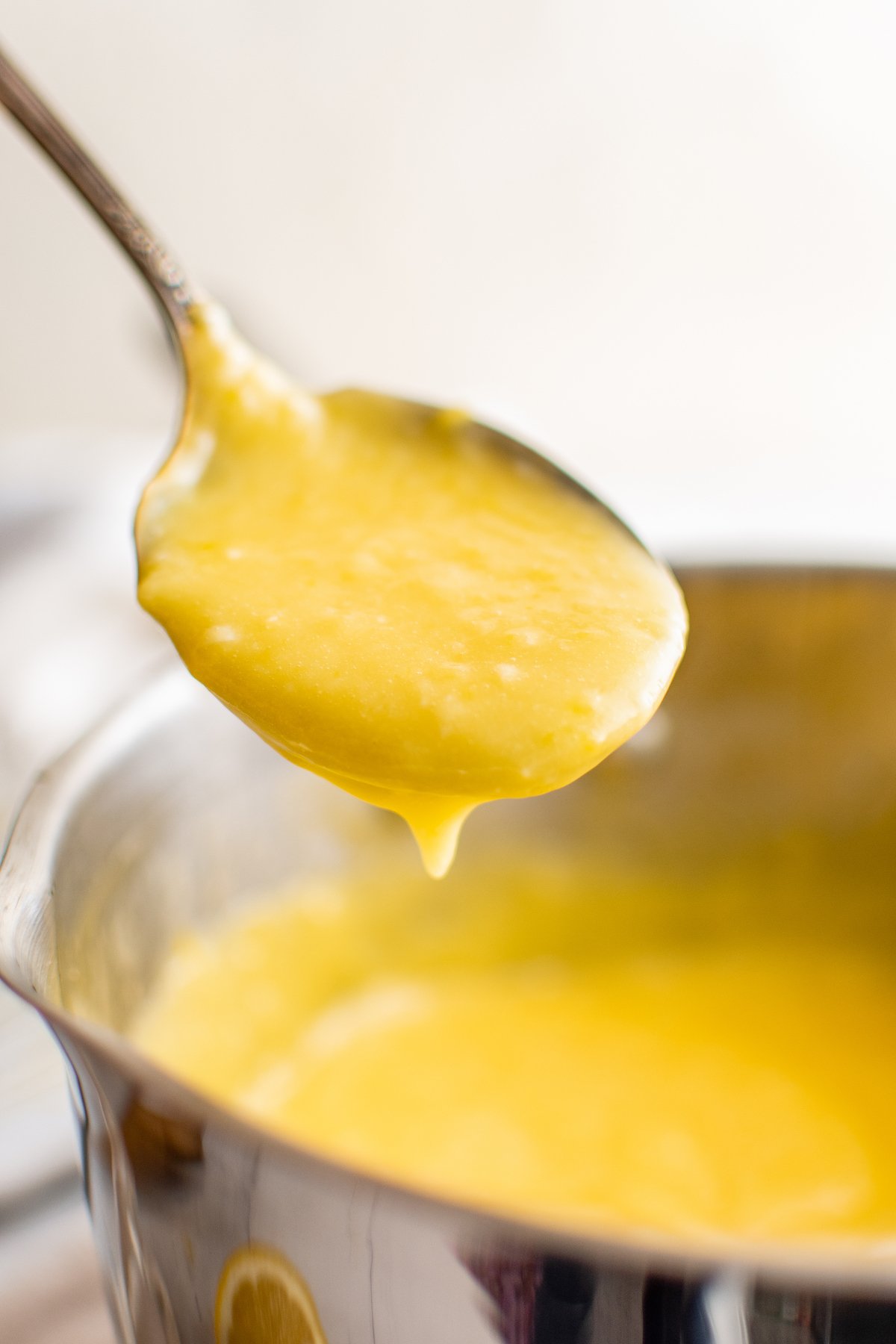 Ways to Use Lemon Curd
Need a dessert idea that uses lemon curd? Try these Mini Lemon Meringue Pies or this Lemon Danish! You should also check out these awesome desserts:
Or just drizzle a generous spoonful over your favorite ice cream, yogurt, or frozen yogurt. Mmmm.
Storing and Freezing
Lemon curd lasts about a week in the fridge, in an airtight container. If you don't eat it all in a week, toss it out after 7 days.
If you need to keep it longer, you can freeze this recipe for up to 1 year. Make sure to freeze in a freezer-safe container. Thaw in the refrigerator before using.
Easy Lemon Curd Recipe
This Easy Lemon Curd Recipe is creamy, sweet and so easy to make! It's the perfect way to use up leftover lemons and tastes amazing on so many things!
Ingredients
1

cup

lemon juice

1

heaping tablespoons lemon zest

1

cup

sugar

6

large eggs plus 2 egg yolks

1 ½

sticks

,

12 tablespoons unsalted butter, roughly chopped
Instructions
Whisk together lemon juice, lemon zest, sugar, and eggs in a large heavy bottomed saucepan over medium low heat, stirring as needed. Bring to a slow simmer and immediately add butter, whisking constantly until curd is thickened and will stick to the back of a spoon, about 10 minutes.

Strain curd through a small mesh strainer into a medium bowl with a lid, or cover tightly with saran wrap. Chill for at least an hour, or until cold. If you don't eat it all in a week (which I have no idea how you wouldn't), toss it out after 7 days.
Nutrition
Serving:
1
tablespoon
,
Calories:
47
kcal
,
Carbohydrates:
7
g
,
Protein:
1
g
,
Fat:
2
g
,
Saturated Fat:
1
g
,
Polyunsaturated Fat:
1
g
,
Cholesterol:
48
mg
,
Sodium:
20
mg
,
Sugar:
6
g
Categories:
Even More Easy Lemon Desserts
This post may contain affiliate links. Read my disclosure policy.