Lemon Strawberry Trifle: gorgeous layers of creamy lemon pudding, vanilla wafers & fresh sliced strawberries combine to create one amazing fruity summer trifle!
It's feeling like spring time here in Florida with the mountains of fresh strawberries we have!
I bought a few pounds of gorgeous strawberries last week at the farmers market and I knew I wanted to make a pudding trifle.
Like my previous pudding trifles (Toasted Coconut Cream Pudding and Mama's Best Banana Pudding), this Lemon Strawberry Trifle is packed with goodness.
We start with a creamy lemon pudding. The lemon pudding uses a couple of secret ingredients, but the base is a store bought instant lemon pudding to keep it easy.
Then we have layers of vanilla wafers and fresh strawberries topped with all that creamy lemon pudding.
It's so deliciously light and refreshing!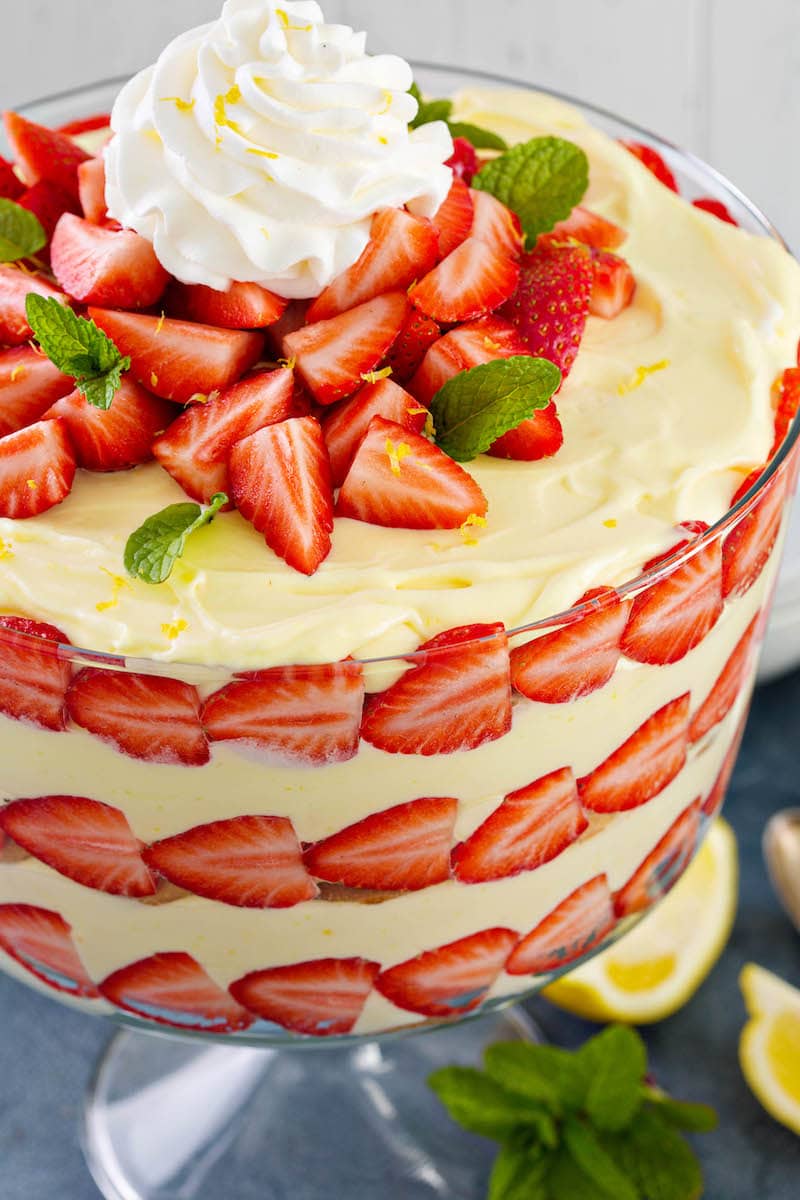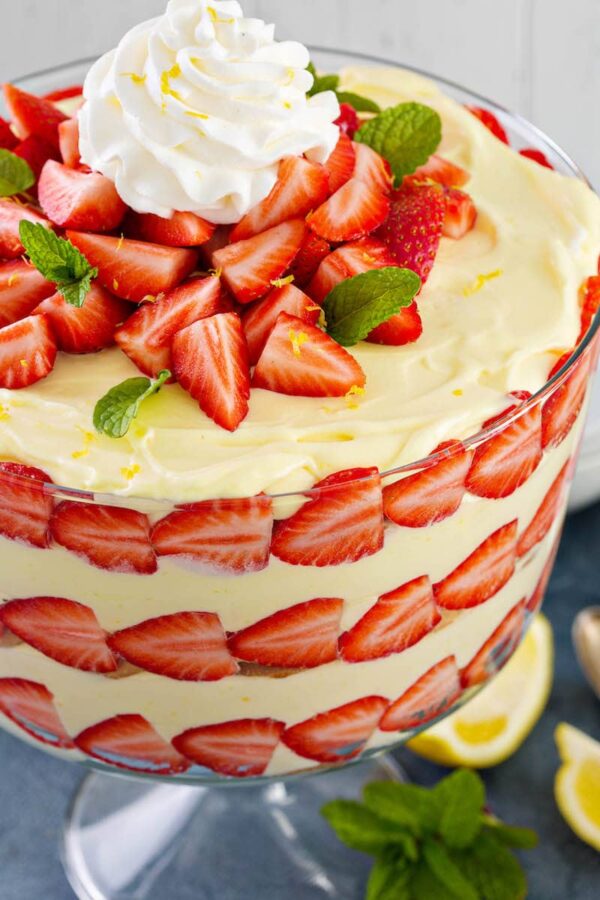 Florida's prime strawberry season starts around the end of January and runs through mid March.
Every year I make sure and take prime opportunity of our fresh strawberry season and make some epic strawberry desserts.
When I came home with all those trays of strawberries, Jorge asked me what we could possibly make with all of them.
Don't worry, I didn't let any of them go to waste! We ate them plain, in smoothies, and we made three desserts.
The first was this Lemon Strawberry Trifle that we brought to a friends bbq.
Second, we made these Easy Strawberry Shortcake Donuts for Saturday breakfast. The girls thought they hit the lottery!
We used the remaining strawberries to make Jorge's favorite Strawberries and Cream Cupcakes.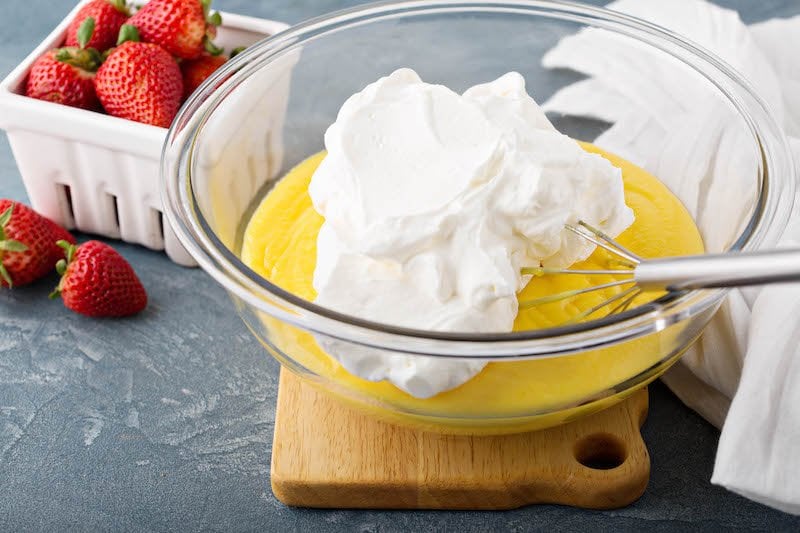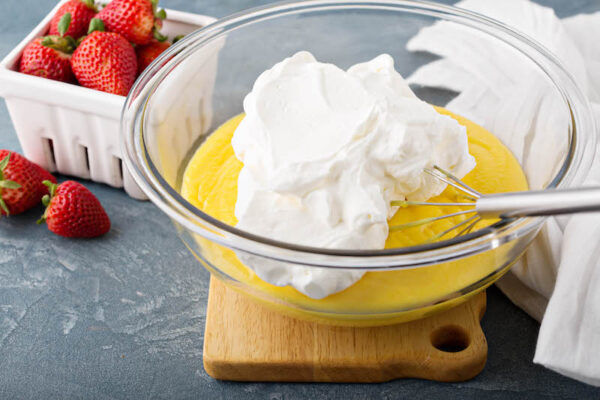 Creamy Lemon Pudding
Like the previous pudding trifles I have made, there is one very important secret ingredient you can not skip: Sweetened Condensed Milk.
It makes ALL the difference in the final flavor and texture of this trifle. It's 100% necessary!
To keep the recipe easy, we use a store bought instant lemon pudding mix. We add milk and the sweetened condescend milk and let it sit for a few minutes.
Then we fold in some fresh homemade whipped cream until it's so light and creamy. The texture is amazing!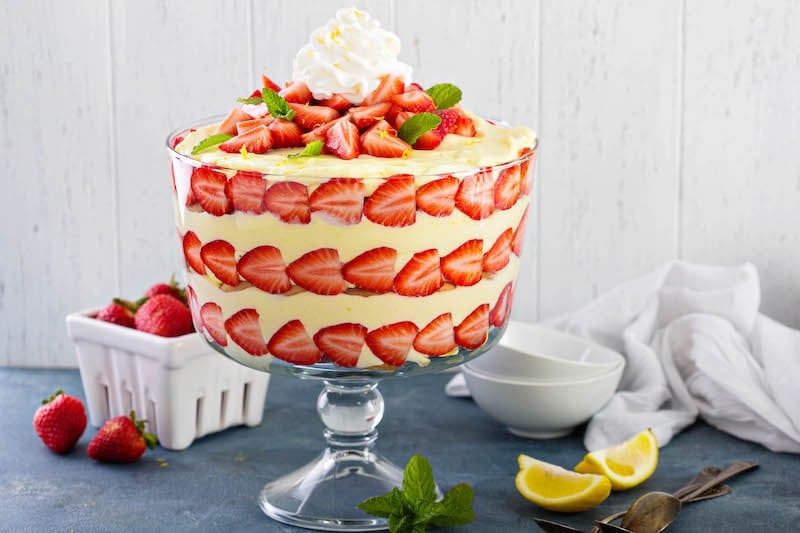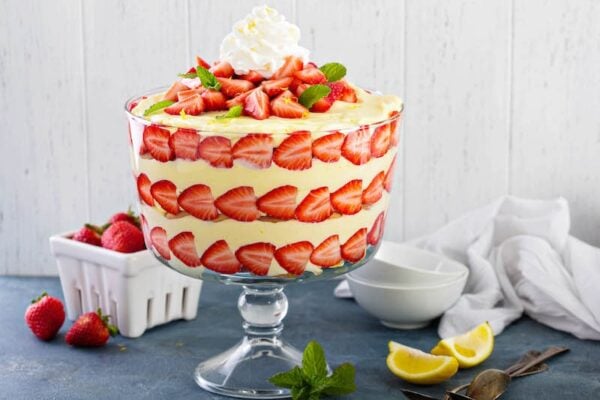 Get The Look
If you want your trifle to look like this one in the photos, the key is how you place the strawberries.
Make sure and slice your strawberries in the exact same style, just like you see in the photo above.
Save the end slices to fill in the middle, but save the pretty center slices.
Then as you go layer by layer, make sure and arrange a line of strawberries pressed against the glass on the edges.
Fill the center with additional strawberries, sliced/chopped anyway you please.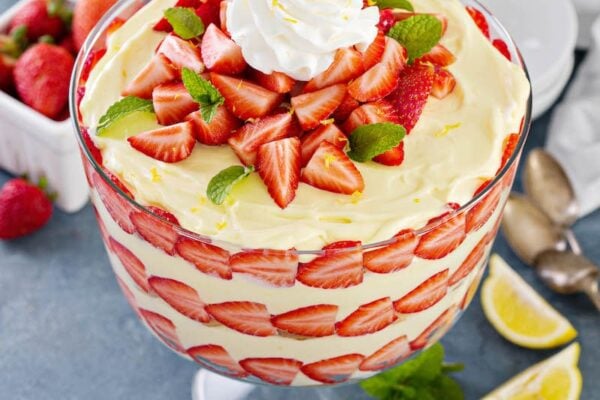 To finish it off, I like to add additional fresh strawberries, whipped cream, lemon zest and a few springs of mint.
This is only for looks, it's not necessary! Other ideas are just whipped cream and strawberries.
Or you can crush some vanilla wafers to sprinkle on top. It's totally up to you!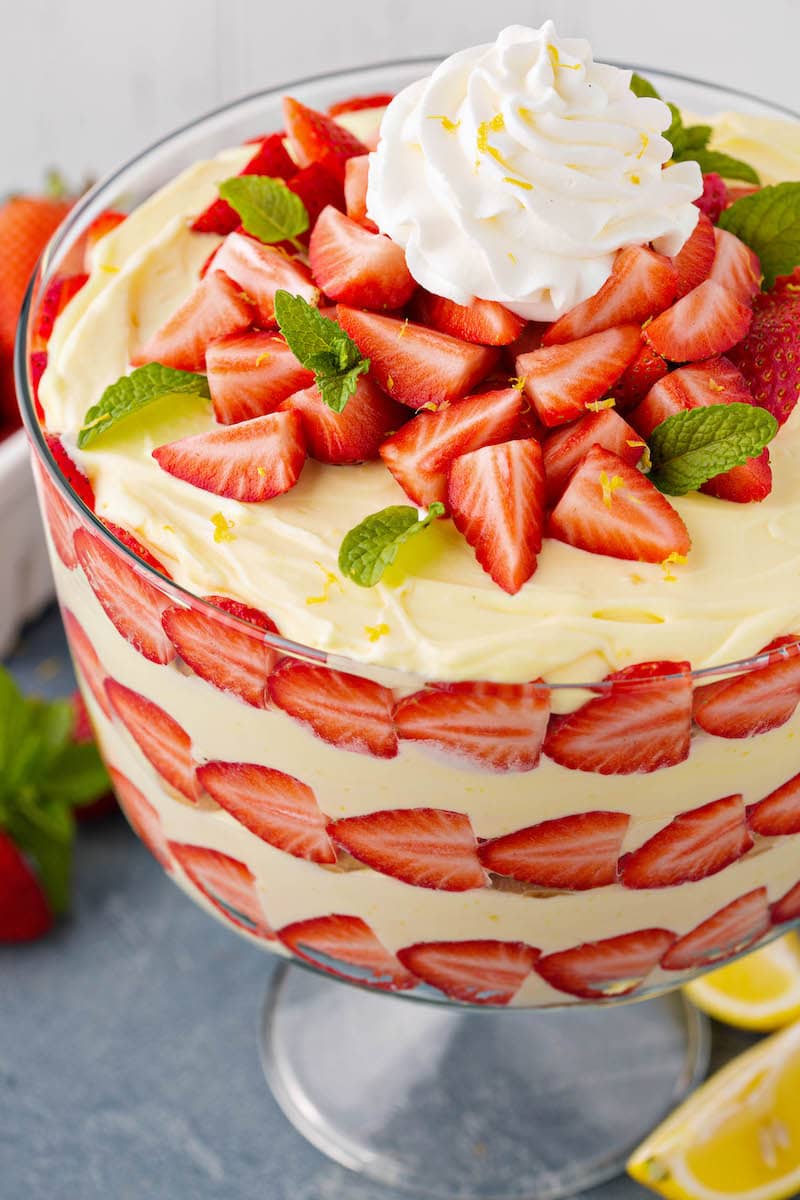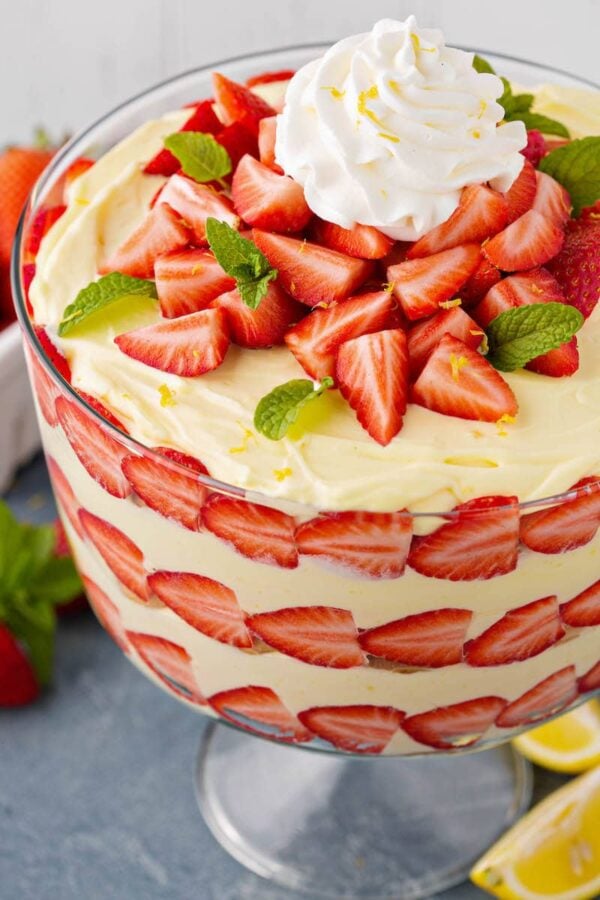 You want to make your Lemon Strawberry Trifle at least 2 hours before you are ready to serve it.
You want to give the vanilla wafers time to soften and the strawberries to soak up some of the lemon pudding flavor.
This Lemon Strawberry Trifle is an amazing make ahead dessert for a party and it travels well too!
You can make the trifle up to 24 hours ahead and store it in the refrigerator until you are ready to serve.
I can't wait to hear your reviews, I can tell you at our party — there wasn't a bite leftover!
Yield: 1 large trifle
Lemon Strawberry Trifle Recipe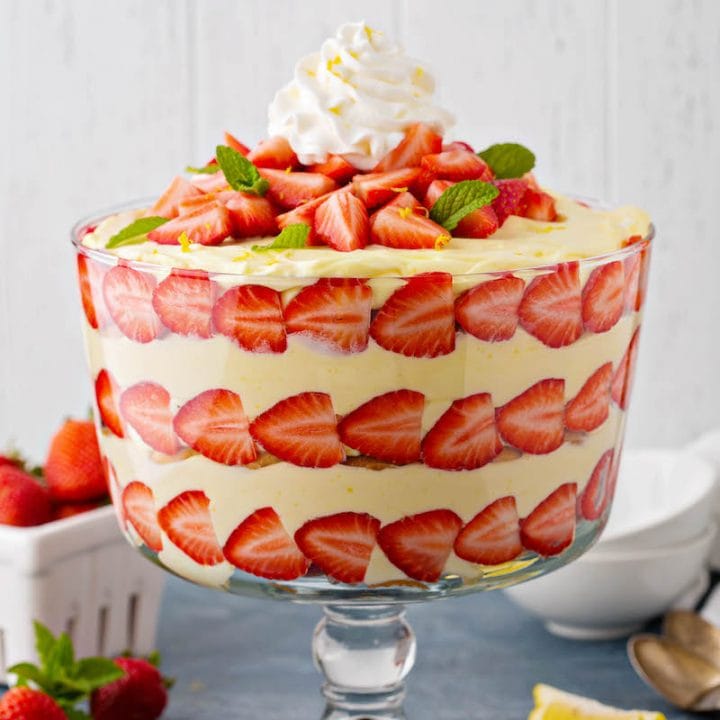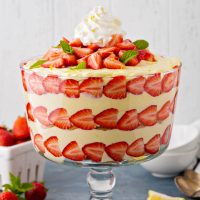 Lemon Strawberry Trifle: Gorgeous layers of creamy lemon pudding, vanilla wafers, and fresh sliced strawberries combine to create one amazing fruity summer trifle!
Total Time
2 hours
15 minutes
Ingredients
2 (3.4 oz) boxes instant lemon pudding
2 cups whole milk
1 (14 oz can) sweetened condensed milk
2 cups heavy whipping cream
1/3 cup powdered sugar
1 tablespoon vanilla extract
1 (11 oz.) box of vanilla wafers
2 pints strawberries, sliced
lemon zest, optional garnish
Instructions
In a large mixing bowl, whisk together powdered pudding mix, milk, and condensed milk until smooth.
In a large bowl, beat whipping cream, powdered sugar, and vanilla extract until stiff peaks form. Remove one heaping cup of whipped cream and set aside to be used as garnish at the end.
Fold whipped cream into pudding mix, until smooth.
In a large trifle bowl (or approximately 8 individual mason jars) assemble the pudding. First, lay 1/3 of vanilla wafers across bottom of bowl. Top with 1/3 of sliced strawberries. Cover with 1/3 of pudding mixture. Continue with 2 more layers.
Garnish the top with whipped cream, strawberries and optional lemon zest.
Cover pudding and let it rest in refrigerator for 2 hours before serving. Can be made up to a day ahead.
Notes
Can be made up to 24 hours ahead. Store in the refrigerator with saran wrap placed tightly on top.
Recommended Products
I am an Amazon affiliate member and I earn a small percentage from qualifying purchases. Thank you!
Nutrition Information:
Yield:
12
Serving Size:
1
Amount Per Serving:
Calories:

230
Total Fat:

17g
Saturated Fat:

10g
Trans Fat:

1g
Unsaturated Fat:

5g
Cholesterol:

51mg
Sodium:

76mg
Carbohydrates:

17g
Fiber:

1g
Sugar:

12g
Protein:

4g
Categories
This post may contain affiliate links. Read my disclosure policy.