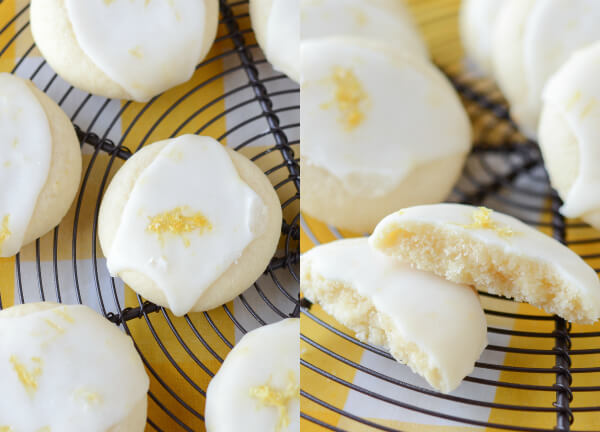 I woke up in a grouchy mood and I couldn't shake it off. Coffee, a joking husband and a brisk walk around the block couldn't cure it. Laying on the couch and hiding under the covers didn't work…and doing some online shopping (helllooo new dresses!) didn't help. I was just in a funk and nothing was snapping me out of it.
I finally picked myself up off my permeant position on the couch and went and made Kerri's Tuna Pasta Salad for lunch. After I had stuffed myself with as much pasta as I could eat, I somehow found myself making cookies.
There is just something magical about making cookies that makes me instantly feel so much better. Maybe it's the automatic mode my brain goes into once the butter goes into the stand mixer. Cookies are ingrained in me and I am so thankful for their bad mood curing abilities. Cookies always help!
I based these Lemon Meltaway Cookies after my favorite Almond Meltaway Cookies (I also made them as Coconut Meltaway Cookies!). They have the same glorious soft buttery shortbread base and royal icing — but instead of almond flavored they are lemon! They are quick to make and truly melt in your mouth! You just need 30 minutes to whip these babies up — that includes frosting time!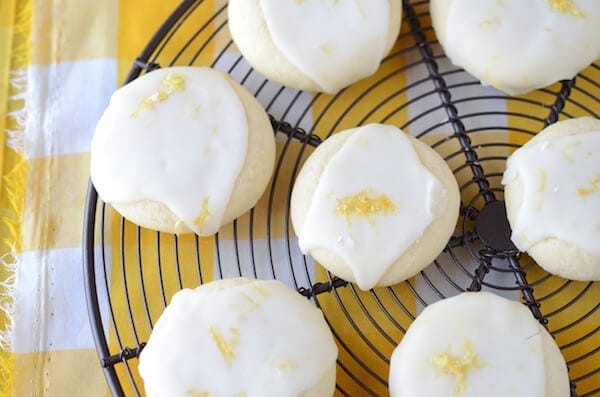 These Meltaway Lemon Cookies are so zesty, they could brighten up any day. I absolutely love citrus desserts — so it should be no surprise that I was head over heels in love with these. Oh and did I mention you only need 8 ingredients? Like I said – easy peasy!
These seriously soft buttery shortbread cookies are perfectly balanced with a burst of lemon juice and zest! Y'all are going to really love this easy recipe I developed for Dixie Crystals!
Head on over to Dixie Crystals for the FULL RECIPE: Lemon Meltaway Cookies
This post may contain affiliate links. Read my disclosure policy.