These light and buttery Almond Meltaway Cookies are a lot like shortbread cookies, with a sweet almond glaze on top. So soft and sugary, they literally melt in your mouth! I promise you'll be hooked after just one bite.
If you love these cookies, check out my Lemon Meltway Cookies and Coconut Meltaway Cookies, too!
Just like the name suggests, these cookies quite literally "meltaway" in your mouth! Meltaway cookies are a bit like a shortbread cookie, topped with royal icing. They're soft with a delicate, fine crumb packing all sorts of buttery almond flavors.
These homemade cookies are just the best when it comes to satisfying even the most fierce sugar cravings! And they also happen to be particularly good at kickstarting new ones.
My Mom was the recipient of the latest batch of these almond meltaway cookies. If the feedback is any indication, she loved them and so did everyone in her office. With that stamp of approval, I can't wait for you to make these!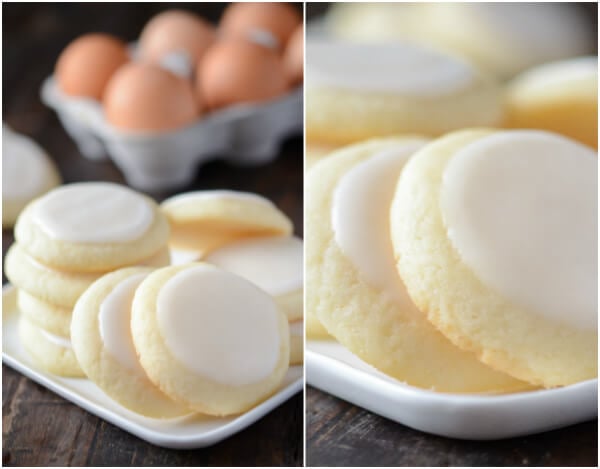 What You'll Need
With their sugary almond icing and soft butter almond centers, these meltaway cookies naturally have one ingredient that's the star: almond (extract, that is)! Here's everything you'll need:
For the Almond Cookies:
All-Purpose Flour: I've found that regular all-purpose flour works the best for these cookies in terms of texture.
Baking Powder: For leavening.
Flaked Sea Salt: I love the more mild saltiness of sea salt flakes, like Maldon salt or similar, for this recipe. However, you can substitute regular table salt if it's what you have available.
Butter: Unsalted, at room temperature. Opt for unsalted butter since there's already salt in the recipe. This will still give these cookies all the buttery flavor without the extra saltiness!
Sugar: Regular granulated white sugar is best.
Egg: A single large egg for richness and texture.
Almond Extract: This is where quality is key! Whatever you do, make sure whichever you use is a true almond extract, and not artificial. I like this brand of almond extract because it has a great aroma and flavor.
For the Almond Icing:
Powdered Sugar: Also known as confectioner's sugar.
Milk: Milk gives the icing a certain creaminess, but you can also use water instead.
Almond Extract
The most blissful thing about these meltaway cookies, aside from how heavenly the flavor and texture is? How easy they are to make!
Make the Dough: Whisk together the flour and dry ingredients in one bowl. In the bowl of your stand mixer, cream the butter and sugar, and add in the egg and almond extract. Gradually add the flour mixture into the wet ingredients, about a half cup at a time, until everything is incorporated.
Roll Out the Dough: Roll tablespoons of dough into balls and then gently press them into a disc shape. You can do this with your hands, or I like to use the bottom of a glass to get a more uniform shape. Place your dough discs onto a baking sheet lined with parchment paper.
Bake: Bake the cookies in a 375°F oven for about 8 minutes. Note that the cookies will not look browned when they're done baking, but don't leave them in longer! Once they're out of the oven, the cookies will set up as they rest on the baking sheet.
Ice the Cookies: When your cookies are completely cool, whisk together the icing ingredients until smooth. Use a spoon to carefully spread the icing over each cookie. Give the icing about ten minutes or so to harden.
Store your iced almond cookies in the fridge, and take them out ahead of serving to let them come to room temperature.
Tips for Success
Measure the Flour Correctly: If you don't have a kitchen scale, you can use the spoon and sweep method to get the most accurate measurement. Instead of using your measuring cup to scoop the flour out of the bag, spoon the flour into the measuring cup, and then level it off with a knife.
Don't Over-Bake: These cookies will not look particularly "done" when they come out of the oven. That's exactly what they should look like! Avoid over-baking these cookies as they'll quickly dry out and become crumbly.
Get the Icing Right: Aim for a consistency that's thin enough to spread and settle, but not overly runny. To thicken icing that's too thin, add extra powdered sugar. You can also add extra milk if the icing is too thick.
Try Different Variations: To me, a perfectly simple cookie is the best, and that's exactly what these are! But you can definitely have a little fun with your meltaway cookies to suit any occasion. Top them with toasted almond slivers or sprinkles, or add food coloring to the frosting for a pop of color.
Since the icing contains dairy, keep your almond meltaway cookies stored airtight in the fridge. They'll keep for up to 2 weeks! Just take the cookies out of the fridge to come to room temperature again before serving.
Can I Freeze Them?
You can freeze these cookies for up to 3 months. Store them in an airtight container and use parchment paper to separate the layers.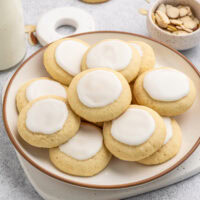 These Almond Meltaway Cookies are a lot like shortbread cookies, with a sweet almond glaze on top. They're soft, sugary, and I promise you'll be hooked after just one bite!
Additional Time
12 minutes
Ingredients
For the Cookies
2 cups all-purpose flour
1/2 tsp baking powder
1/4 tsp salt
1 cup unsalted butter, room temperature
3/4 cup granulated sugar
1 large egg
2 tsp almond extract
For the Almond Icing
1 cup powdered sugar
1 tbsp milk (or sub water)
1 1/2 tsp almond extract
Instructions
Preheat oven to 375°F. Line a baking sheet with parchment paper or a silpat. Set aside.
In a medium bowl, whisk together flour, baking powder and salt. Set aside.
In a stand mixer, beat butter and sugar until light and fluffy. Add egg and almond extract, mixing until combined. Add flour mixture 1/2 cup at a time, mixing until completely combined.
Roll 1 tablespoon of dough into small circles and then press with hands (or with the bottom of a cup) into a disk shape. Place on prepared baking sheet.
Bake for 8 minutes. The cookies will not look browned or cooked, but they are! Remove from oven and let cookies rest on baking sheet for 5 minutes. Then, transfer to a wire rack to cool completely.
To Ice: In a small bowl, whisk together powdered sugar, milk and almond extract – until smooth.
Using a spoon, smooth icing onto the top of each cookie and let set for 10 minutes, or until hardened. Store in the fridge, let come to room temperature when ready to serve.
Nutrition Information:
Yield:
32
Serving Size:
1
Amount Per Serving:
Calories:

67
Total Fat:

1g
Saturated Fat:

0g
Trans Fat:

0g
Unsaturated Fat:

0g
Cholesterol:

7mg
Sodium:

30mg
Carbohydrates:

14g
Fiber:

0g
Sugar:

8g
Protein:

1g
Categories
SaveSave
This post may contain affiliate links. Read my disclosure policy.