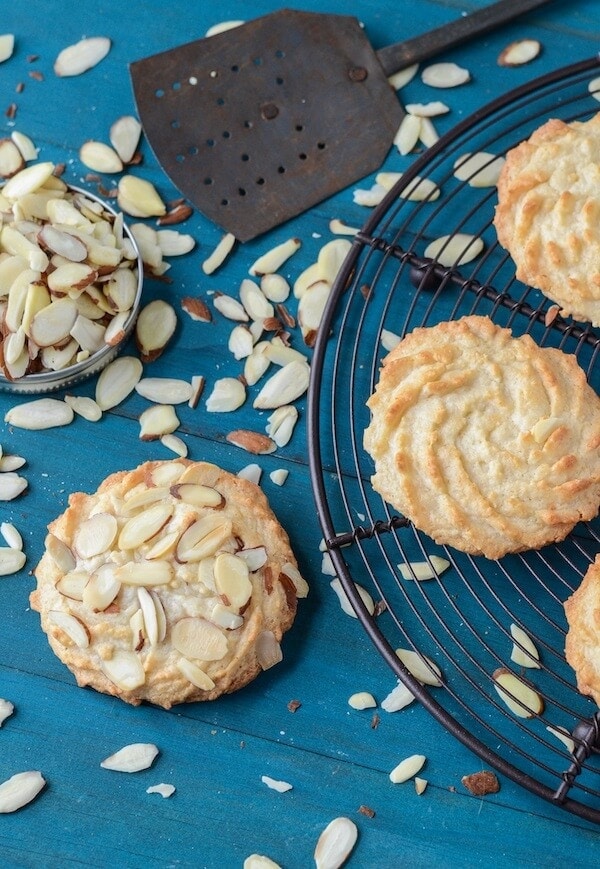 Many a moon ago, when Jorge and I were engaged (6 years ago actually — eek!), we took our first trip together to Puerto Rico. We went with a group of friends and ate our way through the island. We wound up at one of the infamous bakeries — Panadería España Repostería.
It was here that I had my first Mallorca (my favorite Puerto Rican specialty) and tried one of these Almond Cookies. We went back THREE times in our trip just to get Mallorcas and Almond Cookies! I was dying to know how to recreate the almond cookies at home and figured I would just come home and google around till I found the recipe.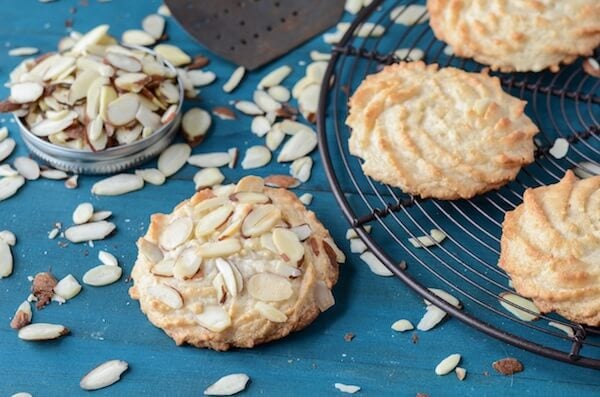 Well it's been 6 years and I still have no idea what the actual name of these cookies are. I searched everything I could think of including the obvious like Puerto Rico Almond Cookie Recipe and Spanish Almond Cookie Recipe. That resulted in thousands of recipes…none of which were the right recipe.
A good friend of mine Christina — who was born and raised in Puerto Rico — translated many a recipe for me…but we still never found the exact cookie we were looking for. I tried and I tried, but it just never worked out.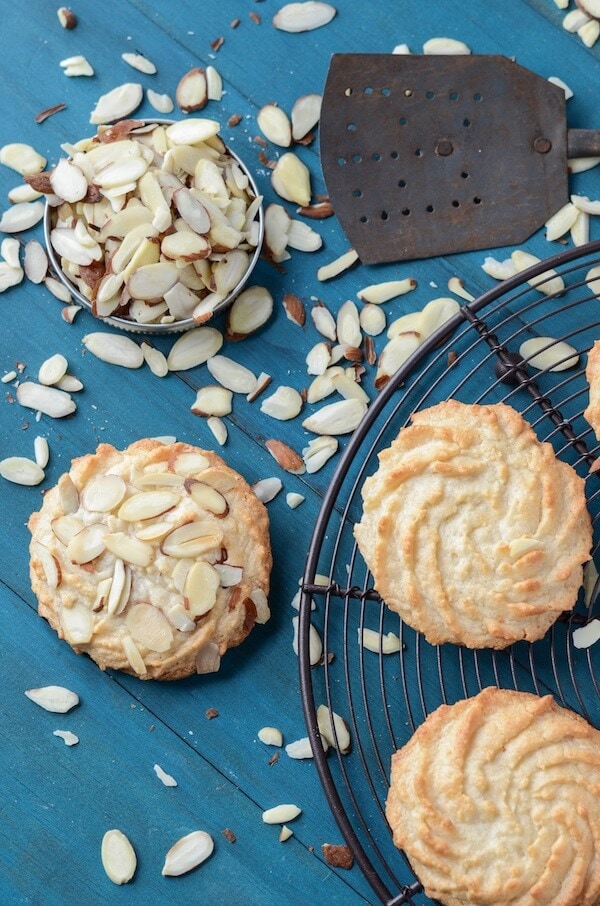 Last month after a trip to PR, Christina brought me home some of the infamous Almond Cookies. After a serious cookie analysis and a side by side taste test, I finally nailed down a recipe that is incredibly close to those back at Panadería España Repostería. Their cookies are made as big as your face, but otherwise I bet you wouldn't be able to taste the difference!
Made using Almond Paste, Almond Extract, Almond Meal and Slivered Almonds, these cookies are seriously the Ultimate Almond Cookie! I wish I knew the proper Spanish name for these, but at the bakery all they are called are "Almond Cookies". With a crispy exterior and soft chewy center, these are the best of both worlds. They keep wonderfully for up to 3 days and are every Almond lover's dream.
Yield: 16 cookies
Ultimate Almond Cookies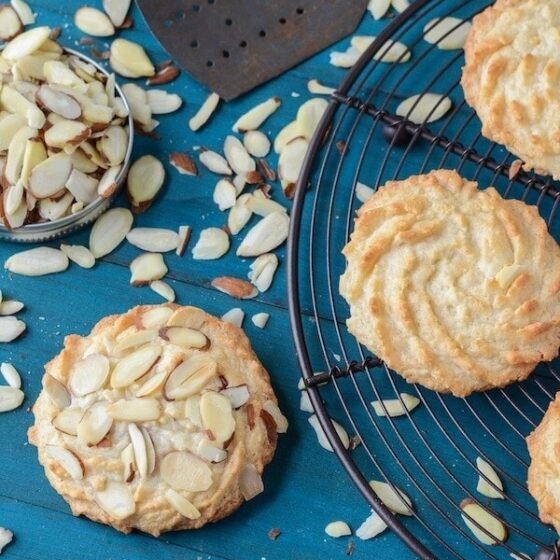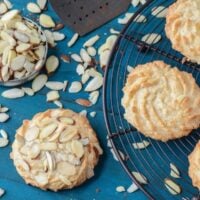 The Ultimate Almond Cookies are crunchy on the outside but incredibly soft and chewy in the middle. These light, golden cookies will be gone from the cooling rack before you know it - that's how good they are!
Ingredients
14 oz Almond Paste
2/3 cup Dixie Crystals Granulated Sugar
2 large egg whites
1/3 cup almond meal
1 teaspoon almond extract
pinch of salt
sliced almonds, optional
Instructions
Preheat oven to 375°F. Line baking sheet with a silpat or parchment paper.
In bowl of mixer, combine almond paste and sugar until combined. Mix in egg white, almond meal, almond extract and salt until fully combined.
Transfer dough to a large piping bag and pipe in 3 inch diameter circles. Cookies will not spread much during baking – so leave only about 1/2 inch between cookies. If adding sliced almonds, sprinkle them onto the tops of the cookies before baking and slightly press them into the dough.
Bake cookies until just beginning to turn golden, about 15 minutes. Let cool on pan for 5 minutes, then transfer to cooling rack to cool completely. Store in an airtight container for up to 3 days.
Nutrition Information:
Yield:
16
Serving Size:
1
Amount Per Serving:
Calories:

196
Total Fat:

11g
Saturated Fat:

1g
Trans Fat:

0g
Unsaturated Fat:

9g
Cholesterol:

0mg
Sodium:

18mg
Carbohydrates:

22g
Fiber:

2g
Sugar:

18g
Protein:

4g
Categories
This post may contain affiliate links. Read my disclosure policy.