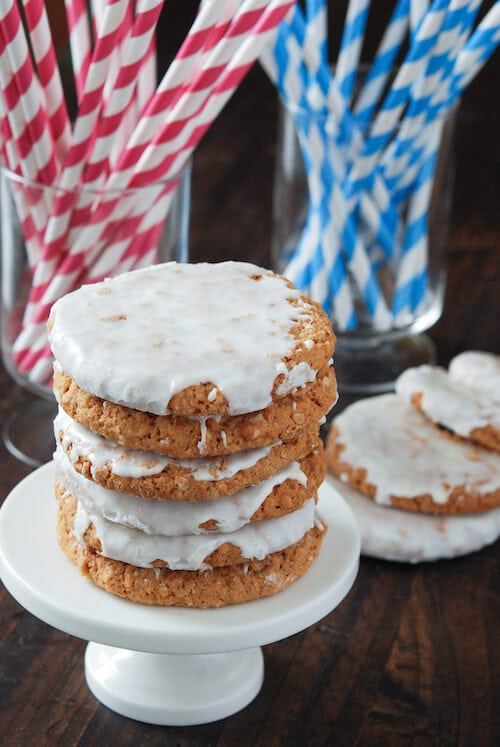 I am a Britney Spears fan. Big Time. Like I almost filmed my very own "Leave Britney Alone" video. Yes, I know that she can't really sing that well. And yes, of course I feel embarrassed when I have great indie bands grouped into the same playlist as BSpears on my Spotify…but what can I say, I'm still a girl of the 90's.
So since XFactor started up last week, I like to sit down with a glass of wine and cookies — the two most important food groups — and watch my favorite Pop Star judge people. She judges their singing, I judge her clothing and all is right with the world. It's probably my favorite guilty pleasure…right up there with those overpriced lemongrass bath bombs from Lush that I CAN NOT live without.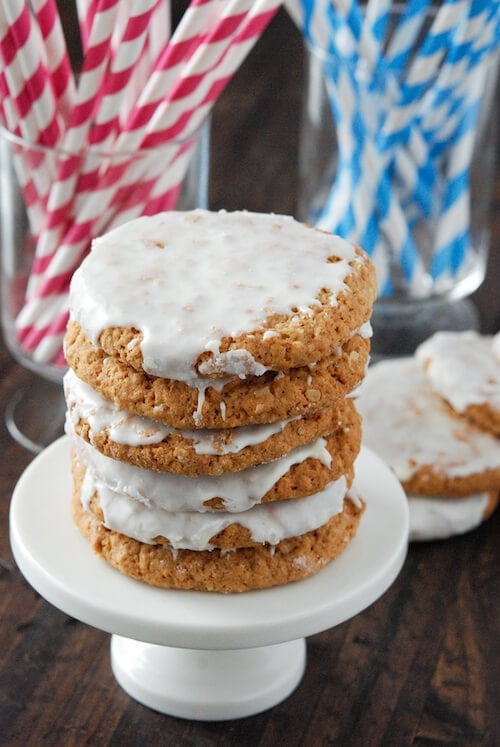 This weeks cookie needed to be something that went well with a merlot. Mainly because I was too lazy to go the store and I already had a bottle of merlot rolling around my wine fridge. I was also out of most everything…so my options were umm limited. After laying on my couch and pawing through my recipe books, I found a picture I took of a handwritten recipe from my Granny's cookbooks. It didn't call for any crazy ingredients and is a lot like my favorite Mother's Iced Oatmeal Cookies that my Mom would never buy for me.
Score #1: I didn't have to go to the store and could put it off for yet another day.
Score #2: I got to fulfill my childhood cravings for cookies my Mom refused to buy me.
Score #3: They were easy enough that I could finish them before Xfactor started.
Score #4: Oh, and they are freaking amazing. Perfectly crispy and sweet.
Obviously, these were meant to be my Wednesday Night XFactor BSpears Wine Cookies.
Yield: 18 large cookies
Old Fashioned Iced Oatmeal Cookies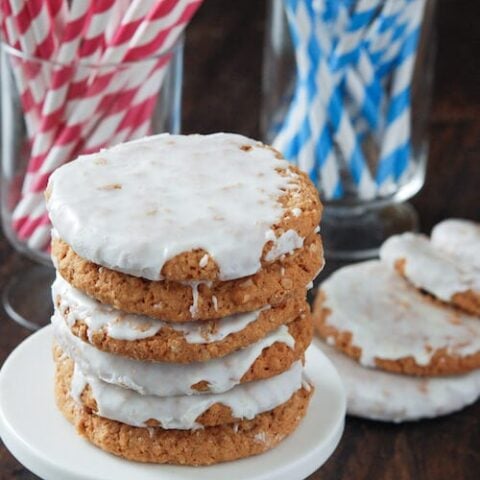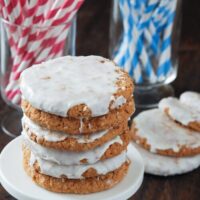 Old Fashioned Iced Oatmeal Cookies are equal parts crunchy and chewy. Topped with sweet icing, these easy oatmeal cookies are too good to resist!
Additional Time
5 minutes
Ingredients
For the Cookies:
2 cups old fashioned oats
2 cups all purpose flour
1 tablespoon baking powder
1 teaspoon baking soda
2 teaspoons cinnamon
1 teaspoon freshly ground nutmeg
1 teaspoon salt
1 cup (2 sticks) unsalted butter, melted
1 cup granulated sugar
1/2 cup packed light brown sugar
2 large eggs
For the Icing:
2 cups powdered sugar
5 tablespoons milk
Instructions
Preheat oven to 350°F and butter two cookie sheets. Set aside.
In a food processor, pulse oats until partly ground. You don't want a fine powder, you want a coarse meal. Mix in flour, baking powder, baking soda, cinnamon, nutmeg and salt. Set aside.
In a large bowl, beat together the melted butter, sugar and brown sugar. Add eggs, one at a time. Mix in the dry oat mixture, stirring until thoroughly combined.
Drop dough by (heaping) rounded tablespoons onto prepared cookie sheets. Bake for 14-16 minutes, rotating halfway through, until browned. Let cookies rest on the baking sheets for 5 minutes before moving to a wire rack to cool completely.
Once cookies are completely cooled, whisk together the powdered sugar and milk until smooth. Generously frost each cookie and allow the glaze to harden completely before storing. Store in an airtight container for up to a week.
Notes
Recipe Note: Butter your cookie sheet to encourage spreading.
Nutrition Information:
Yield:
18
Serving Size:
1
Amount Per Serving:
Calories:

212
Total Fat:

2g
Saturated Fat:

1g
Trans Fat:

0g
Unsaturated Fat:

1g
Cholesterol:

23mg
Sodium:

286mg
Carbohydrates:

46g
Fiber:

1g
Sugar:

28g
Protein:

4g
Want to Save This Recipe?
This post may contain affiliate links. Read my disclosure policy.