Old Fashioned Iced Oatmeal Cookies are equal parts crunchy and chewy. A classic cookie recipe topped with sweet icing, these easy oatmeal cookies are too good to resist!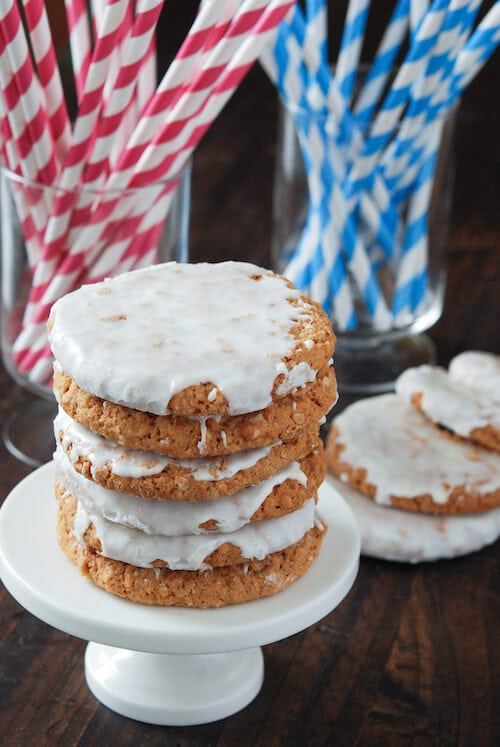 These are the ultimate lazy baker's cookies! Based on a handwritten recipe from my Granny's cookbooks, these are no-fuss, classic oatmeal cookies made with pantry basics. Even the simple icing has only two ingredients!
That being said, this easy oatmeal cookie recipe doesn't skimp on texture or flavor. These old fashioned oatmeal cookies are all about texture; not too soft, not too crunchy, with just the right amount of irresistible chew. I love to make a batch of these during the week to enjoy as a quick and easy sweet dessert or snack.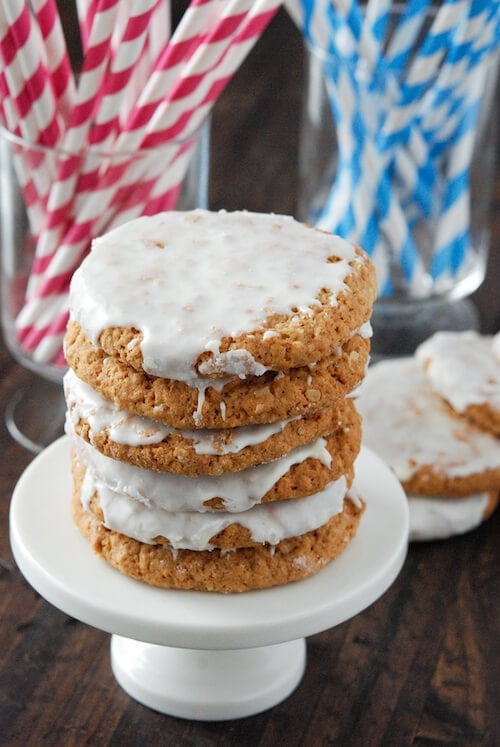 What You'll Need
Here's the list of ingredients you'll need to achieve the perfect oatmeal cookie:
For the Cookies
Old Fashioned Oats: Old fashioned or rolled oats are the best oats for oatmeal cookies. They bake into the best hearty texture!
Butter: Unsalted is best, melted in bursts.
Sugar: I use both light brown sugar and granulated sugar; the combination makes for an exceptionally perfect, slightly chewy cookie!
Spices: Freshly ground cinnamon and nutmeg for just the right hint of warm spice.
Eggs: I've found 2 whole large eggs result in the best textured cookies.
Flour
Baking Powder
Baking Soda
Salt
For the Icing
Can I Use Quick Oats Instead?
Technically, quick oats will work for this recipe in a pinch. However, since quick oats cook faster than rolled oats, the size and texture of the cookies will be less consistent. For this reason, and for the sake of a perfectly chewy cookie, I wouldn't recommend it.
Mix the Dry Ingredients: To begin, coarse grind the oats using a food processor. Combine the oatmeal with the rest of the dry ingredients: flour, baking powder, baking soda, cinnamon, nutmeg and salt, and then set this aside.
Combine the Wet Ingredients: Cream together the melted butter and both sugars, then add the eggs one at a time.
Prepare the Dough: Mix together the wet and dry mixtures until everything is well combined. Drop heaping tablespoons of dough onto buttered cookie sheets.
Bake: Bake the cookies until they're browned. Let the cookies rest on the baking sheets for a few minutes and then transfer them to a wire rack to cool.
Frost the Cookies: Whisk together the powdered sugar and milk until you reach a smooth consistency. Generously glaze each cookie and allow the frosting to set completely before storing or serving!
Tips for Success
Butter the Baking Sheet: To encourage the cookies to spread as they bake, don't forget to butter your cookie sheet!
Measure the Flour Correctly: Too much flour is one reason you'll end up with overly cakey cookies. To avoid this, spoon the flour into a measuring cup and then level it off using a knife.
Variation Ideas
Such a perfect, simple oatmeal cookie is the best base for add-ins and imagination.
Kick the fall flavors up a notch with a sweet Maple Icing or spiced Cinnamon Glaze.
You can also mix things up by combining any of the below ingredients into the cookie dough:
Chocolate chips
Dried cranberries
Raisins
Toffee bits
Crushed nuts (macadamias, pecans, peanuts, almonds)
Oatmeal cookies that are stored properly will keep for up to 2 weeks at room temperature. Once the frosting on the cookies has hardened, store the cookies in an airtight container or resealable ziplock bag, away from sunlight.
Can I Freeze These?
You can freeze these oatmeal cookies for up to 3 months, wrapped tightly in plastic wrap or stored in an airtight freezer bag or container.
Thaw the cookies at room temperature before serving.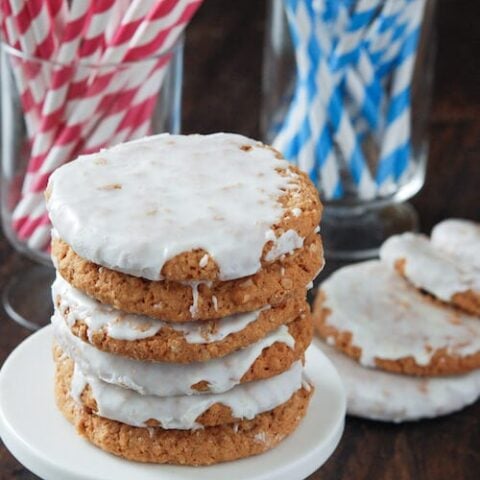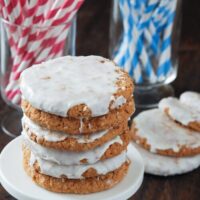 Old Fashioned Iced Oatmeal Cookies are equal parts crunchy and chewy. Topped with sweet icing, these easy oatmeal cookies are too good to resist!
Additional Time
5 minutes
Ingredients
For the Cookies:
2 cups old fashioned oats
2 cups all purpose flour
1 tablespoon baking powder
1 teaspoon baking soda
2 teaspoons cinnamon
1 teaspoon freshly ground nutmeg
1 teaspoon salt
1 cup (2 sticks) unsalted butter, melted
1 cup granulated sugar
1/2 cup packed light brown sugar
2 large eggs
For the Icing:
2 cups powdered sugar
5 tablespoons milk
Instructions
Preheat oven to 350°F and butter two cookie sheets. Set aside.
In a food processor, pulse oats a few times until partly ground. You don't want a fine powder, you want a coarse meal. Add in the flour, baking powder, baking soda, cinnamon, nutmeg and salt. Pulse 2 to 3 times just to combine and set aside.
In a large bowl, beat together the melted butter, sugar and brown sugar. Add eggs, one at a time. Mix in the dry oat mixture, stirring until thoroughly combined.
Drop dough by (heaping) rounded tablespoons onto prepared cookie sheets. Bake for 14-16 minutes, rotating halfway through, until browned. Let cookies rest on the baking sheets for 5 minutes before moving to a wire rack to cool completely.
Once cookies are completely cooled, whisk together the powdered sugar and milk until smooth. Generously frost each cookie and allow the glaze to harden completely before storing. Store in an airtight container for up to a week.
Notes
Recipe Note: Butter your cookie sheet to encourage spreading.
Nutrition Information:
Yield:
18
Serving Size:
1
Amount Per Serving:
Calories:

212
Total Fat:

2g
Saturated Fat:

1g
Trans Fat:

0g
Unsaturated Fat:

1g
Cholesterol:

23mg
Sodium:

286mg
Carbohydrates:

46g
Fiber:

1g
Sugar:

28g
Protein:

4g
Categories
This post may contain affiliate links. Read my disclosure policy.