Prefer the the classic version? Try my Old Fashioned Iced Oatmeal Cookies recipe.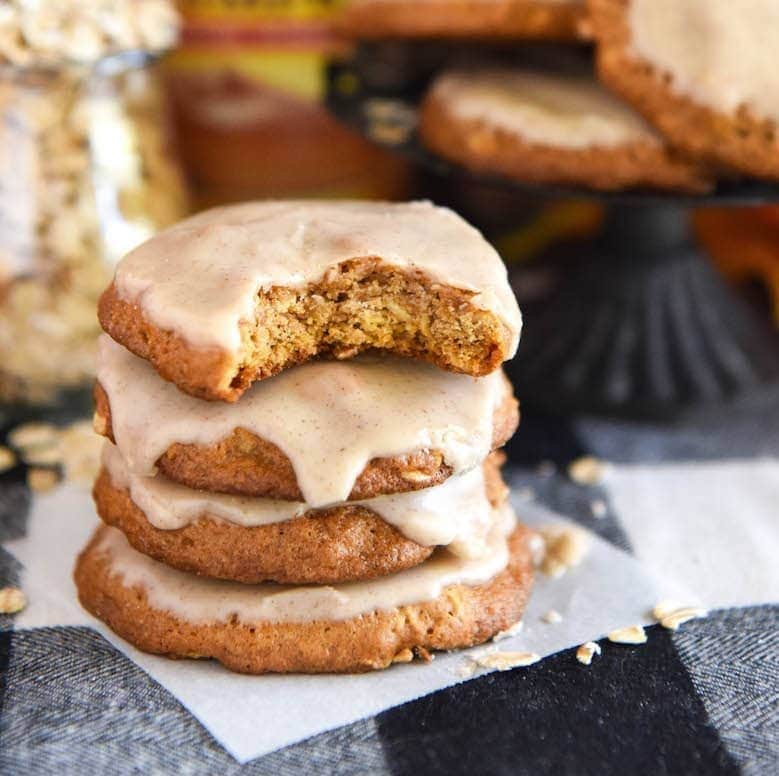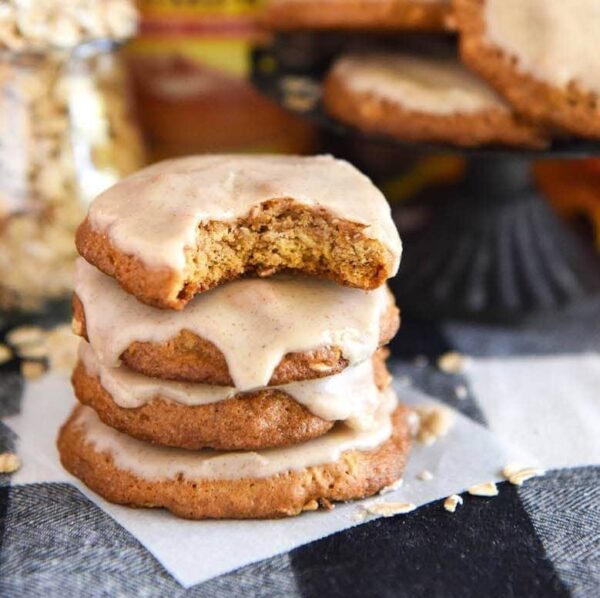 It's finally time! I'm here with my first new Fall recipe of the year and of course it's a Pumpkin recipe!
These Pumpkin Oatmeal Cookies have been in the works for a few years now and each year I try to perfect them.
I based this recipe off of an older recipe for Old Fashioned Iced Oatmeal Cookies, but gave them a pumpkin twist.
I have finally perfected it and am ready to share my favorite iced version of Pumpkin Oatmeal Cookies!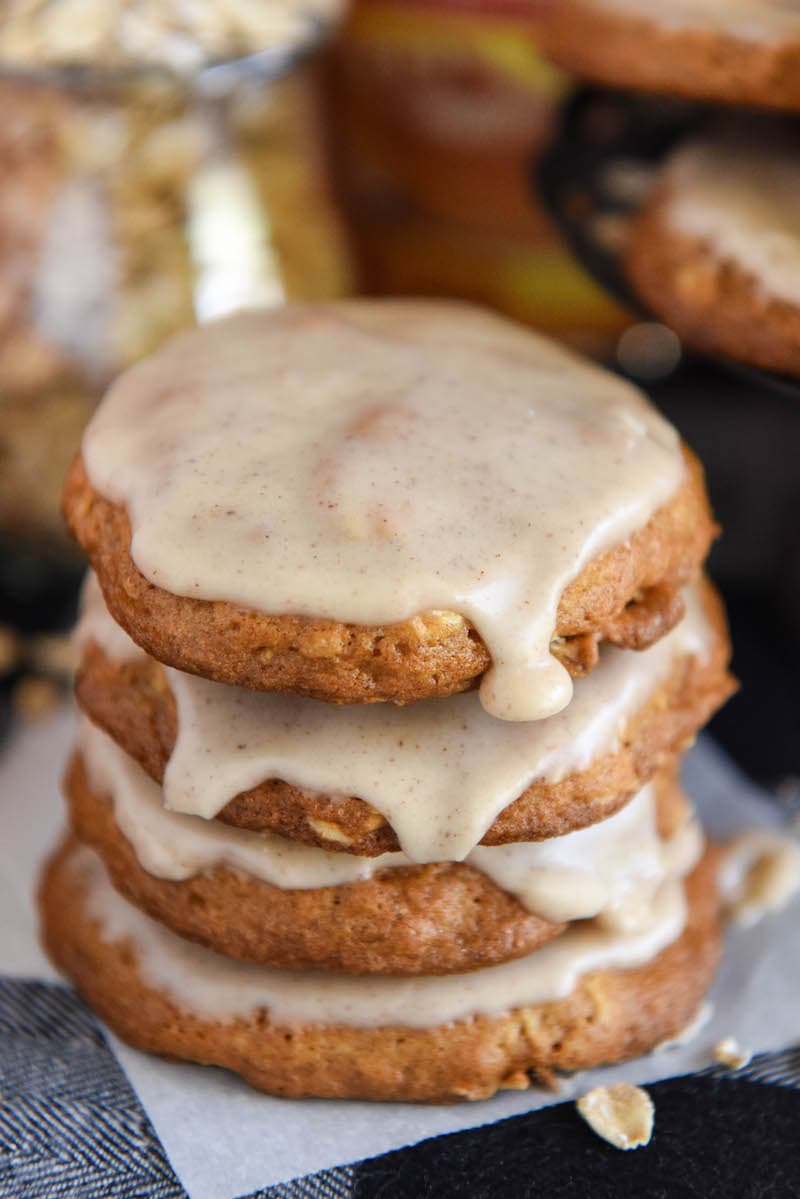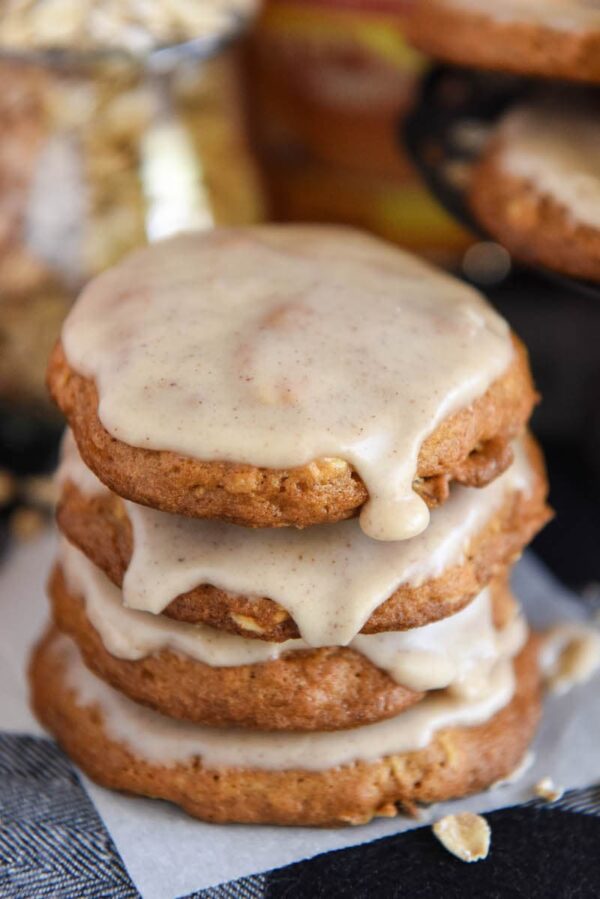 The base for these Pumpkin Oatmeal Cookies includes a combination of both old fashioned oats and all purpose flour.
The combination gives your finished cookie the best texture while also still adding the perfect oatmeal flavor.
I used cinnamon and freshly ground nutmeg in mine, however if you do not have those two you can use pumpkin pie spice in their place.
The best part about this recipe — it uses melted butter — so the dough comes together quickly and easily!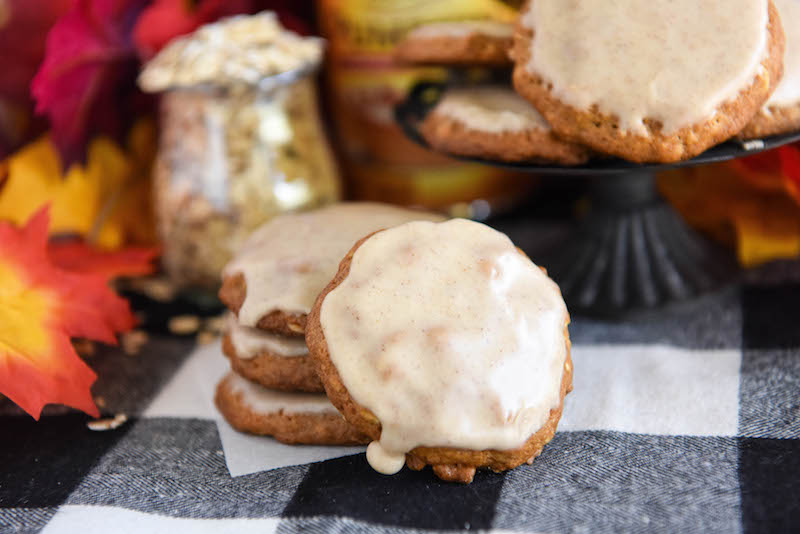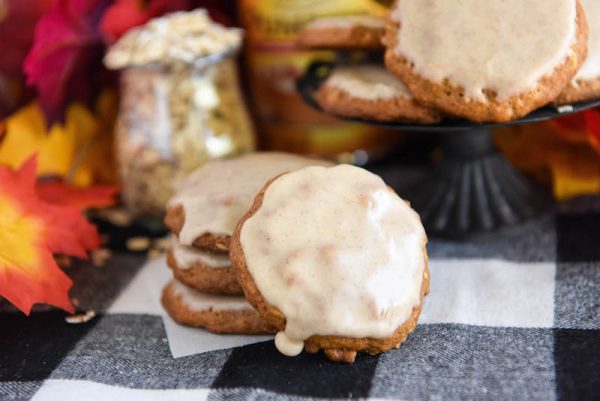 You'll Love This Cinnamon Icing – Don't Skip It!
This cinnamon icing glazed on top of these Pumpkin Oatmeal Cookies is not optional. It's a MUST!
If you skip the icing, the cookies taste dry and just aren't as magical as they are supposed to be.
When you dip these Pumpkin Oatmeal Cookies into the sweet cinnamon icing, it changes everything.
The frosting soaks into the very top of the cookie just a tiny bit and then it hardens a little on top.
So each bite you get this perfectly sweet combination of spiced pumpkin oatmeal cookie and sweet cinnamon icing!
How To Make The Cinnamon Icing:
The icing is a really simple version of a royal icing with cinnamon added. So you only need a few of ingredients!
powdered sugar
vanilla
cinnamon
water (or milk)
Whisk to combine and dip the tops of your baked cookies in the icing.
You can use milk in place of the water, however they need to be stored in the fridge.
If you use water, they can be stored on the counter, in an airtight container, for up to a week!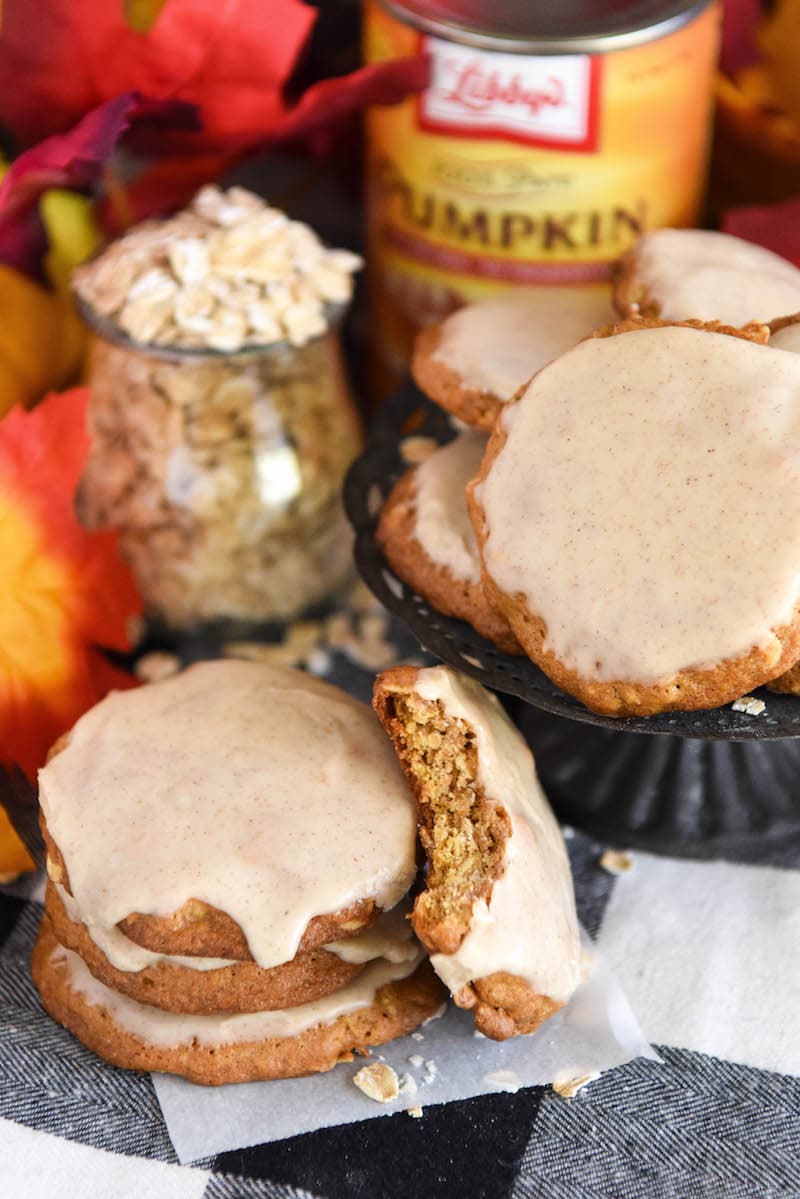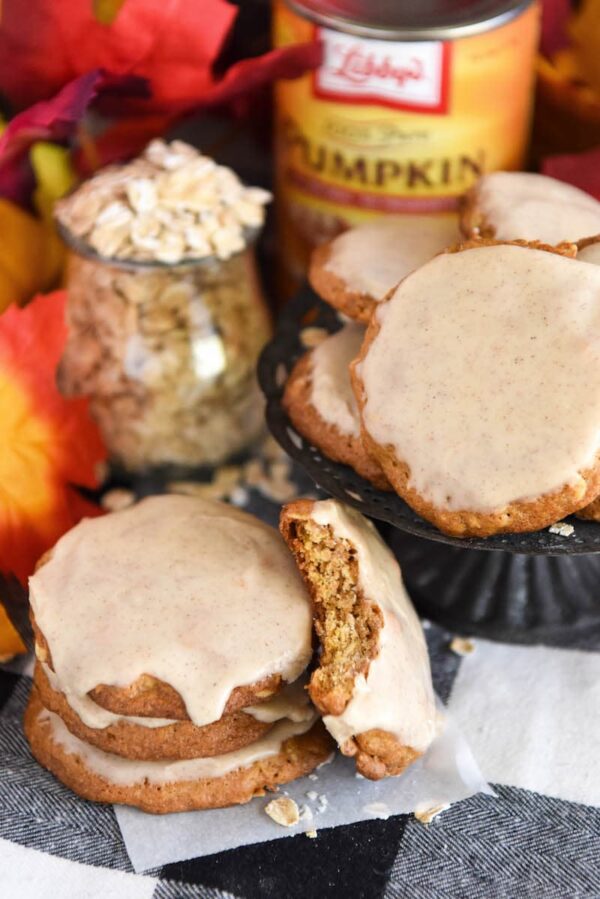 These Pumpkin Oatmeal Cookies are a great make ahead cookie for a party or just for the week.
They would also make great cookies to ship to someone special as I know some of you like to do!
They do not freeze well, however they are great stored in an airtight container on the counter.
I love to make a batch on Sundays with the girls and we store the leftovers in the cookie jar on the counter.
Whenever the craving strikes, we just grab one out of the jar! They never last the full week!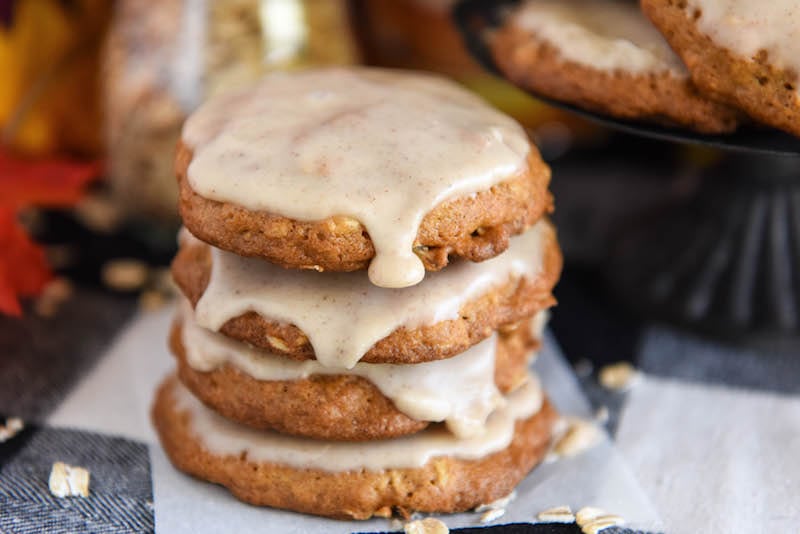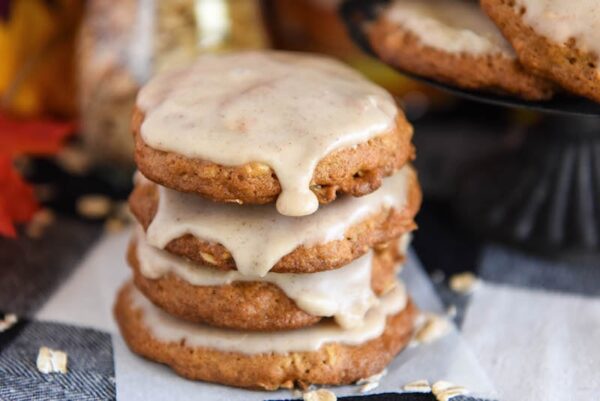 These old fashioned Pumpkin Oatmeal Cookies are topped with a cinnamon glaze that sinks right into the top to create one epic cookie.
They are loaded with pumpkin flavor, spices and the sweet cinnamon icing takes them right over the top!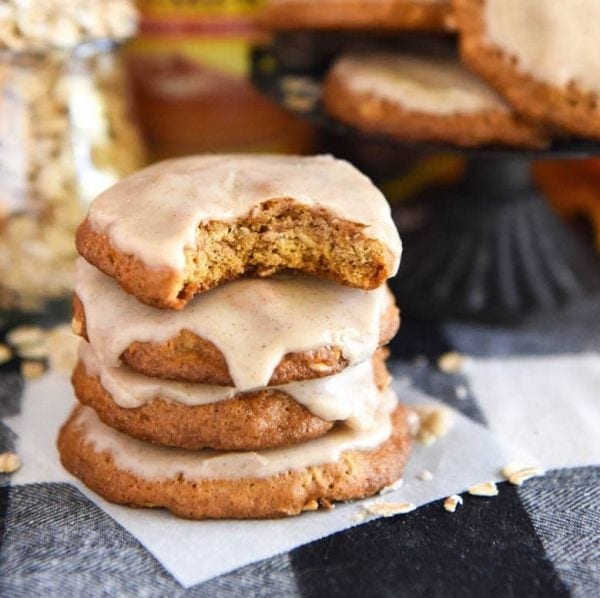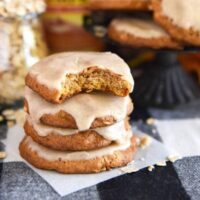 These festive Iced Pumpkin Oatmeal Cookies are the perfect fall treat! Flavored with pumpkin and topped with a decadent cinnamon icing, the whole family will love this seasonal twist on classic oatmeal cookies.
Ingredients
2 1/2 cups old fashioned oats
2 1/3 cups all purpose flour
1 tablespoon baking powder
1 teaspoon baking soda
2 teaspoons cinnamon
1 teaspoon freshly ground nutmeg
1 teaspoon salt
3/4 cup (1.5 sticks) unsalted butter, melted
1/3 cup pumpkin puree
1 1/2 cup granulated sugar
1 tablespoon molasses
1 teaspoon vanilla extract
2 large eggs
2 cups powdered sugar
1 teaspoon cinnamon
4 tablespoons water
1 1/2 teaspoons vanilla extract
Instructions
Preheat oven to 350°F and line two large cookie sheets with parchment paper. Set aside.
In a medium sized bowl, whisk together oats, flour, baking powder, baking soda, cinnamon, nutmeg and salt. Set aside.
In a large bowl, whisk together the melted butter, pumpkin,sugar, molasses and vanilla extract. Add eggs and whisk until smooth.
Fold in the dry oat mixture, using a wooden spoon (or a silicone spatula) stirring until thoroughly combined.
Drop dough by (heaping) rounded tablespoons onto prepared cookie sheets. I use a medium sized cookie scoop for this.
Bake for 10-12 minutes, rotating halfway through, until browned. Let cookies rest on the baking sheets for 5 minutes before moving to a wire rack to cool an additional 5 minutes.
Once cookies are cooled, whisk together the powdered sugar, cinnamon, water and vanilla extract until smooth.
Generously frost each cookie (watch video to see how I dip them) and allow the glaze to harden completely before storing. Store in an airtight container for up to a week.
Nutrition Information:
Yield:
24 cookies
Serving Size:
1 cookie
Amount Per Serving:
Calories:

176
Total Fat:

1g
Saturated Fat:

0g
Trans Fat:

0g
Unsaturated Fat:

1g
Cholesterol:

16mg
Sodium:

212mg
Carbohydrates:

38g
Fiber:

1g
Sugar:

22g
Protein:

3g
Want to Save This Recipe?
I hope you enjoy these
Fall
themed cookies as much as we do and make a batch year after year.
Make sure and leave a comment/review on how they turn out for you in the comments below!
Want to Save This Recipe?
This post may contain affiliate links. Read my disclosure policy.