These fall-inspired Iced Pumpkin Oatmeal Cookies are so simple yet oh-so-satisfying! Topped with a decadent cinnamon icing, you'll love this quick and festive recipe for flavorful, chewy pumpkin cookies that are the perfect fall treat!
Prefer the classic version? Try my Old Fashioned Iced Oatmeal Cookies recipe.
These oatmeal cookies made with pumpkin and topped with a delicious cinnamon Royal icing, are a festive fall spin on classic oatmeal cookie recipes! Inspired by my foolproof and favorite recipe for Old Fashioned Iced Oatmeal Cookies, this fall-inspired version kicks it up a notch for quick and easy holiday baking.
My girls absolutely love this recipe for oatmeal cookies. We make them on weekends when the whole house will fill with the warm smells of cinnamon! Each bite contains the perfect ratio of spiced pumpkin oatmeal cookie to sweet cinnamon icing. These insanely satisfying Iced Pumpkin Oatmeal Cookies are the perfect fall treat and rarely last long in our cookie jar!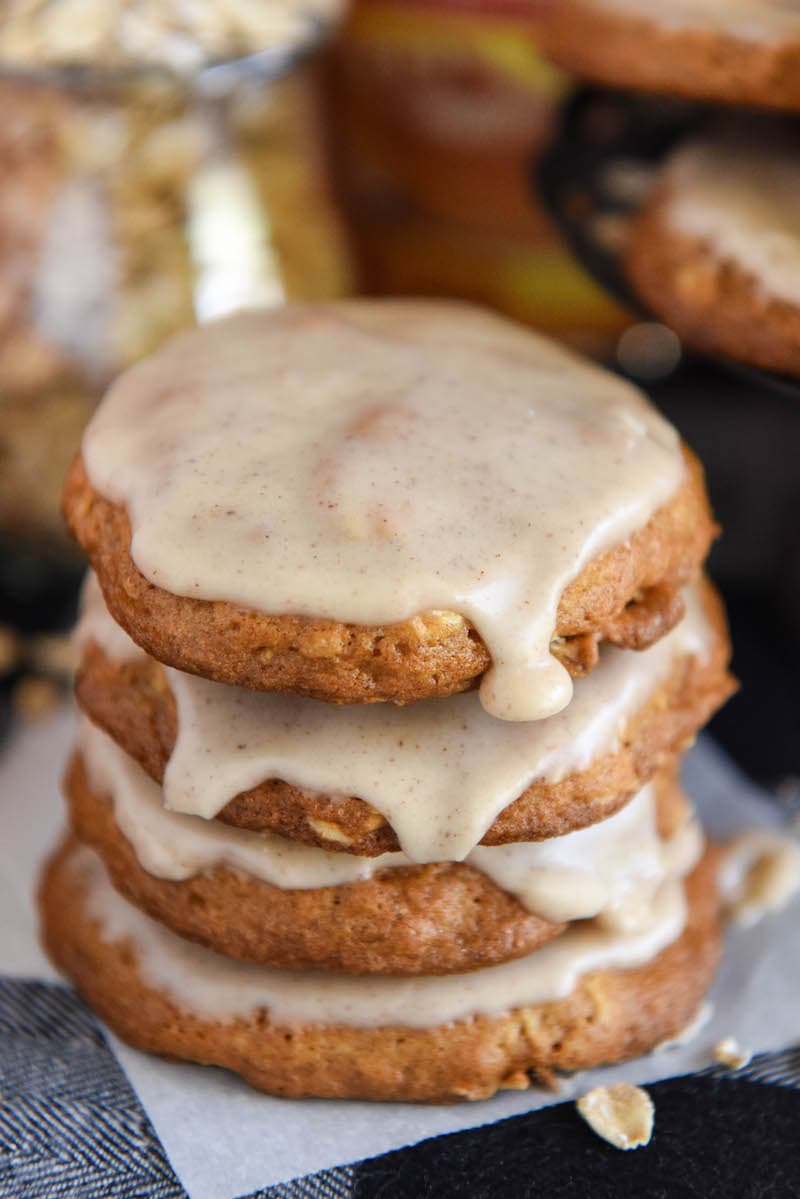 What You'll Need
The ingredients list may look on the long side, but I think you'll find that a lot of what's listed can be found in your kitchen already! This cookie recipe requires many pantry staples, plus a couple fall-inspired twists.
Oats: Old fashioned oats are the best for this oatmeal cookie recipe.
Flour: All-purpose flour gives the most consistent results when baking.
Baking Powder & Baking Soda
Spices: Freshly ground cinnamon and nutmeg. If you can't grind them fresh, you can find them pre-ground in the spice aisle. You'll need the cinnamon for the cookies as well as the cinnamon icing – you can also use Pumpkin Pie Spice if you have some handy.
Salt: To balance the sweetness.
Butter: Unsalted and melted in the microwave or on the stove.
Pumpkin Puree: Pure canned pumpkin puree, not pumpkin pie filling!
Sugar: Granulated sugar or light brown sugar.
Molasses: For a chewy, rich texture and extra depth of flavor!
Vanilla Extract: Pure vanilla extract or paste for the best possible flavor, you'll use this in the cookies and in the icing.
Eggs: A couple large eggs to bind the ingredients.
Powdered Sugar: For the icing.
Water: To mix with the icing for the right consistency. You can use milk, bearing in mind that your cookies will need to be stored in the fridge and not at room temperature!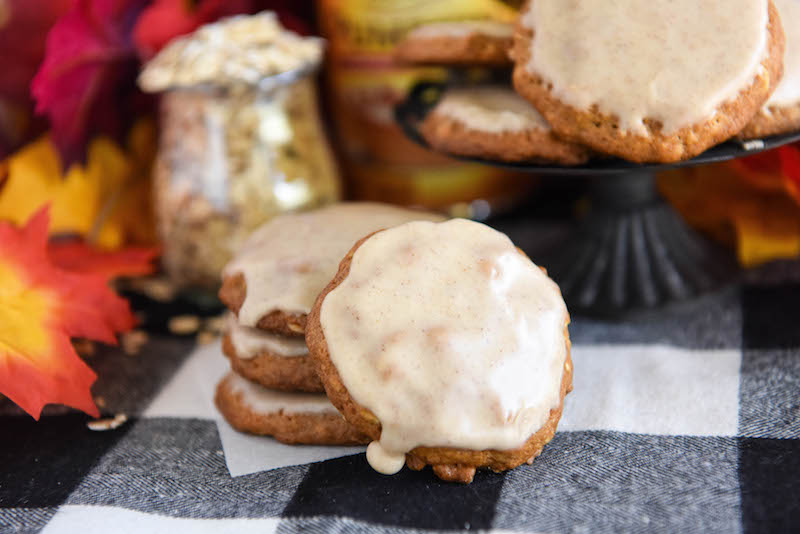 These are such great cookies to bake during cozy days indoors. Here are the steps for the perfect pumpkin oatmeal cookies:
Combine Dry Ingredients: To start, in one bowl whisk together the dry ingredients; oats, flour, baking powder, baking soda, cinnamon, nutmeg and salt.
Combine Wet Ingredients: Mix together the wet ingredients in a separate bowl; melted butter, pumpkin, sugar, molasses, vanilla extract, plus the eggs and whisk everything until the mixture is smooth.
Combine Wet & Dry Ingredients: Fold the oat mixture into the wet mixture and stir until both are combined and the dough is formed.
Place the Dough onto Cookie Sheets: Using a cookie scoop or just going by eye, drop tablespoon-sized balls of dough onto a parchment-lined baking sheet.
Bake: Bake the cookies for 10-12 minutes in a preheated oven until they're browned. Rotate the cookies halfway through and then remove them from the oven to rest for a few minutes. Finally, transfer the cookies to a wire rack to finish cooling.
Dip the Cookies in the Icing: In a small bowl, whisk together the ingredients for the cinnamon icing; powdered sugar, cinnamon, water and vanilla extract. Frost each cookie or dip the tops into the icing to glaze them, let the icing harden up a little and serve!
Can I Make These Cookies in Advance?
You can make the dough and prep these cookies for baking at a later time! Place your baking sheet with the balls of uncooked cookie dough into the freezer for about 30 minutes, and then store the cookie dough balls in an airtight container. They'll be ready to bake at any time, just add a minute or two to the baking time!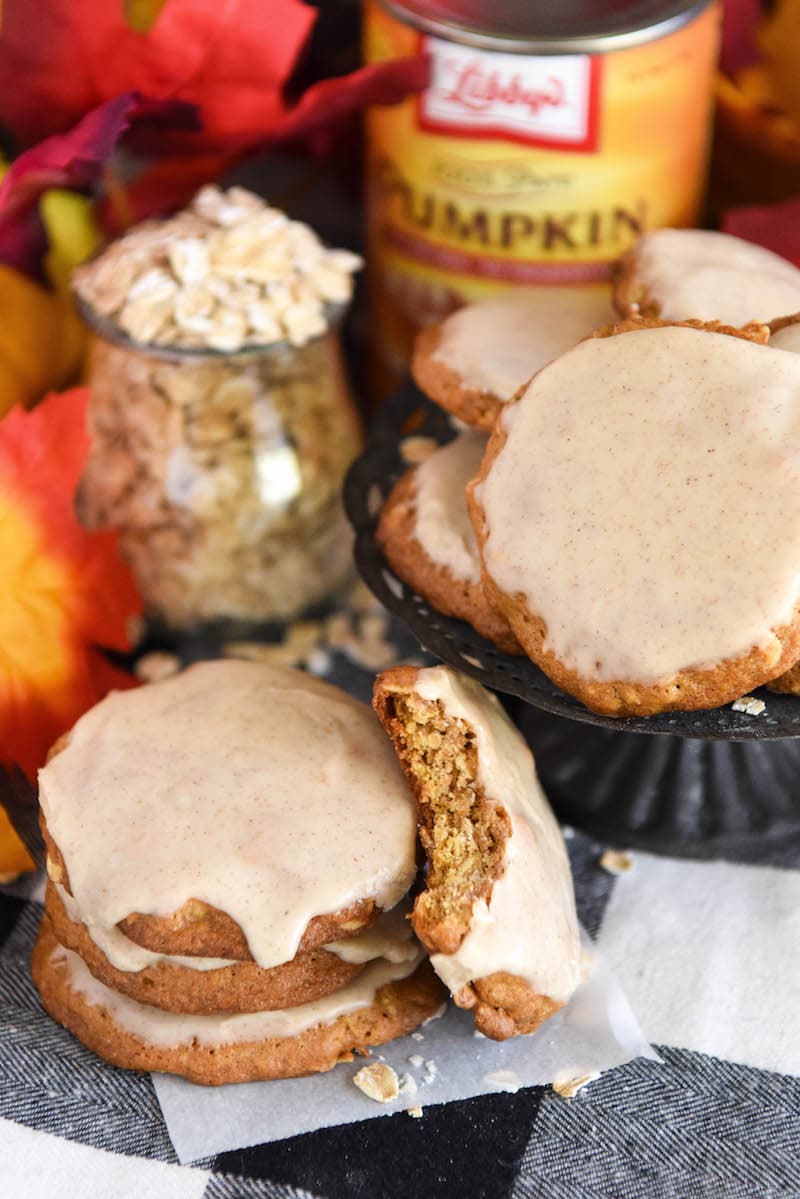 Tips for Success
Here are tips to make the most out of this easy cookie recipe:
Use a Cookie Scoop: I honestly don't know what I'd do without one. A cookie scoop is especially handy for cookie dough recipes like this one that are a bit less firm. If you don't have a scoop, use a tablespoon instead.
Add mix-ins: These pumpkin oatmeal cookies are fantastic as is, but you can easily add in the necessary extras to make them into oatmeal raisin cookies or oatmeal chocolate chip cookies! Other ideas include chopped nuts, toffee bits or even cranberries.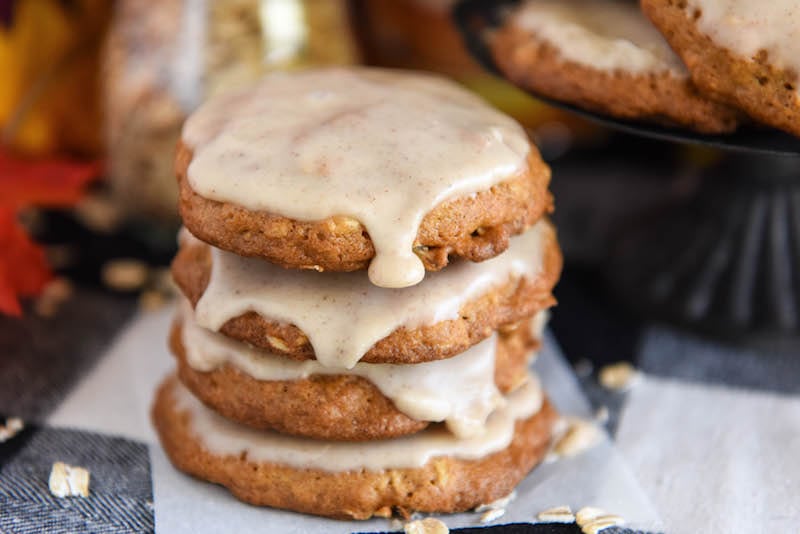 How to Store
On the counter: Once the icing has set, these cookies can be stored in an airtight container and will keep at room temperature for up to 4 days.
In the fridge: You can also store these in an air-tight container for up to a week.
In the freezer: These cookies can be frozen either glazed or unglazed! Use parchment paper between the layers of cookies and store them in a freezer-safe container or resealable bag. Thaw in the fridge overnight before serving.
Try these other recipes for easy and delicious frosted cookies:
These festive Iced Pumpkin Oatmeal Cookies are the perfect fall treat! Flavored with pumpkin and topped with a decadent cinnamon icing, the whole family will love this seasonal twist on classic oatmeal cookies.
Ingredients
For the Cookies
2 ½

cups

old fashioned oats

2 ⅓

cups

all purpose flour

1

tablespoon

baking powder

1

teaspoon

baking soda

2

teaspoons

cinnamon

1

teaspoon

freshly ground nutmeg

1

teaspoon

salt

¾

cup

1.5 sticks unsalted butter, melted

⅓

cup

pumpkin puree

1 ½

cup

granulated sugar

1

tablespoon

molasses

1

teaspoon

vanilla extract

2

large eggs
For the Icing
2

cups

powdered sugar

1

teaspoon

cinnamon

4

tablespoons

water

1 ½

teaspoons

vanilla extract
Instructions
Preheat oven to 350°F and line two large cookie sheets with parchment paper. Set aside.

In a medium sized bowl, whisk together oats, flour, baking powder, baking soda, cinnamon, nutmeg and salt. Set aside.

In a large bowl, whisk together the melted butter, pumpkin,sugar, molasses and vanilla extract. Add eggs and whisk until smooth.

Fold in the dry oat mixture, using a wooden spoon (or a silicone spatula) stirring until thoroughly combined.

Drop dough by (heaping) rounded tablespoons onto prepared cookie sheets. I use a medium sized cookie scoop for this.

Bake for 10-12 minutes, rotating halfway through, until browned. Let cookies rest on the baking sheets for 5 minutes before moving to a wire rack to cool an additional 5 minutes.

Once cookies are cooled, whisk together the powdered sugar, cinnamon, water and vanilla extract until smooth.

Generously frost each cookie (watch video to see how I dip them) and allow the glaze to harden completely before storing. Store in an airtight container for up to a week.
Nutrition
Serving:
1
cookie
,
Calories:
176
kcal
,
Carbohydrates:
38
g
,
Protein:
3
g
,
Fat:
1
g
,
Polyunsaturated Fat:
1
g
,
Cholesterol:
16
mg
,
Sodium:
212
mg
,
Fiber:
1
g
,
Sugar:
22
g
Categories:
This post may contain affiliate links. Read my disclosure policy.