If you love cranberry desserts, be sure to also try my easy Cranberry Orange Bread and Cranberry Eggnog Bread Pudding.
I made a double batch of these and gave them out to the neighbors and everyone asked for the recipe ASAP. That is always a good sign!
These cookies are super quick to bake (only 10 minutes) and you use leftover cranberry sauce/jelly in them! So make sure and also save this recipe to make the weekend after Thanksgiving with all your leftover cranberry sauce.
Confession time: I have a Christmas tree sitting in my entry way and it's early November. I also baked a batch of these gorgeous Frosted Cranberry Cookies, built wood christmas trees for my front yard and I listened to Christmas music. I am not fully decorated by any means, but all things Christmas keep sneaking out of my garage and into the house.
I'm usually one of those people that insists on not decorating for anything Christmas until the day after Thanksgiving. However, this year I am just SO ready for everything Christmas. I guess I just need some extra Jolly this year.
Yesterday was my Mom's birthday, so we spent the weekend eating terribly and having a great time. Lots of cake, cookies and shopping. HomeGoods has all their holiday decor out…it's dangerous.
We even roped my Dad into spending his whole weekend building wood trees for our front yard Christmas decorations. Gotta love birthday weekend guilt!! ;-)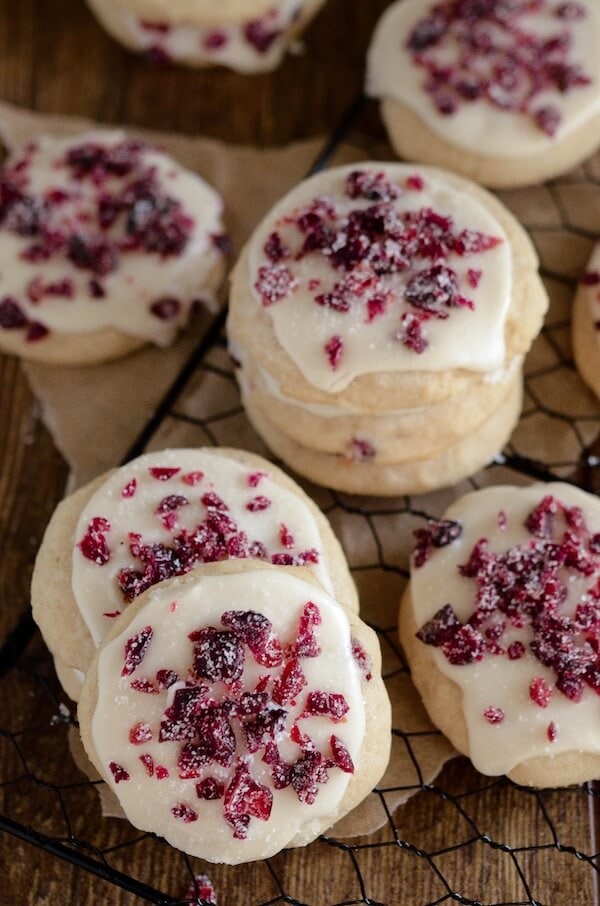 These Frosted Cranberry Cookies were a giant hit this weekend. The base is a classic buttery soft shortbread cookie with a twist — cranberry jelly/sauce (canned or fresh both work great)!
If you happen to not have any on hand, you can skip it and increase the butter to 1 cup (2 sticks). Then just add some extra craisins to the cookie dough.
Don't skimp on the sugared craisins on top, they really set these cookies apart — both in flavor and presentation! I hope you enjoy them as much as we all did!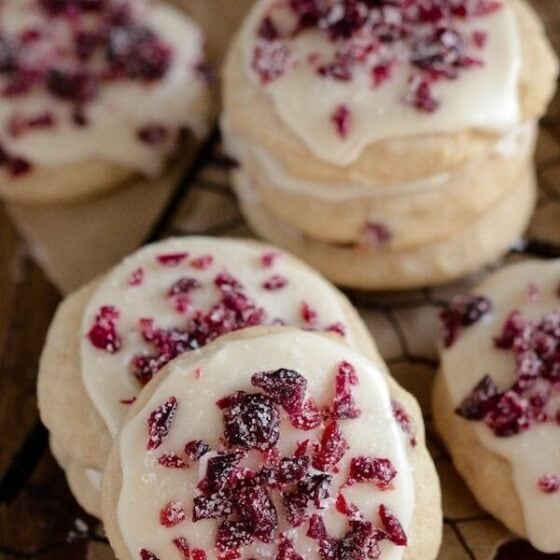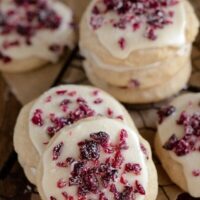 These glorious soft cranberry shortbread cookies have a sweet vanilla icing and sugared dried cranberries on top. Perfect for the holidays!
Additional Time
15 minutes
Ingredients
2 1/4 cups all purpose flour
1/2 teaspoon baking powder
1/4 teaspoon salt
3/4 cup (1.5 sticks) unsalted butter, room temperature
3/4 cup granulated sugar
1/3 cup cranberry jelly/sauce
1 large egg
1 teaspoon vanilla extract
1/2 cup craisins, chopped
1 tablespoon sugar
1 cup powdered sugar
1 tablespoon milk
1 teaspoon vanilla extract
Instructions
Preheat oven to 375°F.
Line a baking sheet with parchment paper or a silpat. Set aside.
In a medium bowl, whisk together flour, baking powder and salt. Set aside.
In a stand mixer, beat butter and sugar until light and fluffy. Add cranberry jelly, egg and vanilla extract, mixing until combined.
Add flour mixture 1/2 cup at a time, mixing until completely combined.
Drop one tablespoon of rounded dough onto prepared pan and then lightly flatten with the bottom of a buttered and sugared glass.
Bake for 10 minutes. The cookies will not look browned or cooked, but they are! Remove from oven and let cookies rest on baking sheet for 5 minutes. Then transfer to a wire rack to cool completely.
To Ice: In a small bowl, toss together cranberries and sugar, set aside. In a small bowl, whisk together powdered sugar, milk and vanilla extract - until smooth.
Using a spoon, smooth icing onto the top of each cookie. Sprinkle with sugared craisins and let set for 10 minutes, or until hardened. Enjoy!
Nutrition Information:
Yield:
24
Serving Size:
2
Amount Per Serving:
Calories:

113
Total Fat:

1g
Saturated Fat:

0g
Trans Fat:

0g
Unsaturated Fat:

0g
Cholesterol:

9mg
Sodium:

63mg
Carbohydrates:

25g
Fiber:

1g
Sugar:

15g
Protein:

2g
Categories

This post may contain affiliate links. Read my disclosure policy.