Butterscotch Haystacks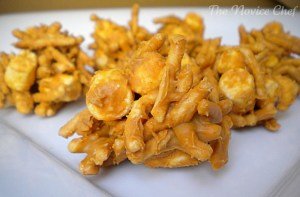 Guess what? I have another new cool feature for you! I know it used to be annoying to have to copy and post the recipe somewhere to print it because if you used to print the recipe it would print the entire page…all the pictures…and all of my useless commentary and stories. 😉 But now, in an order to save some trees and make it easier on you now, before the recipe, there will be a link called "Printable Recipe". If you click on that, it will take you to just the recipe, in black and white print.
Also, I would quickly like to address a little issue I have been having. The pictures on this blog are taken by me, and are copyrighted. If you would like to use my picture, no problem, I would be honored! But, please email me (thenovicechef@live.com) and ask permission. I would like to be given credit and a link back to the original picture, but I will have no problem with you using it! But, due to a few issues I have had recently with people using my photos, and claiming them as their own, I have implemented a "watermark" onto my photos. Hopefully it is non-intrusive and does not impose on the food! At least, that was my goal! 🙂
Now, as for these Butterscotch Haystacks…Man were they good! And EASY! Guess what?! You do not bake these! And you do not have to do it in a double broiler! Nope, this is a microwave only recipe! I was hesitant at first, but after taking a bite I remembered how much I truly love these! The sweet, salty, crunchy, and soft combination really come together and create an awesome little cookie!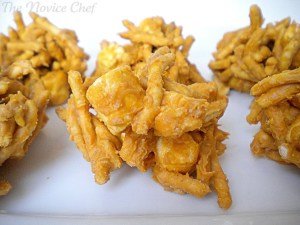 Butterscotch Haystacks
You will need:
11-oz. pkg Butterscotch Flavored Morsels
3/4 cup crunchy peanut butter
8.5 oz. can chow mein noodles
3 1/2 cups miniature marshmallows
Line counter tops, or cookie trays with wax paper.
Microwave morsels in large, uncovered, microwave-safe bowl on medium high power for 1 minute; stir. The morsels may retain some of their original shape. If necessary, microwave at additional 10- to 15-second intervals, stirring just until morsels are melted. Stir in peanut butter until well blended. Add chow mein noodles and marshmallows; toss until all ingredients are coated. Drop by rounded tablespoon onto wax paper. Refrigerate until ready to serve.