Easy Butterscotch Haystacks are a fun no-bake cookie recipe, made with crispy chow mein noodles, marshmallows, melted butterscotch candies, and peanut butter. Quick and festive!
A Crispy, Crunchy, Butterscotch Treat
Do you like to make no-bake desserts? As much as I love cranking up the oven, I have to admit that having a few awesome no-bake recipes up my sleeve is great. Especially for those times when the oven is already full (looking at you, Christmas), or when the weather is warm, and you just don't feel like heating up the kitchen.
When it comes to no-bake cookies, I'm in long with this simple recipe made with only a few ingredients. The combination of real peanut butter and sweet butterscotch melts is addictively good – especially with the crispness of chow mein noodles! Be prepared for these to disappear once you serve them!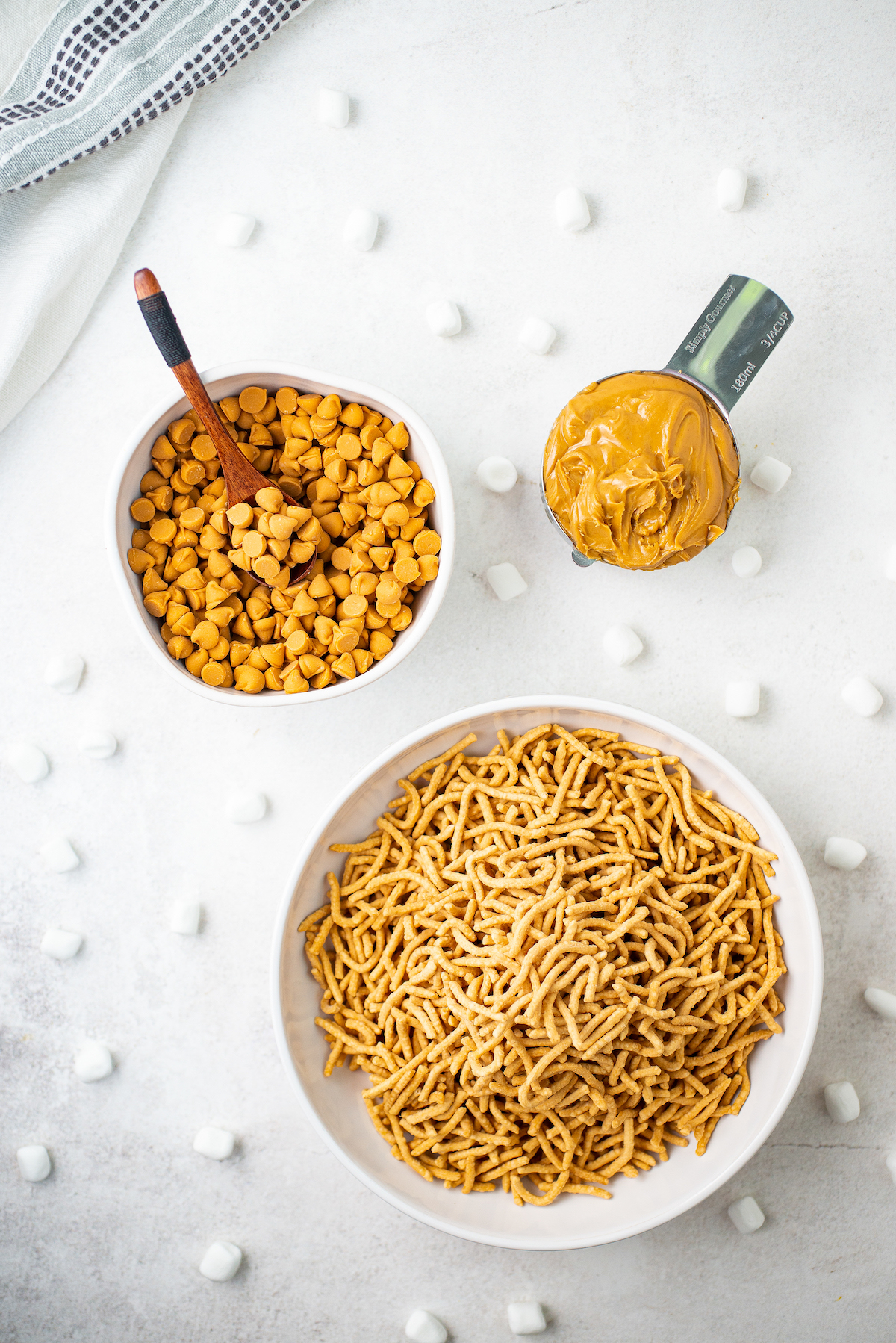 What You'll Need
Let's take a closer look at the ingredients you'll need to make these easy little cookies. Each one is a surefire crowd-pleaser, so you can imagine how good they are when combined into a single, no-bake dessert!
Butterscotch Chips: You can find these little candy chips on the baking aisle near the chocolate chips and candy melts.
Creamy Peanut Butter: I use commercial peanut butter, like Jif. All-natural brands may not mix as well with the other ingredients.
Chow Mein Noodles: These are often sold in cans on the international food aisle of the grocery store. You can also order them online.
Marshmallows: Mini marshmallows add great texture and a pleasant sweetness.
Let's Make Some Haystacks!
Okay, so those are the ingredients – what about the process? It's very straightforward – just mix the ingredients, drop by spoonfuls, and let them firm up.
Set Up Your Cooling Area: To make the haystacks, you'll need to set up some cookie sheets lined with wax paper, or parchment paper. You can also simply line your clean workspace or countertop and drop the cookies on that.
Melt the Butterscotch Chips. In a large microwave-safe bowl, microwave the chips on medium-high for one minute. Then stir the chips until smooth. If the chips aren't fully melted, microwave for 10 seconds more and stir again.
Stir in the Remaining Ingredients. Stir the peanut butter into the melted chips, until well-blended and smooth. Gently fold in the chow mein noodles and the mini marshmallows, to coat.
Make the Haystacks. Drop the mixture by heaping tablespoons onto your prepared cookie sheets or countertops, and allow them to set for several hours, or overnight. You can also let them set in the fridge for a faster result.
Enjoy!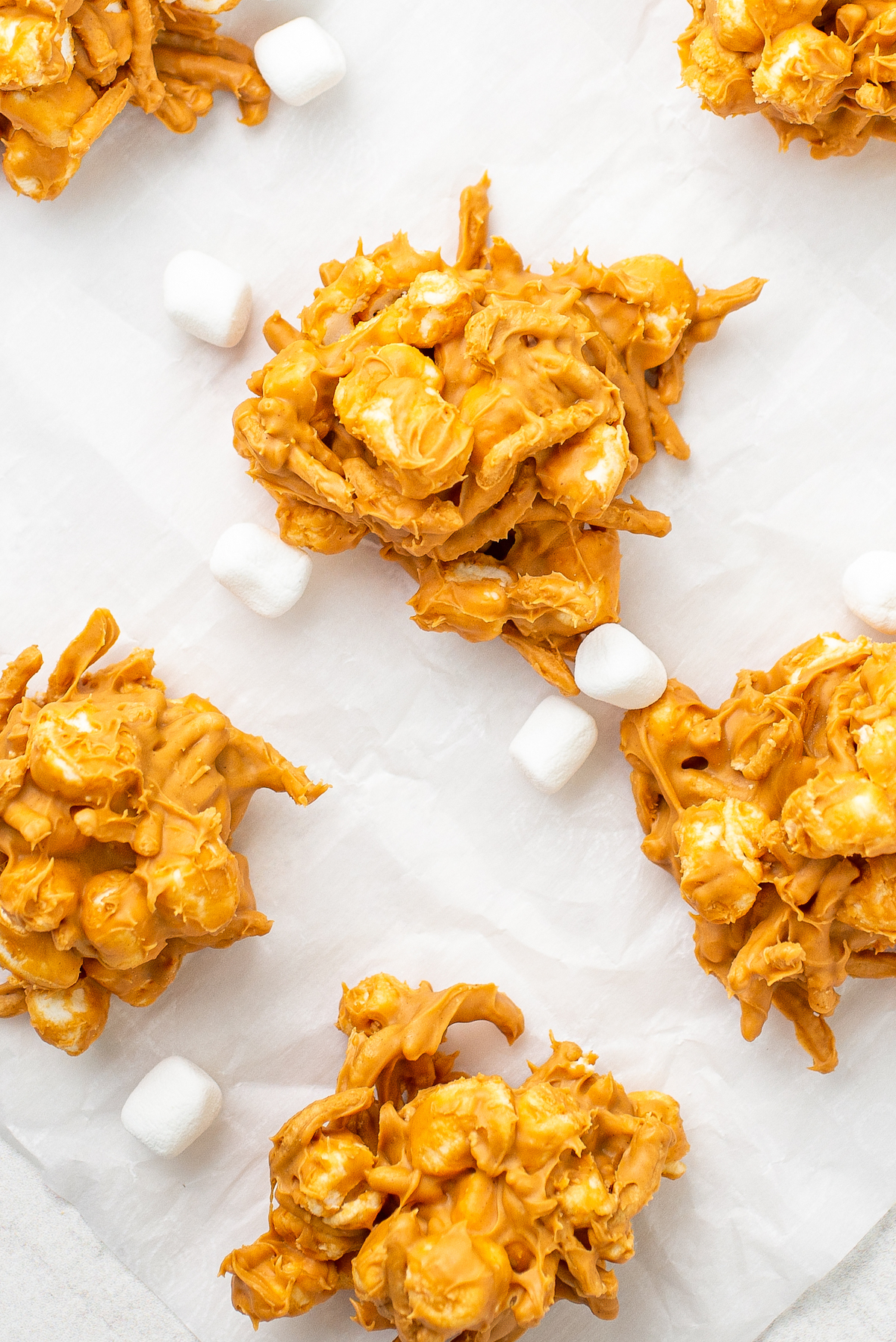 Tips and Tricks
When making butterscotch haystacks, it's helpful to have a few easy tips and hacks in mind. These are my top tips for making this fun, no-bake recipe.
Use Creamy Peanut Butter: To herb the right ratio of sticky peanut butter and dry ingredients, avoid using crunchy peanut butter and go with creamy.
Watch the Butterscotch: Be careful when melting the butterscotch chips – they can easily scorch, especially in the microwave. If they seem to be getting too hot, quickly stir in some of the peanut butter to bring down the temperature a bit.
Change Up the Chow Mein: If you can't find chow mein noodles, no problem! This recipe can also be made with Chex cereal, although it won't be quite the same look and texture, it will still be delicious!
Add Some Peanuts: I really recommend using creamy peanut butter, but if you want to add some peanuts for extra crunch, you can stir in some chopped up roasted peanuts when you add the marshmallows. You can also sprinkle the chopped roasted peanuts right on top of each haystack before they set.
Work Quickly: This recipe goes very quick! So make sure and have your spoons ready to scoop and your parchment or wax paper already on the countertop before you start.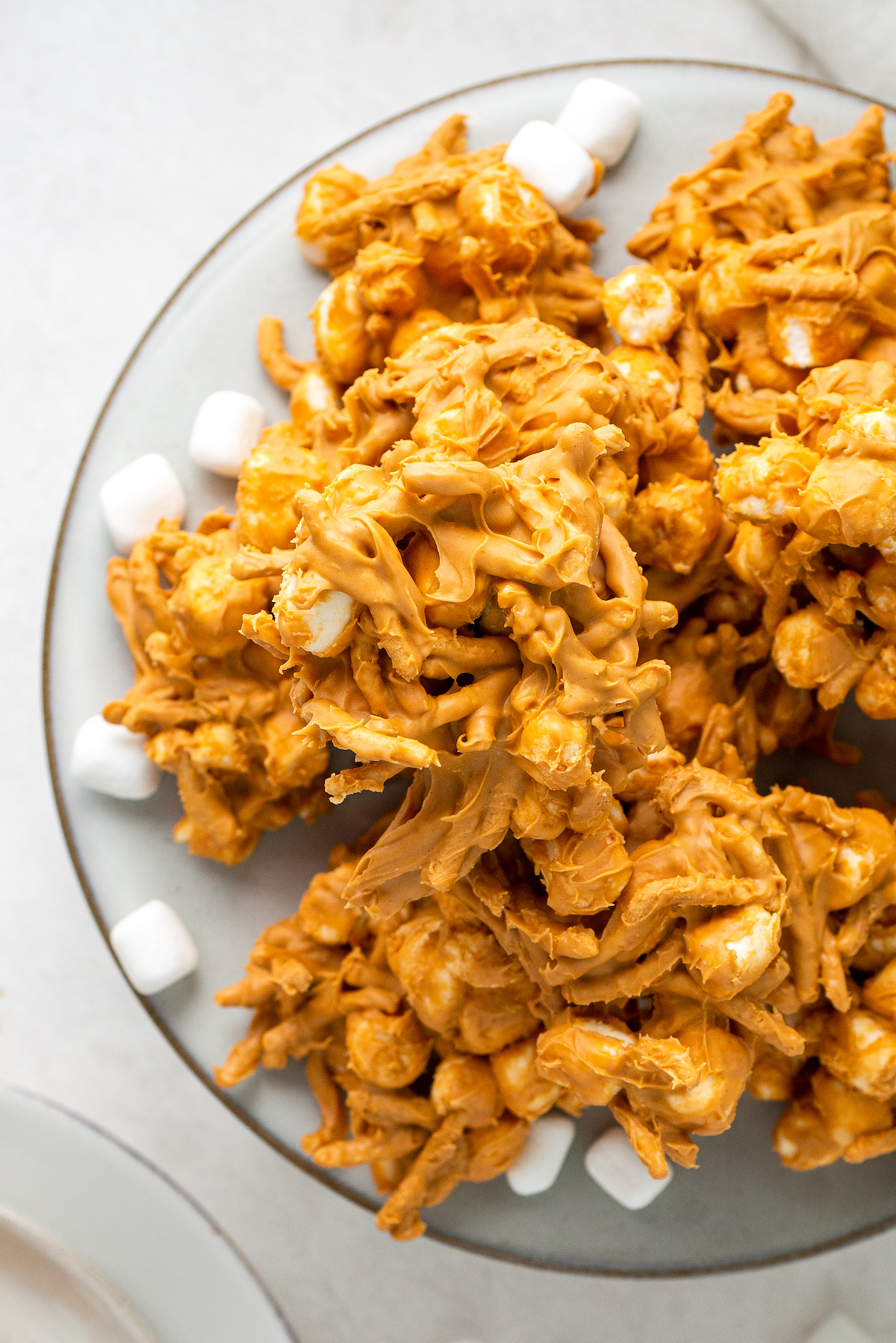 Easy Mix-In Ideas
If you want to customize this cookie recipe, the easiest way is to replace some of the chow mein noodles with mix-ins of your choice. Here are some easy ideas:
Chocolate chips
White chocolate chips
Roasted peanuts
Pistachios
Mini peanut butter cups
Crisped rice cereal
Sprinkles
M&Ms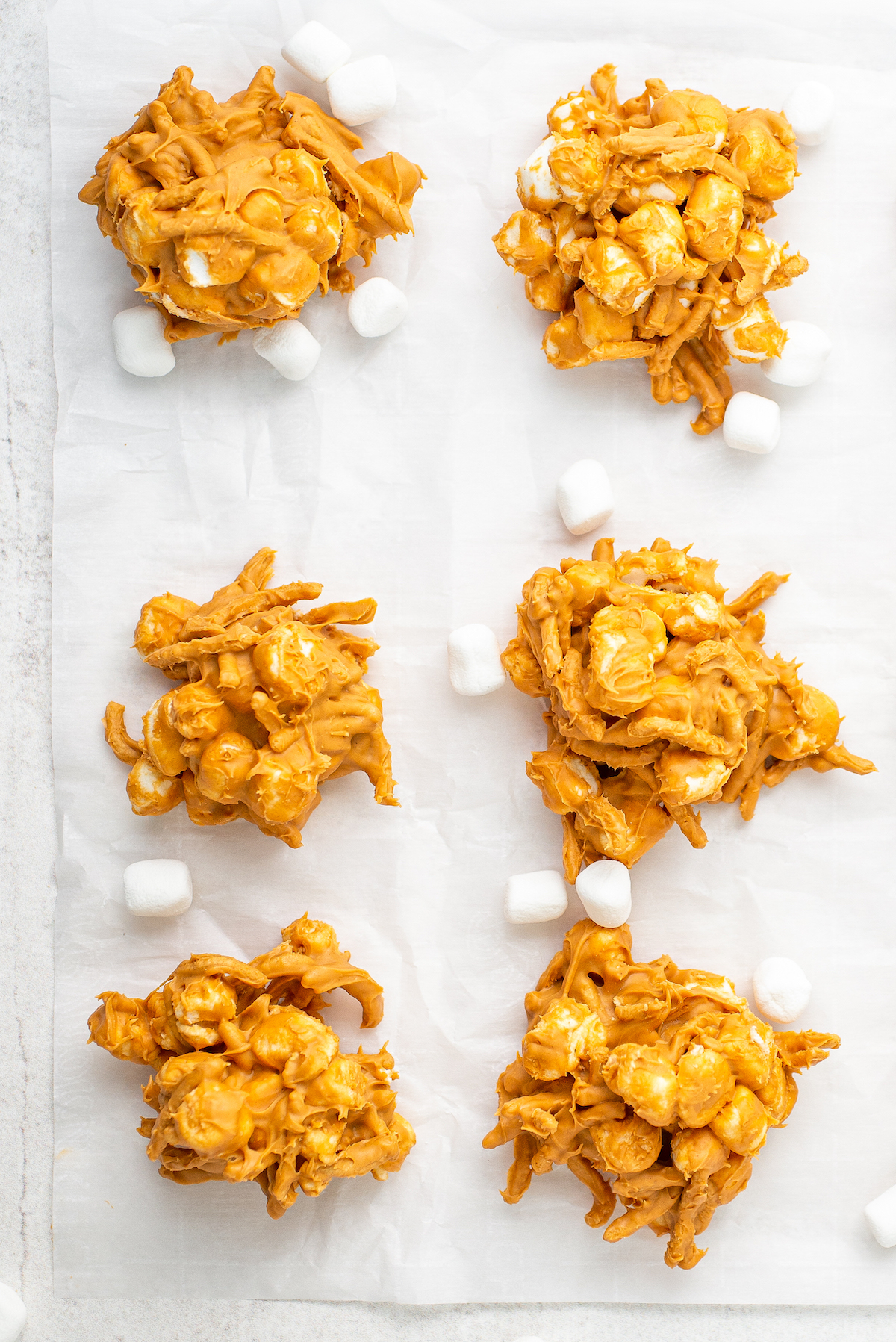 How Long Can You Store Butterscotch Haystacks?
Butterscotch haystacks will keep at room temperature for several days, or in the fridge for a week. Either way, store them in airtight containers for maximum freshness. I personally prefer them cold out of the fridge the best!
Can You Freeze Butterscotch Haystacks?
Sure! To prevent sticking, stack your butterscotch haystacks in airtight containers, with parchment or wax paper between the layers of cookies. Freeze for up to 2 months.
Butterscotch Haystacks
Butterscotch Haystacks are a no-bake Christmas classic with crispy bites of chow mein noodles and marshmallows coated in butterscotch and peanut butter!
Ingredients
1

11-oz package butterscotch chips

¾

cup

creamy peanut butter

8.5

oz.

can chow mein noodles

10

oz

miniature marshmallows
Instructions
Line counter tops, or cookie trays with wax paper or parchment paper.

Microwave butterscotch chips in large, uncovered, microwave-safe bowl on medium high power for 1 minute; stir until smooth. If necessary, microwave at additional 10- to 15-second intervals, stirring just until chips are fully melted.

Stir in peanut butter until well blended. Fold in chow mein noodles and marshmallows; toss until all ingredients are coated.

Drop by rounded tablespoon onto wax paper. Refrigerate until ready to serve!
Notes
Storage: Butterscotch haystacks will keep at room temperature for several days, or in the fridge for a week. Either way, store them in airtight containers for maximum freshness.
Nutrition
Serving:
1
,
Calories:
171
kcal
,
Carbohydrates:
24
g
,
Protein:
3
g
,
Fat:
8
g
,
Saturated Fat:
3
g
,
Polyunsaturated Fat:
4
g
,
Sodium:
173
mg
,
Fiber:
1
g
,
Sugar:
13
g
More No-Bake Dessert Recipes
Looking for more easy, no-bake dessert recipes? I have a ton, but here are some of my personal favorites:
This post may contain affiliate links. Read my disclosure policy.