Cranberry Relish
Cranberry Orange Relish: the best homemade fresh cranberry relish recipe for your Thanksgiving dinner is made with orange zest and Cointreau in just 20 minutes!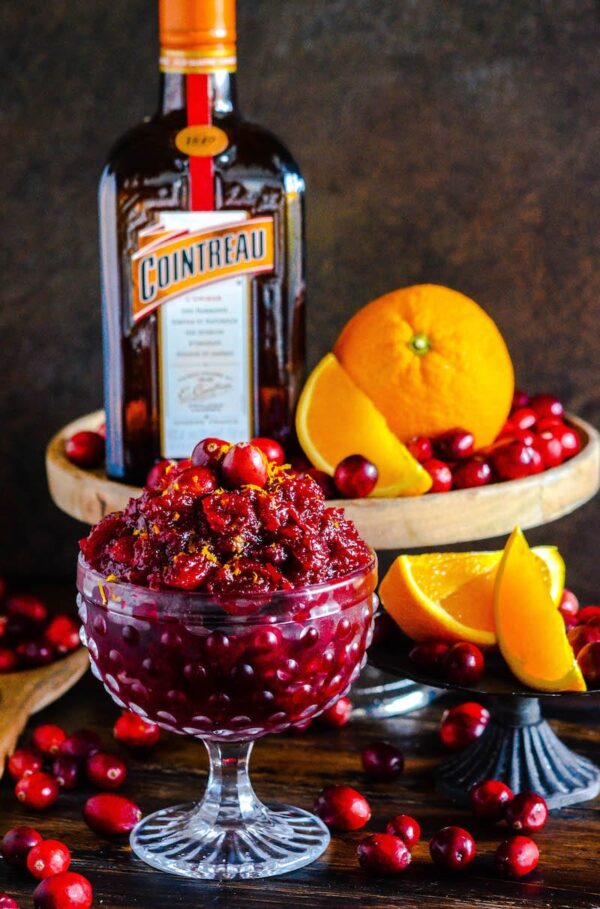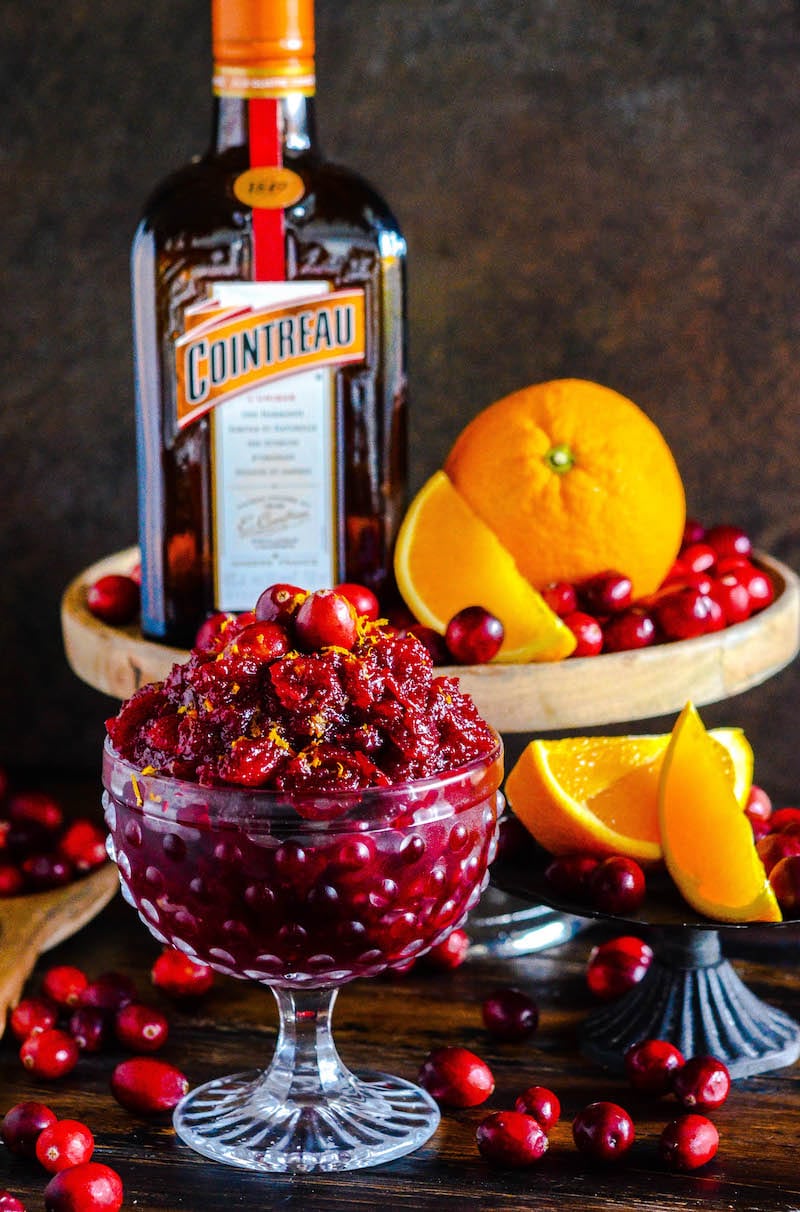 If you ask me to come to your Thanksgiving, and you only ask me to bring one Thanksgiving side dish, I am bringing Cranberry Relish.
Why? Well, first off this recipe is totally knock your socks off delicious and everyone always says it's the best they have ever had.
But in all honesty, I am bringing it because I can make it days ahead of time and you will have no idea!
Cranberry Relish is the only Thanksgiving side dish that gets better over a couple of days as it sits!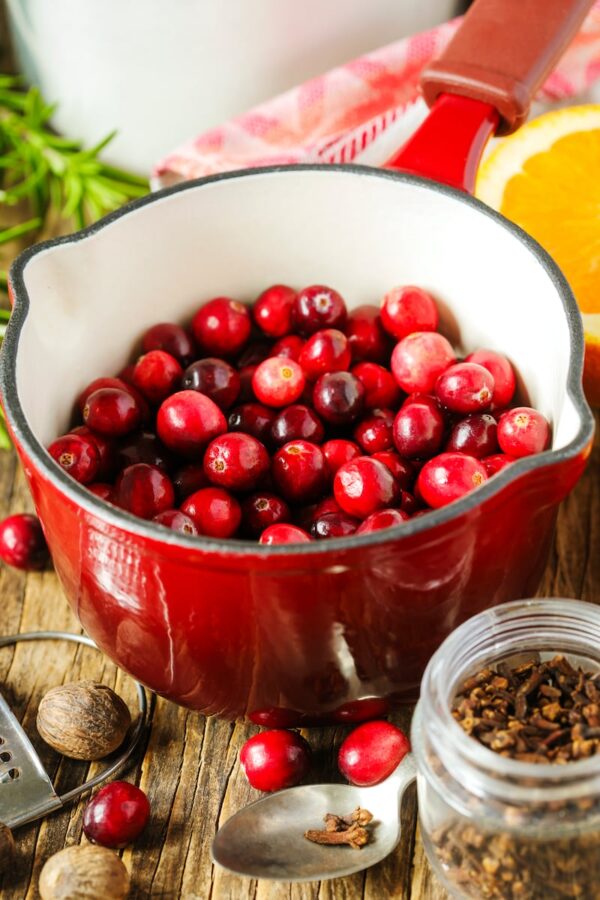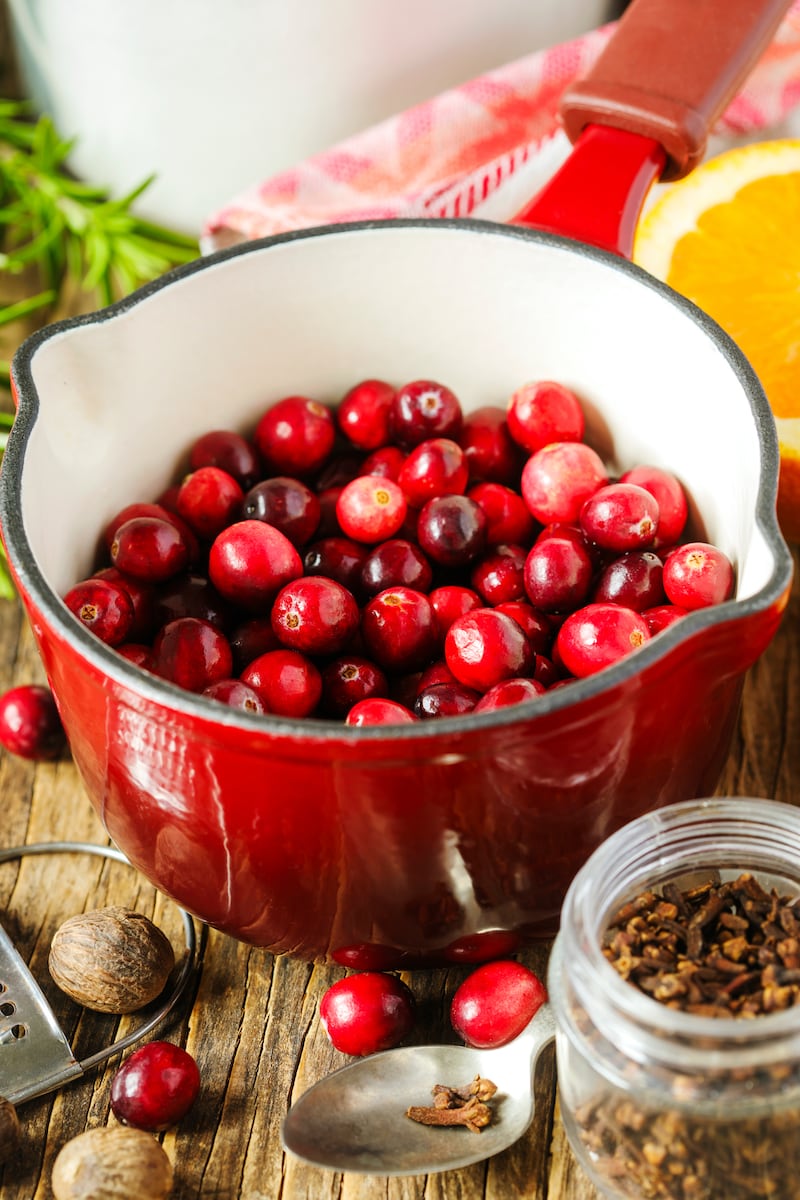 So can I make a confession? I used to only enjoy the cranberry jelly out of the can.
You know the one? With the ridges from the shape of the can that you had to shake like crazy to get it out?
It's only in the last three to four years that I have come around to the idea that fresh cranberry relish is delicious too.
Once I found one with orange zest though, that was it. I was sold! Nothing beats a homemade Cranberry Orange Relish with orange zest and little orange liquor.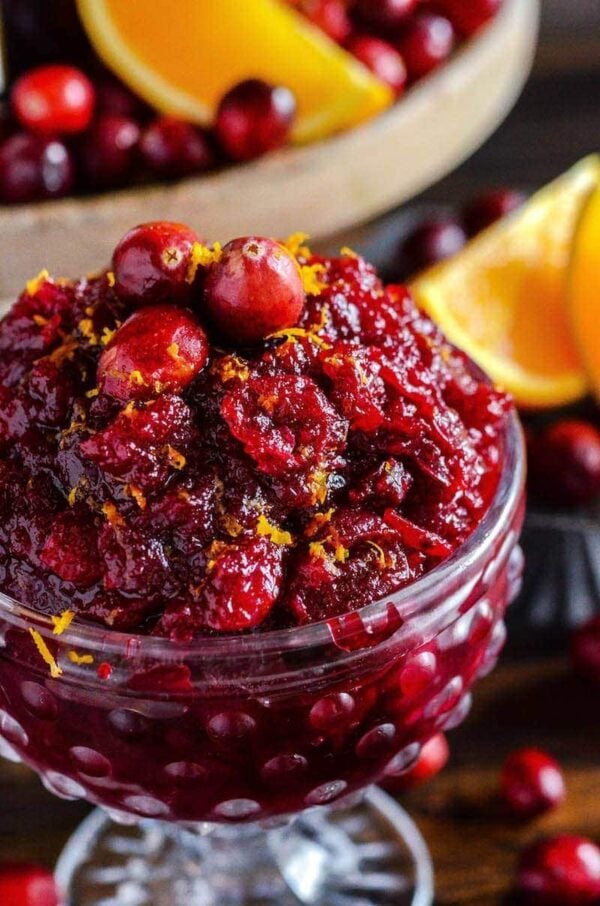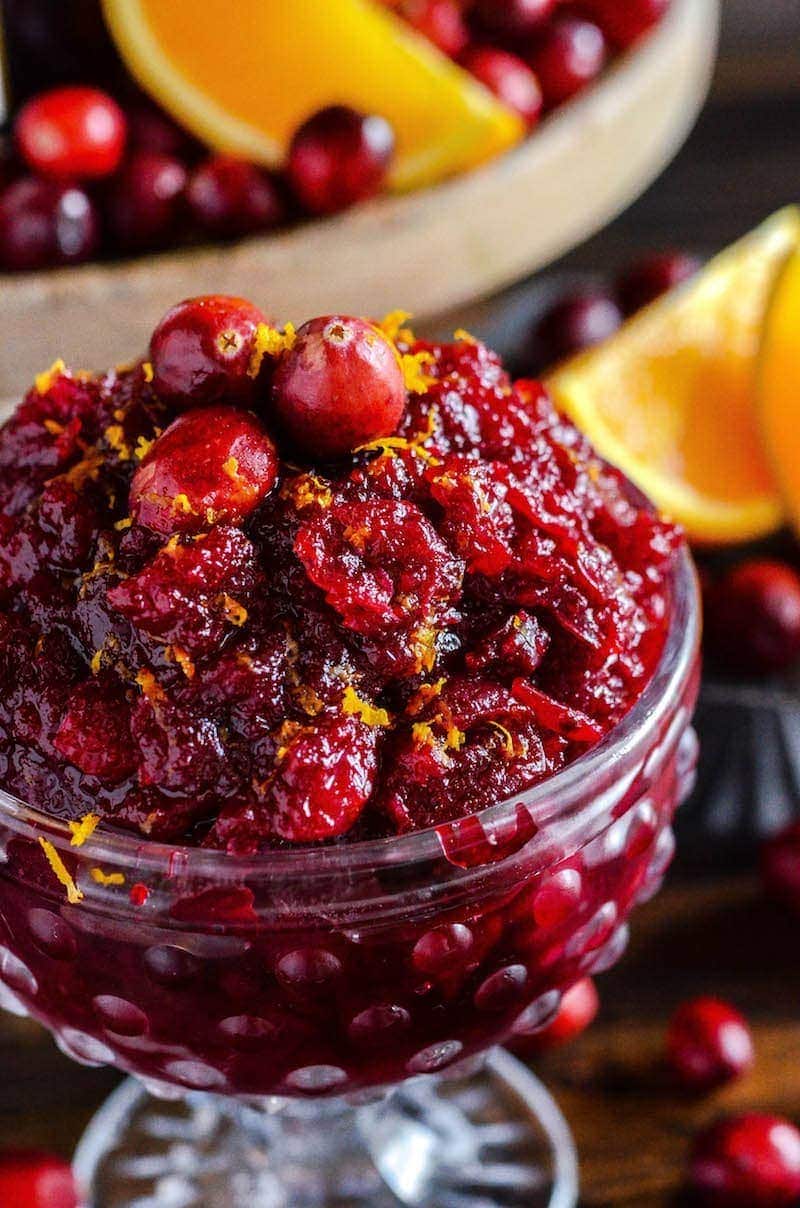 Last year, I bought a jar of fresh Cranberry Relish for Thanksgiving from Publix.
I was worried it took a lot of work and I just didn't have the time. Then after Thanksgiving, we wanted more and the store wasn't carrying it anymore.
So I tried my hand at making some Cranberry Orange Relish and WOW. Homemade was SO much better….and it was incredibly EASY. I had no idea!!
I felt like a lightbulb went off in my head. No wonder everyone always said they would bring the cranberry relish.
It's crazy simple to make, you can make it days ahead of time and everyone thinks you did something super difficult. Win – Win.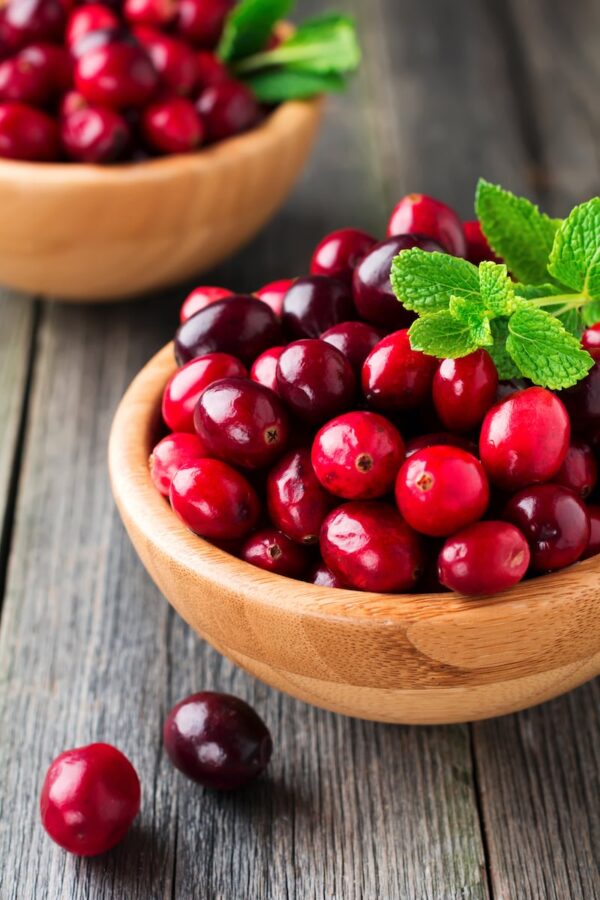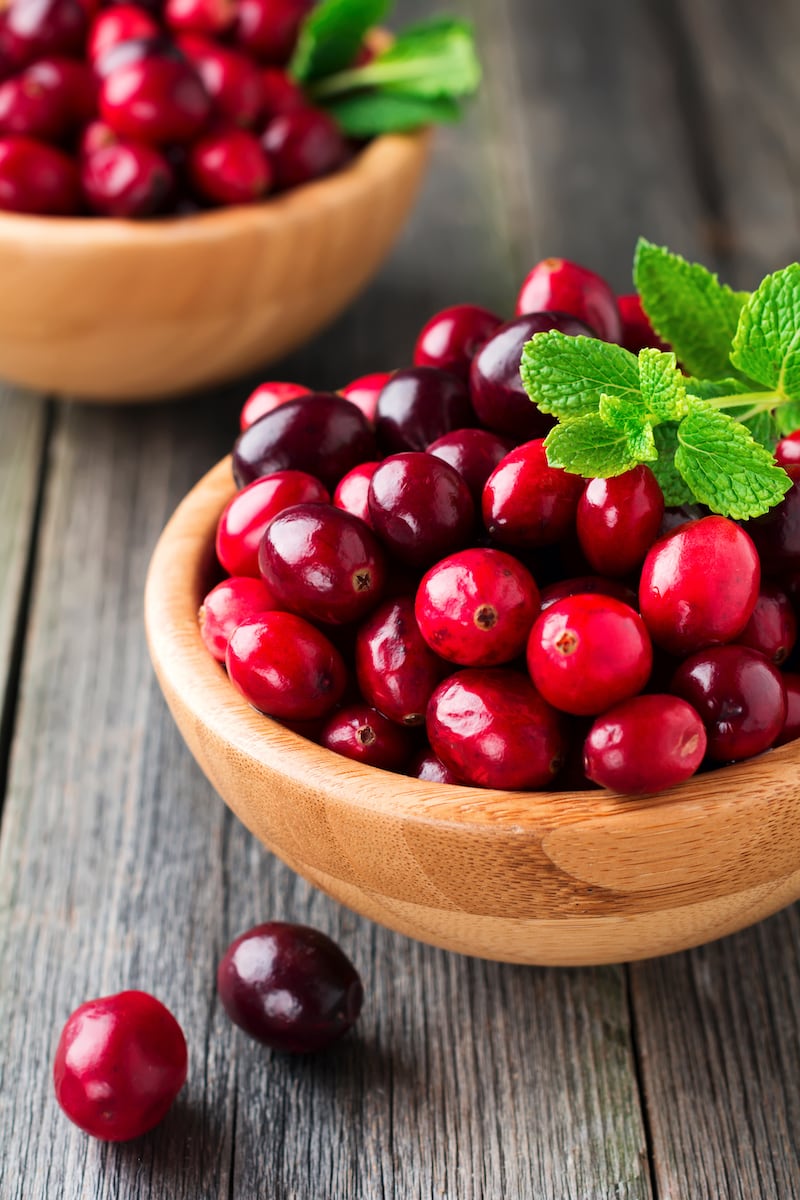 This Cranberry Orange Relish only takes twenty minutes to make, but it does take a while to cool.
I know some families who like it warm, but we personally like ours served chilled.
So if you likes yours cold as well, plan for about 2 hours of chilling time in the fridge.
However, this Cranberry Relish is honestly best made days before you are ready to serve it! Yay for EASY make ahead Thanksgiving side dishes!
You can whip it up a few days before Christmas/Thanksgiving and store it in an airtight container for up to a week before!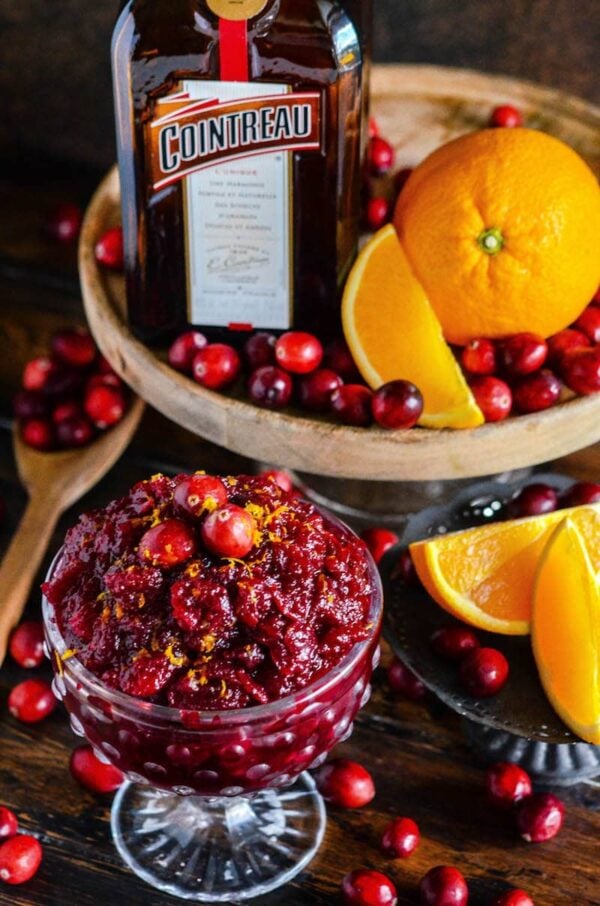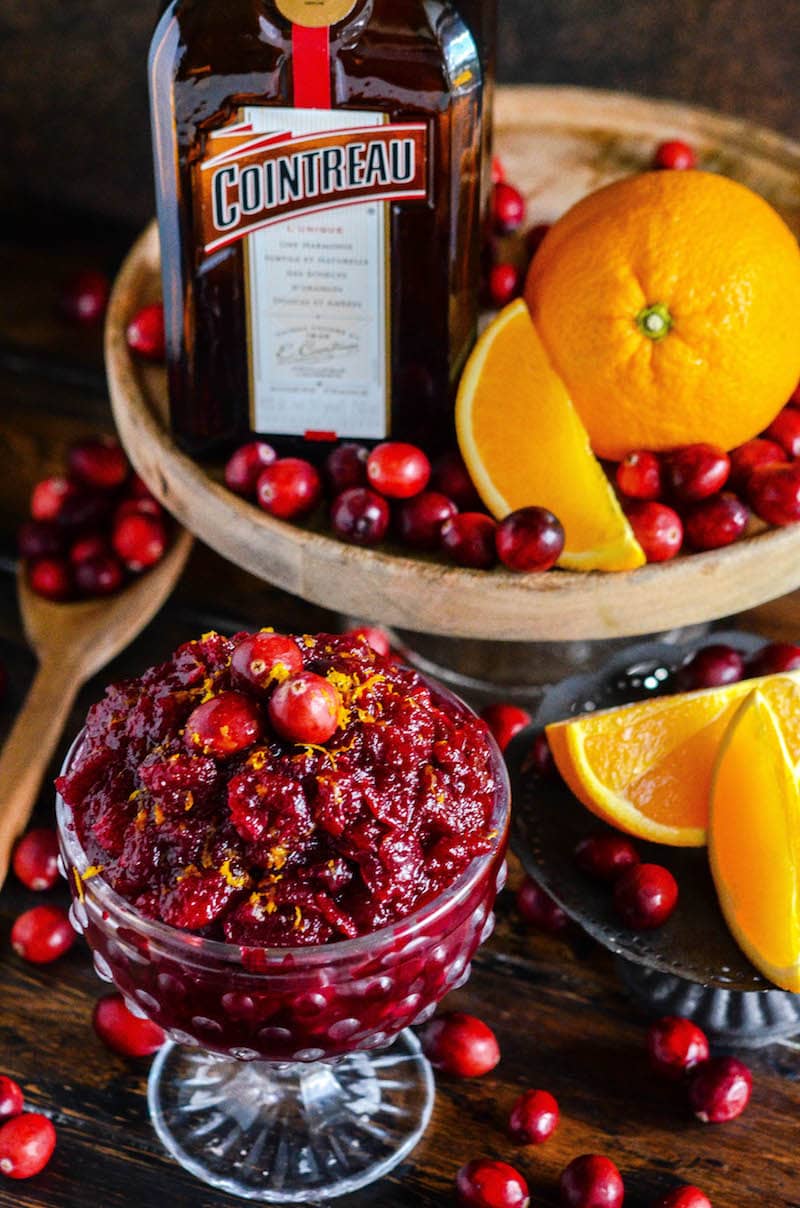 The flavors meld together — the tartness and sugar both level out as it cools — and it's just wonderful. Plus, making it ahead saves you extra prep the day of the big meal!
We make our Cranberry Orange Relish with a little orange liquor — Cointreau. If you don't have that on hand, another one that works wonderfully is Grand Marnier.
The alcohol burns off while boiling, so I promise this is safe for your children to enjoy. However, if you would prefer to skip it completely, just add a little extra cranberry juice!
If you are looking for perfect Thanksgiving side dishes, I also highly recommend you check out my recipe for
The Best Green Bean Casserole
— just read all the reviews!
I also have an amazing recipe for my mama's Sweet Potato Casserole that is requested year after year at our Thanksgiving. This is another great make ahead Thanksgiving side dish that only get's better with time!
For dessert, I have so many…but I will recommend these top three Thanksgiving desserts: Pumpkin Dream Cake, Pumpkin Pie Crisp and Caramel Apple Dump Cake.
I hope you add this Cranberry Relish recipe to your families holiday dinner table! I promise it will be a new instant family favorite!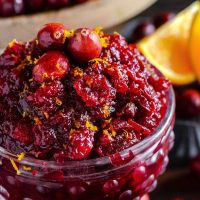 Cranberry Orange Relish Recipe
Yield: serves 10 - 12
Prep Time: 5 minutes
Cook Time: 15 minutes
Total Time: 20 minutes
Cranberry Orange Relish: the best homemade fresh cranberry relish for your Thanksgiving dinner is made with orange zest and Cointreau in just 20 minutes!
Ingredients
1 1/3 cups granulated sugar
1 tablespoon grated fresh ginger
1/2 teaspoon cinnamon
1/2 teaspoon salt
3/4 cup pure cranberry juice
1/3 cup Cointreau (or Grand Marnier or extra cranberry juice)
12 oz fresh cranberries
zest of 2 large oranges
Instructions
In a large saucepan over medium high heat, combine sugar, ginger, cinnamon, salt and cranberry juice. Bring to a boil.
Add cointreau and cranberries, return to a boil.
Bring to a boil, then reduce the heat and simmer until the berries start to pop, about 10 minutes.
Remove from heat. Add orange zest and stir.
Serve warm or refrigerate until cold and serve chilled. Can be made up to a week ahead and stored in fridge.