Sweet, tart, homemade Apple Cranberry Sauce is the vibrant side dish your holiday table needs! With fresh cranberries, sweet Fuji apples, orange juice, sugar, and cinnamon, it's a beautiful and wholesome recipe that's super easy to make.
Easy Homemade Cranberry Sauce with Apples
With all of the rich dishes people typically serve at the holidays, it's great to have something really fresh and zingy on the table. You've got turkey, or maybe ham, mashed potatoes, sweet potatoes, possibly stuffing and gravy, casseroles, pies… and somewhere in all that goodness, lurks a bowl (or plate, if you go with the jellied version) of cranberry sauce. It's sharp, tart, and even a little bitter. The bold color and taste cut through all of that luxury and make it that much better!
But if you've been buying cranberry sauce at the store, you're missing out! Yes, the pre-made kind is good… but homemade is even better, and guess what? It's super easy. Probably the easiest holiday dish you can make!
In this version, cranberries aren't the only star; I add sweet apples and a touch of orange juice. The three fruit flavors blend perfectly. You'll never get store-bought again, if you try this one out!
If you are looking for a homemade cranberry sauce with just cranberries, no apples, make sure and check out my Cranberry Orange Relish recipe as well! It's a little different than this version, but just as delicious with lots of orange zest!
How do you get the bitterness out of cranberry sauce?
You might be thinking that cranberry sauce is too strong and bitter for your taste, but I really encourage you to try this recipe. It might just change your mind! Using sweeter apples counters the tartness of the cranberries, and by adjusting the sugar level to suit your palate, you can make this easy side dish a welcome addition to your table!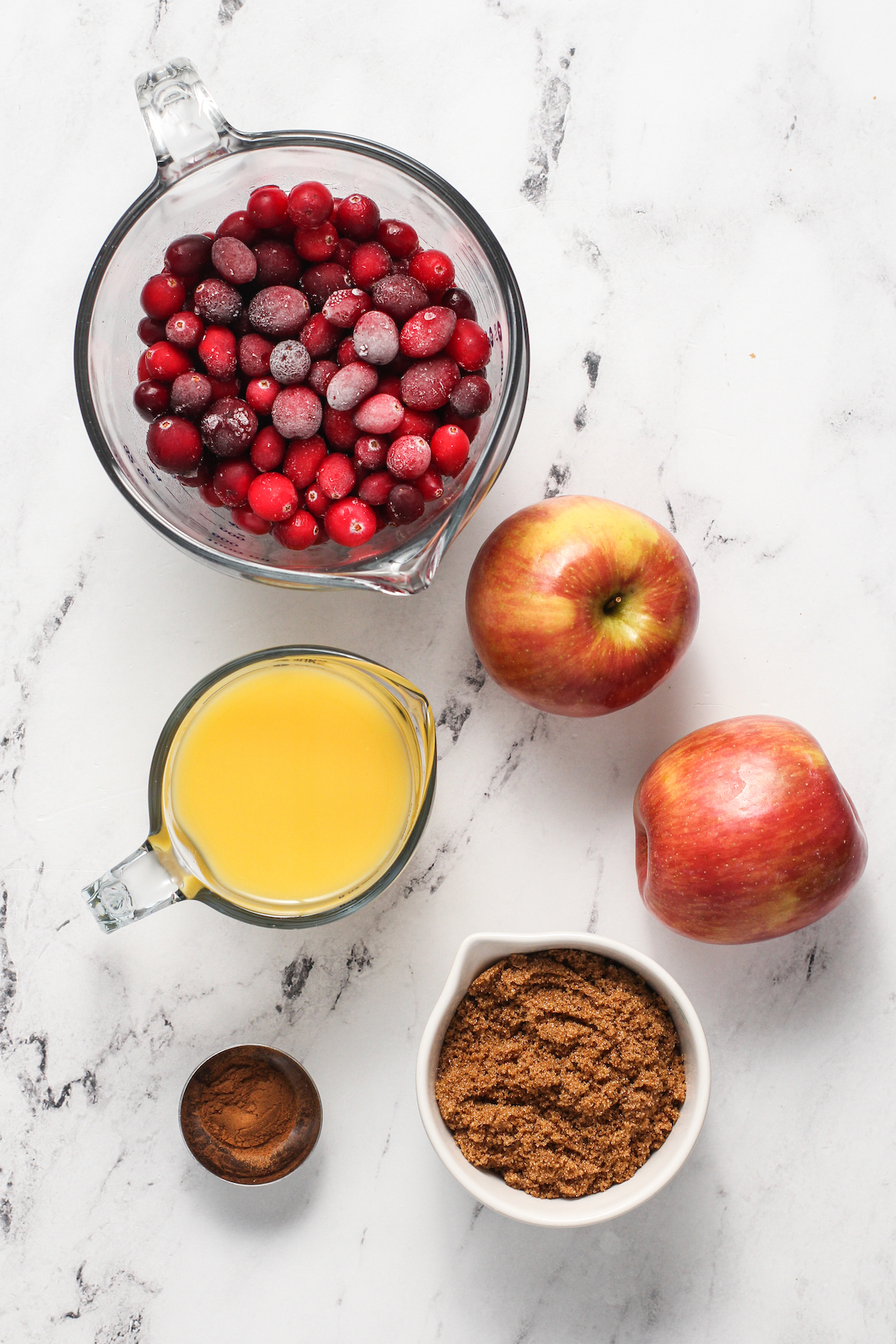 What You'll Need
Even a "fancier" cranberry sauce like this one is super-simple. All you need are five basic ingredients! (For the specific amounts, see the recipe card at the bottom of this post.)
How to Make Apple Cranberry Sauce
Okay, so this section is going to be so short it's almost funny! Really, all there is to making cranberry sauce is a) simmer, and b) serve. That's it!
Simmer the Cranberry Sauce Ingredients. Place the cranberries, diced apples, orange juice, brown sugar, and cinnamon into a small saucepan, and cook over medium heat until the berries have popped and cooked down to a jelly-like consistency. This should take about 15-20 minutes. If it boils too rapidly and looks like it might scorch, turn down the heat to low.
Cool and Serve. Take the simmered sauce off of the heat and set aside to cool. Serve warm or room temperature.
Tips for Success
There are a few ways to tweak this recipe for your own family! Here are some of my favorite tips for making it your own:
Swap the Orange Juice: You can use water, apple juice, or really whatever you like in place of the orange juice. Try grape!
Crush the Cranberries and Apples. Gently mashing and crushing the mixture while it cooks helps you get a softer, more blended cranberry sauce instead of a chunky sauce.
Make a Jellied Sauce: If you like a jellied sauce, just strain the sauce well through a sieve, mashing it with a spoon to force it through. The skins and some pulp will be left behind, and the strained sauce can be chilled in order to gel.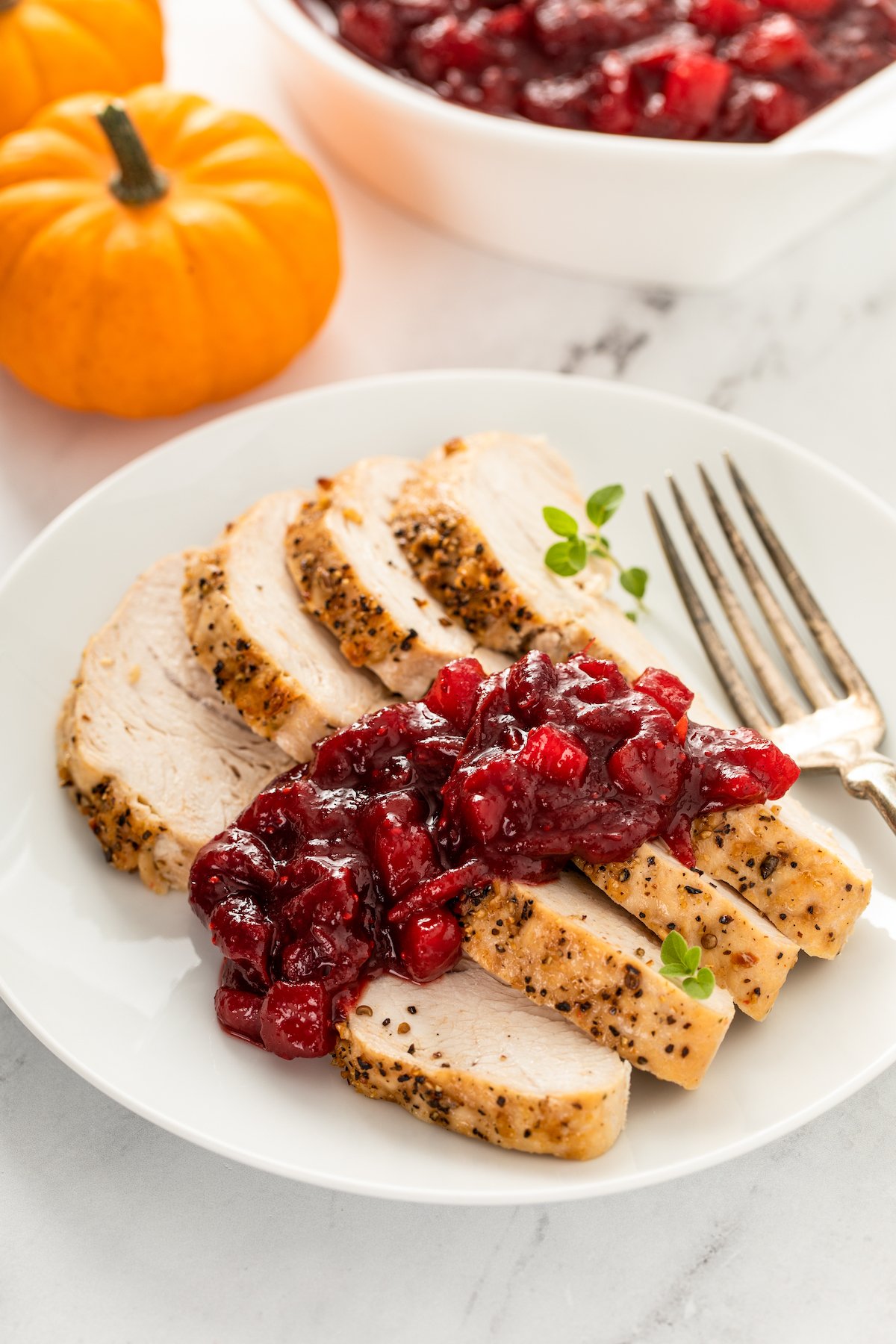 Serving Suggestions
Everyone's holiday meal looks a little bit different, doesn't it? But whatever you serve—ham or turkey, or neither; stuffing, dressing, mashed potatoes, sweet potatoes, none of the above—I hope you try including homemade cranberry sauce. It really is a special, and easy, taste of the season!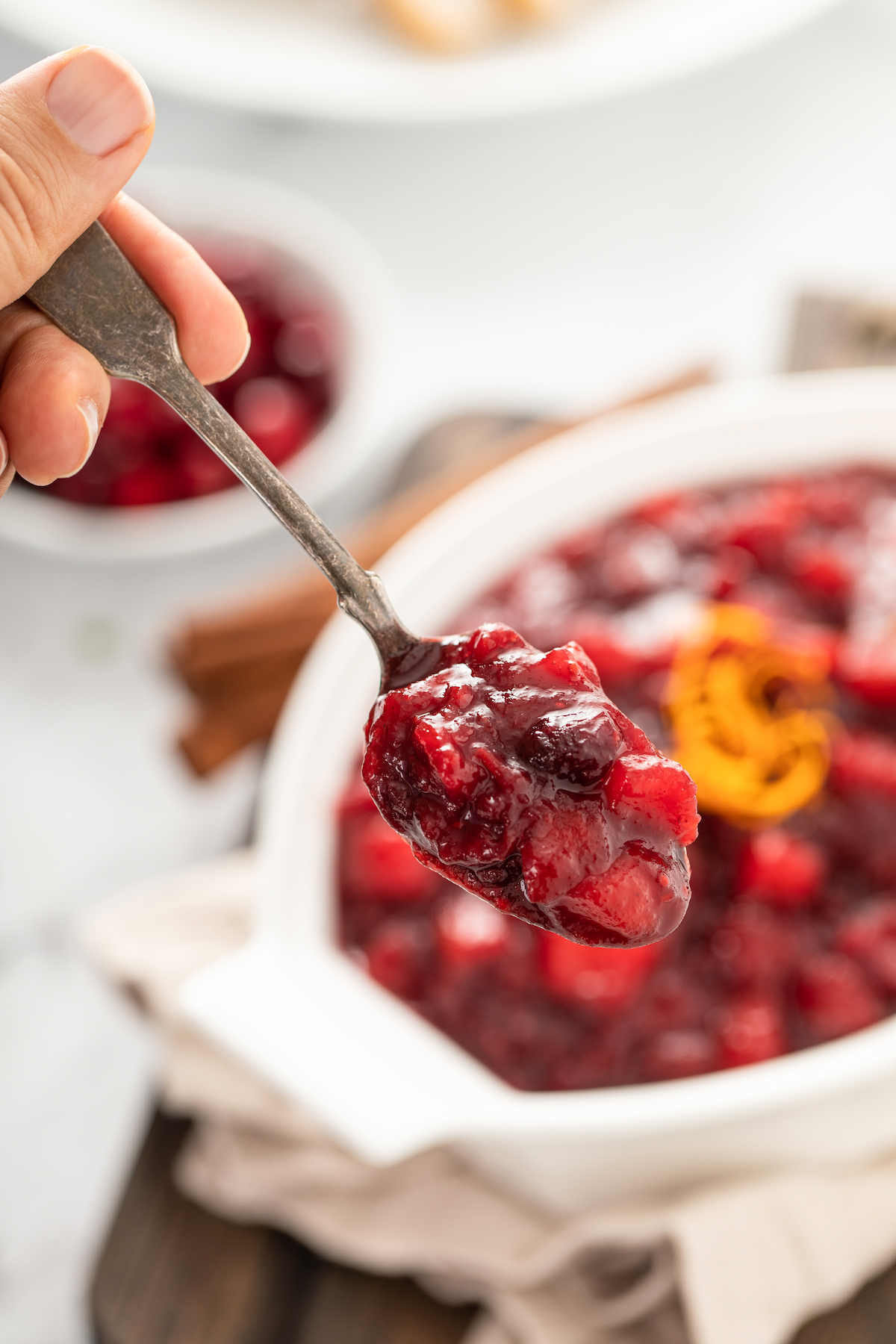 How to Store Leftovers
You should store leftover cranberry sauce in the refrigerator, in an airtight container to keep it as fresh as possible. It will stay good for about 3 days. Serve leftover cranberry sauce cold, or gently reheat it over low heat in a saucepan.
More Holiday Side Dishes
Thanksgiving and Christmas are two of my favorite holidays and I have shared so many of our family recipes over the years. If you are looking for some more foolproof holiday side dish recipes, check out these favorites:
Can You Freeze Apple Cranberry Sauce?
Yes, you can! Just pack the cranberry sauce into freezer bags or containers, and freeze it for up to 4 months.
Yield:
2
cups (4 – 6 servings)
Apple Cranberry Sauce
Sweet and tart, fresh homemade Apple Cranberry Sauce is the vibrant side dish your holiday table needs! It's wholesome, beautiful, and super easy to make. You'll love the combination of sweet Fuji apples and real cranberries.
Ingredients
1

bag

,

12 ounces fresh or frozen cranberries

2

Fuji apples

,

peeled, cored, and diced

1

cup

orange juice

¾

cup

dark brown sugar

1

teaspoon

cinnamon
Instructions
Add all ingredients to a small saucepan, and cook over medium heat until the berries have popped and cooked down to a jelly-like consistency, about 15-20 minutes.

You can gently mash the mixture to help break up the apples and cranberries.

If the mixture is bubbling too rapidly, turn down the heat and simmer until the desired consistency is reached.

Cool and serve.
Nutrition
Serving:
1
,
Calories:
233
kcal
,
Carbohydrates:
58
g
,
Protein:
1
g
,
Sodium:
12
mg
,
Fiber:
3
g
,
Sugar:
51
g
Categories:
More Holiday Favorites
This post may contain affiliate links. Read my disclosure policy.