Made with an entire head of roasted garlic, this is truly the best Garlic Mashed Potatoes recipe you'll find! Ingredients like heavy cream and butter ensure every forkful is extra-fluffy and creamy too.
Why These Are The Best Garlic Mashed Potatoes
What makes this garlic mashed potatoes recipe the BEST? There are a few reasons…
Incredible roasted garlic flavor. We're not just adding minced garlic to these potatoes. We're roasting the garlic first, which softens the taste and ensures every single bite of these potatoes is filled with garlic flavor.
Smooth and creamy texture. This garlic mashed potato recipe results in the smoothest, creamiest texture, thanks to the addition of butter and heavy cream.
Perfect for every occasion. These garlic mashed potatoes make the perfect addition to almost any dinner table, from a Thanksgiving or Christmas feast to a casual weeknight dinner. They pair well with turkey, ham, steak, chicken, pork, and so much more!
Looking for more potato sides? Check out my duchess potatoes, make ahead mashed potatoes, and Instant Pot mashed sweet potatoes!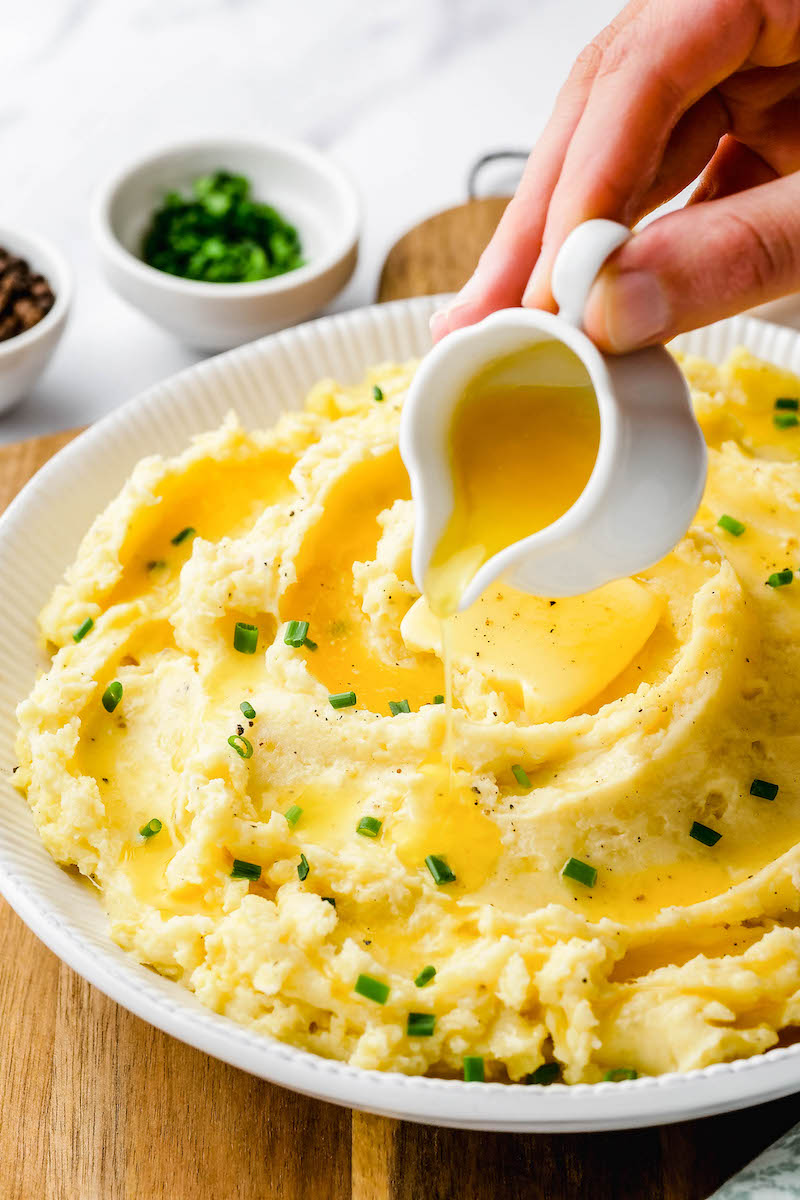 Recipe Ingredients
Let's go over ingredients. Besides the obvious, potatoes and garlic, you're going to need to gather a couple more items before you begin. Be sure to scroll down to the recipe card below for measurements.
Garlic: You'll need a whole head of garlic.
Olive Oil: Or your favorite cooking oil; canola, etc.
Potatoes: I find that Russet or Yukon Gold potatoes work best for these garlic mashed potatoes because they yield the creamiest results. You could also try small red potatoes if you've got some of those.
Seasoning: Salt and pepper.
Heavy Cream: You can also use evaporated milk.
Salted Butter: Salted butter helps add flavor to these garlic mashed potatoes. If you use unsalted butter, you may want to add a pinch of salt.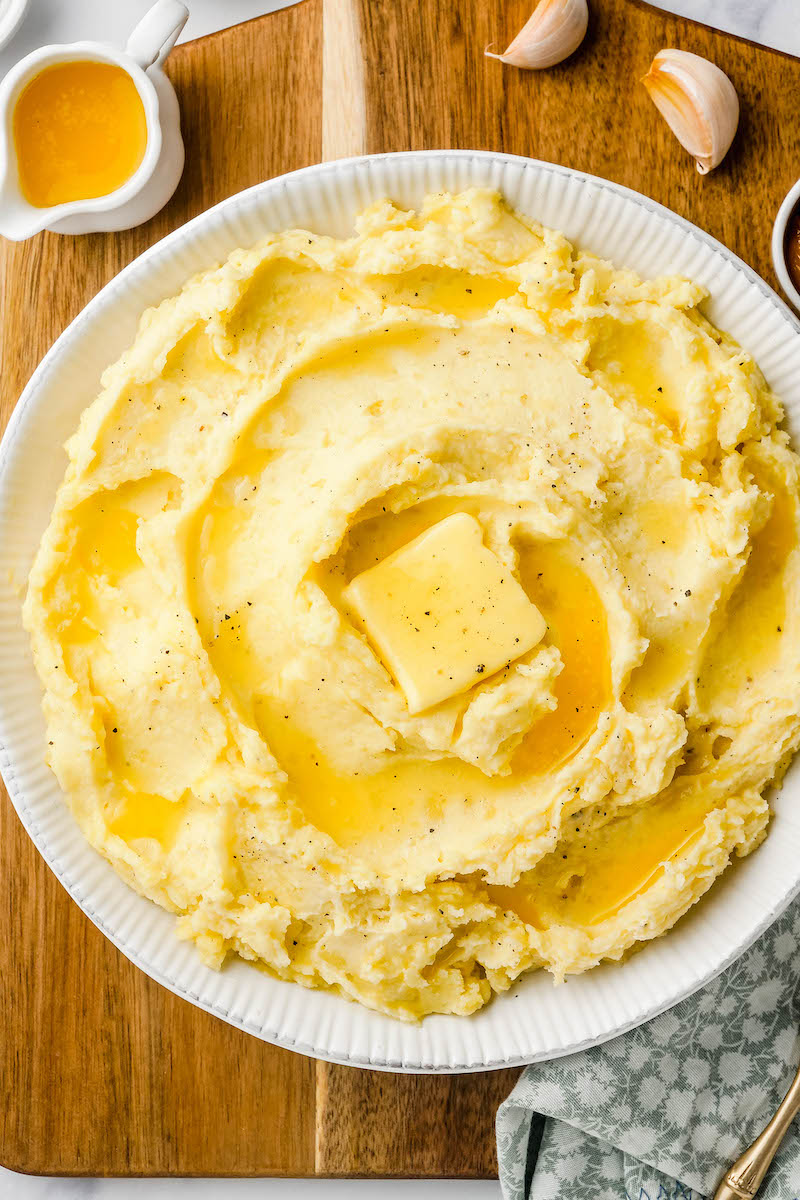 How to Make Garlic Mashed Potatoes
Making garlic mashed potatoes isn't all that different from making your regular classic mashed potatoes. Here's an overview of how to make them. Scroll down to the recipe card for more detailed instructions.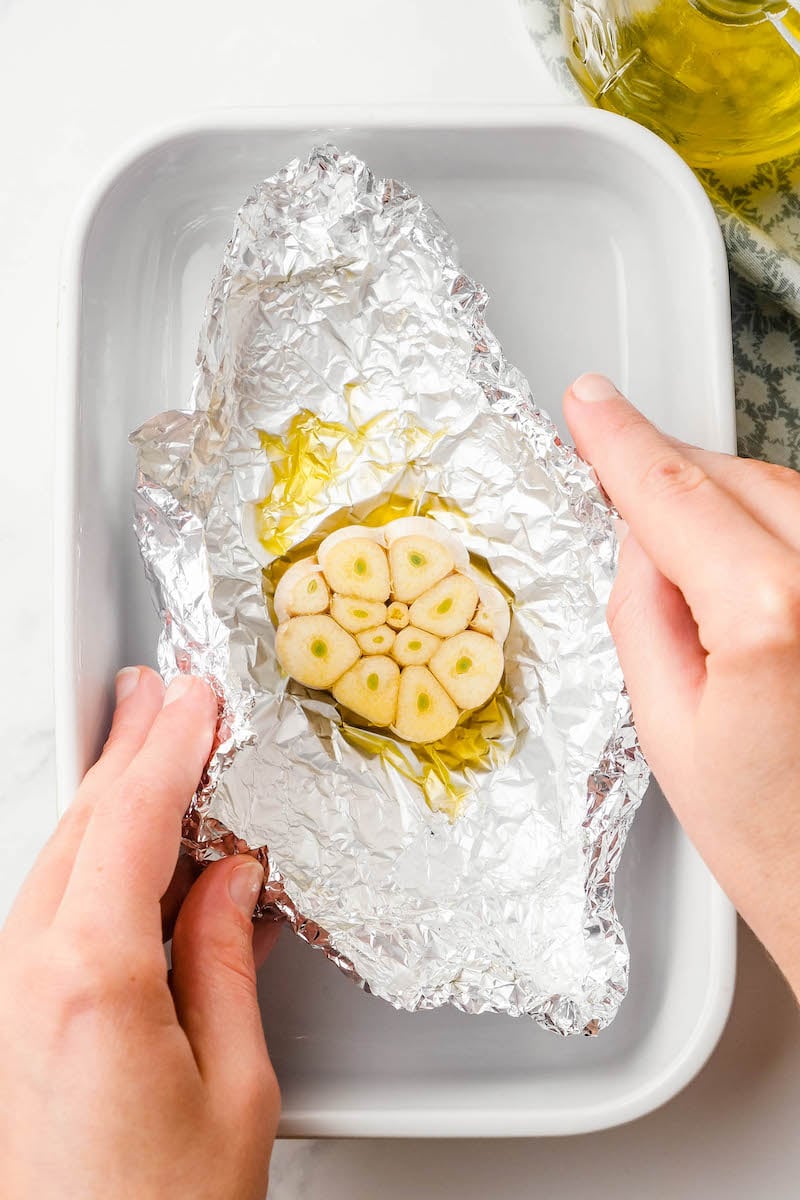 Roast the garlic. Remove the papery outer layers of the head of garlic. Cut 1/4 inch off the top of the head over garlic. Coat in olive oil and wrap in foil. Bake for 35 to 40 minutes, until the cloves are soft and beginning to brown. Remove from the oven and let cool.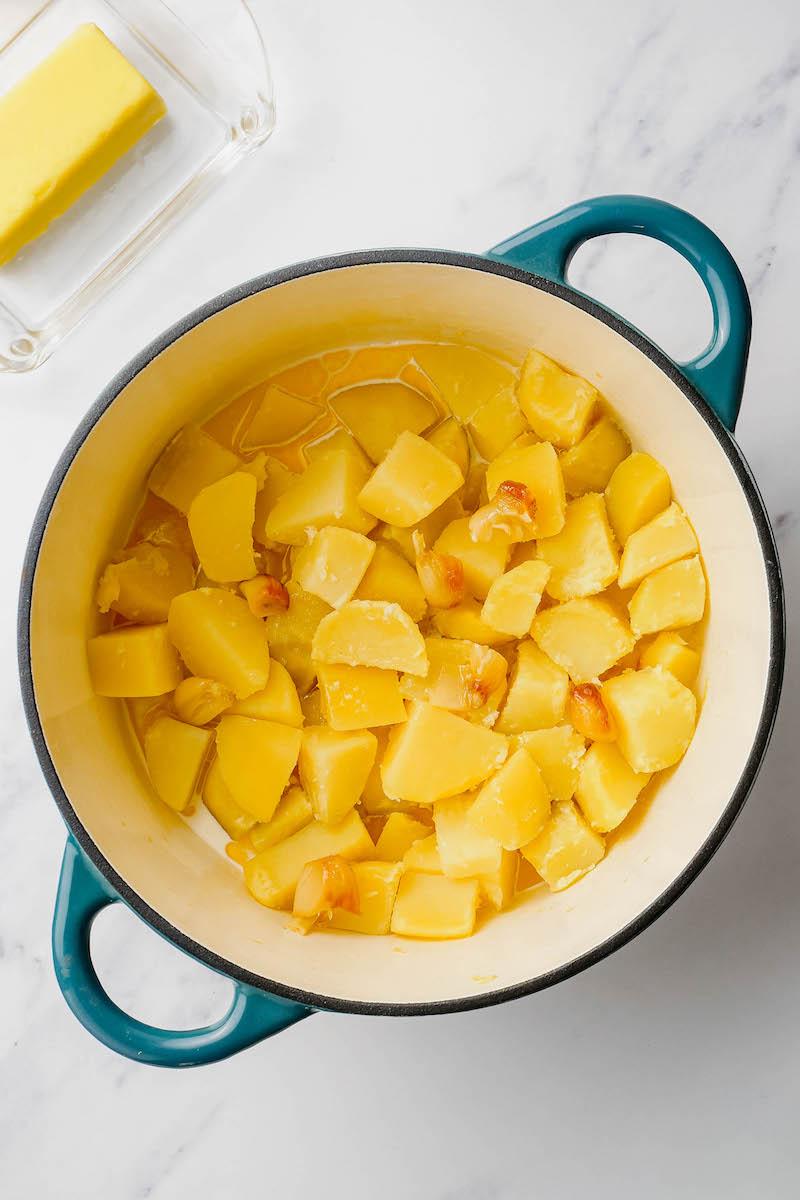 Cook the potatoes. Cook the potatoes in salted water until fork tender. Drain then return to the stove over low heat for 1 to 2 minutes.
Mash the potatoes. Add the heavy cream, butter, and roasted garlic to the potatoes and mash until your desired consistency is reached. Taste test and season with salt and pepper as needed. Enjoy!
Tips for Success
See what I mean about simple? Here are a couple of extra tips, though, to ensure the best possible results with your garlic mashed potatoes:
Don't Over-Mash the Potatoes: You want them to be nice and smooth, but over-mashing them can make the texture sticky or gummy.
How to Mash Potatoes: Some people like to use an electric mixer and some people prefer to do it by hand with a potato masher or a fork – either will work, so it's really up to you!
Add Room Temp Heavy Cream: Cold cream mixed with hot potatoes will do funky things to the texture of your potatoes – its best to let the heavy cream come to room temperature, or at least warm up a little before you add it.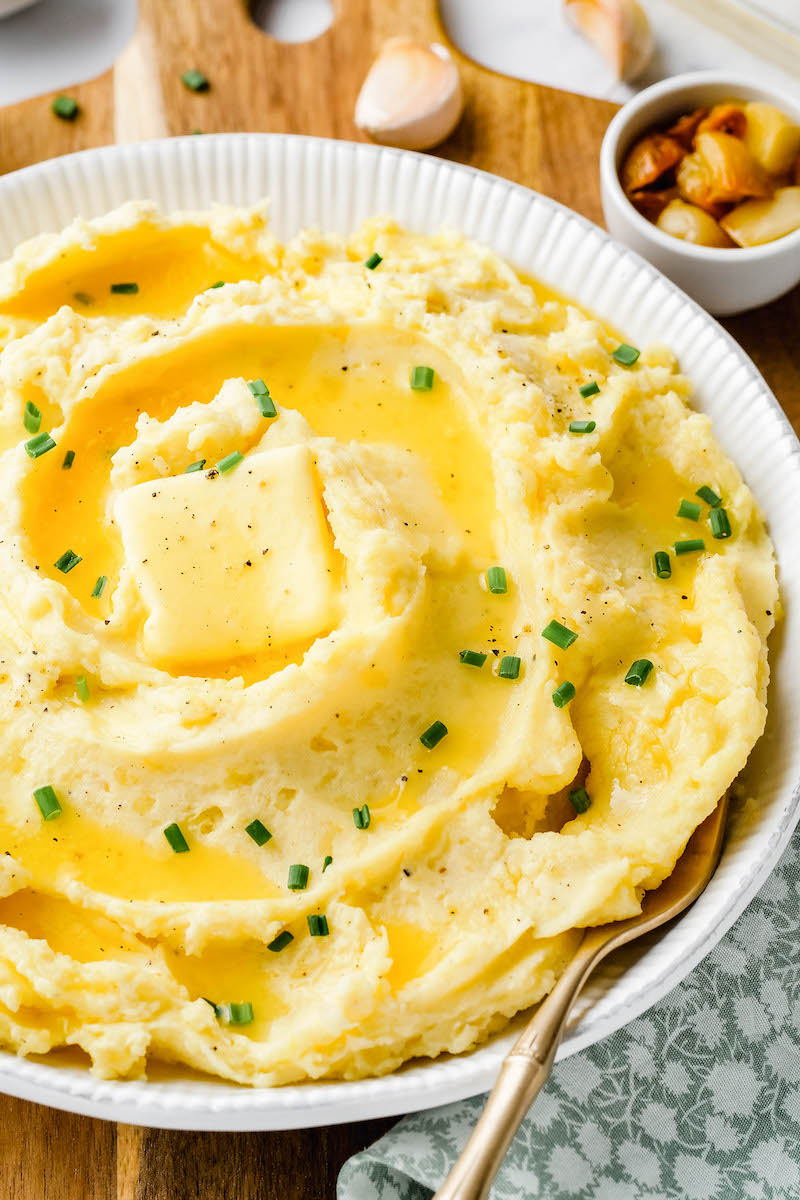 Serving Suggestions
What can you serve garlic mashed potatoes with? Easy – anything! Well, maybe not quite, but there are a lot of options:
Chicken: My personal favorite is this Chicken Fried Chicken!
Turkey: You can serve these mashed potatoes with your Thanksgiving turkey, or just your weeknight turkey and gravy recipe.
Barbecue: Anything that goes on the grill and gets slathered in barbecue sauce will go well with these mashed potatoes.
Green Bean Casserole: Mashed potatoes and this Green Bean Casserole are a duo that you don't want to miss out on.
Fish: Grilled fish goes especially well with mashed potatoes.
How to Store and Reheat Leftovers
Fridge. The best way to store these mashed potatoes is to refrigerate them in an airtight container for 3-4 days.
Reheat. When you want to reheat them just put them in the microwave, or use the oven, covering the mashed potatoes with some aluminum foil until they reach the desired temperature.
More Easy Side Dishes
Garlic Mashed Potatoes
Made with an entire head of roasted garlic, this is truly the best Garlic Mashed Potatoes recipe you'll find! Ingredients like heavy cream and butter ensure every forkful is extra-fluffy and creamy too.
Ingredients
1

head of garlic

1

tablespoon

extra virgin olive oil

2

pounds

potatoes

,

russet or Yukon Gold, peeled and cut into 1 inch chunks

Salt

⅓

cup

heavy cream

,

or evaporated milk

4

tablespoons

salted butter

,

melted

Salt and freshly cracked black pepper

,

to taste
Instructions
Preheat oven to 400°F. Remove any loose, papery, outer layers of the head of garlic, leaving the full head intact with all cloves still connected.

Cut the top 1/4 inch off the top of the head of garlic to expose the tops of the cloves of garlic. Thoroughly and generously coat full head of garlic in olive oil and wrap in foil.

Bake garlic in the oven for 35 to 40 minutes. Open foil and check if he cloves feel soft and are beginning to brown. If they aren't, cook an additional 10 minutes and check again.

Once garlic is soft, remove from oven and let cool. In the meantime, bring a large stock pot of salted water to a boil.

Add potatoes and cook for about 15 minutes, until fork tender. Drain potatoes and return to the stove over low heat to dry for 1 to 2 minutes. (This step removes excess water from the boiled potatoes and keeps your potatoes extra creamy in the end!)

Add in the heavy cream, melted salted butter and squeeze in the roasted garlic into the mashed potatoes and mash until desired consistency. (Toss the leftover outside of head of garlic once you have squeezed out the roasted cloves!)

Taste the mashed potatoes and add salt and pepper, to taste as needed!
Nutrition
Serving:
1
,
Calories:
281
kcal
,
Carbohydrates:
34
g
,
Protein:
5
g
,
Fat:
15
g
,
Saturated Fat:
8
g
,
Polyunsaturated Fat:
6
g
,
Cholesterol:
35
mg
,
Sodium:
274
mg
,
Fiber:
4
g
,
Sugar:
2
g
Categories:
This post may contain affiliate links. Read my disclosure policy.