Roasted Garlic Cauliflower Mash: this amazing cauli mash is full flavored, perfectly textured and unlike any you have ever tasted with one big secret ingredient!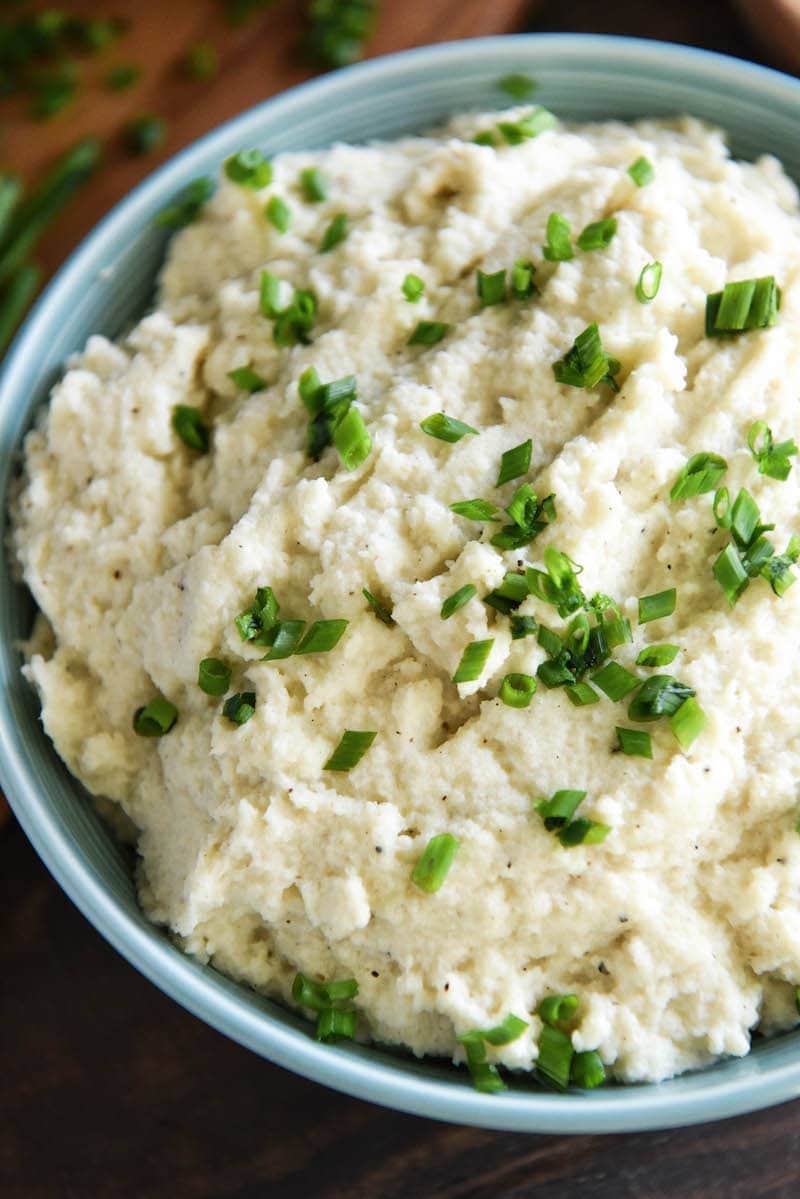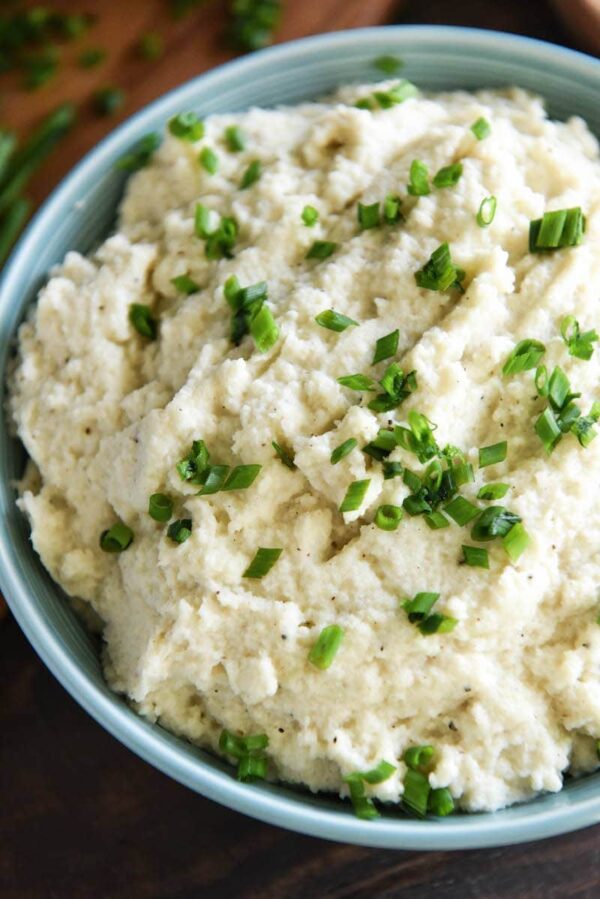 HAPPY NEW YEAR! I'm kicking off 2018 with the best ever cauliflower mash recipe! WAIT!!! Don't run away! I know I said cauliflower mash, but I swear if you try it, you are going to love it.
It took me YEARS to figure out this recipe. No seriously, years. And it wasn't just me, but my mom as well. We kept trying until we finally got it perfect and now we have converted many a "cauliflower mash hater".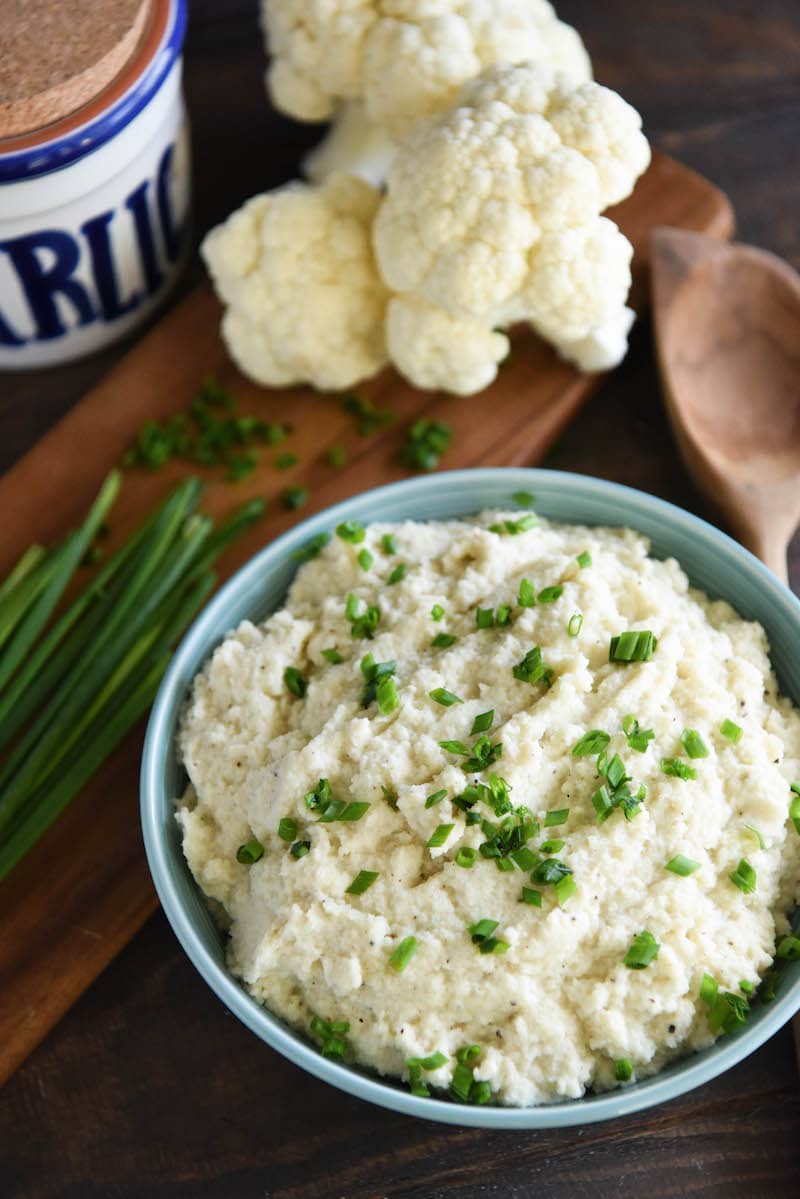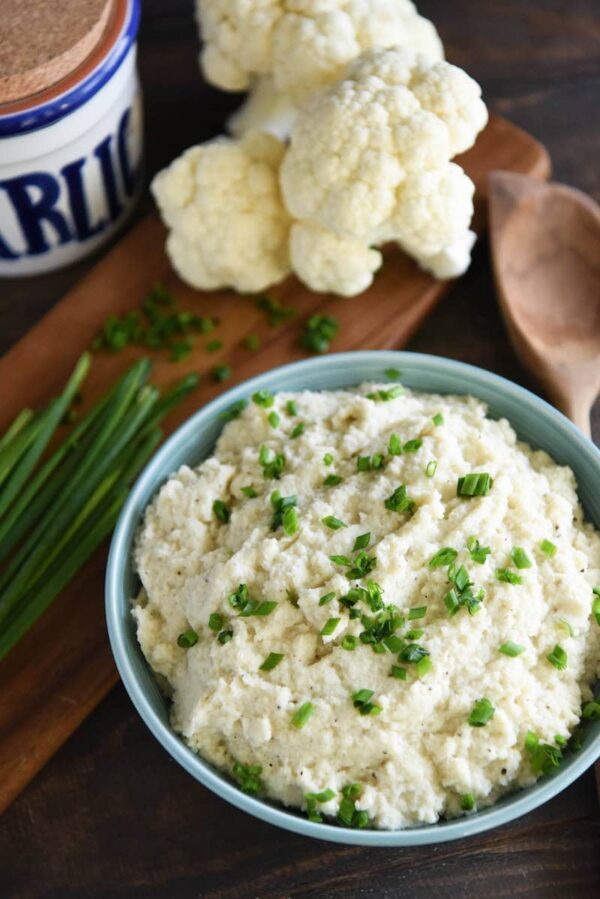 The first years of cauliflower mash were, well, soupy. I couldn't for the life of me figure out how to make it less soupy without adding a potato to it. Which defeated the point of my low carb side dish.
Then I discovered that I was over steaming my cauliflower! You don't want your cauliflower to be super soft, it needs to be just barely fork tender. For me, that means I steam a fresh head of cauli for about 5 minutes in my microwave.
I also include most of the stalk of the cauliflower, not just the florets, and that also provides a lot better overall texture.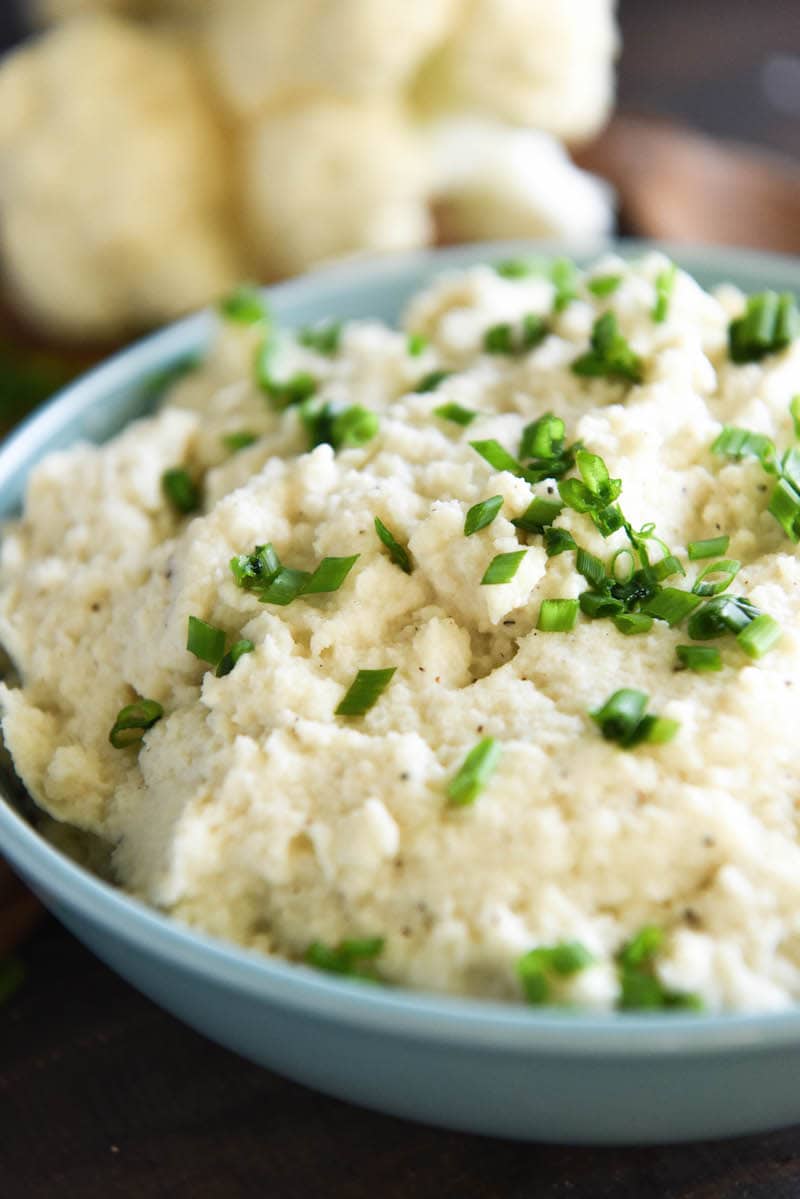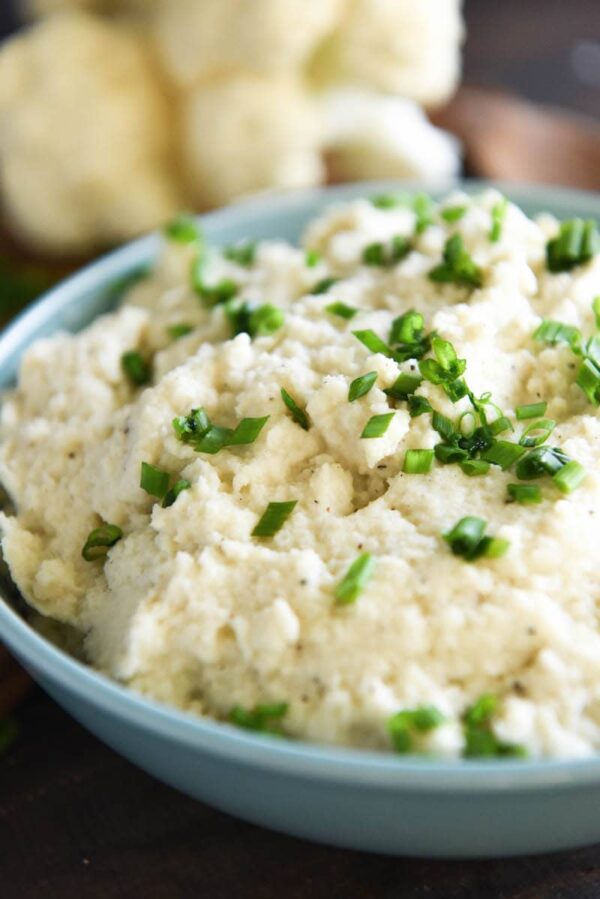 Next, you don't add any ingredients that would make it runny. No sour cream or butter. I know, I know, that's what would make it taste good right?
But don't fret, I swear I have the secret ingredient…Goat Cheese! Yup. It's tangy, it's creamy, and it holds it's texture.
If you do not like goat cheese, you can also use cream cheese. Both work wonderfully and keep it creamy and NOT soupy.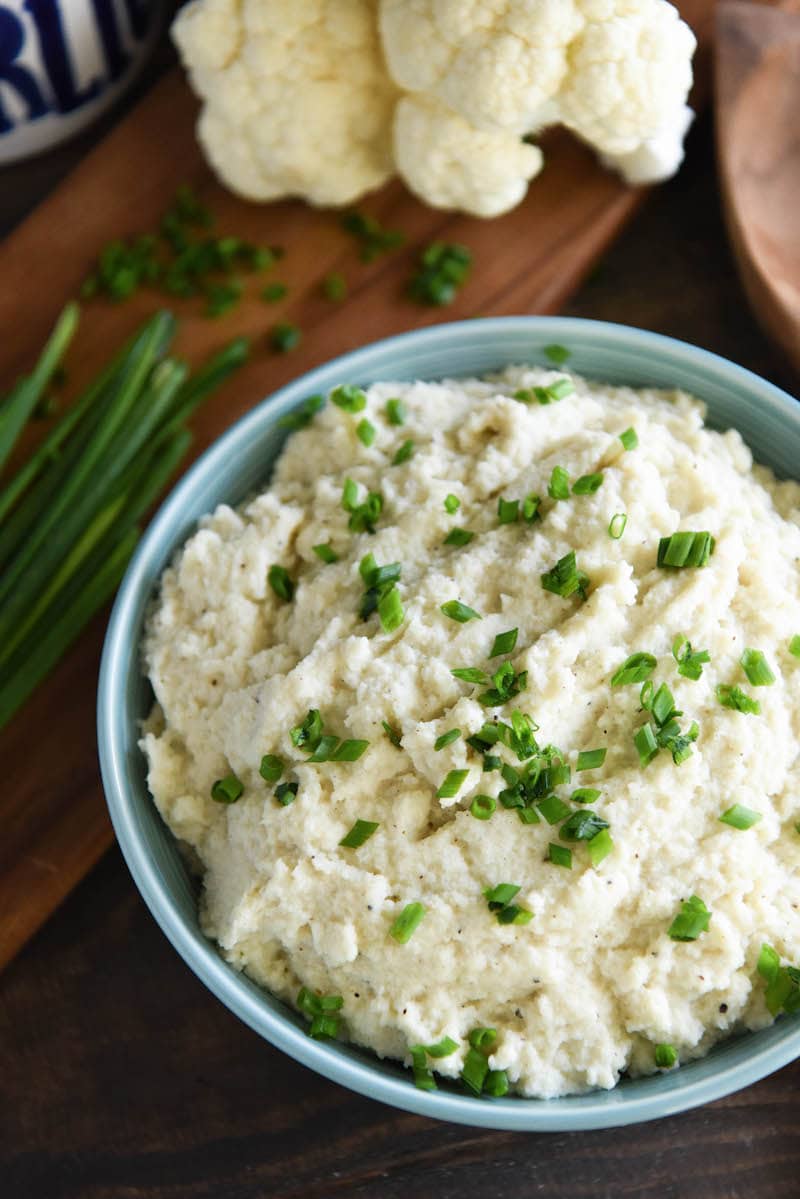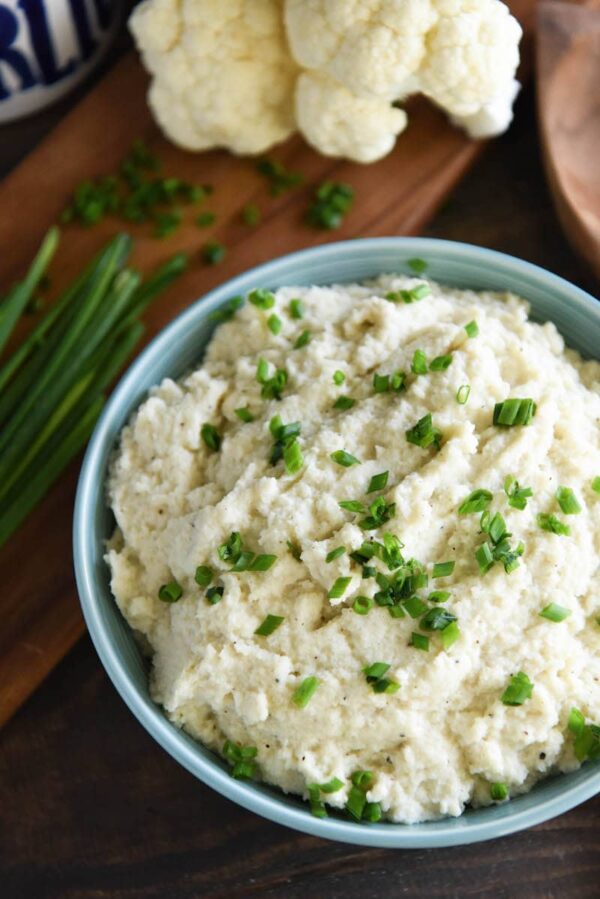 The last major ingredient — roasted garlic. This one is completely optional, but it adds an amazing depth of flavor to your cauli mash. It's nutty and sweet, without being overly pungent.
Roasted garlic can be refrigerated for up to 2 weeks, or frozen for up to 3 months. So, if you would like to make a few heads at once to save time, you absolutely can.
If you have the roasted garlic already made, this Roasted Garlic Cauliflower Mash only takes 15 minutes start to finish. It's the perfect weeknight side dish!
I hope you try this recipe for my favorite ever Roasted Garlic Cauliflower Mash. I have been eating cauliflower mash for almost 5 years now, but I just finally nailed the recipe and am ready to share it.
Yield: 6 servings
Roasted Garlic Cauliflower Mash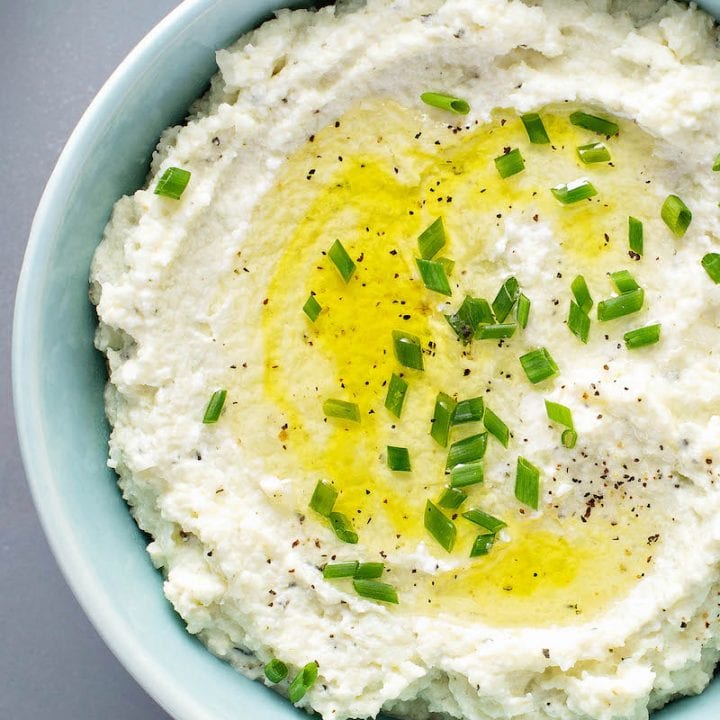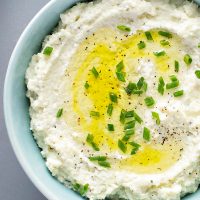 Roasted Garlic Cauliflower Mash is full of flavor and perfectly creamy. A secret ingredient makes this the best low carb and satisfying alternative to mashed potatoes!
Total Time
1 hour
15 minutes
Ingredients
1 large head garlic
2 tablespoons olive oil
1 large head of cauliflower, cut into florets
4 oz herbed goat cheese
salt & pepper, to taste
fresh chives, optional garnish
Instructions
Preheat oven to 400°F. Slice the top off the head of garlic to expose the tops of the garlic cloves.
Drizzle the garlic generously with olive oil and wrap with foil. Bake garlic for 45 to 50 minutes, until garlic is nice and soft. Remove garlic from oven and set aside to cool.
Place cauliflower and a few tablespoons of water in a microwave safe bowl with a lid (I use a microwave steamer container, but you can also use a glass casserole dish if it has a microwave safe lid.)
Cook for 5 to 6 minutes on high, until just fork tender. You do not want to overcook your cauliflower, or your cauli mash will come out runny/soupy. Drain excess water from cauliflower.
Squeeze the roasted garlic out of the garlic clove by hand into the food processor. Add cooked cauliflower, goat cheese, salt and pepper to food processor. Puree until smooth. Serve garnished with chives, if desired.
Nutrition Information:
Yield:
6
Serving Size:
1
Amount Per Serving:
Calories:

85
Total Fat:

6g
Saturated Fat:

1g
Trans Fat:

0g
Unsaturated Fat:

4g
Cholesterol:

2mg
Sodium:

92mg
Carbohydrates:

6g
Fiber:

3g
Sugar:

3g
Protein:

4g
Want to Save This Recipe?
This post may contain affiliate links. Read my disclosure policy.