Thanks to a special secret ingredient, this amazing Roasted Garlic Cauliflower Mash is the best I've ever tasted! Full of flavor and perfectly creamy, it's my favorite low-carb, equally decadent alternative to mashed potatoes! You'll never see cauliflower the same way again.
Easy Roasted Garlic Cauliflower Mash
Have you ever made an alternative that was just as delicious as an original recipe, or perhaps even better in its own right? Allow me to introduce you to the most amazing Roasted Garlic Cauliflower Mash: all the creamy texture and savory flavors of your favorite mashed potato recipes, with significantly less carbs!
This is an easy keto recipe that works fabulously as a mashed potato alternative. Even the staunchest mashed potato fans in my family have a soft spot for this creamy cauli mash! I make it often to pair next to roasts, casseroles, cooked veggies and more during the cooler fall and winter months.
Thanks to a maybe not-so-secret secret ingredient, this is the ultimate guilt-free side dish. Have a guess as to what it might be? You'll just have to read on to find out!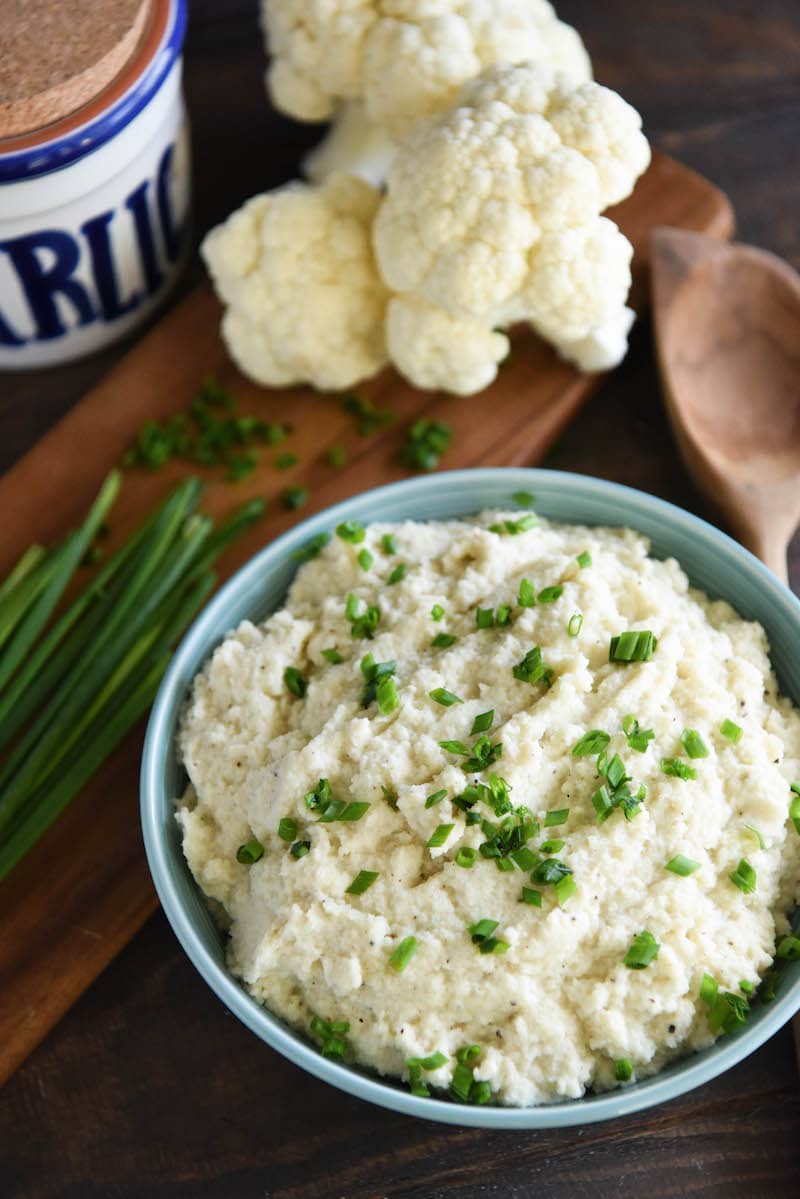 What You'll Need
All the staples added to mashed potatoes for flavor – sour cream, butter – won't cut it here! But are you ready for my secret ingredient for cauliflower mash? Drumroll, please…
… Goat Cheese! It's tangy, it's creamy, and it holds its texture with cauli mash better than sour cream or butter. Alternatively, you can use cream cheese. Both work wonderfully to achieve a creamy, decadent texture that's above all not "soupy". Here's the other key ingredients to make this perfect Garlic Cauliflower Mash:
Cauliflower: One full head cut into florets. Cauliflower has a consistency very similar to mashed potatoes when steamed and blended.
Garlic: A whole large head of fresh garlic.
Olive Oil: For drizzling over the garlic prior to roasting.
Goat Cheese: I use herbed goat cheese, but plain works too!
Salt & Pepper: To taste.
Chives: Fresh chopped chives for an optional garnish.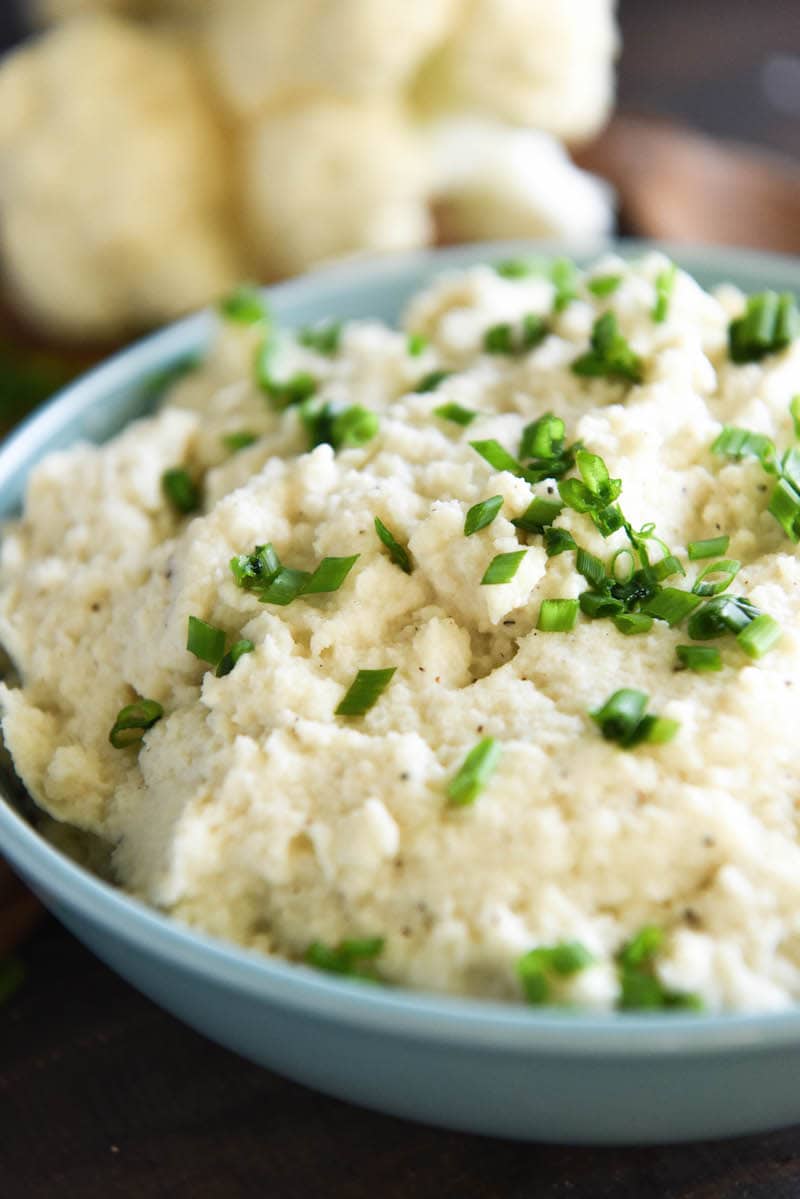 How to Make Roasted Garlic Cauliflower Mash
This easy recipe comes together in 15 minutes! Below are the steps for quick and delicious cauliflower mash:
Prep & Bake the Garlic: Slice the top off the head of garlic and drizzle the exposed garlic cloves generously with olive oil. Wrap the whole head with foil and bake it in an oven that's been preheated to 400°F. Once the garlic is nice and soft, take it out and let it cool.
Steam the Cauliflower: Steam the cauliflower on the stove or in the microwave on high, until you can just pierce it with a fork. Avoid overcooking the cauliflower as this will result in a cauli mash that's overly mushy and runny.
Blend the Garlic and Cauliflower: Combine the roasted garlic with the steamed cauliflower in a food processor along with the goat cheese, salt and pepper. Puree until the mash is light and smooth.
Serve this flavorful cauli mash garnished with chives. This mash recipe is easy enough to whip up as a healthy low-carb side dish, from everyday dinners to holiday meals!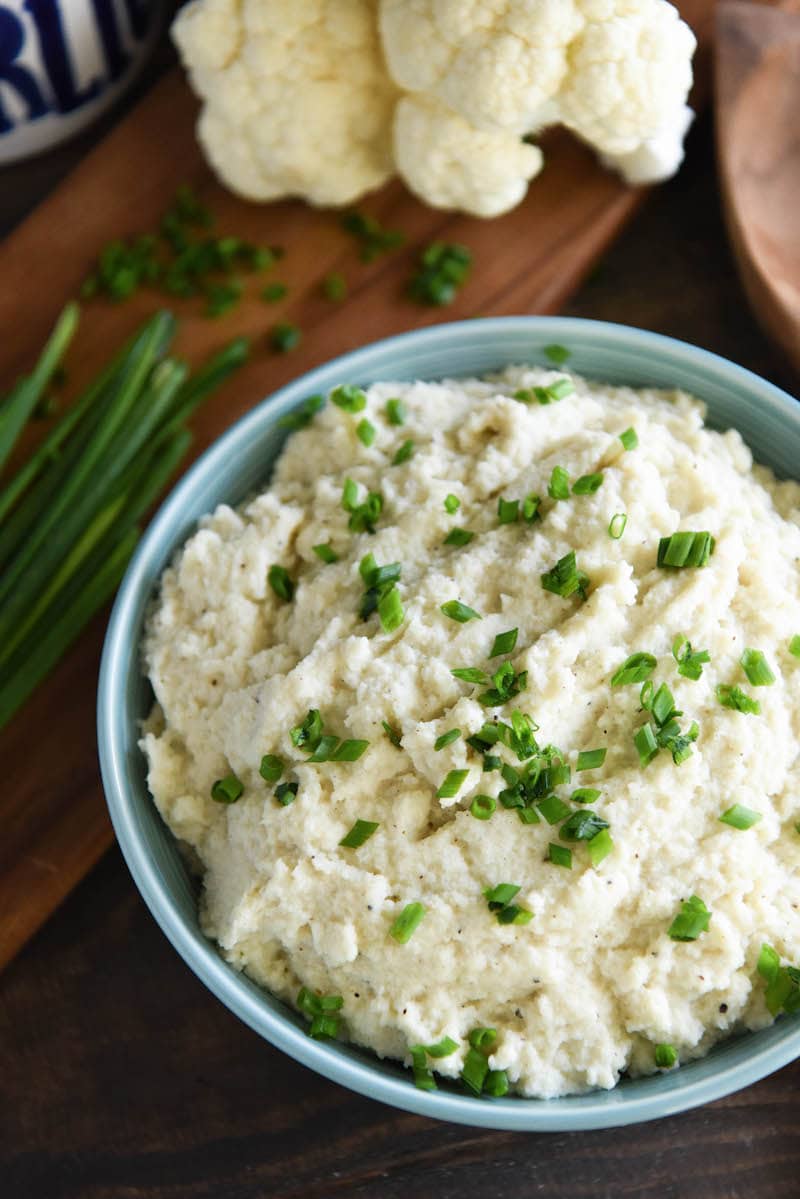 Tips for Success
Avoid "Runny" Ingredients: As tempting as it is to add ingredients like butter, sour cream, heavy cream, or other mashed potato staples to this cauliflower mash, it's important to resist! Stick to add-ins like cheeses and solids to bring flavor and texture to the mashed cauliflower if needed.
Make Ahead: Mashed cauliflower can be made up to 3 days ahead of when you need it! Keep it stored in an airtight container in the refrigerator.
Thicken With Cornstarch: If you feel that your cauliflower mash is still a little on the watery side, a quick trick to thicken it is to make a slurry from 1 tablespoon of cornstarch and 1-2 tablespoons of water, and puree this into the mash.
Add-In Ideas
Craving a little extra flavor and texture? Try these extras to add into your mash:
Parmesan Cheese
Chopped Bacon
Cider or Sherry Vinegar (just a splash!)
Fresh Rosemary or Sage
Serving Suggestions
This garlicky cauliflower mash has won over many skeptics throughout the years, even as a Thanksgiving side! I love to serve this as a healthy mashed potato alternative with some of my favorite cold-weather meals:
How to Store and Reheat Leftovers
How to store: Store this Roasted Garlic Cauliflower Mash in an airtight container in the refrigerator for up to 5 days.
To Reheat: Reheating cauliflower mash can be done on the stovetop or in the microwave. If reheating on the stove, it's best to use a double-boiler technique: fill a saucepan about halfway with water and bring to a boil, then lower the heat and place a stainless steel or heat-resistant bowl filled with the mash over top. Cover and warm the cauli mash on low until heated through.
Can I Freeze This?
To freeze, once the mash is cooled completely place it in a freezer-safe container or resealable, airtight bag. Keep frozen for up to 3 months, and thaw overnight in the fridge before reheating and serving. You can also chip off blocks of mash to thaw and reheat a little at a time!
More Low Carb Recipes to Try
Healthy eating just got easier! Try these other fabulous low carb dinner recipes:
Roasted Garlic Cauliflower Mash
Roasted Garlic Cauliflower Mash is full of flavor and perfectly creamy. A secret ingredient makes this the best low carb and satisfying alternative to mashed potatoes!
Ingredients
1

large head garlic

2

tablespoons

olive oil

1

large head of cauliflower

,

cut into florets

4

oz

herbed goat cheese

salt & pepper

,

to taste

fresh chives

,

optional garnish
Instructions
Preheat oven to 400°F. Slice the top off the head of garlic to expose the tops of the garlic cloves.

Drizzle the garlic generously with olive oil and wrap with foil. Bake garlic for 45  to 50 minutes, until garlic is nice and soft. Remove garlic from oven and set aside to cool.

Place cauliflower and a few tablespoons of water in a microwave safe bowl with a lid (I use a microwave steamer container, but you can also use a glass casserole dish if it has a microwave safe lid.)

Cook for 5 to 6 minutes on high, until just fork tender. You do not want to overcook your cauliflower, or your cauli mash will come out runny/soupy. Drain excess water from cauliflower.

Squeeze the roasted garlic out of the garlic clove by hand into the food processor. Add cooked cauliflower, goat cheese, salt and pepper to food processor. Puree until smooth. Serve garnished with chives, if desired.
Nutrition
Serving:
1
,
Calories:
85
kcal
,
Carbohydrates:
6
g
,
Protein:
4
g
,
Fat:
6
g
,
Saturated Fat:
1
g
,
Polyunsaturated Fat:
4
g
,
Cholesterol:
2
mg
,
Sodium:
92
mg
,
Fiber:
3
g
,
Sugar:
3
g
Categories:
This post may contain affiliate links. Read my disclosure policy.