Garlic Dill Refrigerator Pickles are perfectly crunchy and stay fresh for weeks! These homemade pickles are crazy easy to make, loaded with fresh dill and zesty garlic flavor.
These refrigerator pickles go great with my Slow Cooker Coca Cola Pulled Pork recipe!
Homemade Pickles Made Easy
I love these Garlic Dill Refrigerator Pickles. I grew up helping my family make our own bread and butter pickles, and it turns out, it wasn't a phase!
Fast forward to my kitchen now, and I've been making these zesty homemade pickles for years as a low carb snack. "Quickles" are perfectly crispy with the punchy flavors of fresh garlic and dill, and are so quick and easy to make. I love this pickle recipe since it requires zero canning or special equipment!
I hope you love these garlicky refrigerator pickles as much as we do. They're a staple in our fridge, and soon to be one in yours, too!
What is the Difference Between Refrigerator Pickles and Canned Pickles?
The main difference between refrigerator pickles and canned pickles is shelf life: like the name suggests, refrigerator pickles must be stored in the fridge to keep them from spoiling.
Canned pickles, on the other hand, are the ones you'll find on store shelves. These are passed through a water bath canner that makes them self stable outside of the fridge!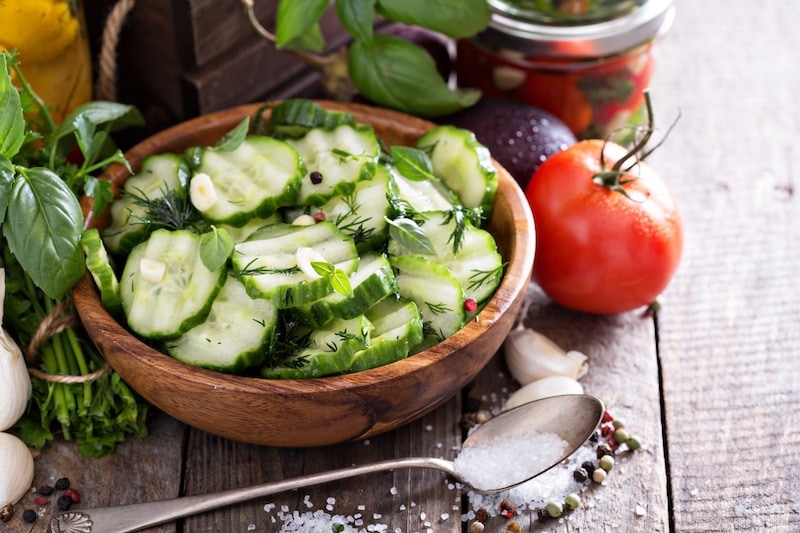 Ingredients You'll Need
This recipe for homemade refrigerator pickles only needs a few key ingredients, and minimal equipment. Just some water, two sterilized quart mason jars, along with the below ingredients:
Pickling Cucumbers: Washed and sliced into thin rounds.
Fresh Dill: I'm a fan of using tons of fresh chopped dill to give these pickles the best flavor when combined with the garlic and spices.
Garlic: Slicing the garlic is key! Slicing gets the most flavor out of the cloves, plus the added bonus of spicy bits of pickled garlic in the mix.
Pickling Spices: I make my own homemade pickling mix from mustard seeds, coriander seeds, and black peppercorns.
Vinegar: White or apple cider vinegar, the key ingredient for pickling besides the pickles!
Sugar: These are not sweet pickles, though the sugar does help cut the acidity. However, you can absolutely skip the sugar for some great low carb pickles instead.
Kosher Salt
What Kind of Cucumbers Should I Use?
Pickling cucumbers, a.k.a Kirby or salad cucumbers, are always the first choice. However, if you can't get your hands on some, you can use English cucumbers as well. Whichever cucumbers you use, the key is that they're fresh and uniform in size, with firm, bumpy skin that's free from blemishes.
You can also slice your cucumbers any way you prefer. Rounds, spears, crinkle coins, or long sandwich slices, the choice is yours! Note that for spears and sandwich slices, you may just need to extend the pickling time by an extra day or two.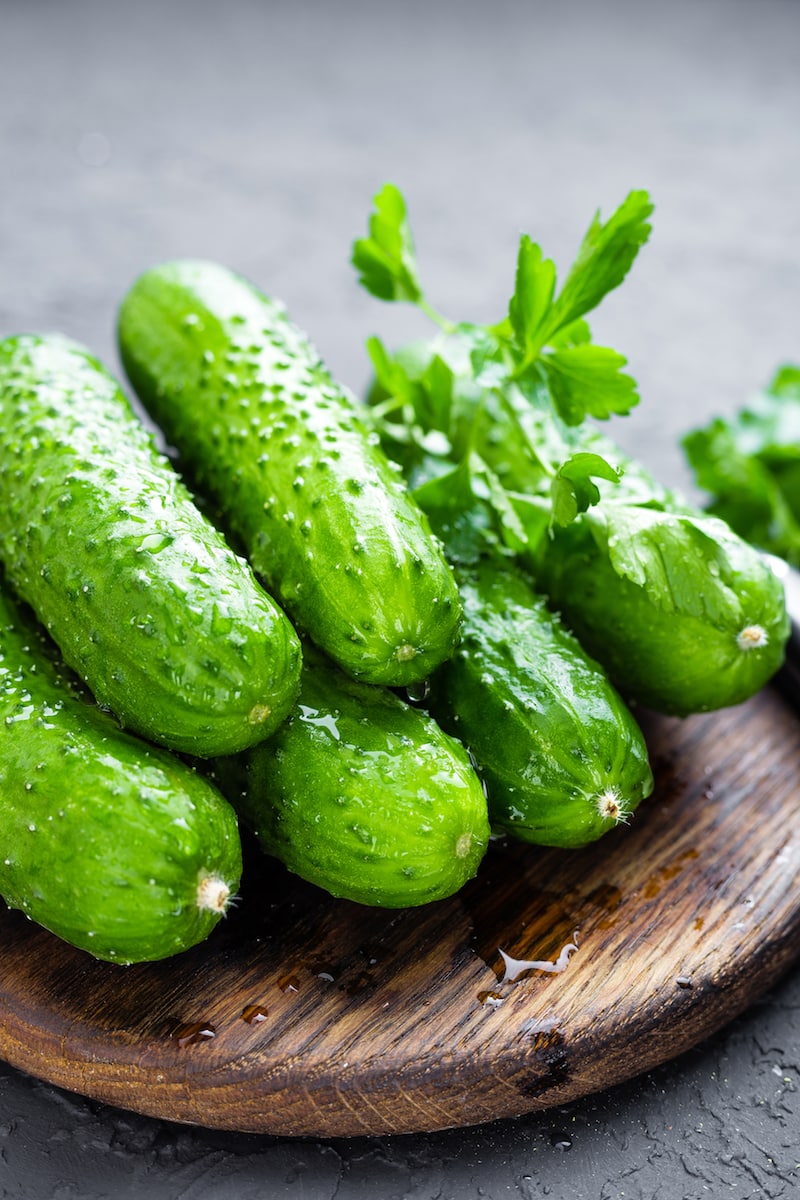 How to Make Refrigerator Pickles
These pickles are super easy to make, even more so if you have a mandoline to slice the cucumbers! I'm such a pickle fanatic, I have two.
Slice the Cucumbers: Use a knife or a mandoline to cut your cucumbers into even sized slices.
Prep the Pickle Jars: Place the sprigs of dill and garlic slices into the bottom of your mason jars, along with the pickling spices. Add in the cucumber slices, followed by the last of the dill and spices. Set the jars aside for now.
Boil the Pickling Mixture: Bring the water, vinegar, sugar and salt to a boil.
Fill the Jars: Pour the pickling mixture over the cucumbers until they're completely covered, and seal your jars. Let them cool on the counter for a little before moving the jars into the fridge for storage.
Chill: Leave your pickles to chill in the fridge, ideally for 12 hours or more, before serving. Keep them stored in the fridge for up to a month!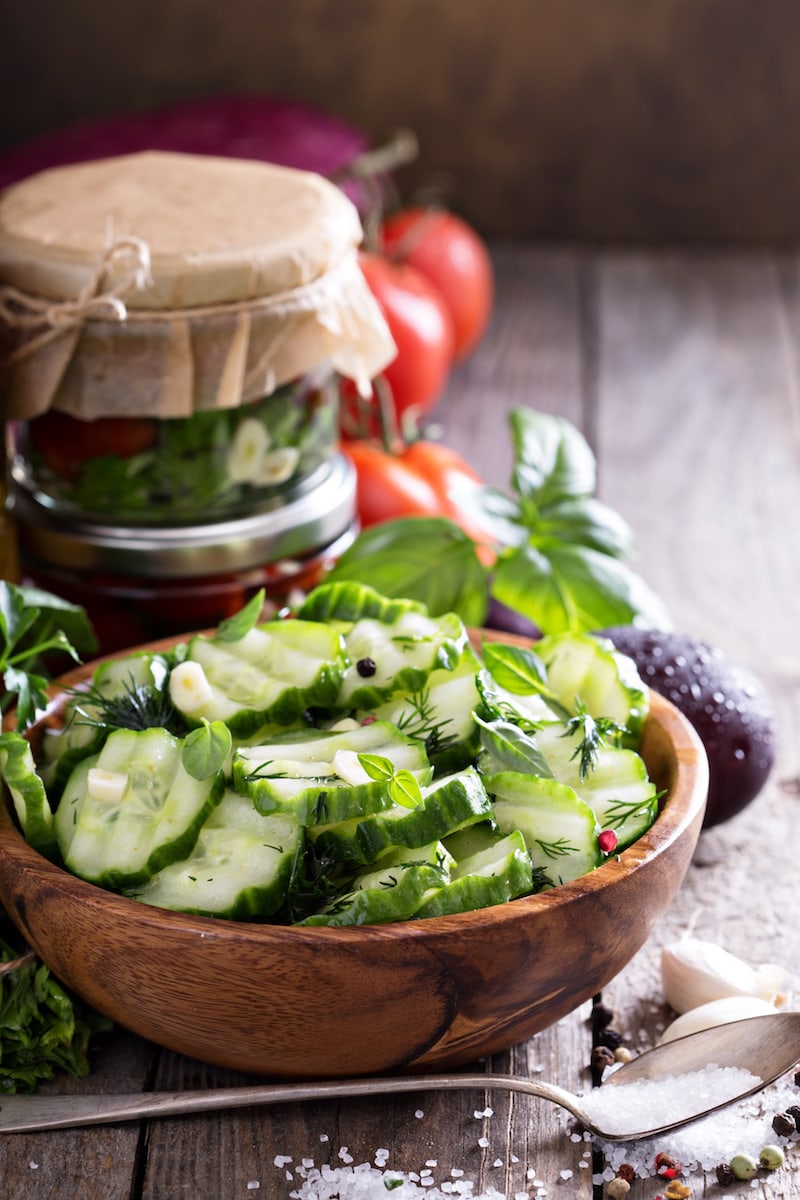 Tips for Pickle Perfection
Give the Pickles Enough Chilling Time: You can eat your pickles within hours, but they're definitely at their best after 12 hours. I'd highly recommend resisting the temptation to open them sooner! (Naturally, if anything looks or smells funky when you open the jars, discard the pickles immediately and start again).
Adjust the Batch Size: This recipe makes a lot of pickles. That being said, you can halve it to make less, or double it, etc.
Variation Ideas
There are so many ways to prepare these easy homemade pickles! Try these flavorful variations:
Spicy Pickles: Add red chili flakes to the pickling spices, or slice up fresh habanero, jalapeno, or Thai chili peppers to add into the jars for some extra kick.
Greek-Style Pickles: Add sun-dried tomatoes and chunks of feta cheese.
Pickled Onions: Add in small red onions.
Bread and Butter Pickles: Add extra sugar to the pickling mixture for sweet pickles. You can play around with the exact amount, but a half cup is a good place to start.
Pickled Vegetables: You can try out this pickling technique with other vegetables like green beans, carrots, etc. If you do, share your success stories in the comments below!
Serving Suggestions
One of my favorite dishes to enjoy refrigerator pickles with is my Slow Cooker Pulled Pork. But you can absolutely serve these pickles all sorts of ways!
Use these pickles and the brine to make delicious homemade Dill Pickle Chicken!
Use your crunchy homemade pickles as a topping for sandwiches, burgers and hot dogs.
Serve these pickles and any variations (see above) as part of a meat and cheese board or veggie platter.
Chop up pickles to use in coleslaws, fresh salads and pasta salads.
How Long Do Homemade Pickles Last?
These homemade pickles will stay fresh for 4-6 weeks if stored properly sealed in the fridge. You can write the dates on the jars if it's helpful! (Although if your household is anything like mine, these pickles won't stay uneaten for long!)
Can I Freeze These?
You can freeze refrigerator pickles for easy freezer pickles instead. Store the pickles in a freezer-safe container (leaving about an inch of space at the top for expansion) and freeze for up to 6 months. Thaw the pickles in the fridge overnight and then enjoy your freezer pickles within a week or two.
More Healthy Vegetable Recipes
Garlic Dill Refrigerator Pickles
Garlic Dill Refrigerator Pickles are perfectly crunchy and stay fresh for weeks! These homemade pickles are crazy easy to make, and loaded with fresh dill, zesty garlic and spices.
Ingredients
a small handful of fresh dill

,

chopped

8

garlic cloves

,

sliced

2

tablespoons

mustard seeds

2

tablespoons

coriander seeds

about 20 black peppercorns

2

pounds

pickling cucumbers

,

washed and sliced in 1/3 inch rounds

2 ¾

cups

of water

1 ¼

cup

white or apple cider vinegar

¼

cup

kosher salt

3

tablespoons

sugar

,

optional (omit to make low carb quickles)

2

quart

size mason jars

,

sterilized
Instructions
In the bottom of each mason jar, place a few sprigs of dill. Place half of the sliced garlic, mustard seeds, coriander seeds and peppercorns in the bottoms of each mason jar. Top with sliced cucumbers. And then top with the remaining dill and spices.

Combine water, vinegar, salt and sugar in a large sauce pan. Bring to a boil, stirring often until salt and sugar have dissolved.

Carefully fill each jar with the boiling water/vinegar/salt mixture, making sure to get the cucumbers completely covered.

Screw on the lids and let cool on counter. Once cooled, transfer to refrigerator and let chill for 12 hours (you can eat them sooner, they will just be crisper and have not taken on all the flavor yet).

They will keep well for several weeks, as long as you keep them refrigerated. (Naturally, if anything looks or smells funky, discard them immediately.)
Nutrition
Serving:
6
pickles
,
Calories:
60
kcal
,
Carbohydrates:
12
g
,
Protein:
2
g
,
Fat:
1
g
,
Polyunsaturated Fat:
1
g
,
Sodium:
3545
mg
,
Fiber:
2
g
,
Sugar:
5
g
Categories: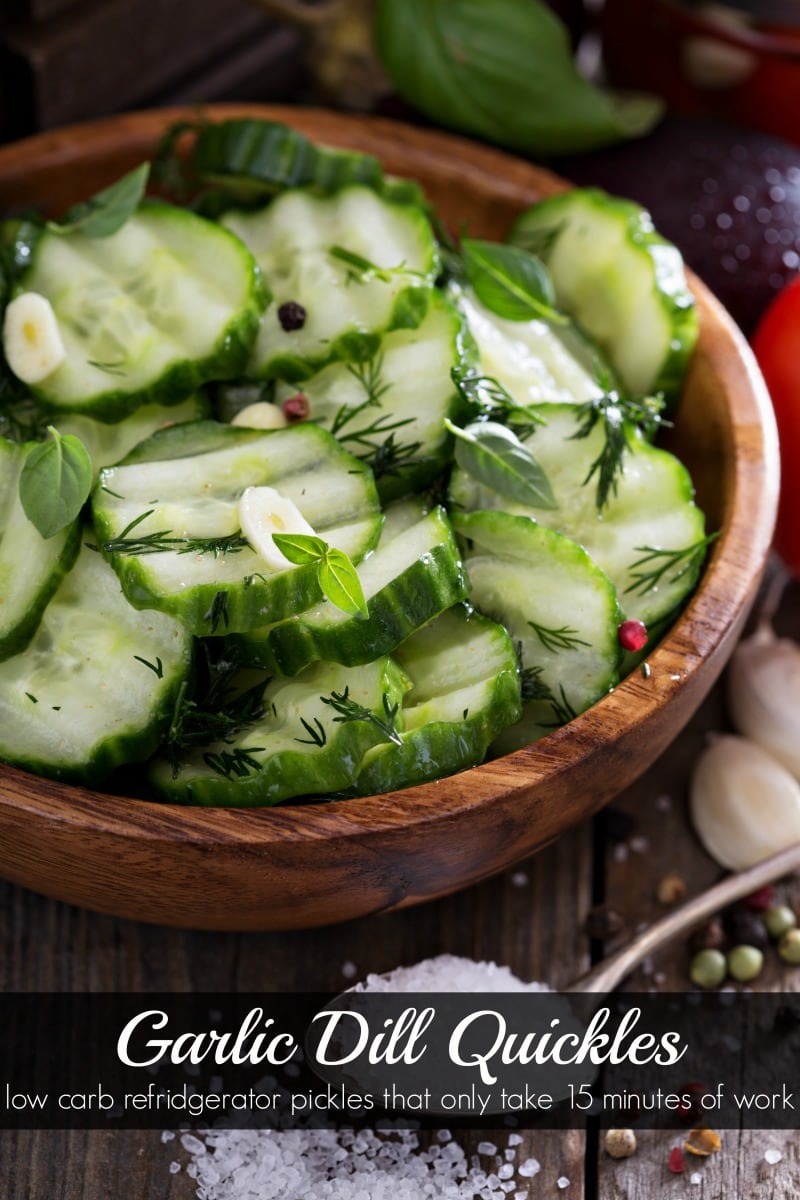 This post may contain affiliate links. Read my disclosure policy.