If you love the taste of hot dogs on the grill, wait until you've had them in the air fryer. This easy Air Fryer Hot Dogs recipe makes perfectly juicy hot dogs with toasted buns in less than 10 minutes!
The Easiest Way to Cook The Best Juicy Hot Dogs
You may feel there's nothing better than a grilled hot dog fresh off the charcoal. I think these air fryer hot dogs might just change your mind! We did a taste test with a grilled hot dog, a boiled hot dog and an air fryer hot dog…and the air fryer version won with all 8 people! It's the best way to make a juicy hot dog with a perfectly crispy exterior in minutes!
When you're craving the taste and texture of hot dogs on the grill, the air fryer delivers! It's a quick and easy method for perfectly crisp franks, no grilling or pan-frying necessary. The flavor is way better than a boiled hot dog, and just as family-approved.
Once you've made these hot and juicy dogs in less than 10 minutes, there's no going back.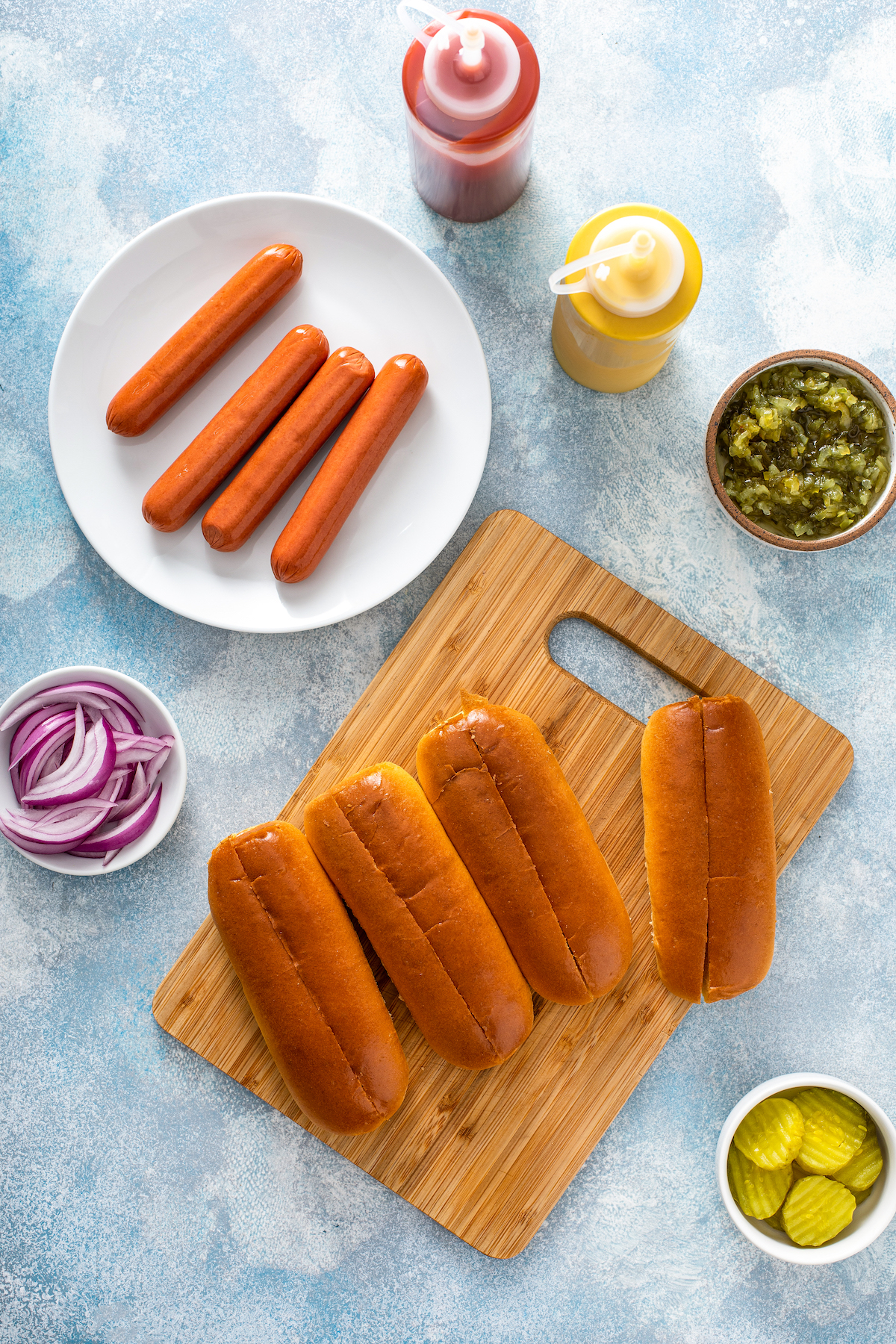 What You'll Need
Since we're sticking with the basics here, you really only need 2 ingredients:
Hot Dogs: I often use beef hot dogs for this recipe, but you can also use other varieties like pork, chicken and turkey hot dogs, or even veggie dogs if you're vegetarian. Keep in mind that the cooking times for different types and sizes of hot dogs may vary. See below for more tips for choosing the best hot dogs!
Hot Dog Buns
What Kind of Hot Dogs Should I Use?
You can find loads of different hot dogs in the meat section of most grocery stores. When I'm shopping for my family, I keep my eye out for the following:
All-beef hot dogs. These are full of flavor and all-around my first choice of hot dog. They're super plump and tend to have less additives.
Low-sodium. Cured meats often contain high levels of preservatives like nitrates and sodium, some more than others. I look for low sodium hot dogs with less saturated fats.
Local suppliers. I love paying a visit to the local butcher when I can. Otherwise, I'll look for hot dog brands that are farmed and produced in my region. Fresh is best!
If you're vegetarian, brands like Beyond Meat also offer great meat-free alternatives to beef hot dogs. You can also use your air fryer to cook frozen hot dogs, see further on in the post for more details!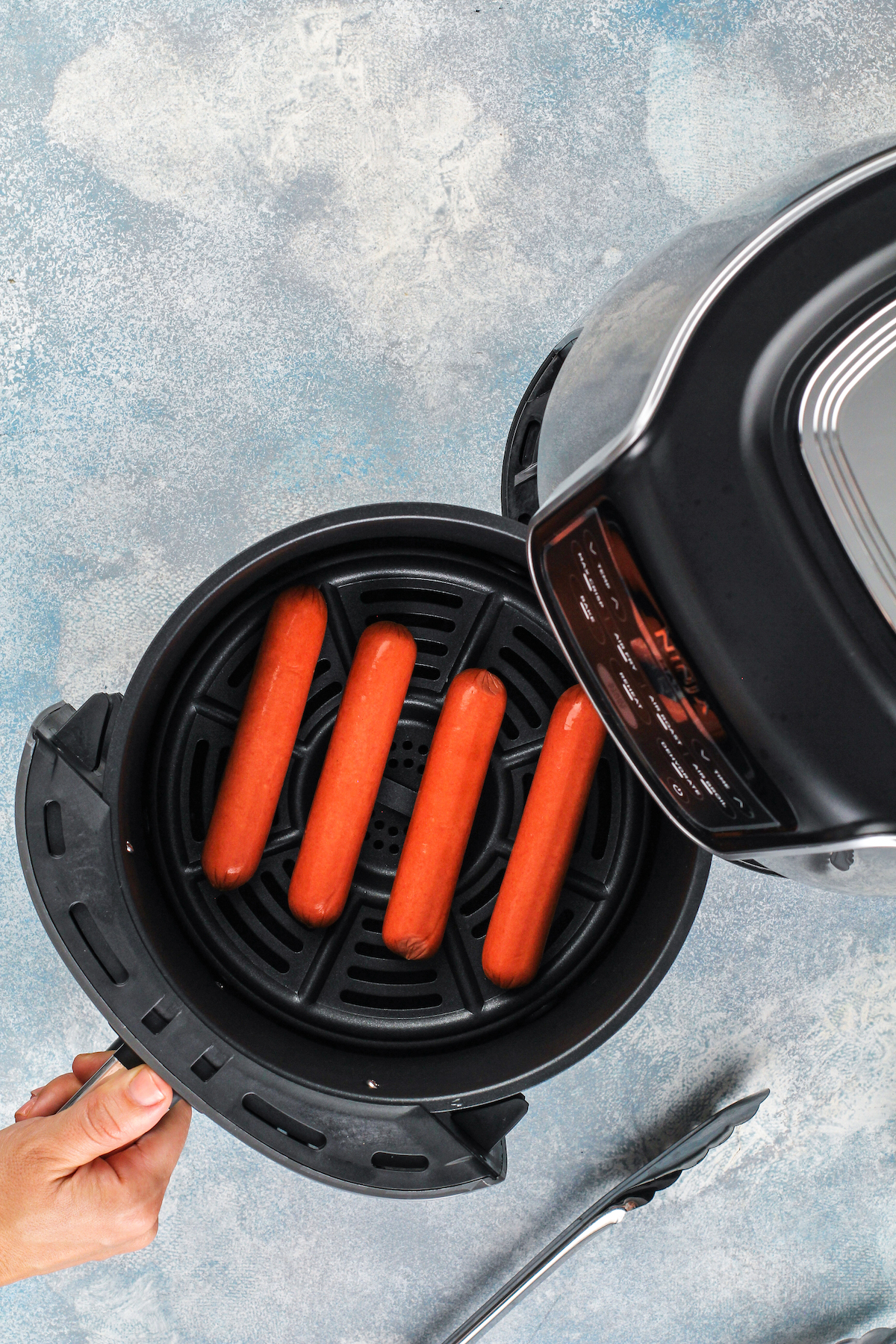 How to Air Fry Hot Dogs
These easy hot dogs are ready in minutes, perfect for quick weeknight meals! Here's how to cook hot dogs in the air fryer:
Preheat and Cook: Let your air fryer come to 400°F. Place your hot dogs into the air fryer basket and set the timer for 5 minutes.
Toast the Buns: After 5 minutes is up, transfer the cooked hot dogs into buns. Next, place the hot dogs (buns and all) back into the fryer at a lower temperature to toast.
Serve your air fried hot dogs right away. Of course, you'll also need your favorite hot dog topping, see the section later in the post for ideas!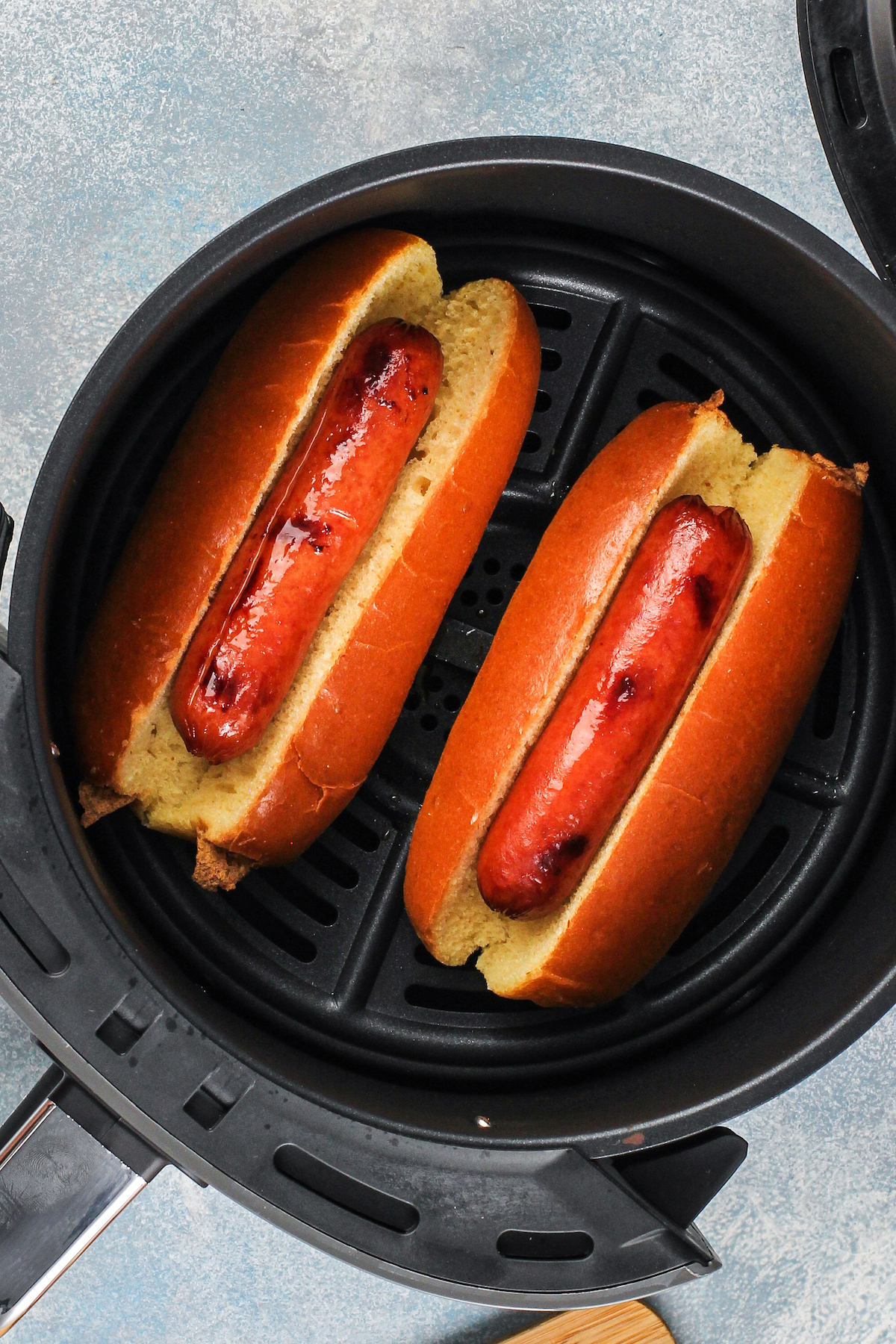 Tips and Tricks
Get the Look: Hot dogs rarely split while they're cooked in the air fryer. That being said, if you're going for that grilled hot dog aesthetic, use a knife to cut slits along the top before placing your hot dog into the basket.
Adapt to Your Air Fryer: Not all air fryer models cook the same, and not all hot dogs are the same size and thickness. Check your hot dogs as they cook and adjust the timing as needed.
Skip the Oil: No need to oil the hot dogs or the air fryer basket with this recipe!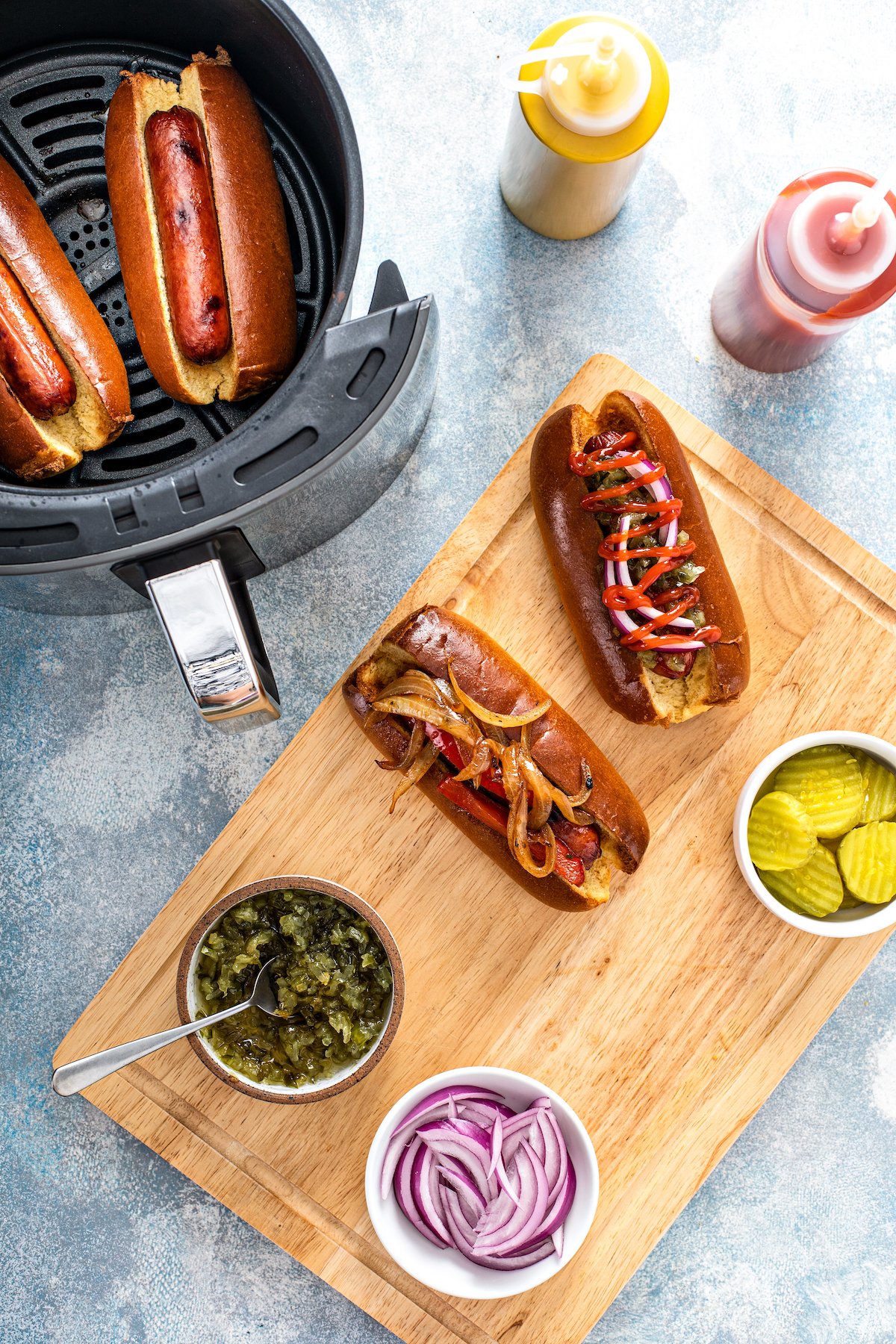 Topping Ideas
Of course, there are the classic hot dog toppings like ketchup, mustard, relish, and onions. But the buck doesn't stop there! The possibilities for toppings are endless, here are some ideas: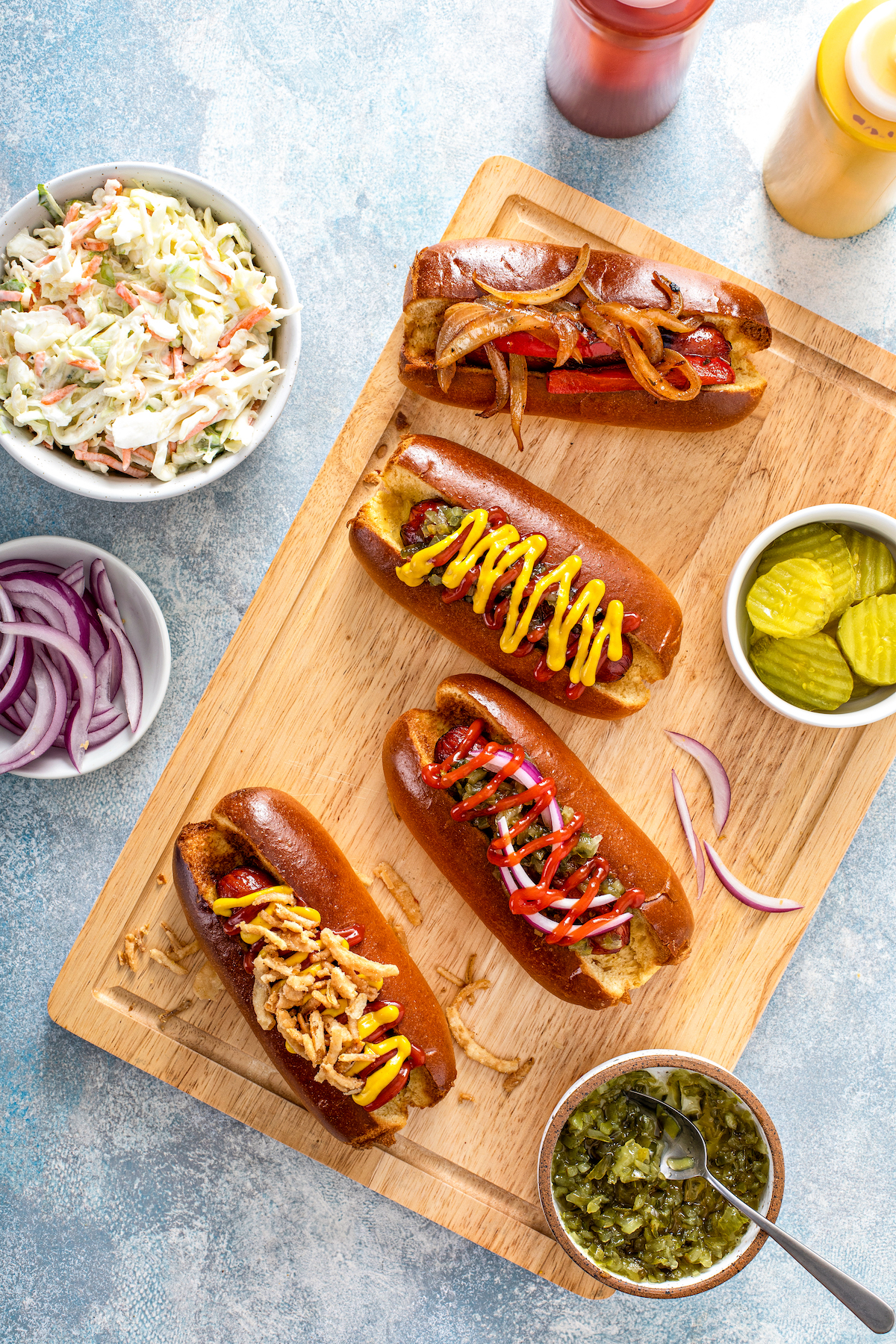 Serving Suggestions
Whether you're making classic hot dogs or something a little more fully loaded, here are some fun and tasty ways to serve your franks fresh from the air fryer: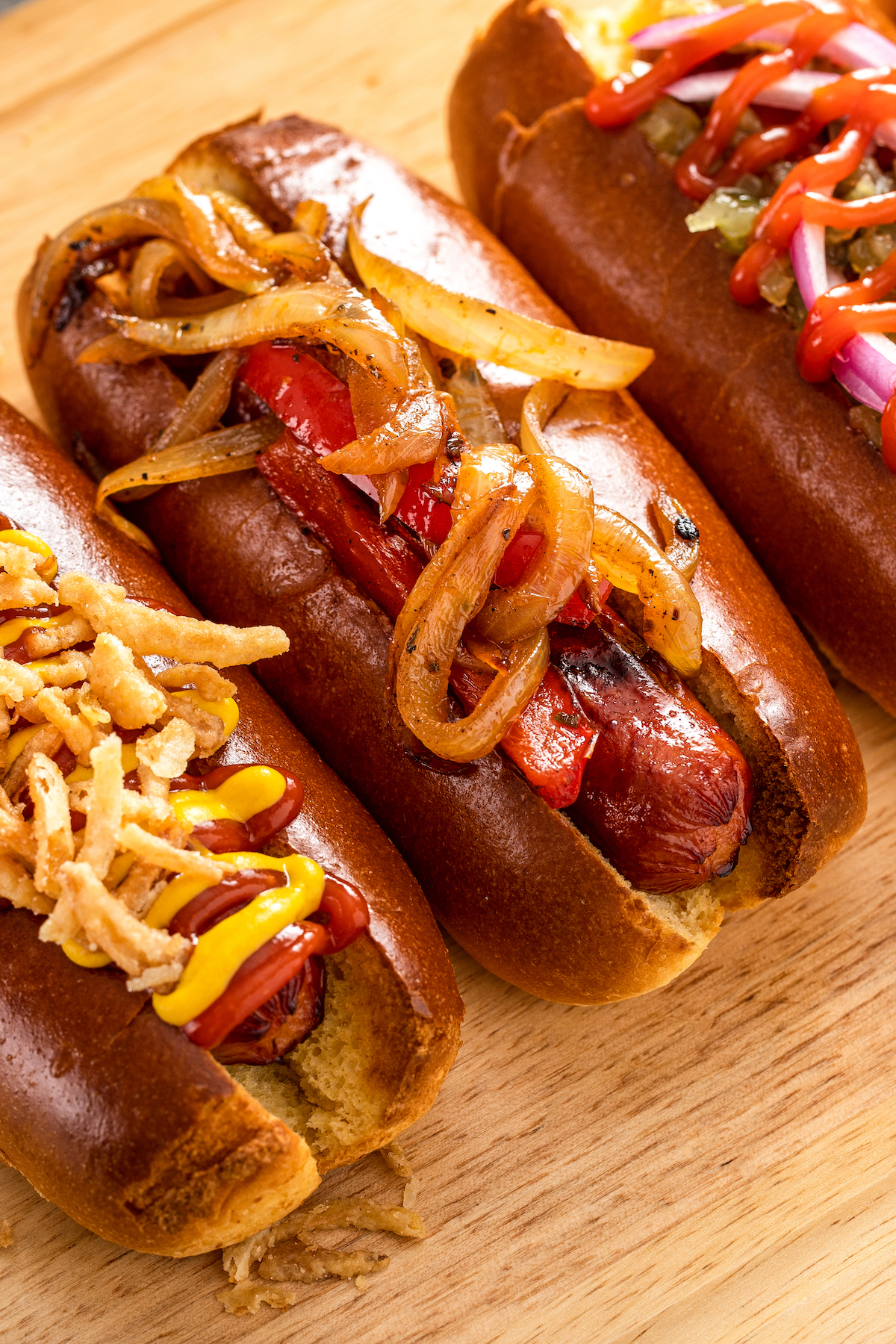 Can I Air Fry Frozen Hot Dogs?
Yes! Especially if you have kids, chances are you have a hoard of hot dogs stashed in your freezer at any given time. You can easily follow this recipe using frozen hot dogs. They can be thawed beforehand or air fried directly from frozen (just add a couple extra minutes to the cooking time).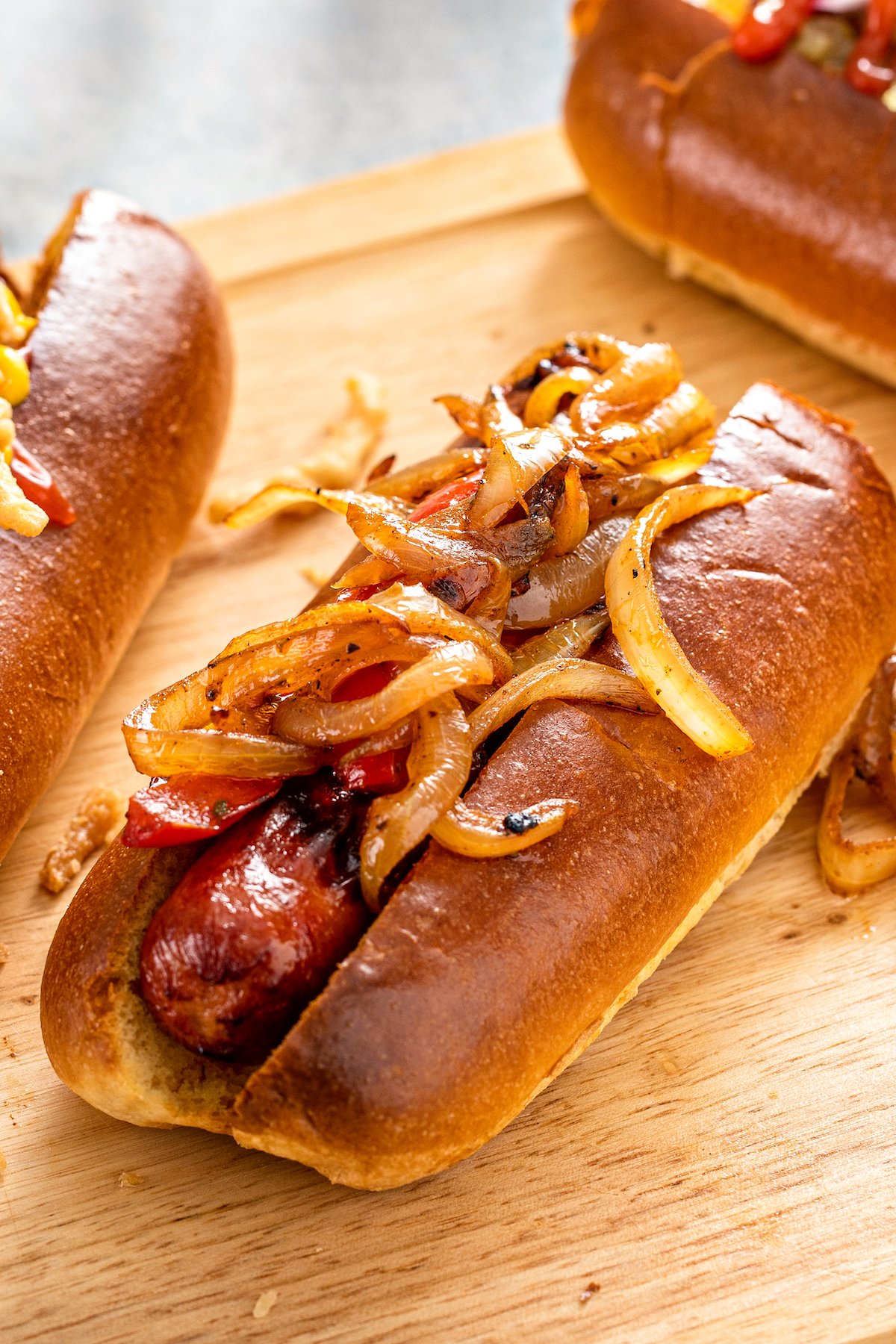 More Quick-Fix Dinner Ideas
Yield: 4 Hot Dogs
Air Fryer Hot Dogs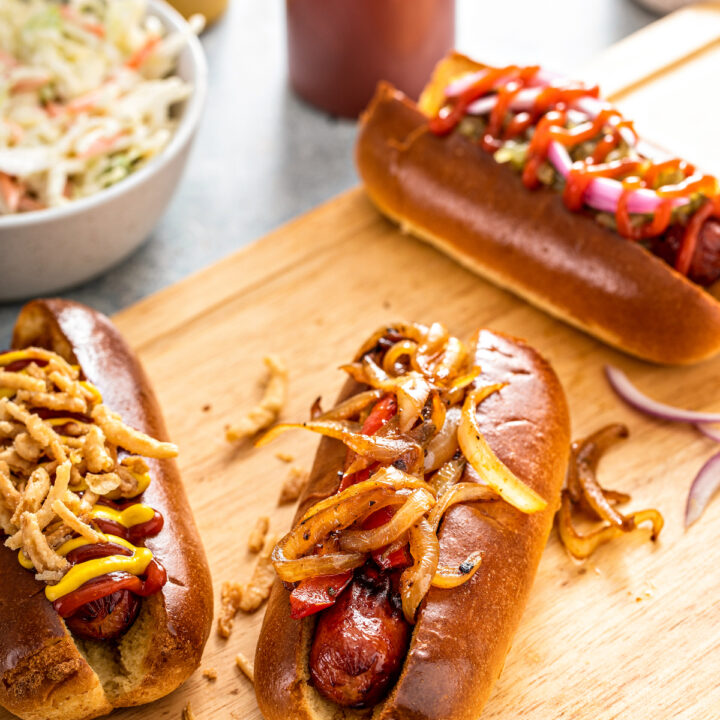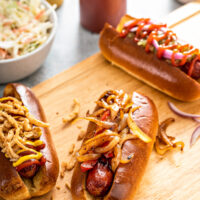 Perfectly crisp hot dogs with toasted buns in less than 10 minutes!
Ingredients
4 Hot Dogs
4 Hot Dog Buns
Instructions
Preheat air fryer to 400°F.
Place hot dogs into air fryer basket. Air fryer hot dogs for 5 minutes.
Place cooked hot dogs in buns and place buns (with hot dogs) into air fryer basket. Turn air fryer down to 350°F and cook for 2 minutes.
Serve immediately with desired toppings!
Nutrition Information:
Yield:
4
Serving Size:
1
Amount Per Serving:
Calories:

299
Total Fat:

16g
Saturated Fat:

6g
Trans Fat:

0g
Unsaturated Fat:

8g
Cholesterol:

28mg
Sodium:

669mg
Carbohydrates:

27g
Fiber:

1g
Sugar:

4g
Protein:

11g
Categories
This post may contain affiliate links. Read my disclosure policy.